Jump to Recipe
---
This Vegan Tomato Pie recipe includes affiliate links. When I find a great product or service, I like to share it with my readers. Sometimes I use affiliate links so I can earn commission for my recommendations. Thank you for your support!
---
Vegan Tomato Pie
Wondering what to do with all those fresh tomatoes this summer? Have you considered tomato pie? And no, I don't mean the kind that looks like a cheese-less pizza. I mean an actual tomato pie, as in southern tomato pie. This easy vegan tomato pie recipe is every bit as savory as its traditional counterpart, using cashew cream sauce in place of cheese and a flaky, vegan-buttery crust. Fresh tomatoes never had it so good!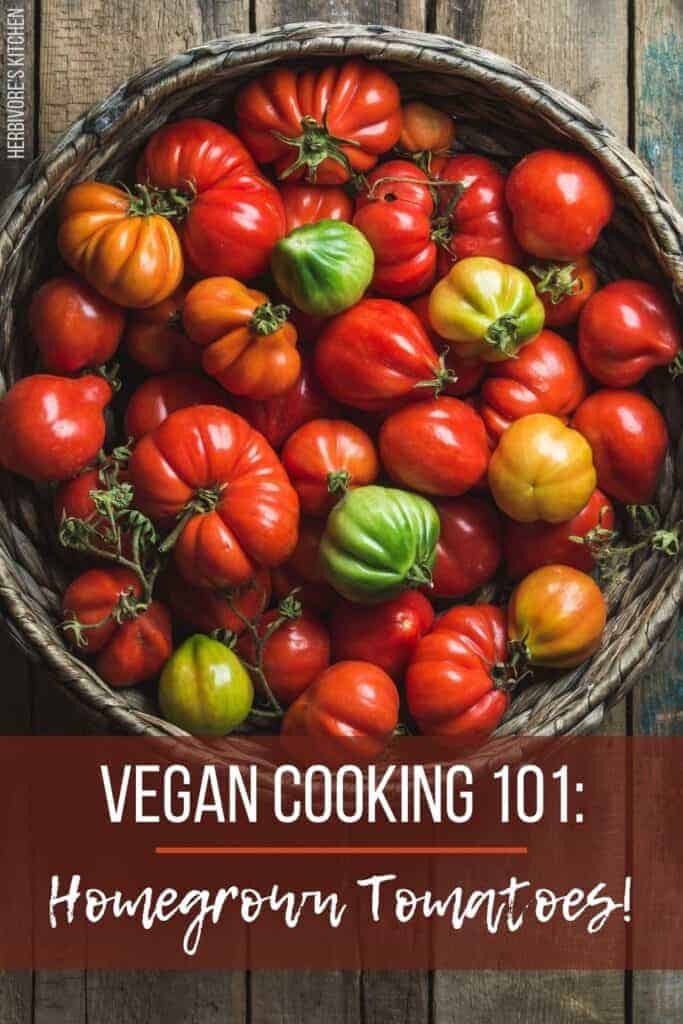 What is a Tomato Pie?
A quick google search for tomato pie might lead to some initial confusion. There are Italian tomato pies, which consist of a thick tomato sauce over focaccia bread with some herbs, like oregano. Unlike pizza, Italian tomato pies are typically served at room temperate and without cheese. They're a popular dish in the Northeastern United States.
The kind of tomato pie that I'm talking about is of the Southern variety. Southern tomato pie features thick-sliced fresh tomatoes and a white cream sauce in a flaky pie crust. It's the stuff pies dreams are made of.
In accordance with Southern cooking culture, traditional southern tomato pie recipes feature a lot of butter, cheese and heavy cream. This vegan version of tomato pie is quite different in terms of ingredients, but it is as every bit as good!
Making a Vegan Pie Crust
This dish features a simple homemade dairy-free, vegan pie crust. I love that it gives the dish a rustic look although I think that has more to do with my baking skills than any true intention. Of course, if you'd like to make this easier you can find store-bought pie crusts. No judgment here.
If you decide you'd like to try your hand at vegan baking, here's a trick I learned making vegan biscuits that I adopted when making pie crusts. Forget cold butter chunks. For these recipes, you want butter to be as cold as possible for as long as possible. Any friction created in the blending process will soften the butter, so you want the process to involve as little motion as possible. Instead, grate your butter with a cheese grater and then set it in the freezer while you prep your other ingredients. The small pieces make it easier to blend into the pie crust dough and the butter will be stone cold at the start.
Cashew Cream Sauce
Traditional southern tomato pie is made with mayonnaise and a blend of cheeses, usually parmesan. To make this dish vegan, I swapped those ingredients out with my cashew cream sauce – a creamy blend of soaked cashews made even tastier with the addition of salt, garlic, lemon juice and nutritional yeast.
Cashew cream sauce is a popular addition to many of my vegan recipes. I use it in other dishes, like my Vegan Fettuccini Alfredo as well as my Black Bean and Sweet Potato Vegan Enchiladas. but I've found that new vegan cooks often aren't familiar with them, particularly nutritional yeast. If you're curious to learn more, check out my Vegu-cation sections: Cooking with Cashews and What is Nutritional Yeast?
The first time I made this tomato pie recipe I used my basic vegan cashew cream sauce recipe. And while it's a great option for dishes like Vegan Fettuccini Alfredo, it's a bit runny for vegan tomato pie. After some experimenting, I figured out that adding 2 tbsp of flaxseed meal to the cashew cream sauce thickened it perfectly. Check out this perfectly firm tomato pie slice!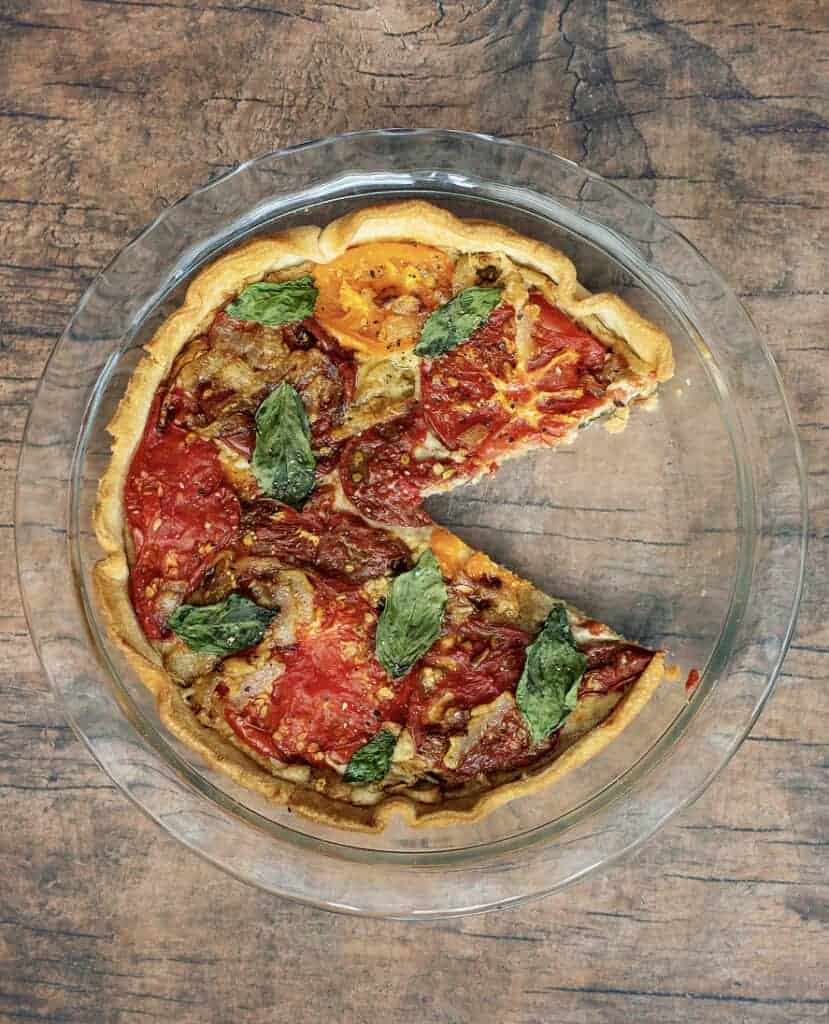 Salting the Tomatoes for Your Tomato Pie
When I make this dish it's usually because I have come into possession of some gorgeous homegrown tomatoes. This is especially true if they're a variety of colors, shapes and sizes. These tomatoes typically have a high water content, so it's important to extract as much water as possible before adding the tomatoes to the pie. To do this, simply slice the tomatoes and lay them out on a piece of parchment paper or a cutting board. Then sprinkle them with about 1 tsp of salt and allow them to rest. After 10-15 minutes, gently pat them dry with paper towels or a clean kitchen towel.
Putting this Tomato Pie Recipe Together
I start by pre-baking my pie crust. This enables a flaky crust and deep, rich roasted tomatoes without drying out the cashew cream sauce. As you will find, cashew cream sauce doesn't require baking in the same way that cheese does.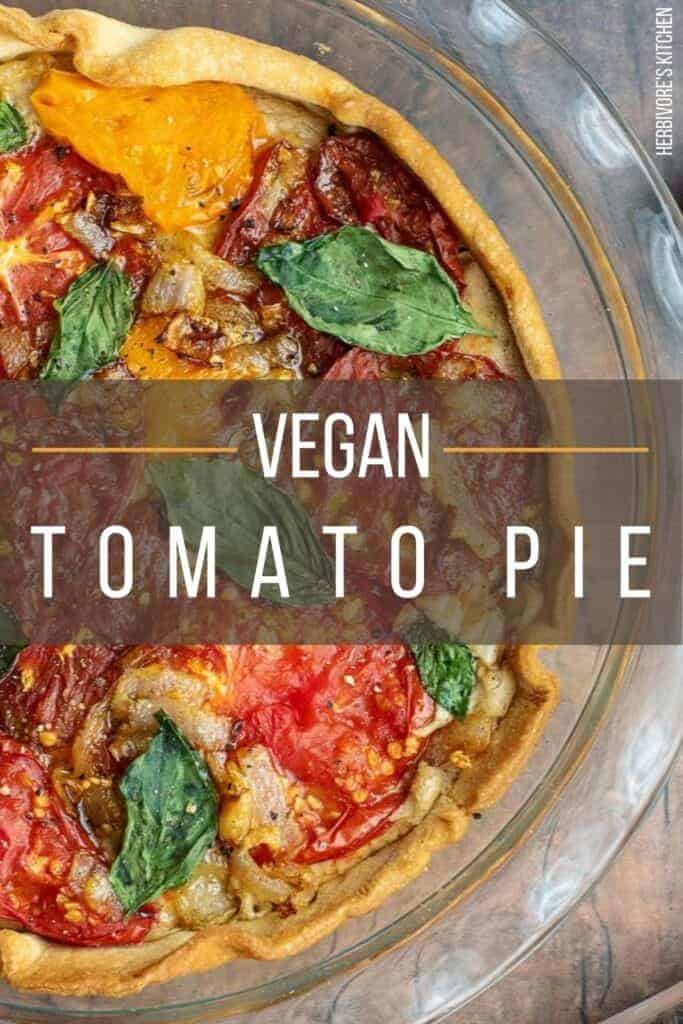 When prebaking I use a few cups of dried beans that I have around to ensure that crust won't fall in on itself. Pre-baking takes 12 minutes and then about 10 minutes of cooling. After that, I pour in my cashew cream sauce into the pre-baked pie crust, layer my tomatoes on top and then add my sautéed onions and garlic. About 20 minutes later, a gorgeous tomato pie comes out of the oven. Just don't skip allowing the tomato pie to cool slightly at the end. This will give it a firmer texture when serving!
What's in My Kitchen to Make This Tomato Pie Recipe Easier?
Want to know what tools and resources I keep on hand to make my vegan cooking even easier? Here's a short list of what helped me create this blog post and recipe. For the complete list, visit my Shop where you can find the kitchen gadgets I like as well as a list of books that I recommend.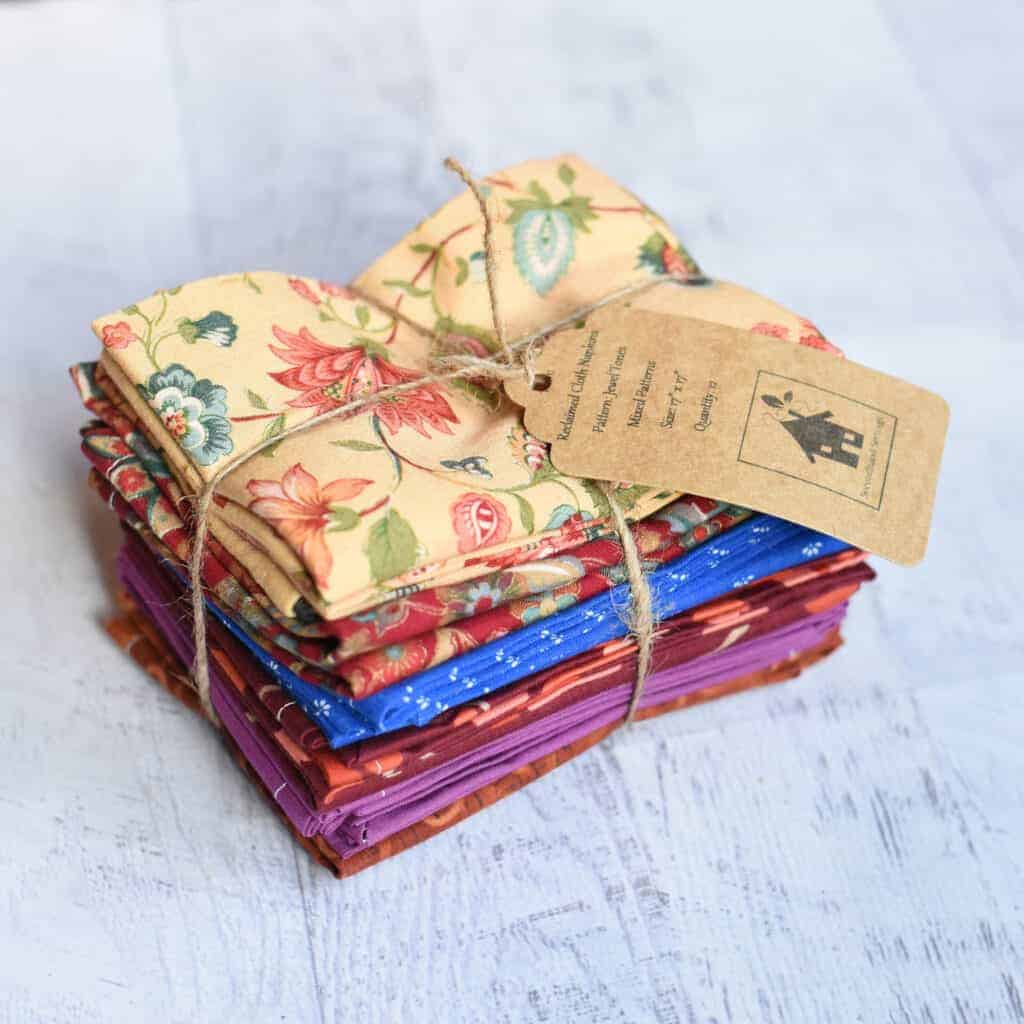 Before I get into cooking, I want to share these napkins. I found these on Etsy over a year ago and, not only do I LOVE them, I buy them as gifts for nearly everyone I know.
These napkins are upcycled and reusable, allowing you to not only avoid throwing away paper products but to also reuse fabrics – a small but significant way to cut back on water, dyes and chemicals used in the production process. These napkins are so darling (they come in lots of different patterns and colors) and they're machine washable. I just throw them in with whatever load of laundry I'm doing. They don't wrinkle easily, so a quick fold will have them back on your table doing what they were meant to do… be reused!
It's true – a Vitamix is an expensive blender. But, oh! The things it can do and do well. If you're interested in getting more into vegan cooking, or you just want to eat healthier, then I think that this is a must-have kitchen tool. I use my Vitamix daily for breakfast smoothies and it really gets the job done when making vegan cheeses. There are many versions of the Vitamix on the market. This is the version that I have.
I picked the Hamilton Beach 8-Cup Food Processor. I use my food processor all. the. time. But, for this recipe, I used it to make the pie dough. I like making pie dough in my food processor because it's a lot easier than trying to make it with a bowl and spoon and, damn, my KitchenAid mixer is really heavy. I only get that out of the cabinet when there are cookies involved.
I only bought one of these a few months ago, but wow! I'm so much happier not peeling garlic cloves with my fingernails. I'm pretty sure I'll collectively get at least a day of my life back because of this device.
No, that's not the brand. It's just the idea! But, I own this set of Global™ knives and They're some of my most prized possessions in the kitchen. This set is universally well-rated for the at-home chef and will get you a good, solid set of knives without totally breaking the bank.
Love to cook with cast iron? Ever forget how hot those handles get? Yeah, me too. The Ove Glove will help to protect your hands when cooking (and forgetting). These pot holders are heat safe to 540 degrees and two come in a package – one for holding the handle and one for supporting the bottom of your cast iron skillet (because we all know it's too heavy to pick up with one hand).
Vegan Tomato Pie
Wondering what to do with all those fresh tomatoes this summer? Have you considered tomato pie? And no, I don't mean the kind that looks like a cheese-less pizza. I mean an actual tomato pie, as in southern tomato pie. This easy vegan tomato pie recipe is every bit as savory as its traditional counterpart, using cashew cream sauce in place of cheese and a flaky, vegan-buttery crust. Fresh tomatoes never had it so good!
Ingredients
Cashew Cream Sauce
1

cup

cashews

2

cups

just boiled water

3/4

cup

cold water

1

tsp

salt

1

garlic clove

1

tbsp

fresh lemon juice

2

tbsp

nutritional yeast

2

tbsp

flaxseed meal
Vegan Pie Crust
1 1/4

cup

all-purpoe flour

1

tsp

salt

1/4

tsp

pepper

1

stick

cold vegan butter

(1/2 cup)

4

tbsp

ice water
Tomatoes & Garnishments
2-3

heirloom tomatoes

1

tbsp

extra virgin olive oil

1/4

cup

yellow onion

sliced

1

tbsp

garlic

minced

1/4

cup

fresh basil

washed and destemmed
Instructions
Using a large cheese grater, grate the cold butter on to a cutting board. Put the board in the freezer until you are ready to make the dough.

Soak the cashews in the just-boiled water. Set aside for at least 30 minutes.

Combine the flour, salt & pepper in a food processor and pulse to combine.

Remove the grated butter from the freezer and gradually add it to the food processor. Continue to pulse until well combined. Slowly add the ice water 1 tablespoon at a time while pulsing until a dough forms. Wrap the dough in a small piece of plastic wrap and chill in the refrigerator for ~30 minutes.

While the dough is chilling, remove the core and thickly slice the heirloom tomatoes. Lay the slices on a paper towel covered plate and sprinkle with 1 t. of salt to draw out the moisture.

Preheat the oven to 400º. While the tomatoes are resting, slice the onions and mince the garlic. Heat the olive oil in a small skillet. When shimmering, add the sliced yellow onions. Turn the heat down to a low setting and allow the onions to gently brown.

Remove the dough from the refrigerator and roll it out on a lightly floured surface. Press into a pie plate and trim edges. Cover with a layer of parchment paper and fill with dried beans to weigh the crust down. Pre-bake the pie crust for 12 minutes and then allow the crust to cool for ~10 minutes. Remove the beans.

When the onions have turned golden brown, add the garlic and cook on low for 1-2 minutes more. Set aside.

Drain and rinse the cashews. Combine the cashews, water, garlic, salt, lemon juice, nutritional yeast and flaxseed meal in a high-speed blender. Blend until creamy. The cashew cream sauce should be quite warm when it comes out of the blender.

Pour the cashew cream sauce into the pre-baked pie crust. Add a layer of sliced tomatoes, onions and garlic. Season with salt and pepper and bake the tomato pie for 20-25 minutes. When 5 minutes remain, add the basil leaves to the top of the tomato pie and finish baking.

Remove the pie from the oven and allow to cool for 10 minutes before serving.
About Herbivore's Kitchen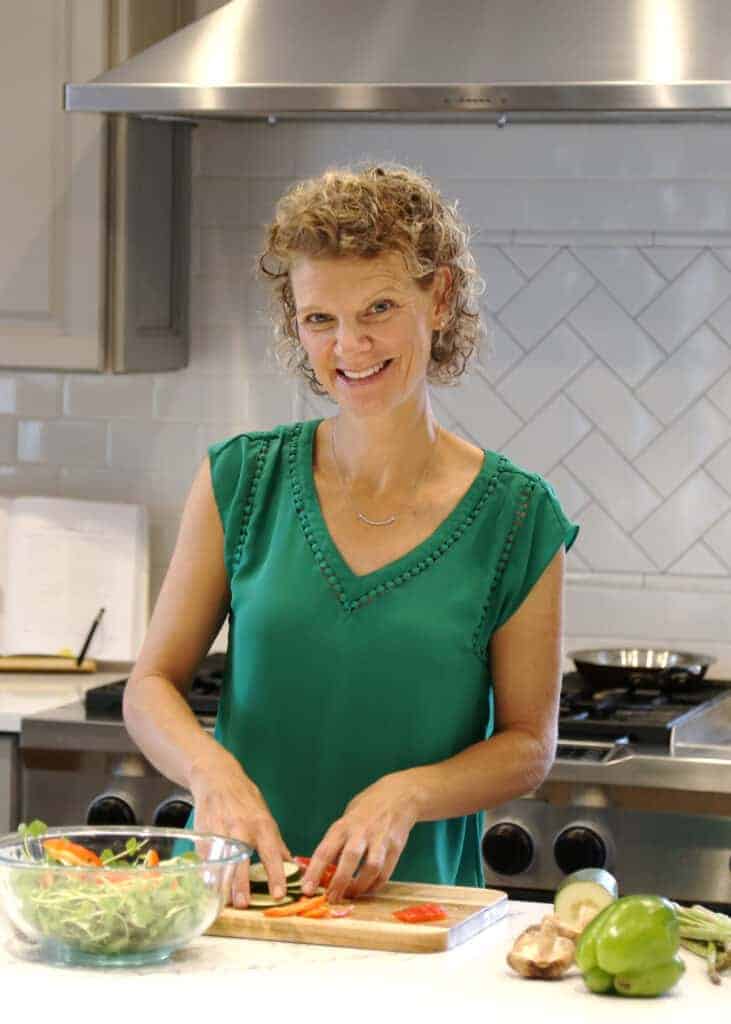 Herbivore's Kitchen is a blog run by me, a plant-based home chef and aspiring food photographer. I switched my and my family's diet to a plant-based diet after learning about the health benefits of going vegan. Making this change has prompted a variety of food and holistic-lifestyle related questions that I explore through this blog. I talk about how to pick and prepare the most nutritious foods, to how to reduce waste at home, to how to live a more sustainable lifestyle while on the road.