The Highlights
Vegan
Dairy-free, but still creamy and delicious
Warm and savory
Oil-free
Chock full of plant-based ingredients (tomatoes, spinach, onion & garlic)
Winter Calls For (Healthy) Savory Soups
There's just something nice about making a soup for dinner when the snow is falling and it's dark at 4 pm. I've got a long list of different ideas, but this week my focus has been on creating a lasagna soup. I wanted something savory and creamy, but also filled with good-for-you veggies. Before creating my own I tried a few different recipes. Some I found weren't quite creamy enough, while others were all cream and light on the vegetables. I also wanted to go light on the pasta and to swap out traditionally refined pasta for a hearty whole wheat pasta.
Cream? Isn't This Soup Vegan?
It is. The creaminess comes from a cashew cream sauce. For those of you that have been making vegan dishes for a while, you know how versatile and satisfying a cashew cream can be. I'm a big fan. So big, in fact, that I tend to make large batches of cashew cream and then freeze it in smaller portions. It's nice to have it on hand for recipes like this. If you're short on freezer space, it can be made using a quick method (15 minutes) but it's better when you're able to soak the cashews for at least a few hours before making it. So, if I am making this soup in the evening, I'll soak the cashews in the morning so they're ready when I get home.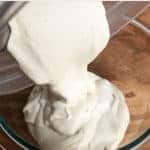 To soak your cashews, you'll want to put them in a jar or a bowl. Then fill the jar with 2x as much water as you have cashews. For example, if you have 1 cup of cashews, you'll need 2 cups of water. The cashews should then be covered and left at room temperature. Personally, I like using a jar because it comes with a handy-dandy lid that can be reused. Once soaked, the cashews should be drained and thoroughly rinsed. If it's 5 o'clock and you're just reading that you needed to soak cashews all day, fear not. You can also soak them in very hot water (just boiled) for about 15 minutes. This will soften them adequately to be used in this recipe. Once soaked, the cashews should be drained and rinsed.
I do want to note that I used a very basic cashew cream for this recipe because the soup itself already has several flavor enhancers. So, if you're making a big batch, you may want to remember to explore other flavors with the leftovers. For alfredos, I like to add a little dijon mustard and some garlic. For nachos, some tomatoes, chipotle paste and a carrot (for color).
Giving Oil-Free Cooking a Try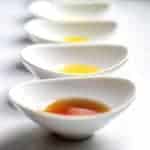 Like several other recipes I'm working on, I made this one without any supplemental oil. I did this by sautéing my vegetables in vegetable broth instead. Oil-free cooking is a newish endeavor for me. I've been reading up on whole-food, plant-based diets and I strive to incorporate as many unprocessed, whole foods as I can. Oils, even plant-based oils, are a highly refined food. Don't get me wrong though, I am no oil-free saint. In some situations (like roasted vegetables and asian noddle dishes), I find it a struggle. But, with a dish like this, where I normally would have used oil to saute the onions and garlic, oil-free cooking is quite easy.
To do my oil-free saute, I reserved 1/4 c. of the vegetable broth and added that to my pot along with my finely diced onions. As the broth cooked off, the onions softened and started to brown very similar to how they would if you cooked them in an oil. Once the onions were softened, I stirred in the garlic and let it soften and brown as well.
The Final Product – Putting It All Together
If you've pre-soaked your cashews, this recipe comes together pretty quickly. You can have the whole thing done in less than an hour and about half of that is idle cooking time. I do have one recommendation: cook your noodle separately and add them to the soup at the time of serving. I tried this recipe and others several times and each time I tried cooking the noodles in the soup, they would break down and create a very starchy broth. It wasn't a hit. If you'll have leftover, wait for the soup to cool, then add the noodles and store the soup in the refrigerator. This will prevent them from overcooking in the broth.
The Recipe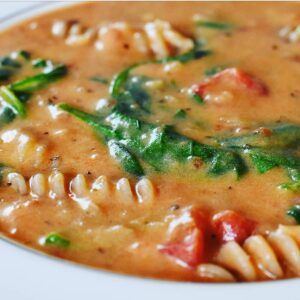 Savory Lasagna Soup
This vegan version of lasagna soup has everything you would expect from its traditional counterpart. A cashew cream gives it a rich creaminess, while whole wheat pasta, low-sodium vegetable broth, diced tomatoes and fresh baby spinach pack a nutritional punch. It's a warming winter recipe that you can feel good about making a family staple.
Ingredients
2

quarts

vegetable broth (reserve 1/4 cup)

I prefer to use a low-sodium option

1

onion, finely chopped

3

cloves

garlic, minced

2

tbsp

tomato paste

1

tsp

dried basil

1

tsp

dried parsley

1/2

tsp

dried thyme

1/4-1/2

tsp

crushed red pepper

2

14 oz cans

diced tomatoes

I used the no salt added option from Muir Glen

2

cups

whole wheat pasta

3

large handfuls fresh baby spinach

1

cup

cashews, unsalted and unroasted

pre-soak the cashews or use the quick soak method (see notes)

1

cup

water

1

tbsp

nutritional yeast

1

tbsp

lemon juice
Instructions
Begin by making your cashew cream. In a high-speed blender, combine the pre-soaked (or quick soaked - see notes) cashews, water, nutritional yeast and lemon juice. Blend until smooth.

In a large sauce pan, heat 1/4 cup of vegetable broth and add onions. When onions begin to soften, add the garlic. Cook, stirring occasionally, until the onions and garlic begin to brown. About 6-8 minutes. Add the tomato paste, basil, parsley, thyme and crushed red pepper. Stir to combine and cook until fragrant. About 2 minutes.

Add the diced tomatoes, vegetable broth and cashew cream. Simmer to meld flavors. About 30 minutes, stirring occasionally.

While the broth is simmering, cook the pasta separately in accordance with the package directions.

Serve hot, adding the spinach and pasta just before serving. The spinach will wilt nicely in the hot broth and will maintain a bright green color.

Add salt & pepper to taste (NOTE: this recipe is designed to be low in sodium; you may find that you'd like to add some when serving).
Notes
If you didn't have time to pre-soak your cashews, fear not.  You can do a quick soak method that will render them soft enough to be blended for this recipe.  To do this, bring 2 cups of water to a boil.  While the water is heating, put 1 cup of cashews into a bowl.  Pour the just boiled water over the nuts and allow them to sit for 15 minutes.  Once soaked, drain and rinse.  Since the nuts have only been quick-soaked, you may find that you need just a little more water when making the cashew cream.