Jump to Recipe
This Peach Gazpacho: Celebrate the End of Summer with this Fruit Gazpacho Recipe post includes affiliate links. When I find a great product or service, I like to share it with my readers. Sometimes I use affiliate links so I can earn a commission for my recommendations. Thank you for your support!
Celebrate the End of Summer with this Fruit Gazpacho Recipe
Come mid-August, peaches are a big deal in Colorado. Hailing from the warm, desert-like climate of the western slope, Palisade peaches are sweet and juicy – everything you could want from a peach. And they're in abundance. Sure, you can find them in the grocery store, but it's certainly more fun to pick up a peck of peaches from a roadside stand, the local farmer's market or directly from the orchard itself.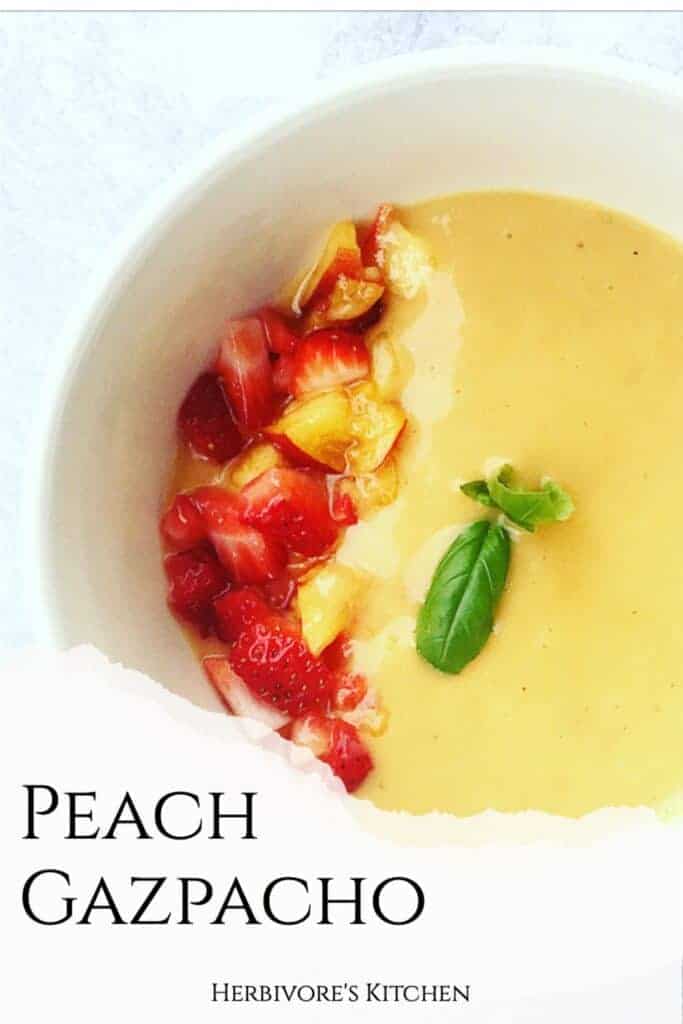 As you travel around western Colorado, you can also pick finished peach products — my favorites being peach & habanero pepper jam and peach pie. At home, I like to incorporate peaches into my late-summer, early fall repertoire to capitalize on all the juicy goodness.
You may have come across my recipe for peach pizza, featuring a homemade crust, vegan mozzarella, broiled peaches, balsamic reduction and fresh arugula. It's a tantalizing combination of savory and sweet. Today though, I bring you a new twist on an old classic – peach gazpacho.
Peach Gazpacho Ingredients
What I love most about this Peach Gazpacho recipe is its whole-food nature. There's something really special about a recipe that uses mostly whole foods. One that you can watch go from completely recognizable ingredients into a blend that goes straight into your bowl.
Adding Peppers the Peach Gazpacho Recipe
This fruit gazpacho recipe balances the sweetness of the peaches with the spice of the peppers. I use one Anaheim pepper, a mild pepper which gives the soup a sweet/smoky flavor. I also throw in a serrano pepper to give the soup a little more heat. Serrano peppers rate a 3 out of 5 on the pepper heat scale, putting them somewhere between a jalapeño pepper and a habanero pepper.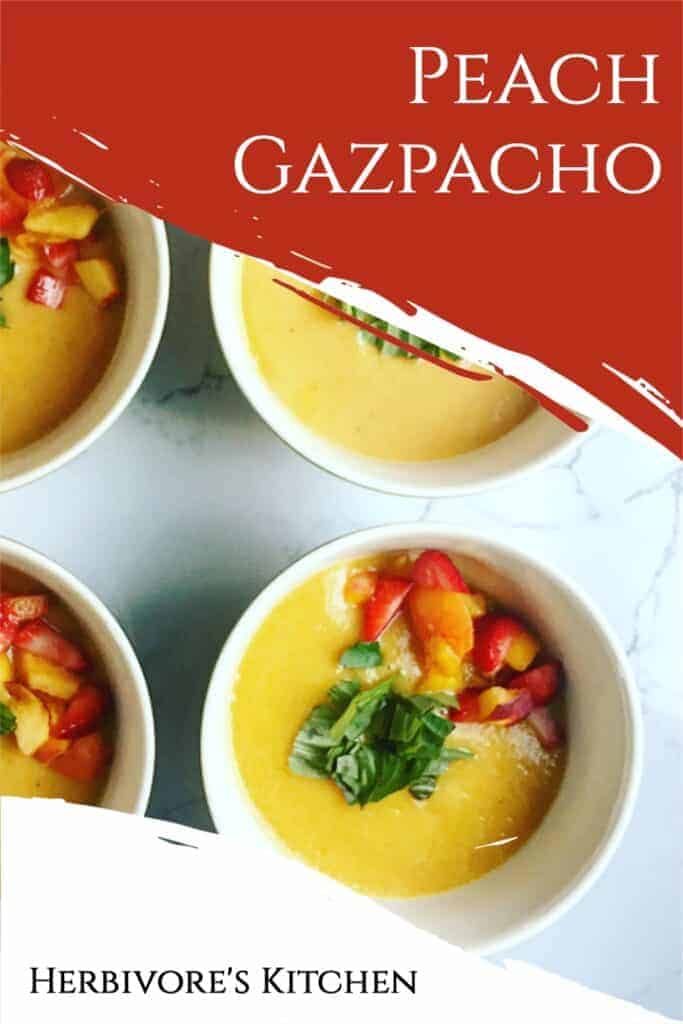 I grow Serrano peppers in my garden in the summer, so it makes this gazpacho all that much more special. If you don't like that much heat, you can leave this one out, or if you're serving a group with varied palettes, just finely dice the peppers and put them on the side as a garnishment.
Other Ingredients that Make this Fruit Gazpacho Recipe Special
In addition to the main feature ingredient – peaches – and the peppers, I add red onion and garlic. For the cooling sensation that makes gazpacho so addictive, I use an English cucumber. It just has a more mild flavor than a regular cucumber.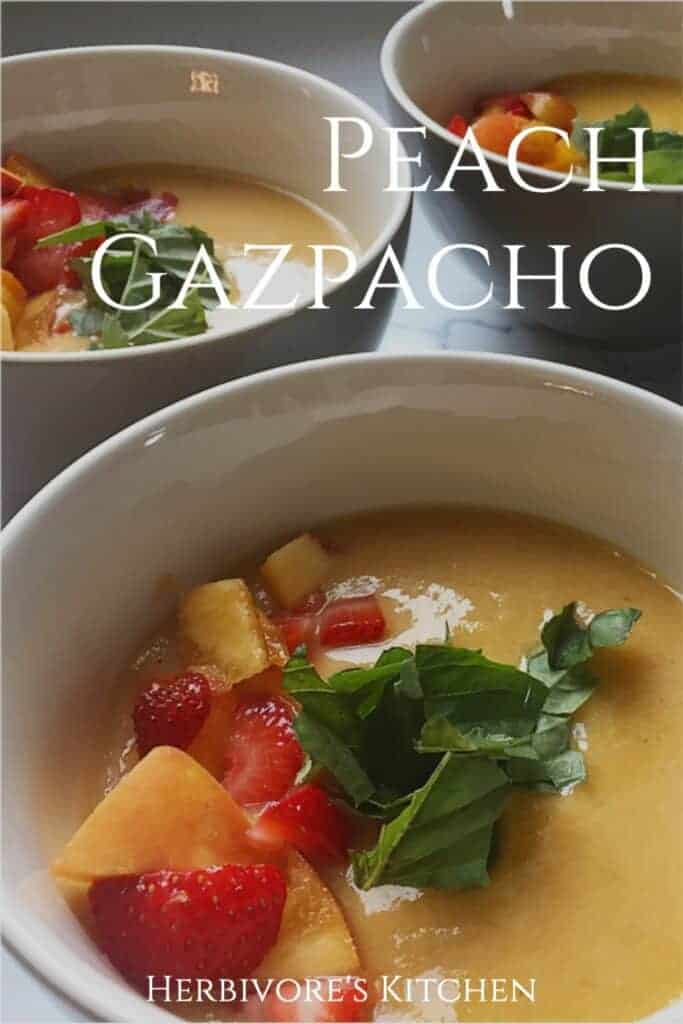 They're not always available, so if you're wanting to make this Peach Gazpacho soup, go ahead and make it with a regular, slicing cucumber. Finish the recipe with some sherry vinegar and some salt and pepper.
How to Garnish this Peach Gazpacho Recipe
I played around with garnishments for this Peach Gazpacho Recipe quite a while, trying to find the perfect complement. I tried charred jalapeños (I am always looking for ways to add heat), mint, pumpkin seeds and flavored olive oils, but settled on something simple — diced peaches and fresh strawberries with a little bit of fresh basil.
How to Serve Peach Gazpacho
Gazpacho is best served after the flavors have had time to meld. If I am really craving it, I make it in the morning and have it for dinner that night. It's best after it has rested overnight though. I find that it makes a great light dinner or served as an appetizer for a harvest-inspired dinner.
Do You Love This Peach Gazpacho Recipe?
Do you love this Fruit Gazpacho recipe? Be sure to check out other summer vegan recipes! If you're into gazpacho, then you should also try my Gluten Free Gazpacho! Searching for a tasty summer salad? Then you'll love my Vegan Caprese Salad!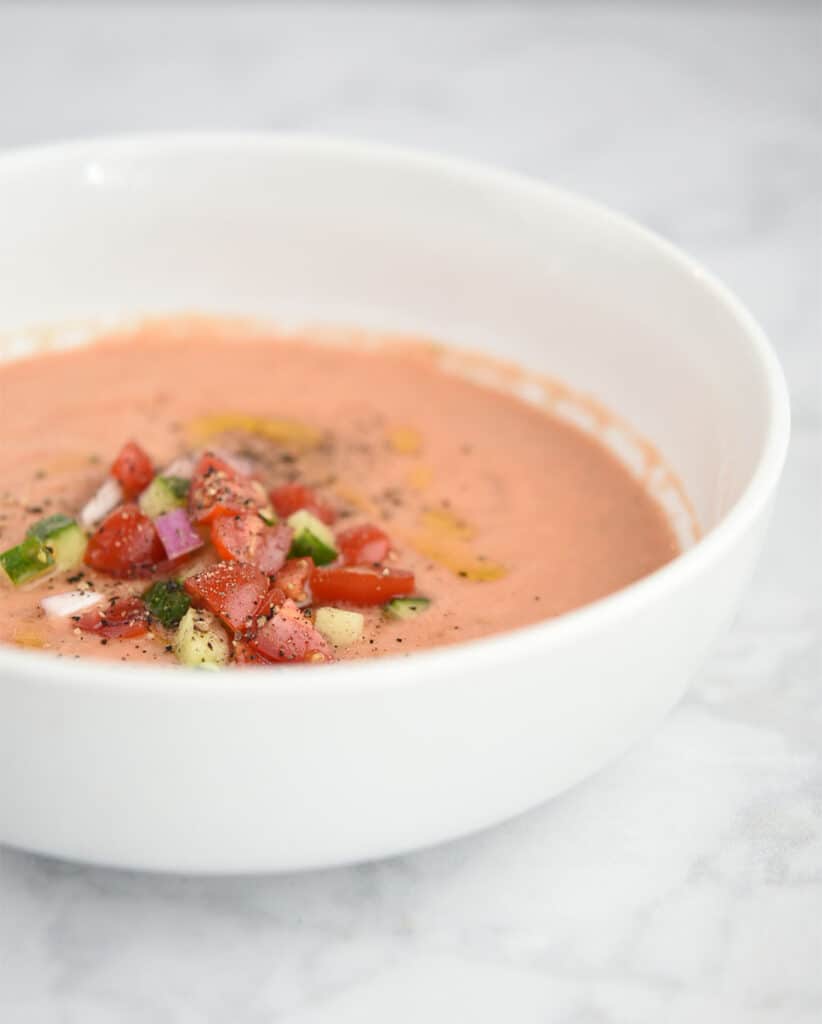 If you're like me, you might find yourself with an overwhelming amount of fresh produce at the end of a trip to the farmer's market. I have a hard time saying no to just picked, locally grown tomatoes…and cucumbers…and peppers. Luckily, I've got some really great ways to use up thee ingredients, including this Gluten Free Gazpacho Recipe.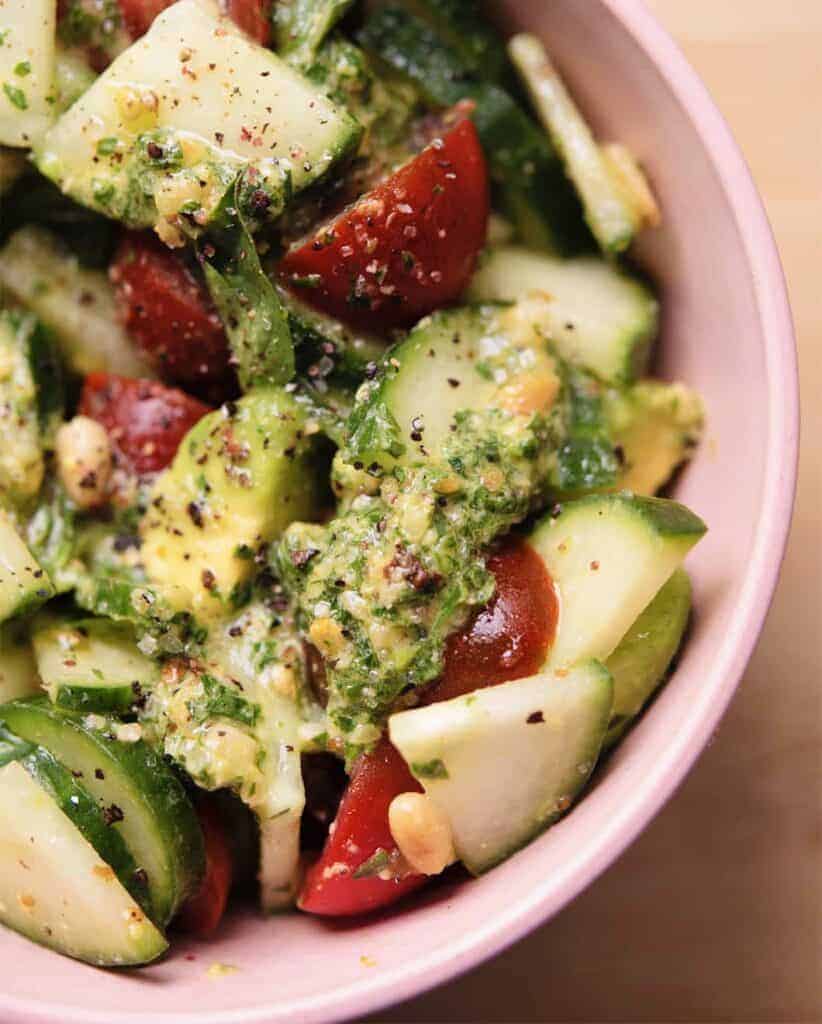 Keep your summer cool with this Vegan Caprese Salad recipe! With a twist on the traditional, this easy caprese salad features avocado, grape tomatoes, English cucumbers and a vegan pesto. Serve it as an appetizer or a vegan side dish.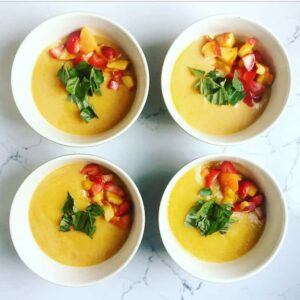 Peach Gazpacho
Got peaches? Late summer is peach season and a great opportunity to incorporate this sweet, juicy Peach Gazpacho recipe to your plant-based diet.
Ingredients
6-8

fresh peaches

washed, pitted and roughly chopped

1

Anaheim pepper

washed, deseeded and roughly chopped

1/4-1/2

Serrano pepper

washed, deseeded and roughly chopped

1/4

red onion

roughly chopped

1

English cucumber

peeled and roughly chopped

1

clove

garlic

peeled

2-3

tsp

sherry vinegar

1/2

cup

extra virgin olive oil

salt

to taste

fresh ground pepper

to taste

Fresh peaches, strawberries and basil

as optional garnishment
Instructions
Put the roughly chopped peaches into your blender and blend until condensed (I do this just to create more space for the rest of the ingredients).

Add the pepper, red onion, cucumber, and garlic clove. Blend until smooth.

Stir in the sherry vinegar and extra virgin olive oil.

Season with salt and fresh ground pepper, to taste.

Garnish with fresh peaches, strawberries and fresh basil.
About Herbivore's Kitchen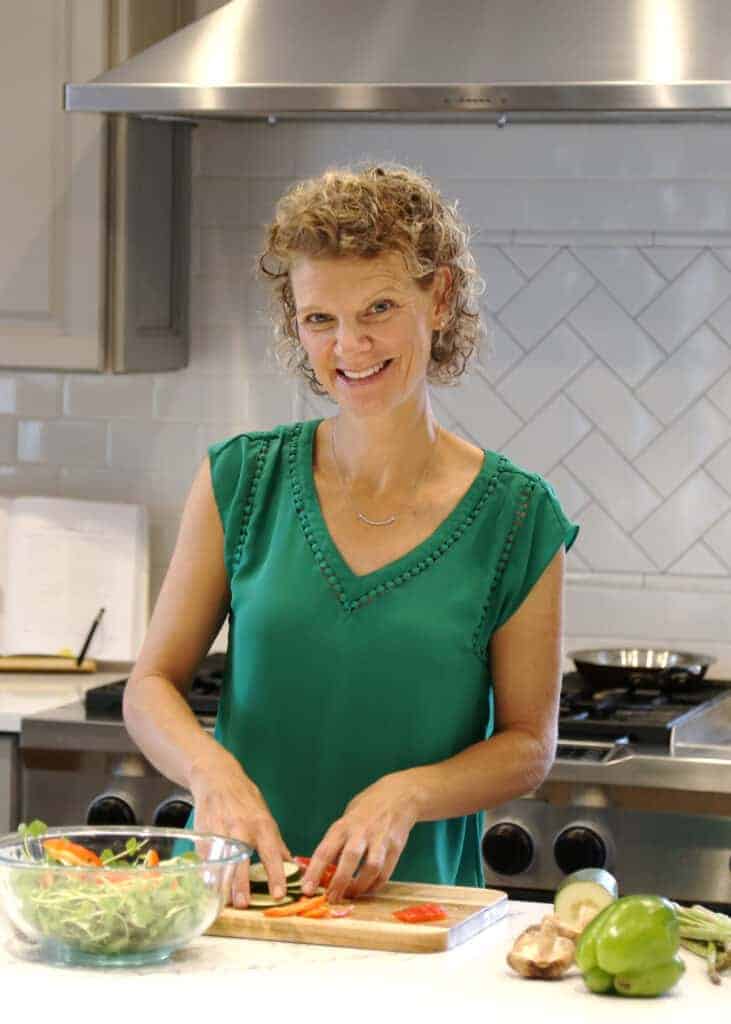 Herbivore's Kitchen is a plant-based food blog started by me, a vegan home chef, cookbook author, aspiring food photographer and how-to-be-a-better-food-blogger junkie. You'll mostly find creative and tasty vegan recipes and detailed deep dives into vegan ingredients (check out my Vegucation section) on my blog. I love knowing as much as I can about the food that I make. I'm also really into running a food blog as a business, so I've also got a section of my blog titled: Confessions of a Food Blogger where I get into the nitty gritty on how to build, manage, market and monetize a food blog.