Jump to Recipe
Creamy Tomato Sauce: An Introduction
This creamy tomato sauce recipe is the perfect complement to protein-packed chickpea pasta. In the world of vegan pasta recipes, it perfectly pairs the sweet and savory of coconut cream, with the rich umami of caramelized tomato paste and the spicy bite of crush red pepper.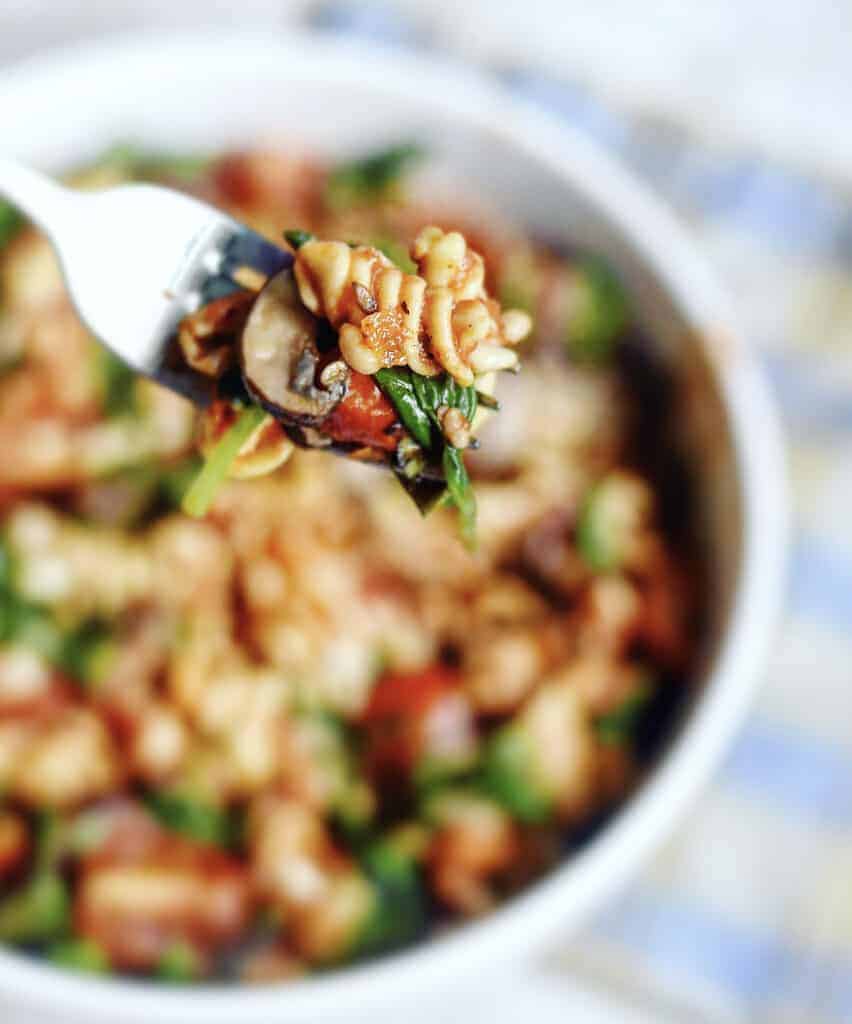 But First, a Cooking Lesson: The Importance of Really Learning How to Cook
Ever been following along with a recipe and wondered, "why am I doing it this way?" Me too. All. The. Time. For example, while I was working on this tomato sauce recipe, I started wondering about the order of things. The layering of flavors, if you will. I noticed that, without thinking about it, I sautéed my onions and garlic, then added my tomato paste and sautéed some more. I did it because in all of the years I've cooked at home, that's what a recipe called on me to do.
Like many of us, I don't have a formal education in how to cook. I've learned through experience, experimentation and sheer determination. It would be nice though, I decided, to understand a little bit of the science as well. It got me to thinking about how important a lesson in how to cookis to a developing cook, especially someone trying to adapt their favorite recipes to a vegan diet. There just aren't that many recipes out there to follow. And so now, with every recipe I work on, I spend some time researching and learning a bit about ingredient choices and techniques.
So, for today's how to cook cooking lesson, I wanted to share what I've learned about how to cook with tomato paste.
Cooking Lesson: How to Cook with Tomato Paste
You might think tomato paste is a pretty simple ingredient. Open the jar, spoon it into your recipe and Voila! – a deep, rich tomato umami taste is born. But not all techniques for cooking with tomato paste are created equal.
What Is Tomato Paste?
Let's start with a brief description of what makes tomato paste…tomato paste. It is tomatoes that have been cooked down for several hours to reduce the water content. The cooked tomatoes are then strained to remove the skins and seeds and then cooked down further until a paste is created. (1) That paste is powerful because the collective taste of tomato is packed into a very small, very flavorful package. But, wait, there's more flavor to be drawn from it. Keep reading! (2)
How to Cook with Tomato Paste
As I explored in my vegan fish sauce recipe, tomatoes are a plant-based food known for their rich umami flavors. These flavors are even more enhanced when tomato paste is sautéed before liquid is added into the recipe. This practice works to caramelize the tomato paste, enhancing its natural sugars. You'll know it's ready when it becomes a dark red and has a rich sweet flavor. Usually about 3-5 minutes.
I used this tomato paste technique with this creamy tomato sauce recipe. First by sautéing my onions until they were translucent, then adding the garlic for a few minutes more. When the onions are garlic were ready, I added in the tomato paste. [You want to finish cooking for aromatics first, to avoid burning the tomato sauce in the pan.] After a few minutes, it turned a dark red. I quickly tossed in my spices and continued stirring, allowing the flavors to blend before adding my ingredients with a higher liquid content.
How Does a Vegan Get Cream into Creamy Tomato Sauce?
Good question! To achieve a light creaminess to my tomato sauce, I like to add a little bit of coconut cream. It just gives it another layer of flavor and I love the way the fat in the coconut cream balances out the acidity of the tomatoes. The first few times I tried this, I worried that the addition of coconut cream would give the sauce a heavy coconut flavor, but I haven't noticed this. I add this ingredient toward the end of the cooking process, allowing it to simmer with the tomatoes only until the sauce is heated through.
Creamy Tomato Sauce Recipe: Don't Forget the Splash of Lemon Juice
This is another trick that I've learned over the years without really understanding why cooks do it: add some fresh lemon juice. Adding a splash of fresh lemon juice at the end of tomato sauce recipe works as a natural flavor enhancer. In fact, I do it with many of my tomato-based recipes. At the risk of being vague, it just brightens up the whole dish.
It's important to add lemon juice conservatively (I used 1 tablespoon for this entire dish) and at the end of the cooking process. If you do it right, you won't have a lemony taste to your sauce, but a wonderfully vibrant tomato flavor.
Creamy Tomato Sauce Goes Well with a Side of Vegetables
I'm a big fan of adding vegetables into any dish. I shun tradition and add vegetables where the original would not. You should see my vegan pho. It's totally loaded. So much so that a commenter on Instagram felt the need to tell me it wasn't really pho. So be it. I can live with that and I'll likely love longer because of all of the vegetables I added in.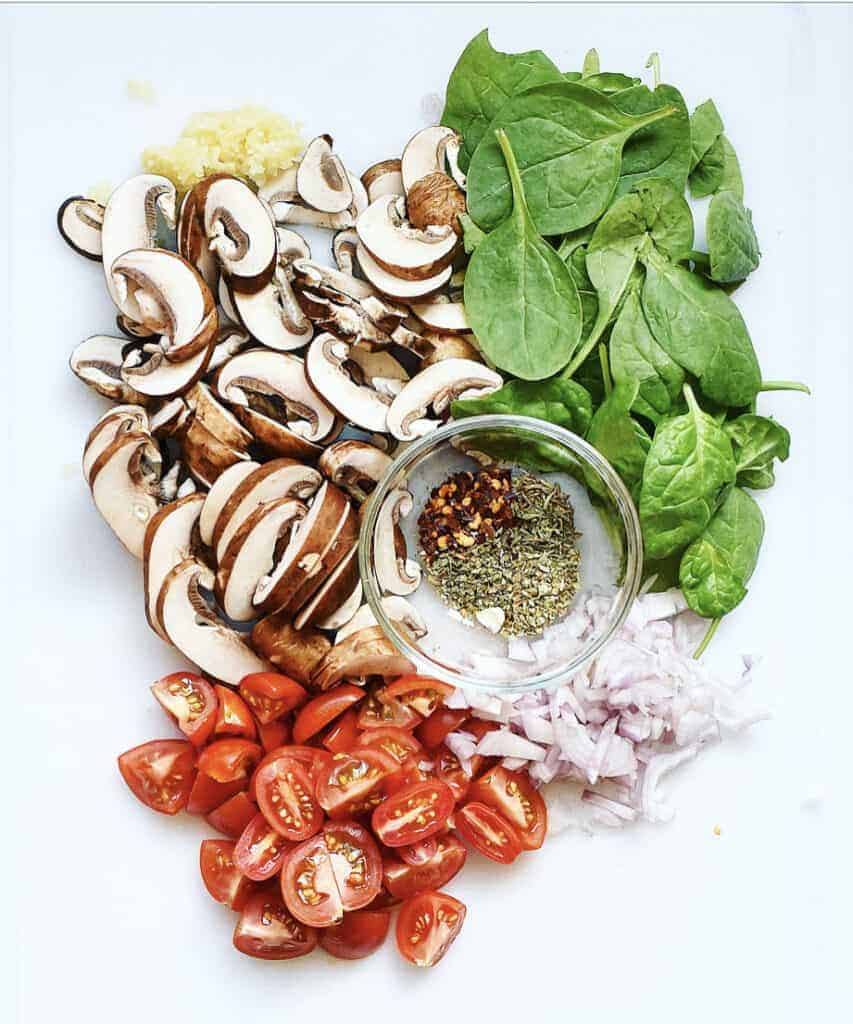 This dish just begs for vegetables and it's a great way to use up what's in the fridge. This time I added sautéed mushrooms, wilted spinach and blistered tomatoes. Because each of these vegetables gives off a lot of what when cooking, I cooked them beforehand and set them aside to be tossed in the dish at the end. Zucchini, squash, eggplant, kale and carrots would also be good additions, I think.
It's Not Just About Creamy Tomato Sauce! How to Top Vegan Pasta Dishes
I have a few favorites for topping my vegan pasta dishes. Fresh basil. Always. I'm a spice lover, so I like to add a pinch of crushed red pepper. In the old days, freshly grated parmesan cheese was my topping of choice. Now that I no longer eat dairy at home, I've come up with some ways to get that creamy, pungent satisfaction without cheese. My favorite option is my vegan parmesan cheese, which features pine nuts, nutritional yeast and some other spices. In a pinch though (because sometimes you just want dinner on the table), I'll toss some pine nuts into my skillet and lightly toast them. They're creamy and delicious and offer up a bit of that cheesy sensation I'm after when eating a bowl of pasta.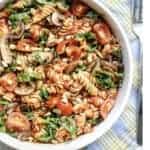 Creamy Tomato Sauce Recipe
This creamy tomato sauce recipe is the perfect complement to protein-packed chickpea pasta. In the world of vegan pasta recipes, it perfectly pairs the sweet and savory of coconut cream, with the rich umami of caramelized tomato paste and the spicy bite of crush red pepper.
Ingredients
1

8 oz box

Banza(R) chickpea rotini

or pasta of your choice

2

tbsp

olive oil

divided

1/2

yellow onion

finely chopped

3

cloves

garlic

crushed and allowed to rest for 10 minutes

2

tbsp

tomato paste

1

tsp

dried basil

1

tsp

dried oregano

1/2

tsp

dried thyme

1/2

tsp

crushed red pepper

1

tbsp

fresh lemon juice

1

tbsp

brown sugar

1

5 oz can

full fat coconut cream

salt & black pepper

to taste

8-10

button mushrooms

washed, dried and sliced

3-4

handfuls

baby spinach

1

pint

grape tomatoes

fresh basil

as garnish

pine nuts

toasted
Instructions
Heat up a dry large skillet. When hot, add the pine nuts and lightly toast. Set aside.

Heat up a large skillet with 1 T. olive oil. When shimmering, add the sliced mushrooms. Cook until soft and slightly browned. Add the tomatoes and the spinach. Cook until the spinach is wilted, but still bright green. Set aside.

Heat up a large skillet with 1 T. olive oil. When shimmering, add the onions. Sauté on medium to low heat, stirring frequently, until the onions are soft. Then add the garlic. Cook a few minutes more. Be careful to avoid burning the garlic.

Add the tomato paste. Stir frequently and cook until the tomato pasta has caramelized, taking on a deep red, brownish color.

Add the basil, oregano, thyme and crushed red pepper and allow to cook 1 minute more.

Add the diced tomatoes and allow to simmer for 15 minutes.

While the tomato sauce is simmering, prepare the chickpea pasta according to the package directions.

Add the brown sugar and coconut milk. Simmer for an additional 5 minutes. Add the lemon juice, salt and pepper.

Gently toss the pasta together with the pasta sauce, mushrooms, tomatoes and spinach. Season with fresh minced basil and toasted pine nuts.
About Herbivore's Kitchen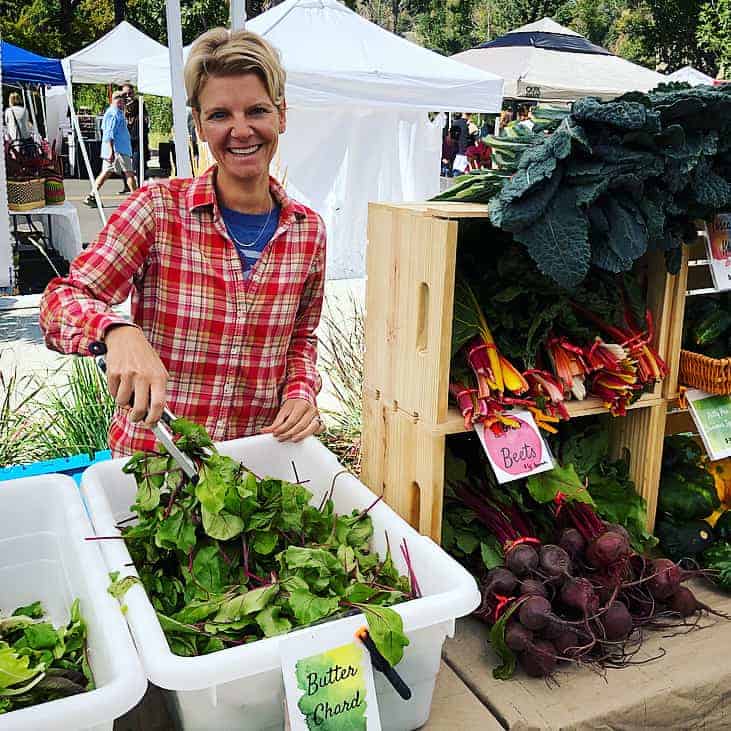 Herbivore's Kitchen is a blog run by me, a plant-based home chef and aspiring food photographer. I switched my and my family's diet to a plant-based diet after learning about the health benefits of going vegan. Making this change has prompted a variety of food and holistic-lifestyle related questions that I explore through this blog. I talk about how to pick and prepare the most nutritious foods, to how to reduce waste at home, to how to live a more sustainable lifestyle while on the road.
---
(1) https://en.wikipedia.org/wiki/Tomato_paste