Jump to Recipe
This Vegan Stuffed Shells: Get Your Comfort Food Fix with this Vegan Stuffed Pasta Shells recipe includes affiliate links. When I find a great product or service, I like to share it with my readers. Sometimes I use affiliate links so I can earn a commission for my recommendations. Thank you for your support!
Get Your Comfort Food Fix with this Vegan Stuffed Pasta Shells Recipe!
Are you always on the lookout for comfort food? I know I am! Especially when it comes to pasta. Nothing is quite as soothing as chewy, al dente pasta in a savory tomato sauce.
If the thought of that makes you feel all warm and cozy, consider what would happen if I upped the ante a bit and filled that decadent pasta with a creamy cashew sauce and some fresh basil pesto (dairy-free pesto, of course!).
You might just have the ultimate in vegan comfort food!
Comfort (and flavor) were my goals in the creation of these vegan stuffed shells. And, I daresay, mission accomplished. This vegan dinner idea will have even the most diehard of omnivores scraping their plates clean!
What's in This Vegan Stuffed Shells Recipe?
This vegan stuffed pasta shells recipe has three components. Each one is made from scratch (eh, well, not the pasta itself…) ensuring that you know exactly what's in your food. Despite their made-from-scratch designations, each of these components is a relatively easy vegan recipe to make on its own. Let's break it down, shall we?
How to Make Vegan Stuffed Shells No Tofu Style
A lot of vegan stuffed shells recipes use tofu in place of ricotta cheese. I, myself, have made similar dishes. For example, I once made a vegan lasagna using a tofu ricotta. It's clever in terms of appearance and texture, but I'm not sure that tofu has a place in Italian vegan cooking.
Don't get me wrong… I am not hating on tofu. I love tofu. Tofu in vegan Chinese food? That I could do all day long. I just didn't like it in my lasagna, so I'm fairly certain that my reaction would be the same here. Hence the title: vegan stuffed shells no tofu style!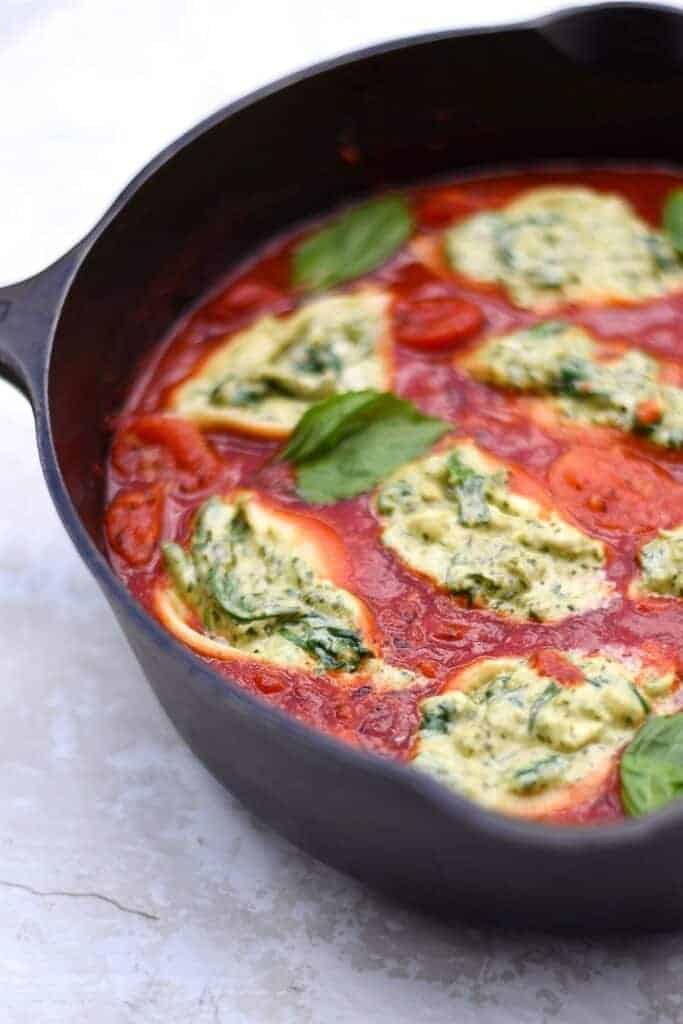 The Key to Vegan Stuffed Pasta Shells? Cashew Cream Sauce!
For me, the end game is not replicating the look and texture of ricotta cheese, but rather replacing the flavor in a way that satisfies that desire for a creamy, salty (and yes, fatty) ingredient. Fortunately, this isn't very hard to do in vegan cooking. The answer: cashew cream sauce.
I have an entire blog post dedicated to cashew cream sauce, so if you have a burning desire to know all about that, you can find it here. Not only that, but two of the key ingredients in cashew cream sauce – cashews (of course) and nutritional yeast have their own blogs posts as well. So, if you want to get down to the nitty gritty, you'll be well equipped.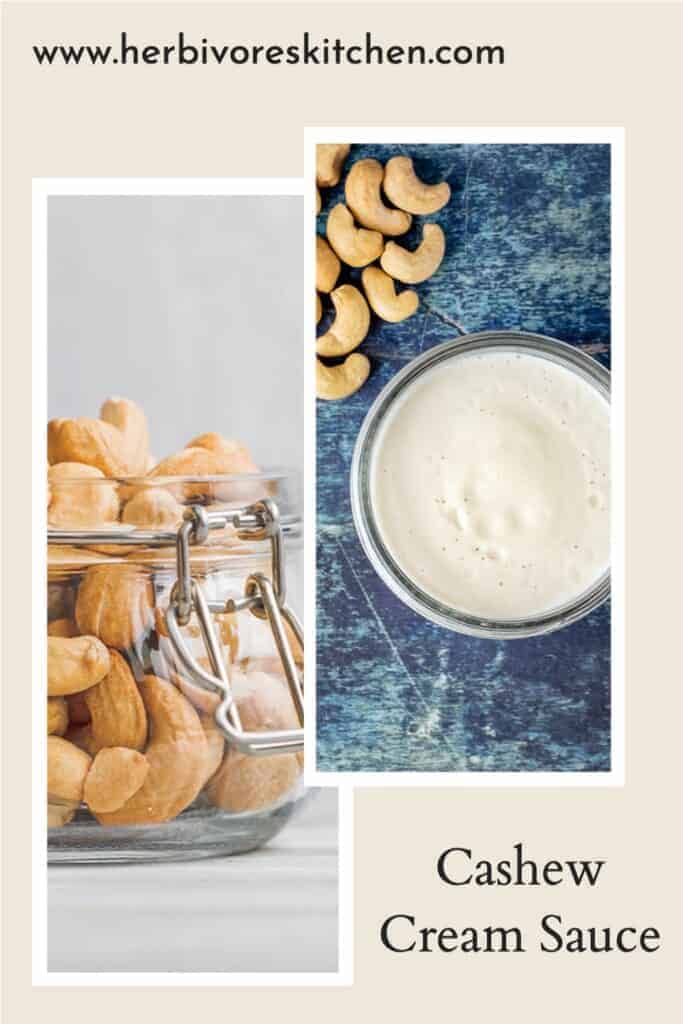 If you just want the highlights though, here they are!
Cashew cream sauce is often used as a vegan cream sauce. The basic formula includes cashews (which become soft and creamy when soaked) and water.
This basic recipe can be modified in a lot of ways. Like, for example, turning it into a Vegan Nacho Cheese Sauce by adding Dijon mustard and tomato paste or sweetening it up and turning it into my Chocolate Peanut Butter Pretzel Vegan Nice Cream.
In the case of making a rich, Italian cashew cream sauce for these vegan stuffed shells, there are just a few additions: Italian seasoning, garlic, lemon juice, salt, nutritional yeast and Italian seasoning. Italian seasoning — a blend of dried oregano, rosemary, basil, marjoram and thyme – gives the cashew cream sauce its Italian flair.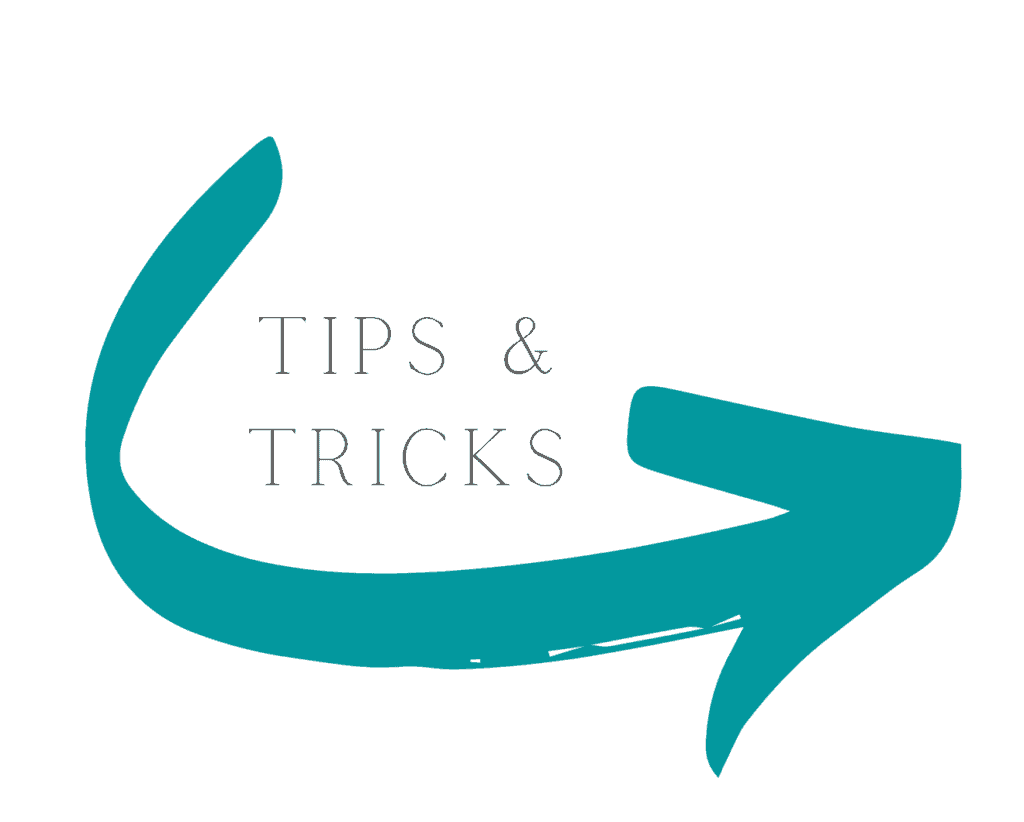 You can, of course, make your own Italian seasoning blend. For the sake of ease, I buy mine from one of my favorite online spice shops: Spice Jungle.
Dairy-Free Pesto is Delicious!
Basil pesto is the second component of my vegan stuffed pasta shells recipe.
I sometimes get the question: is pesto dairy free? The answer, unfortunately, is no. If you're not familiar with it, traditional pesto sauce is a blend of fresh basil, parmesan cheese, extra virgin olive oil, pine nuts, garlic, salt and pepper. The parmesan cheese being the deal breaker. The good news, though, is that I happen to have The Best Vegan Pesto Recipe on my blog. And I do stand by that – this is the best vegan pesto recipe. In developing this dairy free pesto recipe, I wanted to be sure to capture that pungency that parmesan cheese provides. To do that, I use a combination of nutritional yeast, fresh lemon juice and just a hint of crushed red pepper. The results are fantastic!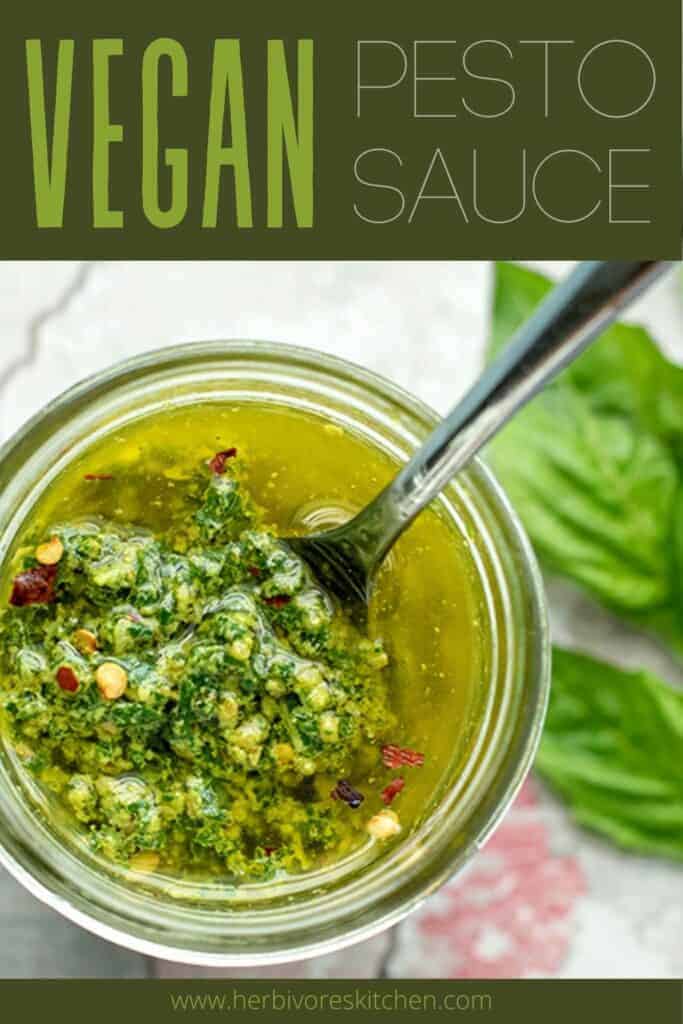 Homemade Vegan Tomato Sauce – It's Easier Than You Think!
Across my blog, you'll find a variety of homemade vegan tomato sauce recipes. I've got a Lentil Bolognese Pasta Sauce, a simple tomato sauce and, my personal favorite (made for special occasions) – my Roasted Tomato Compote with Fresh Basil.
For this recipe, I elected to make a simple homemade tomato sauce. This is so easy and it slowly simmers while you're preparing the rest of the meal, so it doesn't take much additional time. Another benefit – this simple vegan tomato sauce is pantry friendly! You probably already have the ingredients to make it already.
Putting These Vegan Stuffed Pasta Shells Together
Once all of the elements are prepared, putting these vegan stuffed shells together is pretty easy. I like to mix most of the pesto sauce into the cashew cream sauce and then spoon the entire mixture into my cooked pasta shells. Then I nestle each stuffed shell into the homemade pasta sauce and drizzle the remaining pesto sauce over the top. A few minutes on the stove to heat the whole dish through, a sprinkle of basil and – PRESTO! Vegan comfort food at its finest!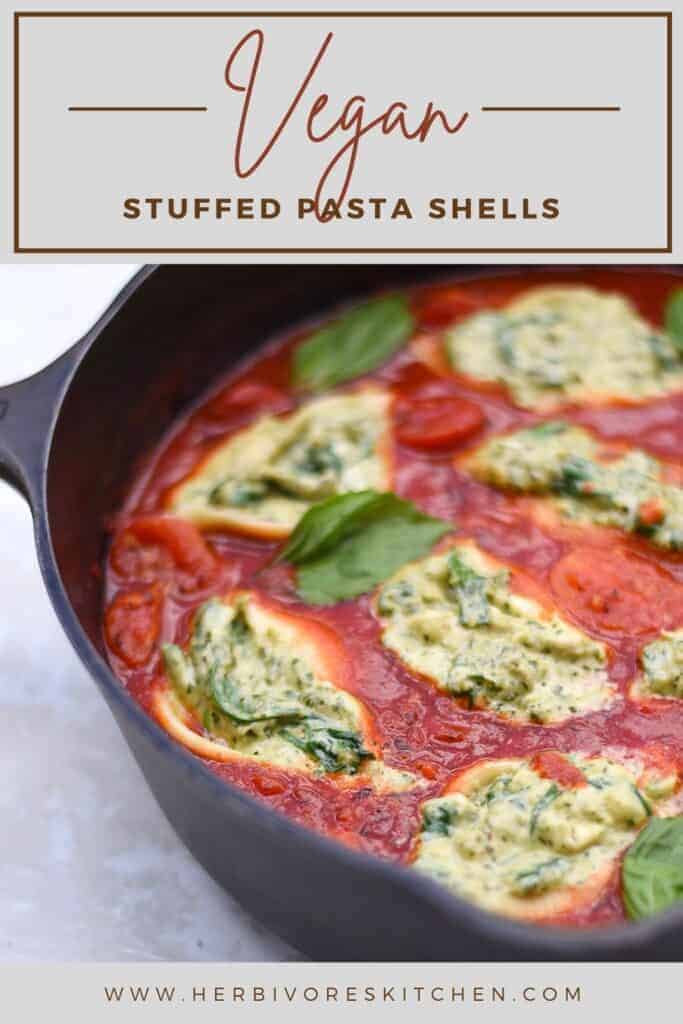 Do You Love This Vegan Stuffed Shells Recipe?
Do you love this vegan stuffed pasta shells recipe? Be sure to check out my other vegan pasta recipes. If you're into creamy alfredo sauce, then my Vegan Fettucini Alfredo is for you! White beans more your speed? Then you'll love my Kale and White Bean Ragu over Pappardelle Pasta!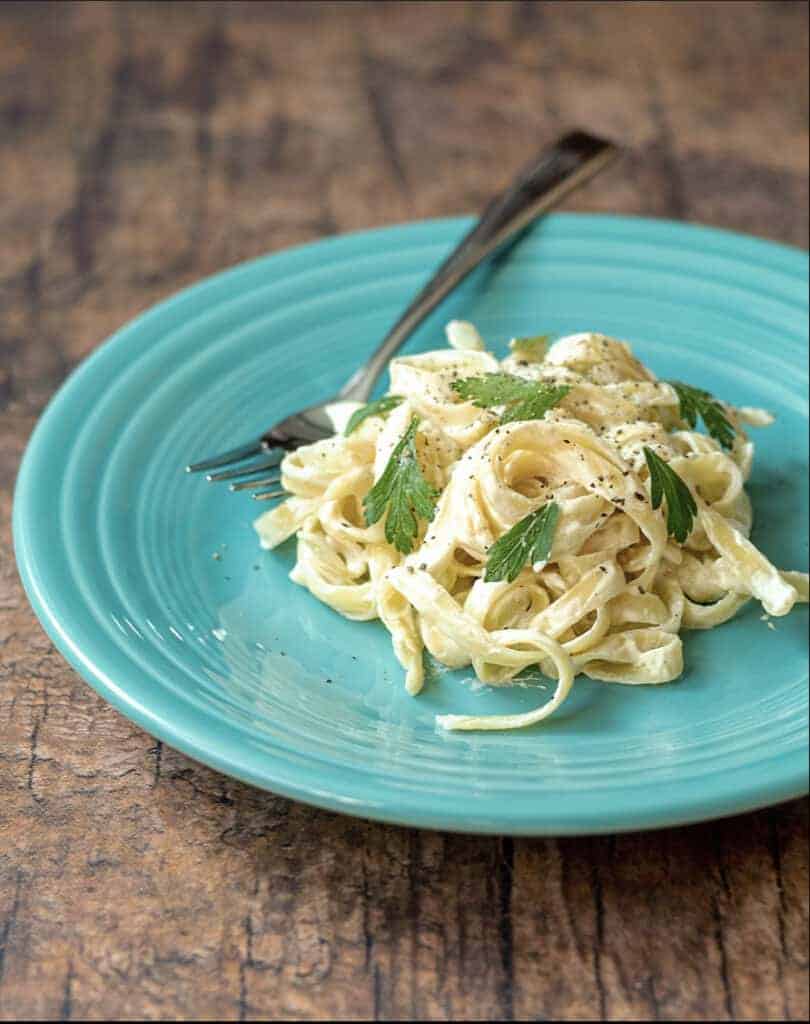 This dairy-free, vegan alfredo sauce is sure to satisfy any and all of your pasta cravings. It's rich, creamy and full of flavor. Vegan alfredo sauce might even be easier to make than it dairy-heavy counterpart. And, it's certainly better for you!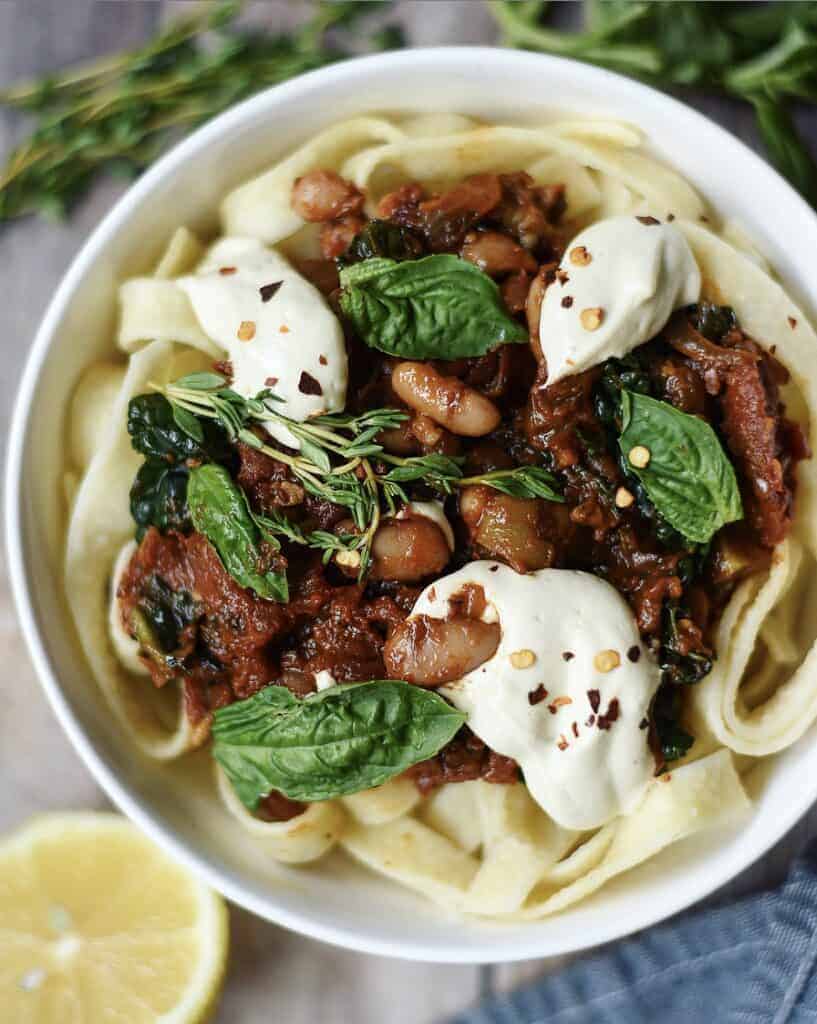 Looking for the ultimate in vegan comfort food? This pappardelle pasta with an easy kale and white bean ragù recipe will make even the coldest nights warm and cozy. Bring this Italian recipe to your table in a vegan friendly way by adding a healthy cashew cream sauce made with cashews, nutritional yeast and fresh lemon juice.
What's in My Kitchen to Make This Vegan Stuffed Shells Recipe Easier?
Want to know what tools and resources I keep on hand to make my vegan cooking even easier? Here's a short list of what helped me create this blog post and recipe. For the complete list, visit my Shop where you can find the kitchen gadgets I like as well as a list of books that I recommend.
It's true – a Vitamix is an expensive blender. But, oh! The things it can do and do well. If you're interested in getting more into vegan cooking, or you just want to eat healthier, then I think that this is a must-have kitchen tool. I use my Vitamix daily for breakfast smoothies and it really gets the job done when making vegan cheeses.
There are many versions of the Vitamix on the market. This is the version that I have.
There are a few tools in my kitchen that get used all the time and this mini 4-cup food processor is one of them. It's perfect for sauces that don't require me to bring out the big guns. Clean up is easy and it doesn't take up much space.
This garlic peeler is a simple silicon tube. Despite its simple design, it skillfully removes even the toughest of garlic skins. I'm so much happier not peeling garlic cloves with my fingernails. I'm pretty sure I'll collectively get at least a day of my life back because of this device.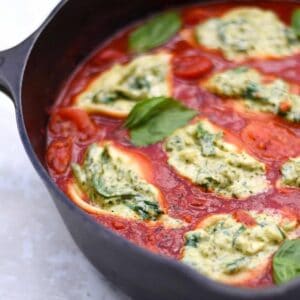 Vegan Stuffed Shells
Vegan stuffed shells just got elevated! Featuring a cashew cream sauce, vegan pesto and a vegan tomato sauce, these vegan stuffed pasta shells are the ultimate in vegan comfort food!
Ingredients
1

10 oz pkg

large pasta shells
For the Vegan Tomato Sauce
1

tbsp

extra virgin olive oil

1/2

yellow onion

diced

1

tsp

salt

1

tbsp

garlic

minced; 1 tbsp of minced garlic is equal to about 2 cloves

1

tbsp

Italian herb seasoning

see Recipe Notes

1/2

cup

tomato paste

1

28 oz can

crushed tomatoes

1

tbsp

brown sugar

1

tbsp

fresh lemon juice
For the Vegan Pesto Sauce
2

cups

fresh basil

washed, dried and loosely packed

1/2

tsp

salt

2

whole

garlic cloves

1/4

cup

pine nuts

toasted; see Recipe Notes

2

tbsp

nutritional yeast

1/2

tsp

crushed red pepper

1/2

cup

extra virgin olive oil

2

tsp

fresh lemon juice
For the Cashew Cream Sauce
1

cup

cashews

3/4

cup

water

1

garlic clove

1

tbsp

fresh lemon juice

2

tbsp

nutritional yeast

1

tsp

salt

3

cups

baby spinach

washed, dried and loosely packed
As Additional Garnishment
Fresh basil leaves

Crushed red pepper

to taste

Salt & pepper

to taste
Instructions
Soak the cashews in hot water for 30 minutes.

Prepare the pasta al dente, then rinse it with cold water to stop the cooking process. Set aside.
To Make the Simple Vegan Tomato Sauce
Heat up the olive oil in a large, deep-sided skillet. When shimmering, add the onions and salt. Reduce the heat to medium-low and slow cook the onions until they begin to brown. About 10-12 minutes.

Add the garlic and Italian herb seasoning to the onions. Stir to combine and cook until fragrant. 1-2 minutes.

Add the tomato paste and increase the heat to medium. Sauté the onions and garlic with the tomato paste until it becomes a dark red. About 2-3 minutes.

Add the crushed tomatoes and brown sugar. Stir to combine and reduce the heat to low. Cover and allow the sauce to simmer while preparing the Italian Cashew Cream Sauce and Vegan Pesto Sauce.
To Make the Vegan Pesto Sauce
Add the fresh basil, ½ tsp salt, 2 garlic cloves, toasted pine nuts, 2 tbsp nutritional yeast and ½ tsp crushed red pepper to a mini food processor. Chop until all the ingredients have been reduced to small pieces.

Stir in ½ cup of extra virgin olive oil and 2 tsp of lemon juice.

Season with fresh ground pepper.
To Make the Italian Cashew Cream Sauce
Drain and rinse the soaked cashews.

Combine the soaked cashews, water, garlic clove, 1 tbsp fresh lemon juice, 1 tsp salt, 1 tbsp Italian seasoning and 2 tbsp of nutritional yeast in a high-speed blender. Blend until creamy.

Add the spinach to a large glass bowl. Microwave on high for ~20 seconds. The spinach should be wilted. If not, continue to microwave for 10 second intervals.

Combine the wilted spinach and the Italian Cashew Cream Sauce.
Putting the Vegan Stuffed Shells Together
Uncover the vegan tomato sauce and stir in 1 tbsp of lemon juice.

Combine the vegan pesto sauce and the Italian cashew cream sauce, reserving a small amount of the vegan pesto sauce as a garnishment.

Spoon the cashew cream sauce into each large pasta shell, then nestle the shells into the vegan tomato sauce. Continue until all the shells are filled or the deep-sided skillet with the tomato sauce is full.

Continue to cook the tomato sauce on low to reheat the shells and filling, then serve.

Garnish with the remaining basil pesto, fresh basil leaves, crushed red pepper and salt & pepper, to taste.
Notes
I use Italian seasoning quite frequently. I have found an online blend that I quite like: Spice Jungle's Italian Herb Seasoning. If you don't have Italian herb seasoning on hand, you can substitute it with 1 tsp dried basil, 1 tsp dried oregano and ½ tsp thyme. If you have it, you can also add ½ tsp marjoram and ¼ tsp rosemary.
Toasting pine nuts adds to their richness. To toast pine nuts, add them to a hot, dry skillet. Stir them constantly until they just begin to brown. About 2 minutes. Then remove them from the heat immediately. Their high fat content will cause them to burn quickly.
About Herbivore's Kitchen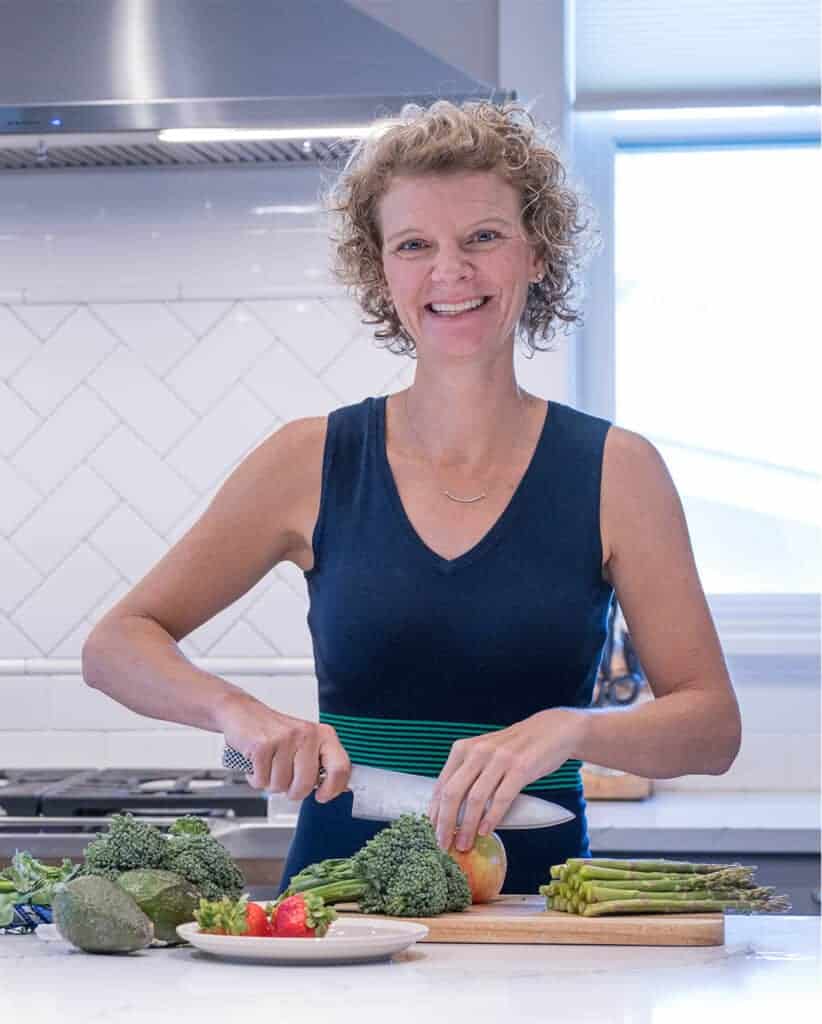 Herbivore's Kitchen is a plant-based food blog started by me, a vegan home chef, aspiring food photographer and how-to-be-a-better-food-blogger junkie. You'll mostly find creative and tasty vegan recipes and detailed deep dives into vegan ingredients (check out my Vegucation section) on my blog. I love knowing as much as I can about the food that I make. I'm also really into running a food blog as a business, so I've also got a section of my blog titled: Confessions of a Food Blogger where I get into the nitty gritty on how to build, manage, market and monetize a food blog.