The post below includes affiliate links. When I find a great product or service, I like to share it with my readers. Sometimes I use affiliate links so I can earn commission for my recommendations. Thank you for your support!
Jump to Recipe
Easy Vegan Miso Soup
Miso is an incredible tool in any vegan chef's toolbox. It's super flavorful and boasts some serious health benefits. It's also the star ingredient in this easy vegan soup recipe – perfect for lunch time when you want to eat healthy, but don't want to spend a lot of time in the kitchen. This easy vegan miso soup recipe comes together in no time and offers up a cold-busting, warm, savory solution to your lunch time.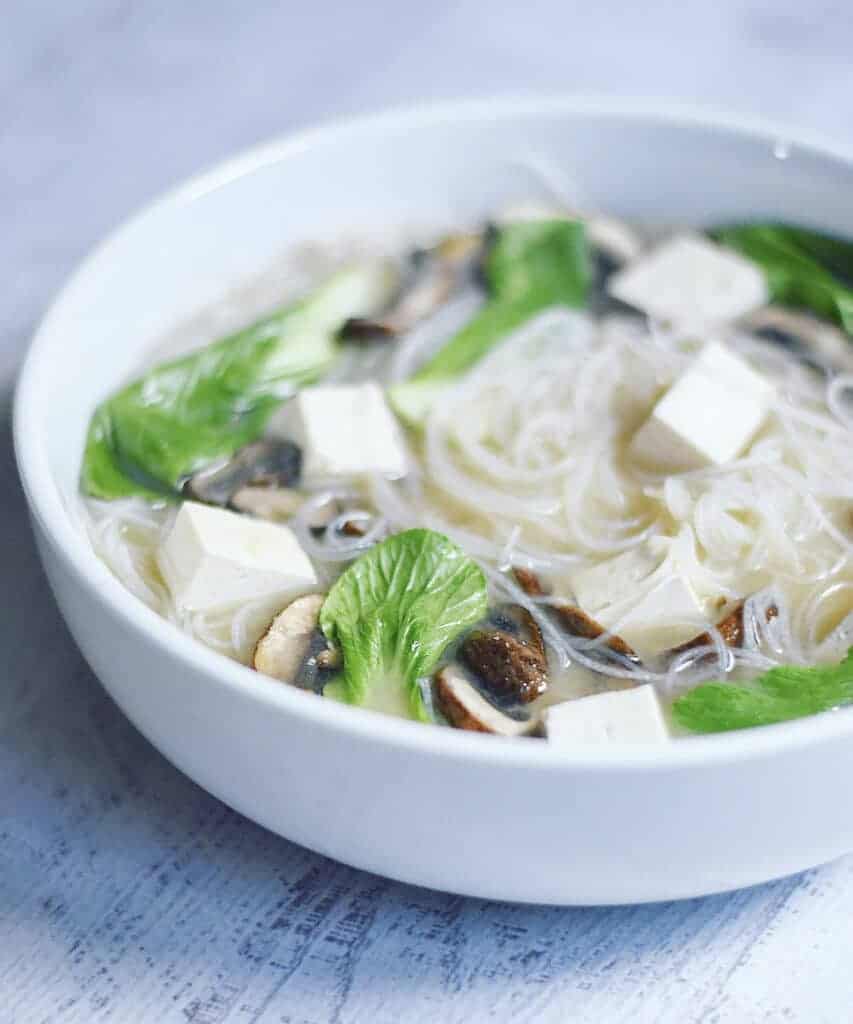 Cooking Lesson: What Exactly Is Miso?
Miso is a fermented soybean paste. There, wasn't that easy?
Actually, there's more to it than that. Miso paste is achieved when the soybeans are given weeks (or longer) to interact with a mold called koji. (https://www.bonappetit.com/story/what-is-miso) The enzymes in the mold, and the combination's exposure to the environment, work together to break down the soybeans into a paste. So much yum, right?! But, trust me, if you haven't cooked with it, you're missing out.
Miso paste comes in various shades of color, each having to do with how long the soybeans are fermented. The three you're most likely to find in your grocery store are white, yellow and red. The intensity of the flavor in these three options graduates with the color. White and yellow are lighter and sweeter, where red is a richer more pungent flavor. Lighter miso is popular in soups, dressings and lighter sauces whereas the darker miso is popular in glazes, stews and heavier sauces.
Cooking Lesson: How Do You Cook with Miso?
Miso is an incredible tool to have in your toolbox, especially if you're trying to add more vegan dishes into your diet. I use miso in so many more things than miso soup. I use in salad dressings, vegan cheeses, to make vegan fish sauce and in my vegan pho recipe (Try it! Please! It is so good!).
If you regularly read my posts, you already know that I am somewhat obsessed with the concept of umami. I spent a good deal of my time in my vegan fish sauce recipe discussing umami (a rich, savory flavor often associated with meats and cheeses) and how to achieve it in plant-based cooking.
Miso, I think, is the key to vegan recipe umami. I use it whenever I self-describe that I am looking for more "depth of flavor." For example, traditional pho broth doesn't use miso in the recipe. It's usually made with spices and herbs like lemongrass, cloves, cinnamon and star anise all simmered in a bone broth. And, that's all well and good, but just using those items in a water-based or vegetable-based broth leaves it feeling a little thin. So, I use yellow miso paste to round it all out and give it a richness that it would otherwise have from the bone broth. (I digress about the vegan pho, but seriously! You should try it!).
Did I Mention That Miso is Healthy?
I struggled with this one for a little while because miso tastes so salty. That and there's a lot of negative thought out there around consuming too much soy. Miso, on the other hand, gets a lot of good press for being a health food. People rave about its probiotic qualities.
What gives?
From the research I've done, it appears that there's a special relationship between the soy used to produce miso, and the process by which is it made, that balances out the negative aspects of too much salt and too much soy. Given that I'm not a doctor, I'm not going to delve into this one too deeply. I can't paraphrase the health information I'm reading well enough to get it right and that's just not a cool thing for me to do. But I can push you in the direction of some trusted sources I use when I come up against questions like this.
So where do I go when I want to know?
My go-to source for most of my food-related health questions is Nutritionfacts.org. It's a non-commercial, science-based website run by Dr. Michael Gregor and his team. If you haven't heard of him (or it), I do encourage you to check it out. If you're looking for information on miso specifically, here's the link. I, personally, own his book How Not to Die and I read it regularly and reference it frequently. I highly recommend it for anyone who is curious about adopting a plant-based lifestyle. There's a little review of it in my blog post: Three Books to Read If You're Thinking About Going Vegan.
Enough with the Food Education! How Do I Make Easy Vegan Miso Soup?
This easy vegan miso soup recipe really is so easy! I first start by making the dashi, which is the staple broth used in Japanese cooking. It's typically made using water, kombu and bonito fish flakes. Fish flakes, obviously, are not vegan friendly, so I omitted them when putting this recipe together. I also didn't happen to have kombu (a type of seaweed) on hand so I substituted in nori. I always have nori because I love vegan sushi. Nori does come apart in the cooking process, so I strain the broth before I use it. Kombu is easier to retrieve.
Once the dashi is made, it's just a matter of letting it cool a little and then adding the miso paste. Why let it cool? It has to do with the probiotics in the miso that I talked about above. If the broth is too hot, it will kill the probiotic qualities of the miso. Another trick to making great miso soup? Don't just spoon the paste directly into the dashi. Instead, take a small amount of the broth and mix it with the miso paste in a separate bowl. Allow it to dissolve fully and then add it to the broth.
Adding the rest of the ingredients to the broth is the fun part. I sometimes like to add rice noodles to mine (as I did here) because it makes my lunch feel a little more filling. I love adding bok choy, tofu and shiitake mushrooms and then topping the whole bowl with scallions.
What's in My Kitchen That Makes This Vegan Recipe Easier?
I often get asked what gadgets and tools I have in my kitchen that help me pull all of my recipes together. I included a list below along with a description about why I like them so much. If you have any questions about them, please feel free to reach out to me in the comments!
Noodle Bowls. Noodle bowls are a favorite of mine and I love serving them when I have guests. I recommend picking up a set so that you have plenty of room for all of that delicious broth! I'm currently digging this decorative set!
Like the noodle bowls, eating miso ramen is more fun with the right spoon. These Asian soup spoons are perfect for this ramen noodle bowl!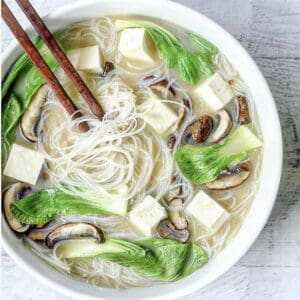 Vegan Miso Soup with Rice Noodles
Miso soup makes for an easy vegan soup recipe – perfect for lunch time when you want to eat healthy, but don't want to spend a lot of time in the kitchen! This vegan soup recipe comes together in no time and offers up a cold-busting, warm, savory solution to your lunch time.
Ingredients
1/3

8 oz pkg

rice noodles

4

c.

water

1

sheet

nori

see recipe notes

1

T.

sesame oil

5-7

shiitake mushrooms

washed, wiped and sliced (optional: I like my mushrooms gently sauteed first; see recipe notes)

2

small heads

bok choy

washed with ends trimmed

1/2

8 oz block

extra firm tofu

drained, pressed and cut into bite-sized cubes

4

T.

light miso paste
Instructions
Prepare the rice noodles in accordance with the package directions.

In a small sauce pot, bring 4 c. of water to a boil. Add the torn nori sheets and allow to simmer for approximately 10 minutes.

While the water is simmering, gently sauté the shiitake mushrooms in the sesame oil until they become golden.

Wash and trim the bok choy.

Press the tofu to remove the excess liquid and cut into bite-sized cubes.

Strain the nori out of the broth. Discard the strained nori.

Allow the broth to cool slightly. In a small bowl, use 1 ½ cups of the slightly cooled broth and combine with the miso paste to create a thinner paste (often called a slurry). This will help ensure that the miso fully dissolves into the broth. Add the paste to the rest of the broth and stir until combined.

In a serving bowl, add the rice noodles, bok choy, mushrooms and tofu to the bottom of the bowl. Ladle the broth over the other ingredients.
About Herbivore's Kitchen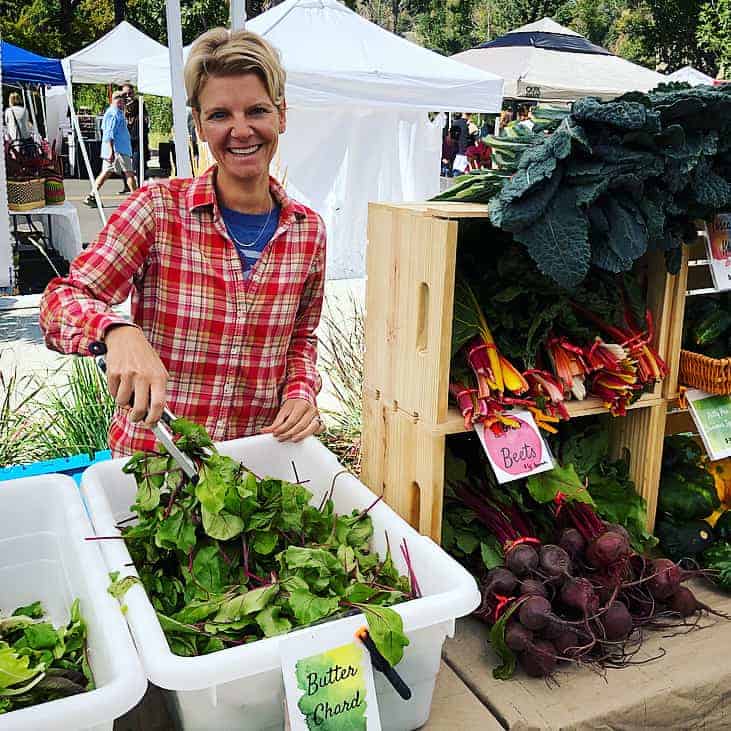 Herbivore's Kitchen is a blog run by me, a plant-based home chef and aspiring food photographer. I switched my and my family's diet to a plant-based diet after learning about the health benefits of going vegan. Making this change has prompted a variety of food and holistic-lifestyle related questions that I explore through this blog. I talk about how to pick and prepare the most nutritious foods, to how to reduce waste at home, to how to live a more sustainable lifestyle while on the road.