Jump to Recipe
---
This post includes affiliate links. When I find a great product or service, I like to share it with my readers. Sometimes I use affiliate links so I can earn commission for my recommendations. Thank you for your support!
---
Citrus-Marinated Portobello Fajita Recipe
Don't tell tacos, but this vegan fajita recipe will have you picking favorites. This veggie-forward fajita recipe is easy and healthy, featuring citrus-marinated portobello mushrooms, tri-colored peppers and a sweet, spicy fajita seasoning! Bring this Mexican darling to your dinner table in a vegan-friendly way!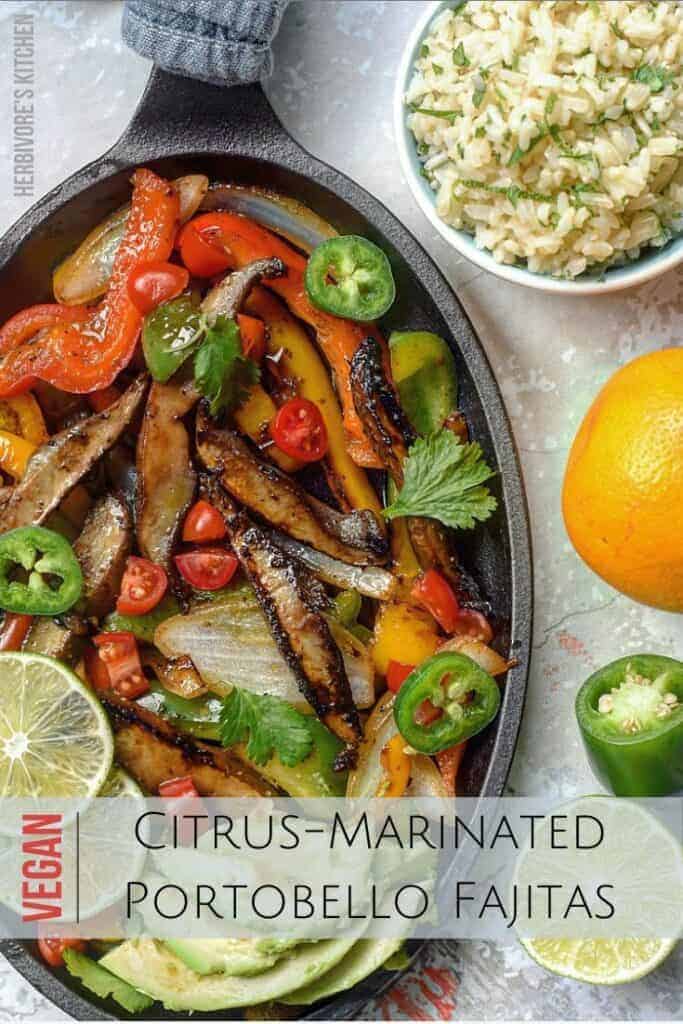 This Fajita Recipe is a Time-Tested Family Recipe
Well, sort of. Full disclosure: I stole this fajita recipe from my brother and his wife. Well, at least the essence of it. For years, my brother has sworn by marinating his chicken (*cough*) fajitas in Squirt. You know, Sprite's lesser-know cousin?
Well, as it turns out, they do taste awesome (that's my previously omnivorous voice) so I thought maybe I could recreate this awesomeness to be vegan-friendly. To do this, I created my own citrus marinade and marinated a few sliced portobellos in it. Then I paired those with a variety of peppers and onions and seasoned the whole thing with an epic fajita seasoning that I discovered at Spice Jungle. Look out tacos, there's a new kid in town!
The Citrus Marinade for this Vegan Fajita Recipe
In an attempt to imitate Squirt, I made a citrus marinade that consisted of 1-part orange juice to 1-part sparkling water. Then I dressed it up with some sliced limes, sliced jalapenos and some fresh cilantro. I let the sliced portobellos marinate in it for about 10-15 minutes, then drained the marinade, reserving 1 cup of it to cook down the mushrooms.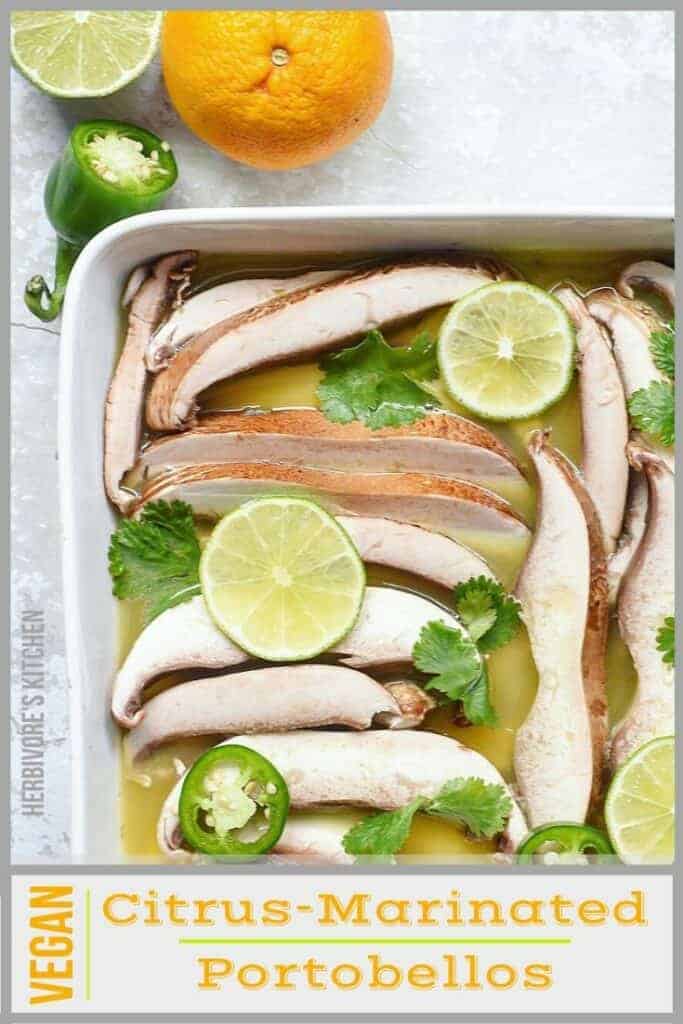 Does Using Sparkling Water Have an Effect on Marinating?
Typically, I do a lot of research before I create a recipe. In this case, I knew that I wanted to mimic the Squirt, so I elected to use sparkling water just assuming that carbonation must have some effect on the marinating process. I also knew that mushrooms, which have similarities to meat, respond well to food science tricks reserved for marinating meat. For example, if you haven't tried out brining your shiitakes before roasting them (a little trick I picked up from America's Test Kitchen), then I urge you to experiment with how well that meat-inspired marinating hack works on mushrooms. I used it in my Veggie-Loaded Vegan Pho recipe.
Afterwards, I did dig into this a little bit and while the research is scant, it seems that carbonation doesn't really affect the marinating process. It's the acidity in the orange juice and lime slices that's doing the magic. So, while I am posting this fajita recipe (which tasted amazing) using sparkling water, I wouldn't hesitate to use plain water or even double-down on the orange juice if you prefer.
Prepping the Portobellos for the Marinade
Here's a hack that all my own – remove the gills from your portobello mushrooms before marinating them. I've spent a lot of time reading up on this and there's definitely a "remove the gills" camp and a "no need to remove the gills" camp. I fall squarely into the "remove the gills" camp. I find them guilty of inviting a soggy mess to your dinner table. One that's not particularly pleasing to the eyes or the taste buds. I find that the gills hold an earthy flavor that's hard to overcome, especially with a bright citrus marinade like this one.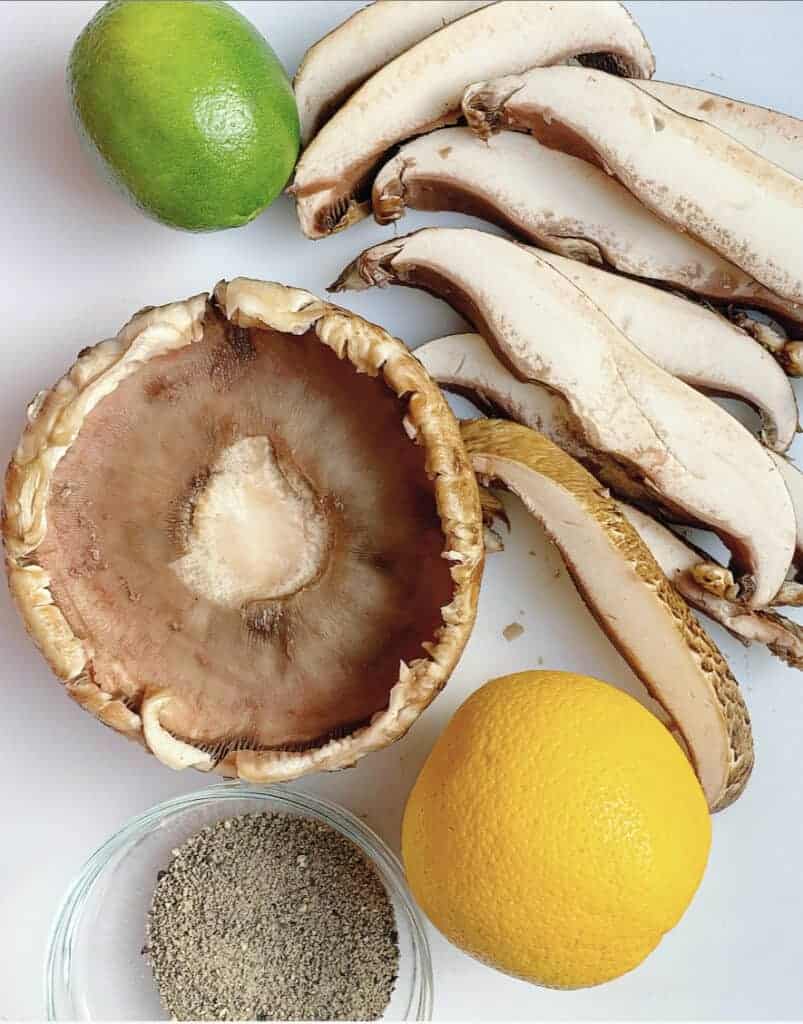 Cooking the Portobellos in the Marinade
Here's another mushroom-friendly tip that I picked up from America's Test Kitchen: simmering your mushrooms in a liquid before adding oil will result in a less oil-sodden, crispier mushroom. I first tried this when making shiitakemushrooms for my Vegan Bibimbap Bowl with Korean-Marinated Tofu Crumble. It was amazing. I divided the mushrooms into two piles, one that I simmered in ¼ cup of water before sautéing and the other that I just sautéed in oil. The mushrooms that simmered first came out crispier and used half the amount of oil. How's that for a healthy foodhack?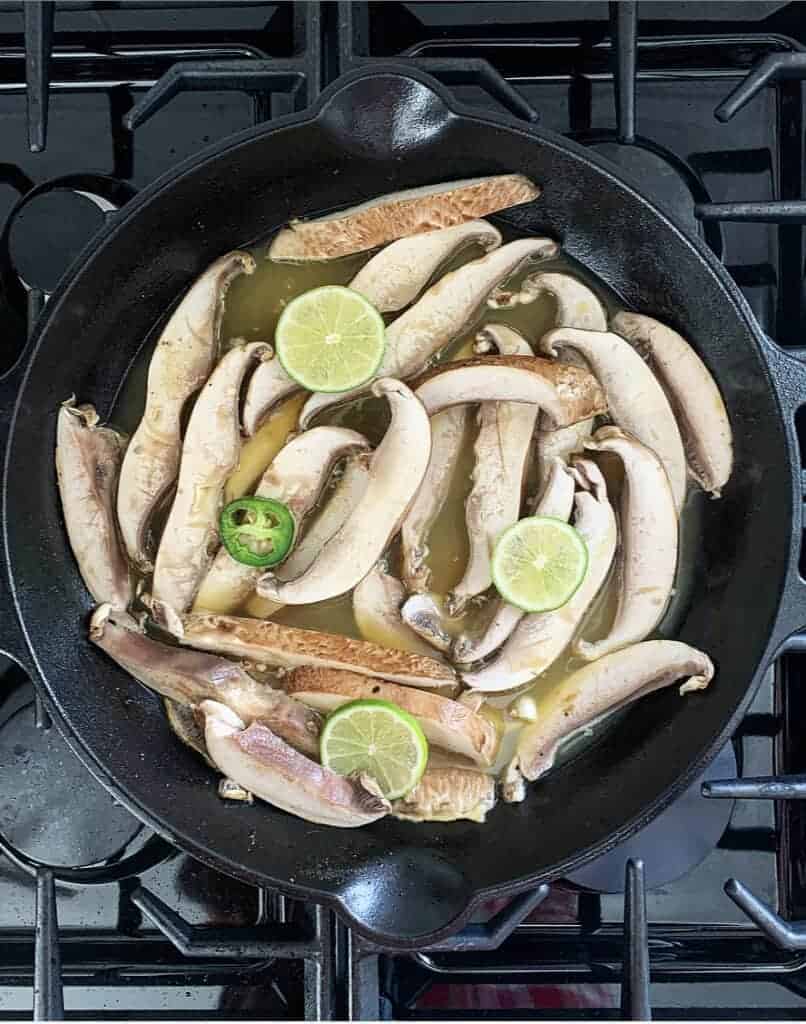 For this fajita recipe, I did the something similar. This time though, I cooked the portobellos down in 1 cup of the reserved marinade. As soon as that cooked off, I added a small amount of grapeseed oil (for its neutral flavor and high heat tolerance) and allowed the mushrooms to crisp up. And they did. Beautifully.
Vegan Fajitas Are Better Cooked in Phases
One-pot meals are all the rave these days. I so want to be on that bandwagon, but here's the thing: different ingredients cook at different speeds and temperatures. I find that, in an effort to consolidate, a lot of flavor potential can be lost. So, in most cases, you'll find that my recipes are cooked in phases. There's a lot of "set aside(s)" in my directions. This fajita recipe is no different. I wanted the peppers and onions to crisp up nicely, and unlike the mushrooms, simmering these vegetables in the marinade would have rendered them mushy. So, I started by cooking these vegetables first – adding them to a searingly hot cast iron skillet to achieve that char that fajitas are known for. Then I, you guessed it, set them aside and went to work on the mushrooms. The result: a pile of fajita ready veggies that are cooked to perfection.
Get Your Spice On! Vegan Fajita Seasoning with a Ton of Flavor
Fajita seasoning is different than taco seasoning, although I suppose in a pinch you could swap one out for the other. It has a sweeter taste to it with just a touch of heat, where I find taco seasoning more chili-forward. Fajita seasoning is easy enough to come by in the grocery store and I do encourage prepared mixes (I'm a working mom too!). It cuts down on the number of spices you need to have on hand and makes up for the time I used to cook my vegetables separately (see the paragraph above). I personally have come to love the spice mixes at Spice Jungle. I have their paella spice (perfect for my Vegan Paella Recipe), their togarashi seasoning (it brings the spice to my Veggie-Loaded Easy Vegan Ramen) and, of course, their fajita seasoning. [Note: this is not a sponsored post, I just really dig them].
If you're a purist though, you can definitely make your own. Fajita seasoning is a combination of cumin, cilantro, cayenne pepper, salt, garlic and sugar. I did a little hunting for you if you'd like a head start on making your own. This fajita seasoning recipe by Culinary Hill looks pretty tasty to me!
Oh, and if you're that eager, you should also be making your own tortillas. I've done this a few times and it is really easy, especially if you have a tortilla press (I do). There's something so satisfying about homemade tortillas if you've got the extra time. Victoria Cookware, who gave me the lovely fajita skillet and cast-iron pan I used to create this dish, makes a tortilla press. I've included it in the links below if you're interested, although I did use locally-made tortillas for this dish (I was too lazy to make the fajita seasoning, remember?).
Serving Your Vegan Fajitas
If you grew up in the era of Chi-Chi's, you know that fajitas are best served sizzling hot. It makes for quite an entrance. Just make sure you have a heat-proof handle on your fajita skillet before picking it up. Aside from the theatrics, I recommend some fresh cilantro, fresh salsa or diced grape tomatoes, sliced avocado and some sliced limes.
Last, but certainly not least, don't forget a side of Cilantro-Lime rice! Traditionally made with white rice, I mixed things up a bit and used Lotus Foods' Brown Jasmine Rice. I cooked it in a water/orange juice combination (far more water than orange juice) and seasoned it with a little lime juice, lime zest and minced fresh cilantro. Truly divine.
What's in My Kitchen to Make This Vegan Recipe Easier?
The best part of fajitas is serving them sizzling! This cast iron fajita skillet distributes heat evenly. The cast iron helps to create a deep char on the vegetables.
My cast iron skillet is one of my favorite kitchen tools. It's a great pan for a number of different recipes, but it's especially good for the slow-cooking that this sauce requires.
Are you making homemade Street Tacos or Vegan Fajitas? What stop with the fillings? Make your own tortillas with this cast iron tortilla press.
This tortilla press measures 8" and the lever operates smoothly (a common issue with tortilla presses) giving you evenly pressed tortillas each time.
Love to cook with cast iron? Ever forget how hot those handles get? Yeah, me too. The Ove Glove will help to protect your hands when cooking (and forgetting).
These potholder gloves are heat safe to 540 degrees and two come in a package – one for holding the handle and one for supporting the bottom of your cast iron skillet (because we all know it's too heavy to pick up with one hand.
No, that's not the brand. It's just the idea! But,I own this set of Global™ knives and They're some of my most prized possessions in the kitchen. This set is universally well-rated for the at-home chef and will get you a good, solid set of knives without totally breaking the bank.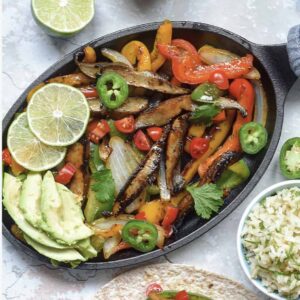 Citrus-Marinated Portobello Fajita Recipe
Don't tell tacos, but this vegan fajita recipe will have you picking favorites. This veggie-forward fajita recipe is easy and healthy, featuring citrus-marinated portobello mushrooms, tri-colored peppers and a sweet, spicy fajita seasoning! Bring this Mexican darling to your dinner table in a vegan-friendly way!
Ingredients
Citrusy Cilantro-Lime Rice
Citrus Marinade
1

cup

sparkling water

see Recipe Notes

1

cup

orange juice

2-3

fresh lime slices

2-3

jalapeno slices

8-10

fresh cilantro leaves
Portobello Mushroom Fajitas
2-3

large portobello mushrooms

washed, destemmed with the gills removed

2

tbsp

grapeseed or other high temp oil

divided

1

orange pepper

washed, deseeded and sliced

1

red pepper

washed, deseeded and sliced

1

green pepper

washed, deseeded and sliced

1/2

yellow onion

sliced

4

tbsp

fajita seasoning

divided, I used Spice Jungle's Fajita Seasoning

1

bunch

fresh cilantro

washed, destemmed and torn

2

avocados

sliced

25-30

grape tomatoes

diced

lime wedges

jalapeno slices

10-12

tortillas
Instructions
To make the rice, bring the water and orange juice to a boil. Add the rice and cook in accordance with the package instructions.

When cooked, allow the rice to cool. The stir in the lime zest, lime juice and minced cilantro.

To make the marinade, combine the sparkling water and orange juice.

Remove the gills of the Portobello mushrooms and then slice into thick ½" – ¼" slices. Spread the mushroom slices out in a shallow dish and pour the marinade over the mushrooms. Add the lime and jalapeno slices. Allow to marinade for 10-15 minutes while prepping the peppers and onions.

Heat 1 tbsp. of the grapeseed oil in a cast iron skillet. Check the temperature with a drop of water. When it sizzles, the pan is hot enough. Add the onions and peppers to the hot pan and stand back. The moisture from the vegetables will spatter. Allow to cook without stirring for 2-3 minutes. This will result in a char on the vegetables. Sprinkle 2 tsp. fajita seasoning over the vegetables and stir to coat. Allow to cook for 2-3 minutes more then remove from pan. Wipe out the pan.

Add the portobello mushrooms and 1 cup of the reserved marinade to the cast iron skillet. Simmer until the marinade has cooked off. Add the grapeseed oil and 2 tsp of the fajita seasoning and allow the mushrooms to brown. About 1 minute. Set aside.

Make your fajitas by topping your tortillas with the peppers, onions and portobello mushrooms. Top, as you wish, with fresh cilantro, diced tomatoes, jalapeno and sliced avocado. Serve with Citrusy Cilantro-Lime Rice on the side.
Notes
I always remove the gills when cooking with portobello mushrooms. It's easy enough to do – I just use a spoon to scoop them out when I am washing my mushrooms. They come out easily with a little bit of moisture. I just find that portobello mushrooms retain too much moisture and the flavor is too "earthy" when the gills remain intact.
I like Spice Jungle's Fajita Seasoning. It's got great flavor and it saves a ton of pantry space. Of course, if you are making your fajitas today you can also find ready-made seasoning packages at the grocery store. If you'd like to make your own fajita seasoning, this recipe from Culinary Hill looks amazing!
Sparkling water can be substituted with water if necessary.
About Herbivore's Kitchen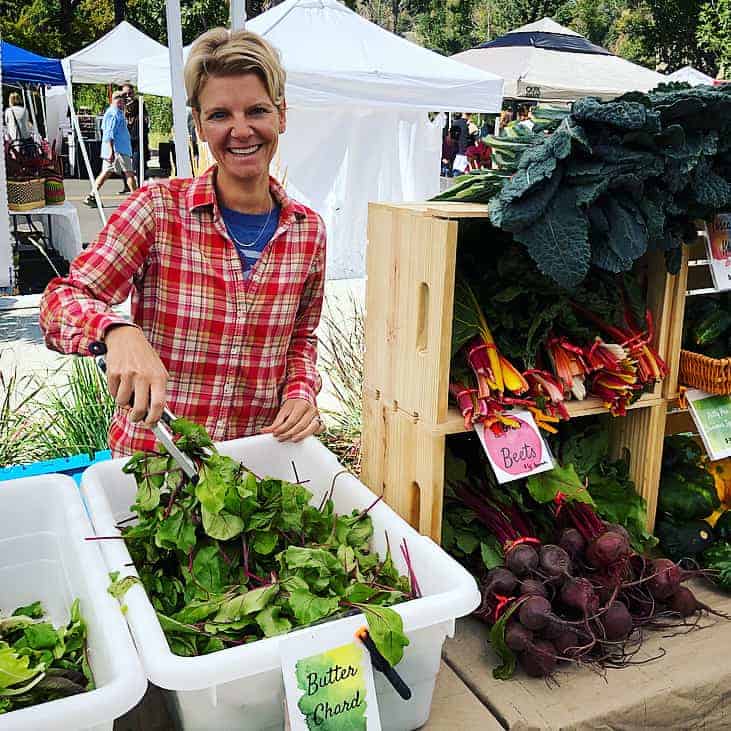 Herbivore's Kitchen is a blog run by me, a plant-based home chef and aspiring food photographer. I switched my and my family's diet to a plant-based diet after learning about the health benefits of going vegan. Making this change has prompted a variety of food and holistic-lifestyle related questions that I explore through this blog. I talk about how to pick and prepare the most nutritious foods, to how to reduce waste at home, to how to live a more sustainable lifestyle while on the road.