Jump to Recipe
---
This post includes affiliate links. When I find a great product or service, I like to share it with my readers. Sometimes I use affiliate links so I can earn commission for my recommendations. Thank you for your support!
---
Vegan Paella Recipe
I've been working on this dish for a LONG time! Paella, especially vegetable paella, ought to be an easy win, right? Well, as it turns out, it is – but, there are some finer points that need to be considered to honor authentic paella. For example, using the right rice and the right spices. In this post, I'll talk about my paella recipe journey and all of the things I learned along the way to help you bring this wonderful, traditional Spanish dish to your table in a vegan-friendly way!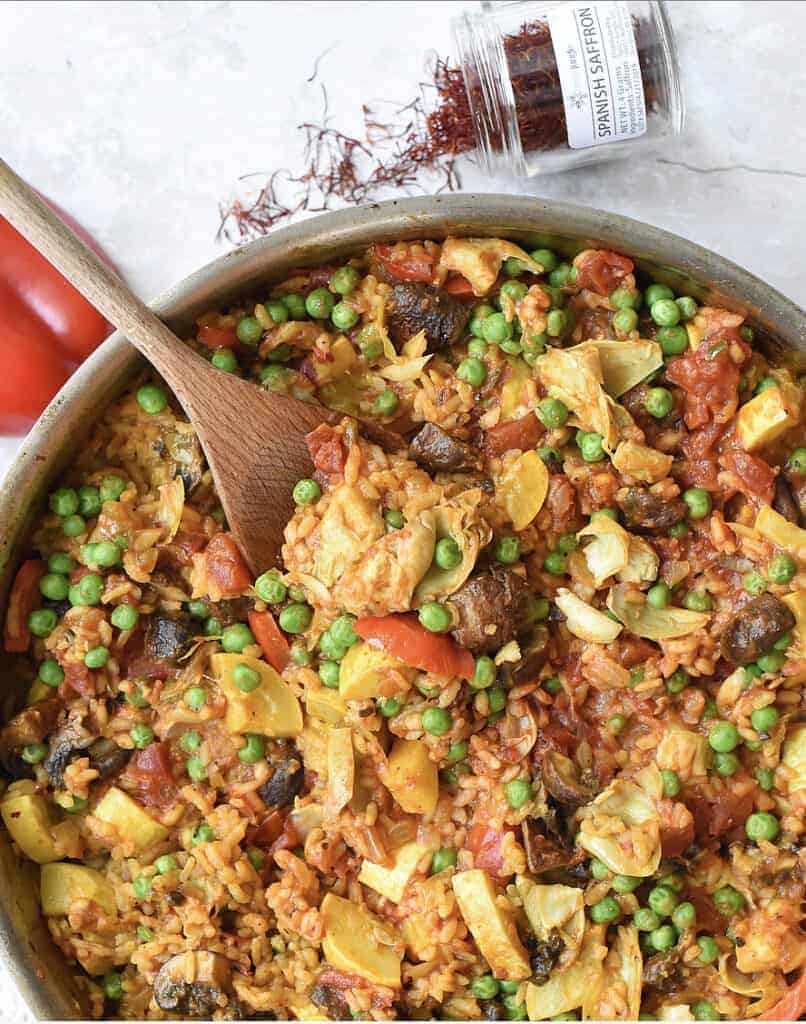 What is Paella?
Paella, a popular rice dish, originated from the Spanish coastal region, Valencia. Valencia is located on eastern coast of Spain on the Mediterranean. While this may seem like trivia, it actually plays a cool role in the name of this dish. "Paella" means frying pan ("paellera") in Valencia's native language, which is how the dish is prepared. No harm in a little dinner-time trivia to dazzle your guests, is there? (*)
Traditionally, paella drew on locally-available ingredients like seafood (often in the shells), rabbit, chicken and a variety of beans. (*) It was originally cooked outdoors over an open fire. Fuel for this fire might include grapevines and fresh herbs, which would gently season the paella as it was cooking. Guests would share paella out of the cooking pan rather than being individually plated. (*)
What's in My Modern-Day Vegan Paella Recipe
Over time paella has expanded – both in its geographic reach as well as the ingredients it includes. To make this one vegan friendly, I sought to include a variety of vegetables. This paella recipe includes artichoke hearts, saffron, paprika, tomatoes and olive oil, each of which tends toward the traditional. I also included ingredients that offer up a lot of color like red peppers, yellow squash and green peas.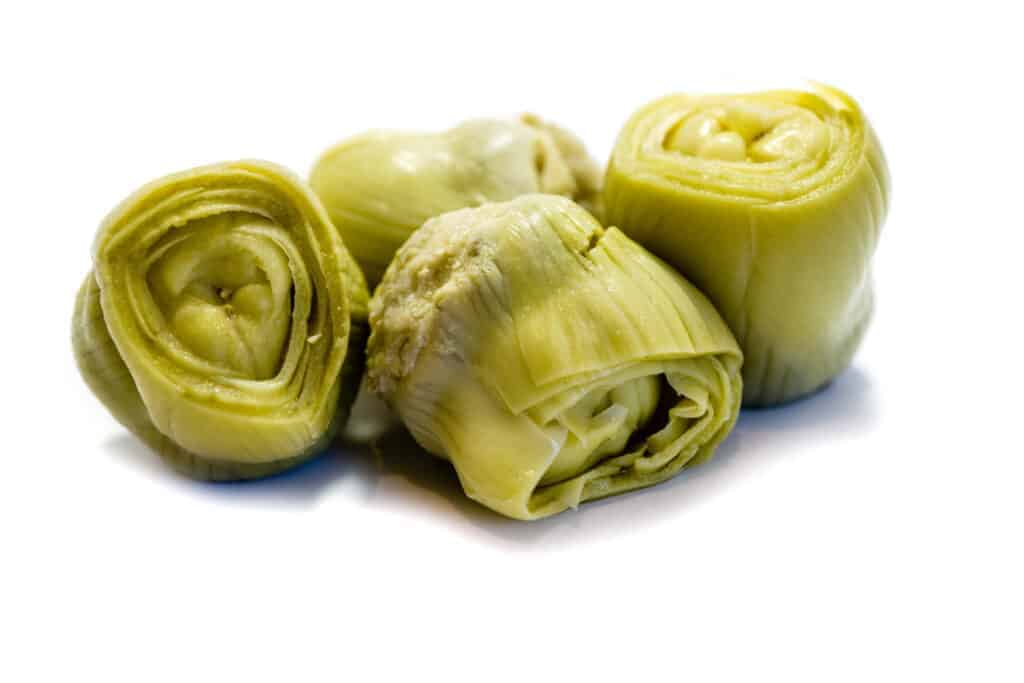 What Type of Rice Should You Use in Paella?
Choosing a rice for paella turned out to be harder than I thought. Traditionally, paella is made using a short-grain white rice native to the its birthplace – Spain. This short-grain rice, arroz redonda ("round rice"), works well for paella because of its starch content and absorption properties. (*) The Spanish varieties are senia, bomba, bahfa and thaibonnet.
The problem is, these types of rice are hard to come by. At least where I live. So, for the first few attempts at this dish, I decided to experiment with other short-grain rice options. I did some research and came up with as many substitution suggestions as there are types of rice. And they often were in conflict. In the end, I decided to experiment with short-grain brown rice and Arborio rice.
Making Paella with Short-Grain Brown Rice
Short-grain brown rice was an appealing choice because it's a healthier rice option. Brown rice, as you may know, is a whole grain. Each grain of brown rice contains the bran, germ and endosperm – which contain fiber and numerous vitamins and minerals. (*) White rice, on the other hand, has been stripped of the bran and the germ, rendering it largely "empty" calories. Armed with this knowledge, I set out to make paella using brown rice.
The downside to using brown rice in paella is that it takes a long time to cook. I found this out firsthand when making paella for a group of friends. We rented a house in the desert and, after a solid day of mountain biking, I offered to make dinner. It was a comedy of errors – enjoying a long holiday weekend, we started with afternoon cocktails which continued well into the evening. And, by that, I mean well into the evening. It was 9:30 before I got dinner on the table.
In addition to the brown rice taking a long time, I found that I kept needing to add more liquid, which I felt somewhat diluted the flavor of all of the seasonings I had added. That being said, when the brown-rice paella finished, it was really good. As an aside, I've also tried the brown rice option at home and, with the right paella pan, the time it took to finish was cut down considerably.
Making Paella with Arborio Rice
The other substitute option is Arborio rice. My research showed mixed reviews on using Arborio rice as a substitute, but I think I would recommend it over brown rice. Like the Spanish varieties, Arborio rice is short and absorbs liquids well. The downside is that it is typically used to make risotto and risotto, as I am sure you well know, has an end result of being creamy. It's a lovely consistency…for risotto. Not so much when you're making paella where you want the individual rice pieces to be dry and separate. You can work around this though, by not stirring the paella too much.
Cooking Paella with Bomba Rice
For my final attempts, I broke down and ordered Bomba rice. It was the one most often recommended in recipes I reviewed. You can easily find it on Amazon and it arrived in two days. Bomba rice gets knocked for being expensive and, by comparison to other rice options, I suppose it is. It's not terribly prohibitive though – I bought a 2.2 lb. bag for about fourteen dollars and I will get more than a few paella dinners out of it. And, in fairness, if you're concerned about the expense of paella, it won't be the price of the rice that will shock you. It will be the saffron.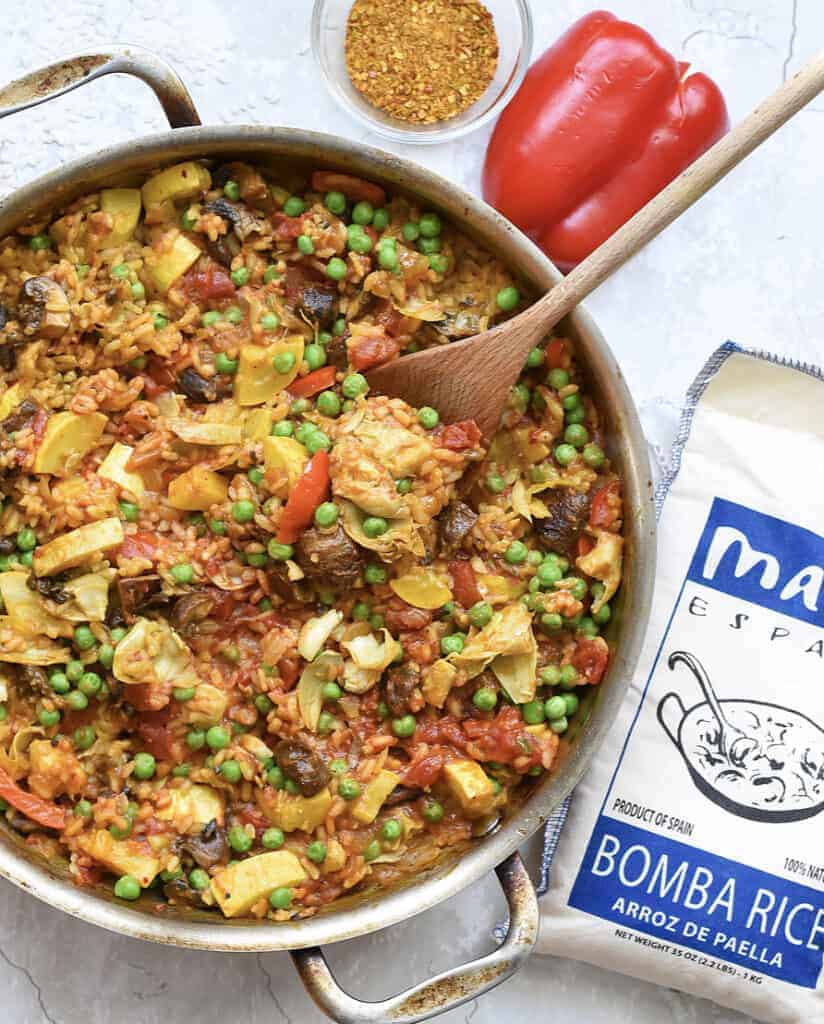 If you've got the time and you're not too worried about the cost, I think using Bomba rice is the way to go. My paella was done in about 35 minutes and the texture of the finished rice was perfect. I used exactly the amount of liquid I wanted to so that the spices I selected were more present than they had been in previous versions.
Converting this Paella Recipe for a Different Rice
Just a note: if you decide to use a different rice for this recipe, please note that the amount of liquid that you will need to add will vary. Each varietal will have different absorption properties. You just have to improvise a little bit. To know whether your rice is done, cut a grain in half. If you can still see the kernel, then you need to add more liquid and cook it a little longer. If the inside of the rice has a consistent color and texture, then it is finished.
How is Paella Prepared?
Remember how I said that paella was orginally prepared outside over an open fire? I've got good news for you if you're a purist. You can, in fact, purchase a round kettle-style BBQ to mimic this process if you are so inclined. For me, I feel that I need to draw the line on kitchen gadgets somewhere and a BBQ designed specifically designed for making paella is well past it.
I do, however, own a paella pan. By happenstance, I received one over a decade ago as a wedding gift. This particular brand is no longer made, but this sort of pan is excellent for making a dish like vegan paella. If you're new to cooking, copper cookware is excellent at conducting heat. (*) My first attempt at brown-rice paella was in this pan and, while I took full credit for its success, I think that the pan had a lot to do with it. Copper does require some upkeep and it can be pricey, but if you decide that you want to entertain regularly by serving paella, put it on your wishlist.
If you're not into buying a pricey new pan for making paella, then look for stainless steel skillet. You want a pan that is wide and shallow so that you can achieve a thin layer of rice. Having as much rice contacting the bottom of the pan will help you create the socarrat – the crispy rice crust that forms along the bottom of the pan. It is the highlight of paella. (*) I've also made paella in a cast-iron paella pan that was gifted to me by my friends at Victoria Cookware and it worked beautifully.
The Spices in this Paella Recipe
Paella boasts a wonderful medley of spices. Saffron is probably the spice most people associate with paella and for good reason. It has an aura about it.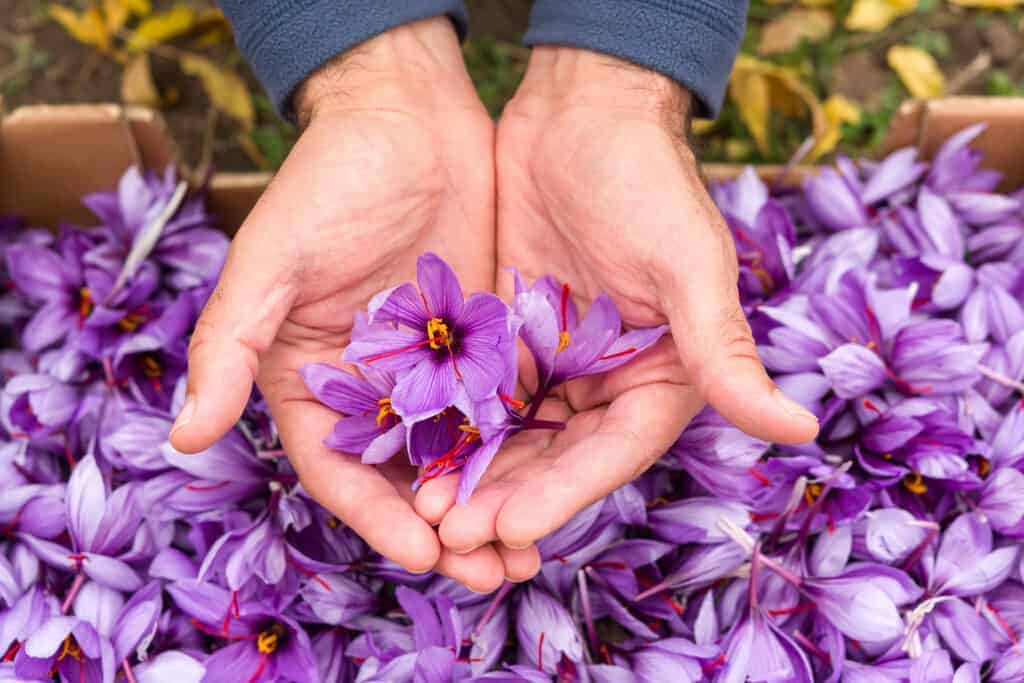 Saffron is the dried stigma of a specific crocus flower. Each flower only has three stigmas which are harvested by hand when the flower opens. This very labor-intensive process leads to saffron's high price tag, but the flavor, color and aroma it adds to paella is worth it. (*) Paprika, either smoked or sweet, turmeric, cayenne pepper and salt are also spices commonly included.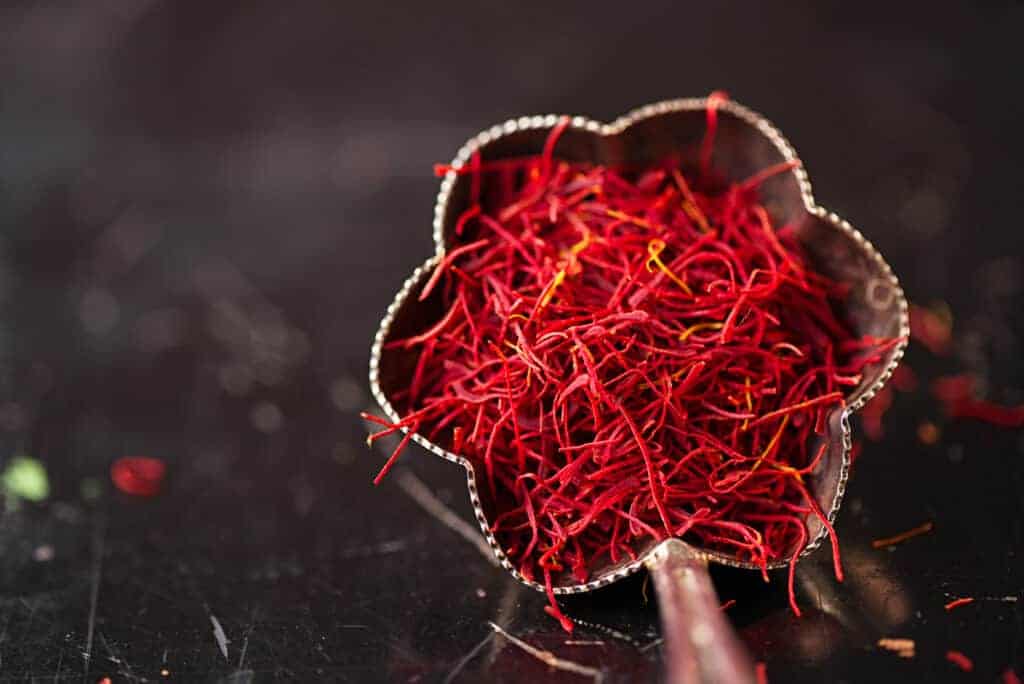 I've tried a number of different combinations and what I've liked the best is what I included in this recipe. Spice Jungle, one of my favorite sources for spices and spice blends, makes a paella spice blend that includes garlic, salt, onion, dried chilies, turmeric, sugar, paprika and saffron. If you're new to making paella, I think this is a great way to go. I used it in this recipe and added just a pinch of crushed saffron threads.
Some Final Tips on Making this Paella Recipe
There's a lot of information in this post, but I have just a few final tips to consider when making this vegan paella.
Add Artichoke Hearts. I think artichoke hearts are a must-have in a vegan paella recipe. I used canned artichoke hearts here and take one extra step, which is to check each one to make sure the outermost layer isn't tough. Getting a bite with one of those leaves can ruin the whole dish.
Toast the Rice. Once I get the vegetables and the spices into the pan, I like to add the rice and allow it to toast lightly in the pan with the spices before I add the liquid ingredients.
A Splash of Acid. At the very end of the recipe, I like to add a little bit of fresh lemon juice. It does a wonderful job of brightening up the dish. Some fresh lemon slices as garnishment would be lovely too!
What's in My Kitchen to Make This Vegan Recipe Easier?
I often get asked what gadgets and tools I have in my kitchen that help me pull all of my recipes together. I included a list below along with a description about why I like them so much. If you have any questions about them, please feel free to reach out to me in the comments!
There are a lot of paella pan options on the market. I've tried several of them and I've made some of my best paella using this cast iron pan. It transfers easily from the stove-top to the oven, which works well in my Vegetable Paella Recipe.
Best of all, paella isn't the only thing you can make in it. I like these shallow pans for dishes like my Stuffed Shells with Cashew Cream because they allow me to showcase the sauce and the shells. It's a great, cost-conscious option to have in your kitchen.
If you're into a kitchen tool for everything, then consider a fancy-pants copper paella pan. Copper cookware is excellent at conducting heat. This pan is wide and shallow, measuring at 13.7". In addition to being fast-heating, this pan will look fantastic in your kitchen.
No, that's not the brand. It's just the idea! But,I own this set of Global™ knives and They're some of my most prized possessions in the kitchen. This set is universally well-rated for the at-home chef and will get you a good, solid set of knives without totally breaking the bank.
This wooden spoon & scraper is great for getting your sweet potato and kidney bean vegan breakfast burrito filler evenly cooked. I like to use a deep-sided skillet (see below) when making this dish and it has square edges at the bottom. This spoon & scraper helps me get to them.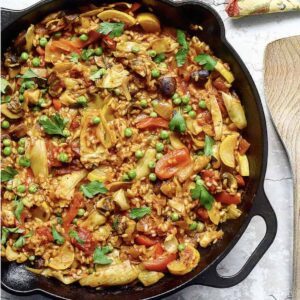 Vegan Paella
This vegetable paella recipe is an easy way to bring this Spanish darling to your dinner table! Vegan friendly, this paella dish uses authentic Spanish Bomba rice and plenty of vegetables. This paella recipe is warm and comforting (and healthy), using traditional spices like saffron and paprika for a wonderfully authentic paella vegan experience.
Ingredients
2

tbsp

extra virgin olive oil

1/2

yellow onion

chopped

3

cloves

garlic

minced or crushed

1

14 oz can

artichoke hearts

rinsed and drained

1/2

yellow squash

sliced into ½ thick rings and then quartered

8-10

buttom mushrooms

washed and quartered

1/2

red pepper

roughly chopped

1

tbsp

Paella seasoning

I buy mine from Spice Jungle (or see Recipe Notes for a substitute)

1

pinch

saffron threads

I buy mine from Spice Jungle

1

14 oz can

diced tomatoes

1

quart

low-sodium vegetable broth

1 1/2

cups

Bomba rice

If you can't find this locally, you can purchase it on Amazon.

1/2

cup

frozen peas

1

tbsp

fresh lemon juice

fresh parsley

for garnishment

salt and pepper

to taste
Instructions
Pre-heat your oven to 450 degrees.

Heat the olive oil in a large oven-proof skillet, sauté the onion until it becomes soft and translucent. Add the garlic and sauté for 1-2 minutes more.

Add artichoke hearts, red pepper, yellow squash and mushroom. Continue to cook for 2-3 more minutes.

Add paprika, salt, cayenne pepper and saffron threads. Stir all ingredients and cook for 1-2 minutes until fragrant.

Add the rice and stir to coat. Allow the rice to toast for ~1 minute.

Add diced tomatoes, rice and vegetable broth. Bring to a simmer for 5-7 minutes.

Place the skillet into the oven and bake for 20 minutes, until rice is cooked through.

Stir in the frozen peas, allowing them to become bright green.

Garnish with fresh parsley and fresh ground pepper.
Notes
When prepping the artichoke hearts, I check each one to make sure that the outermost layers aren't too tough. If they are, I peel them away and discard.
If you choose not to buy the Spice Jungle spice blend, you can create a blend using 2 t. paprika, ¼ t. cayenne pepper, ½ t. salt.
I used bomba rice for this recipe, but I do make some substitution recommendations in my blog post. If you decide to substitute another rice, please just note that the amount of liquid that you need to add during the cooking process may vary. Different rice varietals will have different absorption properties.
The size and shape of the pan you use to make paella matters. You want a wide and shallow pan so that the rice lays in the pan in a thin layer. See my blog post for more details.
About Herbivore's Kitchen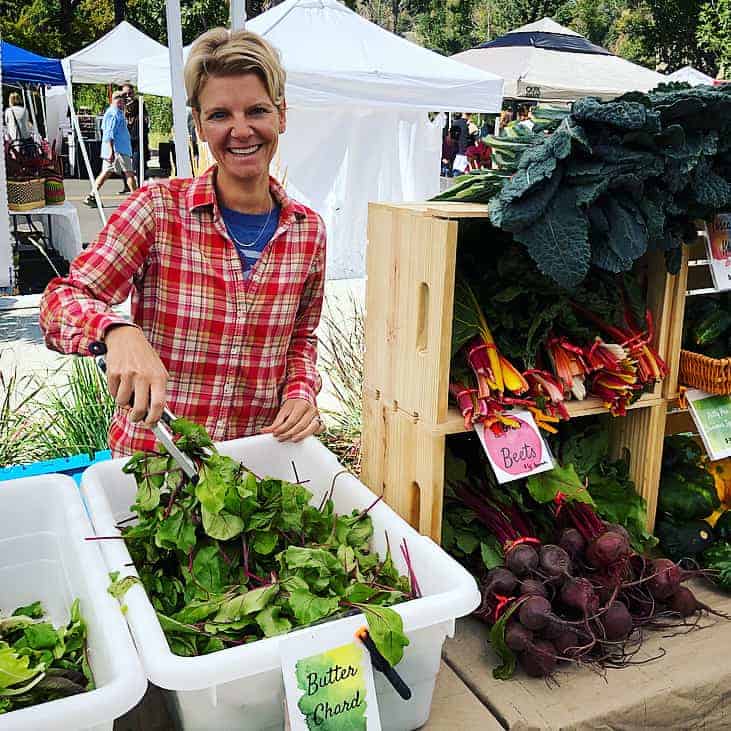 Herbivore's Kitchen is a blog run by me, a plant-based home chef and aspiring food photographer. I switched my and my family's diet to a plant-based diet after learning about the health benefits of going vegan. Making this change has prompted a variety of food and holistic-lifestyle related questions that I explore through this blog. I talk about how to pick and prepare the most nutritious foods, to how to reduce waste at home, to how to live a more sustainable lifestyle while on the road.