Jump to Recipe
---
This post includes affiliate links. When I find a great product or service, I like to share it with my readers. Sometimes I use affiliate links so I can earn commission for my recommendations. Thank you for your support!
---
Kimchi Curious? Give this Twist on Korean Food, Brothy Bibim Guksa, A Try!
If you're like me, you're dipping your toes into the wonderful world of Korean food. It's tangy and spicy and often loaded with vegetables and other good-for-you ingredients. This dish, a twist on traditional bibim guksa is wonderful introduction to Korean food and perfect for the colder months of the year!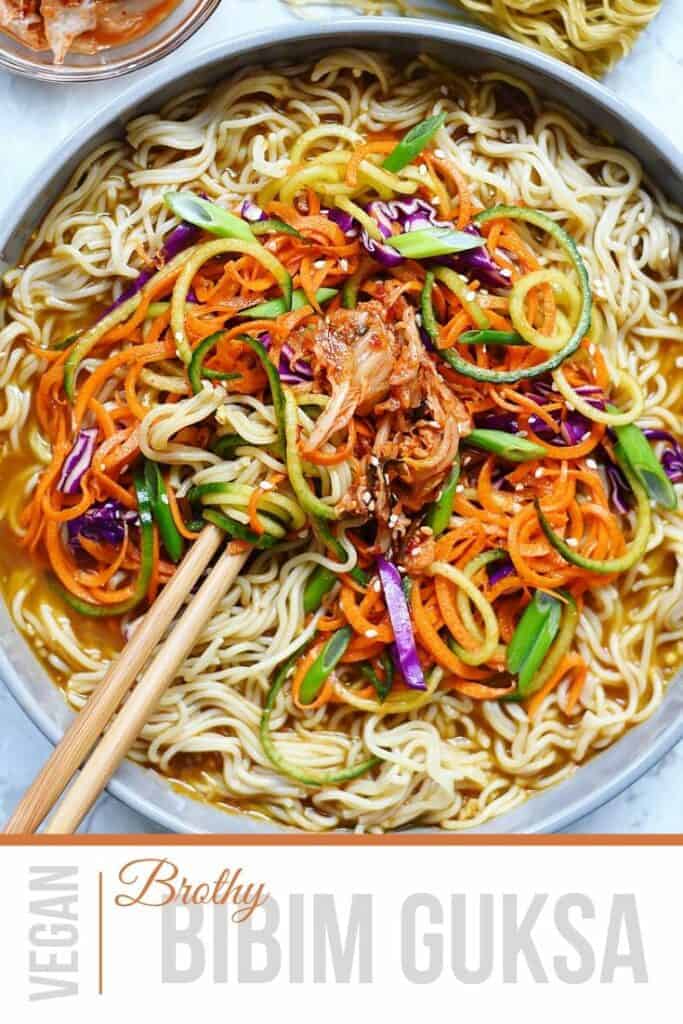 If This Is a Twist, What Is Traditional Bibim Guksa?
Bibim guksa is a Korean cold noodle dish. It's traditionally made with thin wheat flour noodles or buckwheat noodles. (*) The noodles are tossed in a sweet and sour dressing that is spiced with the popular Korean chili sauce – gochujang. The noodle salad often accompanied by julienned vegetables – like carrots and cucumbers – and then topped with Korea's well know side, kimchi.
A Lesson in Korean Food: What is Kimchi?
Kimchi is a Korean side dish made of fermented vegetables. While the vegetables can vary, kimchi typically includes napa cabbage, Korean radish and green onions seasoned with garlic, ginger and the Korean-spice gochugaru, a Korean chili powder.
You can make your own kimchi and the process of picking out your vegetables and seasonings can be quite fun. Even making the brine has its own creative license. For this recipe, I elected to use store-bought kimchi. I like Wild Brine's. If you'd like to try making it on your own, The Kitchn has a great write-up and recipe you can check out.
The Backstory to This Brothy Bibim Guksa (with a Little Bibimbap on the Side)
By now, you're probably really impressed by my knowledge on Korean food. What can I say? I was born with it? Not at all. But, when food piques my interest, I am all in until I figure out how to make it. Lately, I've really been into trying out flavors from around the world because, in many ways, they're far easier to make vegan-friendly. Korean food is high on my list.
Truth be told, I hadn't ever heard of bibim guksa until recently when my friends at Lotus Foods put forth the challenge to create a bibimbap or a bibim guksa dish using their ramen rice noodles. I had recently put together a fabulous (my words) vegan bibimbap, so I knew I couldn't submit that, but what in the world was bibim guksa?
And Now for Your Side of Bibimbap
Before I dig into bibim guksa, I'll quench your thirst for knowledge on the aforementioned vegan bibimbap. If you don't know bibimbap, it's a Korean food of mixed ingredients ("bibim") and rice ("bap"). Here's a picture for you:
I loved making this dish vegan-friendly – my favorite part being the Korean-spiced tofu crumble to replace meat that might be used traditionally. Even more fun than making it though, was learning about how this particular dish fits into Korean culture. It's colors and arrangement are all symbolic, which I thought was incredibly cool. If you're interested in learning more about it (and trying out the recipe), you can read my blog post here.
On to the Twist on Korean Food – Brothy Bibim Guksu
As I said above, bibim guksu is a cold noodle salad. And, if I am being honest, that's what I set out to make to rise to Lotus Foods' challenge. Halfway into my research and recipe prep though, I realized that what they wanted was twist on this dish for the colder winter months. In other words, how to you make this warm weather dish into something to slurp on in the colder months?
I knew right away I wanted it to be brothy and ramen-esque. I also knew that I wanted to capitalize on the wonderful spiciness that is gochujang sauce. So, I set out to make a broth that captured that spice and that would be a worthy companion to Lotus Foods' Millet and Brown Ramen Rice Noodles. It took some tinkering, but I came up with a rich, savory broth featuring ginger, garlic, scallions, soy sauce and, of course, gochujang sauce.
Once I had worked out the broth, I set out to recreate the sweet and sour elements of the salad in the toppings. I decided on cucumber, carrots, purple cabbage and scallion greens, all of which I tossed very lightly in a traditional-style sweet-and-sour dressing. I made the dressing with rice wine vinegar, maple syrup, soy sauce, sesame oil and more gochujang.
A Lesson in Korean Food: What is Gochujang?
Gochujang sauce is a fermented pepper paste, usually made with red chile pepper, glutinous rice, fermented soybeans and salt. (1) It's a little sweet, a little tangy, a little salty and a little spicy. Once you try it, you may forget you ever knew sriracha's name. That's a joke, because while gochujang is sometimes called Korean sriracha, they're actually quite different. Gochujang gets it richness through the fermentation process, while sriracha's flavor comes primarily from garlic.
Gochujang is a great condiment to have around and you shouldn't feel limited to saving it for bibimbap night or the bowls bibim guksa you're now going to be making. #jedimindtrick. It has grown in popularity in U.S. grocery stores in recent years, so it's very likely you will be able to find it in the ethic food section of your local store. If not, you can order it online here.
How to Put this Special Korean Food Bowl Together
To put the bowls together, I cooked the ramen noodles separately from the broth so that they would be al dente and pleasantly chewy in the bowl. Then I added the broth to the bowl and topped the noodles with the seasoned vegetables. I then added a small amount of kimchi, some sesame seeds and scallion greens.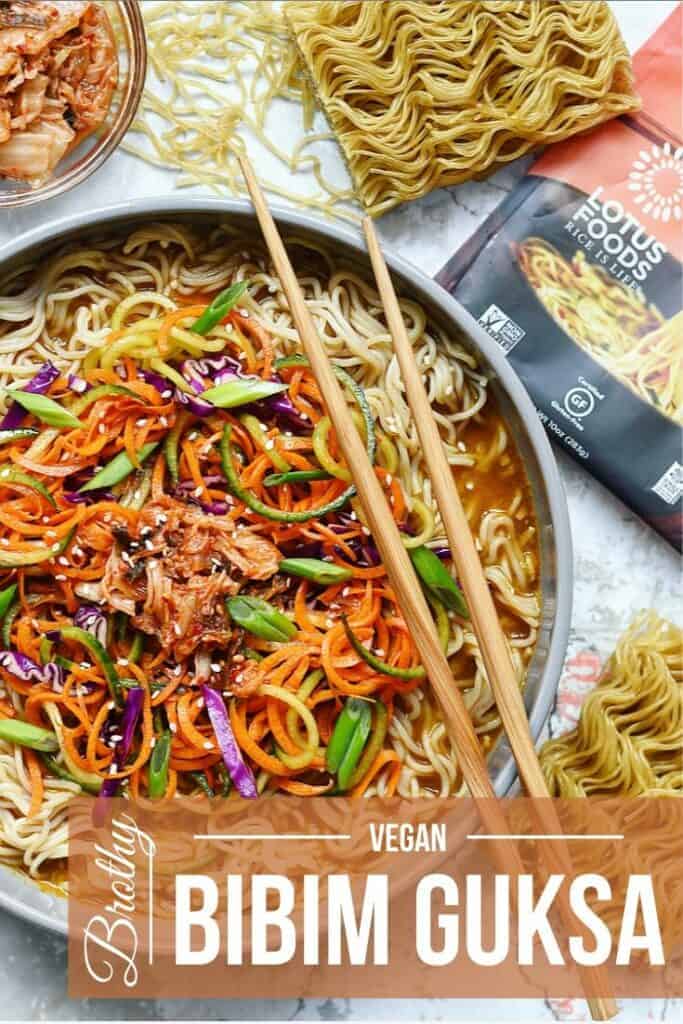 It was perfect in all of its sweet, sour, spicy ramen-noodle goodness!
What's In My Kitchen to Make This Vegan Recipe Easier?
Noodle bowls are a favorite of mine and I love serving them when I have guests. I recommend picking up a set so that you have plenty of room for all of that delicious broth! I'm currently digging this decorative set!
Like the noodle bowls, eating miso ramen is more fun with the right spoon. These Asian soup spoons are perfect for this ramen noodle bowl!
No, that's not the brand. It's just the idea! But,I own this set of Global™ knives and They're some of my most prized possessions in the kitchen. This set is universally well-rated for the at-home chef and will get you a good, solid set of knives without totally breaking the bank.
Vegetables never had it so good!
I'm telling you, vegetables just taste better when you cut them into fun shapes. Okay-that's only partially true. What totally true is that you can spiralize zucchini and replace your pasta for a veggie-forward "pasta" dinner (and make it even better by topping it with my Homemade Garden Vegetable Tomato Sauce). Not into zucchini? How about those crispy sweet potato chips topping my Veggie-Loaded Easy Vegan Ramen Soup? Who doesn't love chips!
I only bought one of these a few months ago, but wow! I'm so much happier not peeling garlic cloves with my fingernails. I'm pretty sure I'll collectively get at least a day of my life back because of this device.
I've read a dozen posts about why you shouldn't use a garlic press. One of them actually suggested that they take up valuable kitchen space. I mean, I guess if you have a tiny kitchen you might have to make those choices. They're smaller than a can opener. I love mine. I hate, hate, hate mincing garlic.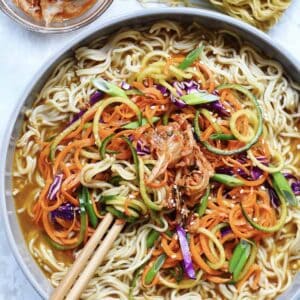 Vegan Brothy Bibim Guksa with Kimchi
Curious about the Korean food kimchi, but not what recipes to try? This twist on a traditional Korean side dish, Bibimguksa, is an easy way to introduce kimchi to your dinner guests in the colder winter months. Made with noodles, a healthy dose of vegetables and (of course) kimchi, this brothy twist on bibim guksa is a wonderful introduction to Korean food.
Ingredients
For the Gochujang Spiced Broth
1

tbsp

sesame oil

1

tbsp

fresh ginger

peeled and minced

2

cloves

garlic

minced or crushed

3

scallions

sliced thin with the white and green parts separated

1

quart

low-sodium vegetable broth

1/4

cup

tamari

1

tbsp

gochujang
For the Sweet & Sour Salad
1

tbsp

gochujang

2

tbsp

rice vinegar

1

tbsp

soy sauce

1

tbsp

maple syrup

1

tbsp

sesame oil

1

carrot

washed and spiralized (or julienned)

1

English cucumber

washed and spiralized (or julienned)

1/2

head

purple cabbage

sliced thin
For Putting the Bibim Guksa Bowls Together
1

pkg

Lotus Foods' Millet and Brown Rice Ramen Noodles

There are 4 "bricks" per package – plan one 1 brick per person

1

cup

kimchi

plan on a 1/4 cup per bowl. I like Wild Brine's Korean Kimchi

sesame seeds

scallions greens

slice these on the diagonal for great presentation
Instructions
Making the Broth
Heat up the sesame oil in a large stock pot. When hot, add the fresh ginger, garlic and scallions. Sauté briefly, being careful not to burn.

Add the vegetable broth, soy sauce and gochujang sauce. Allow to simmer while you prepare the other ingredients.
Making the Sweet & Sour Salad
Spiralize or julienne the carrot and the English cucumber. Thin slice the purple cabbage. Combine in a medium-sized glass bowl and set aside.

Prepare the dressing by combining the gochujang, rice vinegar, soy sauce, maple syrup and sesame oil. Stir until well-combined and toss with the vegetables.
Putting the Brothy Bibim Guksa Bowls Together
Prepare the Lotus Foods' Millet and Brown Rice Noodles in accordance with package directions. I like them to be al dente so that they stay pleasantly chewy in the broth.

Add the prepared noodles to the bottom of your noodle bowls, ladle to hot broth over the noodles and top with the sweet and sour vegetable salad. Finish with a small spoonful of kimchi, sesame seeds and scallion greens.
About Herbivore's Kitchen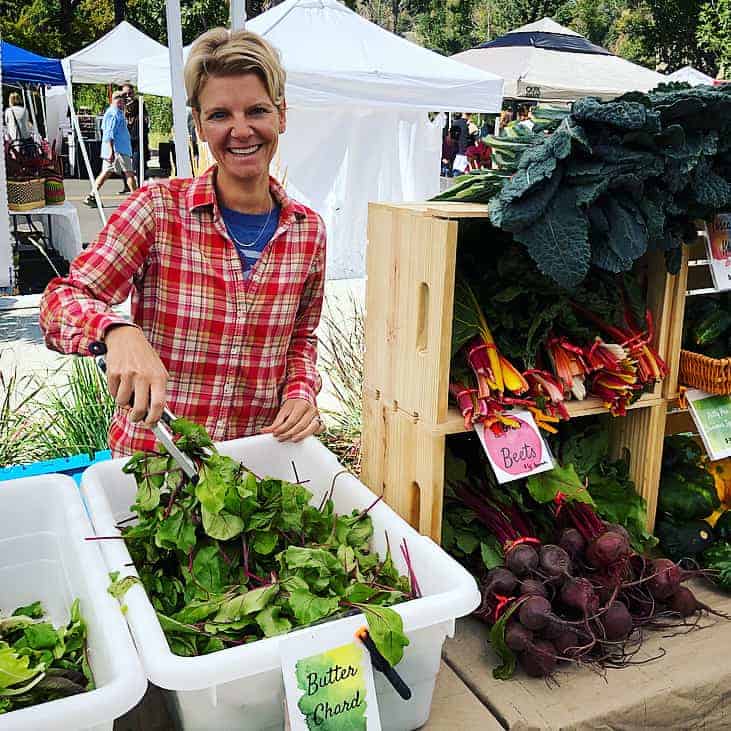 Herbivore's Kitchen is a blog run by me, a plant-based home chef and aspiring food photographer. I switched my and my family's diet to a plant-based diet after learning about the health benefits of going vegan. Making this change has prompted a variety of food and holistic-lifestyle related questions that I explore through this blog. I talk about how to pick and prepare the most nutritious foods, to how to reduce waste at home, to how to live a more sustainable lifestyle while on the road.