Jump to Recipe
---
This Vegan Coq au Vin Recipe includes affiliate links. When I find a great product or service, I like to share it with my readers. Sometimes I use affiliate links so I can earn a commission for my recommendations. Thank you for your support!
---
Vegan Coq Au Vin: The Best of French Vegan Food (And It's Paired with Creamy Vegan Polenta!)
Forget the coq! If you like au vin, this Vegan Coq au Vin over Creamy Polenta is the vegan recipe for you! A flavorful "bacon" sauce and red wine are used to make this vegan comfort food rich and savory! This vegetable-loaded, this vegan-friendly ragu is combined with polenta so creamy, you won't believe that it's vegan. French vegan cuisine at its finest!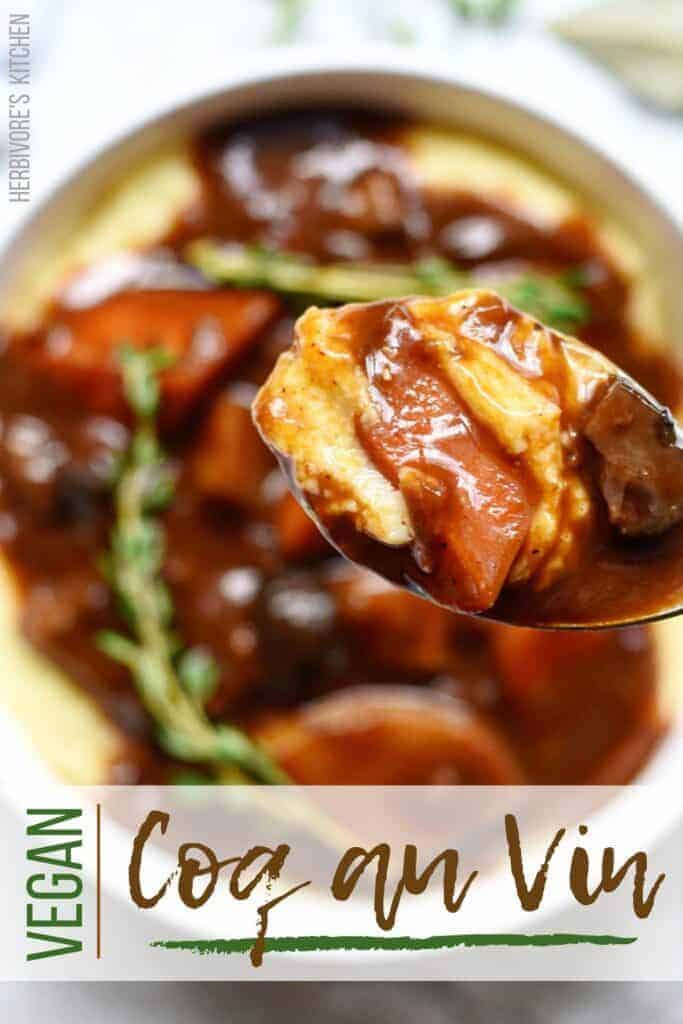 Psssttt… want to learn how I got this awesome close-up capture? Check out my Confessions of a Food Blogger post on Food Styling Tips!
Coq au Vin: How This Recipe Went Vegan
Like French recipes are wont to do, traditional Coq au Vin uses plenty of animal products to achieve its rich flavor – namely butter, bacon and chicken. So, unless you were born vegan, I suspect that you might be looking for the same thing from a vegan version, considering you've tasted the real deal. The naysayers will say it's not possible, but I challenge them (and you) to try my this recipe. It's deeply rich and savory without using butter or bacon fat – an accomplishment I'm not afraid to brag about. This dish has got it going on!
I've talked about this before, but the trick to good vegan cooking is to eek as much flavor out of plant-based ingredients as possible and get really good at using spices. For this recipe, I used some ingredients that you would never suspect to find in an au vin recipe as well as those that are traditional. So, let's talk about where all the flavor comes from.
Finding Umami in Plant-Based Ingredients
Certain vegetables and fungi are known for their rich umami flavor. Onions, tomatoes and mushrooms top out this list, so we want to use them and use them well.
Give Those Mushrooms the Special Treatment
If you regularly follow my vegan recipes, you know that I am an America's Test Kitchen junkie. I've got two of their cookbooks including The Science of Good Cooking and Vegetables Illustrated. I've learned so much from them, but my favorite thing so far is: brining your mushrooms before you roast them. This keeps the mushrooms nice and plump and allows them to roast properly. Think browned and crispy on the outside with a nice, soft center. Oh, and just the right amount of salt.
Be Patient with Your Onions
To coax flavor out my onions, I cook them first and slowly on a medium-low heat. This allows them to sweat, then brown and start to caramelize without burning. As I am sure your taste buds are telling you, this brings out a deeply rich flavor with a hint of sweetness. I don't go as far as fully caramelizing them, mostly because that takes an hour, but I do let them have a fair turn in the pan. And, I don't add the garlic in until they're done. Many recipes call for putting the onion and garlic in the pan together at the beginning, but I think that risks burning the garlic which can make the whole dish bitter.
Tomatoes are an Umami Darling
Adding tomatoes to almost any stew will make it good, but you shouldn't stop there. When cooked properly, tomatoes in stew can be truly great. For this vegan recipe, I doubled down on tomatoes, first adding a tomato paste and then adding some crushed tomatoes. The trick to tomato paste is to caramelize it, so you'll see that I add it to the pan with just the onions, garlic and spices and sauté it for a minute or two until it becomes dark red. This gives it a deep, rich flavor with a slight sweetness.
How Do You Make Vegan Coq au Vin without Bacon?
Think about it for a minute… when you eat bacon (or used to eat bacon), what were the flavors and sensations that made it taste so good. Salty, savory and sweet (especially if you were into maple smoked bacon). These are flavors and sensations that can be replicated without using animal products and without a ton of fat by making a vegan bacon sauce. In fact, this recipe uses a few tablespoons of oil and that's it. One for roasting the mushrooms and one for sautéing the onions. If you're really counting, there's the can of coconut milk in the polenta. All this across four servings. That's pretty good!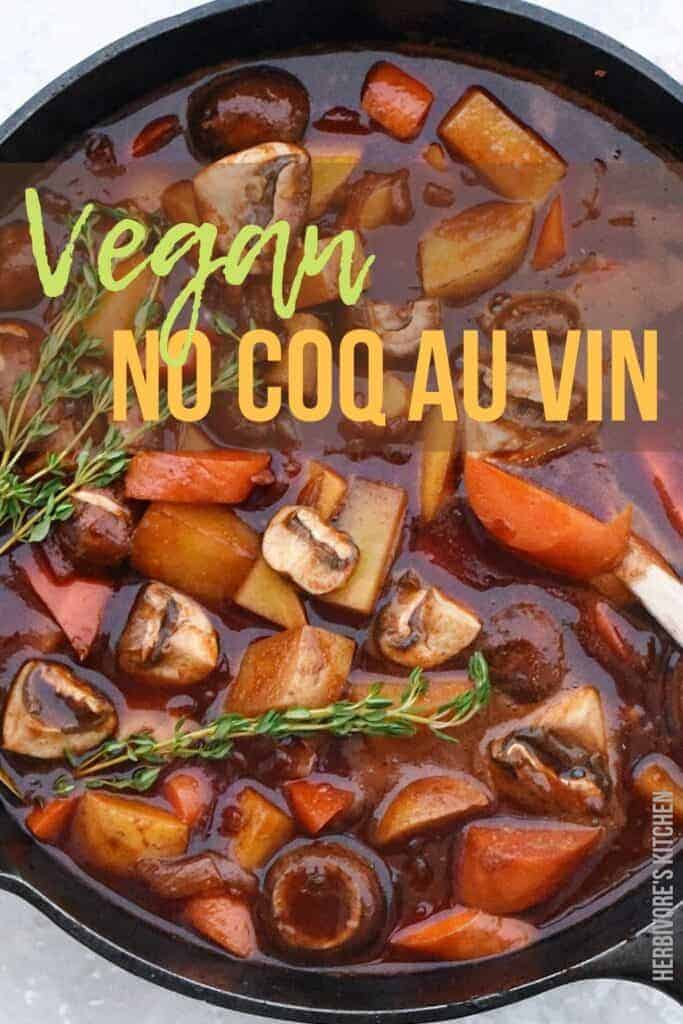 To replicate bacon flavoring, I combine tamari (or soy sauce), maple syrup, balsamic vinegar, paprika and a dash of liquid smoke. This sauce is added to the vegetables in the pan and allowed to caramelize and thicken (the maple syrup and the paprika operate as thickening agents). Red wine is then added to deglaze the pan. Is your mouth watering yet?
Just a Note on Choosing Red Wine for Your Vegan Coq au Vin
If you're not familiar with cooking with red wine, you're in for a treat! Using red wine in a recipe enhances the flavor and aroma of the food. As it cooks down, the alcohol cooks off leaving the flavors of the wine in the food. You should bear that in mind when selecting a wine. For this recipe, I used a Côtes du Rhône. It's a good, drinkable French wine without a big price tag – two things that are important when cooking with red wine. You don't want to use a very expensive wine, but you do want one that you would drink on its own.
Putting this Coq au Vin Recipe Together
Once all of the ingredients are in the pan, you're free to start thinking about how you want to pair this dish. Speaking of "the pan" by the way, I used a large cast-iron skillet for this creation. This kitchen workhorse holds the heat to cook this dish all the way through, allowing the sauce to thicken as the vegetables soften.
For this recipe, I decided to serve mine over a creamy polenta. Several months ago, I worked out a recipe for vegan polenta that is richly creamy with just a hint of cheese. Of course, I don't use either cream or cheese. My vegan polenta recipe uses unsweetened, canned coconut milk (and here, I would encourage the use of full-fat coconut milk) and nutritional yeast to mimic the ingredients used in traditional polenta. Polenta is a bit of an art, so if you're not familiar with making it, be sure to check out my detailed instruction in my Creamy Polenta with Mushroom Ragu post.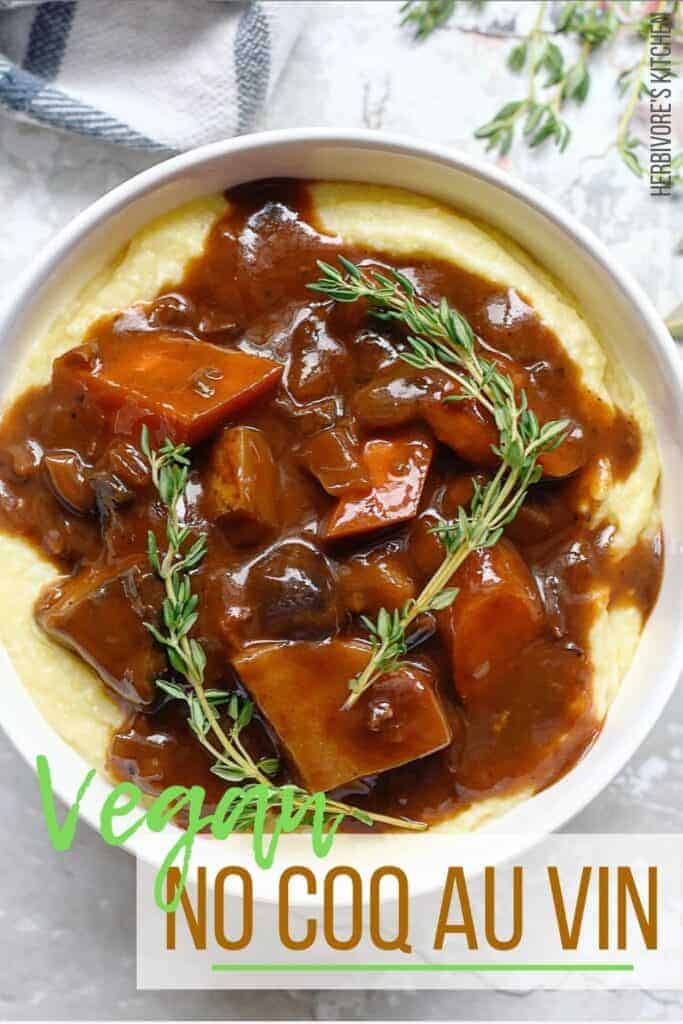 If you're not into polenta (what?!?), I think that this dish would be lovely over thick pasta noodles, like a pappardelle. Or, you can eat it on your own. The potatoes do add a lovely amount of starch. Whatever way you choose to serve it, garnish it with a few sprigs of fresh thyme and plenty of fresh cracked pepper. Then, look out your rearview mirror as you leave traditional Coq au Vin in the dust. You aren't going to need it anymore.
What's in My Kitchen to Make This Vegan Recipe Easier?
Want to know what tools and resources I keep on hand to make my vegan cooking even easier? Here's a short list of what helped me create this blog post and recipe. For the complete list, visit my Shop where you can find the kitchen gadgets I like as well as a list of books that I recommend.
My cast iron skillet is one of my favorite kitchen tools. It's a great pan for a number of different recipes, but it's especially good for the slow-cooking that this Coq au Vin requires.
No, that's not the brand. It's just the idea! But,I own this set of Global™ knives and They're some of my most prized possessions in the kitchen. This set is universally well-rated for the at-home chef and will get you a good, solid set of knives without totally breaking the bank.
Designed to serve pasta, I use these shallow dinner bowls all. the. time. I love that I can present all of the ingredients of a dish without over-serving in terms of portion. With a standard bowl, food ends up being stacked and that's no way to display all of your hard work. These bowls are an inexpensive, practical way to present everything from pasta bowls, curry bowls and burrito bowls. And, especially, this Vegan Coq au Vin.
Down a broiler pan? These aluminum baking sheets come highly recommended by the cooks who know best – Epicurious, Cooks Illustrated and Food & Wine. I bought mine because I needed a good, sturdy baking sheet to use under the broiler. One that wouldn't warp – and this one lives up to the task.
Aluminum is a good conductor of heat, so these baking sheets cook evenly. They're also light in color, so they discourage over-browning.
Love to cook with cast iron? Ever forget how hot those handles get? Yeah, me too. The Ove Glove will help to protect your hands when cooking (and forgetting).
These covers are heat safe to 540 degrees and two come in a package – one for holding the handle and one for supporting the bottom of your cast iron skillet (because we all know it's too heavy to pick up with one hand.
If you're a food science geek like me, let this be your bible. While not vegan (or vegetarian) specific, this book offers up a wealth of information about how to cook food. Little tricks, like salting your zucchini zoodles for sauces like Homemade Garden Vegetable Tomato Sauce and what type of potato will work best in soups like my Vegan "No Chicken & Biscuits."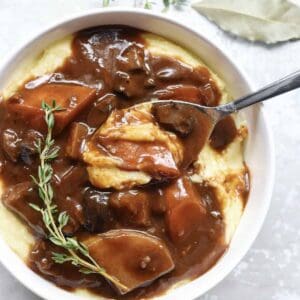 Vegan No Coq au Vin
Forget the coq! If you like vin, this Vegan Coq au Vin over Creamy Polenta, is the vegan recipe for you! A flavorful "bacon" sauce and red wine are used to make this vegan comfort food rich and savory! This vegetable-loaded, this vegan-friendly ragu is combined with polenta so creamy, you won't believe that it's vegan. French cuisine at its finest!
Ingredients
For the "Bacon" Sauce
1/4

cup

tamari

(or substitute soy sauce)

2

tbsp

maple syrup

1

tsp

balsamic vinegar

1/2

tsp

paprika

dash

liquid smoke
For the Creamy Polenta
1

13.5 oz can

full fat, unsweetened coconut milk

Note that a 13.5 oz can is roughly equivalent to 1 3/4 liquid

1 1/4

cup

water

+2 cups of water on reserve (see my Creamy Polenta with Mushroom Ragu recipe for detailed instructions on making polenta)

1

tsp

salt

1

cup

polenta

or medium ground flint cornmeal

1/4

cup

nutritional yeast
For the No Coq au Vin
20-25

cremini mushrooms

washed and cut into same-sized pieces

2

quarts

water + 5 tsp salt

for brining the mushrooms (see my blog post for instructions on brining mushrooms)

1

tbsp

grapeseed oil

1

tbsp

olive oil

1

medium

yellow onion

diced

4

cloves

garlic

minced or crushed

1

tsp

dried thyme

1

tsp

dried rosemary

2

tbsp

tomato paste

2

medium

Yukon Gold potatoes

diced into bite-sized pieces

2

carrots

washed and sliced into 1/2" pieces

1

parsnip

washed and sliced into 1/2" pieces

1

cup

red wine

I used a Côtes du Rhône (see the blog post for notes on picking a red wine for cooking)

1

14 oz can

crushed tomatoes

1

quart

low-sodium vegetable broth

I like Pacific Foods

2

bay leaves

4

sprigs

fresh thyme

salt and pepper

to taste
Instructions
Preheat oven to 450 degrees.

Wash and cut the cremini mushrooms into large, but similarly-sized pieces. Combine the water and the table salt and stir until the salt is dissolved. Allow the mushrooms to brine in the water for 10 minutes. Drain, rinse and pat dry. Toss lightly in 1 tbsp of high-temp oil (I like grapeseed oil). Roast for 30 minutes. Flip and roast for 5-10 minutes more.

While the mushrooms are roasting, make the "bacon" sauce by combining the tamari, maple syrup, balsamic vinegar, paprika and liquid smoke. Set aside.

Heat the olive oil in a large, deep-sided cast iron skillet until shimmering. Add the diced onion and sauté on medium-low heat until golden brown and starting to caramelize. About 15 minutes. Add the garlic and sauté for 1-2 minutes more, being careful not to burn.

Add the thyme and rosemary and stir until fragrant. About 1 minute. Stir in the tomato paste and increase the heat to medium. Sauté the tomato paste until it turns a dark red.

Add the bacon sauce and continuing stirring. It should start to thicken as the maple syrup caramelizes. About 2-3 minutes.

Add the potatoes, parsnips and carrots. Stir to coat.

Add the red wine and stir to deglaze the bottom of the pan. Add the vegetable broth, crushed tomatoes, and the bay leaves. Season with salt and plenty of fresh ground pepper. Increase the heat and simmer for 30 minutes, stirring frequently, until the sauce has thickened and the potatoes are soft. Add the roasted mushrooms when they're finished roasting.

To make the polenta, bring the coconut milk and water to a boil in a medium-sized sauce pan. Slowly add the polenta while stirring constantly. Add the salt. Reduce to a simmer and allow to cook for approximately 20 minutes, stirring every 5 minutes. If the polenta becomes too thick to stir, add additional water. You will likely need to add ~2 additional cups of water. When the right consistency is reached, stir in the nurtitional yeast and add salt & pepper, if desired. The polenta is done when it is smooth and creamy (not gritty or sand-like).

To serve, add a cup of creamy polenta to the bottom of each serving bowl and top with the Coq au Vin. Garnish with sprigs of fresh thyme and season with salt & pepper, to taste.
Notes
The Yukon Gold potatoes should help the sauce to become thicker as they cook and start to break down. If you would like it thicker still, remove 1 ladle of the broth from the pot and combine it with 1 tbsp of arrowroot powder. Stir until the arrowroot is dissolved into the broth and then add the mixture back into the stew.
About Herbivore's Kitchen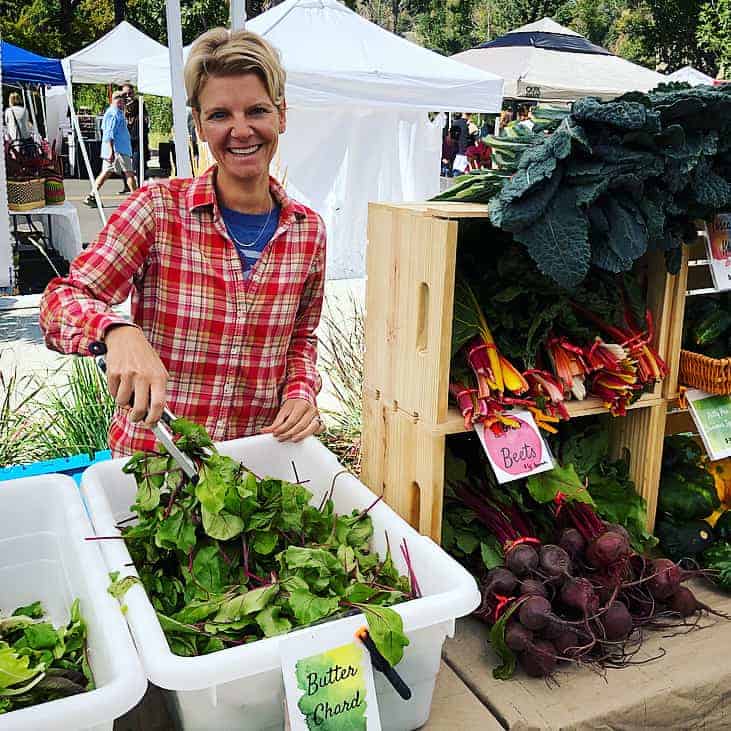 Herbivore's Kitchen is a blog run by me, a plant-based home chef and aspiring food photographer. I switched my and my family's diet to a plant-based diet after learning about the health benefits of going vegan. Making this change has prompted a variety of food and holistic-lifestyle related questions that I explore through this blog. I talk about how to pick and prepare the most nutritious foods, to how to reduce waste at home, to how to live a more sustainable lifestyle while on the road.