Jump to Recipe
---
This post includes affiliate links. When I find a great product or service, I like to share it with my readers. Sometimes I use affiliate links so I can earn commission for my recommendations. Thank you for your support!
---
Baked Cauliflower Buffalo Wings
This vegan cauliflower wings recipe got fast-tracked through testing. That is to say, I made it three times in three days all due to popular demand. Usually, I'll putz around with a recipe – make it, think on it and then make it again. Not this one – it made everyone around here so happy and during these trying Covid-times, you've got to capitalize on those opportunities.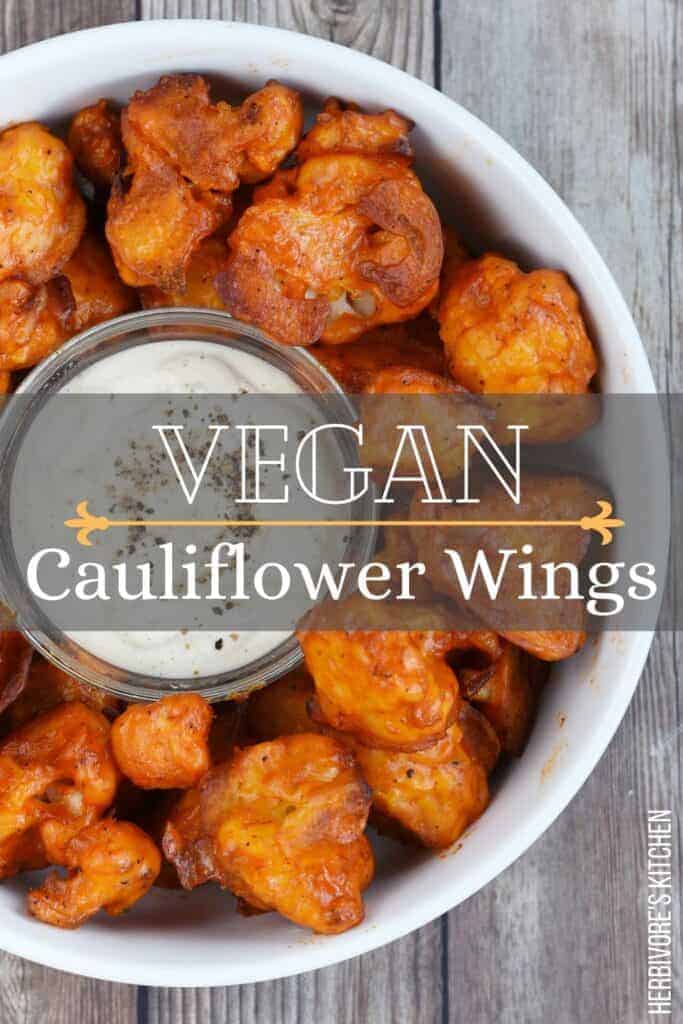 Cauliflower buffalo wings have been on my to-do list for a while though. Once upon a time, I really liked buffalo wings. I kind of, sort of grew up where they were "invented" so going out for them was an event. Over the years, my head and heart (and frankly my gastrointestinal system) lost interest in them. The wings, anyway. Not buffalo sauce. That stuff is what dreams are made of.
The hold-up though, is that I hate the deep frying anything at home. It's messy and I'm fairly certain I will hurt myself. So, I put cauliflower buffalo wings in the "do not try this at home category." Then, one afternoon, I was reading The Science of Good Cooking (one of my favorite food science page turners) and picked up a trick for roasting cauliflower which put this ingredient at the forefront of my recipe development. And buffalo cauliflower wings back on the docket.
How to Make Cauliflower Buffalo Wings
You may look at this dish and think fried food heaven, but you'd be wrong. These cauliflower buffalo wings are baked. In fact, these wings use only 2 tbsp of oil (excluding any found in your chosen buffalo wing sauce). A far cry from my deep-fryer buffalo wing days. Not only does that make this dish healthier than the original, it also makes for a fairly easy clean up.
Steam First for Crispy Cauliflower Buffalo Wings
About a week ago, I posted my Roasted Cauliflower in a Sticky Lemon Sauce recipe. When I was putting that recipe together, I came across a trick for roasting cauliflower that was a game changer. Steam your cauliflower before you roast it. This step pre-cooks the cauliflower so that when it goes into the oven, you'll get the crispy-on-the-outside, soft-on-the-inside texture that makes these buffalo cauliflower wings even better than the original.
A Simple Batter…
In my Roasted Cauliflower in a Sticky Lemon Sauce, I opted not to batter the cauliflower. Instead, I lightly dusted it with cornstarch so that it would have just a slight outer crust. Buffalo wings, on the other hand… well, there's just a certain expectation that these have a thick, crispy exterior. All the better to hold that sauce in place, I say.
To achieve this, I made a simple batter of using 1:1 of all-purpose flour and water. To adequately cover one head of cauliflower, I needed about 1 cup of each. Then I added a pinch of salt and a few twists of fresh-ground pepper. You want the batter to be thick, but not so thick that it won't drip off the cauliflower. You may find you need to add more water. Do this one tablespoon at a time until you get the right consistency. I would liken it to pancake batter.
Bake Your Cauliflower Buffalo Wings on High Heat
From there, getting your cauliflower buffalo wings crispy is a matter of roasting them in a high-heat oven. I set mine at 450º and coated the bottom of each baking sheet with one tbsp of safflower oil, a neutral-tasting, high temperature cooking oil. After about 15 minutes of roasting, I flipped the cauliflower wings and then put them back in for 10 more minutes. They should be crispy and golden brown when they're done. Then, I tossed them in my sauce of choice and put them back in for another 3-4 minutes to bake the sauce on. Then it was all just a matter of enjoying them!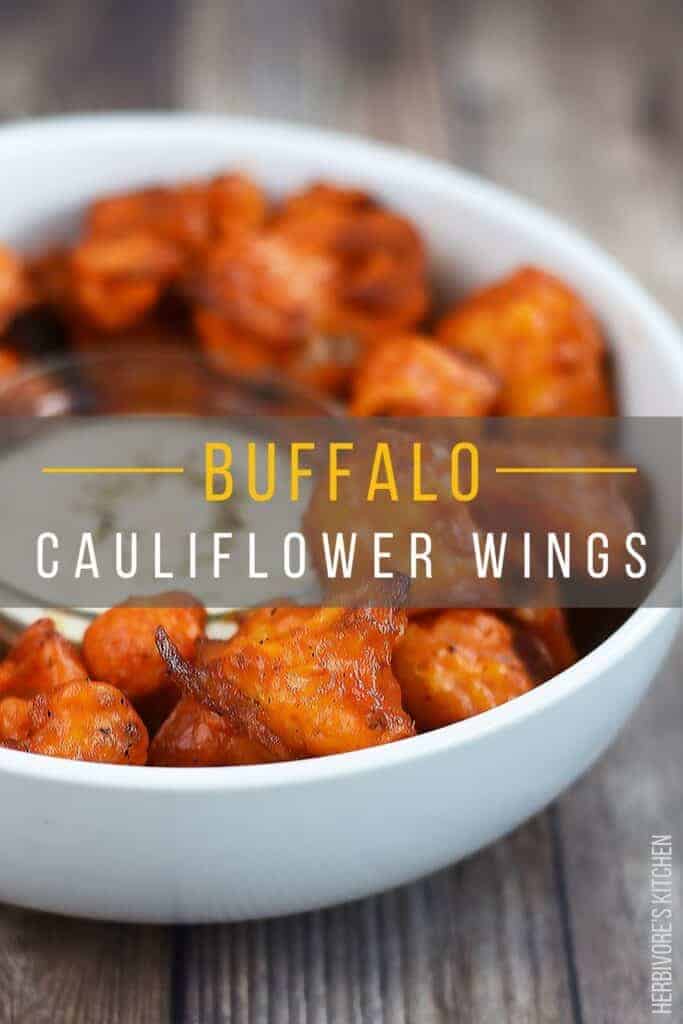 About that Buffalo Wing Sauce
For this version of the recipe, I did use a commercially produced wing sauce. One experiment at a time! You do want to pay attention when you choose a buffalo wing sauce because they're often made with butter. Frank's Red Hot Wing Sauce is vegan, despite the ingredient "natural butter flavor." Now that I know how good cauliflower buffalo wings are though, you can bet I'll be coming up with a list of my own sauces! Next up – BBQ Bourbon, Spicy Asian and Korean BBQ!
What's in My Kitchen to Make This Vegan Recipe Easier?
Want to know what tools and resources I keep on hand to make my vegan cooking even easier? Here's a short list of what helped me create this blog post and recipe. For the complete list, visit my Shop where you can find the kitchen gadgets I like as well as a list of books that I recommend.
Before I get into cooking, I want to share these napkins. I found these on Etsy over a year ago and, not only do I LOVE them, I buy them as gifts for nearly everyone I know.
These napkins are upcycled and reusable, allowing you to not only avoid throwing away paper products but to also reuse fabrics – a small but significant way to cut back on water, dyes and chemicals used in the production process.
These napkins are so darling (they come in lots of different patterns and colors) and they're machine washable. I just throw them in with whatever load of laundry I'm doing. They don't wrinkle easily, so a quick fold will have them back on your table doing what they were meant to do… be reused!
No, that's not the brand. It's just the idea! But, I own this set of Global™ knives and They're some of my most prized possessions in the kitchen. This set is universally well-rated for the at-home chef and will get you a good, solid set of knives without totally breaking the bank.
Steaming vegetables is an excellent way to retain their nutrients. It's also a great pre-roasting trick for vegetables like cauliflower. Steaming cauliflower before roasting it gives it a wonderful soft-on-the-inside, crispy-on-the-outside texture which is great for recipes like my Cauliflower Buffalo Wings and Roasted Cauliflower in a Sticky Lemon Sauce.
I love this steamer basket because it's simple, resizable and cleans up easily. It's also inexpensive and compacts well for easy storage in the kitchen.
Down a broiler pan? These aluminum baking sheets come highly recommended by the cooks who know best – Epicurious, Cooks Illustrated and Food & Wine. I bought mine because I needed a good, sturdy baking sheet to use under the broiler. One that wouldn't warp – and this one lives up to the task.
Aluminum is a good conductor of heat, so these baking sheets cook evenly. They're also light in color, so they discourage over-browning.
These things are amazing! When I discovered parchment paper, I thought I had things figured out. No more greasing pans or ruining them with charred food. Then I discovered these silicon baking pads. They're oven-safe up to 450 degrees, dishwasher safe (top rack only) and easy to clean and REUSE!
Love to cook with cast iron? Ever forget how hot those handles get? Yeah, me too. The Ove Glove will help to protect your hands when cooking (and forgetting). These covers are heat safe to 540 degrees and two come in a package – one for holding the handle and one for supporting the bottom of your cast iron skillet (because we all know it's too heavy to pick up with one hand.
If you're a food science geek like me, let this be your bible. While not vegan (or vegetarian) specific, this book offers up a wealth of information about how to cook food. Little tricks, like salting your zucchini zoodles for sauces like Homemade Garden Vegetable Tomato Sauce and what type of potato will work best in soups like my Vegan "No Chicken & Biscuits."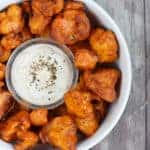 Baked Cauliflower Buffalo Wings
Looking for the ultimate vegan comfort food? These Baked Cauliflower Buffalo Wings are sure to hit the spot, whether you're prepping pre-game food or just having Friday-night wing night.
Ingredients
1

head

cauliflower

washed and cut into bite-sized florets

2

tbsp

safflower oil

or other heat tolerant, neutral cooking oil

1

cup

all-purpose flour

1

cup

water

+ 1/2 cup on reserve

1/4

tsp

salt

1/8

tsp

pepper

1

cup

vegan wing sauce
Instructions
Preheat your oven to 450º.

Set up your steamer basket in a large pot, adding enough water to generate steam. You do not want the water to come into contact with the food. Make sure that the lid to your pot fits on securely.

Bring the water in the pot to a boil and add the cauliflower to the steamer basket. Steam the cauliflower for 6-8 minutes.

While the cauliflower is steaming, combine the flour, water, salt and pepper in a bowl. You want the batter in the bowl to be deep enough to submerge the cauliflower. The batter should be thick, but still drip off the cauliflower slowly. You might need to add more water 1 tbsp at a time.

Using a basting brush, coat the bottom of your baking sheet with the safflower oil. I also like to use a silicon baking sheet for easily clean-up.

Using a pair of tongs, gently dip each piece of cauliflower into the batter and let the excess drip off. Lay the cauliflower pieces out on the baking sheet, keeping them separated.

Bake the cauliflower on the middle rack. After 15 minutes, flip each piece and bake for another 10 minutes.

In a large bowl, gently toss the cauliflower with 1 cup of the vegan wing sauce and put it back on the baking sheet. Bake for an additional 3-4 minutes.
About Herbivore's Kitchen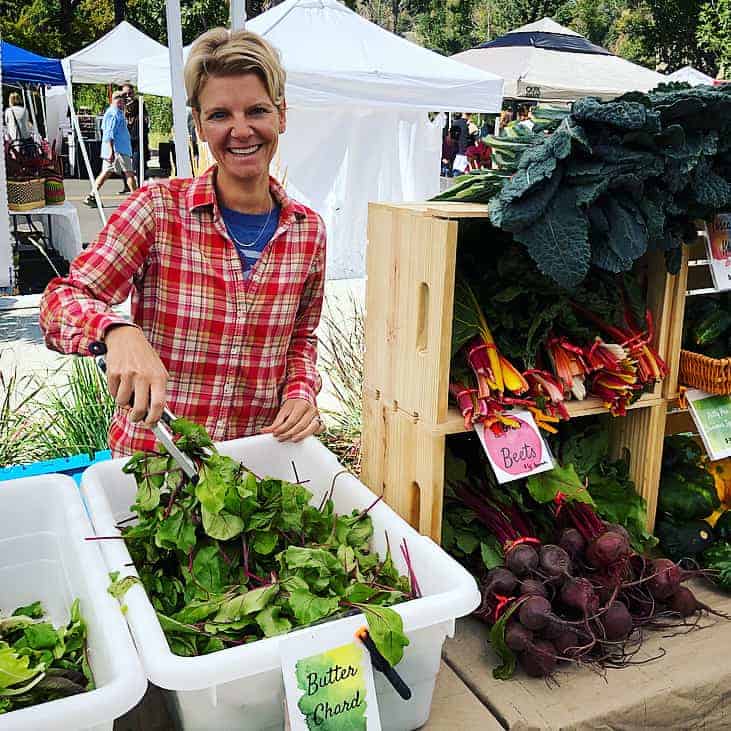 Herbivore's Kitchen is a blog run by me, a plant-based home chef and aspiring food photographer. I switched my and my family's diet to a plant-based diet after learning about the health benefits of going vegan. Making this change has prompted a variety of food and holistic-lifestyle related questions that I explore through this blog. I talk about how to pick and prepare the most nutritious foods, to how to reduce waste at home, to how to live a more sustainable lifestyle while on the road.