Jump to Recipe
---
This Roasted Tomato Compote post includes affiliate links. When I find a great product or service, I like to share it with my readers. Sometimes I use affiliate links so I can earn commission for my recommendations. Thank you for your support!
---
Roasted Tomato Compote with Fresh Basil – Pure Food Gold
Roasted tomato compote has been on my to-do list for quite some time. It's a bit of a daunting project simply because it requires a lot of tomatoes and a fair amount of time. That being said, the end result is pure gold – in more ways than one.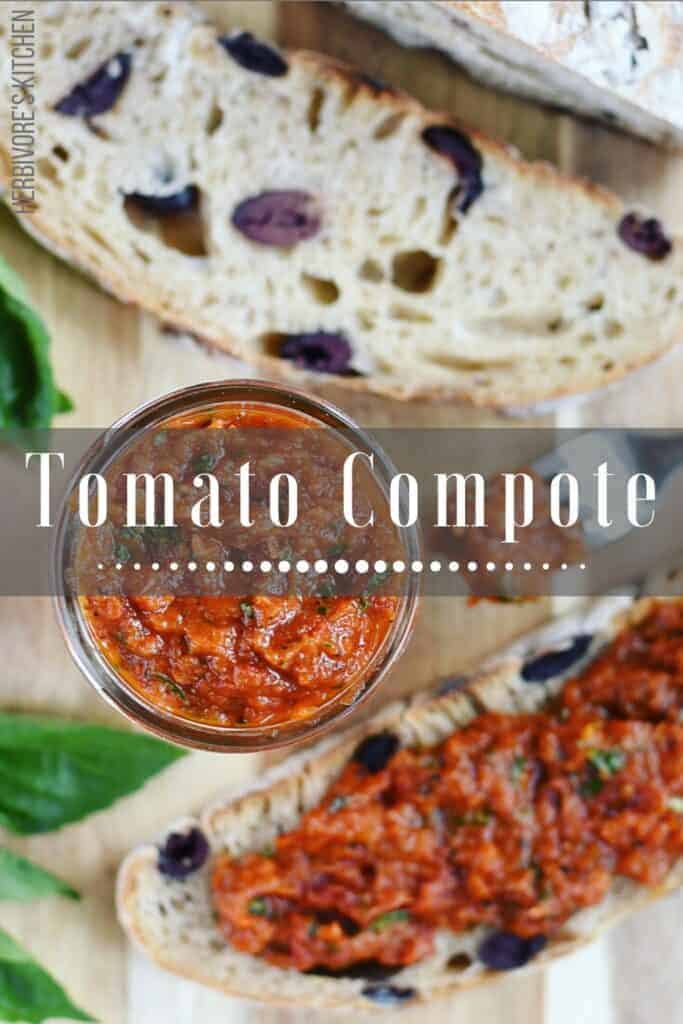 First, it tastes absolutely amazing. Homemade roasted tomato compote is richly flavorful and not the kind you can pick up off the shelves. It actually tastes like the dedication it requires. I've dubbed it first date food. As in, you've met someone you really, really like and you want to cook them dinner for the first time. Maybe you want to spend the rest of your life with them. This roasted tomato compote recipe is a step in the right direction. It is dazzling. I'll expect an invitation to the wedding.
Second, 5 lbs. of tomatoes will net you somewhere between 5 and 8 oz. of finished tomato compote, so its value is marked by scarcity as well. Sometimes I make it and hide in the back of the fridge so that I can enjoy it alone, rationed spoonful by rationed spoonful.
How to Make Roasted Tomato Compote
Making roasted tomato compote is actually pretty easy. You just have to have the time set aside. Expect this to take you about three hours. You'll need about 30 minutes for the prep cook and 2 ½ hours for the cook time.
Most recipes call for Roma (or Plum) tomatoes. Roma tomatoes have a low water content and fewer seeds than other varieties, making both the cook and prep time more efficient. I typically choose this variety, but I have made this roasted tomato compote with vine-ripened tomatoes as well. It's still very good, but also more expensive.
Prepping the Tomatoes
The first step is to remove the skin from your tomatoes. To do this, you need to cut a shallow cross in the bottom of each tomato. While you're cutting the tomatoes, bring a large stockpot of water to a boil. When the tomatoes are ready, drop them into the boiling water. Within 1-2 minutes the skin will begin to peel. When this happens, carefully remove each tomato using a wire skimmer and put them into an ice water bath. Once the tomatoes are cool, you can easily remove the skin.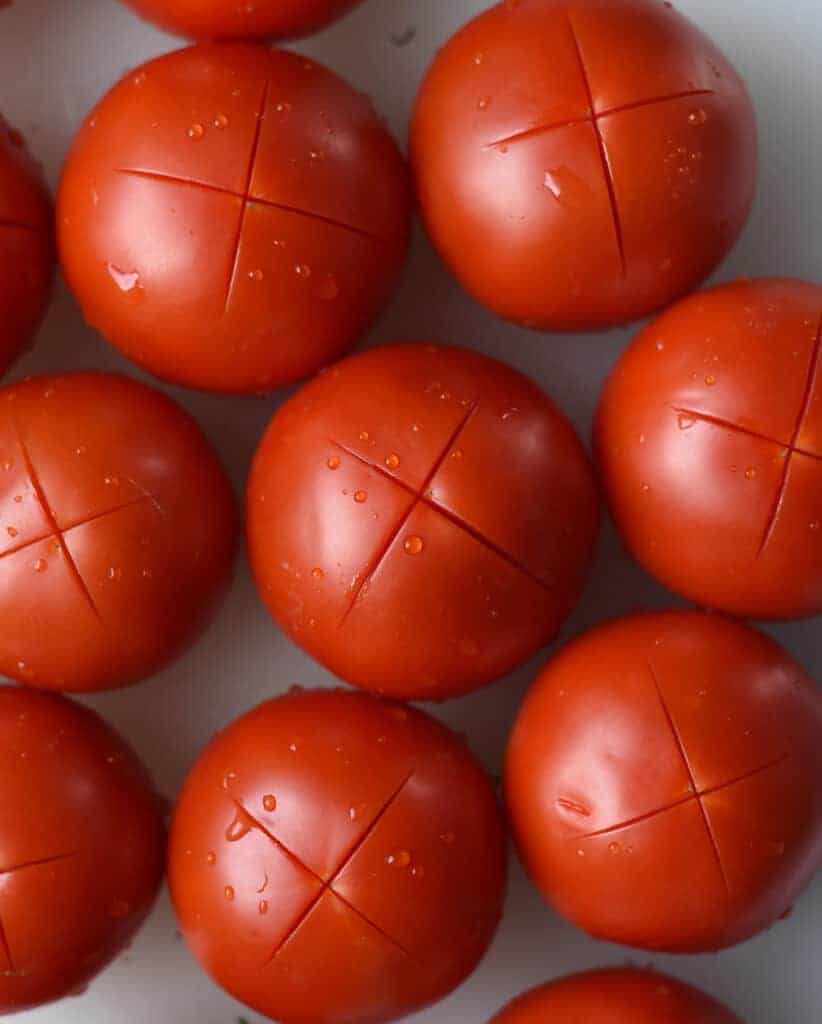 After the tomatoes have been peeled, you'll need to deseed them. I do this by cutting them into quarters and then removing the seeds with a small paring knife. As I do this, I lay them out on a baking sheet. When this step is complete, I toss them in a generous amount of olive oil and season them with salt and pepper. From here, you just have to let them slow roast for about 2 ½ hours.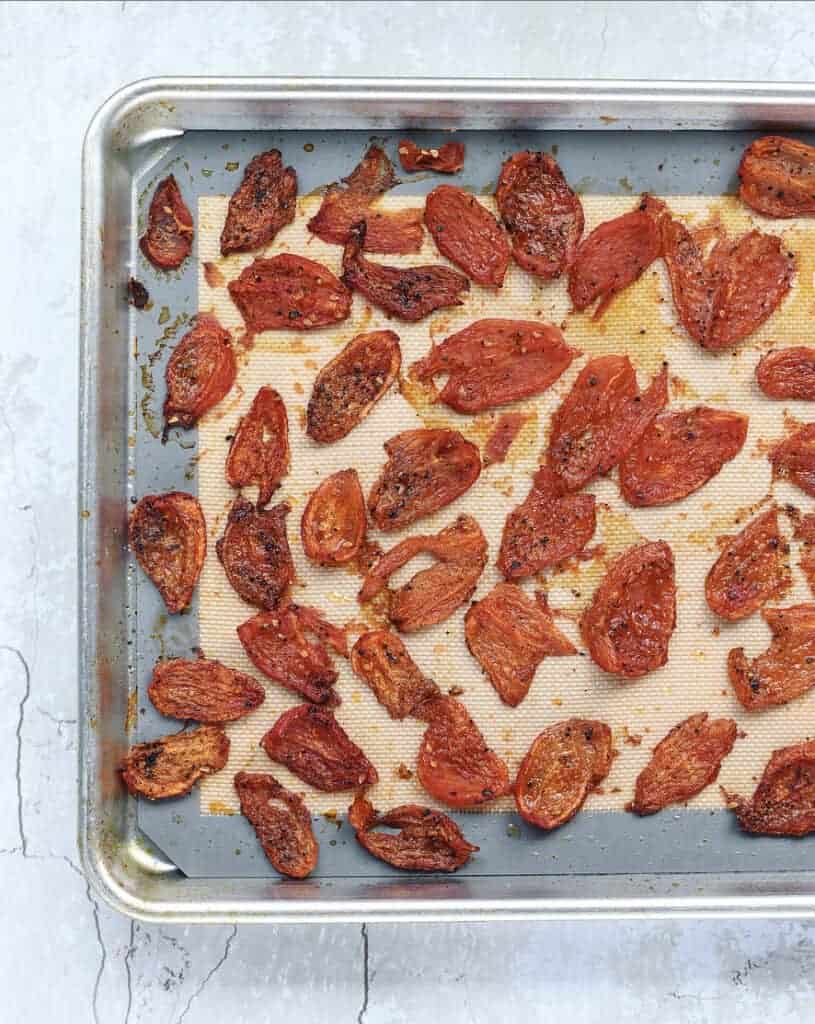 Fresh is Best! Fresh Tomatoes, Fresh Lemon and Fresh Basil
After the tomatoes are roasted, the rest is easy. I like to keep this recipe simple and fresh, so I combine the roasted tomatoes with basil, lemon juice, some additional olive oil, salt and pepper. A few quick pulses with the mini food processor and you're done!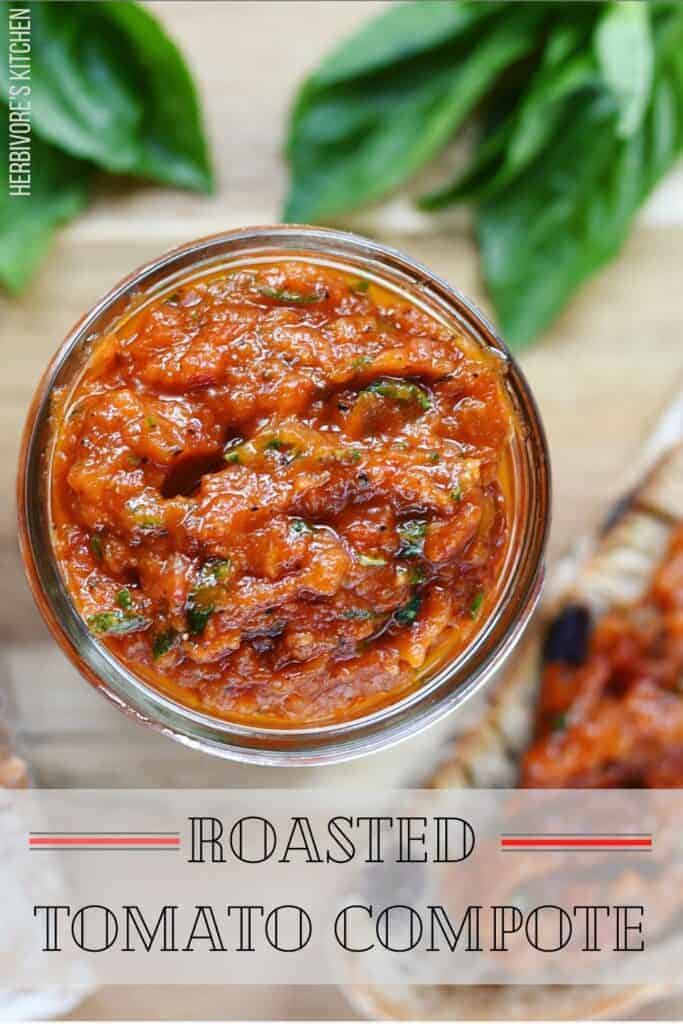 When I decided to add roasted tomato compote to my wish list of vegan recipes, I also decided that I wanted to make it with basil I grew myself. That takes a while, but fresh basil is so worth it! Just the smell when you pick it makes it worth the effort. For those of you that are interested, I included some of my indoor basil-growing tools below. I also grow it in my greenhouse in the spring/summer months.
In addition to fresh basil, I also use fresh lemon juice. In fact, I think that this one is a must-do. You can get away with store-bought basil but if you're going to spend three hours roasting tomatoes, do treat yourself to real lemon juice for this dish.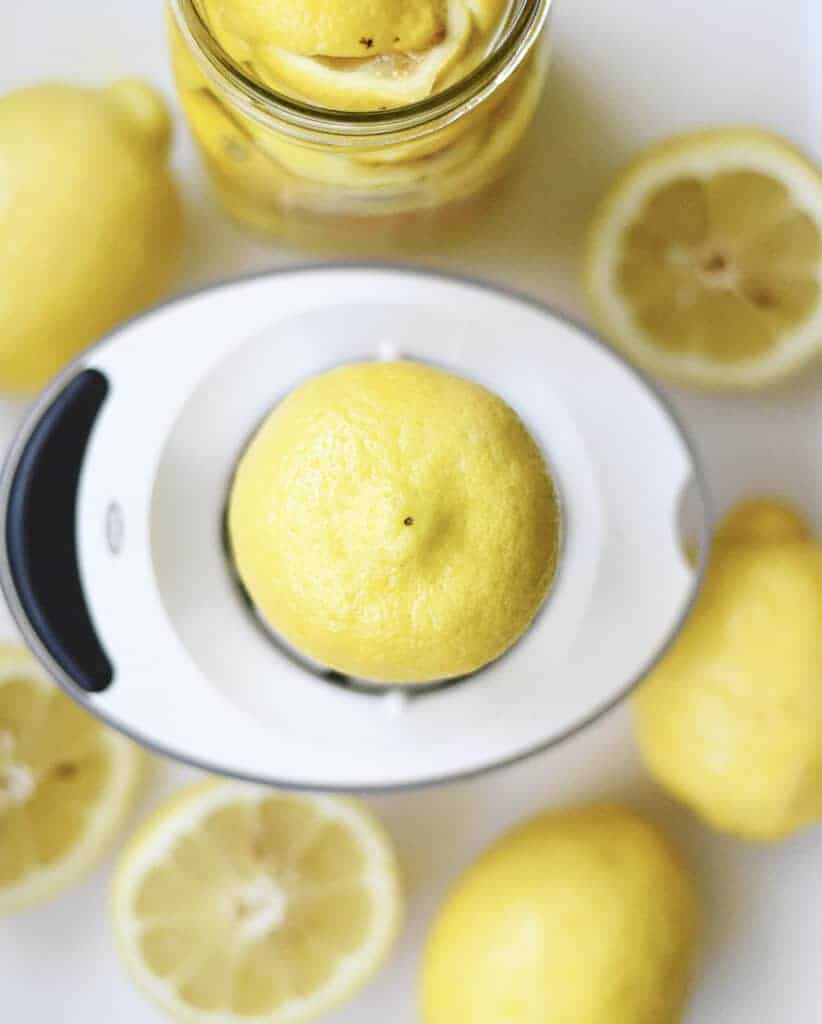 About that Olive Bread: Baking Sourdough Bread with a Sourdough Starter
Like any good Covid-19 stay-at-homer, I have been baking my own bread with a sourdough starter that has been in my family for … four weeks. It's hardly handed down from generation to generation, but it's still a special accomplishment in my heart.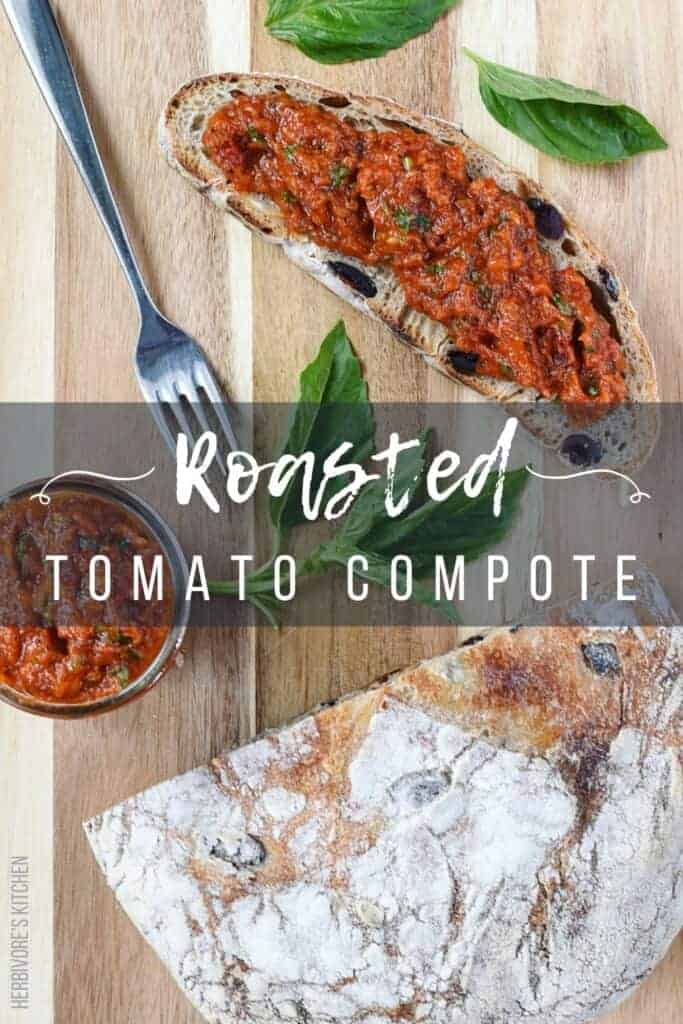 I did add my own twist to this by baking in Kalamata olives – a special treat that is usually sold out at the bakery. I can't pretend to be a pro, so instead I'll provide you with a few sources to get you started.
Getting Started with Your Sourdough Starter
If you're going to bake your own bread, you'll have to understand the concept of levain. Thekitchn offers a good explanation of this as well.
One of the downsides to baking with your own sourdough starter is having to cast off ½ of your starter each day. It's painful to do. Kingarthurflour.com has some greater recipes – like biscuits, pancakes and crackers that you can make with your sourdough discard.
What to Know Before You Start Baking
If you haven't tried baking sourdough from starter, it's one of those experiments I recommend trying at least once in your life. There are a few pieces of advice I wish I had before starting on the sourdough journey. I jotted them down for you so that you can enter this experiment eyes wide open.
Baking your own bread takes a lot of flour. You need to feed your starter each day, which requires about ¾ cup of flour. Two loaves of bread requires ~ 6 cups of flour. I recommend having a good stash before you get started.
Speaking of flour… In an effort to quarantine appropriately, I bought 10 lbs. of bread flour only to discover that I don't like the outcome using bread flour. My inexperienced vote is for all-purpose flour.
This is a week-long endeavor. Getting your starter off the ground takes about 4 full days. Then, it's an overnight process to prepare the levain (see above). Baking day requires about 9 hours of time. Granted, it's not concentrated, but you will be tethered to your house.
A Dutch oven is not required. My best loaves came out of my copper stock pot.
What's in My Kitchen to Make This Vegan Recipe Easier?
Want to know what tools and resources I keep on hand to make my vegan cooking even easier? Here's a short list of what helped me create this blog post and recipe. For the complete list, visit my Shop where you can find the kitchen gadgets I like as well as a list of books that I recommend.
There are a few tools in my kitchen that get used all the time and this mini 4-cup food processor is one of them. It's perfect for sauces that don't require me to bring out the big guns. Clean up is easy and it doesn't take up much space.
I maintain that this is an essential kitchen tool. Yes, I know that you can squeeze a lemon (or lime, or orange) with your hands, but do that and then try this and see just how much more juice you get from each fruit. It also has the added benefit of separating (most) of the seeds from the juice.
Down a broiler pan? These aluminum baking sheets come highly recommended by the cooks who know best – Epicurious, Cooks Illustrated and Food & Wine. I bought mine because I needed a good, sturdy baking sheet to use under the broiler. One that wouldn't warp – and this one lives up to the task. Aluminum is a good conductor of heat, so these baking sheets cook evenly. They're also light in color, so they discourage over-browning.
These things are amazing! When I discovered parchment paper, I thought I had things figured out. No more greasing pans or ruining them with charred food. Then I discovered these silicon baking pads. They're oven-safe up to 450 degrees, dishwasher safe (top rack only) and easy to clean and REUSE!
This wire skimmer is a handy kitchen tool to have around. I use it when I make Homemade Soft Pretzels and homemade bagels. It makes retrieving both from the hot alkaline solution so much easier. I also like to have it for recipes like this Roasted Tomato Compote or my Vegan "Tuna" Towers, both of which require blanching tomatoes.
I bought this a few years ago and have success growing herbs and lettuces in it ever since. I love that it is mostly hands off — perfect for someone who has trouble keeping plants alive. I use my own seeds using the Grow Anything seed pods.
These seed pods are compatible with the Aerogarden Bounty. They allow you to use your own seeds, which I love. Typically, I have three basil plants going at once, but I'll also switch it up with a variety of lettuces as well.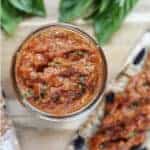 Roasted Tomato Compote with Fresh Basil
This roasted tomato compote with fresh basil recipe is pure gold. The combination of slow roasted fresh tomatoes in plenty of olive oil with a handful of fresh basil will make your taste buds sing. I like to spread it on home olive sourdough or add it as a topping to crispy vegan polenta cakes.
Ingredients
5

lbs

Roma tomatoes

4

tbsp

extra virgin olive oil

1

tsp

salt

1/4

tsp

pepper

1/3

cup

extra virgin olive oil

1/4

cup

fresh basil

1

tsp

fresh lemon juice

salt & pepper, to taste
Instructions
Preheat your oven to 250º.

Bring a large stockpot of water to a boil.

While the water is heating, wash the tomatoes and cut a shallow cross in the bottom of each tomato (see the blog post for details).

When the water comes to a boil, blanch the tomatoes for 1-2 minutes until the skin starts to peel.

Carefully remove the tomatoes from the boiling water and place them in an ice bath. While the tomatoes cool, prepare 2 baking sheets with parchment paper or silicon baking sheets. Use a basting brush to coat the bottom of the baking sheets with 2 tbsp of olive oil each.

When the tomatoes are cool enough to handle, peel the skins and discard. Then slice each tomato into quarters and remove the seeds using a paring knife.

Lay the deseeded tomatoes on to the baking sheets keeping them separate. Season generously with salt and pepper.

Roast the tomatoes for 2 ½ hours. They should be shy of crispy with lightly browned edges.

Add the tomatoes, olive oil, fresh basil and lemon juice with the roasted tomatoes in a food processor. Pulse until combined.

Season to taste with salt & pepper.
About Herbivore's Kitchen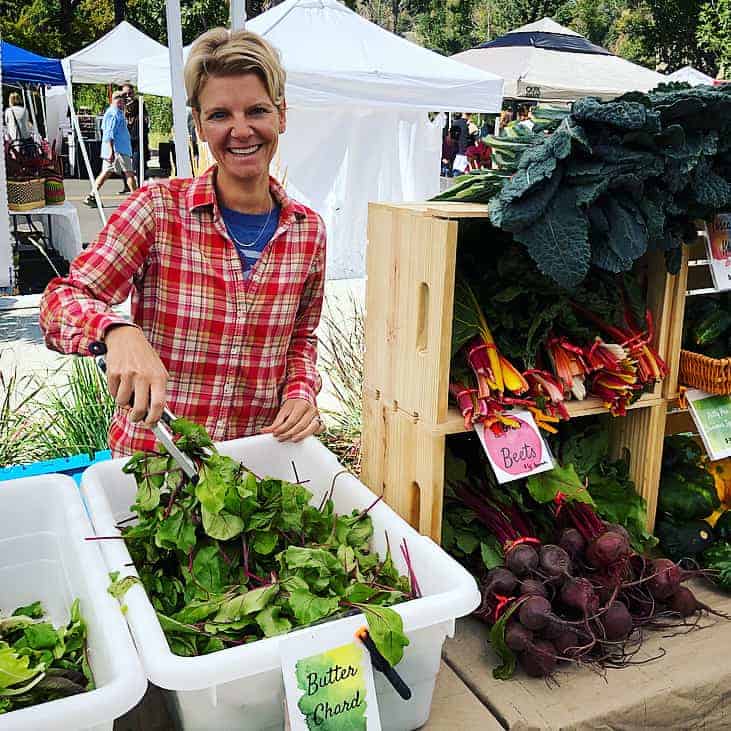 Herbivore's Kitchen is a blog run by me, a plant-based home chef and aspiring food photographer. I switched my and my family's diet to a plant-based diet after learning about the health benefits of going vegan. Making this change has prompted a variety of food and holistic-lifestyle related questions. Through my blog, I explore how to pick and prepare the most nutritious foods, to how to reduce waste at home, to how to live a more sustainable lifestyle while on the road.