---
This what is nutritional yeast post includes affiliate links. When I find a great product or service, I like to share it with my readers. Sometimes I use affiliate links so I can earn commission for my recommendations. Thank you for your support!
---
Vegan Cooking 101: What is Nutritional Yeast?
If you're new to vegan cooking, you might not be familiar with nutritional yeast. It's a great ingredient to get to know though, as nutritional yeast is popular in many vegan recipes. Dishes like my Easy Vegan Lasagna, No Coq au Vin with Creamy Vegan Polenta and even Vegan Fettuccini Alfredo are all possible (and delicious) by using nutritional yeast as a vegan cheese substitute.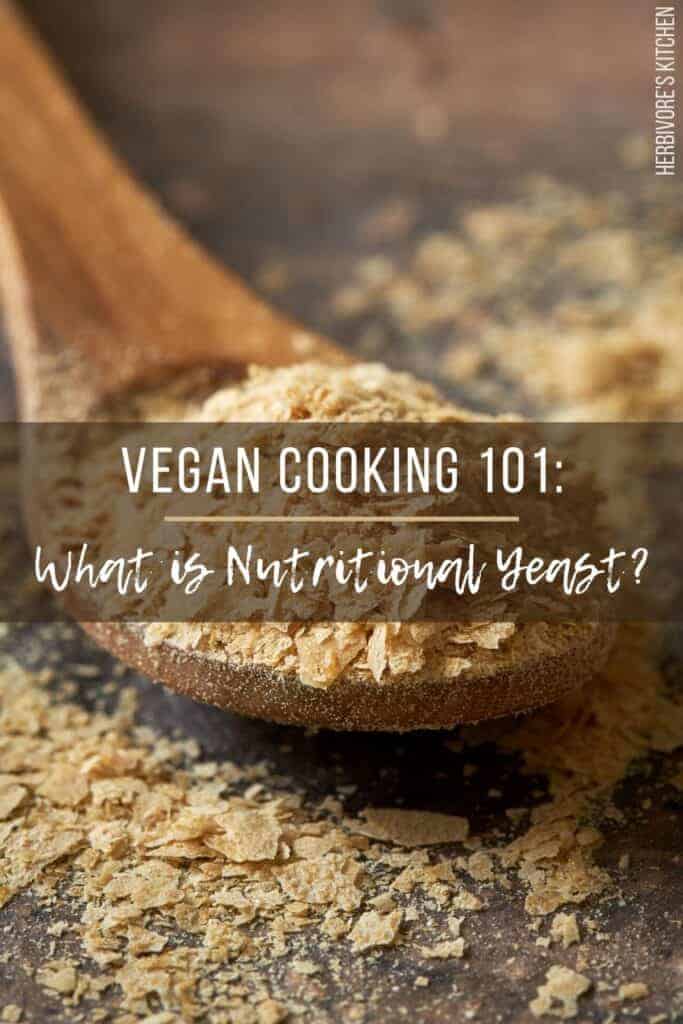 In its commercial form, nutritional yeast consists of pale, yellow flakes that, unfortunately, remind me of fish food more than anything else. Don't be dissuaded by this though – nutritional yeast doesn't taste (or smell) anything like fish food. On its own, the flavor is a little strong. It's not "sprinkle it on some crackers" for happy hour cheeseboard substitute. However, it does work wonderfully to add a cheesy taste to vegan foods. It's also more than just a flavor substitute. Nutritional yeast is packed with essential nutrients that are sometimes hard to come by if you're on an exclusively vegan diet. Oh, and if you're going to be cooking with it, you need to know its common nickname –"nooch."
Here are some additional facts on nutritional yeast; it's:
gluten free
low fat
soy free
sugar free
a good source of Vitamin B12
A plant-based source of a complete protein (containing all nine essential amino acids)
What is Nutritional Yeast: A Good Source of Vitamin B12
Fortified nutritional yeast can be a good source of Vitamin B12 for vegans and plant-based eaters. One-quarter cup of nutritional yeast contains 17.60 mcg of Vitamin B12, with the recommended daily requirement being about 2.4 mcg/day.1 Many of my vegan recipes call for 2 tbsp to ¼ cup of nutritional yeast in their ingredients, so getting B12 this way is very possible.
Vitamin B12 is an essential vitamin needed for cell division and blood formation.2 However, humans largely meet their need for Vitamin B12 through animal-products, so vegans need to be especially diligent in making sure that they are also getting it. Not getting enough Vitamin B12 in your diet can have severe consequences.3
What is Nutritional Yeast: A Good Vegan Source of a Complete Protein
Nutritional yeast is also a good source of a complete protein, containing all nine essential amino acids.4 One ¼ cup of nutritional yeast has 8 grams of protein. Not bad for a flavor-enhancer, eh?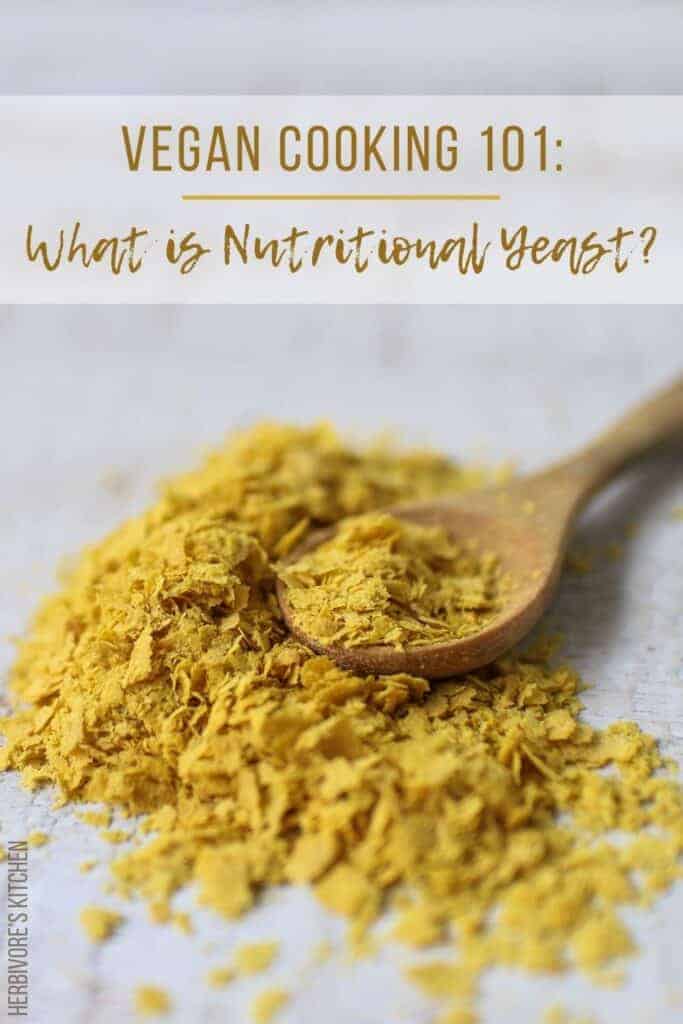 "Wait a second…," you might be thinking. What does that even mean? A complete protein?
If you're an omnivore, the concept of a complete protein isn't something you need to think very hard about. Animal products are complete proteins. This means that they contain all nine of the essential amino acids, or the amino acids that are not produced by the human body but rather need to be consumed. In nutrition speak, you might often hear people ask, "but how do you get your protein?" when questioning a vegan diet. This naysayer favorite is easy to rebuff – plenty of vegan foods contain protein. What's important though, is to make sure that the protein being consumed is the right kind of protein.
Nutritionists used to think that vegans needed to eat plant-based proteins in certain sequences to ensure that all nine essential amino acids were being absorbed by the body. Current opinions recognize that a variety in plant-based proteins throughout a vegan's diet is sufficient. Variety being the operative word. So, sprinkle on that nutritional yeast generously!
What is Nutritional Yeast: Friend to the Elite (Athlete)
In my trip down the rabbit hole researching nutritional yeast, I also came across some information about the effect of nutritional yeast on energy levels, particularly in elite athletes. The research indicated that a small amount of nutritional yeast following intense training or exercise could improve energy levels and decrease susceptibility to upper respiratory infections. Check it out for yourself at NutritionFacts.org.
Some Words of Caution Around Nutritional Yeast
Some time ago, I had a follower on Instagram express concern over my use of nutritional yeast. It alarmed me a little, so I did a little research on it. With respect to bad press, nutritional yeast does get some of it because of its chemical similarities to MSG. If you're not familiar with MSG, it's a long-vilified (but also long-ago-pardoned) flavor-enhancer that speaks directly to our tastebuds and screams the word "Umami!" Not up to speed on MSG's current status? You can learn more about it here. If you're short on time though, my research shows that the MSG-correlation shouldn't be of concern.5
However, if you have certain autoimmune diseases, such as Crohn's disease, consuming nutritional yeast is not recommended. You can learn more about that here and other rare, but possible, concerns with consuming too much nutritional yeast are covered here (including niacin, tryamine and fiber sensitivities).
My Favorite Vegan Recipes Using Nutritional Yeast
I'm particularly grateful for this vegan ingredient as it finds its way into many of my vegan recipes. It's very helpful in combating the "but I could never give up cheese" argument for those who are interested in the vegan diet but see cheese as their major hurdle. Here are some of my favorite vegan recipes to hopefully convince you as well!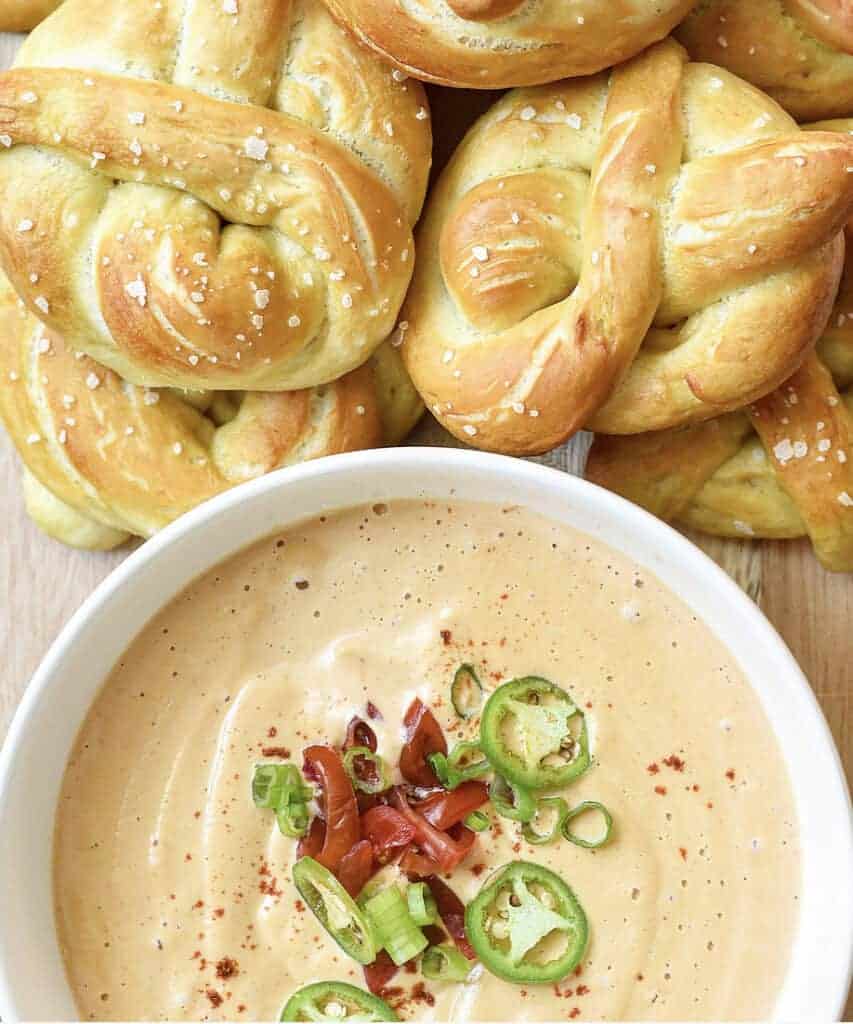 Homemade Soft Pretzels with a Vegan Nacho Cheese Sauce
Looking for a vegan appetizer suitable for a crowd? How about these homemade soft pretzels with an easy vegan cheese sauce? I know I am biased, but this vegan cheese sauce is the best! It's made with creamy cashews, nutritional yeast and red pepper to give it its nacho cheese color. Want to make this vegan appetizer even more simple? Make the soft pretzels into soft pretzel bites and get snacking even sooner!
Vegan Basil-Pesto Stuffed Shells
Looking for some vegan comfort food? How about warming up on a chilly fall evening with this vegan pasta recipe? My basil pesto stuffed shells are every bit as creamy and delicious as their dairy counterpart.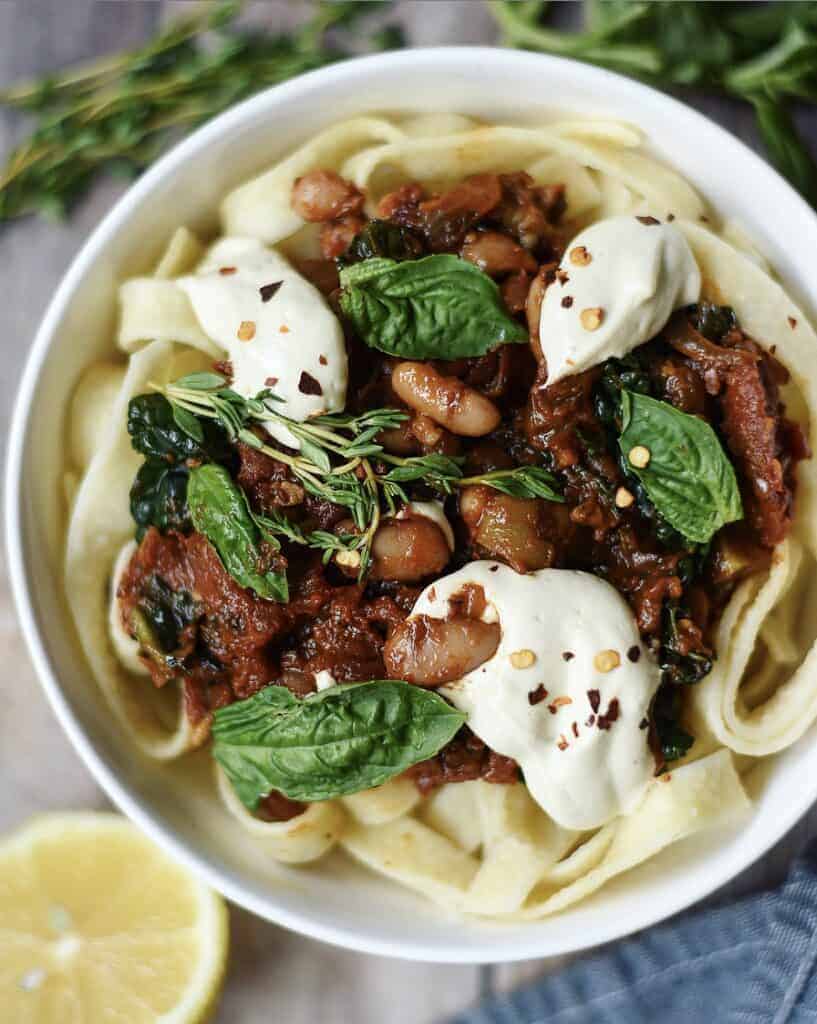 Looking for the ultimate in vegan comfort food? This pappardelle pasta with an easy kale and white bean ragù recipe will make even the coldest nights warm and cozy. Bring this Italian recipe to your table in a vegan friendly way by adding a healthy cashew cream sauce made with cashews, nutritional yeast and fresh lemon juice.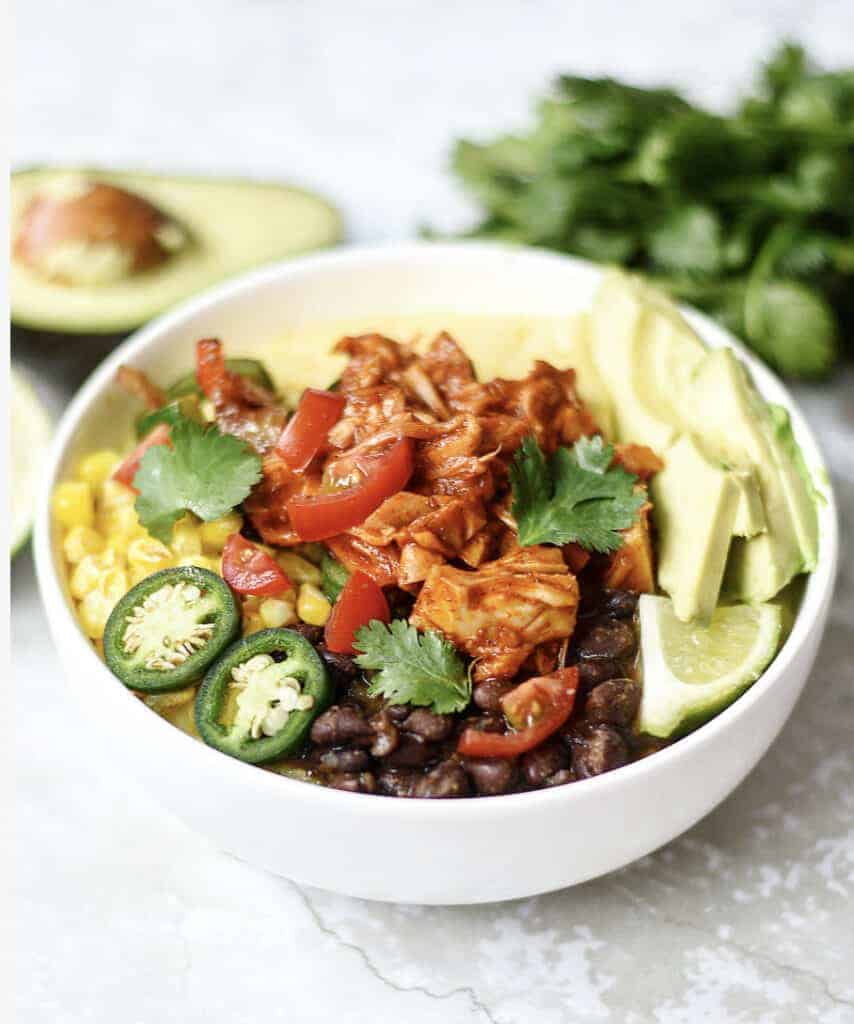 Make tamales easy again with this deconstructed vegan tamale recipe! Learn how to cook jackfruit with this vegan-friendly bowl, featuring creamy polenta is its base. This easy vegan dinner option is topped with fresh avocado, cumin-spiced black beans, sweet corn, poblano peppers and fresh tomatoes.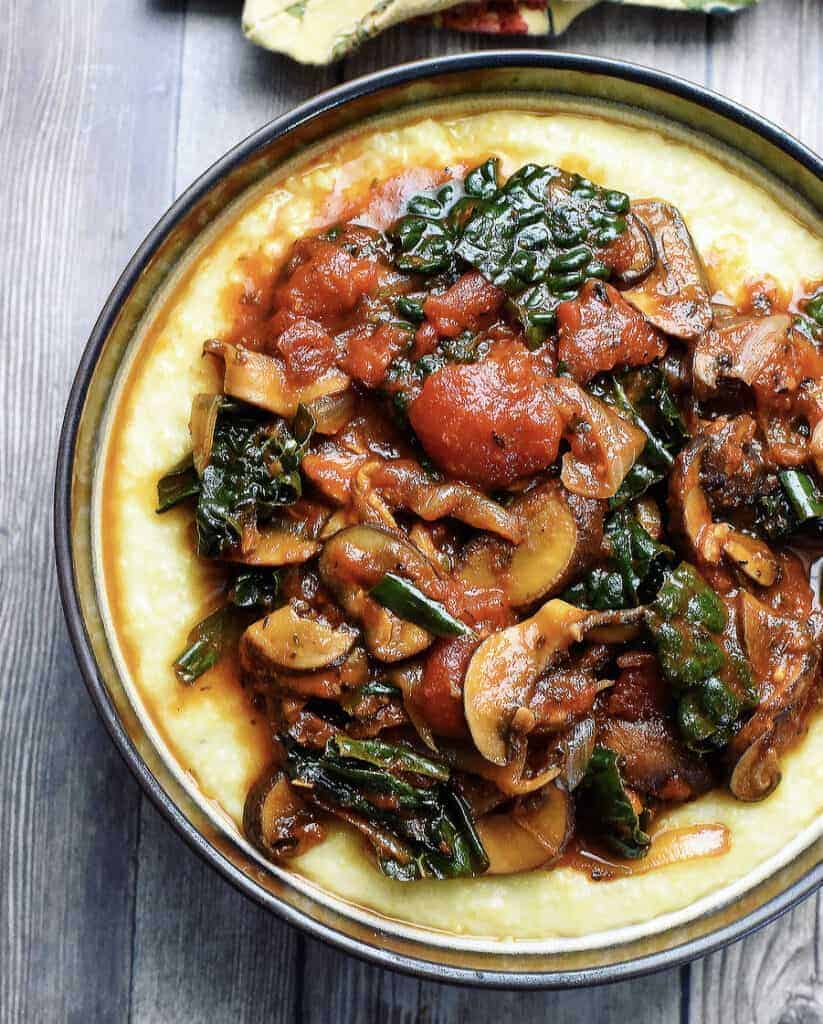 Creamy Vegan Polenta with a Mushroom Ragu
This Creamy Polenta and Mushroom Ragu recipe is one for the regular / easy / healthy dinner rotation! You might not think vegan polenta can be creamy and cheesy, but this recipe is here to prove you wrong! Topped with a savory, but healthy mushroom-kale tomato sauce, this creamy polenta recipe will keep you warm all winter long!
About Herbivore's Kitchen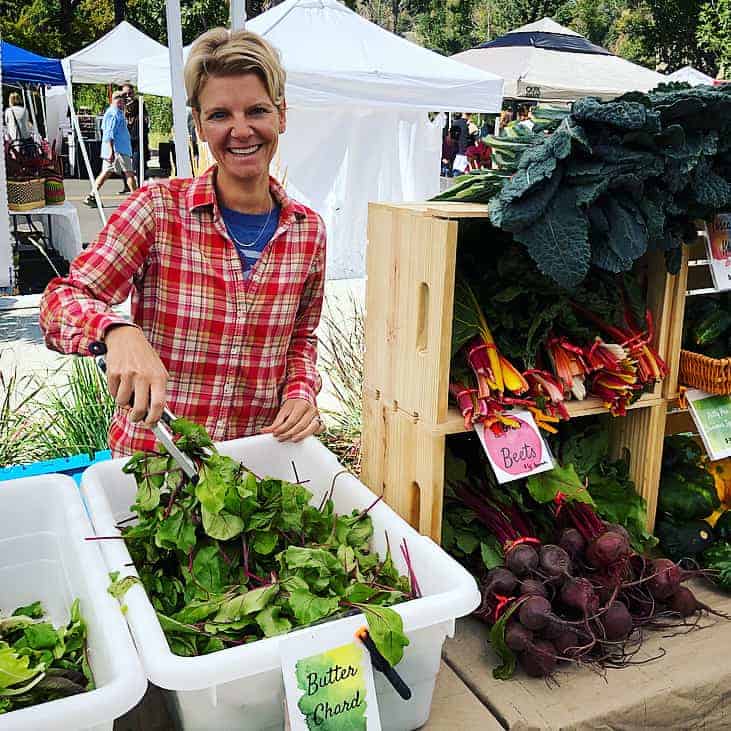 Herbivore's Kitchen is a blog run by me, a plant-based home chef and aspiring food photographer. I switched my and my family's diet to a plant-based diet after learning about the health benefits of going vegan. Making this change has prompted a variety of food and holistic-lifestyle related questions that I explore through this blog. I talk about how to pick and prepare the most nutritious foods, to how to reduce waste at home, to how to live a more sustainable lifestyle while on the road.