Jump to Recipe
---
This Deconstructed Vegan Tamale Recipe with Jackfruit includes affiliate links. When I find a great product or service, I like to share it with my readers. Sometimes I use affiliate links so I can earn commission for my recommendations. Thank you for your support!
---
Deconstructed Vegan Tamale Recipe with Jackfruit
Make tamales easy again with this deconstructed vegan tamale recipe! Learn how to cook jackfruit with this vegan-friendly bowl, featuring creamy polenta is its base. This easy vegan dinner option is topped with fresh avocado, cumin-spiced black beans, sweet corn, poblano peppers and fresh tomatoes.
What is Jackfruit and What Does Jackfruit Taste Like?
Jackfruit is watermelon-sized fruit from Southeast Asia. It's the vegan darling of meat substitutes because, when prepared properly, it shreds and browns just like pulled chicken or pulled pork.
On its own, jackfruit is pretty mild in flavor, but it does a great job of absorbing the flavors it's cooked in. One of my favorite applications for it is my Jamaican Jerk Jackfruit with Fresh Mango Salsa. Of course, if you're not into Jamaican spice, you can give it an Asian twist and use it for my Moo Shu Pizza recipe. It's really that versatile.
How to Cook Jackfruit
In this, and other recipes where I use jackfruit, I liked to cook it so that it had a crispiness to it. I buy jackfruit canned in a brine solution and when the jackfruit does into the pan wet, it ends up steaming instead of pan-frying. To get around this, I drain and rinse the jackfruit and then I roll it in a clean tea towel and squeeze out the excess moisture. Starting with a drier jackfruit enables the crispy finish.
Once I've dried it out, I pan fry it in a little bit of oil. Once it's crispy, I add my sauce of choice. In this case, I made these tamale bowls with enchilada sauce. And, yes, I bought the sauce. And, I was only thinking of you when I did it. Do you really have time to make your own enchilada sauce?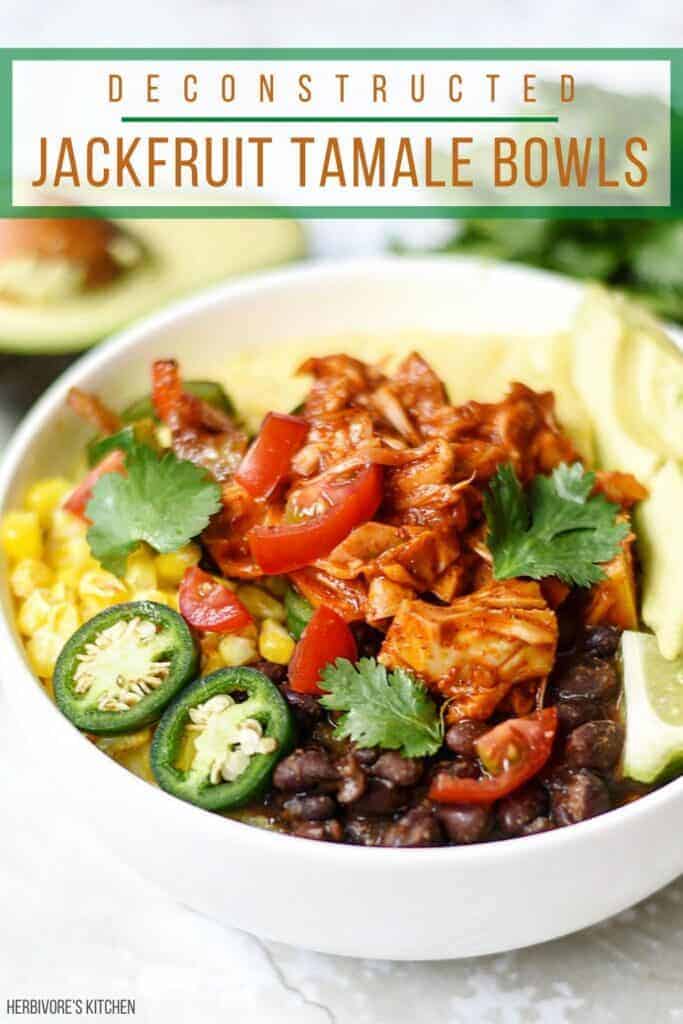 I'm joking (a little bit). Making my own enchilada sauce is definitely on my list. And, don't get me wrong, I like to use as few processed foods as possible. But the truth is: I just haven't tackled it yet. And sometimes I get frustrated when a recipe includes Every. Single. Ingredient as a DIYer. I feel like, "well, of course you make your own [insert condiment here]" when I read some recipes. I get it, sometimes dinner just has to make it to the table. You do the best you can with the time that you have.
Why This Is a Deconstructed Tamale Recipe
Aha! You got me again! Trying to save all that time.
Seriously, it's not like polenta is a snap to make. It does take time. But when was the last time you read an authentic tamale recipe? That looks like work. So, to get all of that goodness together in a different way, I simply deconstructed the tamale into a tamale bowl.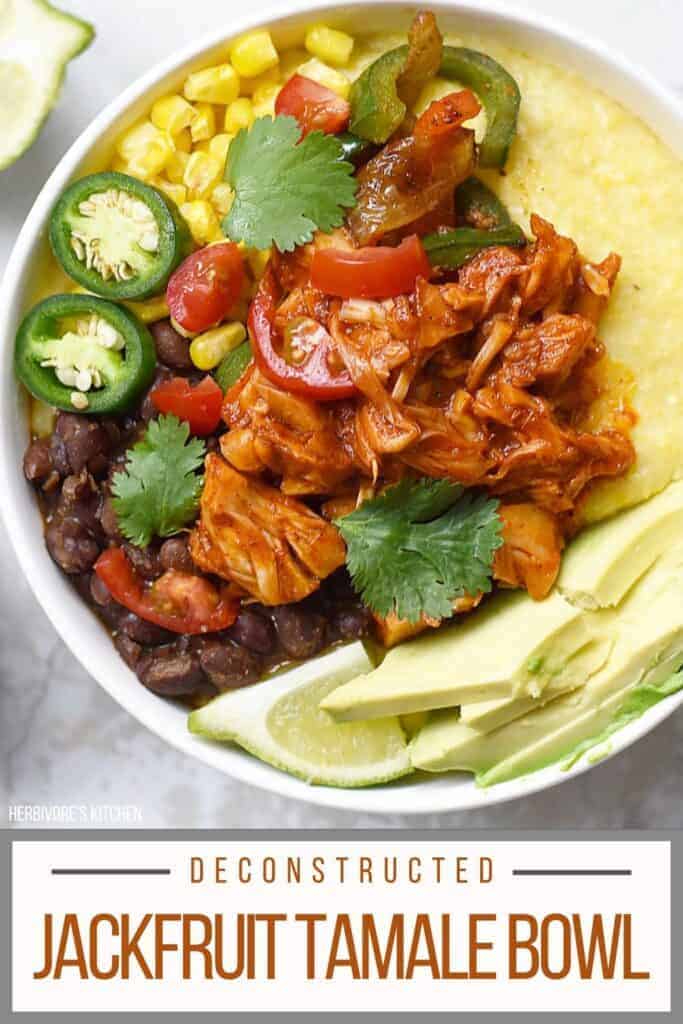 Polenta is one of my dream foods and it's totally possible to make a bowl of creamy polenta vegan. I use coconut milk – the full fat, canned, unsweetened kind (wait, what? You don't milk your own coconuts?) and nutritional yeast. Don't worry about the dish tasting like coconut. It won't. As it cooks the flavor just becomes perfectly creamy. I use coconut milk in so many of my recipes, like my Vegan No Chicken & Biscuits and my Creamy Vegan Tomato Sauce recipe.
For the skinny on how to make perfect polenta, take a peak at my Creamy Polenta with Mushroom Ragu recipe. I do a deep dive into polenta – everything from what it is, to how o shop for it, to how to cook polenta.
Putting this Vegan Tamale Recipe on the Table
This dish comes together pretty quickly. The hardest part is the prep, which you can do in advance if you'd like. To my jackfruit and polenta, I added cumin-spiced black beans and some charred poblano peppers and onions. I highly recommend these ingredients, but if time is an issue, you can always leave a few of them out.
For additional flavor, I topped my tamale bowls with fresh tomatoes, cilantro, avocado slices, jalapenos and lime. Definitely don't skip that lime. It adds great final flavor to this tamale recipe!
What's in My Kitchen to Make This Vegan Recipe Easier?
Want to know what tools and resources I keep on hand to make my vegan cooking even easier? Here's a short list of what helped me create this blog post and recipe. For the complete list, visit my Shop where you can find the kitchen gadgets I like as well as a list of books that I recommend.
I love having a skillet with some depth to it. I use it regularly when making a dish like this where there is some liquid that I need to cook off.
I'm a big fan of stainless aluminum sauté pan. It offers even heat distribution. My favorite part, that extra handle opposite the handle. I don't know about you, but I can't pick up a sauté pan with one hand without wondering if my wrist is going to give out before I get it to the other side of the kitchen.
Ever forget how hot those handles on your sauté pan get? Yeah, me too. The Ove Glove will help to protect your hands when cooking (and forgetting).
These covers are heat safe to 540 degrees and two come in a package – one for holding each handle!
No, that's not the brand. It's just the idea! But,I own this set of Global™ knives and They're some of my most prized possessions in the kitchen. This set is universally well-rated for the at-home chef and will get you a good, solid set of knives without totally breaking the bank.
I only bought one of these a few months ago, but wow! I'm so much happier not peeling garlic cloves with my fingernails. I'm pretty sure I'll collectively get at least a day of my life back because of this device.
I've read a dozen posts about why you shouldn't use a garlic press. One of them actually suggested that they take up valuable kitchen space. I mean, I guess if you have a tiny kitchen you might have to make those choices. They're smaller than a can opener. I love mine. I hate, hate, hate mincing garlic.
Designed to serve pasta, I use these shallow dinner bowls all. the. time. I love that I can present all of the ingredients of a dish without over-serving in terms of portion. With a standard bowl, food ends up being stacked and that's no way to display all of your hard work. These bowls are an inexpensive, practical way to present everything from pasta bowls, curry bowls and, of course, deconstructed jackfruit tamale bowls.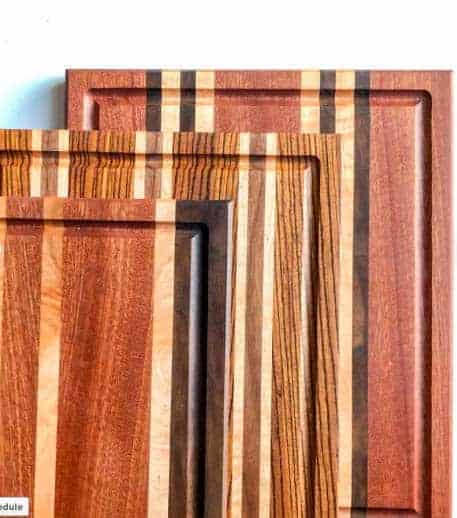 Recently, I spent some time researching the best cutting boards. I've been a plastic cutting board believer for a long time. And, yes, you can put them in the dishwasher.
Wood cutting boards, though, are a healthier option. This board I found on Etsy is made of maple and walnut, both hardwoods. Hardwoods are fine-grained, offering up less deep cuts for bacteria to hide. They're also "self-healing" in that, over time, the wood will partially repair itself over time. So, a well-cared for wood cutting board, even though it costs more at the outset, should last you a long time.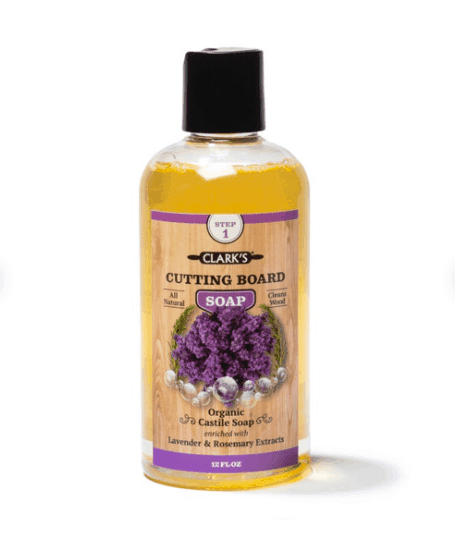 Speaking of wood cutting board care… this natural castile-based soap is free from animal products. Just another step in making your kitchen more sustainable! And it's scented with rosemary and lavender oils, so it smells amazing too!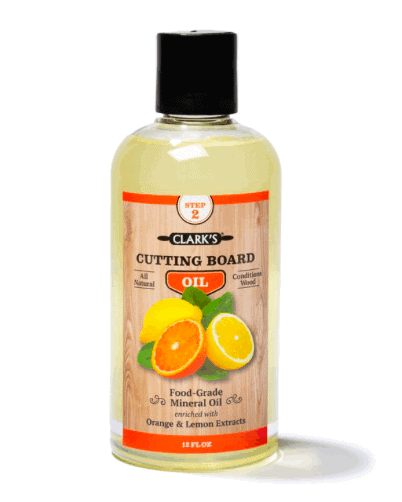 And, after you clean your wood cutting board, be sure to treat it with food-grade mineral oil. Mineral oil will help prevent your cutting board from drying and cracking, thereby extending its useful life. I like this mineral oil because it exceeds FDA standards for food-grade mineral oil and it doesn't contain any potential allergens, enabling you to use it without worry.
Deconstructed Jackfruit Tamale Bowl
Make tamales easy again with this deconstructed vegan tamale recipe! Learn how to cook jackfruit with this vegan-friendly bowl, featuring creamy polenta is its base. This easy vegan dinner option is topped with fresh avocado, cumin-spiced black beans, sweet corn, poblano peppers and fresh tomatoes.
Ingredients
For the Polenta
1

13.5 oz can

full fat, unsweetened canned coconut milk

Note that a 13.5 oz can is roughly equivalent to 1 3/4 liquid

1 1/4

c.

water

with 2+ cups water on reserve

1

tsp

salt

1

c.

polenta

or medium ground flit cornmeal

1/4

c.

nutritional yeast
For the Jackfruit & Other Toppings
1

28 oz. can

black beans

drained and rinsed

1

tbsp

cumin

1/2

tbsp

chili powder

1

cup

water

2

14 oz cans

young jackfruit

drained and rinsed

2

tbsp

extra virgin olive oil

divided

1/2

medium

yellow onion

chopped

2

cloves

garlic

minced or crushed

2

red bell peppers

rinsed with the seeds removed and sliced into bite-sized pieces

2

poblano peppers

rinsed with the seeds removed and sliced into bite-sized pieces

1

cup

frozen sweet corn

defrosted and heated through (see recipe notes)

1

cup

grape tomatoes

rinsed and roughly chopped

1

14 oz can

red enchilada sauce

1

avocado

sliced

1

jalapeno

sliced

1

bunch

cilantro

washed and torn
Instructions
In a small pot, bring the coconut milk and water to a boil. Slowly add the polenta while stirring constantly. Add the salt. Reduce to a simmer and allow to cook for approximately 20 minutes, stirring every 5 minutes. If the polenta becomes too thick to stir, add additional water. You will likely need to add ~2 additional cups of water. The polenta is done when it is smooth and creamy (not gritty or sand-like). Once you have th right consistency, stir in the nutritional yeast and season with additional salt and pepper, if desired. See my recipes notes for references to a detailed description on how to cook polenta.

Drain and rinse the black beans. Add them to a saucepan with ½ c. water, the cumin and the chili powder. Simmer uncovered, stirring occasionally, until the water has cooked down. Gently mash the beans.

Drain and rinse the canned jackfruit. Shred the jackfruit with two forks, wrap it in a clean towel and press the moisture out. Set aside.

Defrost and warm the frozen corn.

Heat 1 T. extra virgin olive oil in a large skillet. Sauté the onions on medium-low heat until they begin to brown. About 8-10 minutes. Increase the heat to medium and add the garlic. Sauté 1-2 minutes more. Add the red bell & poblano peppers. Increase the heat to medium-high and sauté the vegetables, allow them to char slightly. Set aside and wipe out the pan.

Add 1 T. extra virgin olive oil to the pan. Once heated, add the jackfruit and pan fry on medium-high heat until the jackfruit begins to brown. Add the enchilada sauce and toss until the jackfruit is coated. Simmer for 3-5 minutes until the sauce begins to reduce.

Slice the tomatoes, avocado and jalapenos. Wash and tear the cilantro.

Prepare the bowls with a spoonful of polenta. Add some black beans, jackfruit and cooked peppers and onions. Top with corn, tomatoes and avocado and garnish with sliced jalapenos and cilantro.
Notes
Polenta is delicious, but there is an art to preparing it. For detailed instructions, please see my Creamy Polenta with Mushroom Ragu.
If you're looking for some additional aesthetics, I sometimes like to char the corn. I do this by heating up a small cast iron skillet. When it is very hot, I add the frozen corn and allow it to sit for ~1 minute. Then I toss it and allow it to sit for ~30 seconds more. This gives the corn a nice char. Just pay attention when doing this. If you allow it to cook too long, the corn will become tough.
About Herbivore's Kitchen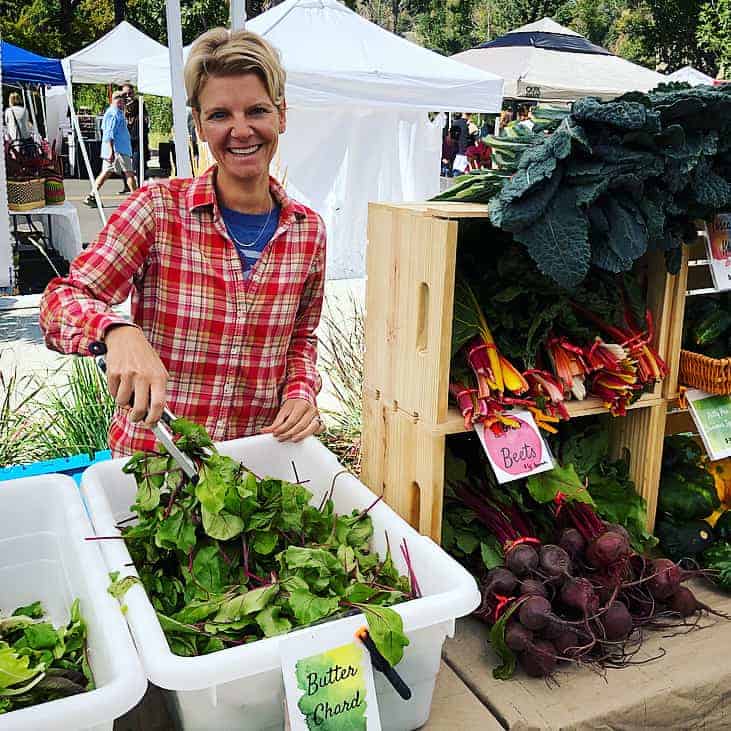 Herbivore's Kitchen is a blog run by me, a plant-based home chef and aspiring food photographer. I switched my and my family's diet to a plant-based diet after learning about the health benefits of going vegan. Making this change has prompted a variety of food and holistic-lifestyle related questions that I explore through this blog. I talk about how to pick and prepare the most nutritious foods, to how to reduce waste at home, to how to live a more sustainable lifestyle while on the road.