Jump to Recipe
---
This Dilly Bean recipe includes affiliate links. When I find a great product or service, I like to share it with my readers. Sometimes I use affiliate links so I can earn commission for my recommendations. Thank you for your support!
---
Quick Pickle Recipe: Dilly Beans
Got green beans? Making dilly beans is a great way to preserve your summer harvest. This quick pickle recipe makes a great addition to a vegan cheese platter or as a salty side for a sandwich.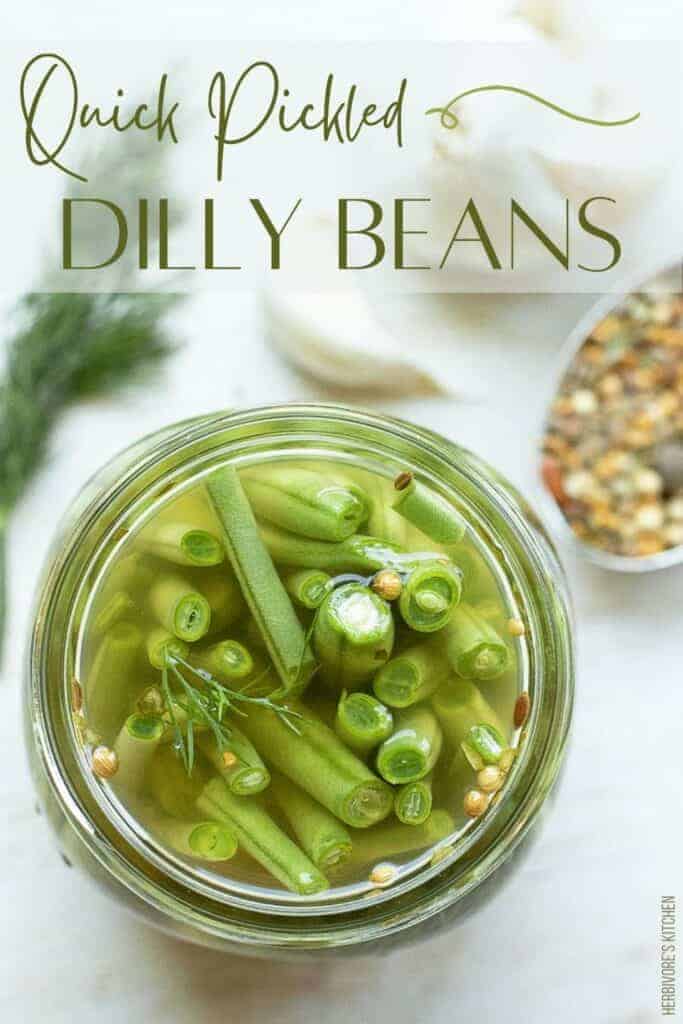 Late August and early September bring with them a crush of homegrown vegetables. I'm often wondering what to do with the excess of tomatoes and green beans – usually two of my better annual yields. This push to preserve the fruits of my labor has had me thinking about clever ways to keep eating tomatoes and green beans long after my pesto tomato salad and steamed green beans have run their course in my family's summer repertoire.
Dilly Beans: Quick Pickling the Garden's Finest
Enter the dilly bean. This one was actually not my idea, but my mother's. Every year, she pulls an impressive number of green beans from her garden and turns a portion of them into dilly beans. And every year she serves them to my kids as a side to chips and a sandwich and they go absolutely bonkers over them. Even at Christmastime they seem more taken with the dilly beans than the gifts they receive under the tree.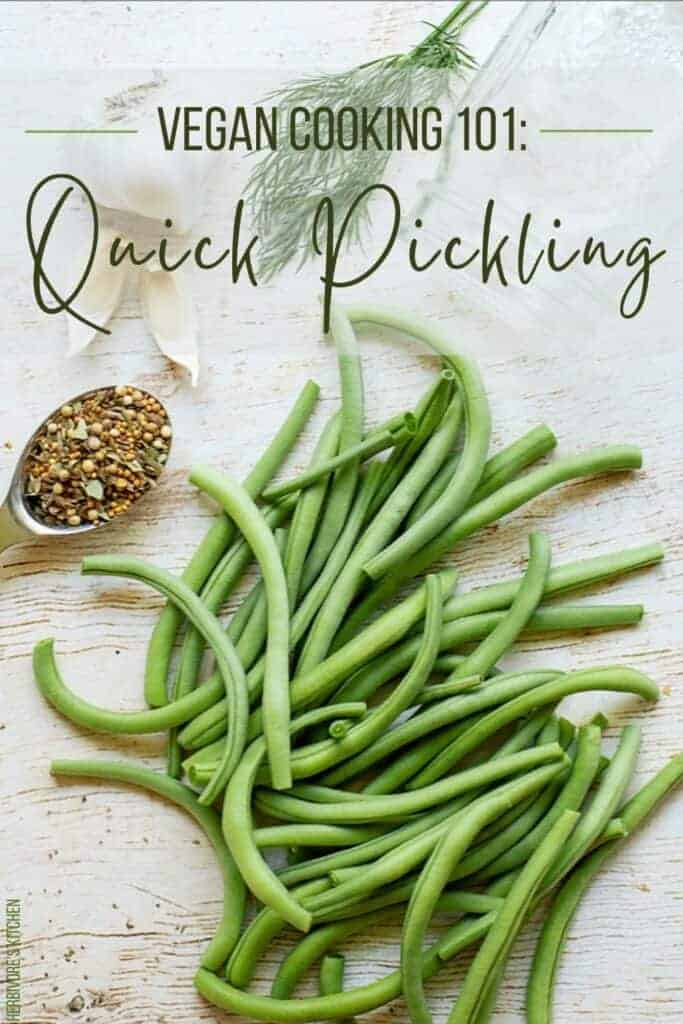 If you're not familiar with dilly beans, they're the green bean's answer to the dill pickle. In other words, dilly beans are dilled green beans. Since I'm not a canner, I make my dilly beans by quick-pickling them. Quick-pickling is a means of preserving food using acid, like vinegar, and refrigeration. If you follow me regularly, you've seen undoubtedly seen my Quick-Pickled Red Onions come up more than once. In addition, to green beans and red onions, I also like to quick-pickle carrots, purple cabbage and asparagus.
How to Quick Pickle Dilly Beans
Quick pickling green beans is actually really simple. I start by washing and trimming the ends off my green beans. Then I steam them for about 3 minutes. As they steam, the beans will turn bright green and become more tender. I am careful not to over-steam them though, as I want to maintain a bit of crunch when I bite into them! Once they're steamed, I rinse them in cold water to stop the cooking process and begin filling my mason jars by packing the steamed beans into them.
Adding Fresh Dill and Other Seasonings to your Dilly Beans
At this point, I determine whether I want to add seasonings to my brine. Fresh dill is a must, but it's also fun to play around with other flavors. Popular pickling spices include mustard seed, garlic, black pepper, crushed red pepper, coriander and allspice. You can mix and match and play around with different options or start with a pre-mixed pickling spice. If you're more of a simple pickler, I recommend fresh garlic cloves and dill to start.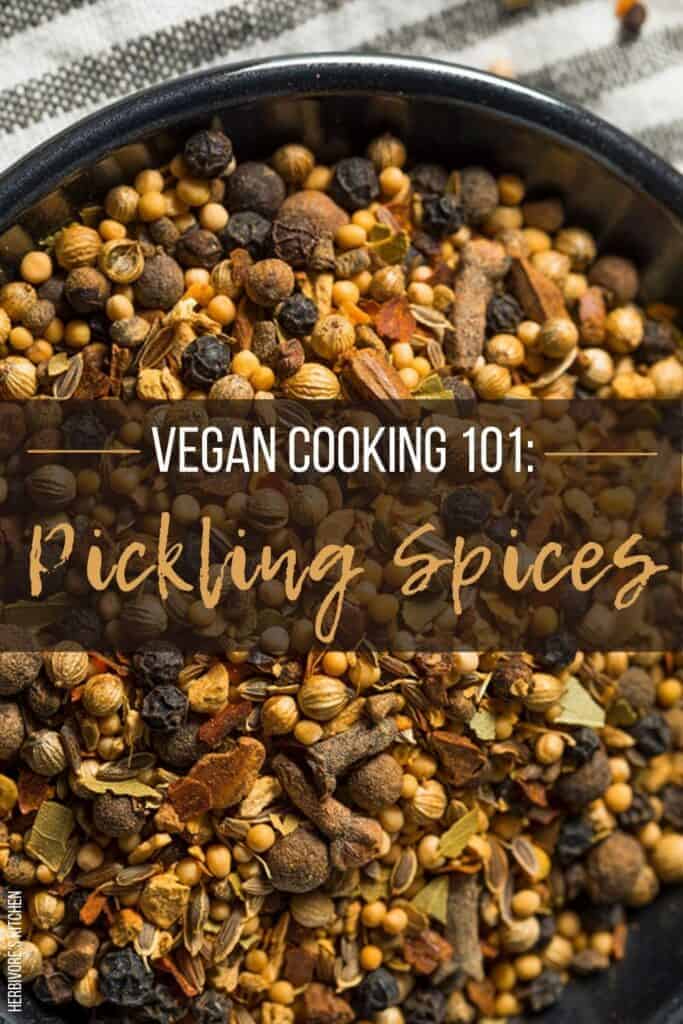 How to Make Quick Pickling Brine for your Dilly Beans
My brine is a simple combination of 1 cup of vinegar (rice vinegar and apple cider vinegar are my favorites), 1 cup of water, 1 tbsp of sugar and 1 tsp of salt. I bring this to a boil over the stove until the salt and sugar have dissolved. Then I wait for the brine to cool (so it doesn't further cook the beans) before adding to the beans.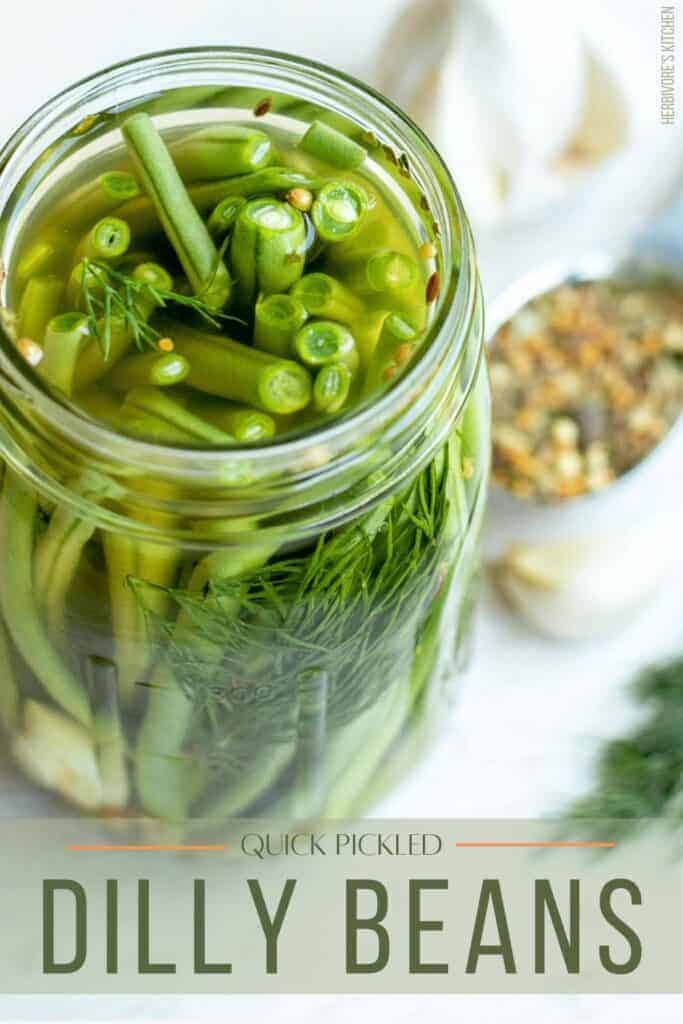 It's important to fill the mason jars to the top, making sure that all of the beans are submerged in the brine. This way, you won't have any of your beans exposed to the air. Then it's as easy as sealing the jars with a tight-fitting lid and storing them in the refrigerator.
Quick-pickled vegetables can be eaten immediately, but you're better off waiting at least 24 hours before digging in. Dilly beans get better as they age, so if you can, wait at least a couple of days before opening up the jar. Quick-pickled beans can last several months in the refrigerator.
What's in My Kitchen to Make This Dilly Beans Recipe Easier?
Want to know what tools and resources I keep on hand to make my vegan cooking even easier? Here's a short list of what helped me create this blog post and recipe. For the complete list, visit my Shop where you can find the kitchen gadgets I like as well as a list of books that I recommend.
Steaming vegetables is an excellent way to retain their nutrients. It's also a great pre-roasting trick for vegetables like cauliflower. Steaming cauliflower before roasting it gives it a wonderful soft-on-the-inside, crispy-on-the-outside texture which is great for recipes like my Cauliflower Buffalo Wings and Roasted Cauliflower in a Sticky Lemon Sauce.
I love this steamer basket because it's simple, resizable and cleans up easily. It's also inexpensive and compacts well for easy storage in the kitchen.
No, that's not the brand. It's just the idea! But, I own this set of Global™ knives and They're some of my most prized possessions in the kitchen. This set is universally well-rated for the at-home chef and will get you a good, solid set of knives without totally breaking the bank.
I only bought one of these a few months ago, but wow! I'm so much happier not peeling garlic cloves with my fingernails. I'm pretty sure I'll collectively get at least a day of my life back because of this device.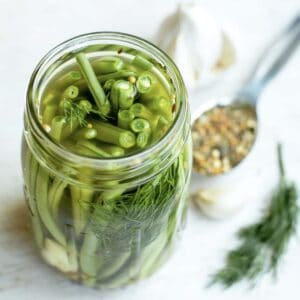 Quick Pickle Recipe: Dilly Beans
Got green beans? Making dilly beans is a greatway to preserve your summer harvest. This quick pickle recipe makes a greataddition to a vegan cheese platter or as a salty side a sandwich.
Ingredients
1

lb

green beans

1

cup

apple cider vinegar

1

cup

water

1

tbsp

sugar

1

tsp

salt

2

cloves

garlic

peeled

4-6

sprigs

fresh dill

1

tbsp

pickling spices

optional
Instructions
Set up your steamer basket in a large stockpot with ~2 inches of water. Cover and bring to a boil.

Wash and trim the ends off the green beans.

When the water comes to a boil, add the cleaned green beans to the steamer basket. Cover and steam for ~3 minutes until the beans are bright green but still crisp. Rinse with cold water to stop the cooking process.

Add the apple cider vinegar, water, sugar and salt to a small sauce pot. Bring to a simmer and cook until the salt and sugar have dissolved. Turn off the heat and allow to cool.

Add the green beans, garlic, dill and, if desired, pickling spices to your mason jars, leaving about 1 inch of space at the top.

When the brine has cooled, fill each jar to the top with the brine. Seal and store in the refrigerator. Dilly beans are best after they have been allowed to sit for at least 24 hours.
About Herbivore's Kitchen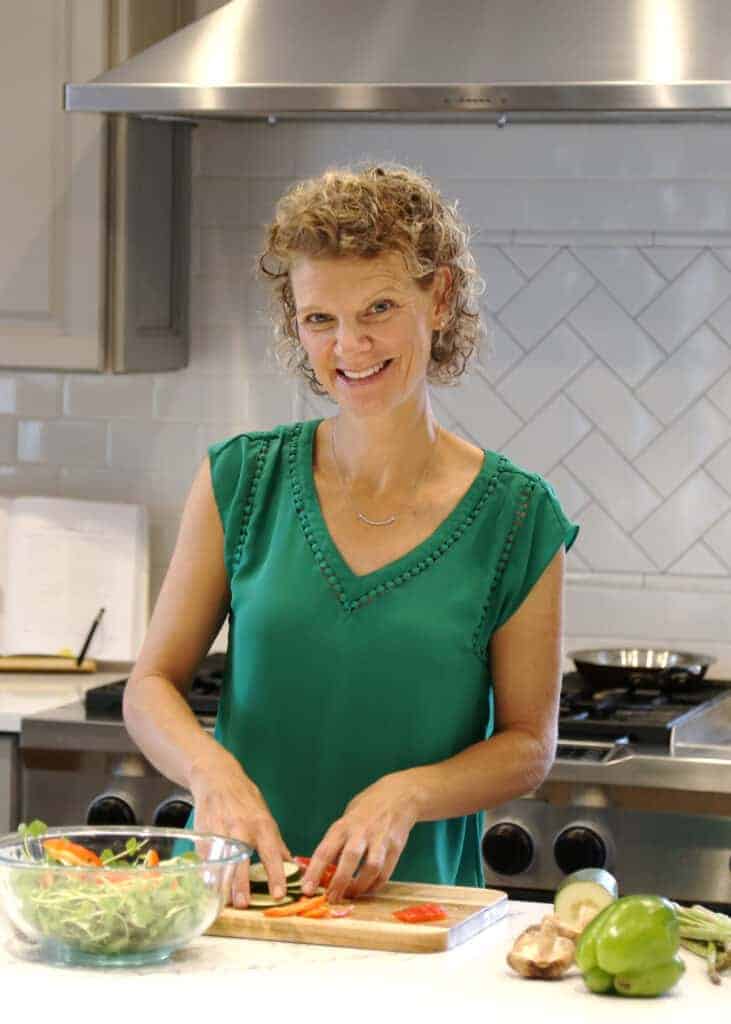 Herbivore's Kitchen is a blog run by me, a plant-based home chef and aspiring food photographer. I switched my and my family's diet to a plant-based diet after learning about the health benefits of going vegan. Making this change has prompted a variety of food and holistic-lifestyle related questions that I explore through this blog. I talk about how to pick and prepare the most nutritious foods, to how to reduce waste at home, to how to live a more sustainable lifestyle while on the road.