Jump to Recipe
This Healthy Vegan Chili: Vegan Sweet Potato Chili Recipe includes affiliate links. When I find a great product or service, I like to share it with my readers. Sometimes I use affiliate links so I can earn commission for my recommendations. Thank you for your support!
Black Bean & Sweet Potato Soup: This Healthy Vegan Soup is Perfect for Weeknight Vegan Meals!
Keep your weeknights easy with this Black Bean & Sweet Potato Soup Recipe. Featuring sweet potatoes, beans and fresh bell peppers, this healthy vegan soup recipe is the perfect way to get a vegan dinner on the table!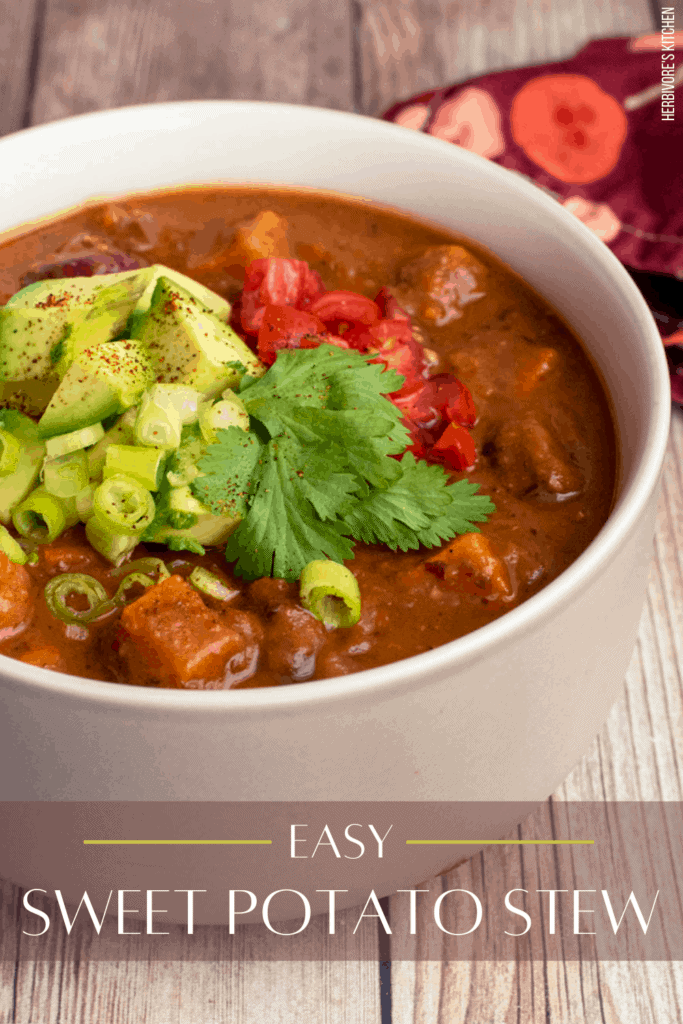 Black Bean & Sweet Potato Soup: Why I Think This Vegan Recipe is the Best!
I try not to throw the word best around too much, but when it comes to this Vegan Black Bean & Sweet Potato Soup recipe I think it's the right word. It just checks all of the boxes:
It's thick with healthy beans and creamy sweet potatoes.
It's a tad spicy, a little bit sweet and richly savory.
And, it comes together quickly and easily in one-pot.
What more can you ask of an easy weeknight recipe?
Black Bean & Sweet Potato Soup: Keeping It Uncomplicated
What I love about this Vegan Black Bean & Sweet Potato Soup recipe is that it is so pantry friendly. It includes canned diced tomatoes, pinto beans, black beans and kidney beans — all of which I keep on hand. It's seasoned with fresh garlic, sautéed onions, salt, pepper, cumin and chili powder — more vegan staples. And, it gets its richness from sautéed tomato paste, an ingredient I am never without.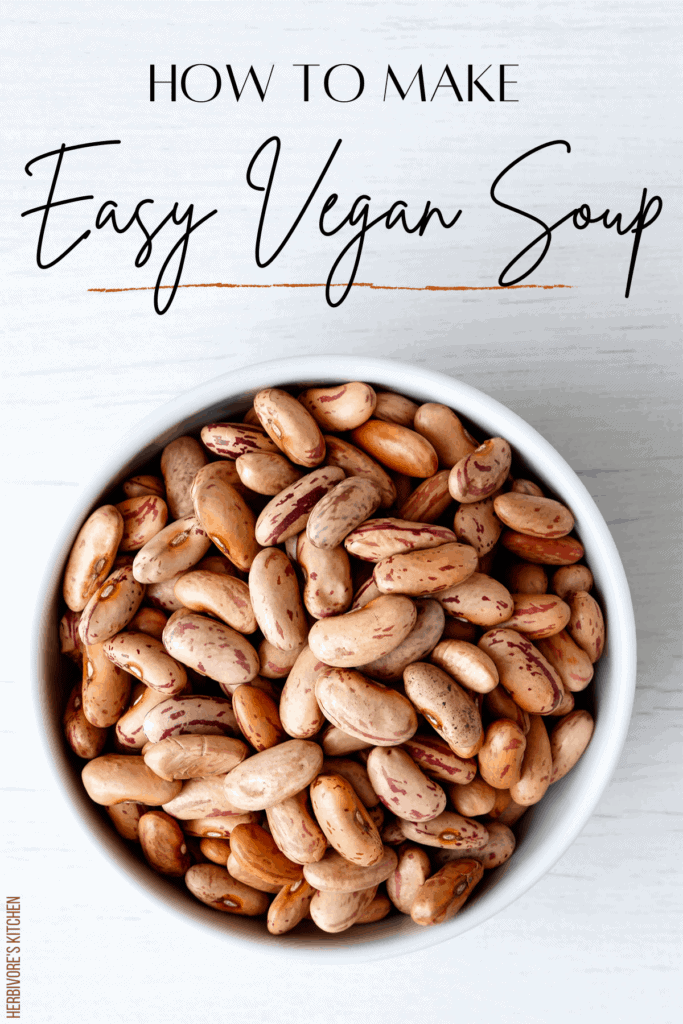 As for fresh vegetables, this it lends itself well to ingredients that make my weekly grocery list so I always have them at the ready. They include red and green bell peppers and a sweet potato.
A Healthy Vegan Soup Recipe & A One-Pot Wonder
To make this Black Bean & Sweet Potato Soup, I start by slow-cooking my onions in a large stockpot. I do this before doing any of my other food prep. That way, I give the onions time to do their thing, which is turn into the wonderfully rich, slightly sweet gems that they can be when slow cooked. From there, it's just a matter of adding the other ingredients to the pot in a well-timed sequence to add layers of deliciousness in this vegan soup. This, of course, is all laid out for you in the recipe below.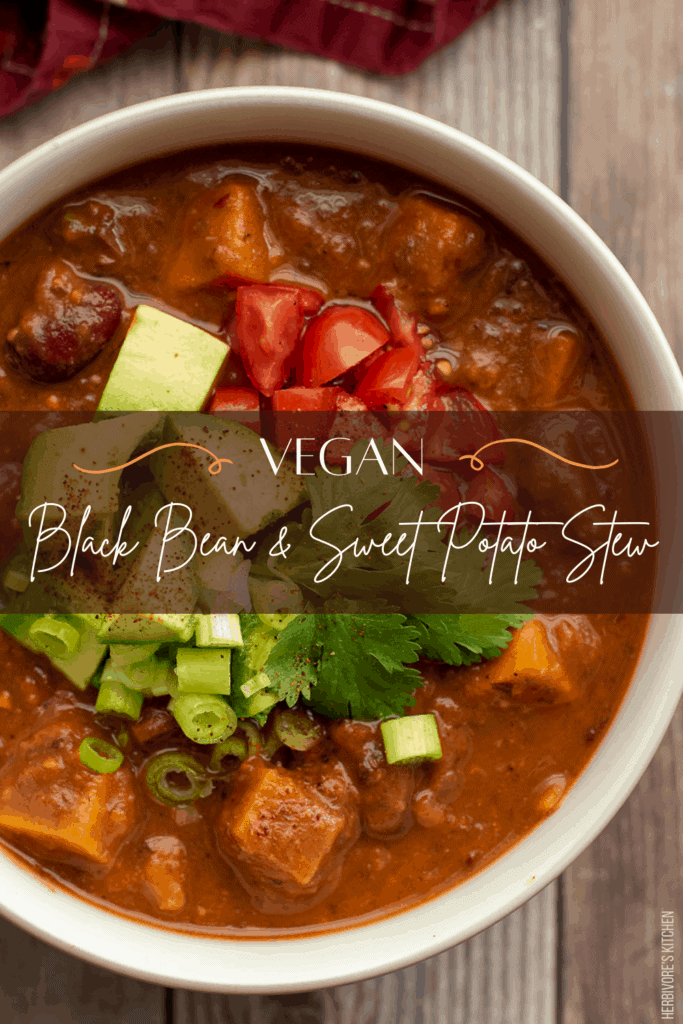 Black Bean & Sweet Potato Soup: How to Make this Healthy Vegan Soup Kid Friendly
Large pieces of vegetables, particularly tomatoes and onions, are a source of contention in my house. My kids are perfectly happy to eat them. They just don't want to see them. This vegan soup, to my satisfaction, is wonderfully thick with lots of vegetables. I could eat it in any shape or form, but in order to get family buy-in I have to engage in a little food disguise.
My tool for this? An immersion blender. I love it because it does its job quickly and easily with minimal mess to clean up. When the chili is hot and beans and potatoes are soft, I simply blend it for a minute or two. I takes all that goodness and turns it into a thick, satisfying soup with minimal clues as to its contents. Abracadabra! Dinner is served.
Black Bean & Sweet Potato Soup: How to Top It
When it comes to soup, what's on top is as important as what's in the bowl. On soup night, I set up a little soup toppings bar. That way everyone can build their bowls to match their own desires.
My favorite vegan soup toppings include avocado, cilantro and scallion greens. I also like to add chopped grape tomatoes, pickled red onions, jalapeños and crushed tortilla chips.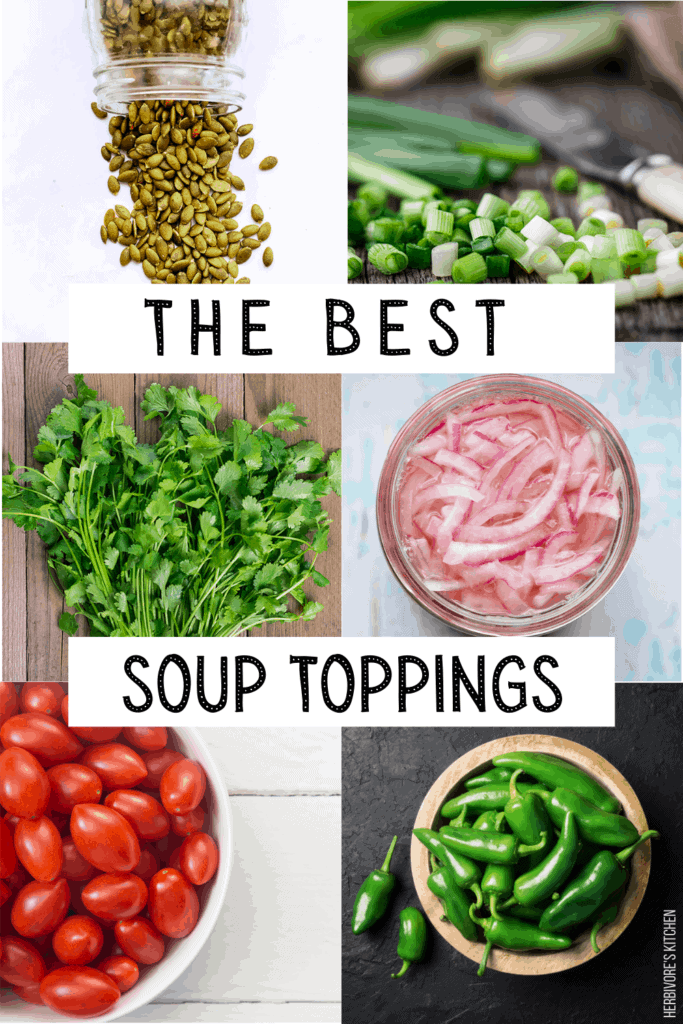 On occasion, I'll have a batch of my cashew cream Vegan Nacho Cheese Sauce to stir in. And, of course, a little hot sauce for those that like some extra spice. My go-to is my own homemade Chile de Árbol hot sauce.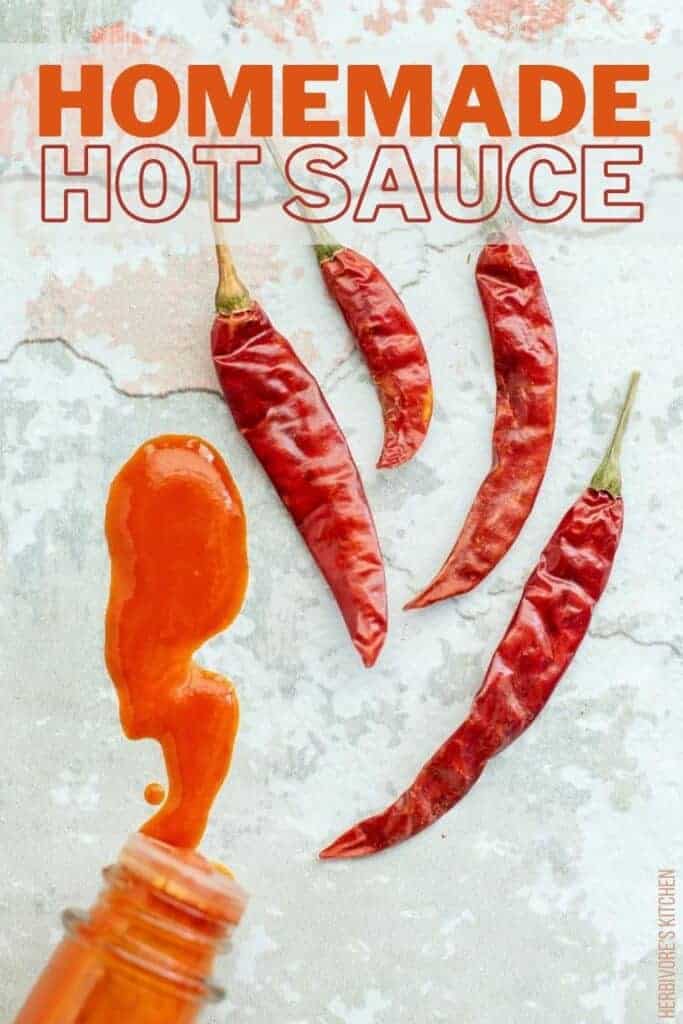 Easy Vegan Recipes for Busy Families
If you're struggling to find meals that fit into your busy weeknights, I hope that you'll find this Black Bean & Sweet Potato Soup recipe to be a good option. And, if you're looking for additional weeknight inspiration, be sure to check out some of my other easy vegan recipes:
Looking to satisfy a craving for takeout without picking up the phone? This curry fried rice is a quick and easy way to put a vegan meal on the table. Packed with fresh vegetables, this plant-based fried rice recipe checks every box.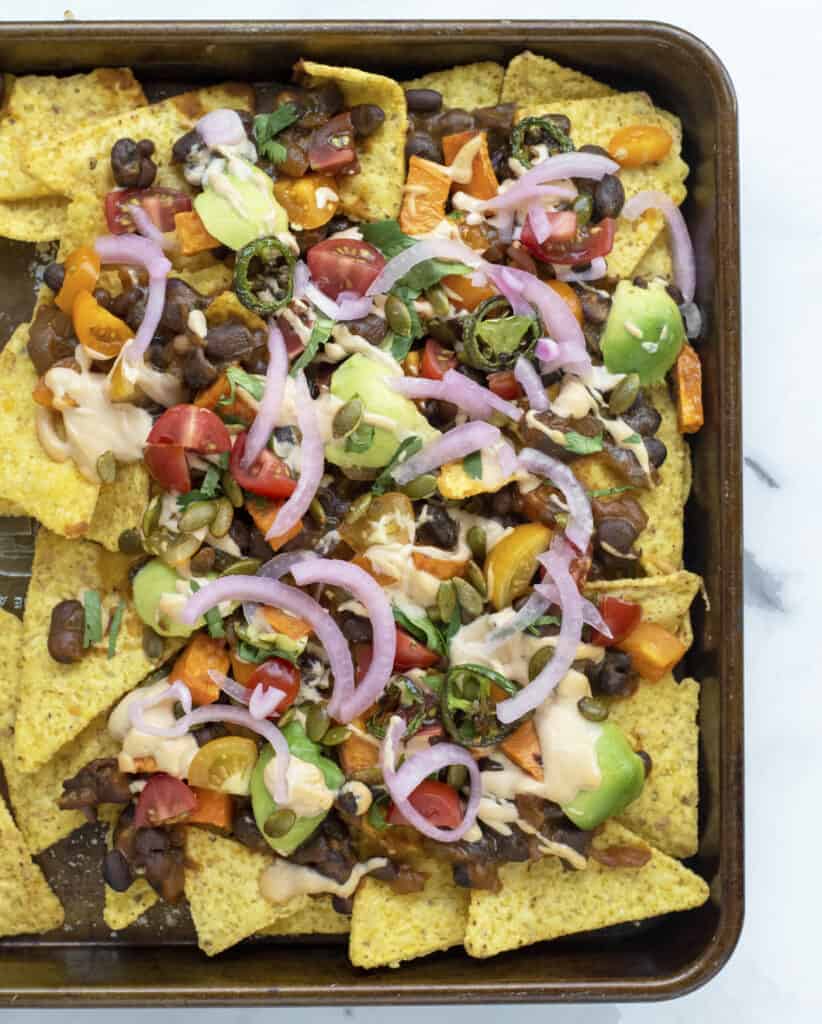 Looking for the best vegan nachos recipe? This plant-based nachos recipe is tasty and easy, featuring bbq black beans, roasted sweet potatoes and a cashew cheese sauce spiked with healthy nacho flavors! Better yet, these vegan nachos are of the fully loaded variety, with pickled red onions, charred jalapeños, diced tomatoes, avocado slices, toasted pumpkin seeds and fresh lime!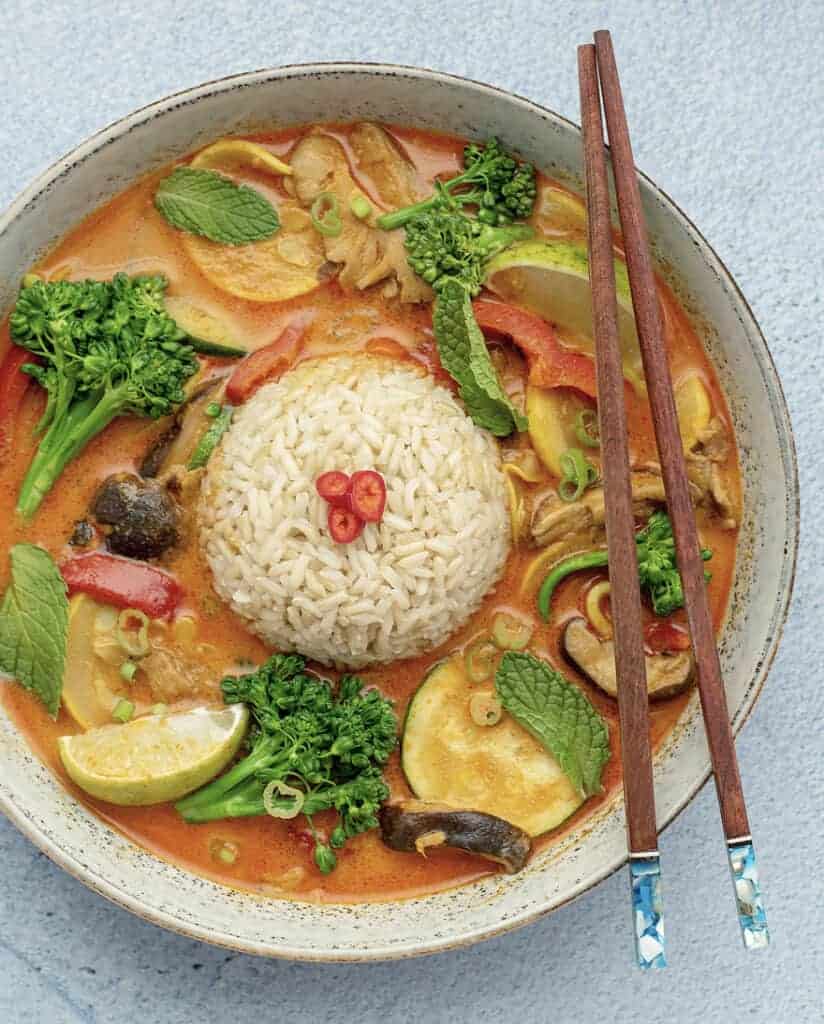 Here's a warm red curry recipe to keep you cozy as fall approaches. This vegan red curry bowl is served with brown rice and packed with healthy vegetables like broccolini, shiitake mushrooms and red peppers. The thick sauce is spicy and comforting with hints of ginger, lime and coconut. Eating vegan never tasted so good!
What's in My Kitchen to Make This Black Bean & Sweet Potato Soup Recipe Easier?
Want to know what tools and resources I keep on hand to make my vegan cooking even easier? Here's a short list of what helped me create this blog post and recipe. For the complete list, visit my Shop where you can find the kitchen gadgets I like as well as a list of books that I recommend.
As I said above, having an immersion blender is like having a magic wand capable of getting your kids to eat vegetables. And, yes, I know. A lot of people didn't like it when Jessica Seinfeld tricked her kids into eating veggies. If that makes me a bad mother, then so be it.
No, that's not the brand. It's just the idea! But, I own this set of Global™ knives and They're some of my most prized possessions in the kitchen. This set is universally well-rated for the at-home chef and will get you a good, solid set of knives without totally breaking the bank.
This garlic peeler is a simple silicon tube. Despite its simple design, it skillfully removes even the toughest of garlic skins. I'm so much happier not peeling garlic cloves with my fingernails. I'm pretty sure I'll collectively get at least a day of my life back because of this device.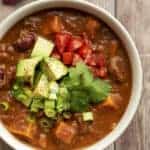 Black Bean & Sweet Potato Soup
Keep your weeknights easy with this Black Bean & Sweet Potato Soup Recipe. Featuring sweet potatoes, beans and fresh bell peppers, this healthy vegan soup is the best vegan soup recipe out there! #veganchili #veganchilirecipe #bestveganchili #easyveganchili #bestveganchili #chilirecipe
Ingredients
2

tbsp

extra virgin olive oil

1

yellow onion

diced

1

tsp

salt

1

tbsp

fresh garlic

minced

1

red bell pepper

diced

1

green bell pepper

diced

1

large

sweet potato

also known as a garnet yam, washed and diced

1

tbsp

cumin

1/2

tbsp

chili powder

1/4

cup

tomato paste

1

28 oz can

low-sodium diced tomatoes

1

quart

low-sodium vegetable broth

1

14 oz can

black beans

drained and rinsed

1

14 oz can

pinto beans

drained and rinsed

1

14 oz can

red kidney beans

drained and rinsed

1

bunch

cilantro

washed and torn

1/2

pint

grape tomatoes

washed and diced

1

avocado

diced

1

scallion

washed and thinly sliced

hot sauce

optional; for additional heat (try my homemade Chile de Árbol hot sauce)
Instructions
Heat a large stockpot. Add the extra virgin olive oil. When shimmering, add the onion and the salt. Reduce the heat to medium-low and slow-cook the onions until they are browned. About 20-25 minutes, stirring occasionally.

Add the minced garlic and continue to cook for 2-3 minutes.

Increase the heat and add the bell peppers, sweet potato, cumin, chili powder and tomato paste. Stir to coat and sauté until the tomato paste becomes dark red in color. About 1-2 minutes.

Add the diced tomatoes, vegetable broth and beans. Bring to a simmer.

Simmer until the sweet potato and beans become soft. About 20 minutes. Briefly blend the chili with an immersion blender to thicken the chili and reduce the size of the vegetables.

Serve with cilantro, grape tomatoes, avocado, scallions and additional hot sauce, if desired.
About Herbivore's Kitchen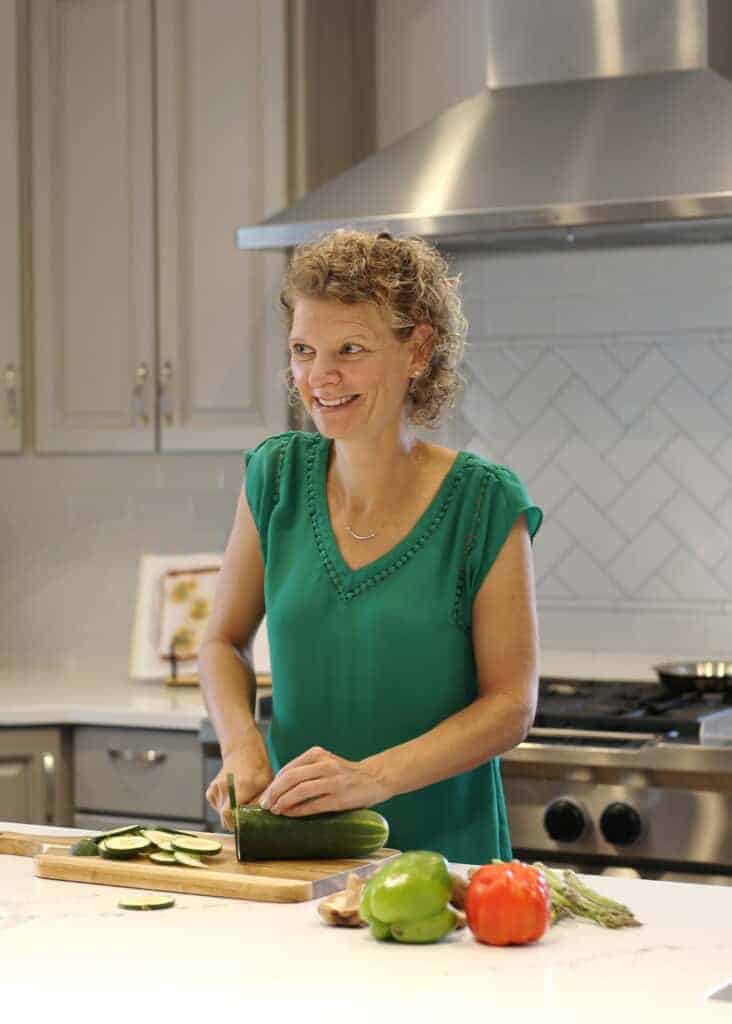 Herbivore's Kitchen is a blog run by me, a plant-based home chef and aspiring food photographer. I switched my and my family's diet to a plant-based diet after learning about the health benefits of going vegan. Making this change has prompted a variety of food and holistic-lifestyle related questions that I explore through this blog. I talk about how to pick and prepare the most nutritious foods, to how to reduce waste at home, to how to live a more sustainable lifestyle while on the road.