Jump to Recipe
This Best Vegan Nacho Cheese Recipe includes affiliate links. When I find a great product or service, I like to share it with my readers. Sometimes I use affiliate links so I can earn commission for my recommendations. Thank you for your support!
The Best Vegan Nacho Cheese Recipe
Looking for the best vegan nacho cheese recipe? This cashew-based vegan nacho cheese sauce is truly epic! It's easy to make, full of flavor and packed with healthy, familiar ingredients. It's the perfect topping for vegan nachos, vegan enchiladas or as a dip for homemade soft pretzels or French fries!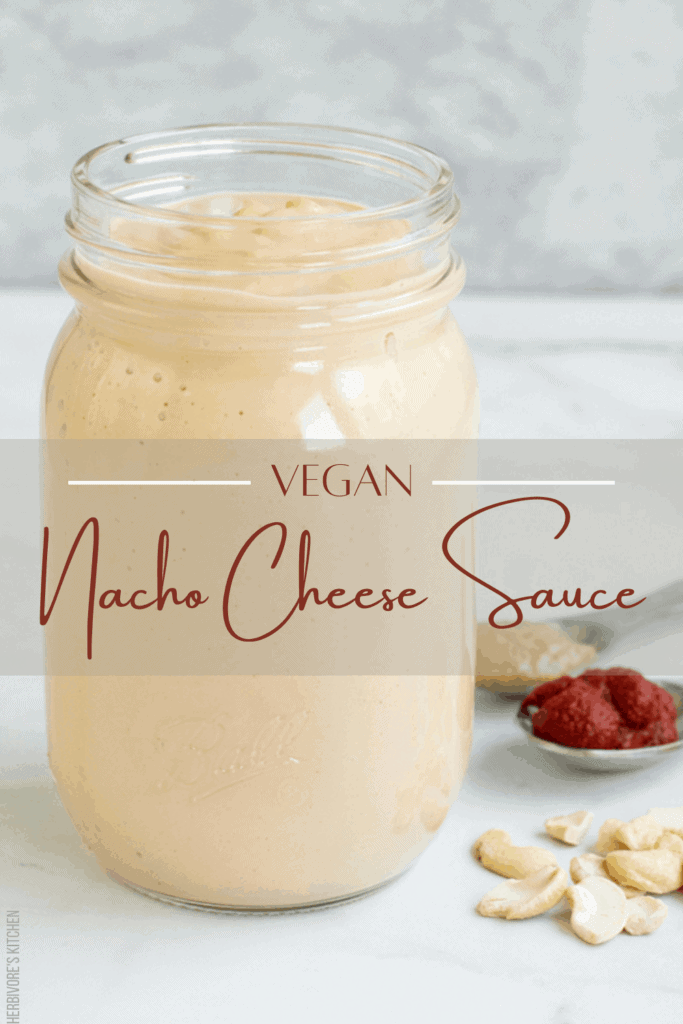 What's in This Vegan Nacho Cheese Recipe?
When I first started swapping out dairy products with vegan substitutes I was wary of vegan cheeses. The idea of leaving all that stretchy, savory, salty comfort behind was, for sure, a hurdle. I tried a few commercially made vegan cheeses, but it wasn't until started making homemade vegan cheese that I really embraced the idea of vegan cheese.
Vegan cheese ingredients don't have to be complicated, unfamiliar or processed. My favorite recipes use simple, recognizable ingredients like nuts, brown mustard, tomato paste, garlic, lemon juice and salt.
Cashew Cream Sauce: The Base of This Vegan Nacho Cheese Recipe
Nuts are a common base ingredient for a vegan cheese recipe. For this nacho cheese recipe, I used cashews. Cashews are naturally a soft nut, making them easy to blend into a creamy sauce. They are a good source of protein and unsaturated fat.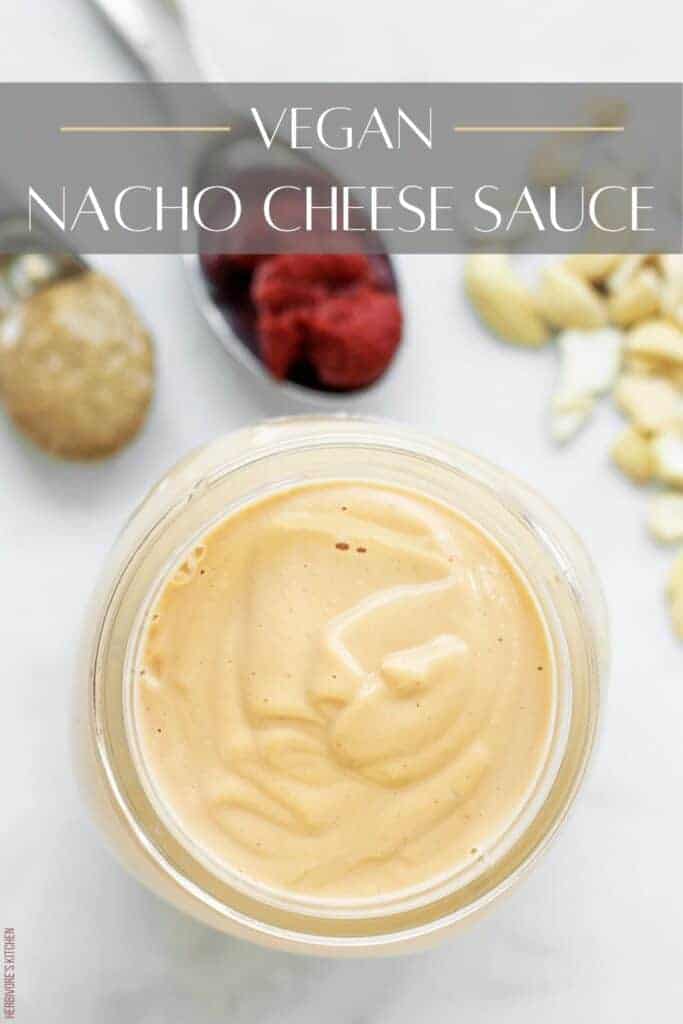 If you'd like to read more about vegan cooking with cashews, check out my blog post: How to Cook Vegan: Why Cashews Are King.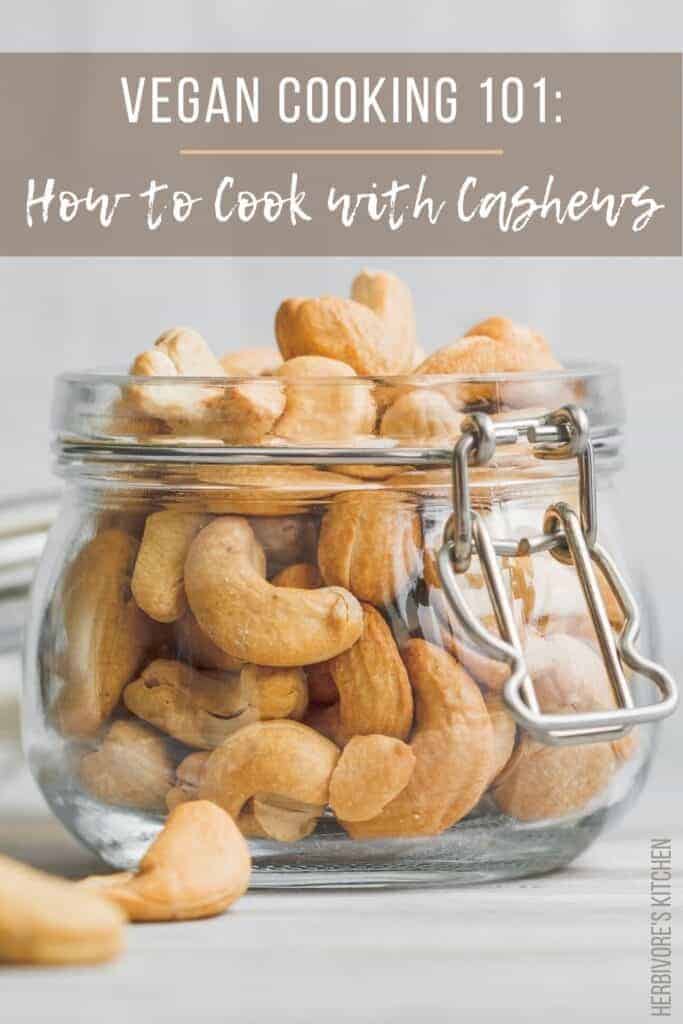 The Ingredients That Make This Vegan Nacho Cheese Recipe Savory and Spicy
Cashews make up the creamy base of this vegan nacho cheese recipe, but it's the other ingredients that give it all the flavor. For example, spicy brown mustard and paprika provide tanginess and a hint of smoke. But what really makes this vegan nacho cheese recipe reminiscent of traditional nacho cheese is the addition of miso paste, tomato paste and garlic. They give it a richness popularly known as umami.
Not sure what umami is?
Umami is one of the five basic taste sensations. It's just a cooler way of saying savory. Meats and cheeses are known to be rich with umami, but there are plenty of plant-based ingredients that meet this desire as well. Tomatoes, miso paste and garlic are a few of them.
Nutritional Yeast: A Staple in Any Vegan Cheese Recipe
Nutritional yeast is an important ingredient in most vegan cheese recipes. If you're not familiar with it, nutritional yeast is a deactivated yeast. Affectionately called "nooch" in vegan circles, nutritional yeast has a nutty, cheesy flavor. It's also a good source of Vitamin B12, a nutrient essential in the development of red blood cells.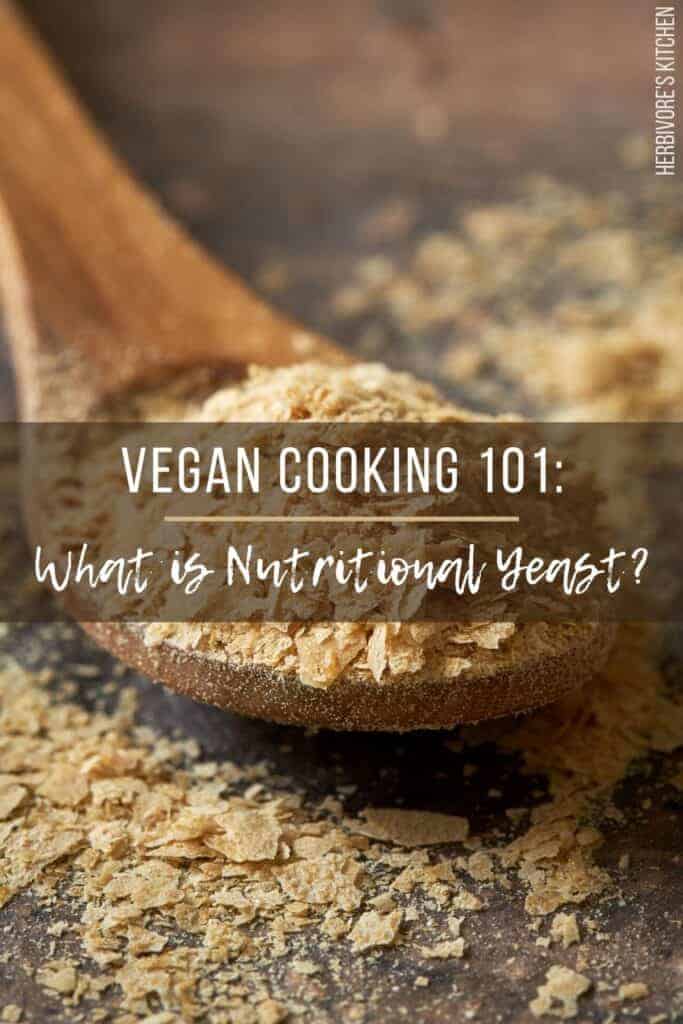 To read up on Nutritional Yeast, check out my article Vegan Cooking 101: What is Nutritional Yeast?
Putting This Vegan Nacho Cheese Recipe Together
This vegan nacho cheese recipe comes together really easily. I always soak my cashews first. They need about 30 minutes in hot water to soften them for blending. While they're soaking, I'll chop the red onion, peel the garlic and deseed the jalapeño. After that, it's just a matter of putting it all in a high speed blender and blending until the nacho cheese sauce is smooth and creamy.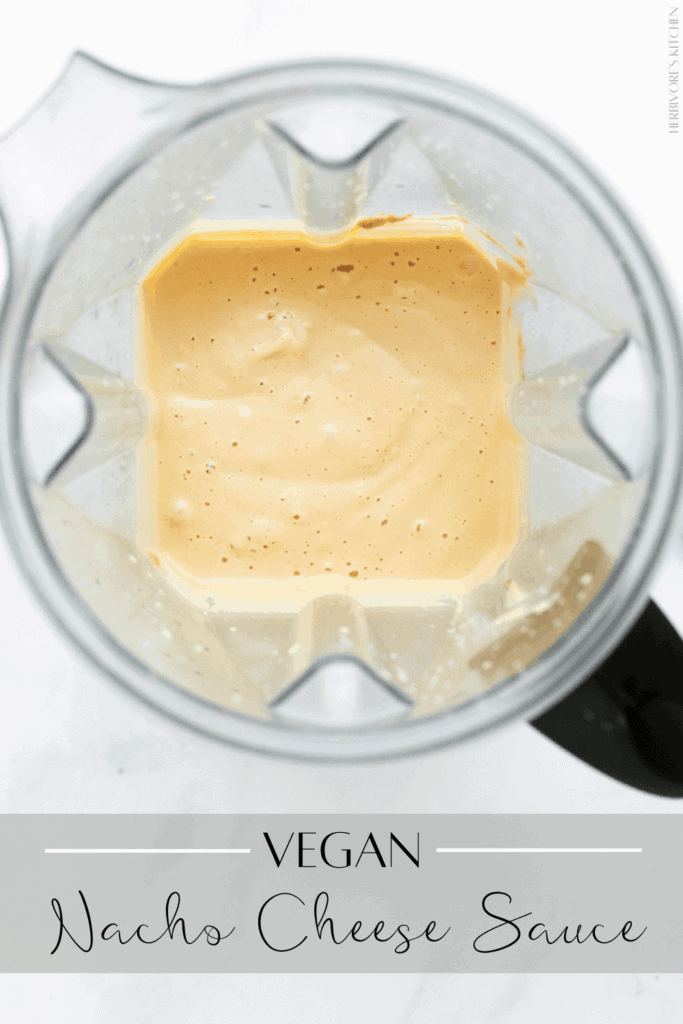 This vegan nacho cheese sauce stores well in the refrigerator for several days. It makes a great addition to vegan dishes like my Black Bean and Sweet Potato Vegan Enchiladas or my BBQ Black Bean Vegan Nachos. It's also a great dipping sauce for chips, especially when mixed with your favorite salsa, or big pile of Homemade Soft Pretzels.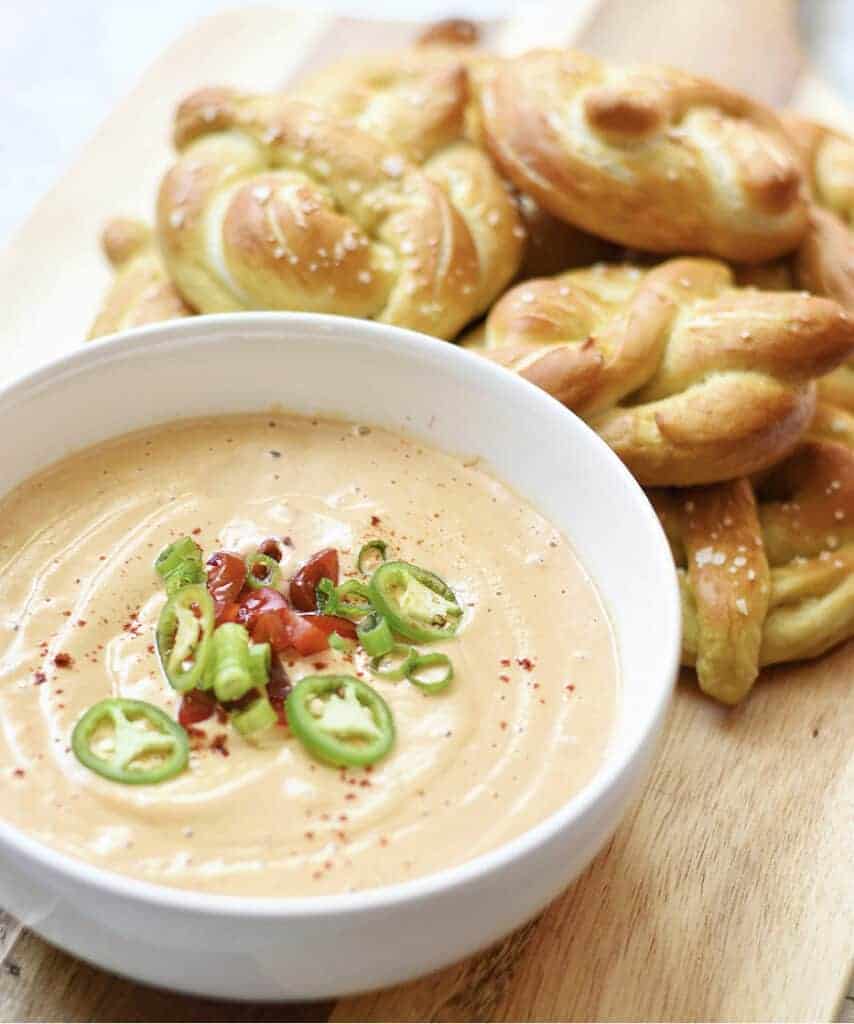 What's in My Kitchen to Make This Vegan Nacho Cheese Recipe Easier?
Want to know what tools and resources I keep on hand to make my vegan cooking even easier? Here's a short list of what helped me create this blog post and recipe. For the complete list, visit my Shop where you can find the kitchen gadgets I like as well as a list of books that I recommend.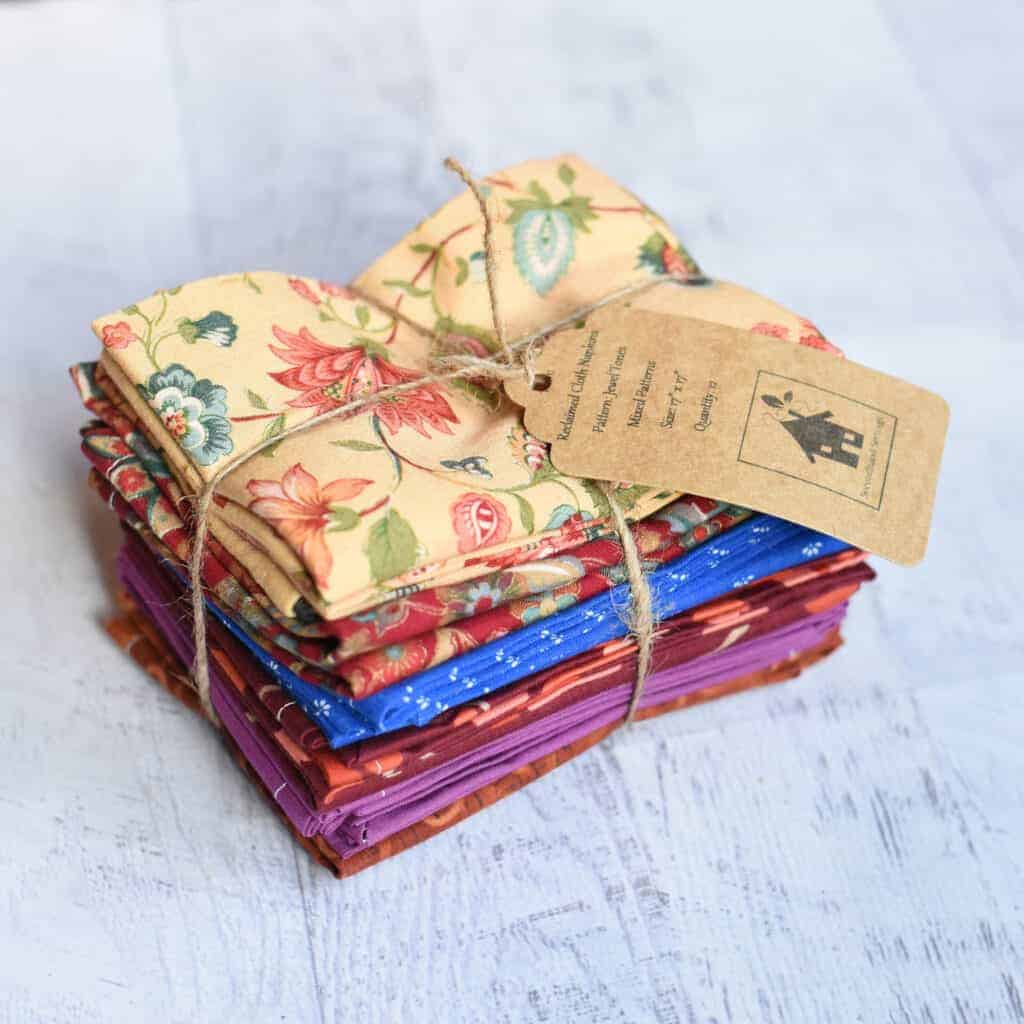 Before I get into cooking, I want to share these napkins. I found these on Etsy over a year ago and, not only do I LOVE them, I buy them as gifts for nearly everyone I know.
These napkins are upcycled and reusable, allowing you to not only avoid throwing away paper products but to also reuse fabrics – a small but significant way to cut back on water, dyes and chemicals used in the production process.
These napkins are so darling (they come in lots of different patterns and colors) and they're machine washable. I just throw them in with whatever load of laundry I'm doing. They don't wrinkle easily, so a quick fold will have them back on your table doing what they were meant to do… be reused!
Vitamix
It's true – a Vitamix is an expensive blender. But, oh! The things it can do and do well. If you're interested in getting more into vegan cooking, or you just want to eat healthier, then I think that this is a must-have kitchen tool. I use my Vitamix daily for breakfast smoothies and it really gets the job done when making vegan cheeses.
There are many versions of the Vitamix on the market. This is the version that I have.
This garlic peeler is a simple silicon tube. Despite its simple design, it skillfully removes even the toughest of garlic skins. I'm so much happier not peeling garlic cloves with my fingernails. I'm pretty sure I'll collectively get at least a day of my life back because of this device.
No, that's not the brand. It's just the idea! But, I own this set of Global™ knives and They're some of my most prized possessions in the kitchen. This set is universally well-rated for the at-home chef and will get you a good, solid set of knives without totally breaking the bank.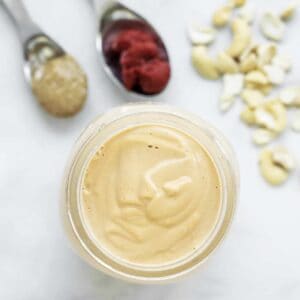 Vegan Nacho Cheese Recipe
Looking for the best vegan nacho cheese recipe? This cashew-based vegan nacho cheese sauce is epic! It's easy, rich and creamy. This nacho cheese recipe is perfect for topping your vegan nachos, making vegan enchiladas or to use as a dip for your homemade soft pretzels or French fries!
Ingredients
1

cup

cashews

3/4

cup

water

2

tbsp

nutritional yeast

1

tbsp

light miso paste

white or yellow miso paste

1

tbsp

tomato paste

1/4

cup

red onion

coursely chopped

1

tbsp

spicy brown mustard

1

clove

garlic

1

tbsp

fresh lemon juice

1

tbsp

fresh jalapeno

washed, deseeded and diced

1/4

tsp

smoked paprika
Instructions
Prepare the cashews by soaking them 2 cups hot water for about 30 minutes.

Rinse and drain the soaked cashews and combine them with the rest of the ingredients in a high-speed blender. Blend until creamy.
Notes
This vegan nacho cheese sauce does not reheat well in the microwave. The best way to warm this up is to return it to your blender and let it run until it's warm. In the alternative, reheat the sauce in a small saucepan with a small amount of water (~2 tbsp). Stir constantly until warm.
About Herbivore's Kitchen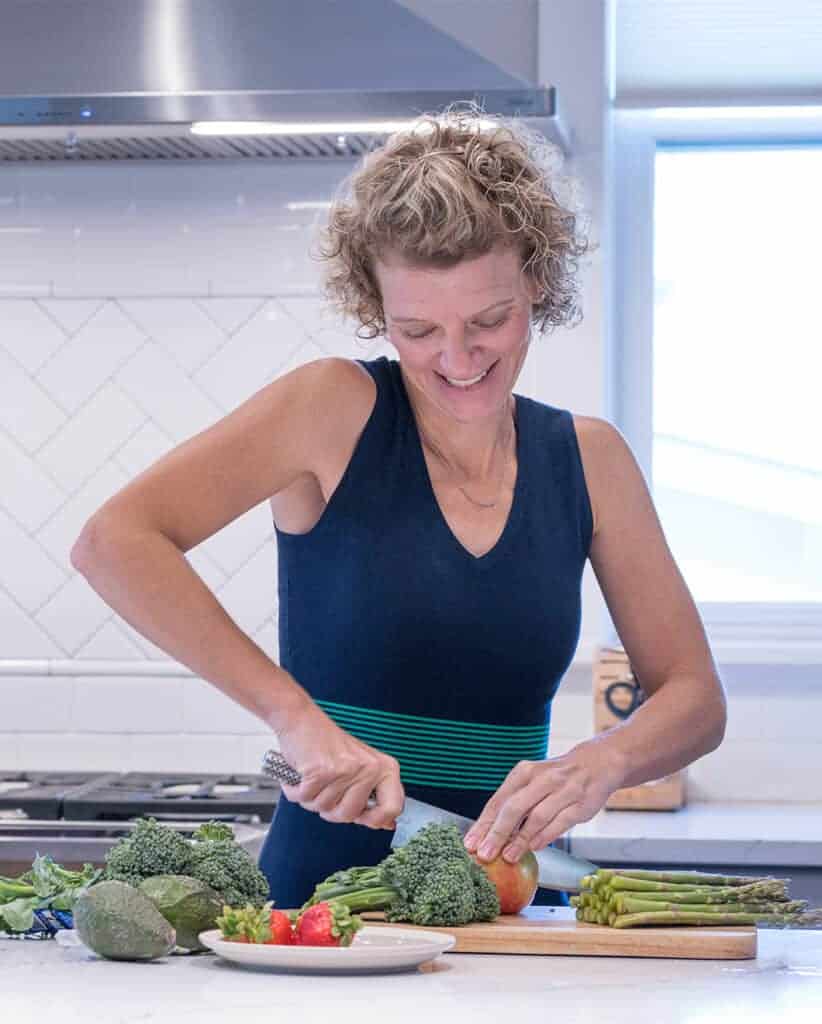 Herbivore's Kitchen is a blog run by me, a plant-based home chef and aspiring food photographer. I switched my and my family's diet to a plant-based diet after learning about the health benefits of going vegan. Making this change has prompted a variety of food and holistic-lifestyle related questions that I explore through this blog. I talk about how to pick and prepare the most nutritious foods, to how to reduce waste at home, to how to live a more sustainable lifestyle while on the road.