Jump to Recipe
This Vegan Nachos Recipe with BBQ Beans and Roasted Sweet Potatoes includes affiliate links. When I find a great product or service, I like to share it with my readers. Sometimes I use affiliate links so I can earn a commission for my recommendations. Thank you for your support!
BBQ Black Bean Vegan Nachos
Looking for new and interesting vegan dinner options? Then you've got to check out these BBQ Black Bean Vegan Nachos!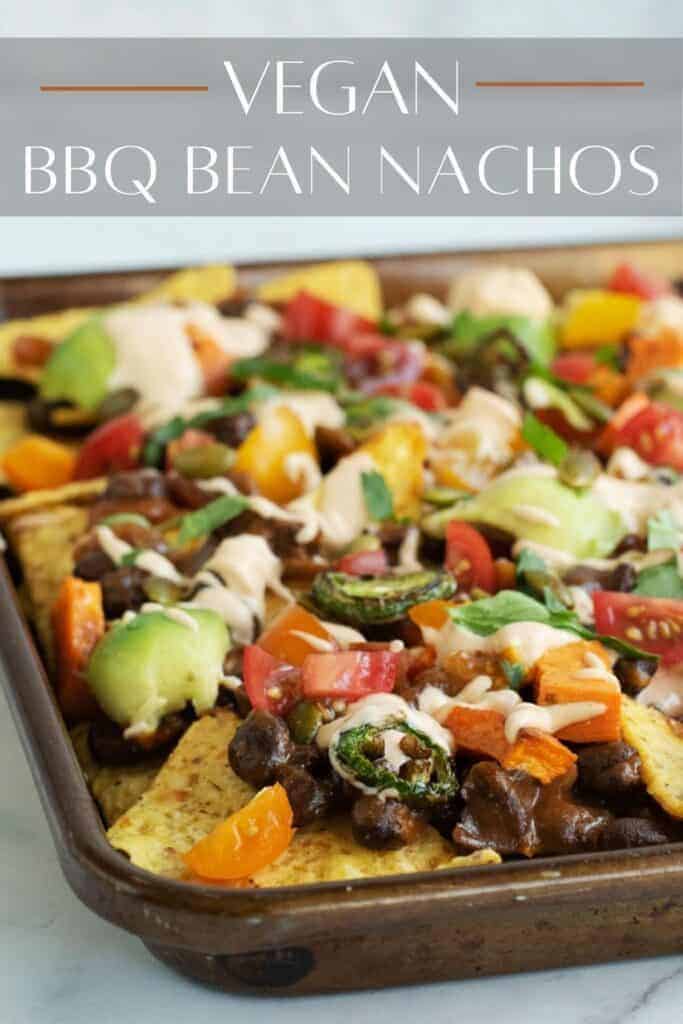 Yes, I know… nachos for dinner? Think about it though — there's something really appealing about enjoying a meal comprised solely of snacks, isn't there? And these vegan nachos are far healthier than their traditional counterpart. They feature slow-simmered, fiber-loaded bbq black beans and Vitamin A packed sweet potatoes. And that creamy "cheese" sauce? That's 100% homemade, plant-based vegan cashew cream sauce. The party doesn't stop there though! As you can see, these vegan nachos have achieved fully loaded nacho status. Read on!
Skip the Meat! BBQ Black Beans Make the Ultimate Vegan Nachos!
One of the best parts of these vegan nachos are the bbq black beans. They are deeply flavorful — the result of being slow-simmered until the barbecue sauce reduces and the beans become soft. An ingredient like this might sound time-consuming or tricky, but it's actually really easy. These bbq beans take about 15 minutes to pull together. They're a simple combination of sautéed onions & garlic, black beans and vegan bbq sauce (Annie's Naturals Organic Original BBQ Sauce is vegan).
Vegan Cooking with Black Beans
If you're new to vegan cooking, you might not be too familiar with cooking with black beans. Also known as black turtle beans, these legumes are most often associated with Mexican fare. You'll find them in my Deconstructed Vegan Tamale Recipe with Jackfruit and my Black Bean & Sweet Potato Vegan Enchiladas. Black beans though, can also be found throughout the rest of the world's cuisine. Cajun, Creole, Jamaican (check out my Jamaican Jerk Jackfruit with Fresh Mango Salsa), Indian and Chinese food all have recipes that feature black beans. And for good reason.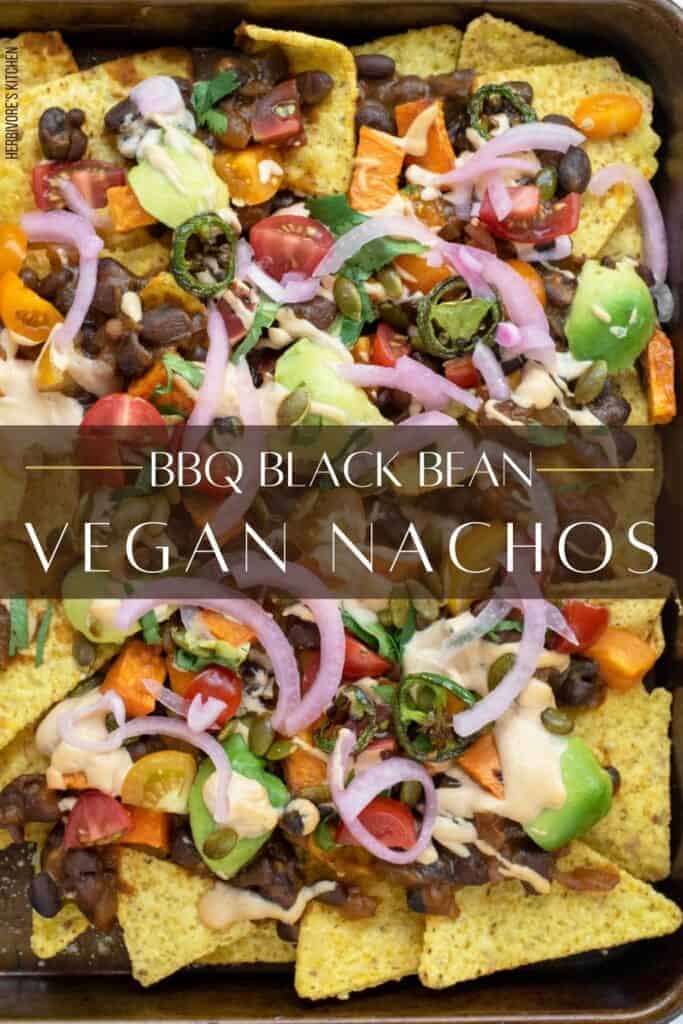 Black beans are high in protein, fiber and B vitamins. They're low on the glycemic index which means that eating black beans won't lead to a spike in blood sugar. Instead they provide a steady source of fuel. They're flavor is mild with a meaty texture — making them a vegan darling for almost any dish.
Black beans can be purchased dry or canned. I often use canned black beans as a time-saver. After 10-15 minutes of simmering, they'll be soft and ready to add to your favorite burrito or as a topping to your tacos. I always drain and rinse canned beans to reduce the sodium in my final dish. If you opt for dried black beans, just know that you have to plan ahead. They need to soak for at least 8 hours before you can cook them in accordance with a recipe.
Making a Vegan Cheese Sauce for These Vegan Nachos
Even I can understand that the highlight of any plate of nachos is the cheese. All that baked ooey-gooey-ness. That being said, I don't really miss it now that I have this cashew vegan nacho cheese recipe dialed in. The blended cashews make it super rich and creamy – a healthier alternative to dairy cheese. And, the nacho flavor comes from simple ingredients like red onions, tomato paste and brown mustard. All items that you likely already have in your refrigerator.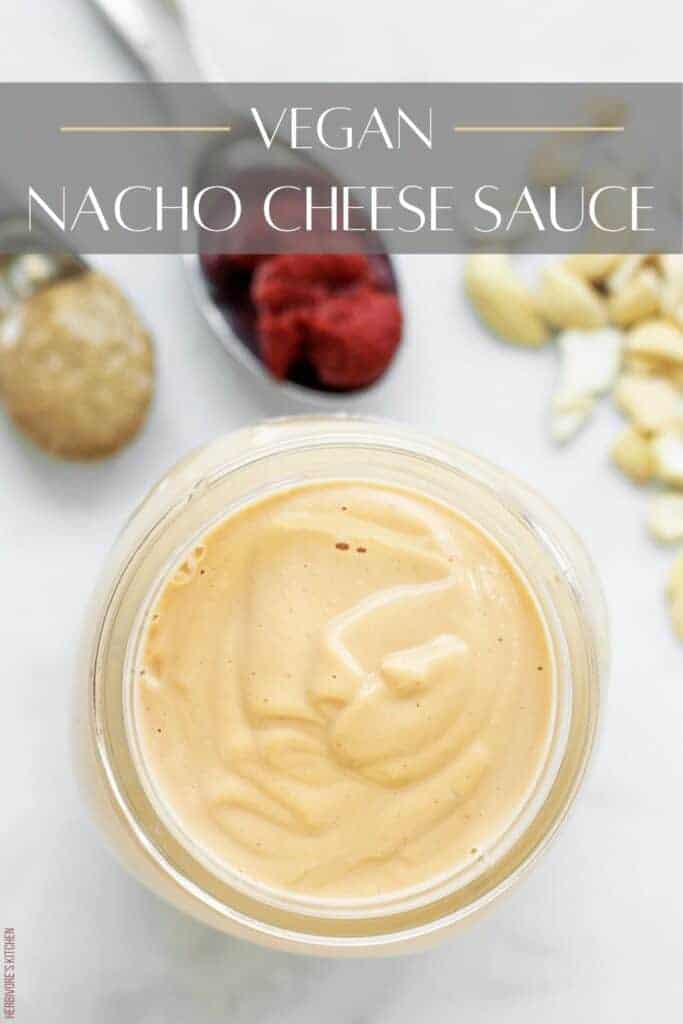 To the new vegan cook, making vegan cheese may sound daunting. After all, cheese is something that's typically aged and no one's got time for that. Of course, some vegan cheese options do take time. However, this vegan cashew cheese is an exception to the rule. Cashews are a naturally soft nut, making them an easy conquest for a high-speed blender. Just soak them in hot water for 30 minutes before blending and you'll be well on your way to welcoming dairy-free cheese into your life.
Some Special Touches on These Vegan Nachos
I like my vegan nachos fully loaded. Fully-loaded in terms of ingredients, but also fully loaded with flavor. And I mean all five senses. To me, the perfect plate of nachos should be a combination that is mostly savory with a healthy dose of salty. I don't like to stop there though. My dream vegan nachos also include some heat, a little bit of tanginess and just a hint of sweetness. So how do I achieve all that?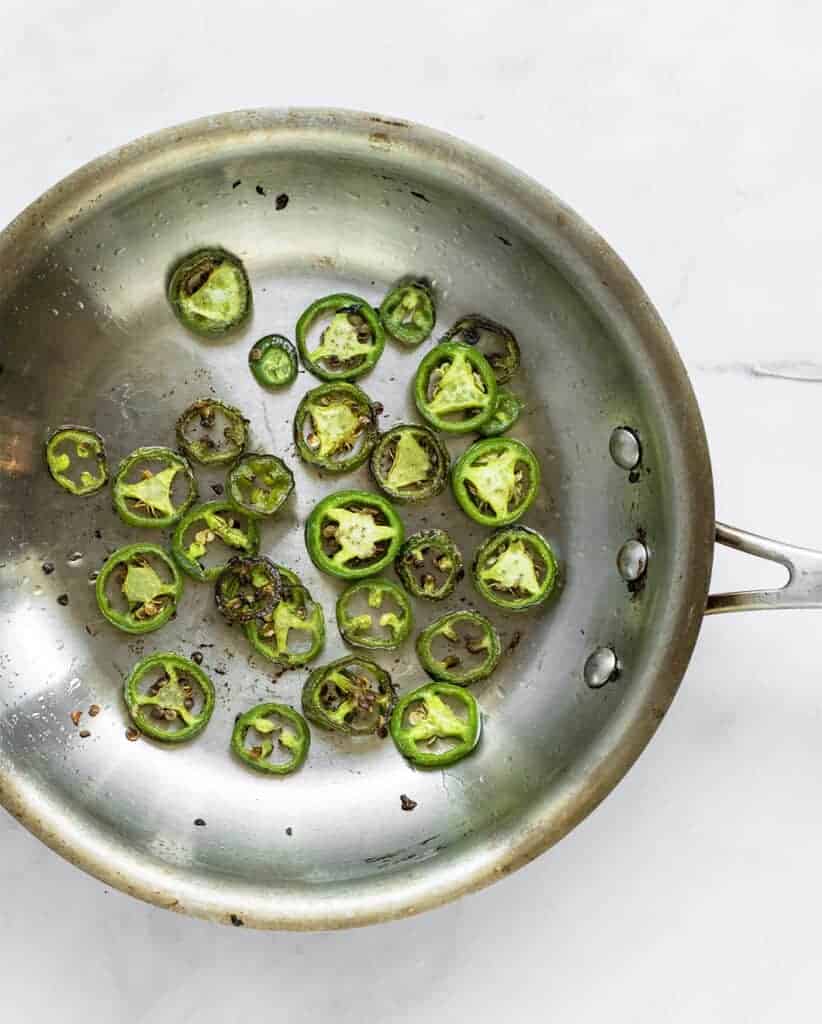 I've already described where these vegan nachos find their savory. The slow-simmered BBQ black beans, the creamy avocado and the vegan cashew cheese have that flavor sensation covered. Salty comes from the tortilla chips, the toasted pumpkin seeds and the quick-pickled red onions which is also where I find the bit of tanginess. Spicy, which actually isn't a flavor sensation but a chemical reaction (see my Chile De Arbol recipe if you're interested in reading up on that), comes from the pan-fried jalapeños. And finally… sweetness. I definitely don't want too much, but the hint of sweetness in this vegan nachos recipe is from the roasted sweet potatoes and the molasses and brown sugar in the barbecue sauce.
Is your mouth watering yet?
What's In My Kitchen to Make This Vegan Nachos Recipe Easier?
Want to know what tools and resources I keep on hand to make my vegan cooking even easier? Here's a short list of what helped me create this blog post and recipe. For the complete list, visit my Shop where you can find the kitchen gadgets I like as well as a list of books that I recommend.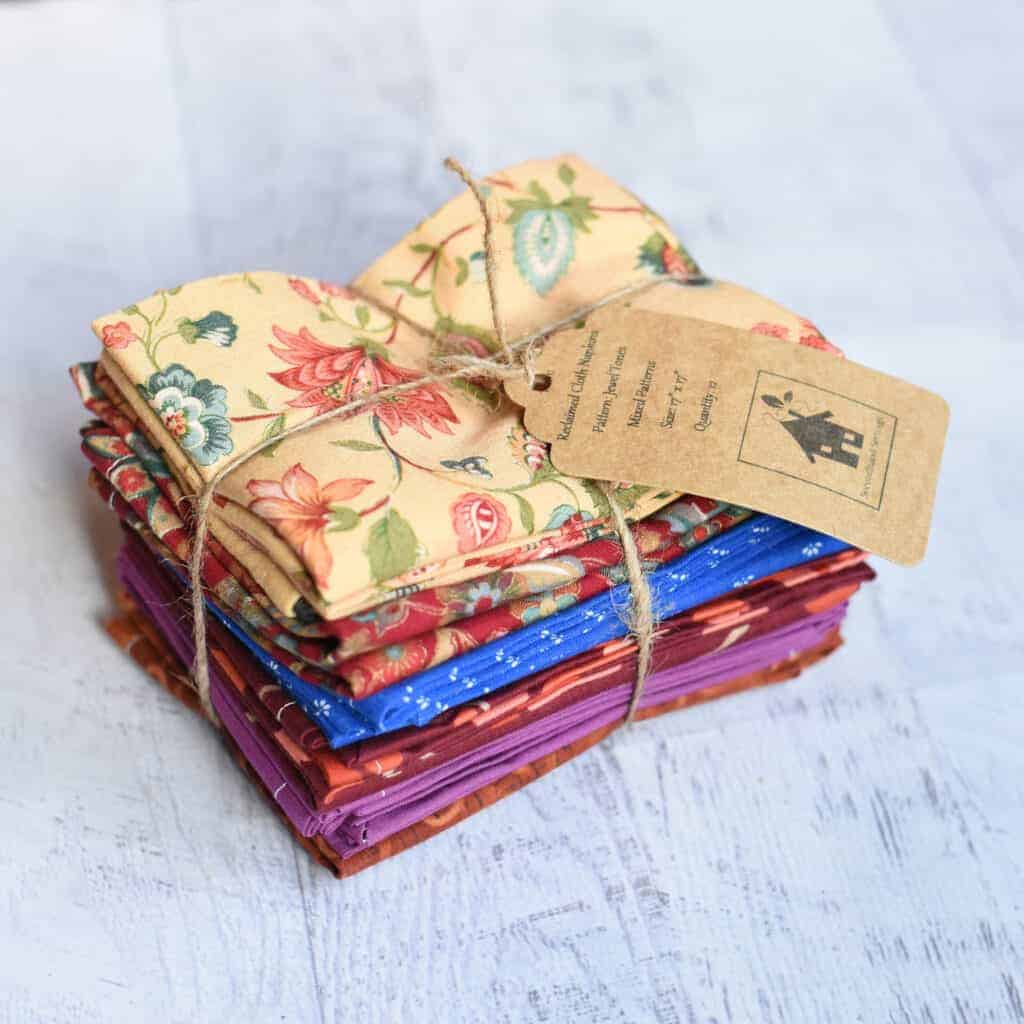 Before I get into cooking, I want to share these napkins. I found these on Etsy over a year ago and, not only do I LOVE them, I buy them as gifts for nearly everyone I know.
These napkins are upcycled and reusable, allowing you to not only avoid throwing away paper products but to also reuse fabrics – a small but significant way to cut back on water, dyes and chemicals used in the production process.
These napkins are so darling (they come in lots of different patterns and colors) and they're machine washable. I just throw them in with whatever load of laundry I'm doing. They don't wrinkle easily, so a quick fold will have them back on your table doing what they were meant to do… be reused!