Jump to Recipe
This Easy Vegan Shepherd's Pie Recipe includes affiliate links. When I find a great product or service, I like to share it with my readers. Sometimes I use affiliate links so I can earn a commission for my recommendations. Thank you for your support!
Easy Vegan Shepherd's Pie Recipe
This Vegan Shepherd's Pie Recipe is an easy way to get your comfort food fix and stay healthy. Made with lentils and plenty of fall-friendly vegetables, this savory vegan version of Shepherd's Pie is a dinner your whole family will enjoy!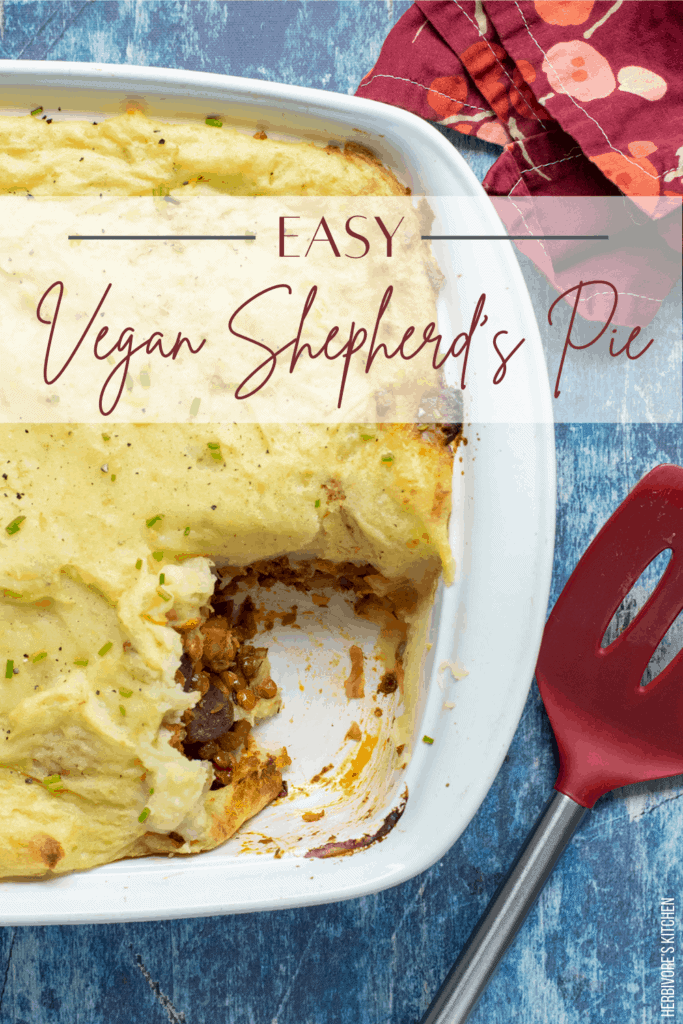 What is Shepherd's Pie?
Just the name inspires feelings of comfort, doesn't it? But what is Shepherd's Pie?
Traditionally Shepherd's Pie, sometimes called cottage pie, is a baked casserole dish comprised of ground meat, garlic, onions and some vegetables (usually corn, peas and carrots) with a layer of mashed potatoes on top. Heavenly, right? Except if you're not into eating meat. Never fear though, this Vegan Shepherd's Pie is every bit as good as the original!
Making Vegan Shepherd's Pie
Converting traditional Shepherd's Pie into a vegan-friendly dish is a pretty easy thing to do. I simply swapped out the ground beef for healthy green lentils and elevated the vegetables. Even the mashed potatoes are an easy conversion. In fact, I dare you to tell me that you can tell that they're vegan!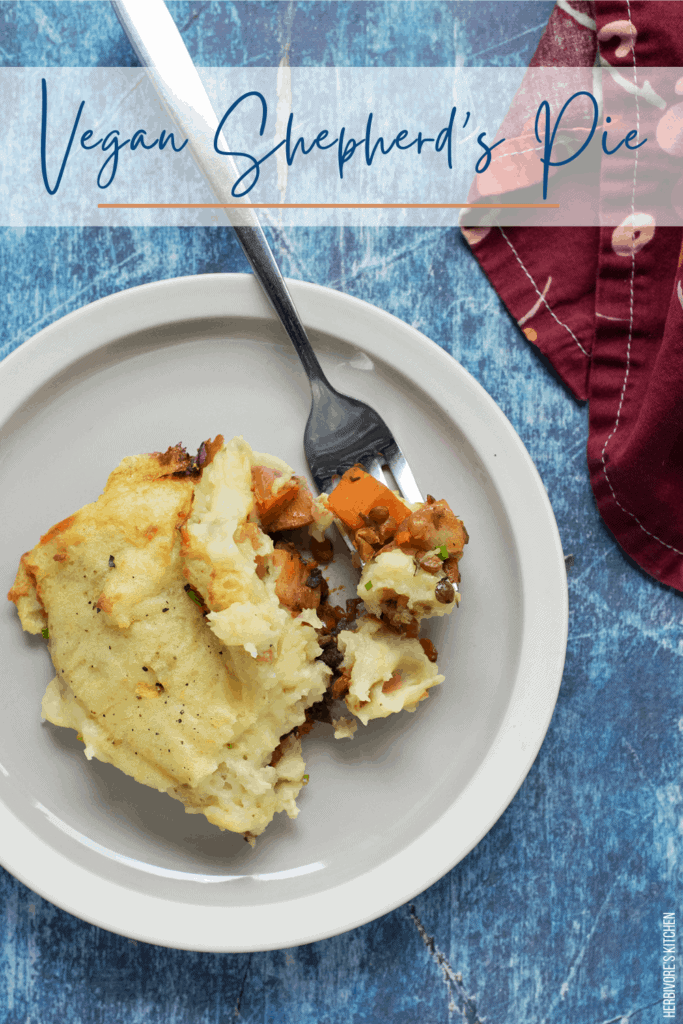 Using Lentils in Vegan Shepherd's Pie
If you're new to vegan cooking, you might also be new to lentils. Lentils are little disc shaped legumes. Don't let their size fool you though. Lentils are packed with protein and healthy nutrients like Vitamin B, magnesium, zinc and potassium. They are a true vegan darling!
There are different varieties of lentils. Lentil types are usually distinguished by color, but the differences don't stop there. Different types of lentils have different flavors and different cook times. For example, red lentils are described as having a mildly sweet and nutty flavor while brown lentils, which I used in this vegan recipe, have an earthy taste. Red lentils cook quickly and break down, while brown lentils take a bit longer to cook and generally hold their shape.
Lentils are most commonly used it Indian dishes like Indian Dal, but I like to use them in a variety of cuisines. For example, red lentils are a featured ingredient in my Mexican-influenced Spicy Red Lentil & Roasted Cauliflower Vegan Tacos. I don't stop there though, I also use them in my Easy Vegan Lasagna Recipe.
What Vegetables Do You Put in Vegan Shepherd's Pie
As I mentioned above, traditional Shepherd's Pie includes a simple list of vegetables: peas, carrots and corn. When veganizing a popular dish though, I try not to hold on too dearly to tradition. So, for this Vegan Shepherd's Pie recipe, I included a variety of root vegetables and mushrooms.
The Mighty, Meaty Mushroom
I frequently include mushrooms in my vegan recipes. They have a meaty texture and they're known for being rich in umami. For this recipe, I used cremini mushrooms. One trick that you'll see over and over again in my vegan recipes is that I pre-cook my mushrooms. I like my mushrooms to have a slightly crispy texture and pre-cooking them helps me to achieve this.
To pre-cook the mushrooms, I let them simmer in a small amount of water. As the water cooks, the mushrooms begin to collapse slightly. Taking this step means that, when I do sauté them in oil, they'll absorb a lot less of it. Instead, the outside edges of the mushrooms will crisp up in the cooking oil. This gives them the ideal texture for adding to my Vegan Shepherd's Pie filling.
Fall-Inspired Root Vegetables
For my root vegetables, I included carrots and parsnips. Carrots, as you well know, have a slightly sweet flavor and are a good source of beta carotene. Are you familiar with parsnips though? Parsnips are one of my favorite vegetables to include in my fall and winter dishes. While they might look like carrots, parsnips are also closely related to parsley. They have a slightly sweet, slightly bitter flavor that adds an earthiness to any dish in which they are included.
Creamy Mashed Potatoes
And, of course, the highlight of any Shephard's Pie is the mashed potato topping. As you may know, potatoes come in lots of different varieties. Everything from Russets to Yukon Golds to Red Bliss. For my vegan mashed potatoes, I like to use Yukon Gold potatoes. So what's the difference?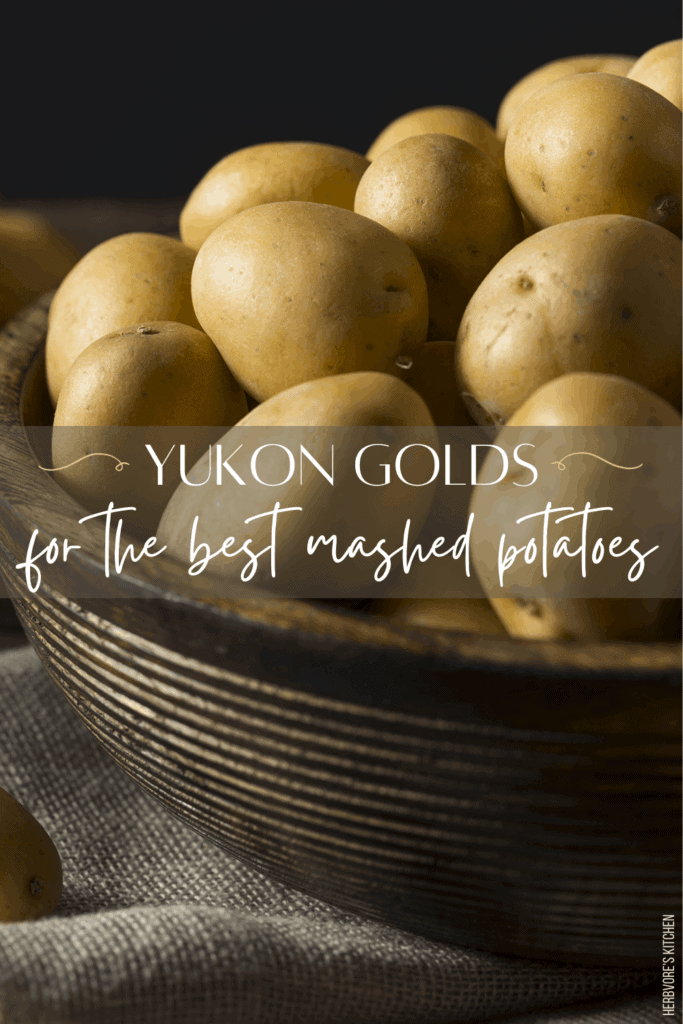 Different varieties of potatoes contain different amounts of starch. The amount of starch in a potato has a lot to do with whether the potato holds its shape when cooked, like the Red Bliss, or completely falls apart, like the Russet. Yukon Gold potatoes fall in between the Red Bliss and Russets, making them the perfect candidate for creamy mashed potatoes.
Traditional mashed potatoes are made with plenty of butter and cream. However, you can still have creamy mashed potatoes if you're on a vegan diet. First, as described above, Yukon Gold potatoes develop a creamy texture all on their own when cooked. To get a smooth mash though, they need a little help. So, for these vegan mashed potatoes, I simply swap dairy butter out for a little vegan butter. And the cream? I use coconut milk. Not the watered-down version you find in a carton in the grocery store, but the unsweetened, full fat coconut milk that comes in a can.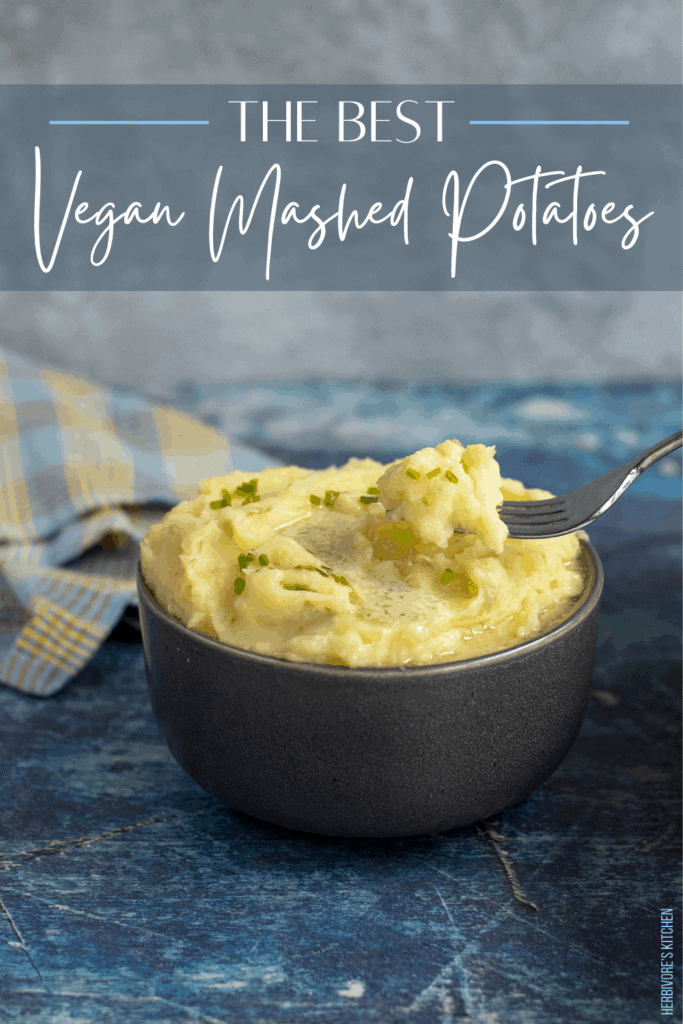 All About Savory! How to Make This Vegan Shepherd's Pie Recipe Rich with Flavor
As you might imagine, traditional Shepherd's Pie gets a lot of its savoriness from cooked meat. But don't think that you can get a wonderful flavor in the vegan version. Quite the contrary!
As I mentioned above, mushrooms are one of those vegan-friendly ingredients that are known for their rich umami flavor. Tomatoes, especially as tomato paste, are also known to add richness and depth of flavor. Combine those two ingredients with slow-cooked onions, fresh garlic and a splash of vegan Worcestershire sauce and you'll be amazed at how good the vegan version of Shepherd's Pie can taste!
Putting this Vegan Shepherd's Pie Recipe Together
When comfort food calls, you should have this Vegan Shepherd's Pie Recipe on speed dial. It's easy to put together, especially if you're feeding a crowd. This recipe will feed a family of four for two days. Or, have your friends over and dazzle them with your vegan prowess.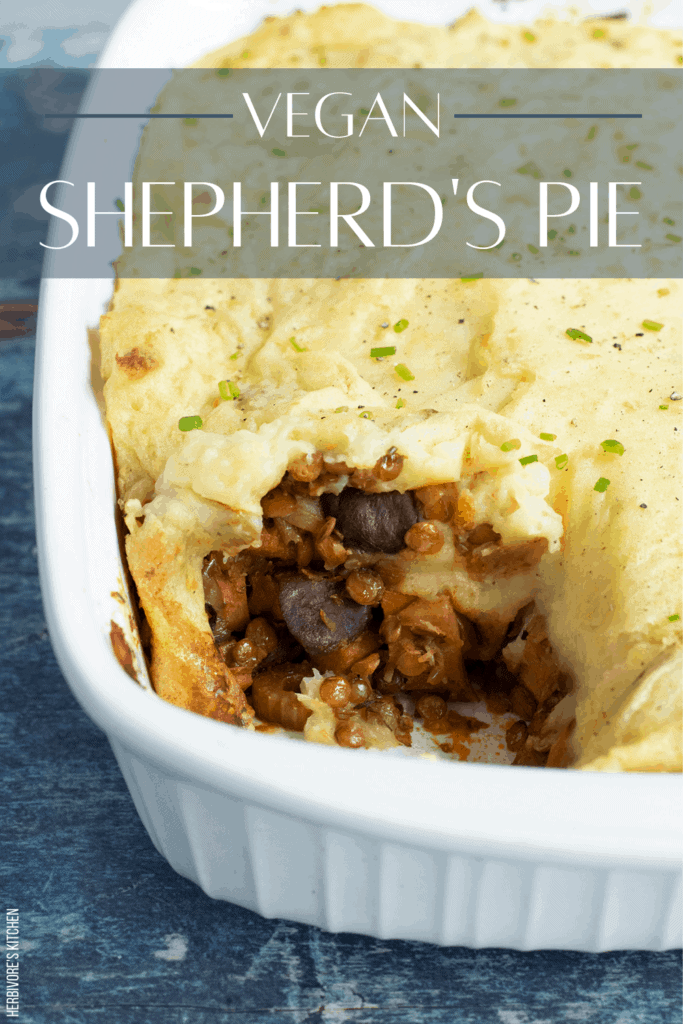 What I really love about this recipe though is that you can multi-task. While the potatoes are boiling and the onions are slow-cooking, you can chop your other vegetables and preheat your oven. Active time is about 30 minutes. For the rest, you can put up your feet and scroll through your Instagram account. Be sure to give this Vegan Shepherd's Pie a like and share it with your friends while you're at it!
What's in My Kitchen to Make This Vegan Shepherd's Pie Recipe Easier?
Want to know what tools and resources I keep on hand to make my vegan cooking even easier? Here's a short list of what helped me create this blog post and recipe. For the complete list, visit my Shop where you can find the kitchen gadgets I like as well as a list of books that I recommend.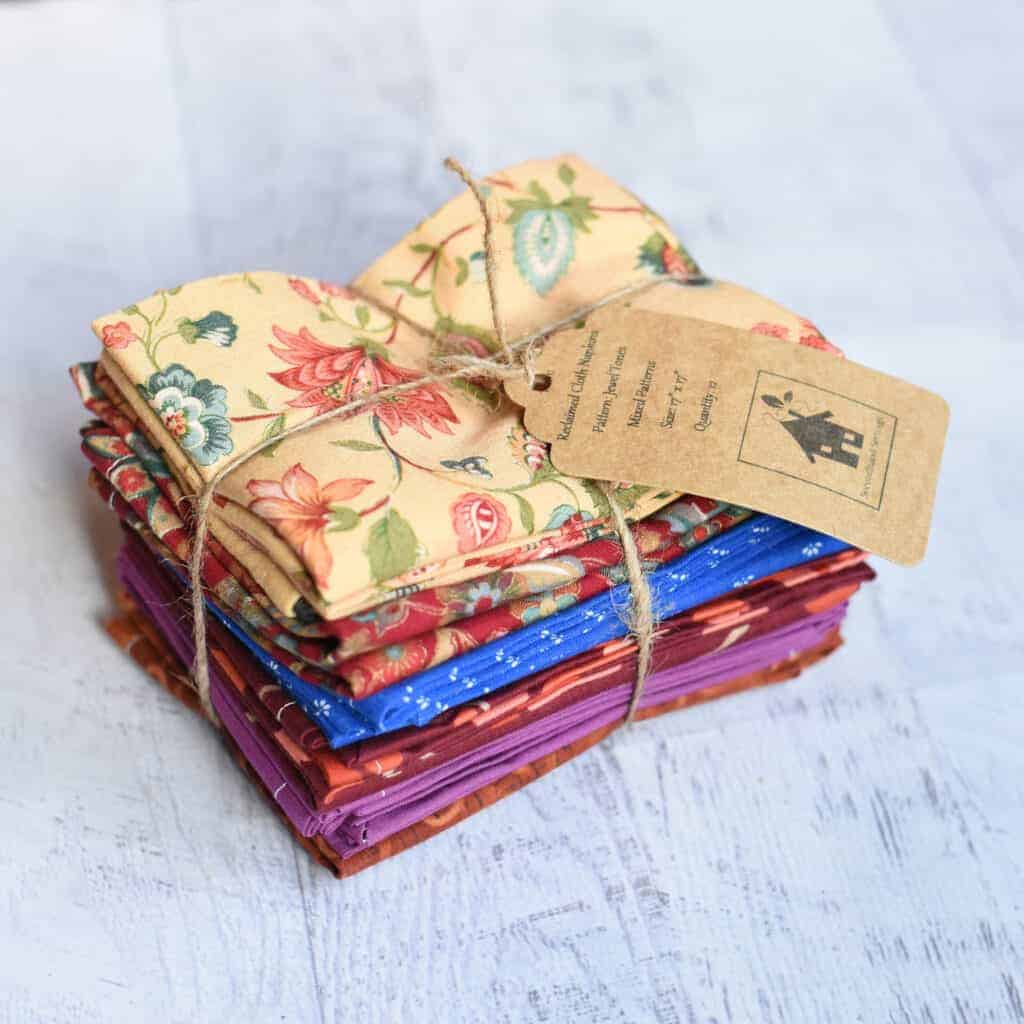 Before I get into cooking, I want to share these napkins. I found these on Etsy over a year ago and, not only do I LOVE them, I buy them as gifts for nearly everyone I know.
These napkins are upcycled and reusable, allowing you to not only avoid throwing away paper products but to also reuse fabrics – a small but significant way to cut back on water, dyes and chemicals used in the production process.
These napkins are so darling (they come in lots of different patterns and colors) and they're machine washable. I just throw them in with whatever load of laundry I'm doing. They don't wrinkle easily, so a quick fold will have them back on your table doing what they were meant to do… be reused!
Before you ask… yes, I do have a standing KitchenAid mixer. You might be wondering why a person with a standing mixer would also need a handheld mixer. The answer is pretty simple though — it's all about effort.
Standing mixers are fantastic for heavy duty projects. Like dough. But they're not required for every job. Take mashed potatoes for example. They whip up in no time flat. Actually, probably in less time than it takes to set up your standing mixer. For those jobs, I like a simple, easy to clean handheld mixer and that's exactly what this is.
This garlic peeler is a simple silicon tube. Despite its simple design, it skillfully removes even the toughest of garlic skins. I'm so much happier not peeling garlic cloves with my fingernails. I'm pretty sure I'll collectively get at least a day of my life back because of this device.
I've read a dozen posts about why you shouldn't use a garlic press. One of them actually suggested that they take up valuable kitchen space. I mean, I guess if you have a tiny kitchen you might have to make those choices. They're smaller than a can opener. I love mine. I hate, hate, hate mincing garlic.
No, that's not the brand. It's just the idea! But, I own this set of Global™ knives and They're some of my most prized possessions in the kitchen. This set is universally well-rated for the at-home chef and will get you a good, solid set of knives without totally breaking the bank.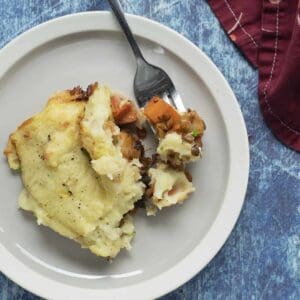 Easy Vegan Shepherd's Pie Recipe
This Vegan Shepherd's Pie Recipe is an easy way to get your comfort food fix and stay healthy. Made with lentils and plenty of fall-friendly vegetables, this savory vegan version of Shepherd's Pie is a dinner your whole family will enjoy!
Ingredients
~4

lbs

Yukon Gold potatoes

washed and cut into large pieces

12-15

cremini mushrooms

washed, destemmed and diced

1/2

cup

water

3

tbsp

extra virgin olive oil

divided

1

yellow onion

diced

1

tbsp

fresh garlic

minced

1

tsp

dried rosemary

1

tsp

dried parsley

1

tsp

dried thyme

2

tbsp

tomato paste

2

carrots

washed and diced

2

stalks

celery

washed and sliced

2

parsnips

washed and diced

1

tbsp

vegan Worcestershire sauce

1

cup

green lentils

rinsed and picked free of debris

1

1/2

cups of water

1/4

cup

vegan butter

5

oz

full-fall, unsweetened coconut milk

1

tsp

salt

fresh chives

washed and finely diced

salt & pepper

to taste
Instructions
Preheat your oven to 400º.

Bring a large pot of water to a boil. Add the cut Yukon Gold potatoes and continue to boil for 20-25 minutes until the potatoes are easily pierced with a fork.

While the potatoes are boiling, add the mushrooms and 1/2 cup of water to a large saucepan or stockpot. Simmer until the water has cooked off. About 6-8 minutes. When the water has cooked off, add 1 tbsp olive oil and briefly sauce the mushrooms until they begin to brown. Set aside.

Add the remaining 2 tbsps of olive oil to the large sauce pan or stockpot. Heat until shimmering then add the onions and salt and stir to coat. Reduce the heat to medium-low and slow cook the onions until they are golden brown. About 10-12 minutes.

Add the garlic, mushrooms, rosemary, parsley, thyme and tomato paste and stir to coat. Increase the heat to medium-high and sauté until fragrant and the tomato paste has turned a dark red.

Add the carrots, celery, parsnips, Worcestershire sauce and lentils and stir to coat. Add the water and simmer for 10-15 minutes until the water cooked down.

While the Shepard's Pie filling is simmering, drain the potatoes and add them back to the large pot along with the vegan butter, coconut milk and salt.

Using a hand mixer, combine all of the ingredients until creamy.

Spread the filling into a large casserole dish. The dish should be about 2/3rds full. Then spoon the mashed potatoes over the filling and spread to cover. The potatoes should fill the remaining 1/3rd of the dish.

Bake, covered, for 30 minutes. Continue to bake, uncovered, for an additional 20 minutes.

Allow the casserole to cool slightly, then serve with fresh chives and salt & pepper, to taste.
About Herbivore's Kitchen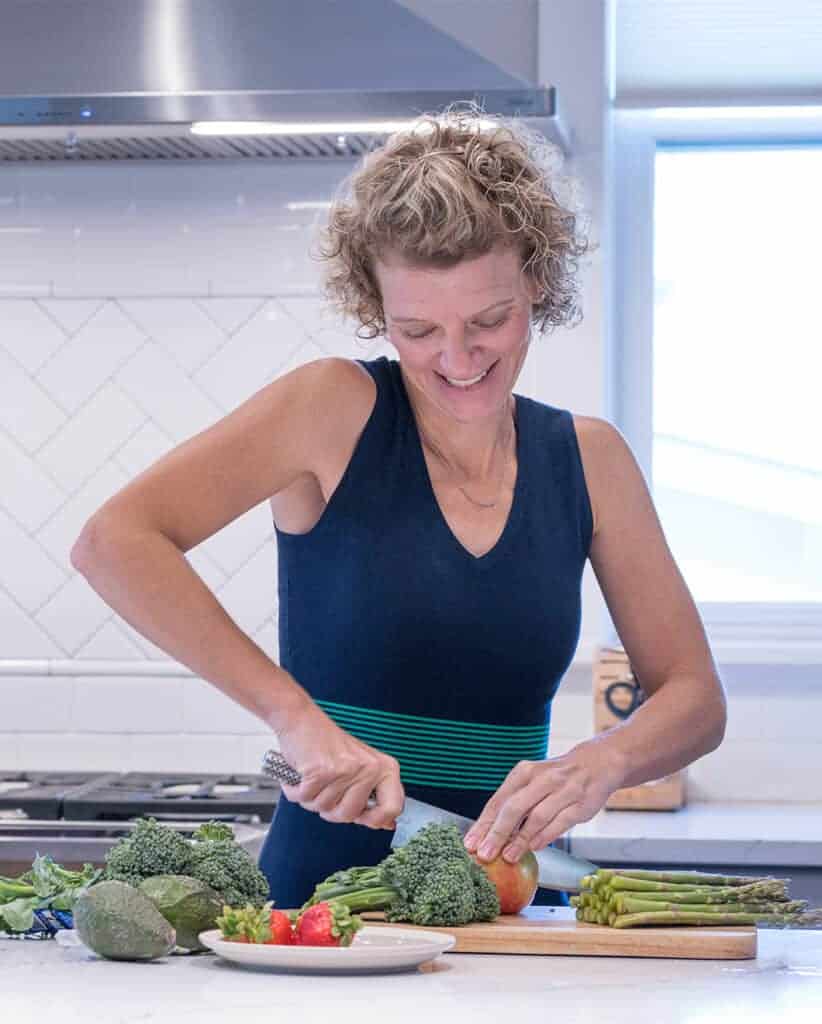 Herbivore's Kitchen is a blog run by me, a plant-based home chef and aspiring food photographer. I switched my and my family's diet to a plant-based diet after learning about the health benefits of going vegan. Making this change has prompted a variety of food and holistic-lifestyle related questions that I explore through this blog. I talk about how to pick and prepare the most nutritious foods, to how to reduce waste at home, to how to live a more sustainable lifestyle while on the road.