---
This Black Bean & Sweet Potato Vegan Enchiladas with Cashew Cream Sauce post includes affiliate links. When I find a great product or service, I like to share it with my readers. Sometimes I use affiliate links so I can earn commission for my recommendations. Thank you for your support!
---
Black Bean & Sweet Potato Vegan Enchiladas with Cashew Cream Sauce
These easy, healthy vegan enchiladas feature a black bean and sweet potato filling wrapped in soft corn tortillas and smothered in a creamy cashew cream sauce for the ultimate vegan-friendly casserole dish. Topped with chopped fresh tomatoes, avocado slices and pickled red onions, this vegan enchilada recipe will add a spicy new addition to your vegan recipe collection!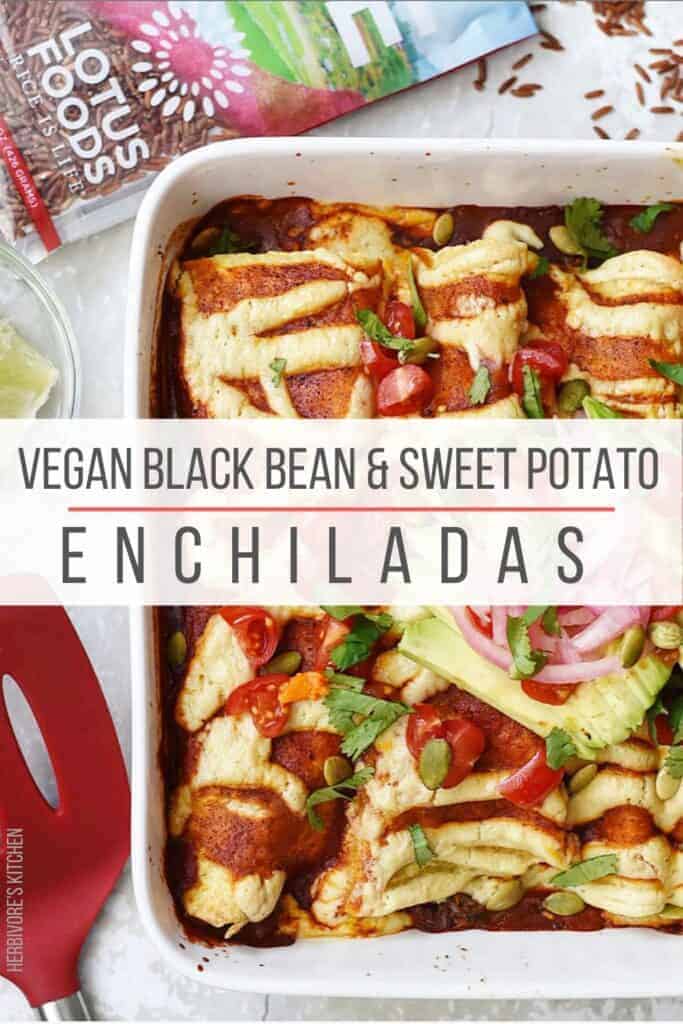 What's Healthier than a Vegan Enchilada Casserole?
The answer might surprise you! Vegan casseroles are a great way to get dinner for a family on the table in a quick and easy way. And, while casseroles in general may evoke memories of heavy and unhealthy meals, you can make this dish much healthier by swapping meats for black beans and sweet potatoes and cheese for a 6-ingredient cashew cream sauce.
How to Make This Vegan Enchilada Recipe Efficiently
This vegan enchilada dish is actually really easy (spoiler alert: I did use a canned enchilada sauce to keep things simple, but if you're looking for a good DIY recipe check out Minimalist Baker's Enchilada Sauce). Several of the ingredients though, like the red rice and the baked potato, take a little effort in terms of planning ahead because they take time to cook (albeit largely on their own). To make this really easy for you, I laid out the recipe in the order I think you should do things, including cooking the rice and baking the potato so that it all comes together efficiently. Another approach: cook the rice and bake the potato ahead of time and just plan on assembling the whole dish before dinner.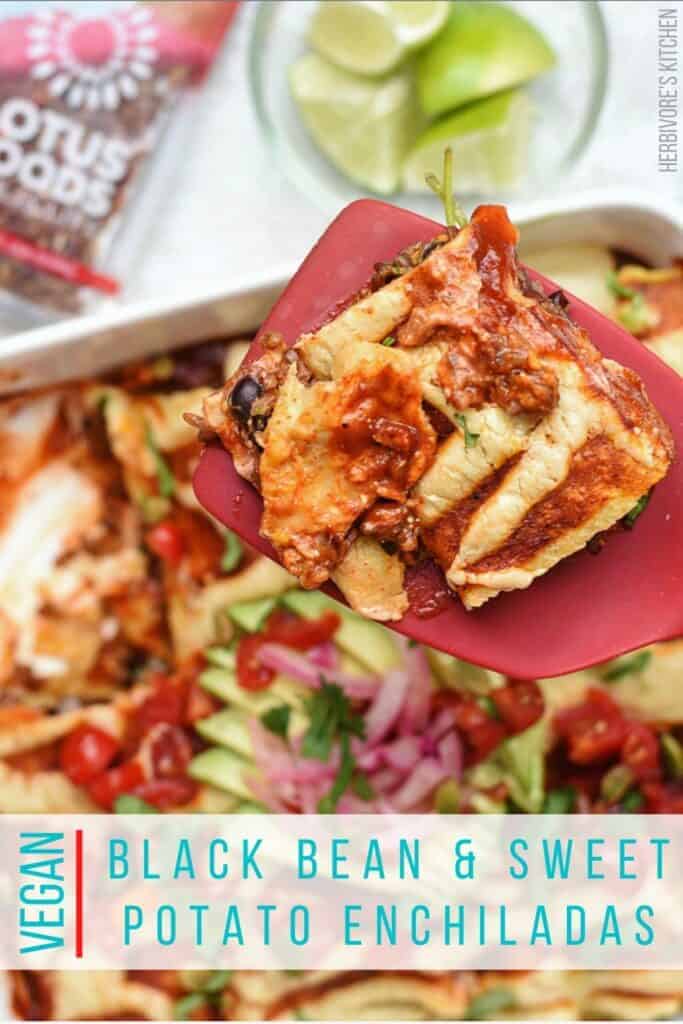 Speaking of Red Rice…a Key Ingredient to Vegan Enchiladas
As I was dreaming up this recipe, I kept thinking about flavors and textures. It's hard not to when you're thinking of enchiladas – the soft, warm corn tortillas that get a little crunch on the edges. And don't forget the zing of the pickled red onions on top. Phew, I'm hungry again! Are there any leftovers?
Anyway, I knew that I wanted to focus on black beans and sweet potatoes for the enchilada filling. But I also knew that I didn't want the inside of the enchiladas to be mushy. Enter Lotus Foods' Organic Red Rice. If you haven't tried this brand or this variety, you should! Red rice has this amazing nutty flavor with a chewy texture – absolutely perfect when combined with the black beans and sweet potato. And, Lotus Foods is one of those brands that I feel really good about cooking with. In addition to providing high-quality products, the company has a mission of promoting organic agriculture & rice biodiversity, as well as supporting local rice producers. All things that are near and dear to my heart, because how our food is produced is as important as how it's prepared. You'll find their ingredients in many of my recipes, like my Vegan Thai Green Curry Noodle Bowl.
How to Spice Up Those Black Beans
Let's talk about those black beans. Yes, you could put them straight into the vegan enchiladas without any extra work. I like to take a couple of extra steps by sautéing some onions and garlic first and then simmering the beans with those, along with some cumin and chili powder. It makes such a difference! The spice in the black beans complements the sweet from the potato so well.
How Tricky is Cashew Cream Sauce?
I used to think that the addition of cashew cream sauce to a dish was too much extra work. And, I'm sure if you've ever tried making vegan cheese you know why. Soaking the nuts, right? If you've read my blog posts over time, you can see how I've grown into short-cutting this process, especially with cashews. Cashews are such a soft nut to begin with, that I find that soaking them in very hot water as a first step to the recipe renders them ready when you are. This works out to be about 45 minutes (about as long as the baked sweet potato takes). So, don't sweat this step. I've had great luck with varying amounts of soak time.
How to Put These Vegan Enchiladas Together
As with many recipes, the time-consuming part is prepping the ingredients. Once that's done, this vegan enchilada casserole assembles quickly. I know because I started this vegan recipe with a hard stop time – meeting a friend for a ski date (not to be missed) and I had the whole thing done in 1 ½ hours, including stopping to photograph the end result and all of the steps! Lucky for her, I was headed out of town that evening and she picked up some vegan enchiladas. Lucky for you, those steps came together into this handy slideshow! So, in terms of timing, I'm putting this one down as a just-over-an-hour production with a lot of the time being bake time/cook time for the rice and potato.
What's in My Kitchen to Make This Vegan Recipe Easier?
Want to know what tools and resources I keep on hand to make my vegan cooking even easier? Here's a short list of what helped me create this blog post and recipe. For the complete list, visit my Shop where you can find the kitchen gadgets I like as well as a list of books that I recommend.
It's true – a Vitamix is an expensive blender. But, oh! The things it can do and do well. If you're interested in getting more into vegan cooking, or you just want to eat healthier, then I think that this is a must-have kitchen tool. I use my Vitamix daily for breakfast smoothies and it really gets the job done when making vegan cheeses.
There are many versions of the Vitamix on the market. This is the version that I have.
I'm not sure what's not to love about this shallow glass baking dish! It's the perfect size for making family-style meals, like Vegan Lasagna and these Black Bean & Sweet Potato Enchiladas with Cashew Cream Sauce. It also has a lid, which why did it take so long for me to get one of these! Think about it, casseroles are forever the dish you're trying to transport!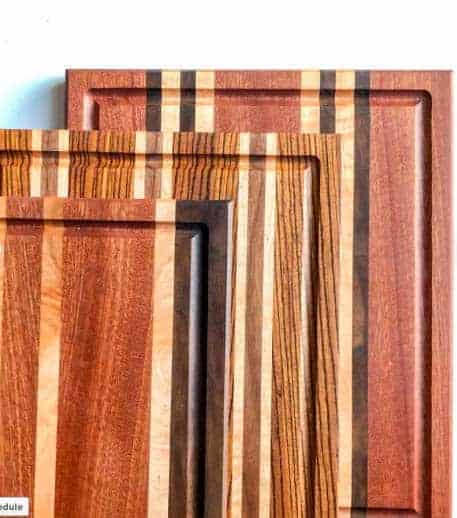 Recently, I spent some time researching the best cutting boards. I've been a plastic cutting board believer for a long time. And, yes, you can put them in the dishwasher.
Wood cutting boards, though, are a healthier option. This board I found on Etsy is made of maple and walnut, both hardwoods. Hardwoods are fine-grained, offering up less deep cuts for bacteria to hide. They're also "self-healing" in that, over time, the wood will partially repair itself over time. So, a well-cared for wood cutting board, even though it costs more at the outset, should last you a long time.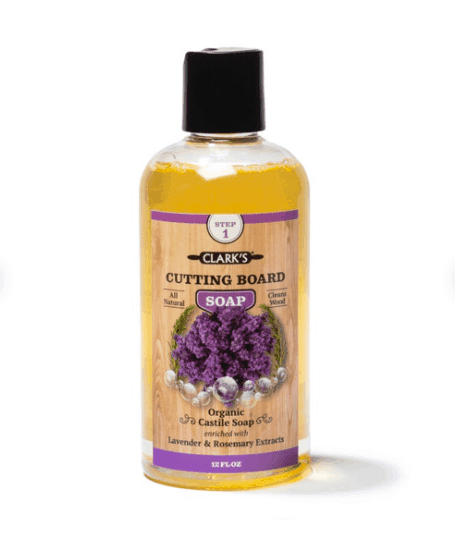 Speaking of wood cutting board care… this natural castile-based soap is free from animal products. Just another step in making your kitchen more sustainable! And it's scented with rosemary and lavender oils, so it smells amazing too!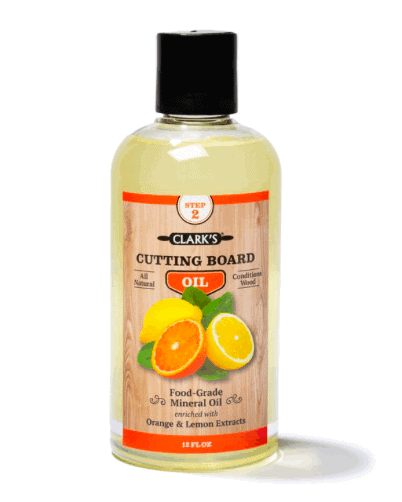 And, after you clean your wood cutting board, be sure to treat it with food-grade mineral oil. Mineral oil will help prevent your cutting board from drying and cracking, thereby extending its useful life. I like this mineral oil because it exceeds FDA standards for food-grade mineral oil and it doesn't contain any potential allergens, enabling you to use it without worry.
I only bought one of these a few months ago, but wow! I'm so much happier not peeling garlic cloves with my fingernails. I'm pretty sure I'll collectively get at least a day of my life back because of this device.
I've read a dozen posts about why you shouldn't use a garlic press. One of them actually suggested that they take up valuable kitchen space. I mean, I guess if you have a tiny kitchen you might have to make those choices. They're smaller than a can opener. I love mine. I hate, hate, hate mincing garlic.
No, that's not the brand. It's just the idea! But,I own this set of Global™ knives and They're some of my most prized possessions in the kitchen. This set is universally well-rated for the at-home chef and will get you a good, solid set of knives without totally breaking the bank.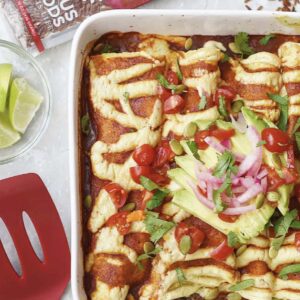 Black Bean & Sweet Potato Vegan Enchiladas with Cashew Cream Sauce
These easy, healthy vegan enchiladas feature a black bean and sweet potato filling wrapped in soft corn tortillas and smothered in a creamy cashew cream sauce for the ultimate vegan-friendly casserole dish. Topped with chopped fresh tomatoes, avocado slices and pickled red onions, this vegan enchilada recipe will add a spicy new addition to your vegan recipe collection!
Ingredients
For the Pickled Red Onions
1

small

red onion

sliced very thin

1

cup

apple cider vinegar

1

tbsp

maple syrup

or other sweetener

1

tsp

salt

pickling spices

optional; I like Spice Jungle's spice collection
For the Cashew Cream Sauce
1

cup

cashews

soaked in 2 cups very hot water for ~1 hour

1/2

cup

water

1/4

cup

nutritional yeast

1

tbsp

fresh lemon juice

1

clove

garlic

1/2

tsp

salt
For the Enchiladas
1

medium

sweet potato

washed and baked at 350 for 40-50 minutes

1

cup

Lotus Foods' Organic Red Rice

cooked in accordance with package directions

1

14 oz can

black beans

drained and rinsed

1

tbsp

extra virgin olive oil

1/2

yellow onion

chopped

2

cloves

garlic

minced

1

tbsp

cumin

1/2

tbsp

chili powder

1

handful

baby spinach

chopped

6-8

medium

corn tortillas

warmed before filling to avoid cracking

1

14 oz can

red enchilada sauce

I like Hatch Organic

1

avocado sliced

for garnishment

8-10

grape tomatoes

chopped

1

bunch

cilantro

washed and torn

1

lime

washed and cut into wedges

toasted pumpkin seeds

you can find my recipe for toasted pumpkin seeds here
Instructions
Preheat the oven to 350 degrees.

In a small bowl, cover the cashews with hot water. Set aside.

Thinly slice the red onion. Tightly pack the onions in an 8 oz mason jar. If you are using pickling spices, put those in the bottom of the jar.

In a small sauce pan, bring the apple cider vinegar, maple syrup and salt to a boil until the salt has dissolved. Pour the vinegar solution over the onions and allow to cool on the counter. Once cooled, put the lid on the jar and place in the refrigerator.

Wash and bake the sweet potato.

Make the Lotus Foods' Organic Red Rice in accordance with the package directions.

In a small sauce pan, heat the extra virgin olive oil until shimmering. Add the onion and sauté on medium-low heat until golden. About 8-10 minutes. Add the garlic and sauté 1-2 minutes more.

Add the black beans to the onions and garlic. Add the cumin, chili powder and water.

Simmer until the water has evaporated and the beans are soft.

Combine the beans and the rice. Add the spinach and sweet potato. Mix to combine.

Spread a thin layer of enchilada sauce on the bottom of a shallow baking pan.

Add 2-3 spoonfuls of the rice and bean mixture into the center of each corn tortilla. Wrap each tortilla and, with the overlapped edges facing down. Continue until the baking pan is full.

Add more enchilada sauce to the top and drizzle with the cashew cheese sauce.

Bake at 350 degrees for ~15 minutes.

Serve with chopped grape tomatoes, sliced avocado, fresh cilantro, lime wedges and pickled red onions. I also like to add toasted pumpkin seeds.
Notes
I used to really worry about how long I was soaking cashews to make cashew cream sauce. I don't any more. Just soak them in hot water as a first step in your recipe and they'll be ready when you are!
You will likely have leftover cashew cream sauce. You can freeze it, or store it in a jar in the refrigerator if you plan on using it within ~5 days. Some ideas: Basil Pesto Stuffed Shells or Nacho "Cheese" Dipping Sauce for Homemade Soft Pretzels. When reheating, I don't recommend microwaving. It makes the sauce crusty. Either put the sauce back into your Vitamix (this is what I recommend) or heat it up on the stovetop with frequently whisking.
If you decide to use pickling spices in your pickled red onions, be sure to put those in the bottom of the jar. If you sprinkle them in over the onions, you might catch a bite of clove or anise and…well…they're not meant to be eaten quite like that.
About Herbivore's Kitchen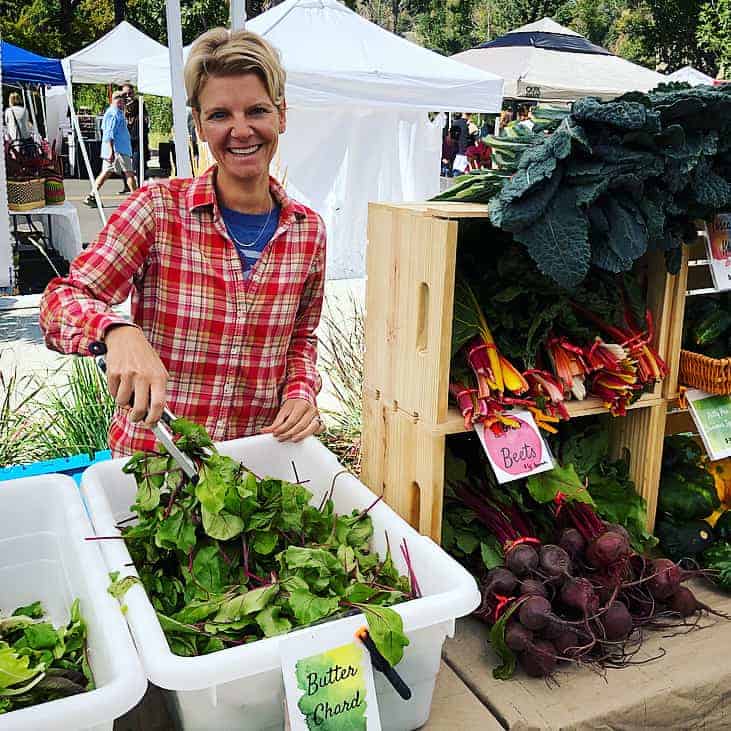 Herbivore's Kitchen is a blog run by me, a plant-based home chef and aspiring food photographer. I switched my and my family's diet to a plant-based diet after learning about the health benefits of going vegan. Making this change has prompted a variety of food and holistic-lifestyle related questions that I explore through this blog. I talk about how to pick and prepare the most nutritious foods, to how to reduce waste at home, to how to live a more sustainable lifestyle while on the road.