This How to Use Pinterest Keywords to Market Your Food Blog post includes affiliate links. When I find a great product or service, I like to share it with my readers. Sometimes I use affiliate links so I can earn a commission for my recommendations. Thank you for your support!
Updated: March 15, 2021
How to Use Pinterest Keywords to Market Your Food Blog
Did you know that Pinterest is one of the most effective ways to drive traffic to your food blog? In this blog post, I discuss in detail how to use keywords to market your food blog. I'll cover how to choose effective keywords and to how to include them in your Bio, Boards & Pins.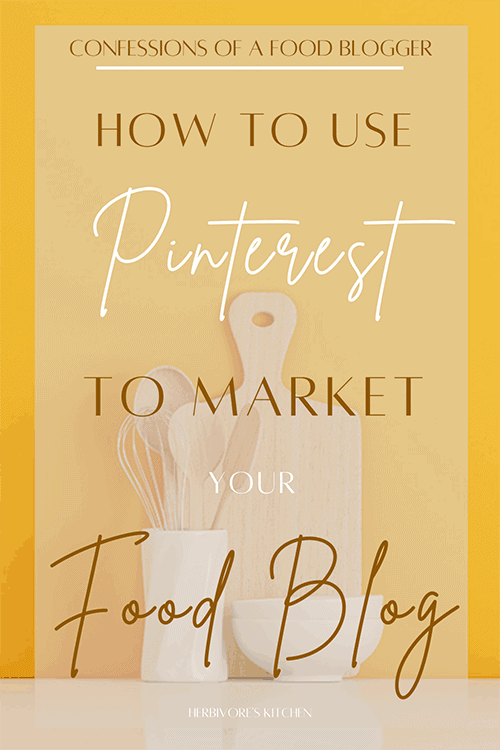 How to Use Pinterest Keywords to Market Your Food Blog: What is Pinterest?
Let's start with the basic question: what is Pinterest?
Pinterest is different things to different people, depending on how they use it. Understanding how the casual Pinterest User differs from a Content Creator is the key to building an effective Pinterest marketing strategy.
Pinterest from the User's Point of View
Most Pinterest Users know it as an image-sharing and social-media service. For the Pinterest User, it is a resource for planning their dream wedding, organizing their closet or (my favorite) making the perfect recipe. By typing a simple description, like Beginner Vegan Recipes into Pinterest's search bar, Pinterest Users can generate pages and pages of vegan recipes specifically designed for a beginner chef.
Pinterest Users can then save and organize the Pins that they find on to self-created Boards. Those Boards can then be shared with others or used for later reference. To use the example above, a new vegan chef might want to create a Board called Beginner Vegan Recipes to refer to when planning his or her grocery list or meal plan for the week.
Pinterest from the Content Creator's Point of View
For the Content Creator though, Pinterest should be viewed as the tool connecting a Pinterest User to the Content Creator's content. At its core, Pinterest is a robust search engine.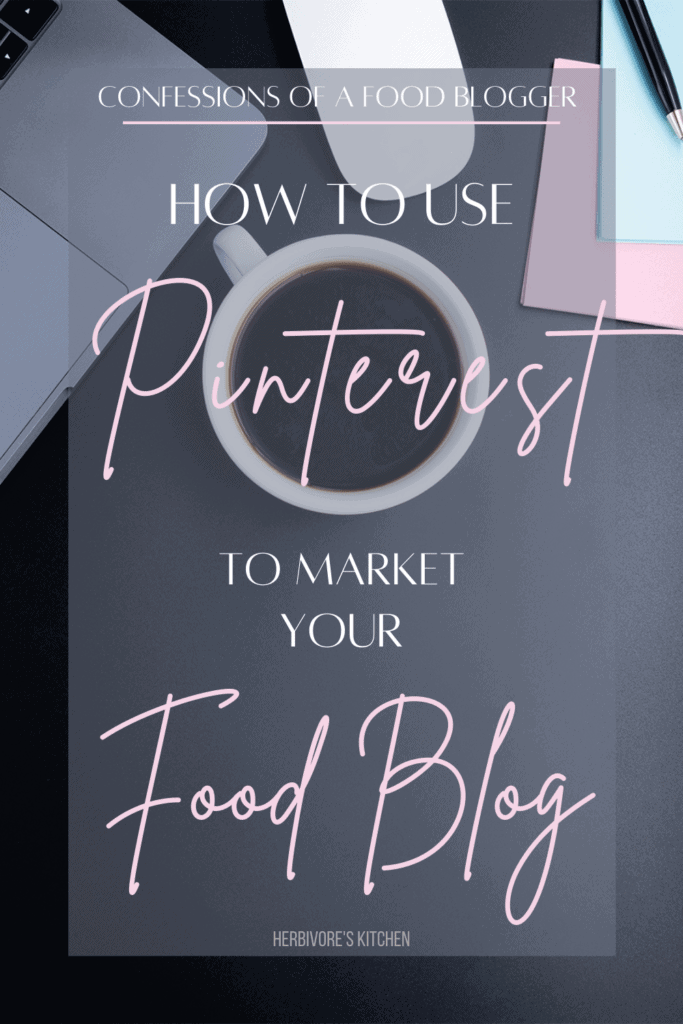 If you're not familiar with how search engines work, they're essentially indexes of information found on the Internet. Search engines "crawl" the Internet and categorize the information they find in accordance with proprietary algorithms that they develop.
A search engine's end game is to deliver a user the content most likely to satisfy them. If successful, that user will continue to rely on that search engine. As a Content Creator, your job is to help the search engine best understand exactly what it is that you have to offer.
The Advantage of Image Results
Pinterest, unlike Google (perhaps the most well-known search engine), delivers its results exclusively as images and videos. This is hugely significant because searchers often react more positively to images than they do text. As a food blogger, the ability to showcase your work at a glance is very powerful.
For example, Pinterest is by far the biggest driver of traffic to my food blog. In the month before I wrote this blog post 70% of my blog traffic came from social media. Of that 70%, 74% came from Pinterest while 18% came from Instagram. Pinterest and Instagram are the two social media channels that I actively use.
Efficiency & Long-Lasting Content
These simple stats show that Pinterest is a good marketing tool for my food blog, but there's another layer to this story. Efficiency. I spend considerably less time a month on Pinterest than I do on Instagram, making Pinterest's return-on-investment that much greater. That's because content on Pinterest, especially when using a Pinterest marketing tool like Tailwind, can continue to grow in popularity. Unlike Instagram posts, Facebook posts and Tweets, which rapidly fall from view, Pinterest content continues to live on.
The Power of Direct Links
Further, unlike other image-sharing channels like Instagram, Pinterest allows Content Creators to include a link back to their blog. There are no extra steps along the way, like reading through captions to find a link, relying on a story that expires in 24 hours, or retracing steps to a bio to find a website link.
As a food blogger, I have it even better on Pinterest than that though. Through the use of Rich Pins, I can share a portion of one of my recipes (usually the ingredients and a the first couple of steps) with the user. If the recipe fits the Pinterest User's needs, they can go directly to my blog for the rest. It's a simple one-click process for the Pinterest User and it's great for me because that Pinterest User might also sign up for my newsletter, find some other recipes to try or perhaps purchase some of my recommended kitchen gadgets.
How to Use Pinterest Keywords to Market Your Food Blog: Keyword Placement & Selection
Now that you know why to use Pinterest to market your food blog, let's talk about how to use it to market your food blog. How do you design a Pin that Pinterest will recognize as valuable to the end user? After all, I said that a simple search for Beginner Vegan Recipes returns pages and pages of results. What does it take to get to the top?
It all starts with keywords. Keywords are the connection between your content and the user's requested information. Choosing the right keywords and using them effectively in the content you produce is very important.
The Anatomy of Pinterest & Pinterest Keyword Placement
Before we start talking about how to choose the right keywords for Pinterest, let's discuss how it works from a keyword perspective. When you create a Pinterest account, you'll have a few key areas where you'll include text that will help Pinterest understand what it is you're about. These include:
Your Pinterest Bio;
Boards, including titles and descriptions, and
Individual Pins, including Pin titles, descriptions and hashtags
Update March 15, 2021: Pinterest no longer puts an emphasis on hashtags. Use the space to include effective keywords in your descriptions instead.
As you can see, Pinterest offers many opportunities to take advantage of keyword research.
Your Bio is a brief description that broadly tells Pinterest and the Pinterest User what your brand is all about. A Pinterest Bio is limited to 160 characters. Think of it as your elevator pitch — a space to explain who you are and what you do in a very short period of time (or, in this case, space).
Boards are slightly more refined — like chapters within your Pinterest account. Each Board is dedicated to a certain topic. The Board Title identifies the topic. It is limited to 100 characters. The Board Description is a lengthier introduction to the content of the Board. Board Descriptions are limited to 500 characters.
Boards are comprised of individual Pins. Pins are an image created to capture the attention of the Pinterest User. Titles, descriptions and hashtags are all components of a Pin. Like a Board, a Pin Description can be up to 500 characters while a Pin Title is limited to 100 characters.
Update March 15, 2021: Pinterest no longer puts an emphasis on hashtags. Use the space to include effective keywords in your descriptions instead.
How to Select the Right Pinterest Keywords
Now that you know more about smart keyword placement, let's discuss how to choose the best keywords.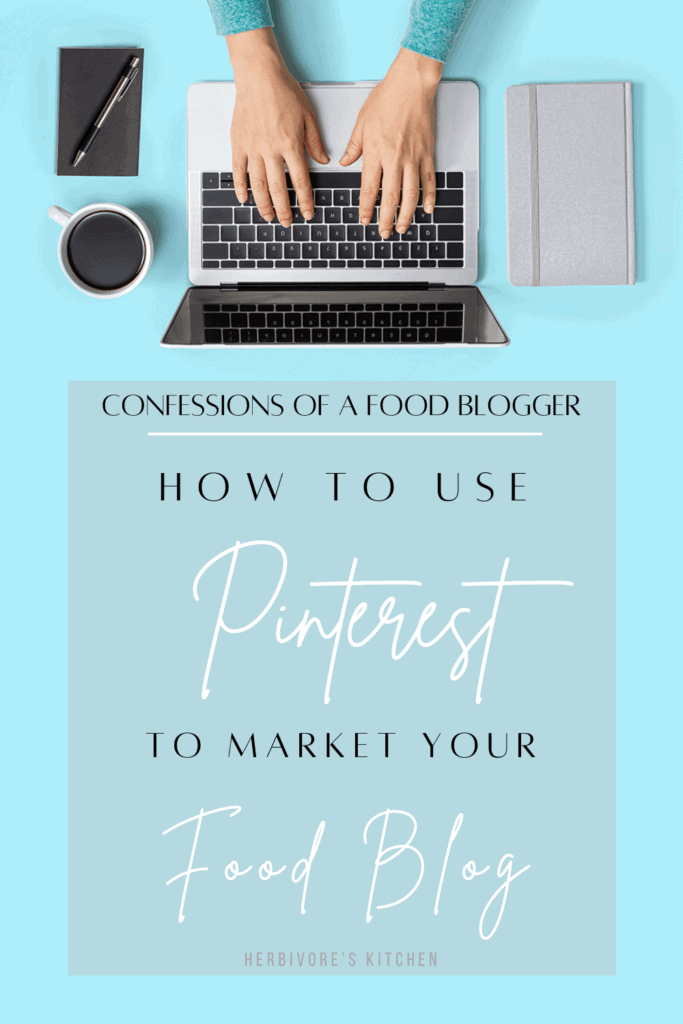 Before any writing happens, I spend a lot of time researching keywords. Keyword research varies a little depending on the search engine that I am targeting. Fortunately, information gathered from one source can help inform keyword selection for the others. In this blog post, we're focusing exclusively on Pinterest keyword research.
The Art of Niching Down
The real trick to keyword search, regardless of the search engine, is threefold. You need to:
Determine what search terms define your brand.
Understand if your target audience is seeking content by using those same search terms
Evaluate the competition for those specific search terms
Essentially you need to find the keyword sweet spot — search terms that are highly searched by the Pinterest User, that aptly describe your content and that haven't been overwhelmed with competition from other bloggers. The best way to do this is to niche down. Let's talk more about what that means.
How to Use Pinterest Keywords to Market Your Food Blog #1:

Determine the Search Terms That Define Your Brand
At the highest level, my content is recipes. Therefore, it might make sense to select recipes as a Pinterest keyword. But, while recipes is an accurate search term to define my brand, it's probably not specific enough for me to gain any real traction on Pinterest — even at the Bio level. After all, there are millions of recipes on the Pinterest. How would it ever know what distinguishes my recipes from the rest? And, even if Pinterest delivered my content to a Pinterest User who typed in the search term recipes, what is the likelihood that the user would be satisfied? What is that user wasn't looking for a vegan recipe?
To avoid competing for overly broad search terms only to deliver a specific result to a general search, you'll need to niche down. This means finding a specific niche within a general category that is still highly searched. For example, I might want to focus on vegan recipes over recipes in my Bio. I'll talk about how to ascertain this in a later section.
Choosing Keywords for Your Pinterest Boards
You'll need to refine the degree of specificity as you work your way down the list of Pinterest's parts. For a Board Title and corresponding Board Description, you'll want to be more specific that vegan recipes. For example, I might create a Board called Easy Vegan Curry Recipes where I'll feature only vegan-friendly curry recipes that can be made in thirty minutes or less.
Choosing Keywords for Your Pins
Then, at the Pin level, you'll want to refine your keywords even further.
Let's say I am creating a Pin for my Vegan Red Curry Ramen Noodle Bowls. Here's an image to help you visualize this exercise.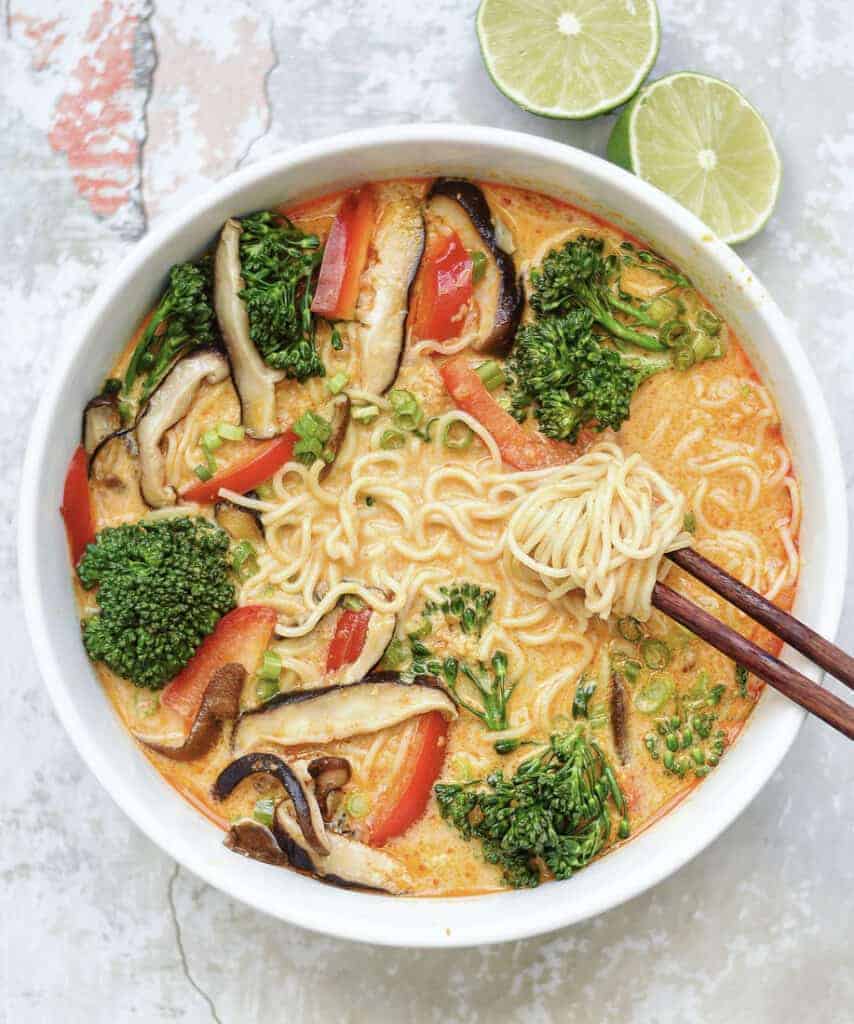 To write the Pin Title and the Pin Description, I would first need to think of ways to describe this dish. What is it that this dish has to offer? Well, for starters, this dish is a red curry broth, loaded with vegetables and served with rice. It's also vegan, gluten-free and easy to make. So, the keywords words I might to use in my Pin would be: red curry, vegan curry, easy curry, vegan Thai, Thai recipes, gluten-free Thai, vegan ramen and noodle bowl.
How to Use Pinterest Keywords to Market Your Food Blog #2:
Understanding Whether a Pinterest User is Searching for Your Search Terms
Remember though, that selecting your keywords is only the first step of the three I listed above. After selecting your keywords, you'll need to make sure that Pinterest Users are searching for these keywords. After all, you might think vegan curry soup is a heavily searched term, but it may be that the Pinterest User isn't using that keyword when looking for a recipe like yours.
Luckily, Pinterest makes this pretty easy. To get a sense of what Pinterest Users are searching for, all you need to do is go to the search bar and enter a search term. When you enter the search term, it will return a list of related words you can use to create your keywords.
Update March 15, 2021: It seems that Pinterest is slowing doing away with the search bubbles. These disappeared from my Pinterest feed a couple of months ago and it appears that they are being removed from additional accounts. Now, when you search a term additional keywords will appear below the search bar instead. You can also use the "Create Ad" method described below.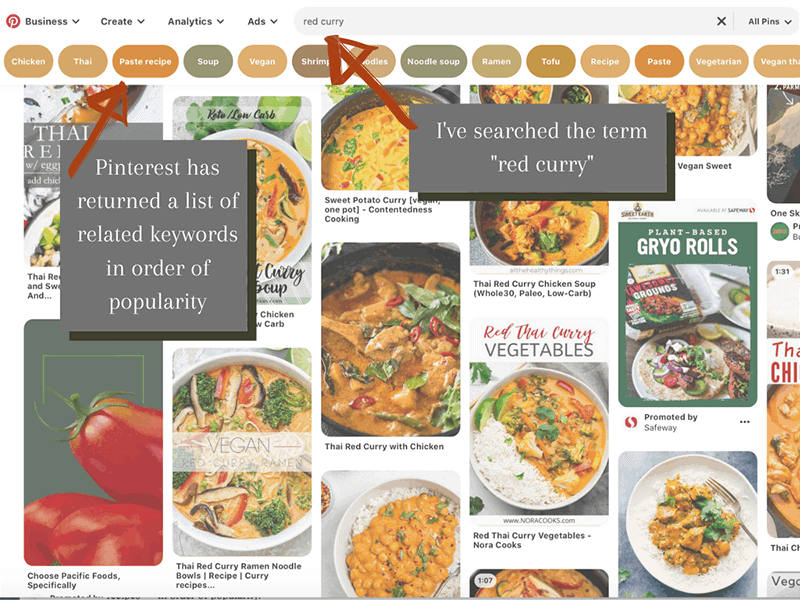 As you can see, I've entered the words red curry into Pinterest's search box and it has produced a list of related keywords in the bubbles below the search box. These words are additional words that Pinterest Users include in their search terms when searching for red curry — in order of popularity.
I won't stop there though, I also want to research some of the other keywords that I compiled. So, I'll likewise do research on vegan Thai, Thai recipes, easy curry and so on. As I work my way through my search terms, patterns will become apparent and confirm which on my keyword selections are likely to bring the most traffic to my Pin.
Drilling Down on Keyword Search Volumes
By picking keywords that appear in the first bubbles below the search bar, I know that I've picked keywords that are popular among Pinterest Users. But, I can go a step further and see just how popular they are. As in — how many Pinterest Users are searching those terms a month?
To do this, you need a Pinterest business account. With a business account, you should have a dropdown option for Ads in the upper lefthand corner of your profile page. From there, you'll see the Create Ad option. Click on that.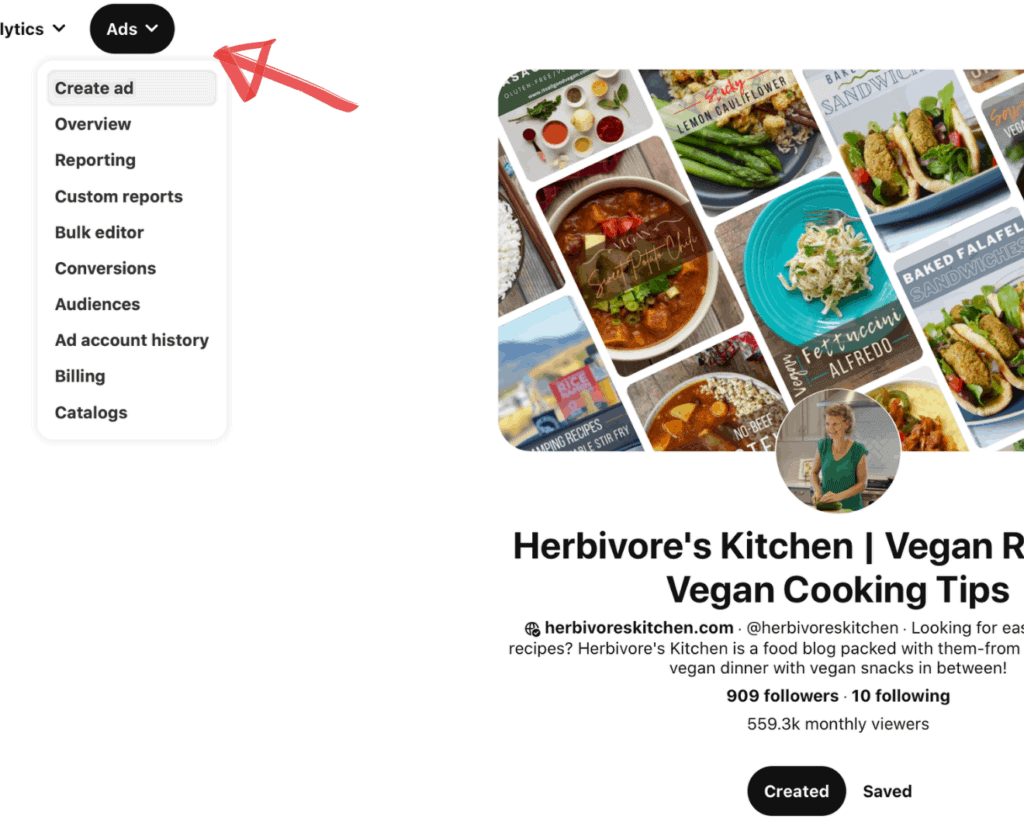 Once you're on the Ad creation page, you'll need to go through the steps as though you're setting up a Pinterest Ad. Don't worry though, we won't complete the ad. This is for research purposes only.
In the first step, you'll need to select your business goal. Select Traffic. Then, under Campaign Details, select an amount for your daily and lifetime spend limits. I selected $10 and $100 respectively. Click Continue. Scroll down to Add Interests and select Food & Drinks. This will automatically adjust your Potential Audience Size in the upper righthand corner of the screen.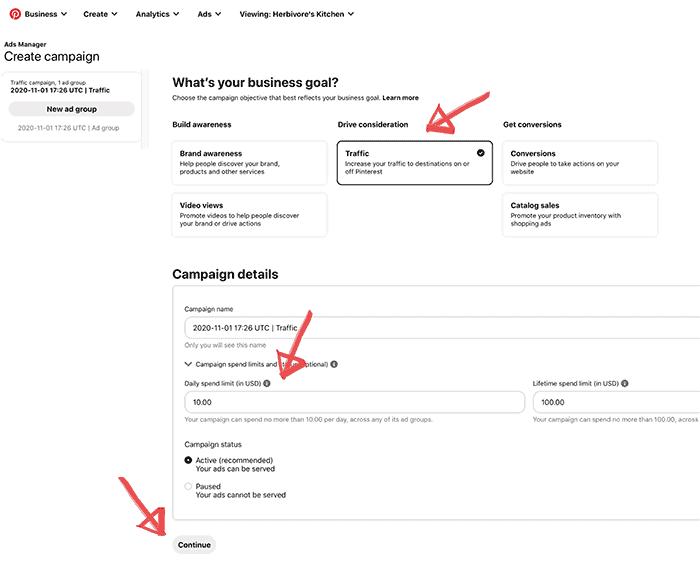 Scroll down to the Keywords box. This is where you'll do your keywords research. Type a broad keyword into the box on the righthand side. For example, I searched words like curry, ramen and vegan. Typing in a broad term will automatically populate a list of other related keywords and, within that list, you can get a sense of how many people are searching for your keywords.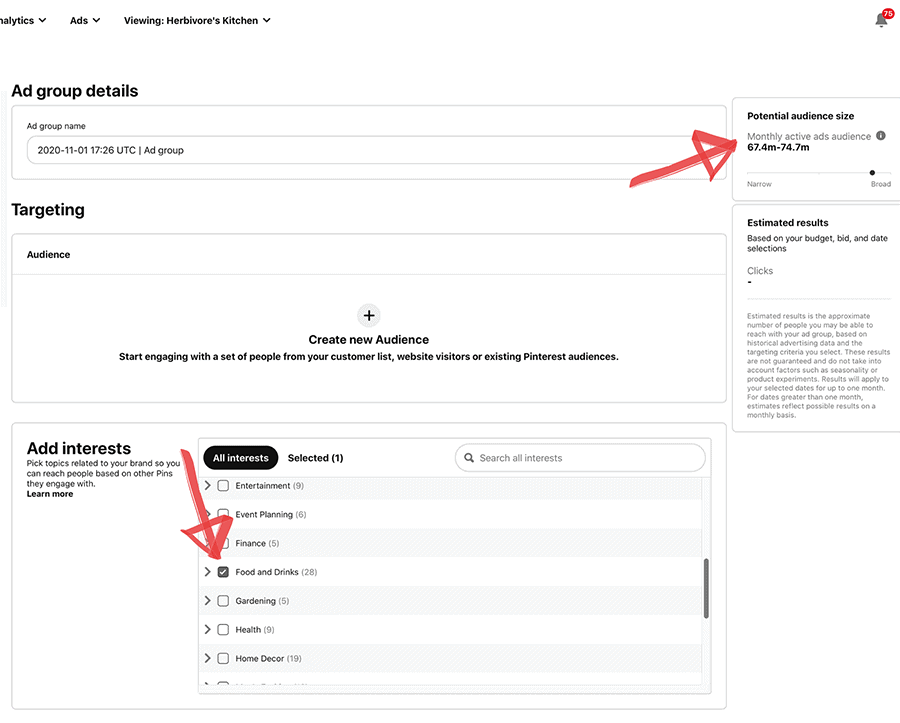 In this example, you can see that I started with the search term curry and that shortly down the list, I confirmed that vegan curry recipes is searched over 5 million times a month on Pinterest. I definitely want to make sure that I use this combination of words on Pinterest, most likely at the Pin level. And, remember, I don't necessarily have to use those words in that exact order. I can use them in close proximity to one another to keep my Pin Title and Pin Description natural and conversational.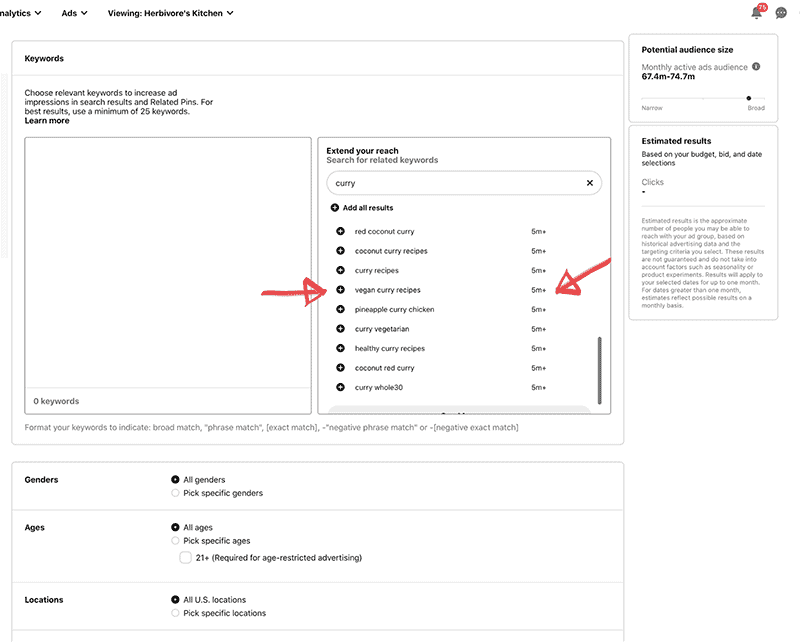 How to Use Pinterest Keywords to Market Your Food Blog #3:
Evaluate the Competition for Your Search Terms
The third step before finalizing any keywords is to evaluate the competition for the keywords that you've selected. It's very possible that your list of potential keywords matches up nicely with the same keywords that Pinterest Users are using as search terms, but it won't be terribly helpful if every food blogger is using those same keyword terms. Your Pin will drown in the competition.
To evaluate the competition for a particular keyword, I use Google Adwords Keyword Planner. To use the Adwords Keyword Planner tool, you'll need to have a Google account, but the tool itself is free.
How to Use the Google Adwords Keyword Planner
Within the Keyword Planner, you'll have the option to Discover New Keywords. Once on the Discover New Keywords page, you can include up to 10 keywords that you want to research. The search will produce a few different pieces of information. It will tell you the popularity of that search term within Google, the competition for that search term and other related keywords that you might want to consider.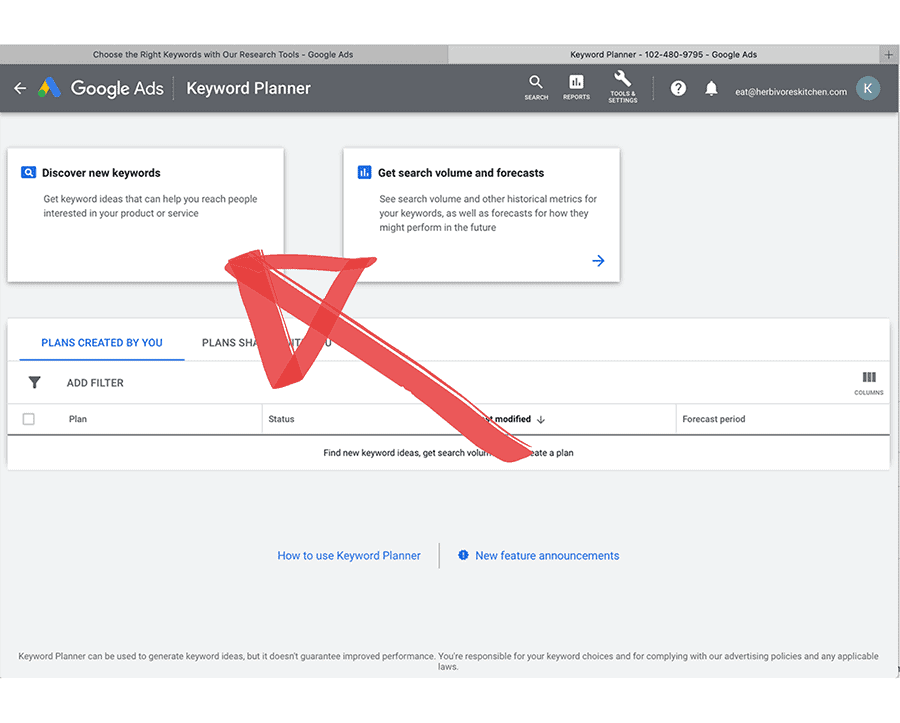 In this example, I selected the same keywords that I identified in #1 above for the Vegan Thai Red Curry Ramen Noodle Bowl Pin that I want to create. Those were: red curry, vegan curry, easy curry, vegan Thai, Thai recipes, gluten-free Thai, vegan ramen and noodle bowl. For this exercise, I only want to focus on the competition for my search terms and perhaps pick up a few other related search terms with low competition.
As you can see, the bulk of my keywords have a low level of competition. This is what I am looking for. I've already confirmed that they're popular search terms in Pinterest, so now I know that they're also not highly sought after by other food blogs.
My keywords vegan ramen and noodle bowl are highly competitive terms, so I also know that I might want to replace those keywords with keywords that are more likely to get me to the top of a Pinterest search. However, I also want to make sure that I've aptly described my recipe.
In this case, I elected to keep these highly competitive keywords in an effort to balance my desire to appear in the top results against the need to accurately describe the recipe. Put another way, I think my use of other highly searched, low competition keywords will return good results and my users will appreciate that the recipe is clearly described.
How to Use Pinterest Keywords to Market Your Food Blog: Putting It All Together
I've now completed the research to address all three of the steps I described above. I've determined what keywords describe my brand/board/pin, I know that Pinterest Users are frequently searching for these same terms and I've learned that most of the keywords I've selected have low competition across the Internet. Now I am ready to put it all together.
How to Write a Good Pinterest Bio
For my Bio, I've decided that I needed to niche down from defining myself as a recipe creator to a vegan recipe creator. I've also learned that I'll need to use as many broadly descriptive keywords as in my Bio Description, but still maintain a natural, conversational tone.
Here is my Before Bio: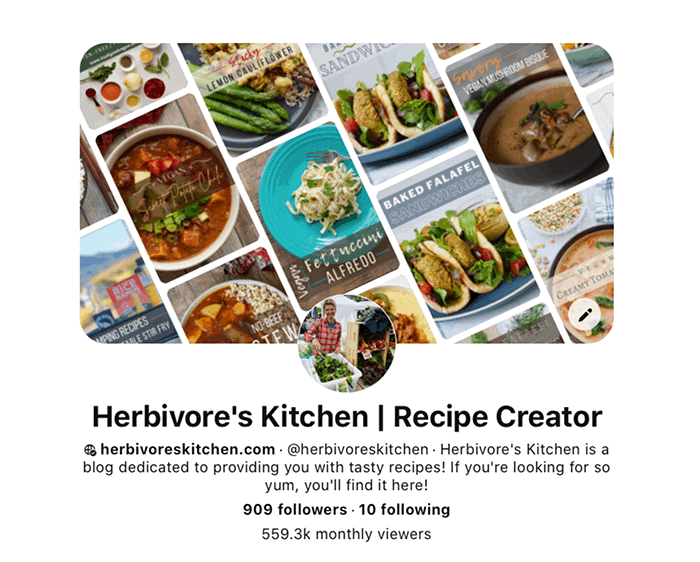 As you can see, my Bio Title defined me only as a recipe creator. Further, my Bio Description, while meant to be playful, didn't really tell Pinterest or the Pinterest User what it is my Pinterest account or my blog is about.
Here is my After Bio: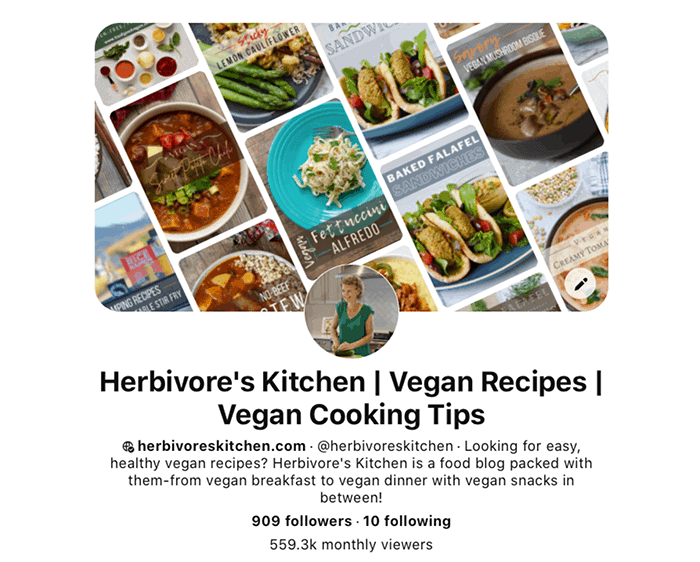 I switched my Bio Title to be more descriptive. I specified that my recipes are vegan and that I also offer vegan cooking tips. My Bio Description is refined to use relevant keywords as well. I double-down on the search term vegan recipes, but I also use descriptors like healthy, easy, breakfast, dinner and snacks.
How to Create a Good Pinterest Board
The same rules apply when creating a Board, although I now know that my Boards need to be more specific than my Bio. I want to capture an audience looking for a specific category of vegan recipes. In this case, I want a Pinterest User looking for a vegan curry recipe to find my Board and the recipes on it.
Here's a screen capture of my Easy Vegan Curry Recipes Board: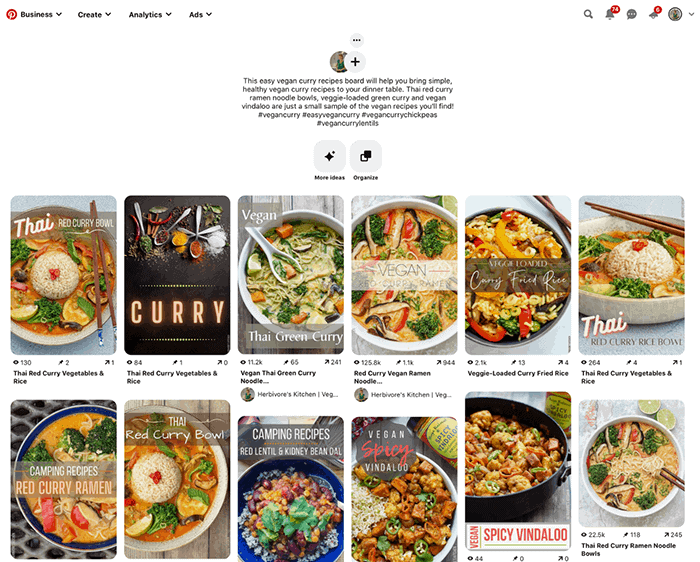 As you can see, I've specifically named this Board Easy Vegan Curry Recipes. The description includes a variety of keywords that describe the types of recipes that can be found on the Board. Recipes like Thai red curry, green curry and curry soup. There are also several descriptive terms like easy, healthy and simple. My research has told me that these are good, competitive keywords.
Update March 15, 2021: Pinterest no longer puts an emphasis on hashtags. Use the space to include effective keywords in your descriptions instead.
How to Create an Effective Pin
Finally, and perhaps most importantly, I want to create effective Pins. I know that Pins are the most detailed element, so I'll want to include more refined keywords that describe the recipe within the Pin.
Here is the Pin I've created for my Vegan Red Curry Ramen Noodle Bowl: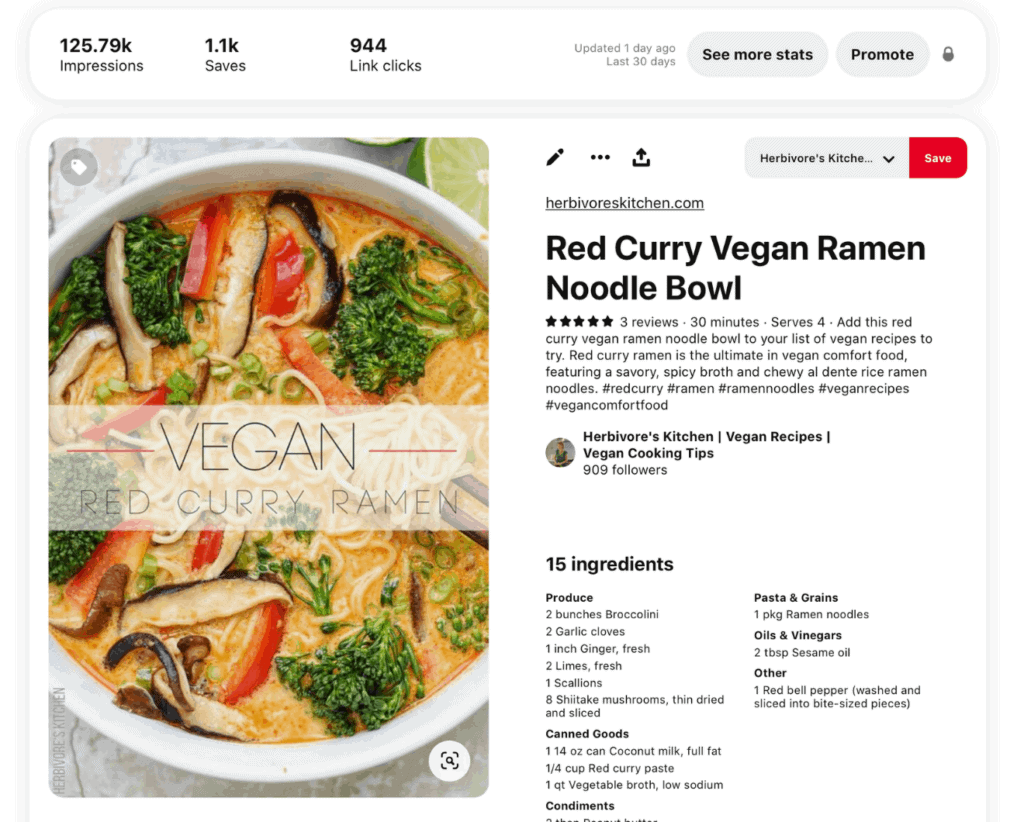 As you can see, I've gotten pretty specific with my keywords. I've included them in my Pin Title as well as using them throughout my Pin Description. And, even though the Pin Description uses a lot of keywords, it still reads conversationally. Finally, I've used a sampling of my keywords as hashtags at the end of my Pin Description. Again, I know that these keywords will be effective because I've done my research.
Update March 15, 2021: Pinterest no longer puts an emphasis on hashtags. Use the space to include effective keywords in your descriptions instead.
Get Going Marketing Your Food Blog on Pinterest
Now that you know how to develop your Bio, design engaging Boards and create keyword-rich Pins, it's time to get started! If questions arise, please feel free to reach out to me in the comments section below.
And, for those of you who might be new to Pinterest, here are three additional pieces of advice:
Understand that Pinterest is a slow, but remarkably effective, burn. You just have to keep plugging away at adding new content to Pinterest as well as recycling the content that you have.
Pinterest is all about images! Creating good, attention-getting images takes some time, but it's worth it! Consider using an image design site, like Canva.
Tailwind is worth it. Yes, the really powerful Tailwind features do cost money. But, they will save you a considerable amount of time and planning.
Be sure to check out my other Confessions of a Food Blogger posts to learn more about starting, marketing and making money from your food blog!
Happy pinning!
About Herbivore's Kitchen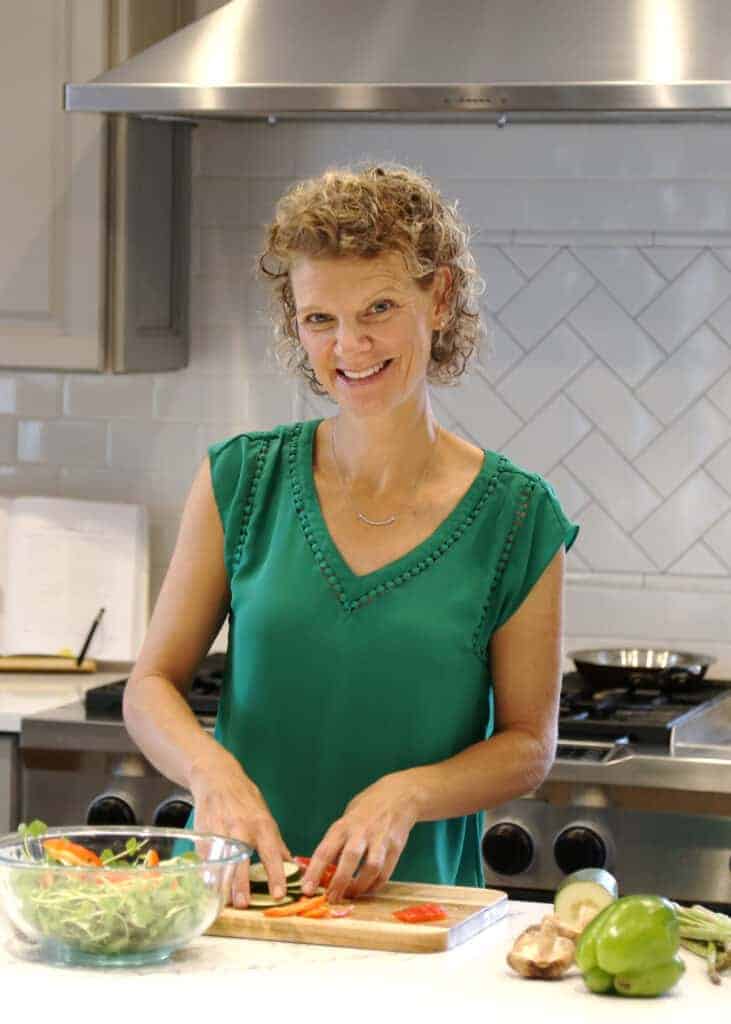 Herbivore's Kitchen is a blog run by me, a plant-based home chef and aspiring food photographer. I switched my and my family's diet to a plant-based diet after learning about the health benefits of going vegan. Making this change has prompted a variety of food and holistic-lifestyle related questions that I explore through this blog. I talk about how to pick and prepare the most nutritious foods, to how to reduce waste at home, to how to live a more sustainable lifestyle while on the road.