Jump to Recipe
Thai Red Curry Ramen Noodle Bowls
This easy ramen recipe will get vegan comfort food on your table in less than 30 minutes. The thai red curry paste, a twist on this traditional Japanese dish, makes this ramen noodle recipe both savory and spicy. I've also loaded it with healthy vegetables and brown rice noodles for a healthy nutritional punch!
A Brief History of My Life with Ramen
Several years ago, I lived in a city where you could find almost any kind of food. Whether you wanted Southern comfort, Ethiopian or Peruvian, there was a place for you. I loved the constant culinary adventure, but when asked, ramen was usually my food of choice.
If you're not familiar with ramen, it's a noodle bowl, filled with hot broth and a host of other ingredients that's sensationally savory. The broth is traditionally made using a beef or chicken stock, seasoned with seaweed and often some other sea life. When served, it was often accompanied by meat and a soft-boiled egg. Needless to say, it was not at all vegan (or vegetarian) friendly and honestly, at that time, neither was I.
I've since moved away from the urban "whatever your heart desires" restaurant scene. And I've also changed up my diet. The combination of the two pretty much took ramen as dining out option right off my list. And so, I did what any fully motivated, self-proclaimed foodie would do – I learned to make it myself. Complete with all of my own culinary twists and turns.
Not So Traditional Ramen Noodle Recipe
This recipe could have just as easily been called Thai Red Curry Soup because its similarities to traditional ramen noodle soup start with the noodles and end there. And, actually, that isn't even really true. I used Lotus Food's® Millet and Brown Rice ramen noodles, which aren't traditional either (ramen noodles are traditionally made with wheat flour). But, as I said above, I really miss ramen and this ramen noodle recipe gives me all of the same feels of the ramen of my past, so I decided on the former title and not the latter.
So why should you keep reading?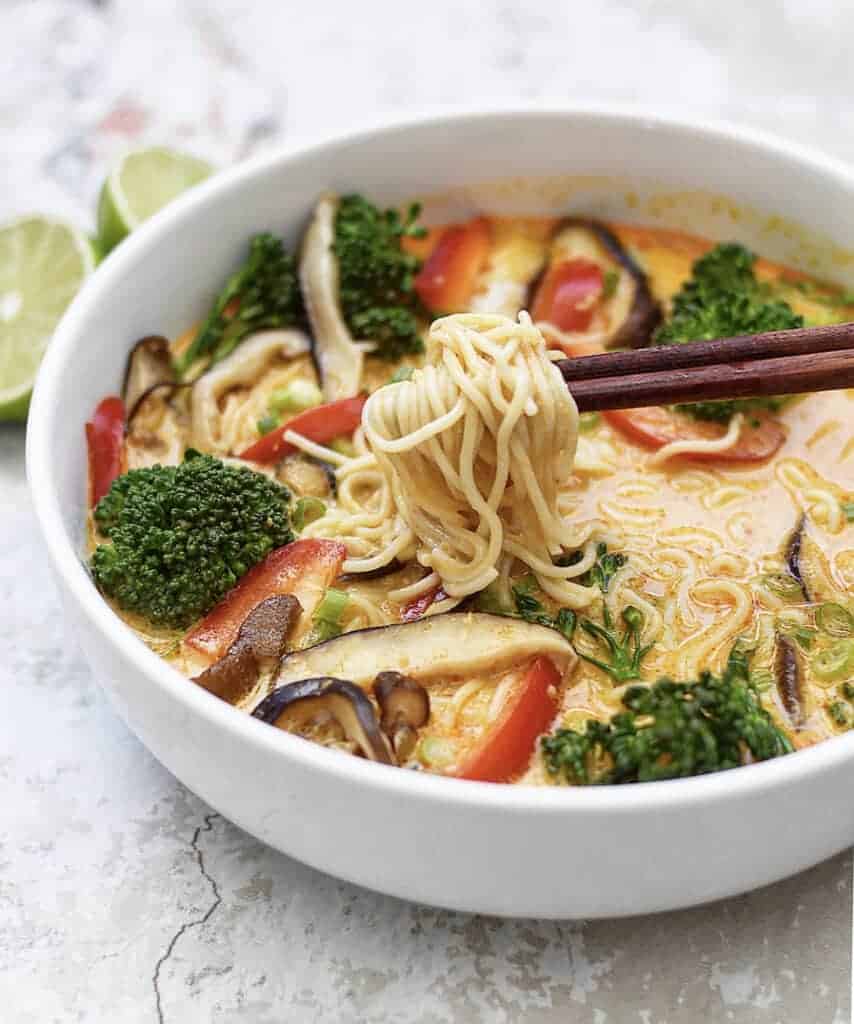 Seriously, look at the picture! This ramen soup recipe is really, really tasty. It's spicy and creamy, filled with vegetables and slurps incredibly well in the traditional style. Do you need more incentive? It's also a super easy vegan recipe. Like, you'll have it on the table in 30 minutes kind of easy.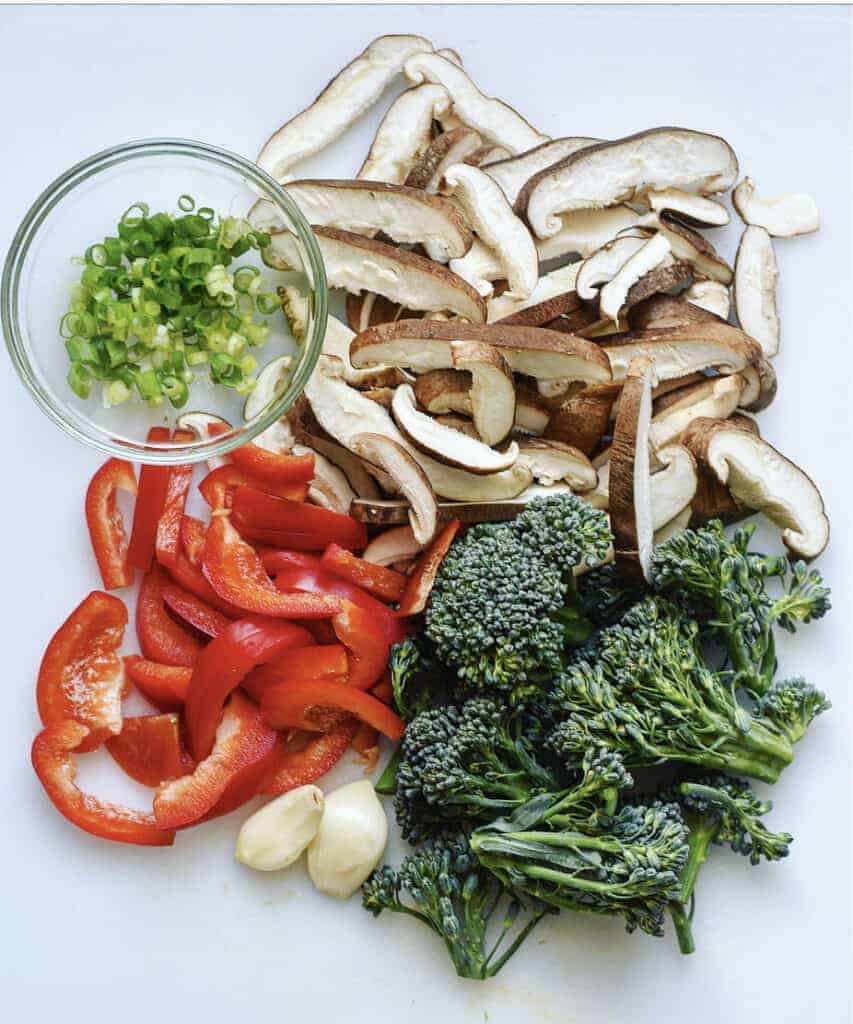 An Easy Vegan Recipe? I Thought That Was a Myth?
Easy vegan recipes exist. They really do. But, it's also true that eating vegan can involve a lot of prep work. I often hear from people that the prep time is their biggest deterrent.
Don't worry though! While I love dilly-dallying around in my kitchen some nights, on others I really just want to get dinner on the table. So, I've worked out a series of vegan recipes that are easy. Thirty minutes or less. With ingredients that you can find. And while you may be thinking that you'll never find all the ingredients to make a Thai/Japanese/Chinese inspired vegan soup at your local grocery store, I think you'll be surprised. Most stores now have (albeit sometimes small) ethnic food section. In there, you should be able to find what you need.
And, here's what you'll need (at least those items that you might be unfamiliar with):
Ramen noodles. You can buy a package of instant ramen noodles, but make sure not to use the spice pack inserted. I'm a big fan of Lotus Food's® ramen noodles, with the Millet and Brown Rice being one of my favorites. Traditionally, ramen noodles are made with wheat flour and alkaline water, which gives them their springy, chewy texture. The Lotus Food noodles are rice noodles with much of the same texture as the wheat noodles – at least to start. I find that they will become too soft if cooked too long, so I prepare them al dente and then add them to my ramen broth just before serving.
Coconut Milk. Thai Kitchen® makes this too. I recommend the full fat option. It's makes this ramen noodle soup very creamy and delicious. Make sure to buy it unsweetened. I use their coconut cream in my Creamy Tomato Sauce Pasta Recipe.
Fresh Limes. I included these on this list even though they're not an item that might be unfamiliar to you. You must have some fresh lime to squeeze into your red curry ramen. It just wakes everything up!
Fresh Ginger. I don't want to assume that everyone reading this recipe has cooked with fresh ginger before. If you haven't, you're looking for a tan root in the produce section of your grocery store. I usually buy a 3 to 4-inch piece and cut off what I need. You'll need about 1 inch. I peel it and mince it, or you can grate it with a ginger grater.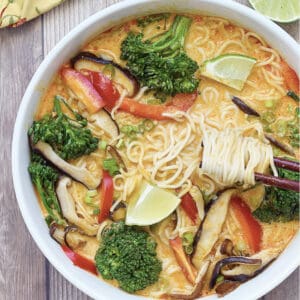 Thai Red Curry Ramen Noodle Bowls
This easy ramen recipe will get vegan comfort food on your table in less than 30 minutes. The thai red curry paste, a twist on this traditional Japanese dish, makes this ramen noodle recipe both savory and spicy. I've loaded it with healthy vegetables and brown rice noodles for a healthy nutritional punch!
Ingredients
1

pkg

ramen noodles

I like Lotus Foods(R) Brown Rice & Millet Ramen Noodles; I package includes four ramen noodle bricks

2

tbsp

sesame oil

8-10

shiitake mushrooms

washed, dried and sliced thin

1

inch

fresh ginger

minced or grated

2

garlic cloves

peeled and crushed

1/4

cup

red curry paste

I like Thai Kitchen's(R) vegan thai red curry paste

1

qt

low sodium vegetable broth

I use Pacific Food's(R)

2

tbsp

peanut butter

just peanuts, peanut butter is best

2

tbsp

soy sauce

or use tamari if gluten free

14

oz can

full fat coconut milk

I use Thai Kitchen's(R) coconut milk

1

red bell pepper

washed and sliced into bite-sized pieces

2-3

bunches

broccolini

washed and trimmed

2

fresh limes

sliced into wedges; optional as garnishment (but highly recommended!)

1-2

scallions

thinly sliced, as optional garnishment

Sriracha

optional, as additional spice
Instructions
Prepare the ramen noodles al dente in accordance with package directions. Set aside. See recipe notes for suggestions if using rice ramen noodles.

In a large stockpot, heat the sesame oil. When shimmering, add the mushrooms and sauté until golden brown.

Add the garlic and the fresh ginger. Sauté for 2-3 minutes more being careful not to burn the garlic.

Add the red curry paste and saute for 1-2 minutes, stirring constantly and allowing the paste to toast slightly.

Add the vegetable broth, the peanut butter and tamari. Bring to a simmer. Allow to simmer for 5-8 minutes.

Add the coconut milk, red bell pepper and broccolini. Heat until hot, allowing the broccolini to become bright green.

Add the noodles to your serving bowls. Spoon the ramen noodle broth over the noodles. Top with sliced scallions. Squeeze fresh lime juice over the broth and add sriracha for some additional spice.
Notes
I like to use rice ramen noodles. I don't like to cook these in the broth though, because I find that they become mushy when overcooked. I make them al dente separately and add them to the bottom of the bowl just before I am serving. I then pour the broth over them.