Jump to Recipe
This Small Batch Granola Recipes: This Easy Toasted Oat Granola Recipes Serves as the Base for Several Delicious Ways to Eat Granola! post includes affiliate links. When I find a great product or service, I like to share it with my readers. Sometimes I use affiliate links so I can earn a commission for my recommendations. Thank you for your support!
Small Batch Granola Recipes: This Easy Toasted Oat Granola Recipe is the Base for Several Delicious Ways to Eat Granola!
Breakfast has always been a challenge for me. I will occasionally indulge in a big, sweet breakfast like pancakes and waffles, but most days I want something quick and easy…and…healthy. If I don't go into my morning with a plan, then I end up eating leftover toast crusts and washing them down with tea. Not exactly a power breakfast.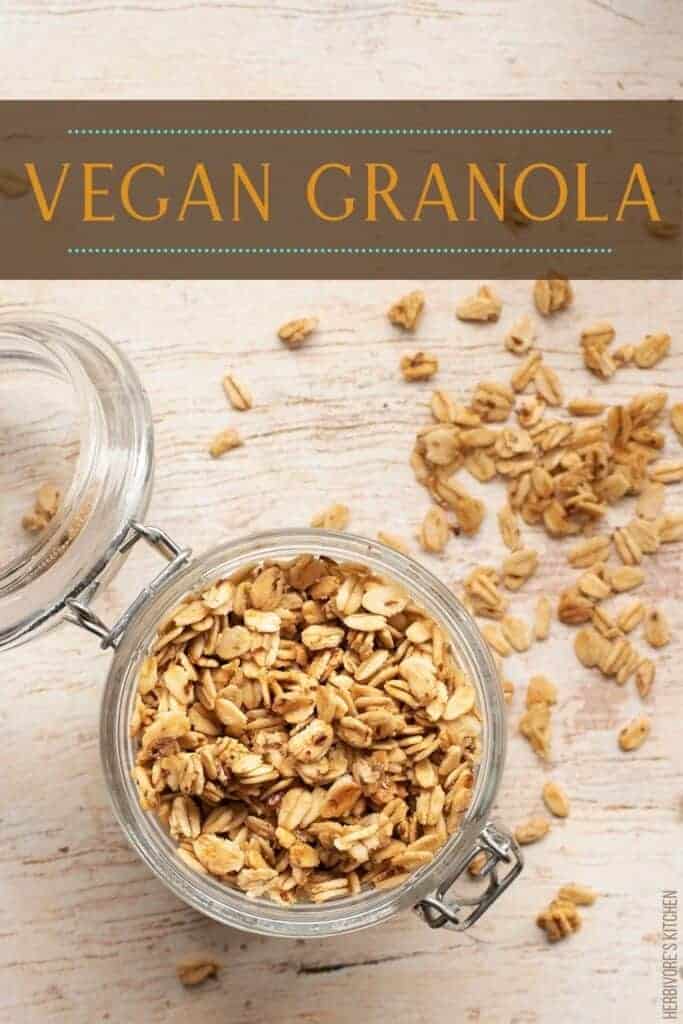 In a quest to have good breakfast options available, I started working on a homemade granola recipe. This new morning hack helps me to avoid an early morning nutritional void. Basic toasted oat granola is quick and easy to make and features rolled oats (a surprisingly nutritious ingredient) and unrefined sugars.
You can stop there, or you can explore variations to this toasted oat granola base and make a variety of small batch granola recipes. I add nutritious ingredients like walnuts, almonds, pumpkin seeds, cranberries and blueberries. You can also feel free to explore on your own!

Some Other Small Batch Granola Ideas
The best part about this basic small batch granola recipe is that there are infinite ways to customize it. Add heart healthy walnuts, almonds or flax seeds. Sweeten it up with coconut flakes or rich, dark chocolate. Or, add some color with fresh berries!
Frequently Asked Granola Questions
Before I totally turn you loose with this small batch granola recipe, here are some commonly asked questions about granola:
What is the Difference Between Granola and Muesli?
Granola sometimes gets confused with its cousin muesli. Both granola and muesli are breakfast foods that use oats as their primary ingredient. The oats and other ingredients in granola are combined with a sweetener and then baked, whereas muesli does not have a sweetener and is served raw.

How Do You Make Homemade Granola?
Making your own homemade granola is actually very easy! The basic ingredients are oats (and sometimes puffed rice), a sweetener, oil and any additional ingredients that you might want to add, like dried fruits, nuts or seeds. These ingredients are combined and then baked.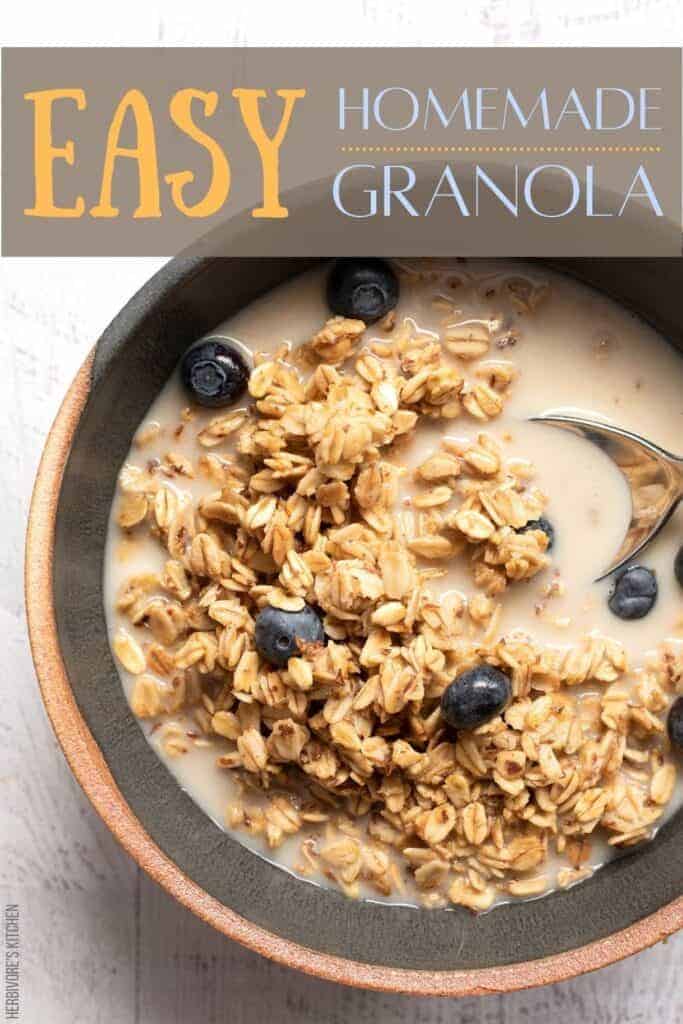 What is the Best Granola Baking Temperature?
A moderately hot oven is ideal for baking granola. Fresh mixed granola will be quite wet, so you want it to dry out in the oven without burning it. I think that the best temperature for baking granola is 350º F.
How Do You Make Granola Clusters?
Patience! You don't want to over stir your granola as it's baking. After mixing your ingredients, spread the granola mixture out evenly on a baking sheet. Then gently press it down. As the granola bakes, it will naturally stick together. Give it a stir halfway through and then don't touch it again until it has cooled completely. As it cools, it will continue to dry out and stick together.
Is Granola Healthy?
Granola sometimes gets a bad rap as being unhealthy, but the truth is that oats, nuts and seeds are some of the healthiest foods on the planet! Nutrient-dense oats are loaded with fiber, protein and plenty of vitamins and minerals, like Manganese, Phosphorus and Thiamine. Nuts and seeds, of course, host healthy fats, fiber, protein and vitamins and minerals.
Where granola goes astray is with the addition of sweeteners and fats. Of course, granola would not be granola without that baked sweet goodness. To keep your granola on the healthy side, use an unrefined sweetener. I use maple syrup and I try not to use more than necessary to get my desired texture. This unrefined sweetener is far better than corn syrup used in many commercially produced brands.
I use coconut oil as my fat, but other plant-based oils also work. I just prefer the slight sweetness of coconut oil to the stronger flavors of, say, olive oil. The jury is still out on whether coconut oil is good or bad for you, so I only use as much as necessary to bake my homemade toasted oat granola to perfection!
When you're adding ingredients, aim for heart-healthy nuts and seeds. This recipe already calls for three tablespoons of flaxseed meal. Almonds and walnuts are easily-recognized additions, but don't be afraid to get creative and add other superfood ingredients like chia seeds, pumpkin seeds, flax seeds and dried blueberries.
Is Granola Gluten Free?
It depends on what you put in it, of course, but this basic toasted oats granola recipe is gluten-free with one caveat. While oats are a naturally gluten free food, they're often processed in facilities that also process other grains. If you're gluten intolerant, be sure to look for oats that are certified gluten free.
Is Granola Vegan?
This plant-based granola recipe is! Whether granola is vegan or not often depends on the sweetener being used. Many homemade recipes call for honey, which is not vegan. Maple syrup (my preferred sweetener) is a vegan-friendly ingredient.
What Are Some Different Ways to Eat Granola?
There are a lot of different ways to eat granola! In the morning, I like it with a splash of plant-based milk, some fresh berries or served with plant-based yogurt. Granola isn't just a breakfast food though! I carry it around with me when I am hiking or skiing for a quick, healthy snack. These recipes can also be pressed into granola bars for an easy grab-and-go treat or a simple addition to a kid's lunch box.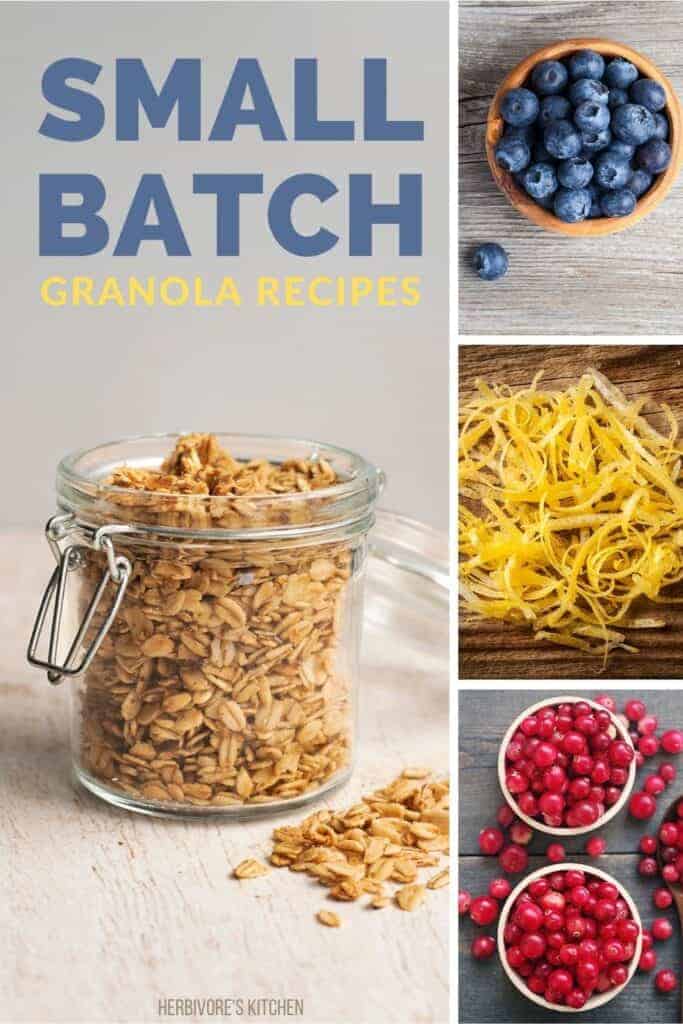 How Do You Store Granola?
When your homemade granola is completely cooled, store it in an airtight container in your pantry. It should last several weeks.
Which One is the Best Granola Recipe (IMHO)?
That's a tough one! While I love adding a hint of lemon to my granola recipes, I think my favorite has to be my Cranberry Walnut Granola with Orange Zest!
What's in My Kitchen to Make This Small Batch Granola Recipe Easier?
Want to know what tools and resources I keep on hand to make my vegan cooking even easier? Here's a short list of what helped me create this blog post and recipe. For the complete list, visit my Shop where you can find the kitchen gadgets I like as well as a list of books that I recommend.
Down a broiler pan? These aluminum baking sheets come highly recommended by the cooks who know best – Epicurious, Cooks Illustrated and Food & Wine. I bought mine because I needed a good, sturdy baking sheet to use under the broiler. One that wouldn't warp – and this one lives up to the task.
Aluminum is a good conductor of heat, so these baking sheets cook evenly. They're also light in color, so they discourage over-browning.
These things are amazing! When I discovered parchment paper, I thought I had things figured out. No more greasing pans or ruining them with charred food. Then I discovered these silicon baking pads. They're oven-safe up to 450 degrees, dishwasher safe (top rack only) and easy to clean and REUSE!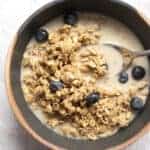 Small Batch Granola Recipes
Vegan breakfast is made better with this healthy, easy small batch granola recipe! Start with this simple granola base recipe and you can't go wrong.
Ingredients
4

cups

rolled oats

1

tsp

salt

3

tbsp

flaxseed meal

1/3

cup

coconut oil

melted

2/3

cup

pure maple syrup

1

tsp

vanilla
Instructions
Preheat the oven to 350º.

Lightly grease a large baking sheet with coconut oil or line the baking sheet with parchment paper or a silicon baking mat.

Combine the ingredients in a large bowl and mix until thoroughly combined. The mixture will be quite wet.

Spread the mixture evenly on to a baking sheet. Bake for 10 minutes on the middle rack, then gently stir the granola. Bake for an additional 10 minutes. The granola should be golden brown. Remove the granola from the oven and allow it to cool completely before stirring it. The granola will continue to crisp as it cools.

Store the granola in an airtight container.
About Herbivore's Kitchen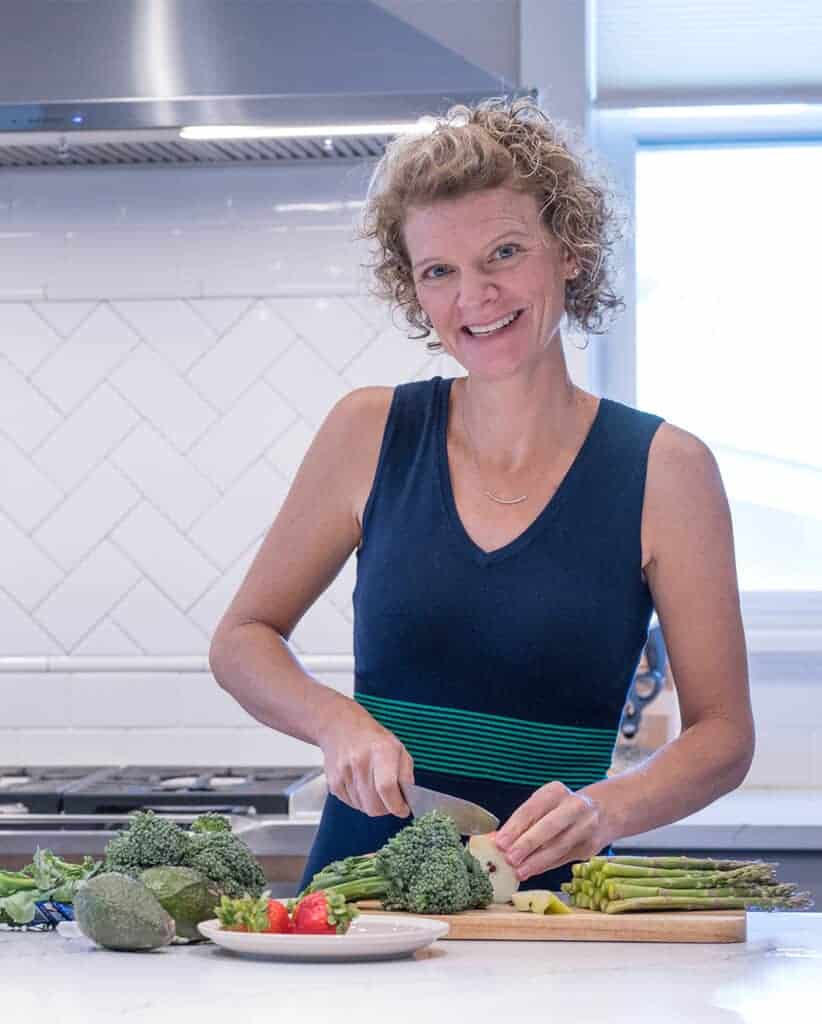 Herbivore's Kitchen is a blog run by me, a plant-based home chef and aspiring food photographer. I switched my diet to a plant-based diet after learning about the health benefits of going vegan. Making this change has prompted a variety of food and holistic-lifestyle related questions that I explore through this blog. I talk about how to pick and prepare the most nutritious foods, to how to reduce waste at home, to how to live a more sustainable lifestyle while on the road.