Jump to Recipe
This Roasted Cauliflower and White Bean Soup: Get Healthy with This Vegan Cauliflower Soup Recipe includes affiliate links. When I find a great product or service, I like to share it with my readers. Sometimes I use affiliate links so I can earn a commission for my recommendations. Thank you for your support!
Roasted Cauliflower and White Bean Soup: Get Healthy with This Vegan Cauliflower Soup Recipe!
Get cozy this winter with this healthy Roasted Cauliflower and White Bean Soup! This vegan cauliflower soup is rich and creamy, but totally dairy free! And did you catch those basil pesto vegan croutons? That's right! They give this plant-based cauliflower soup some extra flavor!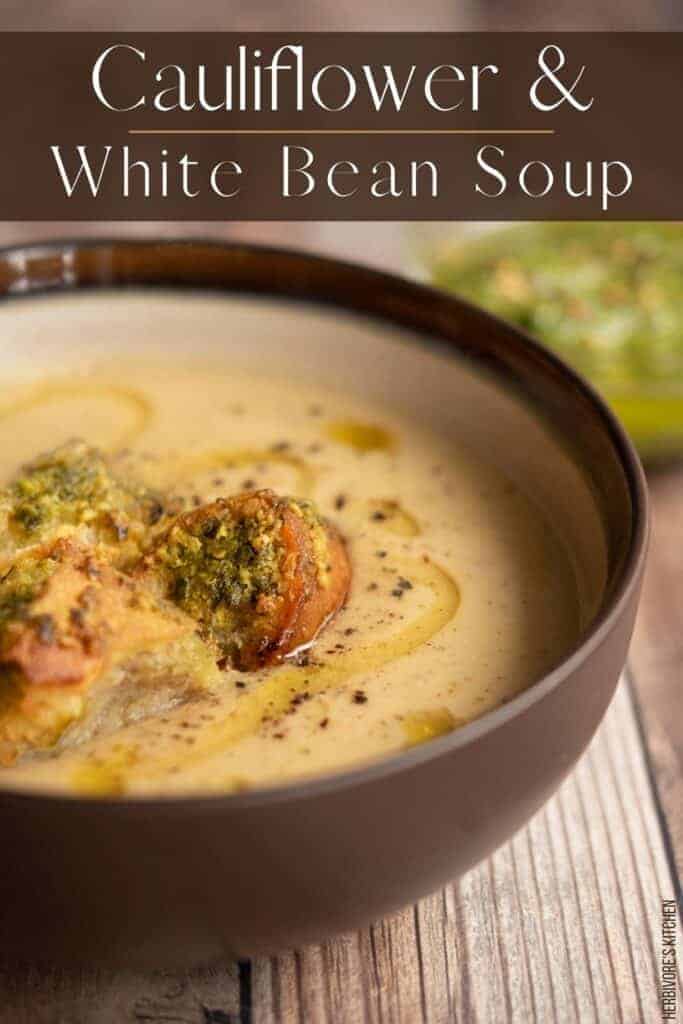 How This Vegan Cauliflower Soup Came About
A few days ago, I was thinking about food. You're shocked, I'm sure. Anyway, I was thinking about what I wanted for dinner specifically and I had this huge, undeniable craving for cauliflower soup. That's right… of all things, I really wanted a big bowl of creamy, roasted cauliflower soup.
So, I did what any sane person would do and drove to the grocery store for some roasted cauliflower soup ingredients. As I walked the aisles of the store, some new ideas came to me: what if I upped the ante and made it roasted cauliflower and white bean soup? And then, what if I add homemade vegan croutons? But not just any vegan croutons, but basil pesto baked croutons.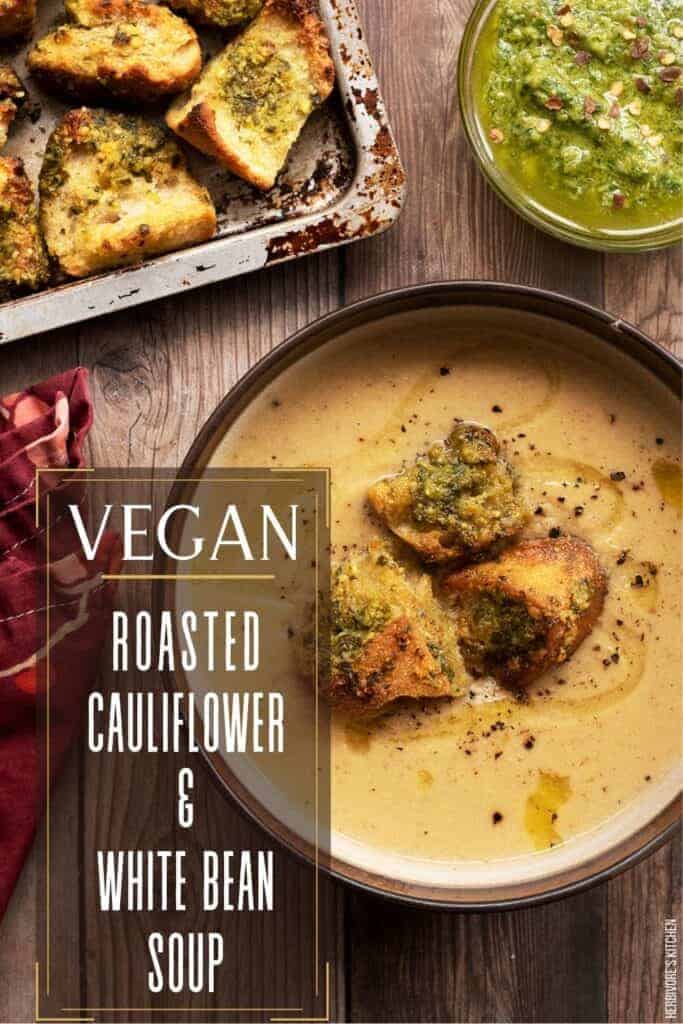 People sometimes ask me: how do you come up with your recipes? The answer is pretty much this. The aisles of the grocery store is where I do some of my best creative thinking.
How To Make This Roasted Cauliflower and White Bean Soup
When you're making a cauliflower soup, I think that there are a few basic rules that you should follow. This is especially true if you're making a vegan cauliflower soup. You don't have the classic umami-rich ingredients, like chicken stock, cream and butter to work with, so you've got to work just a little bit harder to pull the flavor out. I can assure you though, it's very doable and very delicious!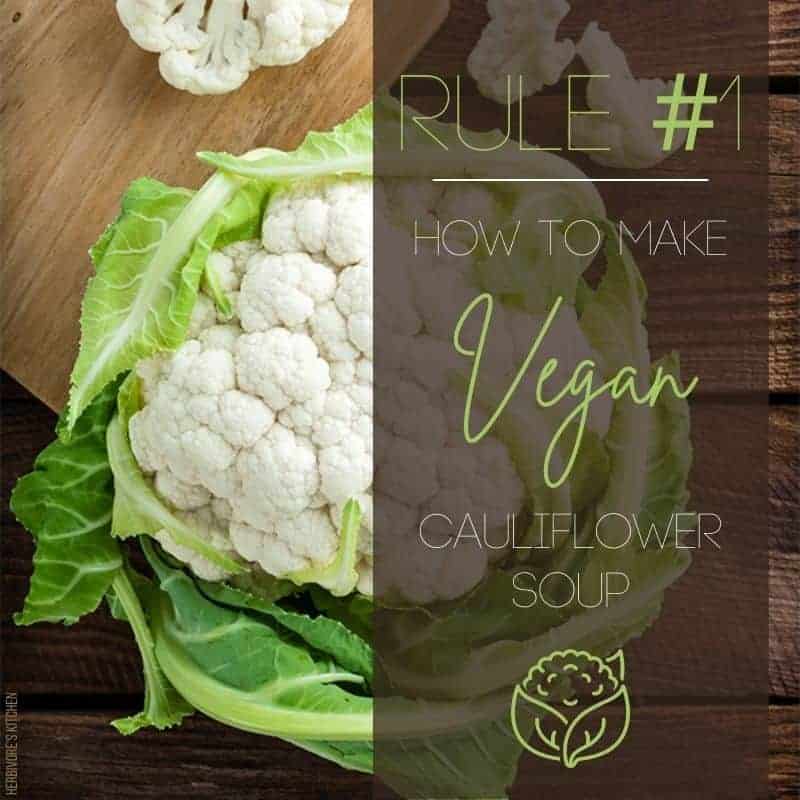 Rule #1: How to Make Vegan Cauliflower Soup
Roast the cauliflower! Yes, this does take some extra time. It's totally worth it though. When you roast cauliflower, it takes on a rich, nutty flavor that simply steamed or boiled cauliflower won't have. And, don't worry about the time because you're going to be multi-tasking with Rule #2.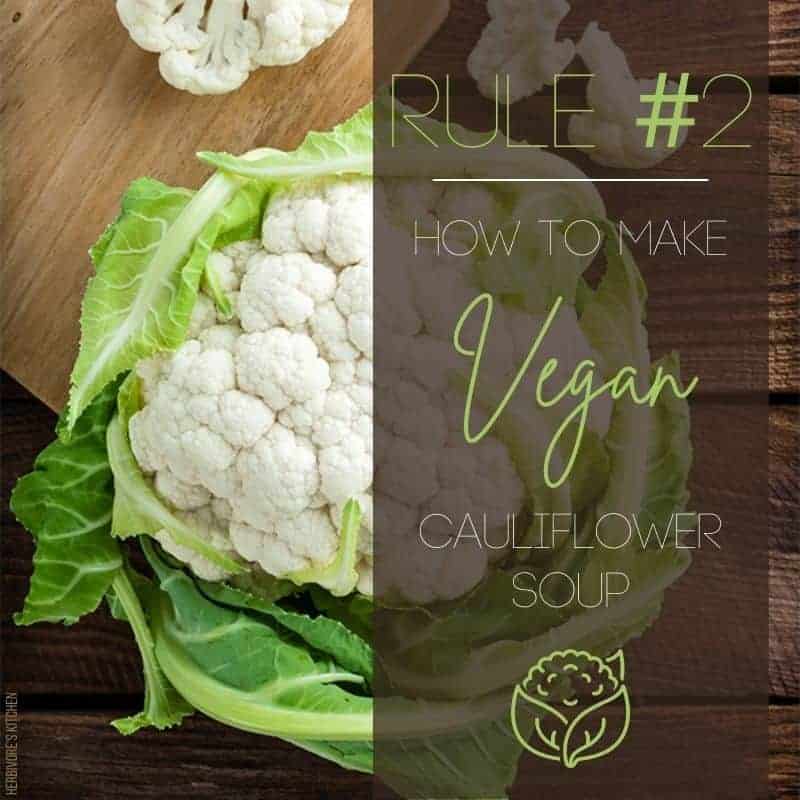 Rule #2: How to Make Vegan Cauliflower Soup
Slow cook those onions! While the cauliflower is roasting, take the time to slow cook the onions over medium-low heat. As they slowly brown, they'll release their natural sugars and become almost creamy.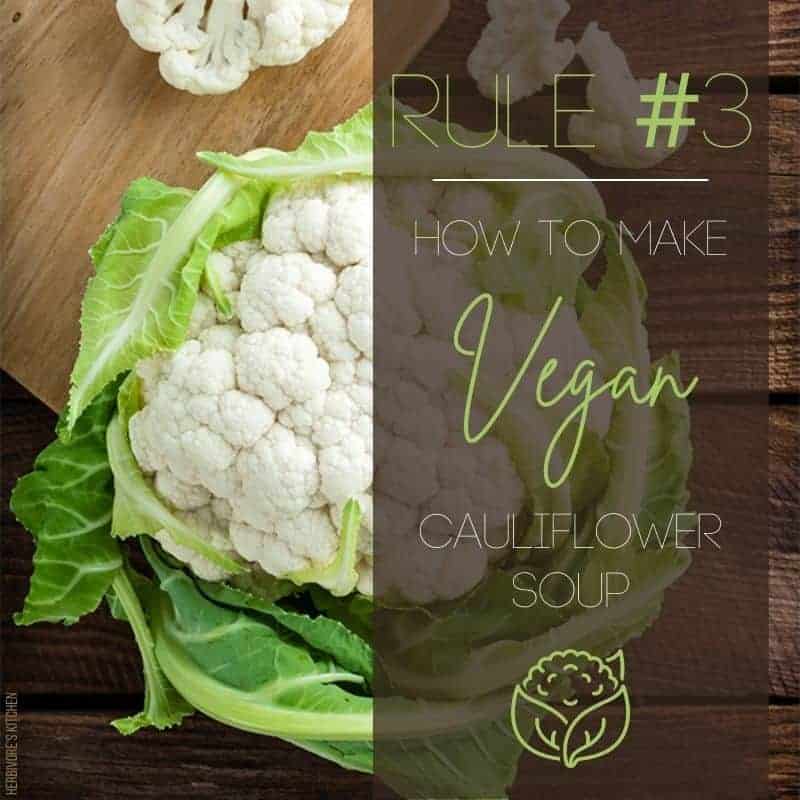 Rule #3: How to Make Vegan Cauliflower Soup
Get creative with a thickening agent! How do you thicken cauliflower soup; and how do you make cauliflower soup creamy? are common questions. Fortunately there are plenty of easy answers. This recipe uses white beans. Navy beans to be specific. As navy beans cook, they break down and become creamy. They're also a healthy way to thicken the soup. Yukon gold potatoes and rice (which gets blended with the soup) are other good ways to thicken soup.
Let's Talk More About the White Beans in This Roasted Cauliflower and White Bean Soup
If you follow me regularly, you might have noticed that I'm on a bit of a white bean kick lately. I love these guys. They have many health benefits and they're super versatile. If you're not familiar with cooking with white beans, be sure to give my The Ultimate Guide to White Beans a quick read.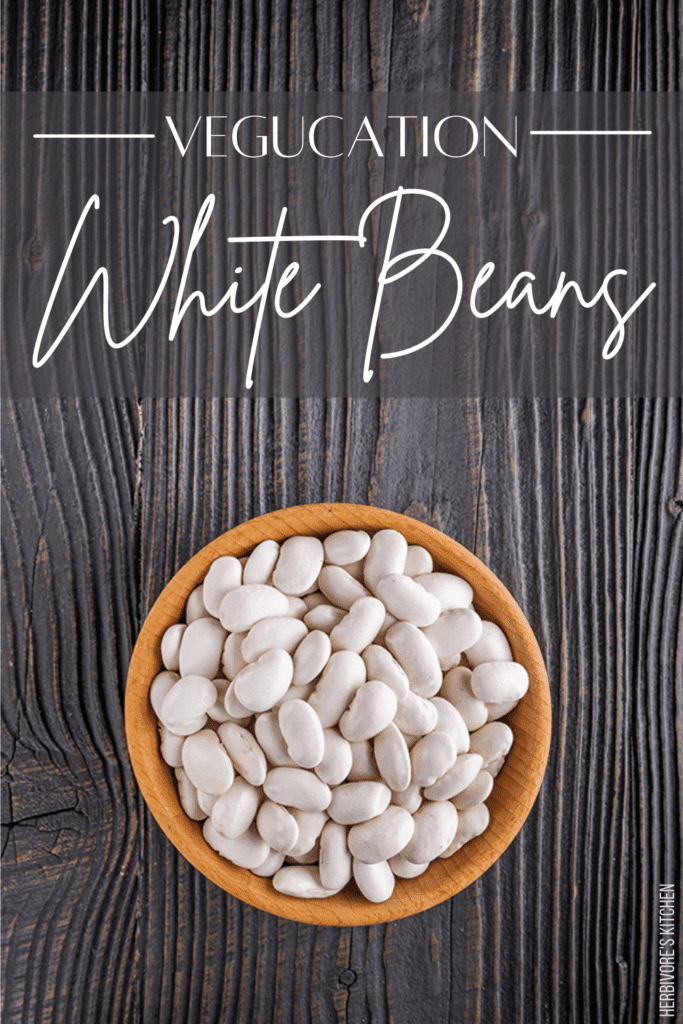 As I mention above, I chose navy beans for this recipe. Navy beans, also known as Pea Beans or Small White Beans, become soft & creamy when cooked, making them a great choice for dips, sauces and soups. They have a slightly nutty flavor – a great complement to the flavor of the roasted cauliflower. They're a great choice for making cauliflower soup without cream, including coconut cream!
What Spices Should I Use in This Roasted Cauliflower and White Bean Soup?
The spices used in this Roasted Cauliflower and White Bean Soup are pretty simple. I use salt & pepper, of course. Some bay leaves. And some thyme. Additional flavor comes from the slow-cooked onions, fresh garlic and rich extra virgin olive oil.
I also use a popular vegan ingredient – nutritional yeast. Nutritional yeast is an inactive yeast that lends a hint of cheese flavor to vegan recipes. If you're not familiar with nutritional yeast, don't worry! It's easy to find in any grocery store and you can brush up on it in my What is Nutritional Yeast? post.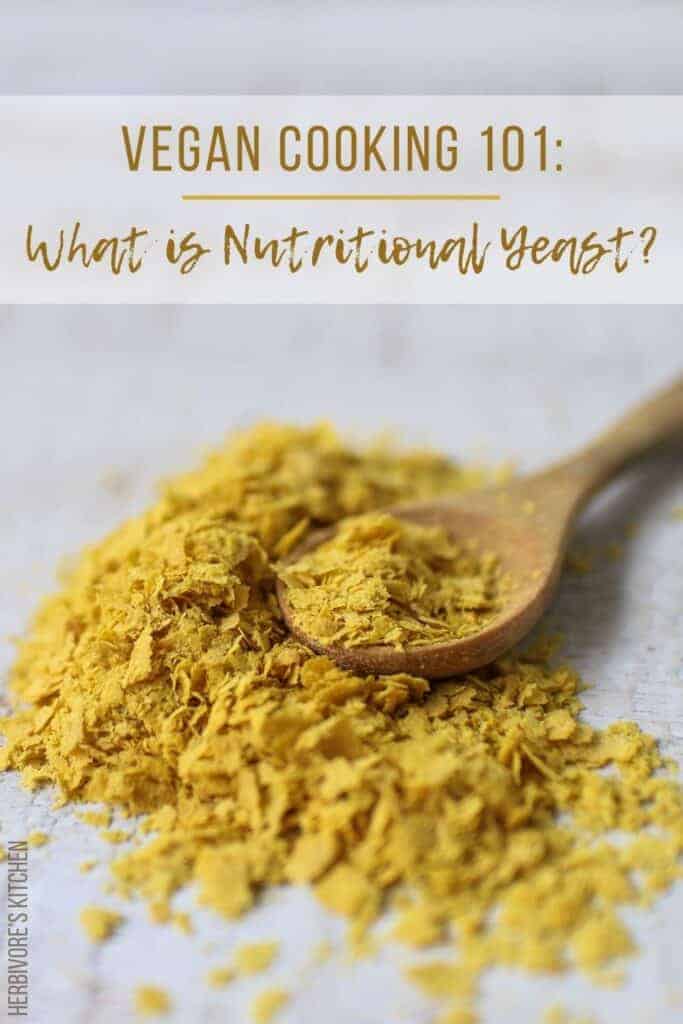 Is This Roasted Cauliflower and White Bean Soup Good for You?
You bet! This vegan cauliflower soup uses only a small amount of oil and no cream of any kind, including coconut cream.
Don't get me wrong, I use coconut cream (or canned coconut milk) in plenty of my vegan recipes and it does the trick for sure. It's wonderfully flavorful. For this recipe though, I wanted to let the cauliflower and the white beans do all of the work. And they do it beautifully!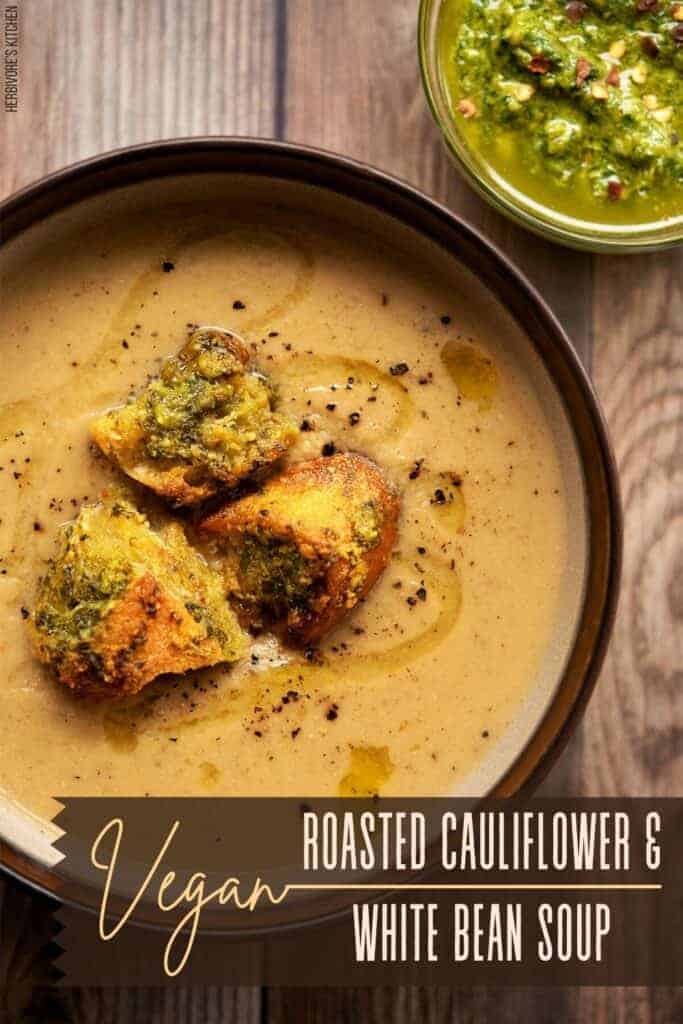 White beans and cauliflower rate highly on the good-for-you scale. Cauliflower is a low-calorie food, but it packs a lot of nutritional punch. Not only does it contain a wide variety of vitamins and minerals, including Vitamin K, Vitamin B6, Folate, Potassium and Phosphorus, it's particularly high in Vitamin C and fiber.
White beans are also a healthy ingredient. Like cauliflower, they're high in fiber as well as several vitamins and minerals. White beans are also a good source of vegan protein. They're an inexpensive way to make sure that your body is getting what it needs!
Can You Freeze Cauliflower Soup?
This is one of my favorite things about soup! It freezes well, making it an easy, healthy recipe to reach for when you don't feel much like cooking. This vegan cauliflower soup freezes particularly well because it doesn't contain any dairy.
Before freezing any soup, let it cool completely. Freezing soup when it's still hot may cause ice crystals to form at the top of the soup, which changes the quality of the soup upon reheating. Store the soup in an airtight container and plan on reheating and eating it within the next several months.
How to Garnish This Roasted Cauliflower and White Bean Soup
This is where my grocery store inspiration really kicked in. I knew I wanted to add some color with my garnishments, but I also wanted to add a flavor to contrast the warm, nutty sensation of the cauliflower soup. Homemade basil pesto checks both boxes!
I first made the pesto as a garnishment to stir into the soup. I thought I might want to top some crostini with it as well. Maybe add some white beans as a side to the cauliflower soup? But then I thought: why not make my vegan croutons and season the croutons with the basil pesto? It was an experiment, but they turned out amazing. So much so that even my kids were clamoring for more!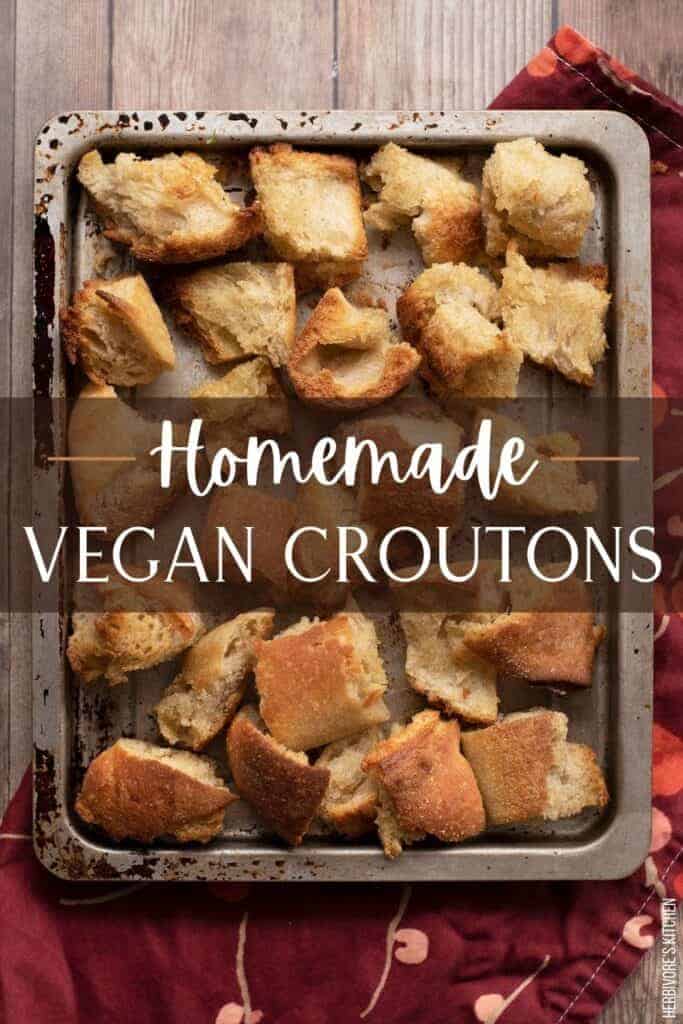 In addition to the basil pesto vegan croutons, I drizzled on some additional extra virgin olive oil and plenty of salt and fresh cracked pepper. I also stirred a tablespoon of sherry into the finished pot of soup before serving it. The acidic vinegar works wonders to brighten up the soup.
Do You Love This Roasted Cauliflower and White Bean Soup Recipe?
Do you love this Vegan Cauliflower Soup recipe? Then be sure to check out my other white bean recipes! If you're into comforting and savory, then my Vegan Cassoulet is for you! Snacking more your speed? Then you'll love my Navy Bean Hummus!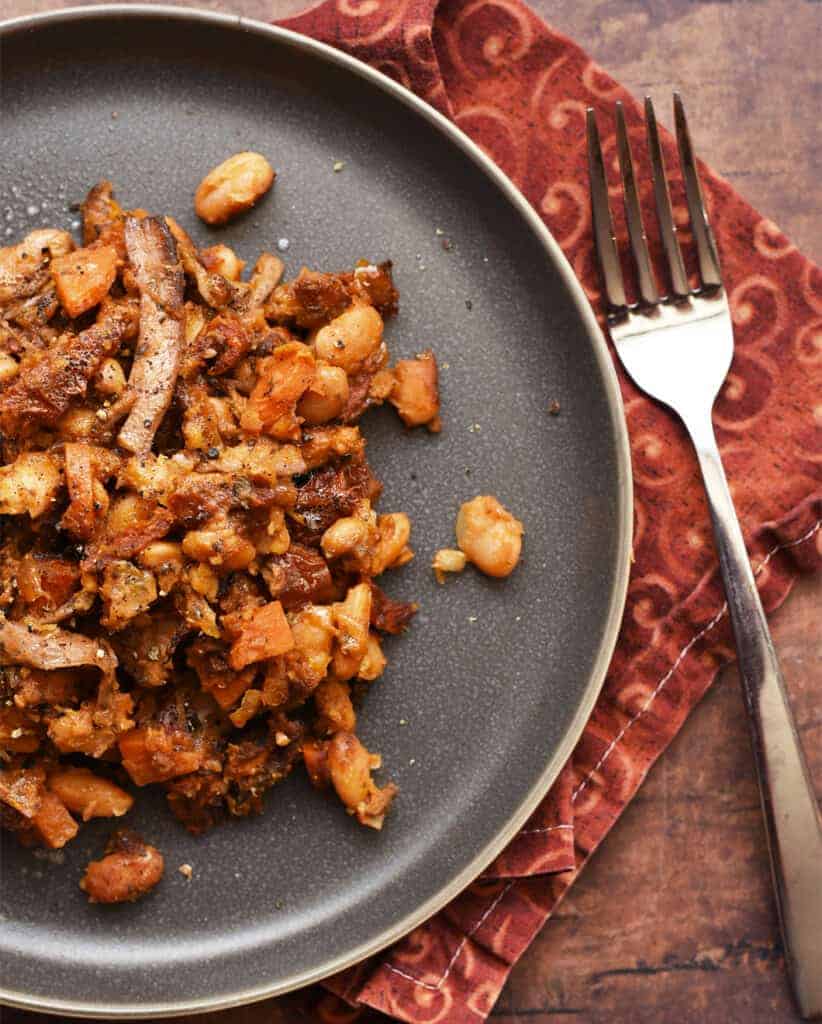 Going vegan doesn't mean giving up rich, savory dishes. If you need proof, all you have to do is try this Vegan Cassoulet. It's got all the melt-in-your-mouth qualities of traditional French cassoulet, but it's earth friendly (and not to mention quite a bit healthier)!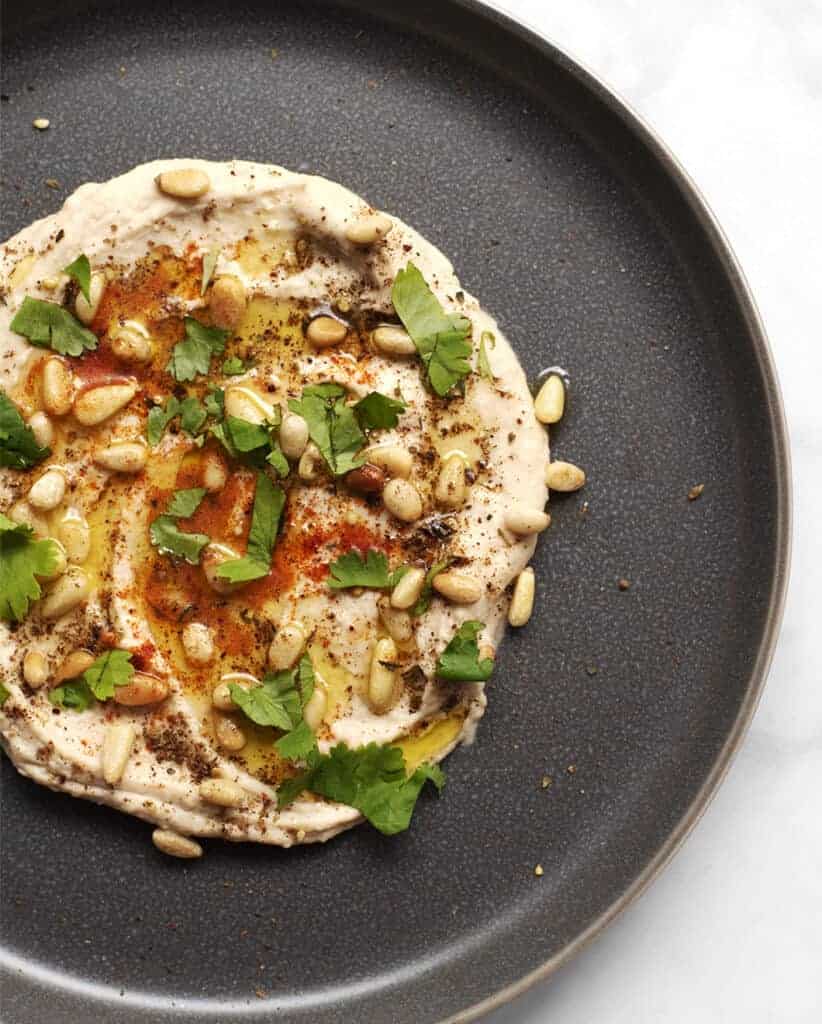 White bean hummus, and specifically, navy bean hummus is one of the best alternative hummus recipes. Chickpeas are swapped out for white beans while the rest of the recipe stays the same. The result is a super creamy, protein packed white bean dip.
What's in My Kitchen to Make This Roasted Cauliflower and White Bean Soup Recipe Easier?
Want to know what tools and resources I keep on hand to make my vegan cooking even easier? Here's a short list of what helped me create this blog post and recipe. For the complete list, visit my Shop where you can find the kitchen gadgets I like as well as a list of books that I recommend.
Down a broiler pan? These aluminum baking sheets come highly recommended by the cooks who know best – Epicurious, Cooks Illustrated and Food & Wine. I bought mine because I needed a good, sturdy baking sheet to use under the broiler. One that wouldn't warp – and this one lives up to the task.
Aluminum is a good conductor of heat, so these baking sheets cook evenly. They're also light in color, so they discourage over-browning.
These things are amazing! When I discovered parchment paper, I thought I had things figured out. No more greasing pans or ruining them with charred food. Then I discovered these silicon baking pads. They're oven-safe up to 450 degrees, dishwasher safe (top rack only) and easy to clean and REUSE!
As I said above, having an immersion blender is like having a magic wand capable of getting your kids to eat vegetables. And, yes, I know. A lot of people didn't like it when Jessica Seinfeld tricked her kids into eating veggies. If that makes me a bad mother, then so be it.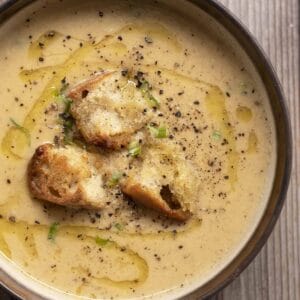 Roasted Cauliflower & White Bean Soup
Get cozy this winter with this healthy Roasted Cauliflower and White Bean Soup! This vegan cauliflower soup is rich and creamy, but totally dairy free!
Ingredients
2

heads

cauliflower

washed and cut into florets

1

tbsp

safflower oil

salt & pepper

4-5 turns of each grinder, or a generous pinch of salt and a modest pinch of pepper

1

tbsp

extra virgin olive oil

1

yellow onion

roughly chopped

1

tsp

salt

1

tsp

dried thyme

2

large

garlic cloves

roughly chopped

2

14 oz cans

navy beans

drained and rinsed

1

quart

low-sodium vegetable broth

4

cups

water

2

bay leaves

1/4

tsp

fresh ground pepper

2

tbsp

nutritional yeast

1

tbsp

cooking sherry

salt & pepper

to taste

roasted pepitas

as optional garnishment, find my recipe here

basil pesto croutons

Pesto basil croutons, as optional garnishment (find the vegan crouton recipe here and the basil pesto recipe here; then see the directions below for final instructions on making basil pesto croutons)

basil pesto

as optional garnishment
Instructions
Preheat the oven to 425º.

Toss the cauliflower florets in the safflower oil and season with salt and pepper (a few twists of a salt and pepper grind each).

Spread the cauliflower florets out on a baking sheet and roast for 15 minutes on the middle rack. Stop and toss the cauliflower, then continue roasting for an additional 15 minutes.

While the cauliflower is roasting, heat the olive oil in a large stockpot. When shimmering, add the onion and 1 tsp salt and reduce the heat to medium-low. Allow the onions to slow cook for 20-25 minutes until the onions are dark brown.

Increase the heat to medium. Add the navy beans, vegetable broth, water and bay leaves. Bring to a low simmer. Simmer for at least 30 minutes until the beans are soft. Add the garlic and thyme and sauté for 1-2 minutes.

While the broth is simmering, prepare the vegan croutons and vegan pesto sauce. You can find the recipes here and here. When the croutons have finished baking, toss them in ½ the pesto sauce and return them to the oven for an additional 6-8 minutes. Reserve the remaining pesto sauce to garnish the soup.

Allow the broth to cool slightly, then remove the bay leaves. Add the roasted cauliflower, fresh ground pepper, nutritional yeast and sherry vinegar.

Using either an immersion blender or a stand-up blender, blend the soup until creamy.

Serve the soup in individual soup bowls and garnish with a spoonful of the remaining basil pesto sauce, the basil pesto croutons, additional olive oil, salt & pepper and roasted pepitas, if desired.
About Herbivore's Kitchen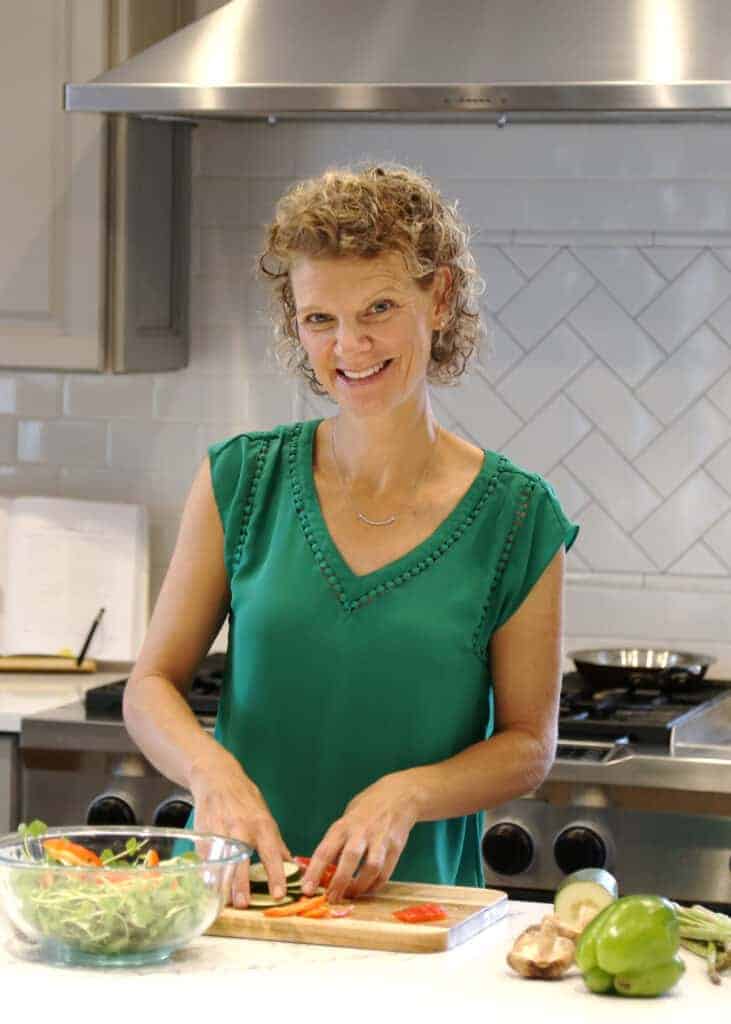 Herbivore's Kitchen is a blog run by me, a plant-based home chef and aspiring food photographer. I switched my diet to a plant-based diet after learning about the health benefits of going vegan. Making this change has prompted a variety of food and holistic-lifestyle related questions that I explore through this blog. I talk about how to pick and prepare the most nutritious foods, to how to reduce waste at home, to how to live a more sustainable lifestyle while on the road.