This Vegan Potato Cauliflower Soup: Cozy Up with this Healthy Cauliflower Potato Soup post includes affiliate links. When I find a great product or service, I like to share it with my readers. Sometimes I use affiliate links so I can earn a commission for my recommendations. Thank you for your support!
Cozy Up with this Healthy Cauliflower Potato Soup
Snow is coming and I'm looking for cozy, plant-based ways to warm up!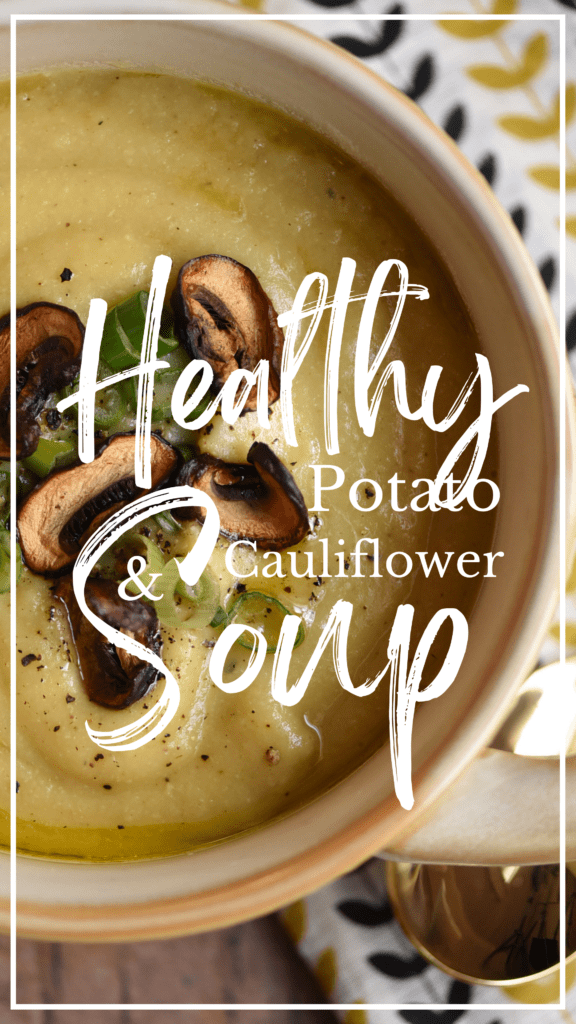 This thick, rich potato soup gets its depth-of-flavor from one of my favorite plant-based ingredients – miso paste! This umami-forward ingredient is coupled with roasted cauliflower, slow-cooked onions and garlic and herbs for a truly delicious vegan potato cauliflower soup!
What is the Best Potato for Potato Soup?
Let's start at the beginning: what is the best potato for potato soup?
If you're new to cooking, this might seem like a silly question. Not all potatoes are made alike though. Choosing the best potato for potato soup can make or break the end result, so let's talk about the differences.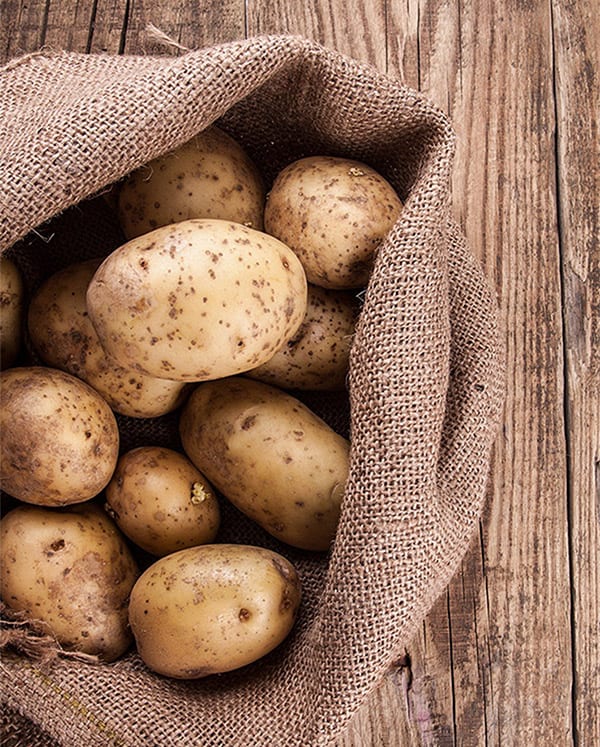 Russet Potatoes
Russet potatoes have a thick skin and a light and fluffy texture when cooked. This dry, starchy consistency will work for this Vegan Potato Cauliflower Soup in a pinch, but it's not my first choice. They're best served baked, roasted or fried.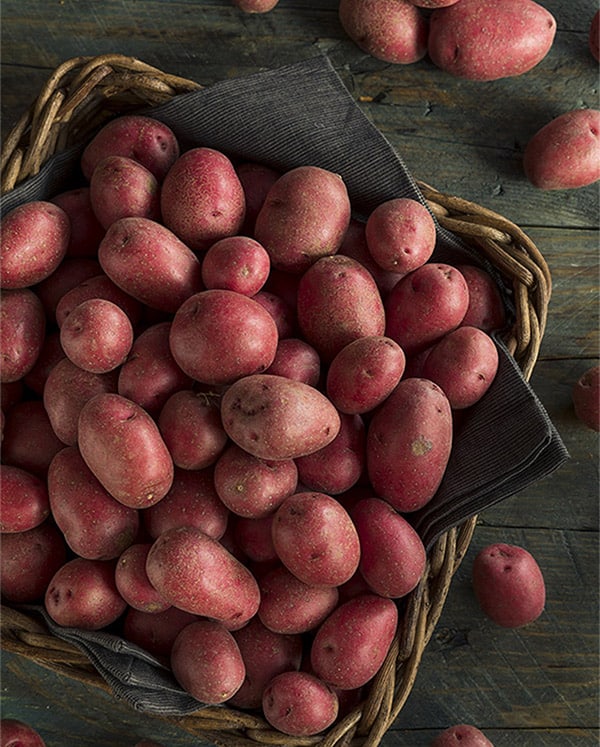 Red Potatoes
Red potatoes are often the star of potato salad recipes. They have a thin skin and stay firm when cooked. Like Russet potatoes, you can use them in this Vegan Potato Cauliflower Soup, but I prefer to eat them roasted, steamed or grilled.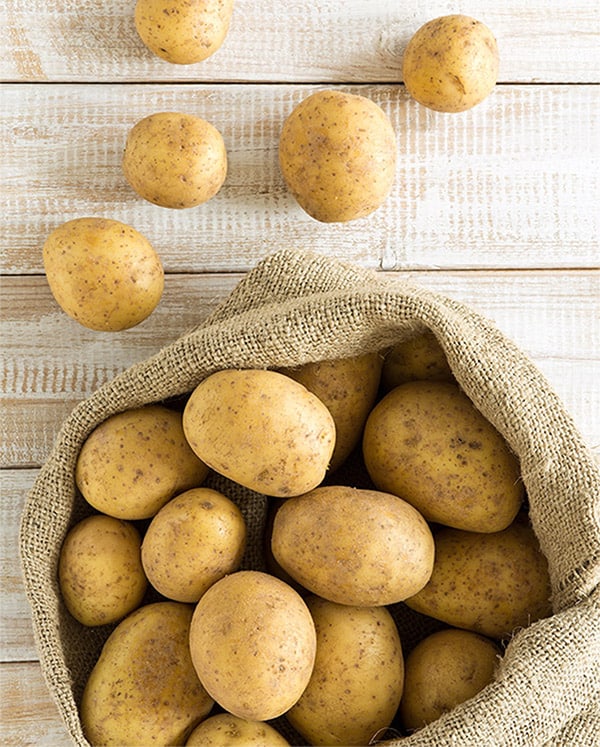 White Potatoes
These popular spuds have a consistency similar to red potatoes. They're best pan-fried and served as a side for breakfast or as French fry side to your favorite plant-based burger.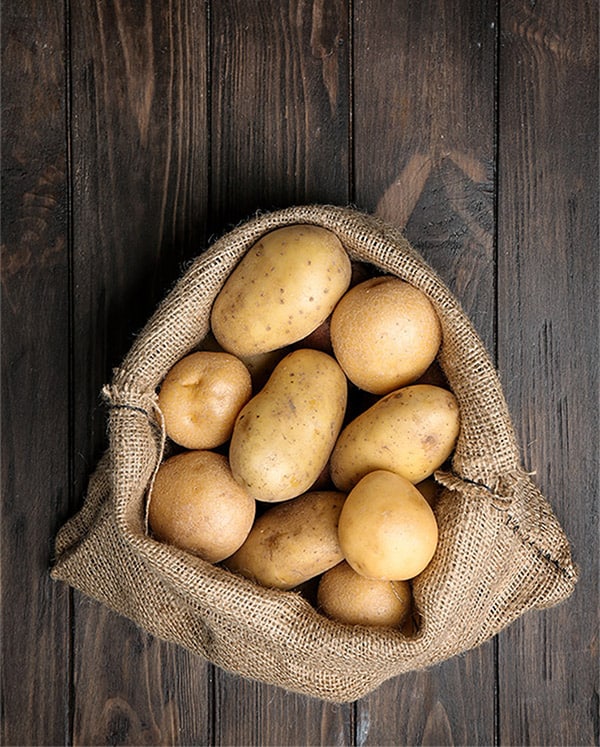 Yukon Gold Potatoes
Yukon Gold potatoes are a member of the yellow potato family. They have a thin skin and, when cooked, have a rich buttery flavor and creamy texture. If you guessed they're the key to this Vegan Potato Cauliflower Soup, you'd be right!
Should I Peel Potatoes for Potato Soup?
Whether or not you should peel potatoes for potato soup depends on the kind of potato you're using. This Vegan Potato Cauliflower Soup recipe uses Yukon Gold potatoes, which have a thin skin. As such, I just wash them and dice them before adding them to the soup.
As an added bonus, much of a potato's flavor and nutrition is found in the skins. So, including them as part of the final dish has benefits beyond saving time. Yukon Gold potatoes are high in fiber and potassium.
So there you go! No need to peel!
What is the Thickener in Potato Soup?
Potato soup is often thickened with cornstarch or started with a roux. Some recipes call for the addition of bread, but there's no need to do that for this healthy cauliflower potato soup!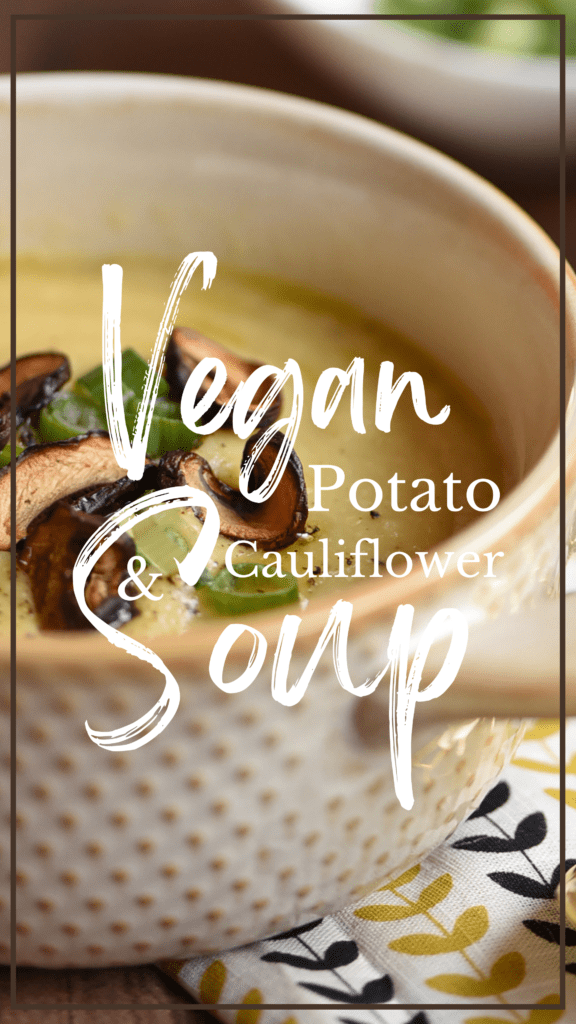 The Yukon Gold potatoes and an immersion blender do all of the work. All you need to do is cook the potatoes until they're soft and then blend the soup until its creamy.
What Goes Best with Potato Soup?
I really only need a crusty piece of bread as a side when I make this Vegan Potato Cauliflower Soup. It's thick, rich consistency makes it an ideal candidate for a healthy dinner.
For additional flavor, I'll sometimes make mushroom bacon to add as a topping. If you haven't tried this plant-based bacon substitute, I think you might be surprised by how satisfying it is.
I use a combination of tamari and maple syrup to get that salty sweetness that bacon provides. Add a dash of smoked paprika and some safflower oil for a touch of that rich smokiness and this healthy cauliflower soup recipe is reminiscent of a baked-stuffed potato.
Do You Love This Vegan Cauliflower Soup Recipe?
Do you love this healthy cauliflower potato soup recipe? Then be sure to check out my other vegan soups! If you're into thick and creamy, then check out my Asparagus White Bean Soup! Brothy more your speed? Then you'll love my Southwest Black Bean Soup!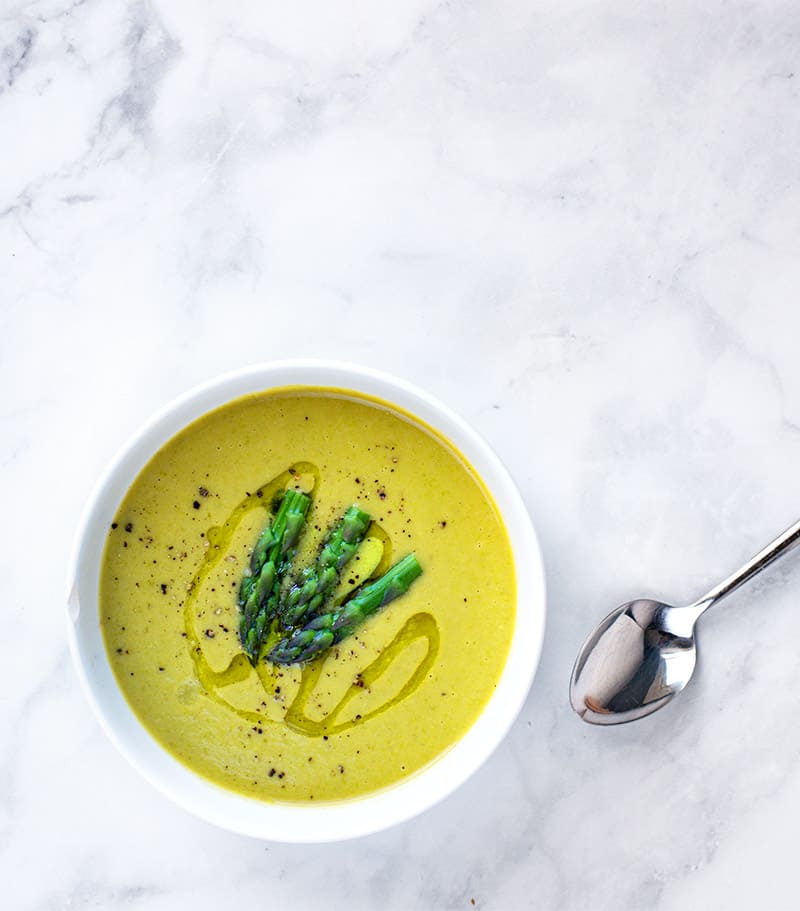 This one pot vegan asparagus soup recipe gets it done using only fresh asparagus, white beans, vegetable broth, nutritional yeast and coconut milk (plus some items from my 10-ingredient staple list, including olive oil, onion, garlic, lemon juice, salt & pepper). It's a simple way to put a healthy plant-based dinner on the table.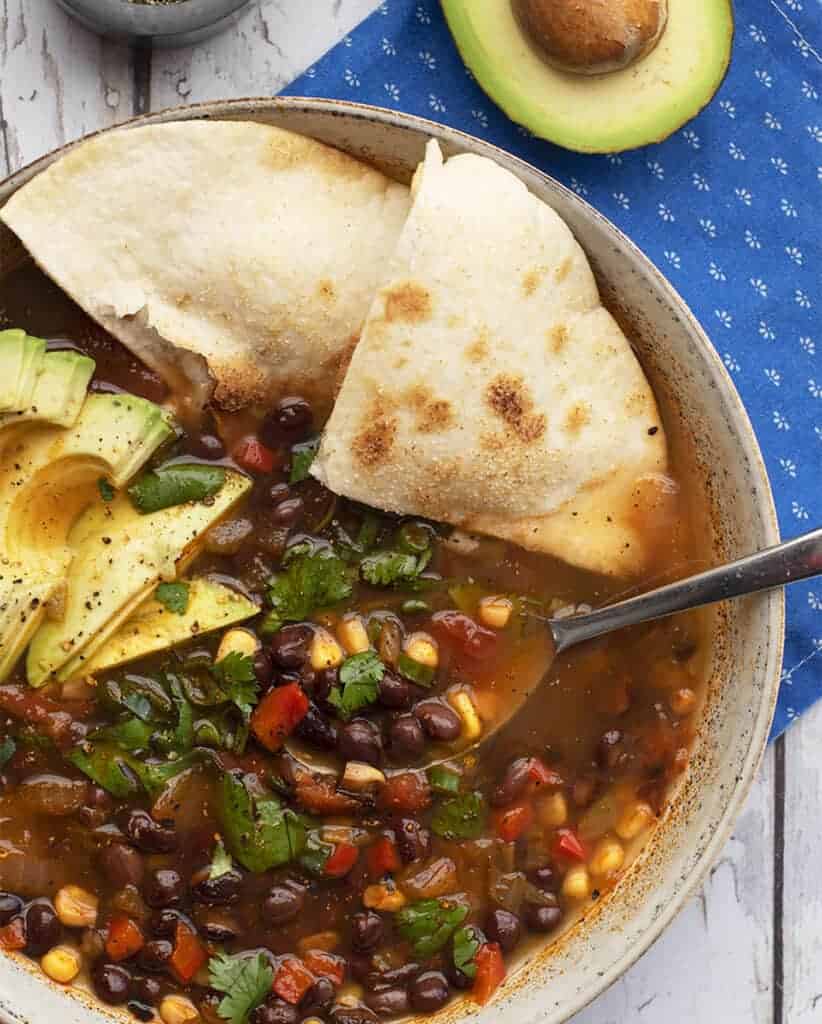 If you're in need of an easy and healthy vegan dinner, you need to add this Southwest Black Bean Soup to your repertoire! This soup takes just 20 minutes to put together and then 30 minutes to sit undisturbed to simmer on the stove. It's simple, using mostly pantry-friendly ingredients, but still packs a huge punch in terms of flavor and nutrition.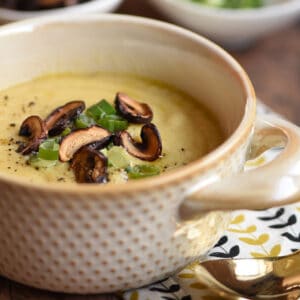 Vegan Potato Cauliflower Soup
Cozy up this winter with this vegan potato cauliflower soup! This easy, healthy vegan soup recipe is packed with dairy free ingredients.
Ingredients
Mushroom Bacon
10-12

cremini mushrooms

washed and sliced

1/4

cup

tamari

1

tbsp

safflower oil

or other heat-tolerant oil

2

tbsp

pure maple syrup

1

tsp

balsamic vinegar

1/4

tsp

smoked paprika
Vegan Potato Cauliflower Soup
3

tbsp

extra virgin olive oil

divided

1

yellow onion

roughly chopped

4

cloves

garlic

roughly chopped

2

tsp

salt

1

head

cauliflower

washed and broken into florets

salt & pepper

to taste

4

lbs

Yukon Gold potatoes

cut into equal-sized pieces

1

tsp

dried thyme

1

tsp

dried rosemary

1

quart

low-sodium vegetable broth + water

see Recipe Notes

1/2

cup

lukewarm water

4

tbsp

white or yellow miso paste

2

tbsp

nutritional yeast

1

tbsp

fresh lemon juice

salt & pepper

to taste

2

scallions

washed and sliced as optional garnish
Instructions
Thinly slice the mushrooms.

Combine the tamari, maple syrup, balsamic vinegar and smoked paprika. Pour the marinade over the mushrooms and allow to marinate until the soup has finished simmering.

Drain the marinade and spread the mushrooms out on a baking sheet lined with parchment paper. See Recipe Notes. Bake the mushrooms at 425º for 15-20 minutes until the desired consistency is reached.

Toss the cauliflower in 1 tbsp olive oil and season with salt and pepper. Spread the cauliflower out on a baking sheet and roast a 425º until browned. About 20 minutes.

While the cauliflower is roasting, add the remaining 2 tbsp olive oil to a large stock pot. Heat on medium-low heat until shimmering. Add the onions and the salt. Slow cook the onions until they begin to brown. About 12-15 minutes.

Add the garlic, rosemary and thyme and continue to cook for 2-3 minutes until fragrant.

Add the vegetable broth, cauliflower and potatoes to the pot. Add water as necessary to cover the potatoes and potatoes.

Simmer until the potatoes are soft. Allow the soup to cool slightly, then blend until a smooth consistency is achieved. About 20 minutes.

Combine the warm water & miso paste in a glass bowl. Mix until the miso paste has dissolved. Add the nutritional yeast and lemon juice. Stir to combine and then add to the potato soup.

Season with salt and pepper, as desired, and garnish with green onions and mushroom bacon.
Notes
I add enough water to the pot to ensure that the potatoes are covered. This makes for a fairly thick soup. If a thinner consistency is desired, add more water.
Take care to spread the mushrooms out on the baking sheet. This will help to achieve a crispy bacon-like texture. If the mushrooms are crowded, they will steam instead of baking. I like to use parchment paper because the tamari-maple syrup marinade becomes sticky when cooked and it is hard to remove from a baking sheet.
About Herbivore's Kitchen
Herbivore's Kitchen is a plant-based food blog started by me, a vegan home chef, aspiring food photographer and how-to-be-a-better-food-blogger junkie. You'll mostly find creative and tasty vegan recipes and detailed deep dives into vegan ingredients (check out my Vegucation section) on my blog. I love knowing as much as I can about the food that I make. I'm also really into running a food blog as a business, so I've also got a section of my blog titled: Confessions of a Food Blogger where I get into the nitty gritty on how to build, manage, market and monetize a food blog.