Jump to Recipe
This Vegan Southwest Black Bean Soup Recipe includes affiliate links. When I find a great product or service, I like to share it with my readers. Sometimes I use affiliate links so I can earn a commission for my recommendations. Thank you for your support!
Southwest Black Bean Soup Recipe: This Vegan Black Bean Soup is Winning at Dinner
If you're in need of an easy and healthy vegan dinner, you need to add this Southwest Black Bean Soup to your repertoire!
This soup takes just 20 minutes to put together and then 30 minutes to sit undisturbed to simmer on the stove. It's simple, using mostly pantry-friendly ingredients, but still packs a huge punch in terms of flavor and nutrition.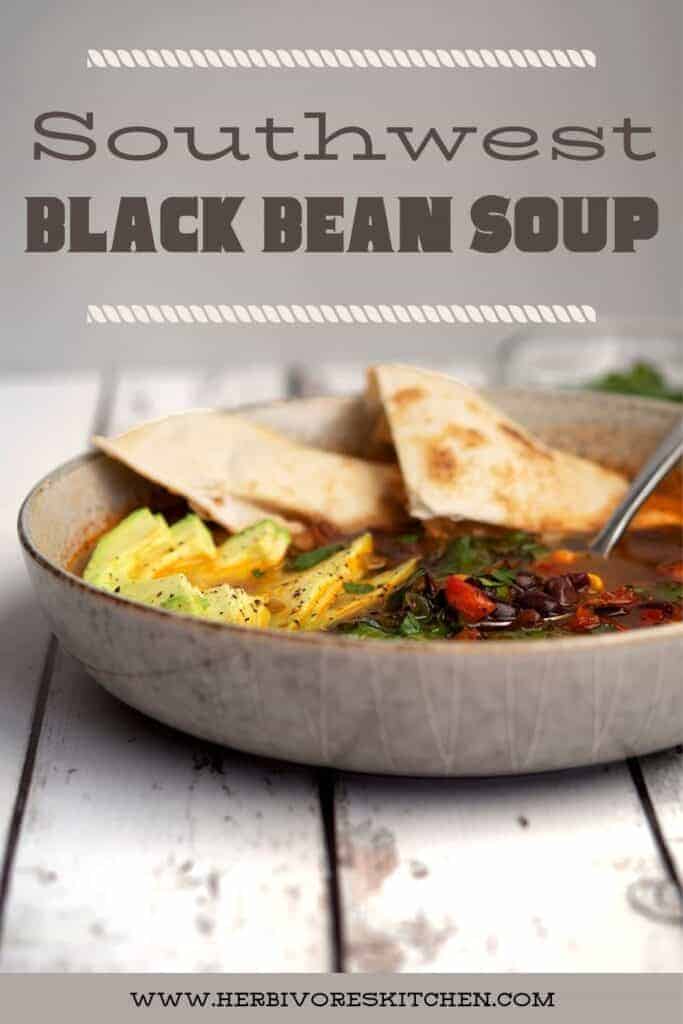 What's in this Southwest Black Bean Soup?
The ingredient list for this Southwest Black Bean Soup is pretty short. The broth is based on sautéed onions, green chilies and garlic. As they cook, these ingredients are seasoned with salt, cumin and chili powder and then combined with rich tomato paste. These ingredients continue to sauté before any liquid ingredients are introduced.
Once the base has darkened and become fragrant, the black beans, diced tomatoes, sweet corn and water are added to complete the soup. The soup then simmers for at least a half an hour to soften the beans, thicken the broth and allow the flavors to meld together.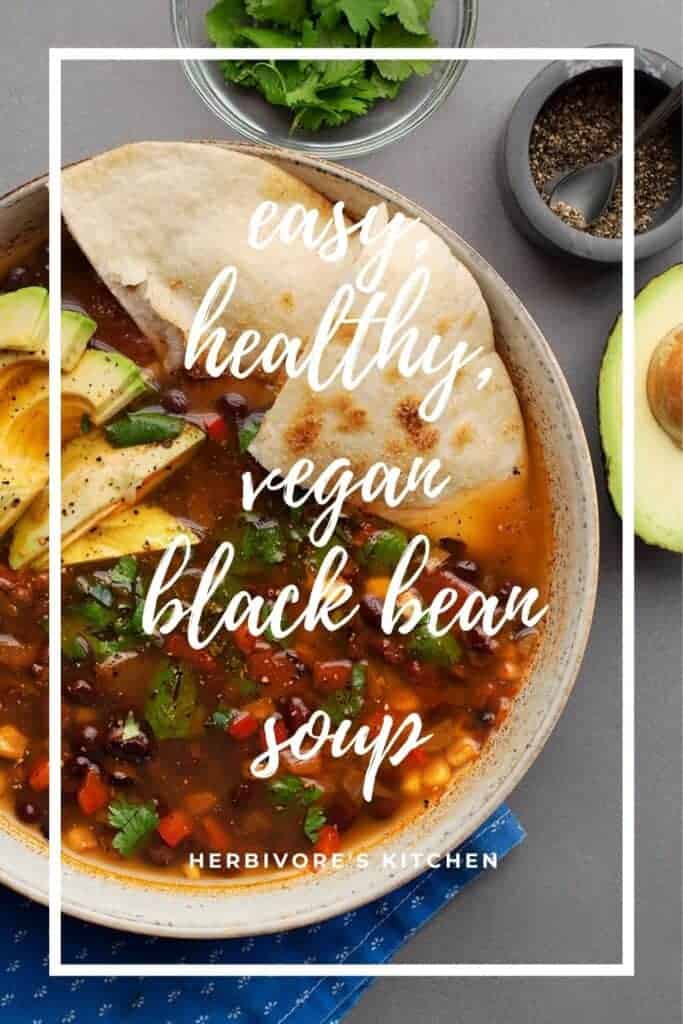 Can't This Southwest Black Bean Soup Be Quicker?
It could. If fact, if you wanted to, you could take all of the ingredients and combine them together, at the same time, in the same pot and you'd still end up with a decently edible soup. It wouldn't have a lot of depth though – some people (my mother) — might say that it "tastes a little thin."
This is an easy vegan dinner – in fact you don't have to do anything for most of it – but it's worth distinguishing easy from quick. I like to layer flavors throughout the cooking process, allowing the flavors to build upon each other. If you give plant-based ingredients some time and the right attention, you can draw as much flavor from them as you can from animal-based products.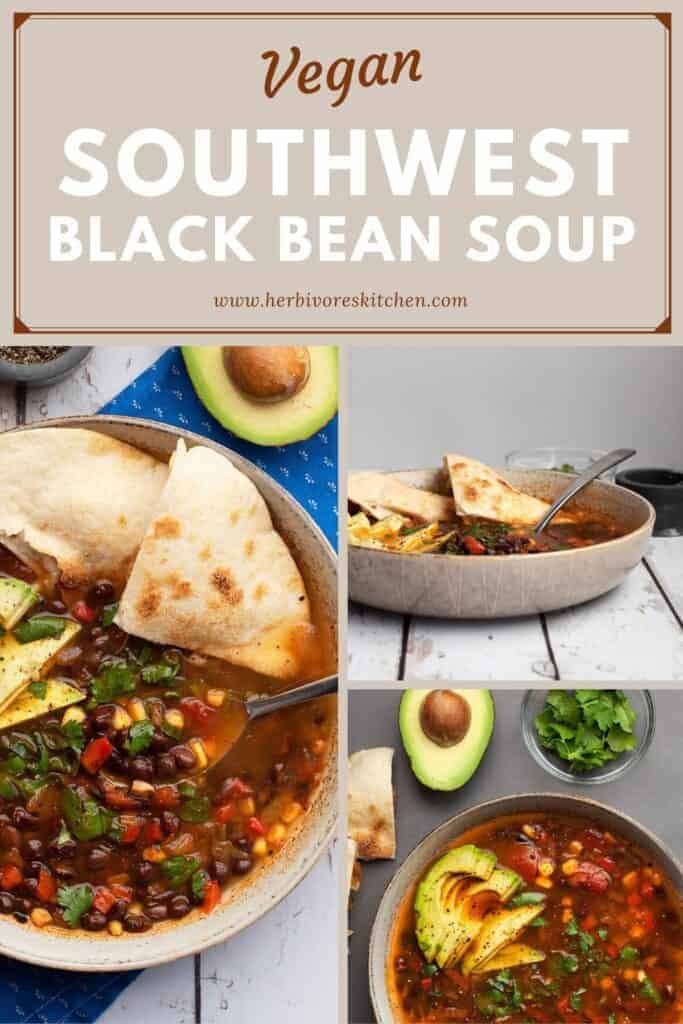 For example, I let the onions cook for 10+ minutes allow the natural sugars to develop. Later, when I add the spices, I let them toast in the pot with the onions. This makes them fragrant. Then, finally, I sauté the tomato paste with the onions, garlic and spices before any of the liquid ingredients are added. This makes it richly flavorful.
Do You Love This Southwest Black Bean Soup Recipe?
Do you love this Southwest Black Bean Soup recipe? Be sure to check out my other vegan soups! If you're into mushrooms, then my Creamy Vegan Mushroom Soup is for you! Beans more your speed? Then you'll love my Vegan Thirteen Bean Soup!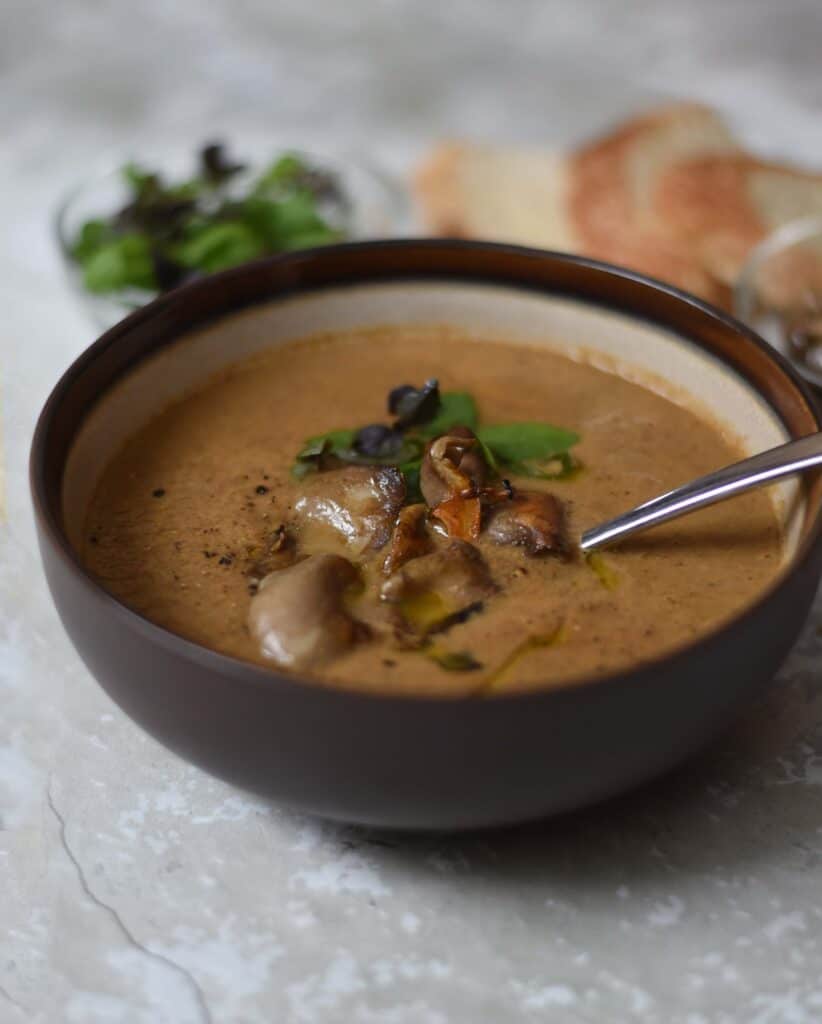 Looking for an easy vegan mushroom soup recipe? This creamy mushroom bisque is just what you've been craving! Savory cremini mushrooms simmered in red wine give this vegan soup recipe a ton of umami, while coconut milk gives it a richness that you'll swear can't be dairy-free. This easy vegan recipe is designed to appeal to vegan beginners and vegan veteran alike.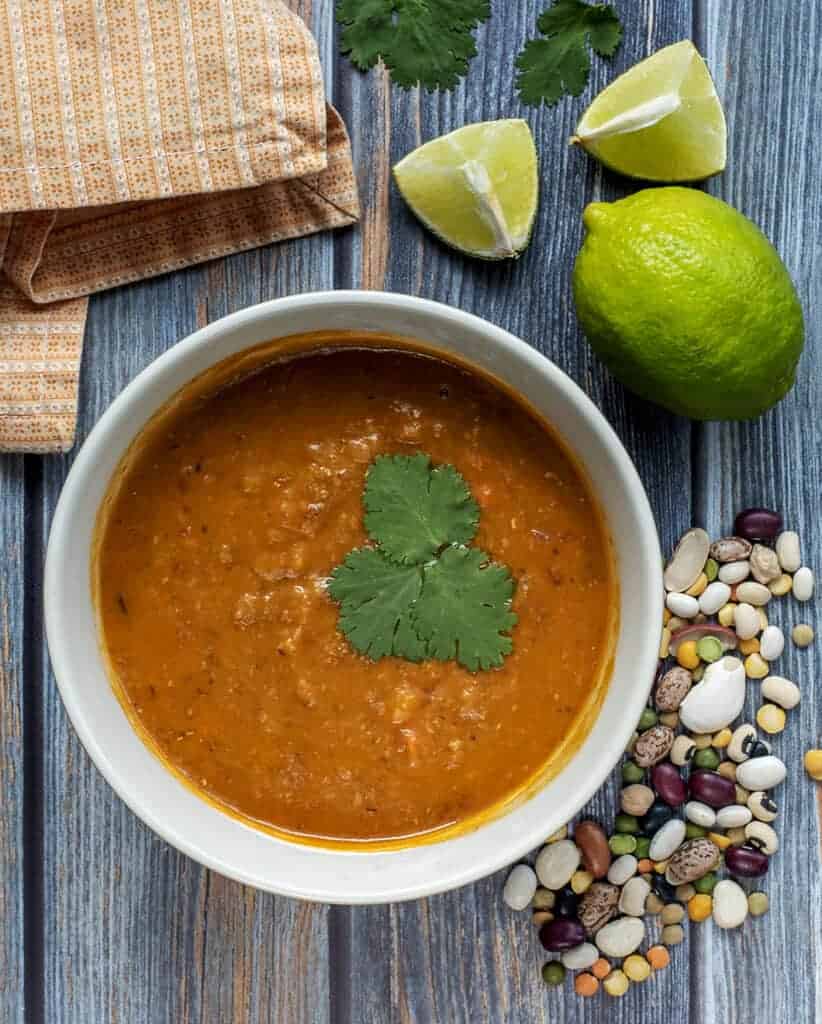 Looking for healthy vegan dinner options? This savory thirteen bean soup is packed with both flavor and protein. Seasoned with sautéed tomato paste and creamy coconut milk, this vegan bean soup is a meal in and of itself. It's an easy way to put a vegan dinner on the table in the chilly winter months!
What's in My Kitchen to Make This Southwest Black Bean Soup Recipe Easier?
Want to know what tools and resources I keep on hand to make my vegan cooking even easier? Here's a short list of what helped me create this blog post and recipe. For the complete list, visit my Shop where you can find the kitchen gadgets I like as well as a list of books that I recommend.
This garlic peeler is a simple silicon tube. Despite its simple design, it skillfully removes even the toughest of garlic skins. I'm so much happier not peeling garlic cloves with my fingernails. I'm pretty sure I'll collectively get at least a day of my life back because of this device.
I've read a dozen posts about why you shouldn't use a garlic press. One of them actually suggested that they take up valuable kitchen space. I mean, I guess if you have a tiny kitchen you might have to make those choices. They're smaller than a can opener. I love mine. I hate, hate, hate mincing garlic.
Designed to serve pasta, I use these shallow dinner bowls all. the. time. I love that I can present all of the ingredients of a dish without over-serving in terms of portion. With a standard bowl, food ends up being stacked and that's no way to display all of your hard work. These bowls are an inexpensive, practical way to present everything from pasta bowls, curry bowls and burrito bowls.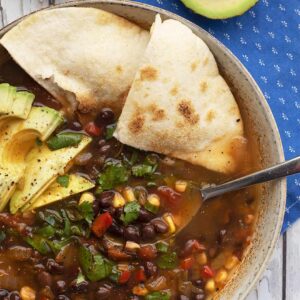 Southwest Black Bean Soup
This Vegan Southwest Black Bean Soup is low-fat, dairy-free and full of good-for-you ingredients like black beans, tomatoes, bell peppers and herbs and spices! It's the perfect vegan weeknight meal.
Ingredients
2

tbsp

extra virgin olive oil

1/2

yellow onion

finely diced

1 1/2

tsp

salt

2

garlic cloves

minced

1

5 oz can

diced green chilies

1

red bell pepper

finely diced

1

tbsp

cumin

1/2

tbsp

chili powder

1/4

tsp

black pepper

1/4

cup

tomato paste

3

14 oz cans

black beans

drained and rinsed

1

14 oz can

low-sodium diced tomatoes

1

cup

frozen sweet corn

1

quart

water

1

scallions

washed and thinly sliced

cilantro

washed and torn

1

avocado

sliced

salt & pepper

to taste
Instructions
Add the olive oil to a large stockpot. When shimmering, add the onion and the salt. Reduce the heat to medium-low. Allow the onions to slow-cook until they begin to brown. 10-12 minutes.

Add the garlic, green chilies and red pepper. Cook for 1-2 minutes.

Add the cumin, pepper and chili powder and cook until fragrant. 1-2 minutes.

Add the tomato paste and increase the heat to medium. Stir to coat the pepper and onions in tomato.

Sauté the tomato paste until it becomes dark red. 2-3 minutes.

Add the black beans, diced tomatoes, sweet corn and water. Bring the soup to a low simmer and cover. Simmer the soup for at least 30 minutes.

Garnish with sliced scallions, cilantro and sliced avocado. Season with salt & pepper.
About Herbivore's Kitchen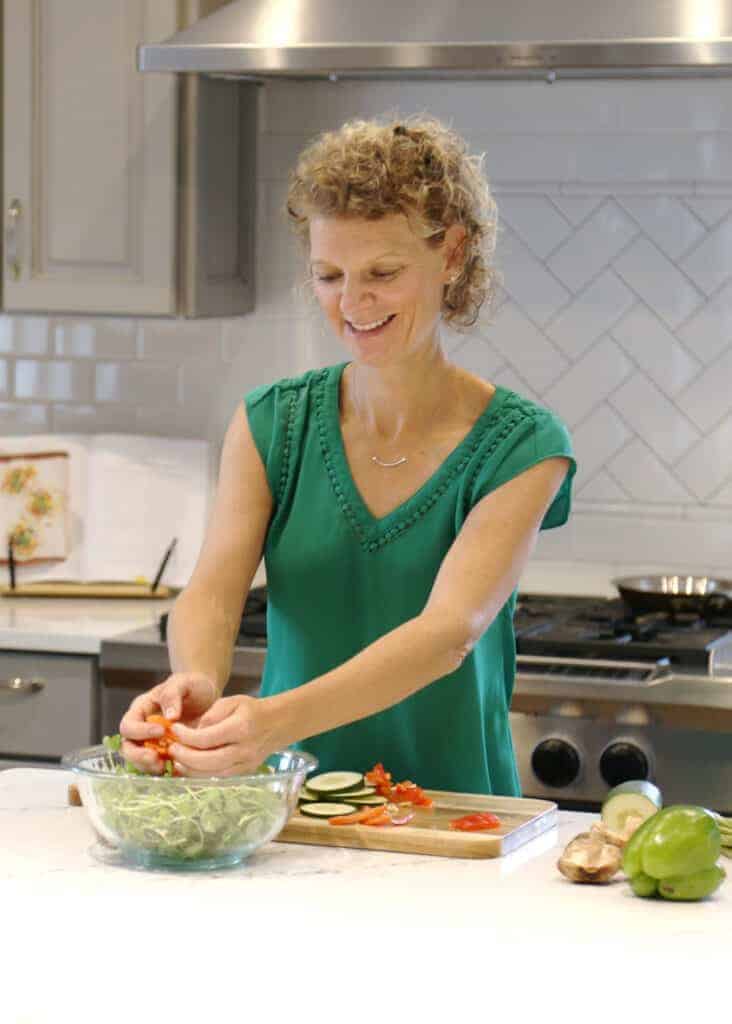 Herbivore's Kitchen is a plant-based food blog started by me, a vegan home chef, aspiring food photographer and how-to-be-a-better-food-blogger junkie. You'll mostly find creative and tasty vegan recipes and detailed deep dives into vegan ingredients (check out my Vegucation section) on my blog. I love knowing as much as I can about the food that I make. I'm also really into running a food blog as a business, so I've also got a section of my blog titled: Confessions of a Food Blogger where I get into the nitty gritty on how to build, manage, market and monetize a food blog.