Jump to Recipe
---
This Coconut Curry Sweet Potato Soup post includes affiliate links. When I find a great product or service, I like to share it with my readers. Sometimes I use affiliate links so I can earn a commission for my recommendations. Thank you for your support!
---
Coconut Curry Sweet Potato Soup
This vegan sweet potato soup is healthy and easy! Made creamy with coconut milk, spicy with curry powder and sweet with carrots, this vegan soup recipe is the perfect solution to putting an easy vegan dinner on the table.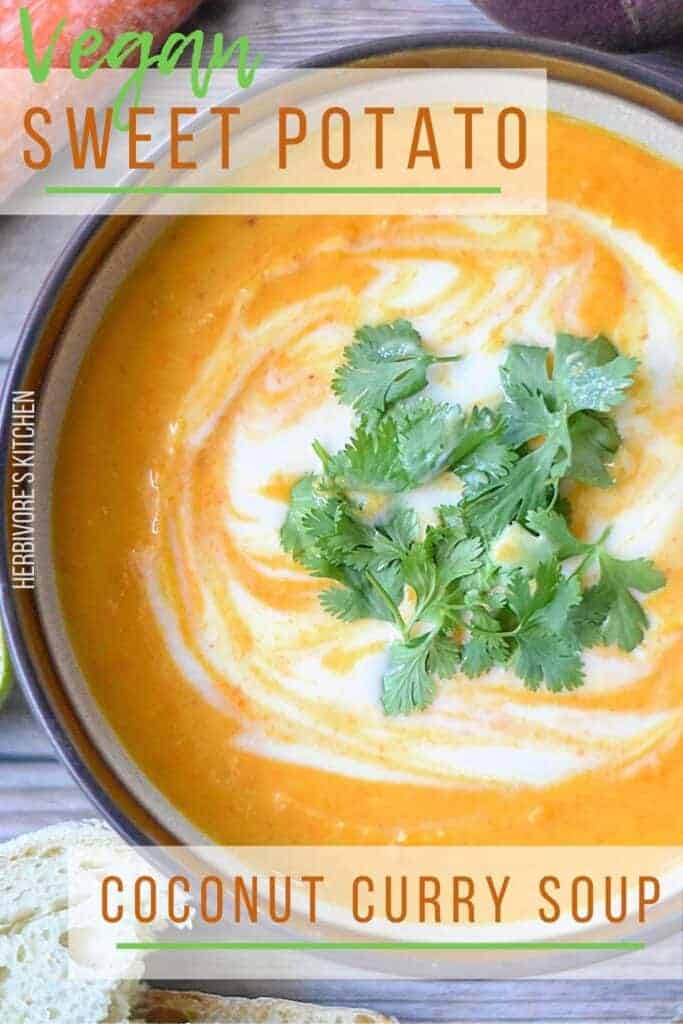 Easy Vegan Recipes to the Rescue
A few days ago, I found myself super short on time. I was running errands, then shuttling kids after school, THEN thinking about what was for dinner. I'm the primary cook in my house and sometimes thinking creatively and putting a healthy dinner on the table day after day wears me down. It seemed like a good day to reach into my bag of easy vegan recipes and pull out my best trick – this Coconut Curry Sweet Potato Soup.
You'll find this vegan soup recipe tucked in the Easy Vegan Recipe Section of my blog, where I am working to build up a collection of recipes that are quick and don't require a ton of ingredients. Some of my other favorites in this section include Sweet Potato & Roasted Cauliflower Vindaloo and Vegan Paella.
A Quick Cooking Lesson on Sweet Potatoes
Have you ever walked into the produce aisle at your local grocery store and found the number of potato-ish options a little confusing? On any given day, I can choose among Japanese Yams, Jewel Yams and Garnet Yams. But wait a minute… isn't this a Sweet Potato Soup? Yes, it is. And the truth is, in the United States, most yams that you find in the grocery store are actually sweet potatoes. According to Bon Appetit, this confusion dates back to the 1930s when Louisiana sweet potato farmers started calling their sweet potatoes "yams" to differentiate them from sweet potato crops coming from other states. The distinction stuck and is still around today to confuse home-chefs like us everywhere.
Still, whether you call them yams or sweet potatoes, there are still a lot of options. So, how do you choose? Personally, I found this article by Paleo Flourish to be a helpful start. The author, Louise, went to Whole Foods and bought a collection of sweet potatoes. She then wrote up a description of each type, including the skin color, flesh color and taste, as well as the texture – cooked and uncooked. On the basis of this information, I selected Garnet Yams as the base of my soup. They're mildly sweet, a bright orange and have a high moisture content – perfect for blending into soup.
Because most of the nutrition in a sweet potato is found in the skin, I didn't bother to peel mine when I made this soup. I just made sure I thoroughly washed my sweet potato. After being cooked, the skins pureed nicely into the soup. I also do this with my Vegan Meatballs and vegan chorizo, both of which are bound together with a baked potato.
Putting this Easy Sweet Potato Soup Together
This vegan soup comes together quickly and easily, requiring only a stock pot. I chose coconut oil for its flavor. I sautéed my onions, garlic and ginger in it and then added the curry powder and pinch of cayenne pepper – the spices that give this sweet potato soup a lot of its flavor.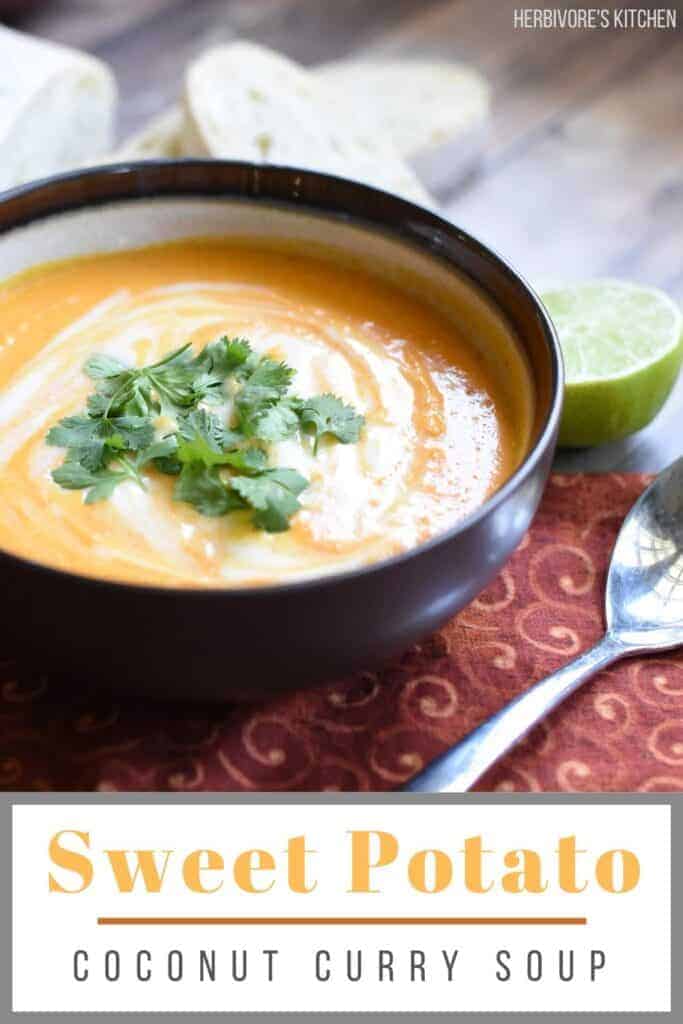 In addition to sweet potatoes, I also add carrots to this soup. I like the flavor and you can't go wrong with additional vegetables! To make the soup creamy, I use unsweetened, canned coconut milk. This is different than a carton of coconut milk. I highly recommend the full-fat version.
Finally, I added fresh lime juice and some lime zest at the end. I just really like the way that the acidity of the lime cuts through the sweet, creaminess of the soup. These acidic accents added at the end of the cooking process are not to be missed! And, of course, a little salt and pepper as well. I always hesitate to recommend an amount – everyone's palate is different here. But, I did use a low-vegetable broth, so that each diner could flavor the dish as they wish.
What's in My Kitchen to Make This Vegan Recipe Easier?
Want to know what tools and resources I keep on hand to make my vegan cooking even easier? Here's a short list of what helped me create this blog post and recipe. For the complete list, visit my Shop where you can find the kitchen gadgets I like as well as a list of books that I recommend.
Having an immersion blender is like having a magic wand capable of getting your kids to eat vegetables. And, yes, I know. A lot of people didn't like it when Jessica Seinfeld tricked her kids into eating veggies. If that makes me a bad mother, then so be it.
This handy dandy little tool is about to bring a ton of flavor to your dishes!
If you don't zest, it's something you should start doing. Everything from lemon, to lime, to oranges are zestable ingredients. I add lime zest to my corn salsa used in my Spicy Lentil Street Tacos Recipe and lemon zest is a great add for dishes like homemade tomato sauce.
I maintain that this is an essential kitchen tool. Yes, I know that you can squeeze a lemon (or lime, or orange) with your hands, but do that and then try this and see just how much more juice you get from each fruit. It also has the added benefit of separating (most) of the seeds from the juice.
No, that's not the brand. It's just the idea! But,I own this set of Global™ knives and They're some of my most prized possessions in the kitchen. This set is universally well-rated for the at-home chef and will get you a good, solid set of knives without totally breaking the bank.
I only bought one of these a few months ago, but wow! I'm so much happier not peeling garlic cloves with my fingernails. I'm pretty sure I'll collectively get at least a day of my life back because of this device.
I've read a dozen posts about why you shouldn't use a garlic press. One of them actually suggested that they take up valuable kitchen space. I mean, I guess if you have a tiny kitchen you might have to make those choices. They're smaller than a can opener. I love mine. I hate, hate, hate mincing garlic.
Designed to serve pasta, I use these shallow dinner bowls all. the. time. I love that I can present all of the ingredients of a dish without over-serving in terms of portion. With a standard bowl, food ends up being stacked and that's no way to display all of your hard work. These bowls are an inexpensive, practical way to present everything from pasta bowls, curry bowls and burrito bowls. And, yes: Coconut Curry Sweet Potato Soup!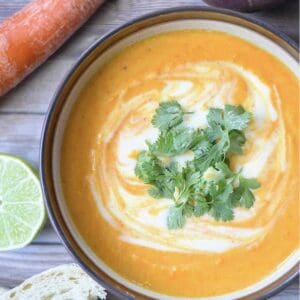 Coconut Curry Sweet Potato Soup
This vegan sweet potato soup is healthy and easy! Made creamy with coconut milk and spicy with curry powder, this vegan soup recipe is the perfect solution to putting an easy vegan dinner on the table.
Ingredients
2

tbsp

coconut oil

1/2

yellow onion

roughy chopped

2

cloves

garlic

minced or crushed

1

tbsp

fresh ginger

minced

1

lb (about 3)

carrots

washed and cut into thick coins

2

sweet potatoes

I used a Garnet Yam; washed and cut into bite-sized pieces

2

tbsp

curry powder

pinch

cayenne pepper

1

qt.

low-sodium vegetable broth

1

14 oz can

full fat, unsweeteded coconut milk

1

lime

zest and juice

1

bunch

cilantro

washed and torn

salt & pepper

to taste

coconut yogurt

optional garnishment
Instructions
In a large stockpot, heat the coconut oil until shimmering. Add the onion and sauté on a medium-low heat until translucent. Add the garlic and ginger. Cook for 1-2 minutes more.

Add the spices & cook until fragrant. Add the sweet potato and carrots and stir to coat.

Add the vegetable stock and simmer for 15-20 minutes, until the vegetables are soft and able to be pierced with a fork.

Using an immersion blender, blend the soup until it's a thick, smooth puree. Add the coconut milk and the lime juice. Cook until warmed through.

Garnish with lime zest, fresh cilantro and salt and pepper. Coconut yogurt is another garnish option.
About Herbivore's Kitchen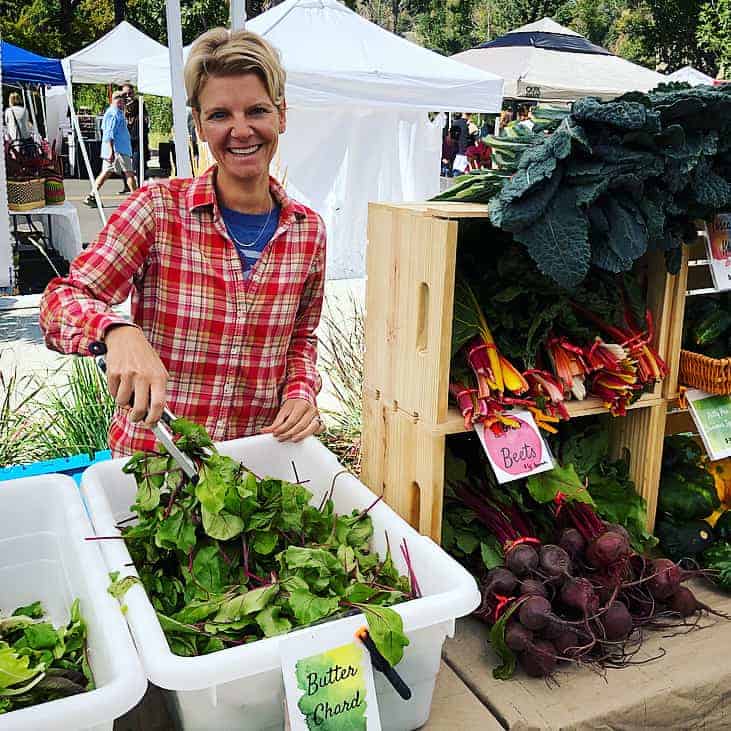 Herbivore's Kitchen is a blog run by me, a plant-based home chef and aspiring food photographer. I switched my and my family's diet to a plant-based diet after learning about the health benefits of going vegan. Making this change has prompted a variety of food and holistic-lifestyle related questions that I explore through this blog. I talk about how to pick and prepare the most nutritious foods, to how to reduce waste at home, to how to live a more sustainable lifestyle while on the road.