Jump to Recipe
This Savory Mushroom Galette Recipe includes affiliate links. When I find a great product or service, I like to share it with my readers. Sometimes I use affiliate links so I can earn commission for my recommendations. Thank you for your support!
Savory Mushroom Galette Recipe
Did you know that galettes aren't just to satisfy your sweet tooth? This savory galette recipe features slow-simmered mushrooms in a rich, creamy tomato sauce baked to perfection. And, yet this galette is 100% vegan friendly! While this mushroom galette looks like a million dollars, it's actually quite easy to make — a great way to get a vegan dinner on the table this fall!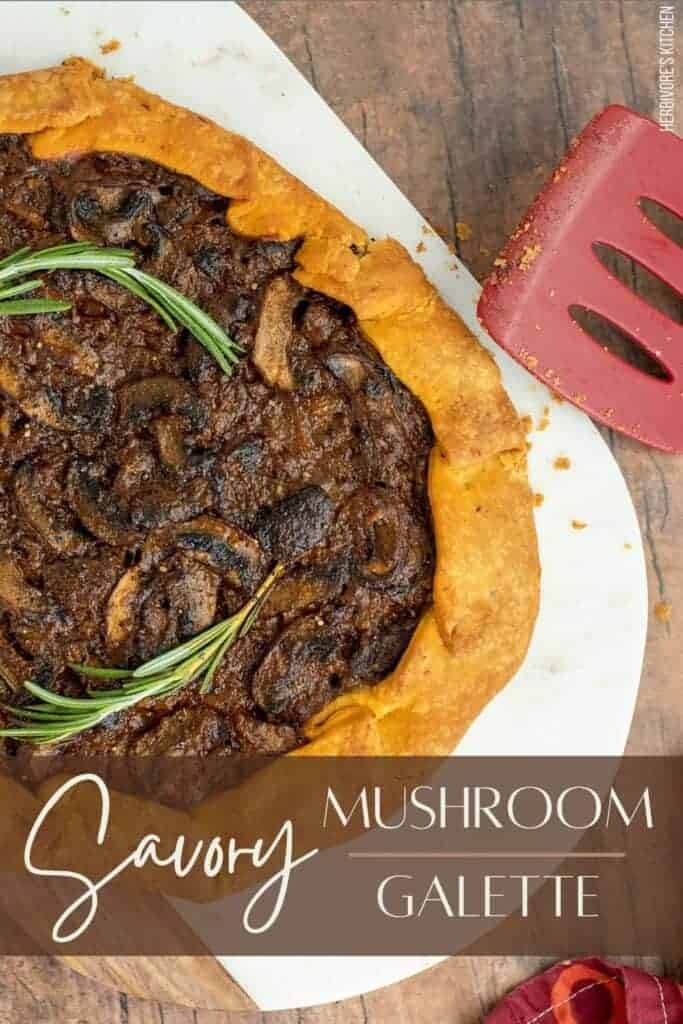 What's Better Than a Savory Mushroom Galette Recipe? A Savory Vegan Mushroom Galette Recipe!
If you're new to vegan cooking and you can't imagine a vegan version of anything tasting as good as one with butter and heavy cream, I challenge you to try this vegan recipe. It's decadently rich without a shred of animal product to be found.
Let's Talk About Umami
As you know, the five basic tastes include: sweet, bitter, salty, sour and savory. Umami, if you're unfamiliar with the term, is just a cooler way of saying savory. Umami is your taste buds reacting to glutamate in foods. Glutamate, without getting too technical, is a naturally occurring animo acid. It's found in both plants and vegetables. When your taste buds detect glutamate in foods they send a signal to your brain that says Mmmmm…umami!!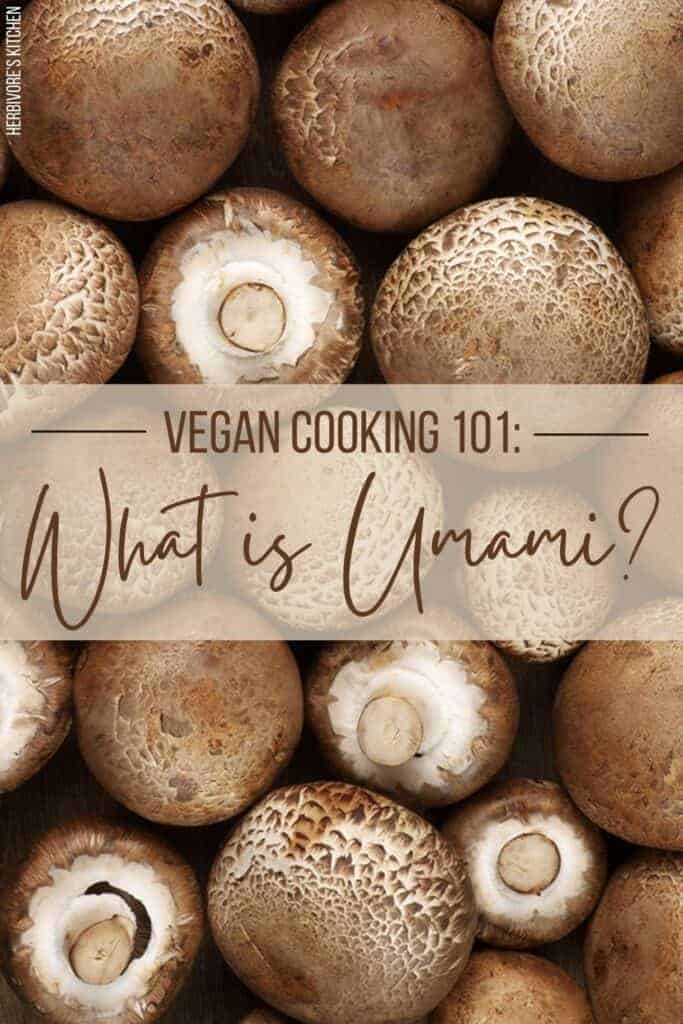 In vegan cooking there are a few ingredients that really hit the mark when it comes to umami. Mushrooms and tomatoes are two of them. Especially when slow-cooked over low heat. It gives them time to realize their full potential. Other vegan-friendly foods that are high in umami include garlic, fermented soy (think soy sauce and miso paste), kimchi (again, fermented), corn, potatoes and seaweed.
How to Cook the Mushrooms for this Savory Mushroom Galette Recipe
While dried mushrooms pack the most umami punch, cooked mushrooms are a close second. For this galette recipe, I like to slow simmer the mushrooms in a bit of red wine. Once the wine has cooked down to about 50%, I add the mushrooms to my shallots and toasted tomato paste (see below).
Cooking with red wine works to enhance the flavor and the aroma of the food. Choosing a red wine for cooking is similar to choosing a red wine for your wine glass. You want a drinkable wine, but you don't need to break the bank. Merlot, Cabernet and Côtes du Rhône are all good choices.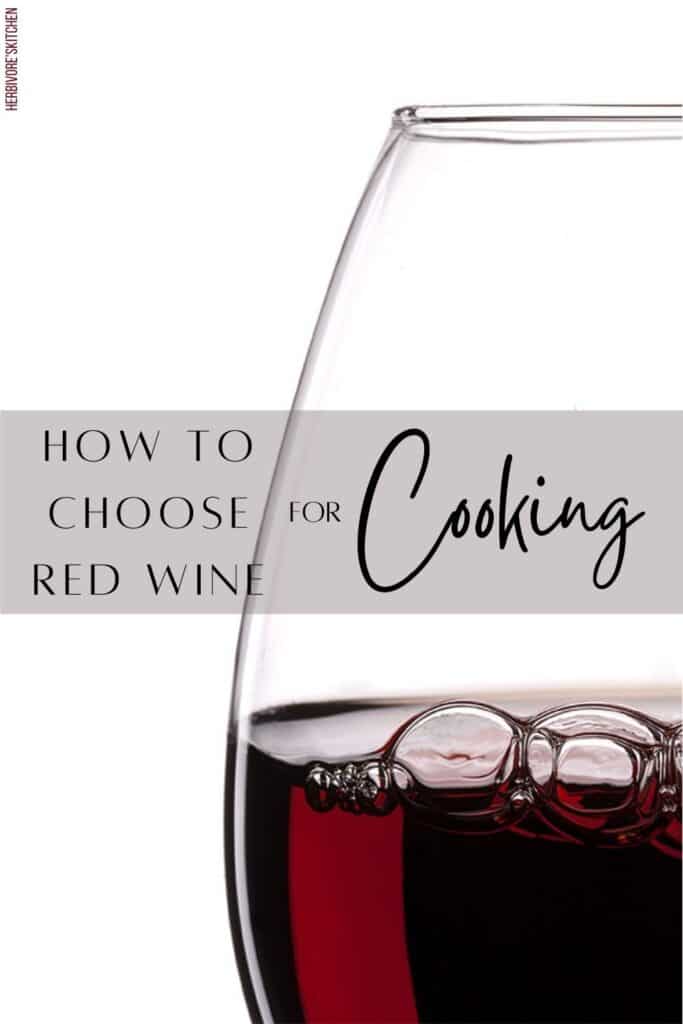 Once you discover that you love cooking with red wine, be sure to give my Vegan No Coq au Vin and Creamy Mushroom Bisque a try!
Toasted Tomato Paste — The Tomato's Answer to Umami
This is a drum I love to beat, but I'll say it again. If you're not toasting your tomato paste, you're missing out on a ton of flavor. Toasting the tomato paste brings out its natural flavors and increases the glutamates. And remember what that means — Mmmmmm, umami!
This step isn't complicated and it only takes a few extra minutes. When the shallots and garlic are almost fully browned and the spices have achieved their aromatic potential, it's time to add the tomato paste and sauté until it is a deep, rich red.
Did Someone Say Creamy? How to Make this Savory Galette Recipe Creamy
You might be looking for some ingenious vegan hack here, but the answer is pretty simple: coconut milk. By coconut milk, I don't mean the kind that comes in a carton and might be used to make a morning smoothie. I mean the full-fat, unsweetened kind that comes in a can. It's divine! And, if you're worried about a heavy coconut flavor, don't be. As the coconut milk cooks down, especially in the tomato broth, its coconut flavor relaxes.
Pop Quiz! What's the Difference Between a Galette and a Tart?
This question came up this week while I was doing the research for this blog post. I've been making sweet galettes all summer long — apple, plum, strawberry rhubarb and peach (look for this galette recipe in my forthcoming cookbook). But, when I started doing my SEO research for this savory galette, I noticed that people are far more likely to look for a mushroom tart than a mushroom galette. So why not call this a savory mushroom tart?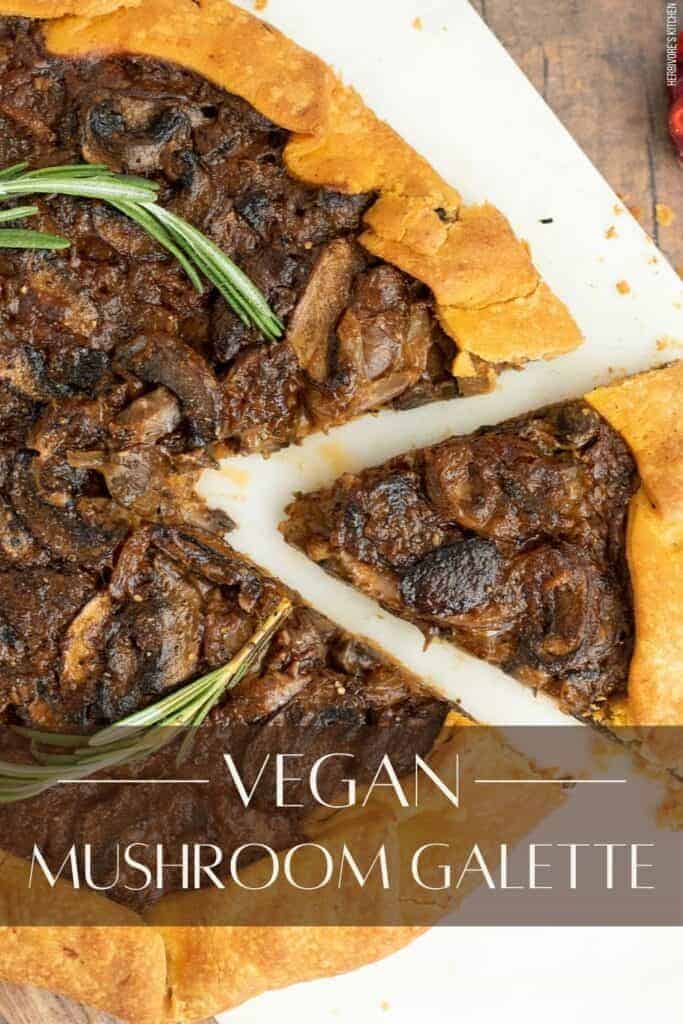 The truth is, while I love the discovery of a long-tail keyword nugget, I have to call a spade a spade. And this vegan recipe is a mushroom galette and not a mushroom tart. So, what's the difference? Well, it's all in the crust. While tarts and galettes are essentially the same food — a pie crust with either a sweet or savory filling — it's the form of the crust that distinguishes them. Tarts are traditionally neat. Unlike galettes, tarts are baked in a pie tin. The sides of a tart crust are structured, even and symmetrical. Galettes, on the other hand, are free form (euphemistically: rustic in their structure).
The rustic form of the galette is what I love some much about them. A galette doesn't require a pie dish, crust crimping, lattices or any other complications that are likely to get between me and a tasty dish. All the stress of the perfect pie crust goes away. It's just a dreamy, flaky crust and an equally epic filling.
Bonus Question! What's a Crostata?
A crostata is the Italian version of the French galette. They're the same thing by a different name. Ooh-la-la! Now you're ready to rock the baking category at your next trivia night!
Now that you've had your food vocabulary lesson for the day, let's put this tart together! Oh! And if you need ideas for dessert, be sure to check out my Strawberry Rhubarb Galette!
What's In My Kitchen to Make This Savory Mushroom Galette Recipe Easier?
Want to know what tools and resources I keep on hand to make my vegan cooking even easier? Here's a short list of what helped me create this blog post and recipe. For the complete list, visit my Shop where you can find the kitchen gadgets I like as well as a list of books that I recommend.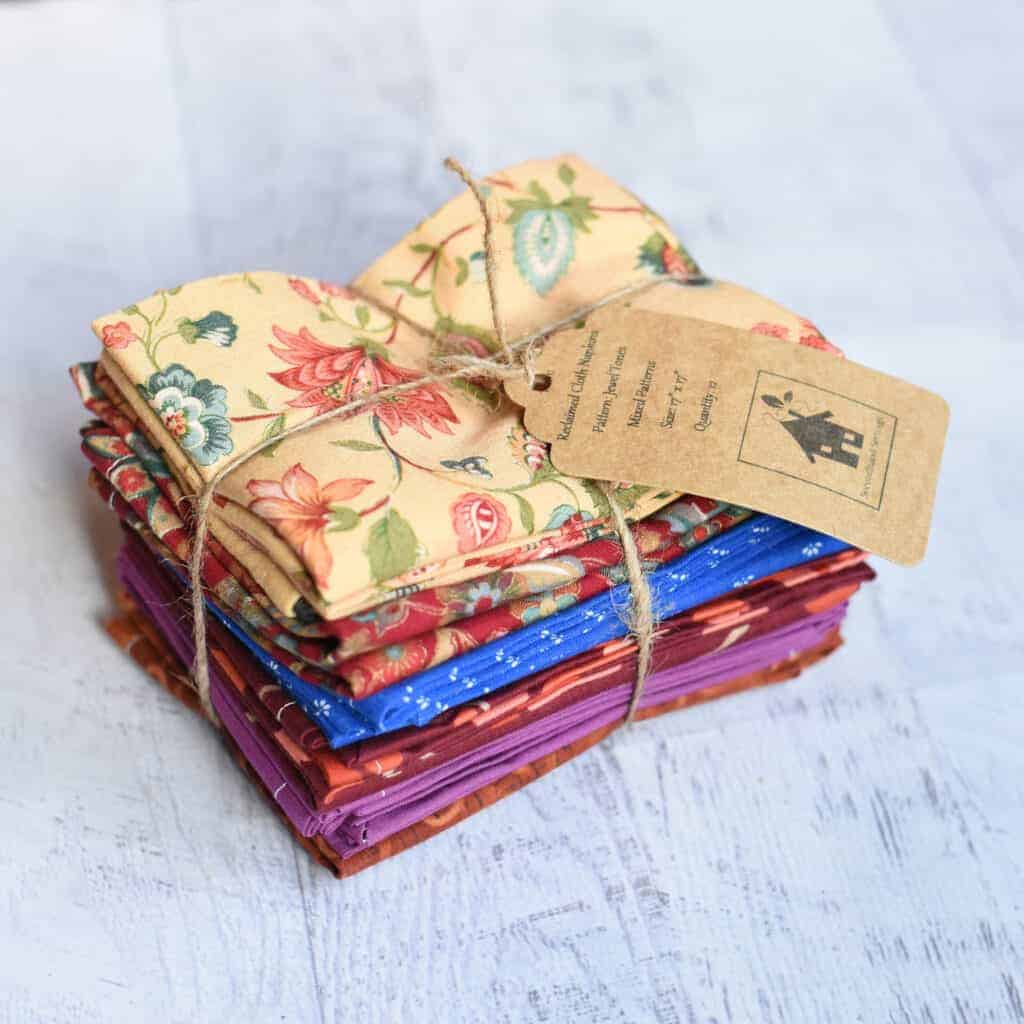 Reusable, Upcycled Napkins
Before I get into cooking, I want to share these napkins. I found these on Etsy over a year ago and, not only do I LOVE them, I buy them as gifts for nearly everyone I know.
These napkins are upcycled and reusable, allowing you to not only avoid throwing away paper products but to also reuse fabrics – a small but significant way to cut back on water, dyes and chemicals used in the production process.
These napkins are so darling (they come in lots of different patterns and colors) and they're machine washable. I just throw them in with whatever load of laundry I'm doing. They don't wrinkle easily, so a quick fold will have them back on your table doing what they were meant to do… be reused!
Garlic Peeler
I only bought one of these a few months ago, but wow! I'm so much happier not peeling garlic cloves with my fingernails. I'm pretty sure I'll collectively get at least a day of my life back because of this device.
Garlic Press
I've read a dozen posts about why you shouldn't use a garlic press. One of them actually suggested that they take up valuable kitchen space. I mean, I guess if you have a tiny kitchen you might have to make those choices. They're smaller than a can opener. I love mine. I hate, hate, hate mincing garlic.
Deep-Sided Skillet
I love having a skillet with some depth to it. I use it regularly when making a dish like this where there is some liquid that I need to cook off. A cast iron skillet would work as well, but mine is a little too small for this recipe. This is a non-stick pan, but to ease my mind about using it (and recommending it), I did a little research. In general, you don't want to overheat a non-stick pan. Be really thoughtful when you're preheating it on the stove before adding oil. If your oil is smoking, that's a sign that your pan is getting too hot. And, you should use soft utensils so as not to scratch the surface. Like that handy-dandy wooden scraper I suggested above?
Aluminum Baking Sheets
Down a broiler pan? These aluminum baking sheets come highly recommended by the cooks who know best – Epicurious, Cooks Illustrated and Food & Wine. I bought mine because I needed a good, sturdy baking sheet to use under the broiler. One that wouldn't warp – and this one lives up to the task.
Aluminum is a good conductor of heat, so these baking sheets cook evenly. They're also light in color, so they discourage over-browning.
Silicon Baking Mats
These things are amazing! When I discovered parchment paper, I thought I had things figured out. No more greasing pans or ruining them with charred food. Then I discovered these silicon baking pads. They're oven-safe up to 450 degrees, dishwasher safe (top rack only) and easy to clean and REUSE!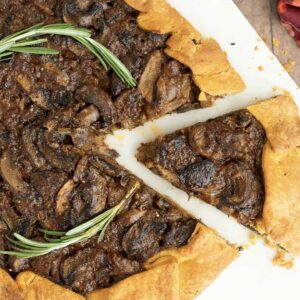 Savory Mushroom Galette Recipe
Did you know that galettes aren't just to satisfy your sweet tooth? This savory galette recipe features slow-simmered mushrooms in a rich, creamy tomato sauce baked to perfection. And, yet this galette is 100% vegan friendly! While this mushroom galette looks like a million dollars, it's actually quite easy to make — a great way to get a vegan dinner on the table this fall!
Ingredients
For the Savory Mushroom Galette Crust
1 1/4

cups

all-purpose flour

1

tsp

salt

1/2

cup

vegan butter + 1 tbsp for basting the crust

4

tbsp

ice water
For the Savory Mushroom Galette Crust
1 1/2

lbs

cremini mushrooms

washed and roughly chopped

1

cup

red wine

see my blog post for advice on choosing a red wine for cooking

1

tbsp

extra virgin olive oil

1/2

cup

shallots

chopped

3

cloves

garlic

minced

1

tsp

dried rosemary

1

tsp

dried oregano

1

tsp

thyme

2

tbsp

tomato paste

1/2

tsp

salt

1/4

tsp

pepper

1

14 oz can

full fat, unsweetend coconut milk
Instructions
Using a cheese grater, roughly grate the vegan butter into thick slivers. Refrigerate for later use.

Combine the flour and salt into a food processor. Pulse to combine. Add the chilled butter and pulse until the butter is combined. The mixture should be crumbly with obvious small flakes of butter.

Add the ice water 1 tbsp at a time. Pulse until a dough forms. I usually find that I need ~4 tbsp of ice water.

Form the dough into a ball and wrap it in plastic. I like to use a clean, recycled bread bag. Allow the dough to chill in the refrigerator for at least 1 hour.

While the dough is chilling, wash and roughly chop the cremini mushrooms. Add the mushrooms to a large, deep-sided skillet and simmer with the red wine until the wine has cooked down by about 50%.

While the mushrooms are simmering, heat the olive oil in a large stockpot. When shimmering, add the shallots and garlic and sauté on medium-low heat until golden brown. This takes a few extra minutes, but adds a lot of flavor

Add the oregano, thyme and rosemary. Stir to combine and toast until fragrant. About 1 minute. Then add the tomato paste and toast until it becomes a deep red.


Next add the salt, pepper and coconut milk. Add the cremini mushrooms and bring to a simmer. Simmer for 20 minutes to allow the coconut milk to mellow and the alcohol to continue to evaporate.

Preheat your oven to 400º.

Prepare a baking sheet with parchment paper or a silicon baking sheet. After an hour, remove the dough from the refrigerator and allow it to warm up slightly. When it is pliable, roll the dough out into an oval/circle shape that will fit on your baking sheet. Transfer the pie crust to the baking sheet.

Spread the mushroom filling into the galette crust, leaving about 1-1 1/2" of crust remaining to fold over the top. Then fold the edges of the crust over the outer edge of the mushroom filling. Roughly pleat the crust as you go.

Melt 1 tbsp of vegan butter in the microwave. Using a basting brush, generously spread the vegan butter on the outside edges of the galette. This will give the crust a nice browned appearance.

Bake the galette on the middle rack for about 30 minutes. It is done when the crust is golden brown. Remove the galette from the oven and transfer the baking mat or parchment paper to a cooling rack. Allow the galette to cool for at least 10 minutes, then slice and enjoy!

Notes
The question is often asked: should I wash my mushrooms? While this is a debated point, I fall into the "yes" camp. My research indicates that mushrooms actually absorb only a small amount of water when washed. To wash my cremini mushrooms for this recipe, I destem them and run the palm of my hand over them under running water to loosen any dirt or debris.
Don't cook with wine? That's okay! Try simmering the mushrooms in vegetable broth or water. If you are cooking with red wine, chose a bottle that you would drink. It doesn't have to break the bank, but if you wouldn't drink a glass of it, then I don't recommend cooking with it.
About Herbivore's Kitchen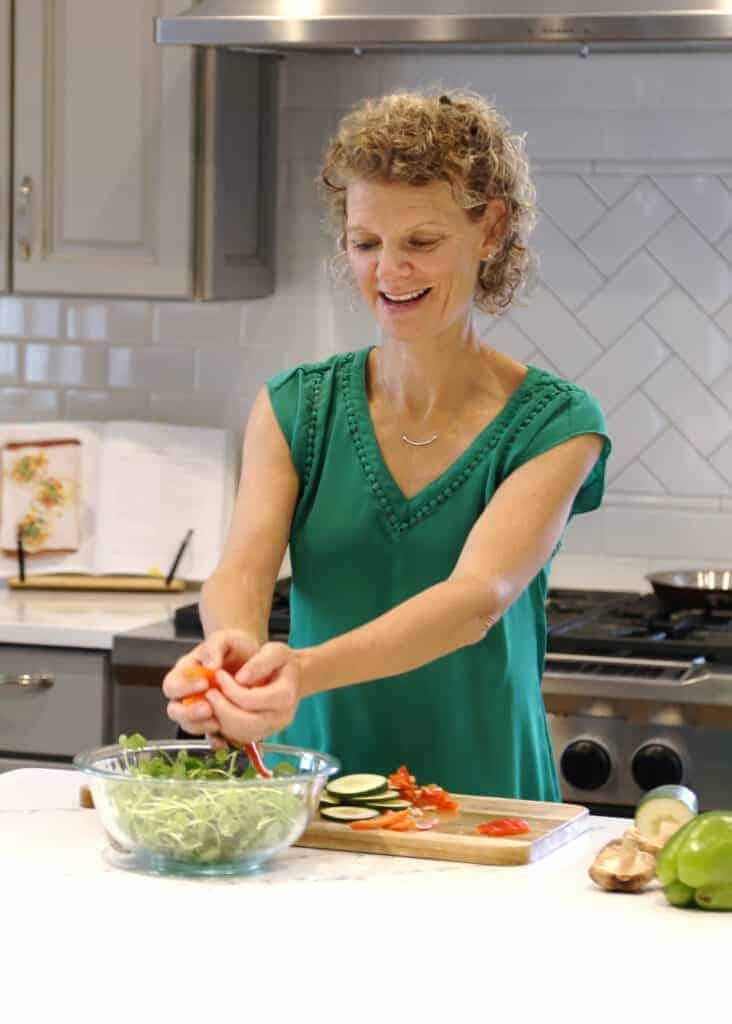 Herbivore's Kitchen is a blog run by me, a plant-based home chef and aspiring food photographer. I switched my and my family's diet to a plant-based diet after learning about the health benefits of going vegan. Making this change has prompted a variety of food and holistic-lifestyle related questions that I explore through this blog. I talk about how to pick and prepare the most nutritious foods, to how to reduce waste at home, to how to live a more sustainable lifestyle while on the road.