Jump to Recipe
This Louisiana Vegan Gumbo: This Plant Based Gumbo Soup is One of My Favorite Recipes with Vegan Sausage post includes affiliate links. When I find a great product or service, I like to share it with my readers. Sometimes I use affiliate links so I can earn a commission for my recommendations. Thank you for your support!
Louisiana Vegan Gumbo: This Plant Based Gumbo Soup is One of My Favorite Recipes with Vegan Sausage
As I was developing this Louisiana Vegan Gumbo recipe, I got to thinking about my style of vegan cooking. For some food bloggers, their niche comes through quite clearly. Some of them are vegan bakers or they specialize in vegan recipes that take 30 minutes or less. Some have established themselves as experts in Asian-themed vegan dishes, while others' style is the ever-popular vegan bowl.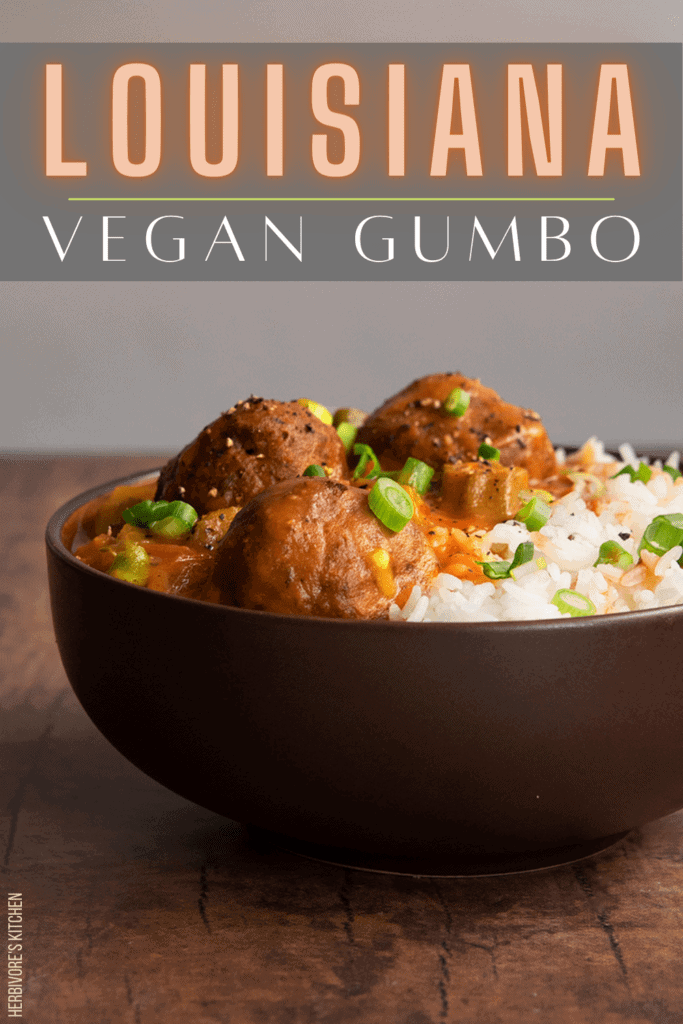 As I thought about all of the food blogger friends, I realized that I don't fall squarely into any of these categories. Sometimes my recipes are quick and easy; sometimes they're designed to have you idling around in the kitchen all day. I make French vegan dishes as often as I make Mexican vegan fare. Sometimes I dabble in vegan baking and have recently taken up vegan chocolatiering. It made me start to wonder… is it bad that I don't have a niche?
I've been mulling it over the past few days and I've decided that it isn't bad at all. It's great. And I do have a niche… it's called the whatever-I-have-time-for-and-whatever-I'm-in-the-mood-for-vegan-recipes. And, lucky for all of you wanting some Southern vegan food, I had a free afternoon and a hankering for Louisiana Vegan Gumbo earlier this week. So, let's talk about this spicy vegan gumbo recipe with vegan sausage!
What is Gumbo?
But first… some quick background: what is gumbo anyway?
Gumbo soup hails from the State of Louisiana. In fact, it's the State's official dish. It features a thick, stew-like broth with onions, celery, bell pepper, and tomatoes. Traditional gumbo recipes often include seafood (like shrimp or crab) and Andouille-style sausage. Okra, a southern icon, helps to thicken the gumbo soup while Creole-style seasoning gives it its unique flavor.
How to Make Louisiana Vegan Gumbo
Given the description above, you might be wondering how it's possible to make gumbo vegan. After all, seafood and sausage don't have easy vegan substitutions. In addition, gumbo gets a lot of its flavor from animal products like bacon and butter. So, what's a vegan to do?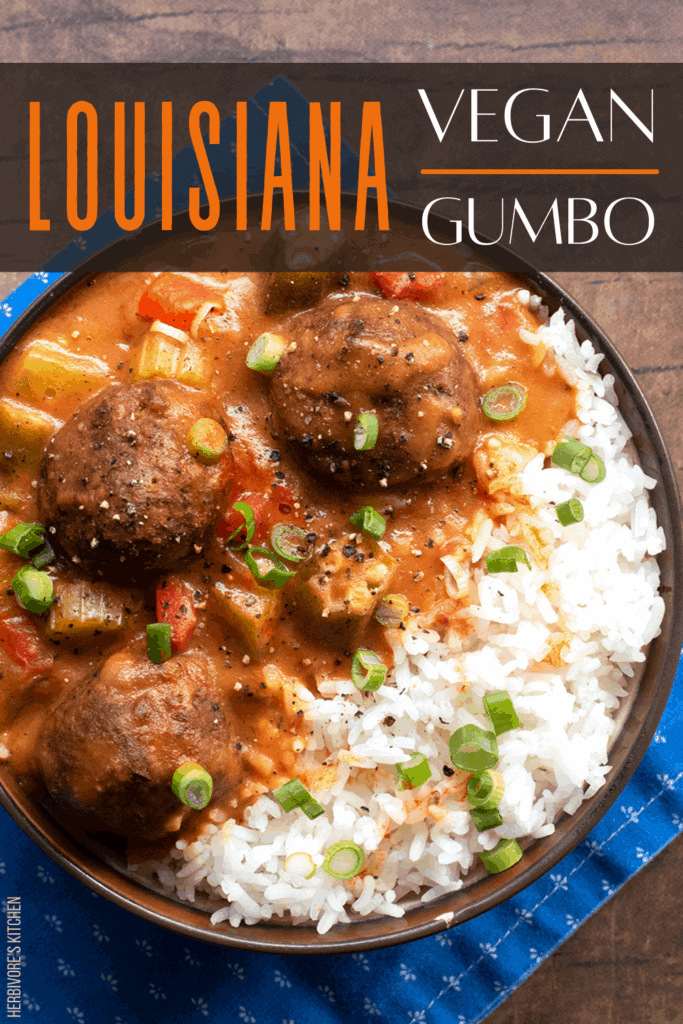 As you'll see, I've got some great ways to adapt a traditional gumbo recipe to a vegan diet. They're all homemade with ingredients that you'll recognize – no commercially produced fake meats here! In fact, my vegan sausage substitute is packed with protein-heavy, healthy ingredients like kidney beans and walnuts.
Making Vegan Gumbo Roux for Your Louisiana Vegan Gumbo
All great gumbo recipes start with a roux. If you're not familiar with it, the word roux means browned butter in French. Roux is made by combining flour and fat and cooking it to a desired darkness. The darker the roux, the more flavor added to the dish. Roux also thickens the gumbo soup into a rich, stew-like consistency.
Making a roux requires patience, especially if you're after a dark roux. This Louisiana Vegan Gumbo calls for a dark roux, which requires whisking the fat/flour combination for 20-ish minutes. I know that sounds like a lot of work. And it is. But, while a cornstarch slurry would get the job of thickening this gumbo soup done more quickly, it wouldn't give you the rich, nutty flavor of a well-cooked roux.
In French cooking, roux is made with butter and flour, but in Creole cooking butter is often swapped out for bacon fat. For this recipe, I wanted to honor the flavor of using bacon fat, so I got a little clever with the ingredients I add to this vegan gumbo after the roux was made. The roux itself though, is made using a nut-based vegan butter and flour.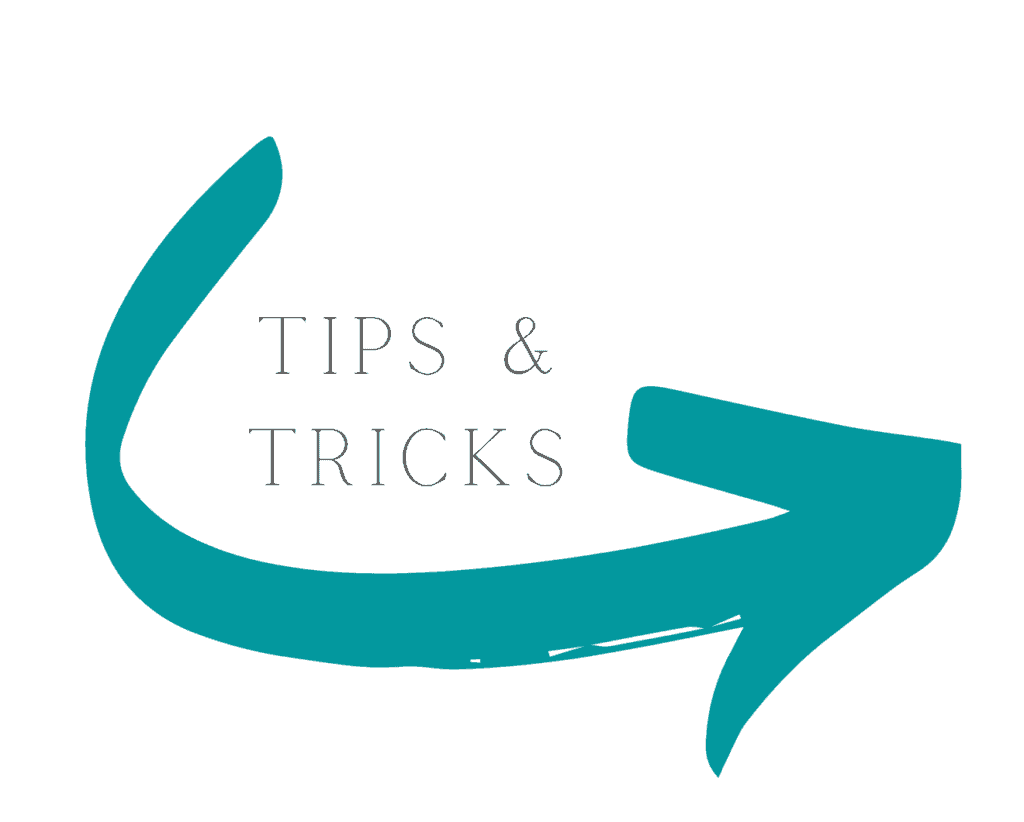 Be patient! Roux takes time, but don't try to speed it up by increasing the heat. Keep the burner on low and whisk the roux frequently. Burning the flour will cause your gumbo to taste bitter.
Getting Bacon Flavor into Vegan Gumbo Roux
To get that salty, smoky bacon flavor into my roux, I add a simple mixture of tamari, maple syrup, balsamic vinegar and smoked paprika just after the roux is complete. I find that these ingredients leave the same hints of flavor that cooking roux in bacon fat would render.
A Vegan Sausage Recipe for this Louisiana Vegan Gumbo
Coming up with a vegan sausage recipe for this Louisiana Vegan Gumbo was one of my favorite parts of developing this recipe. I've long made a vegan chorizo that I keep on hand for breakfast burritos and vegan pizza toppings. All it took to make this a suitable Andouille sausage substitute was to tweak the ingredients slightly.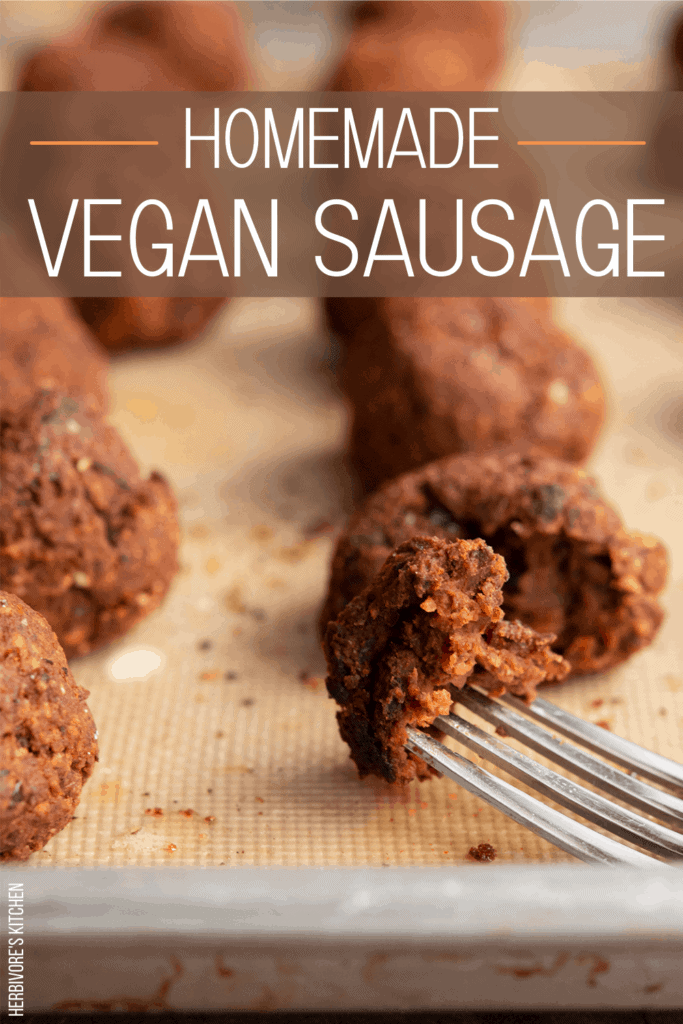 If you're not familiar with Andouille sausage, it is a particular variety of sausage that hails from France. It's popular in Creole cooking and features a variety of spices native to these cultures and cuisines (think: black pepper, cayenne pepper, thyme, paprika and allspice).
Andouille sausage is made using pork butt, but my vegan andouille sausage substitute uses kidney beans, sun-dried tomatoes and walnuts are its primary ingredients. These ingredients are combined with garlic, onion, panko breadcrumbs and a bit of flaxseed meal as a binding agent to form a thick mixture that is then rolled into meatballs and baked in the oven.
In its traditional preparation, sausage ingredients are packed into a casing which helps hold the sausage its form when cooked. I decided to skip this step and push this vegan sausage recipe into more of a vegan sausage meatball direction. So, in an effort to manage expectations, you should know that the texture of these vegan meatballs will be considerably softer than traditional sausage.
What is Okra?
Okra, like Andouille sausage, is a key ingredient in traditional gumbo soup recipes. Okra is a long, slender seed pod that is commonly featured in Southern cooking. Like tomatoes, okra is actually a fruit that is regarded as a vegetable by most. Fresh okra may be found in season in some areas but given my location, I rely on frozen okra.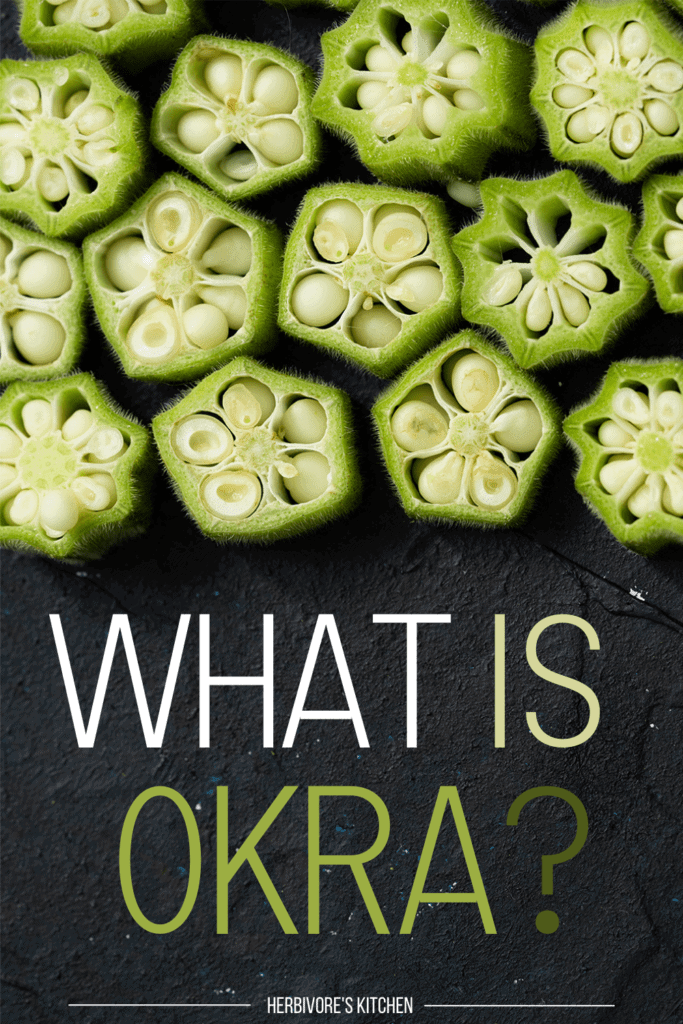 Frozen okra comes pre-sliced into ½" thick discs. I add these directly to my gumbo at the same time that I add the onions, bell peppers and celery. Okra is mild in flavor, offering up a crunch when uncooked, but is rendered tender when cooked.
How Do You Cook Orka?
Okra contains a mucilage, a gelatinous substance found in some plant seeds, that is released when okra is cooked. This substance helps to give gumbo soup a thick consistency and you won't notice it independently in the gumbo, but if you decide you love okra and decide to try other preparations, this hidden truth of okra may catch you by surprise.
How to Serve Louisiana Vegan Gumbo with Vegan Sausage
This Louisiana Vegan Gumbo has so much flavor that it really doesn't need much else. I serve it over long grain white rice with a splash of Tobasco® sauce and some sliced scallions. Traditional gumbo is finished with filé powder, a fine powder made of ground sassafras leaves. It's a specialty ingredient in most markets, so don't feel like you need to seek it out to make gumbo. But, if you want a more authentic experience, you can buy it online.
What Kind of Rice Should I Serve with Louisiana Vegan Gumbo?
Gumbo soup is commonly served over rice. But did you know that there is a wide variety of rice types to choose from? Some are distinct and chewy, others are soft and sticky. So which variety is best for this Louisiana Vegan Gumbo? If you haven't spent a lot of time thinking about rice, here's a quick primer:
Generally, there are three different types of rice: long grain, medium grain and short grain.
Long grain rices, like Jasmine and Basmati, are quite a bit longer than they are wide. When cooked, they tend to be drier and maintain their shape when cooked.
Short and medium grain rices, which are commonly grouped together, are only slightly longer than they are wide. These varietals become soft and sticky when cooked. Examples include Arborio rice, which is used to make risotto and Bomba rice, which can be found in paella recipes.
White or brown American long grain rice most commonly served with gumbo soup; if you like a slightly nutty flavor Basmati rice is also good option.
Love this Louisiana Vegan Gumbo?
Do you love this Louisiana Vegan Gumbo? Then be sure to try some of my other vegan comfort food recipes! If you're looking for traditional American fare, I have a Vegan Beef Stew that will surprise you with its rich flavor. French vegan more to your liking, then my Vegan Cassoulet is the ultimate in vegan comfort food!
This vegan beef stew recipe is reminiscent of traditional beef stew with a thick, rich sauce and plenty of tender vegetables. It's hearty and healthy and makes getting a tasty vegan dinner on the table easy!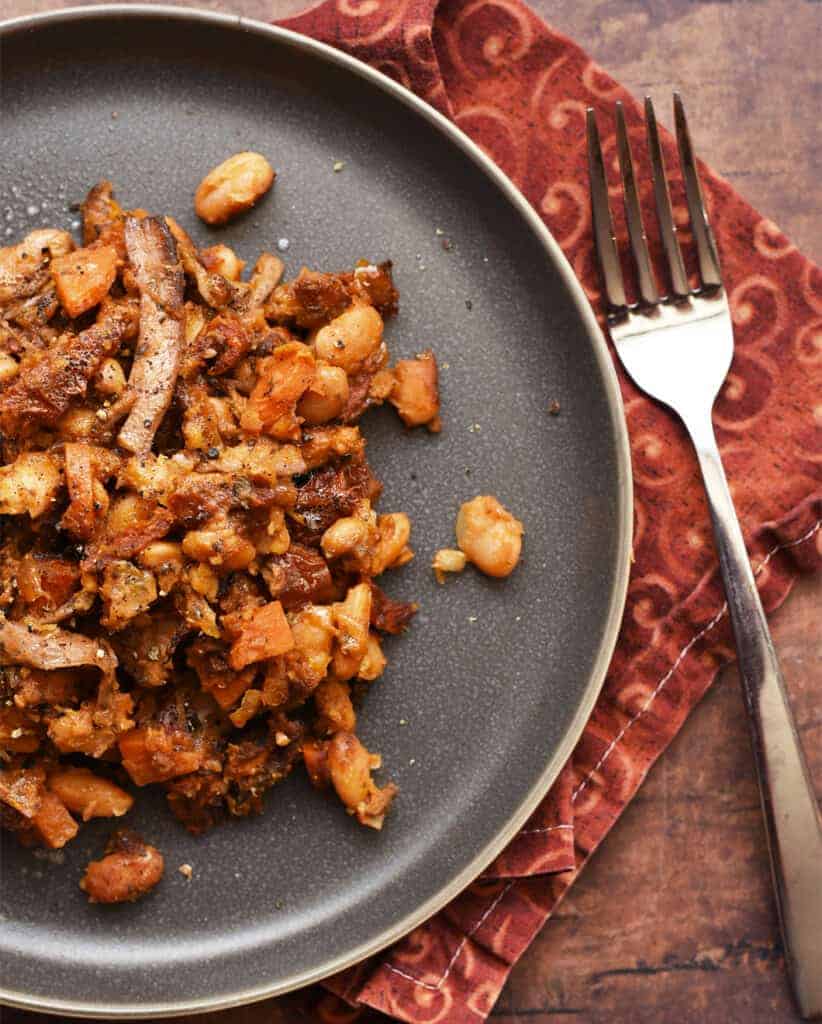 Going vegan doesn't mean giving up rich, savory dishes. If you need proof, all you have to do is try this Vegan Cassoulet. It's got all the melt-in-your-mouth qualities of traditional French cassoulet, but it's earth friendly (and not to mention quite a bit healthier!)
What's in My Kitchen to Make This Louisiana Vegan Gumbo Easier?
Want to know what tools and resources I keep on hand to make my vegan cooking even easier? Here's a short list of what helped me create this blog post and recipe. For the complete list, visit my Shop where you can find the kitchen gadgets I like as well as a list of books that I recommend.
I picked the Hamilton Beach 8-Cup Food Processor. I use my food processor all. the. time. But, for this recipe, I used it to make the pizza dough. I like making pizza dough in my food processor because it's a lot easier than trying to make it with a bowl and spoon and, damn, my KitchenAid mixer is really heavy. I only get that out of the cabinet when there are cookies involved.
These things are amazing! When I discovered parchment paper, I thought I had things figured out. No more greasing pans or ruining them with charred food. Then I discovered these silicon baking pads. They're oven-safe up to 450 degrees, dishwasher safe (top rack only) and easy to clean and REUSE!
Down a broiler pan? These aluminum baking sheets come highly recommended by the cooks who know best – Epicurious, Cooks Illustrated and Food & Wine. I bought mine because I needed a good, sturdy baking sheet to use under the broiler. One that wouldn't warp – and this one lives up to the task.
Aluminum is a good conductor of heat, so these baking sheets cook evenly. They're also light in color, so they discourage over-browning.
This garlic peeler is a simple silicon tube. Despite its simple design, it skillfully removes even the toughest of garlic skins. I'm so much happier not peeling garlic cloves with my fingernails. I'm pretty sure I'll collectively get at least a day of my life back because of this device.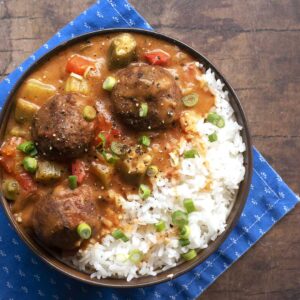 Louisiana Vegan Gumbo
This Louisiana Vegan Gumbo is the best way to get your vegan comfort food fix! Featuring homemade vegan roux, vegan Andouille sausage, okra and plenty of Creole-style seasoning, this plant based gumbo soup is one of my favorite vegan recipes!
Ingredients
Vegan Sausage
1

8 oz jar

sun-dried tomatoes

1/2

yellow onion

roughly chopped; see Recipes Notes

2

garlic cloves

roughly chopped

1

cup

walnuts

roughly chopped

1

28 oz can

kidney beans

drained & rinsed

1

tbsp

Andouille sausage seasoning

see Recipe Notes for substitutions

3

tbsp

flaxseed meal

1/2

cup

panko breadcrumbs

1

tbsp

safflower oil
Vegan Gumbo
2

cups

long grain white or brown rice

3/4

cup

vegan butter

I like Miyoko's Organic Cultured Vegan Butter

1

cup

all-purpose flour

2

stalks

celery

washed and chopped

1

green bell pepper

washed, deseeded and chopped

1/2

yellow onion

chopped

3

garlic cloves

minced

1

10 oz bag

frozen okra

1/4

cup

tamari

1

tbsp

maple syrup

1

tsp

balsamic vinegar

1/2

tsp

smoked paprika

1

quart

low-sodium vegetable broth

4

cups

water

1

14 oz can

diced tomatoes

1

8 oz can

tomato sauce

1

tsp

salt

1/4

tsp

fresh ground pepper

1/4

cayenne pepper

1

tsp

dried thyme

1

tsp

dried oregano

2

bay leaves

2

tbsp

vegan Worcestershire sauce

Tobasco®sauce

to taste

1

scallion

washed and sliced as optional garnishment

fresh ground pepper
Instructions
Vegan Sausage Directions:
Preheat the oven to 400º.

Add the sun-dried tomatoes, yellow onion, garlic, walnuts, kidney beans, Andouille seasoning, flaxseed meal and panko breadcrumbs in a food processor. Blend until the ingredients are well combined and form a thick cooked oatmeal-like consistency.

Chill the vegan andouille sausage in the freezer for 30 minutes. This will make it easier to make into andouille meatballs.

After chilling the mixture, form the mixture into meatballs and spread them out on a large baking sheet lightly oiled with the safflower oil.

Bake on the middle rack for 30 minutes.
Vegan Gumbo Directions
Prepare the long grain rice in accordance with the package directions.

Combine the tamari, maple syrup, balsamic vinegar and smoked paprika in a small bowl. Stir to combine and set aside.

Make sure that your onions, celery, garlic, green bell pepper and celery are prepped.

Melt the vegan butter over low heat in a large stockpot. When the butter has melted, stir in the flour.

To make the roux, continuously whisk the butter and flour over low heat. As it cooks, it will darken. Continue cooking until it reaches a rich, dark brown. About 20 minutes. Then remove the roux from the heat and continue whisking it has cooled.

Add the onions, garlic, celery, bell pepper and okra and stir to coat. Add the tamari mixture and return the pot to medium-low heat and cook, stirring frequently, for 4-6 minutes. Be careful not to burn the roux.

Add the vegetable broth, water, diced tomatoes, tomato sauce, salt, pepper, cayenne pepper, thyme, oregano, bay leaves and vegan Worcestershire sauce. Bring the broth to a high simmer, then reduce the heat to a low simmer. Allow to cook, covered, for about 1 hour, stirring occasionally.

After an hour, the soup should be quite thick. Remove the bay leaves and add the vegan sausage to the soup. Heat until warmed through.

Serve the gumbo over a bowl of long-grain rice. Top with Tobasco® sauce and sliced scallions, as desired. Season with salt and pepper, to taste.
Notes
I highly recommend pre-chopping the sun-dried tomatoes, yellow onion, garlic and walnuts before adding them to the food processor.
Andouille seasoning can often be purchased from specialty spice shops. If you can't find it, try substituting with a Cajun seasoning. I like Spice Jungle's Cajun seasoning.
Be sure to choose a long grain rice. White or Brown American long grain rice are the most common, but Jasmine or Basmati rice will also work.
About Herbivore's Kitchen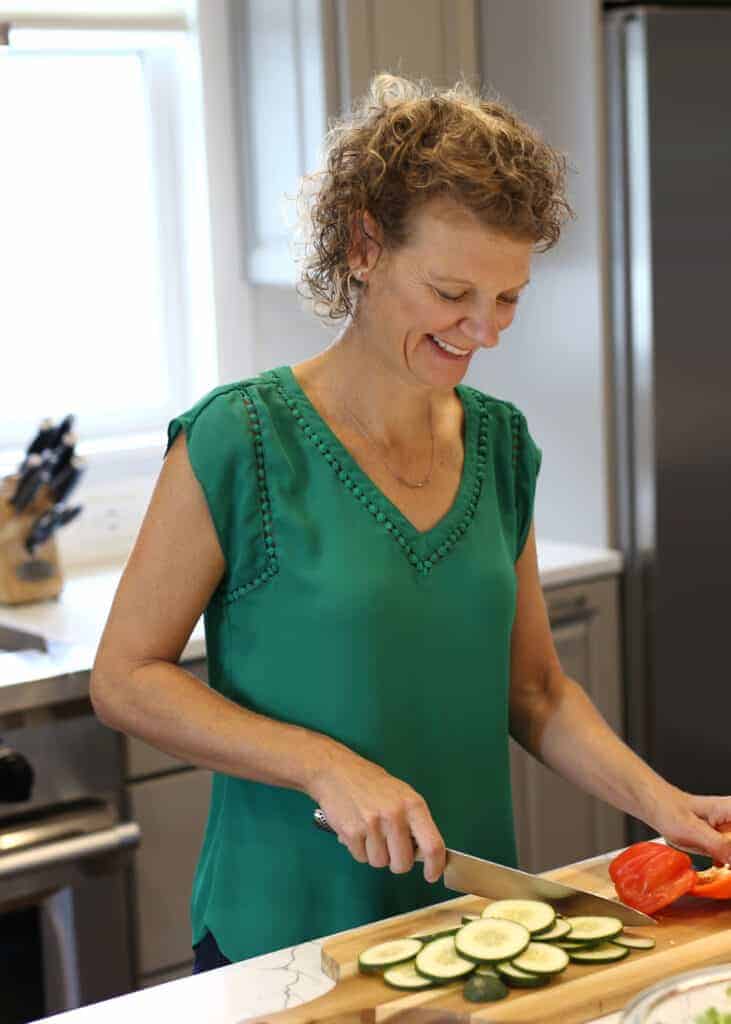 Herbivore's Kitchen is a blog run by me, a plant-based home chef and aspiring food photographer. I switched my diet to a plant-based diet after learning about the health benefits of going vegan. Making this change has prompted a variety of food and holistic-lifestyle related questions that I explore through this blog. I talk about how to pick and prepare the most nutritious foods, to how to reduce waste at home, to how to live a more sustainable lifestyle while on the road.