Jump to Recipe
This Navy Bean Hummus: Don't Miss Out on White Bean Hummus — One of the Best Alternative Hummus Recipes! includes affiliate links. When I find a great product or service, I like to share it with my readers. Sometimes I use affiliate links so I can earn a commission for my recommendations. Thank you for your support!
Navy Bean Hummus: Don't Miss Out on White Bean Hummus — One of the Best Alternative Hummus Recipes!
Are you a hummus fan? You know, that creamy Mediterranean dip that tastes as good being eaten off a spoon as it does smeared on falafel with a side of Greek olives and tabouli?
If you're like me, hummus is a staple in your vegan kitchen. It's very likely I eat it at least once a day. In fact, my favorite snack is hummus on pretzel chips with a dill pickle slice and a small amount of hot sauce. Reserve your judgment please.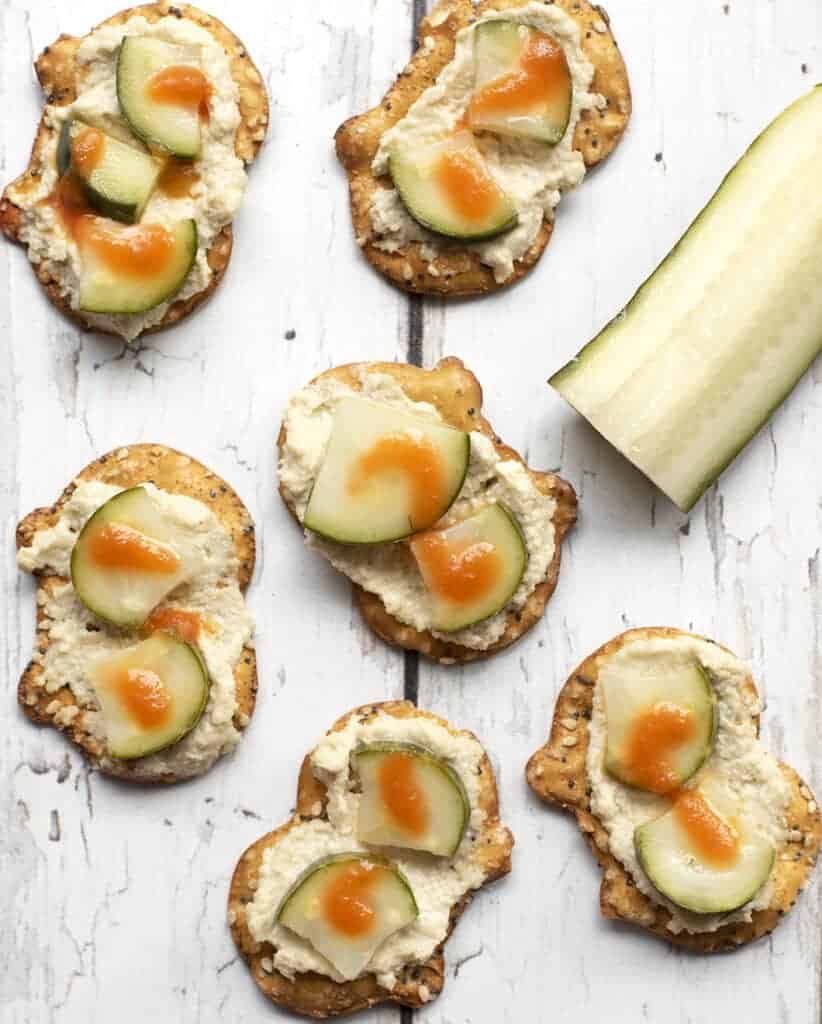 Sometimes though, I get a little tired of the hummus status quo and I want to mix it up a little bit. You know, give traditional hummus a twist. There are a lot of ways to do this. There's roasted garlic hummus, sun-dried tomato hummus, carrot hummus. Changing the main ingredient though, was a new one for me.
What Can I Substitute for Chickpeas in Hummus?
Chickpeas, of course, are the main ingredient in traditional hummus recipes. Chickpeas, also known as garbanzo beans, are part of the legume family. They are a great source of fiber and protein and a tasty little bean all on their own. Which may lead you to wonder: what can I substitute for chickpeas in hummus? After all, chickpeas already sound like the right bean for the job.
As it turns out, there are other beans that make great hummus as well. White bean hummus, and specifically navy bean hummus, is one of the best alternative hummus recipes. Chickpeas are swapped out for white beans while the rest of the recipe stays the same. The result is a super creamy, protein packed white bean dip.
What Bean is White Bean Hummus Made From?
If you search white bean hummus, you're likely to find white bean hummus recipes using several different types of white beans. But, if you follow me, you know I take white bean selection very seriously. After all, I did write The Ultimate Guide on White Beans!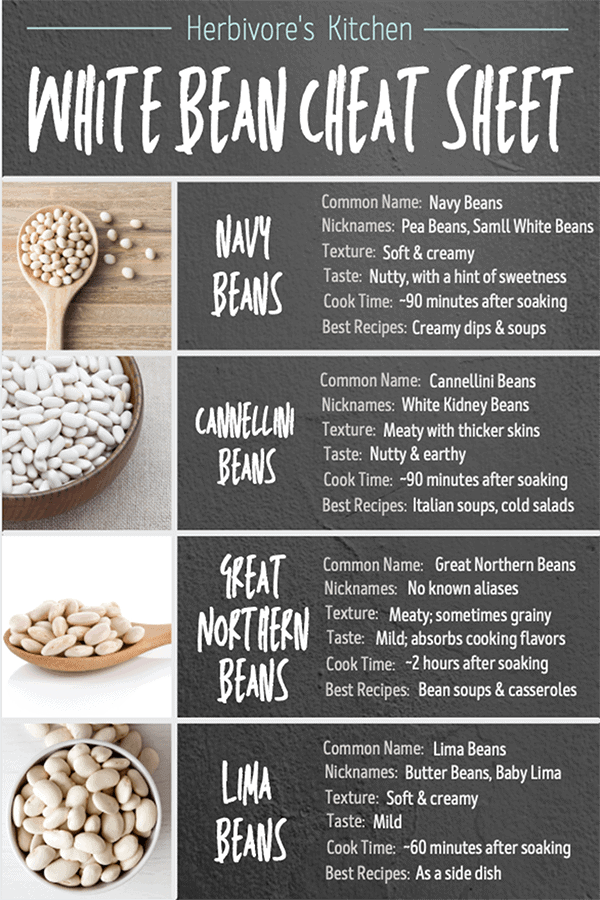 White beans come in a variety of shapes, sizes and shades of white. They have different tastes, textures and cook times. Where one type of white bean might be great in a soup or stew, another white bean will make an incredible white bean hummus. For that purpose, I give you: The Navy Bean.
What Are Navy Beans?
Navy beans, also known as Pea beans or Small White beans, are (you've probably already guessed) small, pea-sized white beans. The name Navy beans refers not to their color, but to their popularity as a staple food for the U.S. Navy in the 1900s. Navy beans have a mild, nutty flavor and become soft and creamy when cooked. So soft and creamy, in fact, that I think Navy bean hummus might actually be more satisfying that garbanzo bean hummus.
How to Make Navy Bean Hummus
When I make hummus, whether it's navy bean hummus or made with garbanzo beans, I like to start with dried beans. I soak them overnight and then simmer them in my multi-cooker the next day. After ~2 hours on the high slow-cook setting, they're soft and ready to be made into hummus.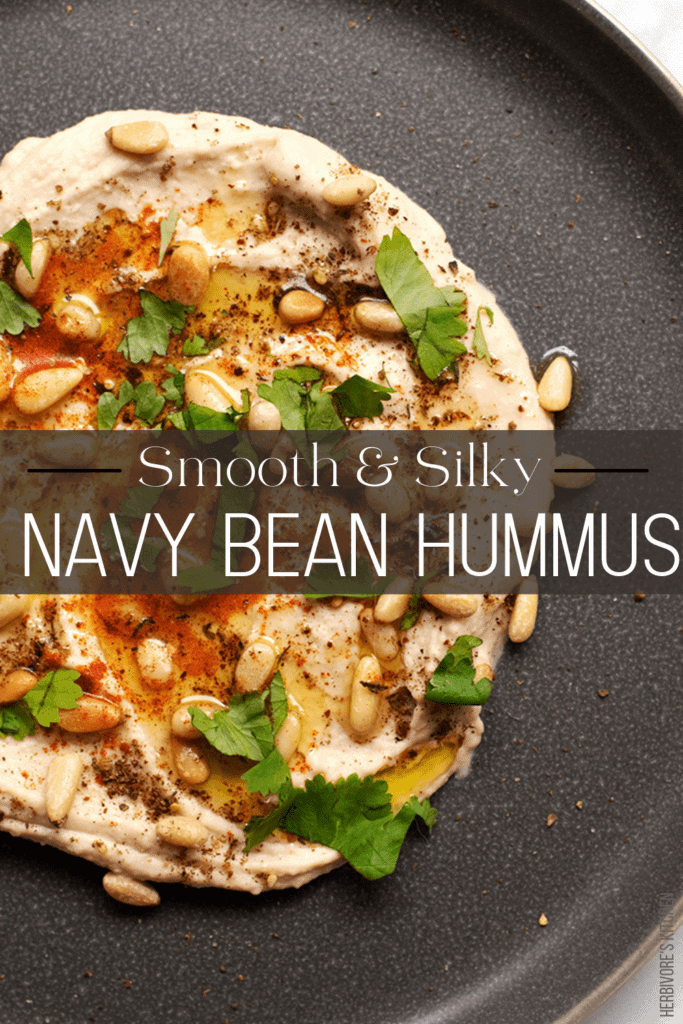 Then I simply combine them with tahini, extra virgin olive oil, lemon juice, fresh garlic, salt and some water in my high-speed blender. After a couple of minutes of blending, these creamy white beans are rendered into one of the best hummus experiences you'll ever have!
White Bean Hummus vs Chickpea Hummus
It's hard to compare navy bean hummus to chickpea hummus and expect a clear-cut winner. They're both amazing. For me personally though, I think navy bean hummus comes out a little bit ahead. It's so silky smooth and the flavor of the white beans is wonderful. Sometimes I find chickpeas to be a touch too grainy and the flavor to be a little bit overpowering.
Making Navy Bean Hummus: Do You Need to Soak the Beans?
If you're making navy bean hummus with dried beans (which I recommend) then I suggest soaking them in a brine solution before cooking them. You can make a quick brine solution with ¾ tbsp of salt for every quart of water. The brine solution helps to prevent the navy beans from splitting and shedding their skins when cooking.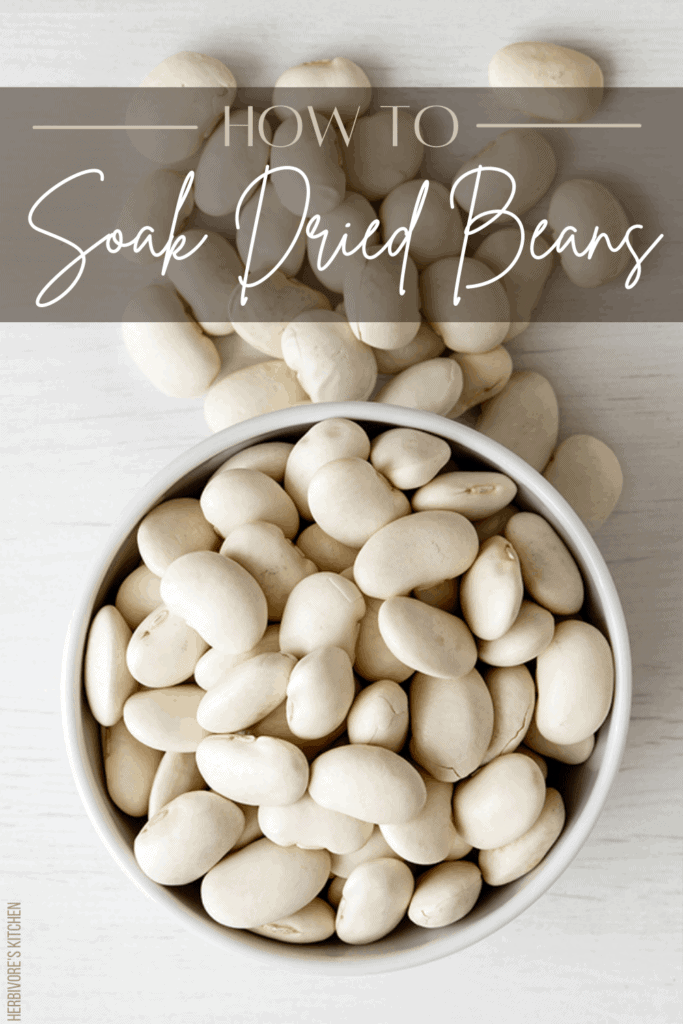 All the Wonderful Ways to Eat Navy Bean Hummus!
I shared with you my favorite hummus snack at the beginning of this post. This one has my heart whether I'm using chickpea hummus or navy bean hummus. But, navy bean hummus is also a great spread for fresh baked breads, especially if you enhance it with some fresh roasted garlic.
One of my newly discovered uses for hummus though, really shines with navy bean hummus: White Bean & Pesto Hummus Fettuccini! This twist on Fettuccini Alfredo is positively amazing! It's rich and creamy and bursting with the flavors of lemon citrus and fresh basil. I top this one with some toasted pine nuts and crushed red pepper. It's pasta perfected!
How to Top this Navy Bean Hummus
If I'm serving navy bean hummus as a simple vegan appetizer, I like to top it with a few colorful (and flavorful) garnishments. Paprika and fresh cilantro add flavor and give this snack great aesthetic appeal. A drizzle of extra virgin oil makes for a nice presentation as well.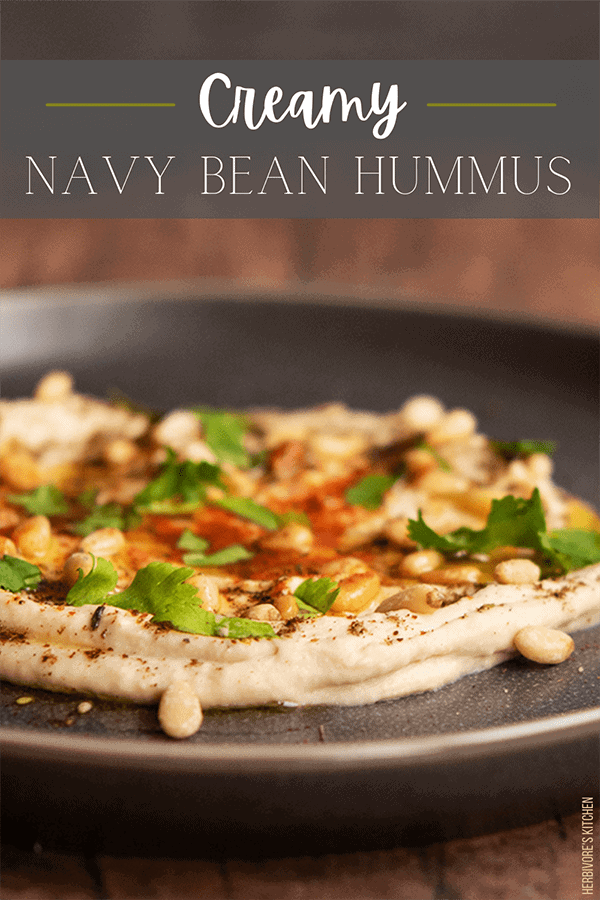 For additional flavor, try sprinkling on Za'atar seasoning. This popular Middle Eastern spice blend includes sumac, oregano, marjoram, sesame seeds, and salt. I pick mine up at SpiceJungle.com.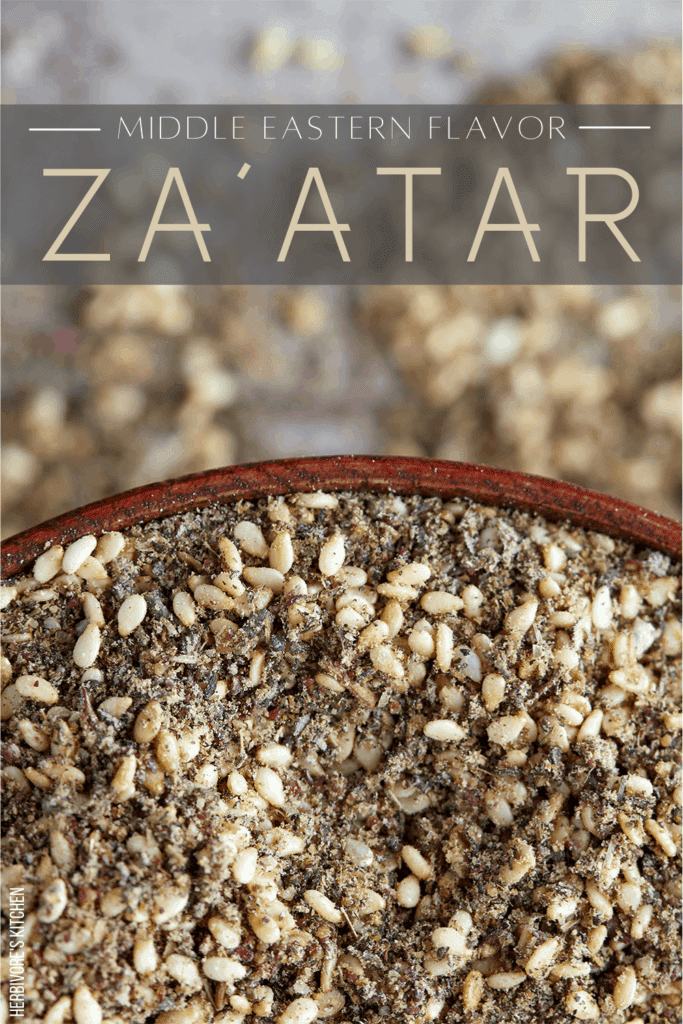 I also like to add a small handful of toasted pine nuts. These creamy nuts add so much to this dish, especially if you take the time to toast them! To toast pine nut, heat up a small skillet. Add the pine nuts and stir them over medium heat until they just begin to brown. Then remove them from the heat quickly, as they will burn!
Did You Like this Navy Bean Hummus?
If you liked this navy bean hummus, be sure to check out some of my other vegan recipes using white beans! I've got thick stews and creamy soups as well as some delicious French vegan fare!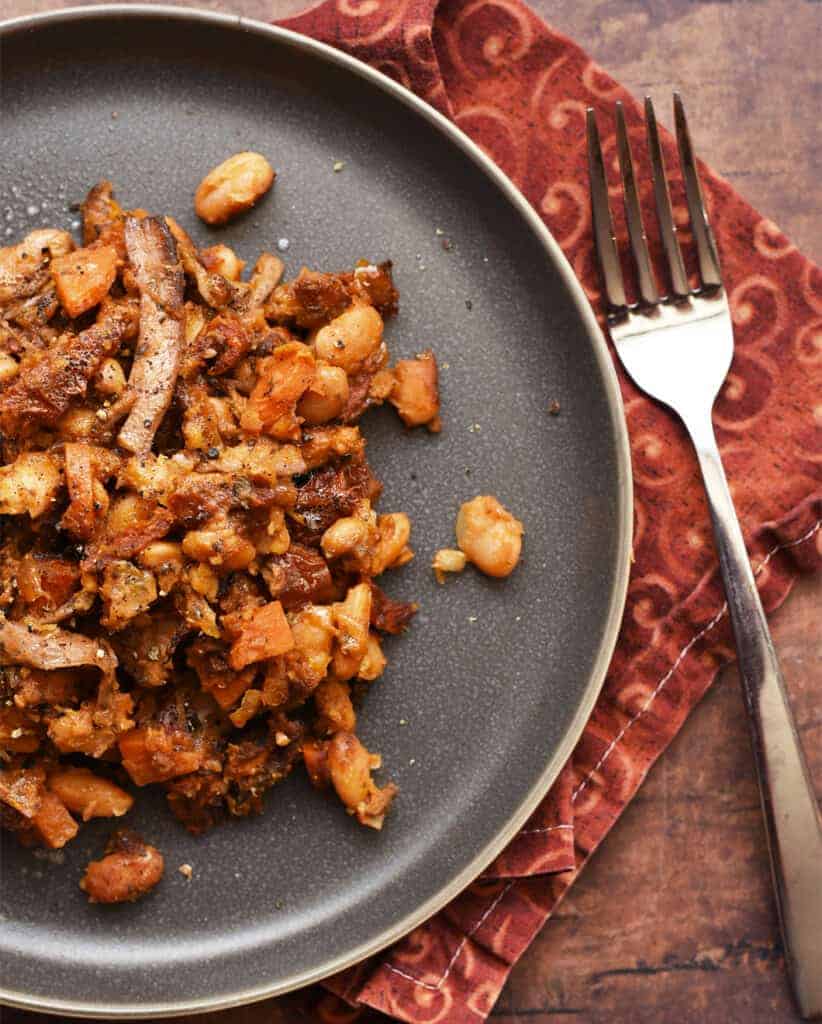 Going vegan doesn't mean giving up rich, savory dishes. If you need proof, all you have to do is try this Vegan Cassoulet. This vegan cassoulet recipe has more than one trick up its sleeve for delivering a vegan dish that has all of the qualities of its traditional preparation.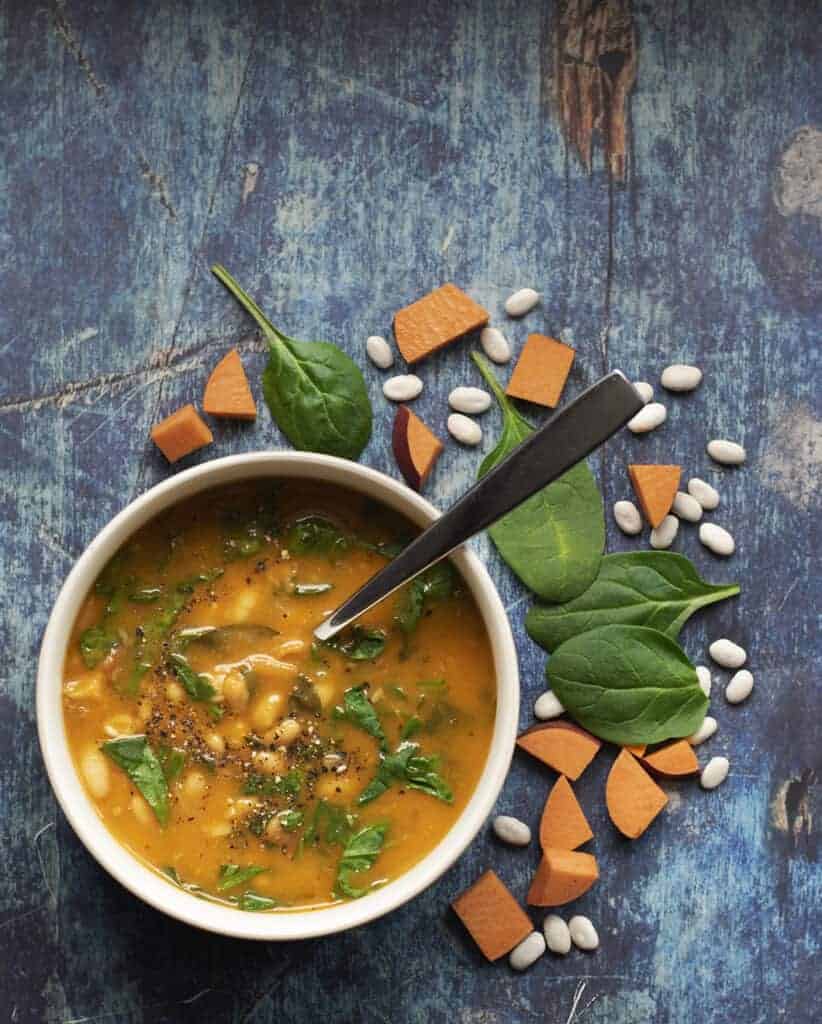 This Vegan White Bean Stew is so easy to make…and so tasty! This slow-cooker vegan white bean soup comes out so thick and creamy, you'll be hard-pressed to convince someone that it's dairy-free.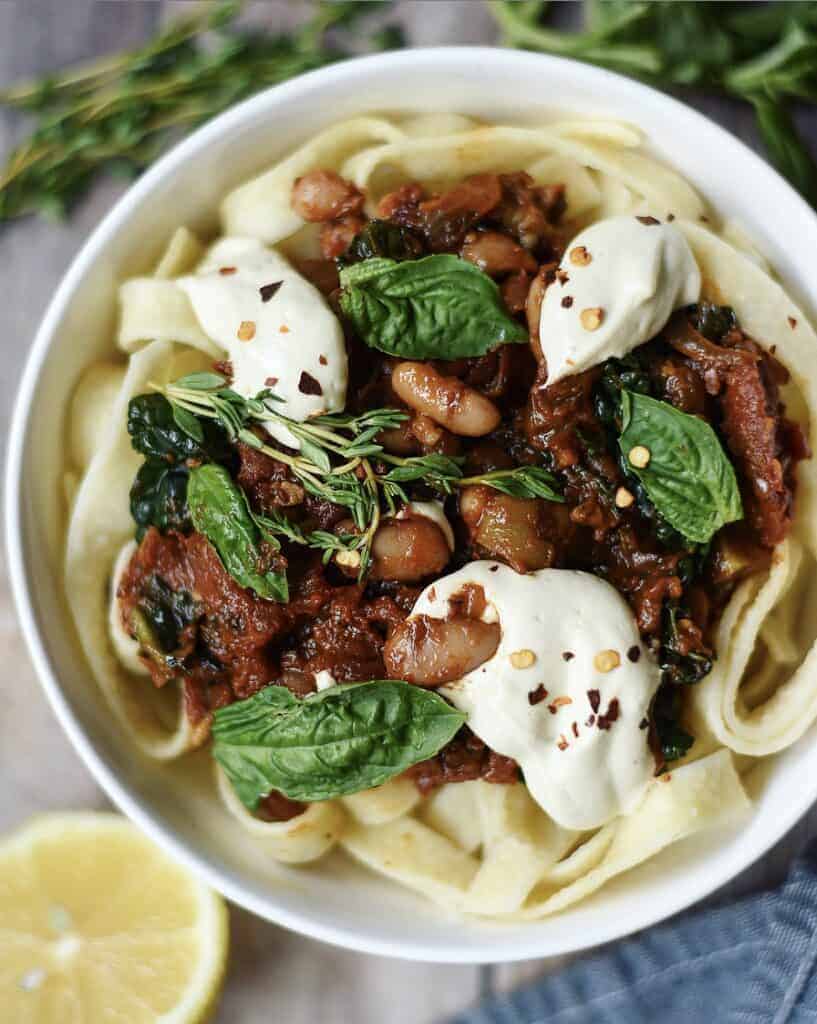 Looking for the ultimate in vegan comfort food? This pappardelle pasta with an easy kale and white bean ragù recipe will make even the coldest nights warm and cozy. Bring this Italian recipe to your table in a vegan friendly way by adding a healthy cashew cream sauce made with cashews, nutritional yeast and fresh lemon juice.
What's in My Kitchen to Make Navy Bean Hummus Easier?
Want to know what tools and resources I keep on hand to make my vegan cooking even easier? Here's a short list of what helped me create this blog post and recipe. For the complete list, visit my Shop where you can find the kitchen gadgets I like as well as a list of books that I recommend.
A couple of years ago, I replaced my traditional crockpot with this multi cooker. I love this thing. It has settings for sautéing, simmering, braising, boiling and warming (among others). It's one-pot, slow cooking at its finest. I sauté my onions and garlic, then bring my broth to a boil, reduce it to a simmer and low, slow cook it all afternoon. All in one device.
It's true – a Vitamix is an expensive blender. But, oh! The things it can do and do well. If you're interested in getting more into vegan cooking, or you just want to eat healthier, then I think that this is a must-have kitchen tool. I use my Vitamix daily for breakfast smoothies and it really gets the job done when making vegan cheeses.
There are many versions of the Vitamix on the market. This is the version that I have.
This garlic peeler is a simple silicon tube. Despite its simple design, it skillfully removes even the toughest of garlic skins. I'm so much happier not peeling garlic cloves with my fingernails. I'm pretty sure I'll collectively get at least a day of my life back because of this device.
I maintain that this is an essential kitchen tool. Yes, I know that you can squeeze a lemon (or lime, or orange) with your hands, but do that and then try this and see just how much more juice you get from each fruit. It also has the added benefit of separating (most) of the seeds from the juice.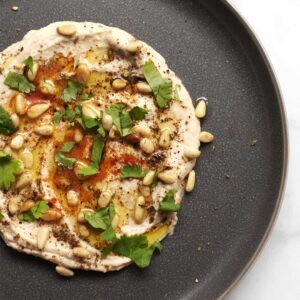 Navy Bean Hummus
White bean hummus, and specifically, navy bean hummus is one of the best alternative hummus recipes. Chickpeas are swapped out for white beans while the rest of the recipe stays the same. The result is a super creamy, protein packed white bean dip.
Ingredients
1

cup

dried navy beans

or substitute 1 14 oz can of navy beans; see the Recipe Notes for instructions

1

quart

water

3/4

tbsp

salt

2

tbsp

tahini

2

tbsp

extra virgin olive oil + extra as optional garnishment

1

tbsp

fresh lemon juice

1

garlic clove

1/2

tsp

salt

1/4-3/4

cup

water

as needed

cilantro

washed and torn, as optional garnishment

paprika

as optional garnishment

za'atar

as optional garnishment

toasted pine nuts

as optional garnishment
Instructions
Soak the dried navy beans overnight in 1 quart of cold water combined with ¾ tbsp salt. I usually do this on my counter in a glass bowl covered with a clean kitchen towel.

In the morning, drain and rinse the soaked navy beans and add them to a slow-cooker or medium-sized saucepan. Add enough water to the slow cooker (or sauce pan) to cover the beans by ~2 inches. Bring to a low simmer and allow the beans to cook until soft. About 1 ½ – 2 hours. Check the pot periodically and add additional water if needed.

Drain the cooked beans and combine the beans, tahini, olive oil, lemon juice, garlic and salt in a high-speed blender. Blend until creamy. If additional moisture is needed to get the desired consistency, add water ¼ cup at a time. I usually add ~1/2 cup of water.

Serve topped with a drizzle of extra virgin olive oil, cilantro, paprika, za'atar and toasted pine nuts.
Notes
To substitute dried beans with canned beans, use 1 14 oz canned beans. Drain and rinse the beans then add them to a small sauce pan and cover the beans with ~1 inch of water. Bring to a simmer and cook the beans covered for about 30-35 minutes until they are softened. Then drain the beans and proceed with the recipe as directed.
To toast pine nut, heat up a small skillet. Add the pine nuts and stir them over medium heat until they just begin to brown. Remove them from the heat quickly, as they will burn!
About Herbivore's Kitchen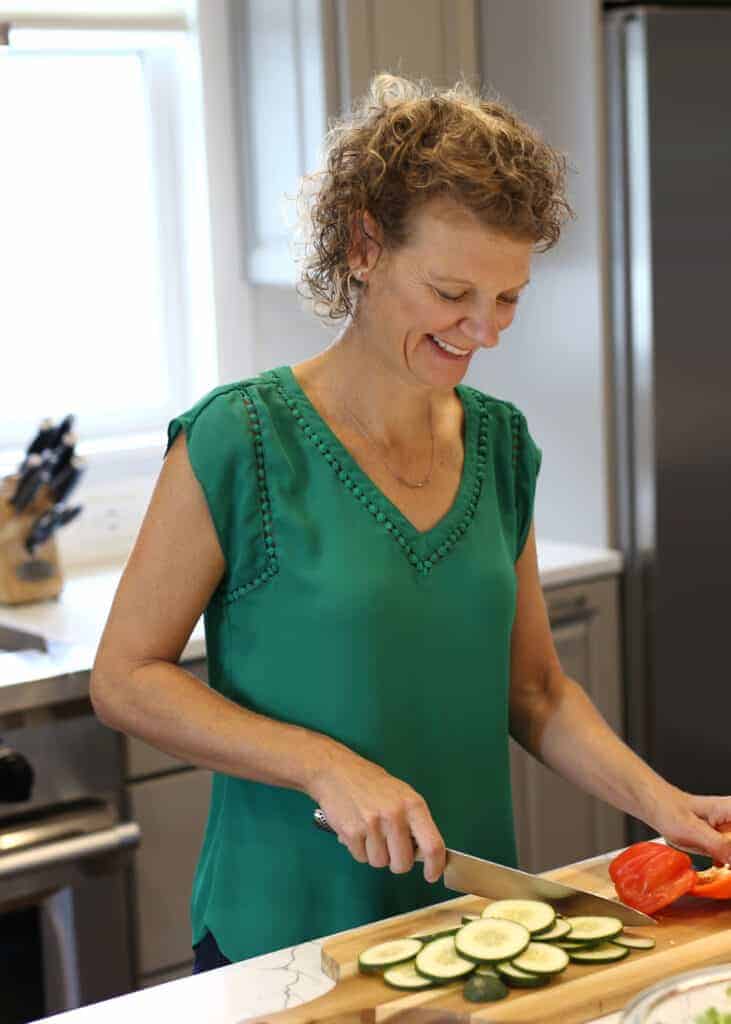 Herbivore's Kitchen is a blog run by me, a plant-based home chef and aspiring food photographer. I switched my diet to a plant-based diet after learning about the health benefits of going vegan. Making this change has prompted a variety of food and holistic-lifestyle related questions that I explore through this blog. I talk about how to pick and prepare the most nutritious foods, to how to reduce waste at home, to how to live a more sustainable lifestyle while on the road.