Jump to Recipe
This Vegan Crunchwrap Supreme, Trifold Tortilla or Tortilla Hack: Whatever You Call It, It's One of My Favorite Vegan Red Lentil Recipes! post includes affiliate links. When I find a great product or service, I like to share it with my readers. Sometimes I use affiliate links so I can earn a commission for my recommendations. Thank you for your support!
Vegan Crunchwrap Supreme, Trifold Tortilla or Tortilla Hack: Whatever You Call It, It's One of My Favorite Vegan Red Lentil Recipes!
Unless you've been hiding under a rock (or perhaps just not active on social media), I'm sure you've seen videos of the clever crunchwrap supreme (aka Tortilla Hack, Tri-Fold Tortilla). These recipes are Taco Bell's Crunchwrap Supreme copycats – a cleverly folded, pressed mess of taco-seasoned beef, cheese, sour cream, iceberg lettuce and diced tomatoes.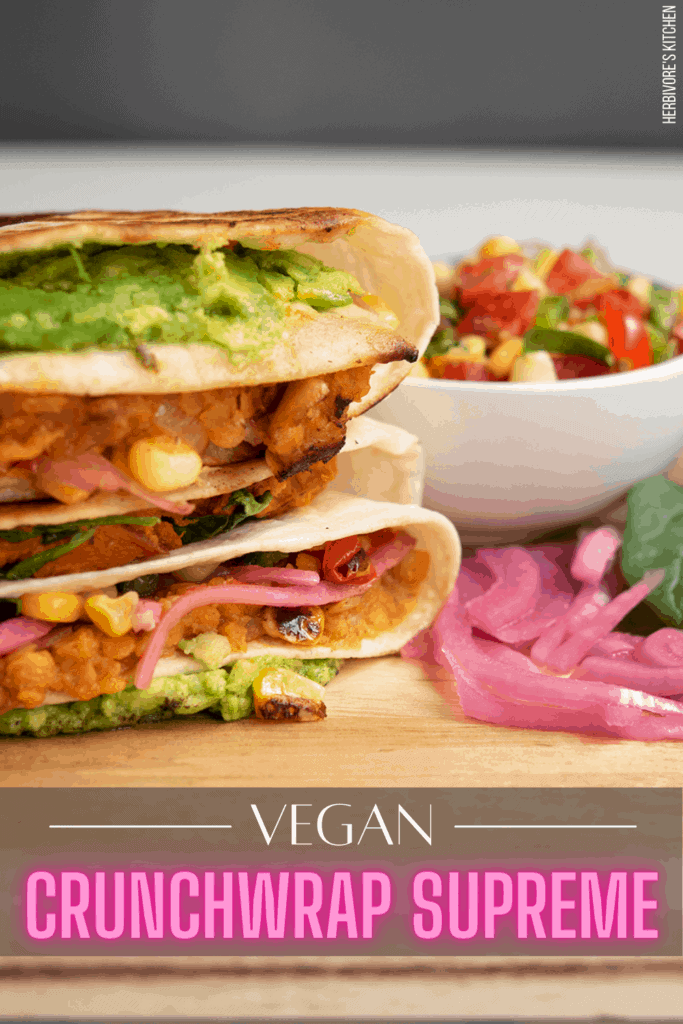 I don't eat beef and I haven't had sour cream in a long time, but I can totally understand why people are going nuts over this trifold tortilla thing. Regardless of its fillings, the crunchwrap supreme has one thing we all want – a panini-style casing. I mean, who does not love a toasted quesadilla? It's both crispy and soft in all the right places!
Vegan Crunchwrap Supreme Recipe: My Own Take on the Tortilla Hack
If you're new to plant-based cooking and eating, I'm sure you're first reaction to a vegan crunchwrap supreme recipe is one of skepticism. I see that raised eyebrow. Bear with me though, because I'm about to show you what's behind the curtain of a seriously good vegan recipe.
How to Fill the Four Quadrants of a Vegan Crunchwrap Supreme
Let's be honest: a crunchwrap is really just a cleverly folded quesadilla finished with a quick toast in a hot pan. Yet, there's something about this architecture that really speaks to human taste buds. If you're not familiar with trifold tortilla technique, here's a quick introduction: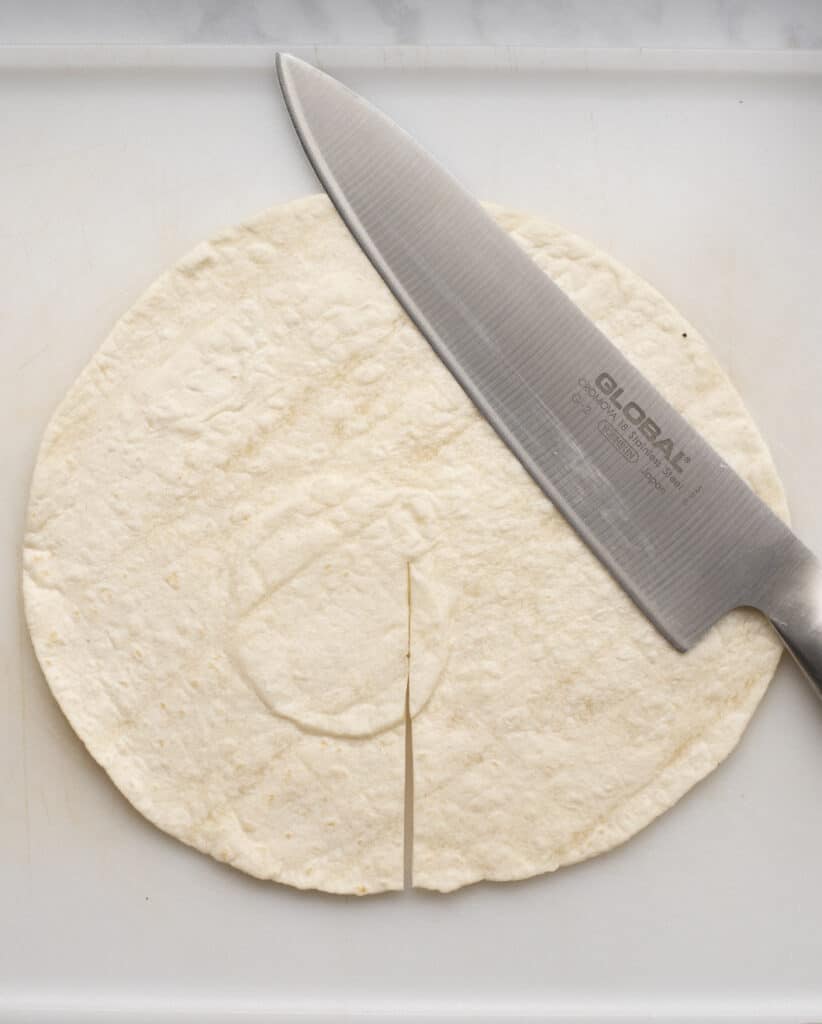 Start with a plain tortilla. Make a slit from the center of the tortilla to the edge of the tortilla.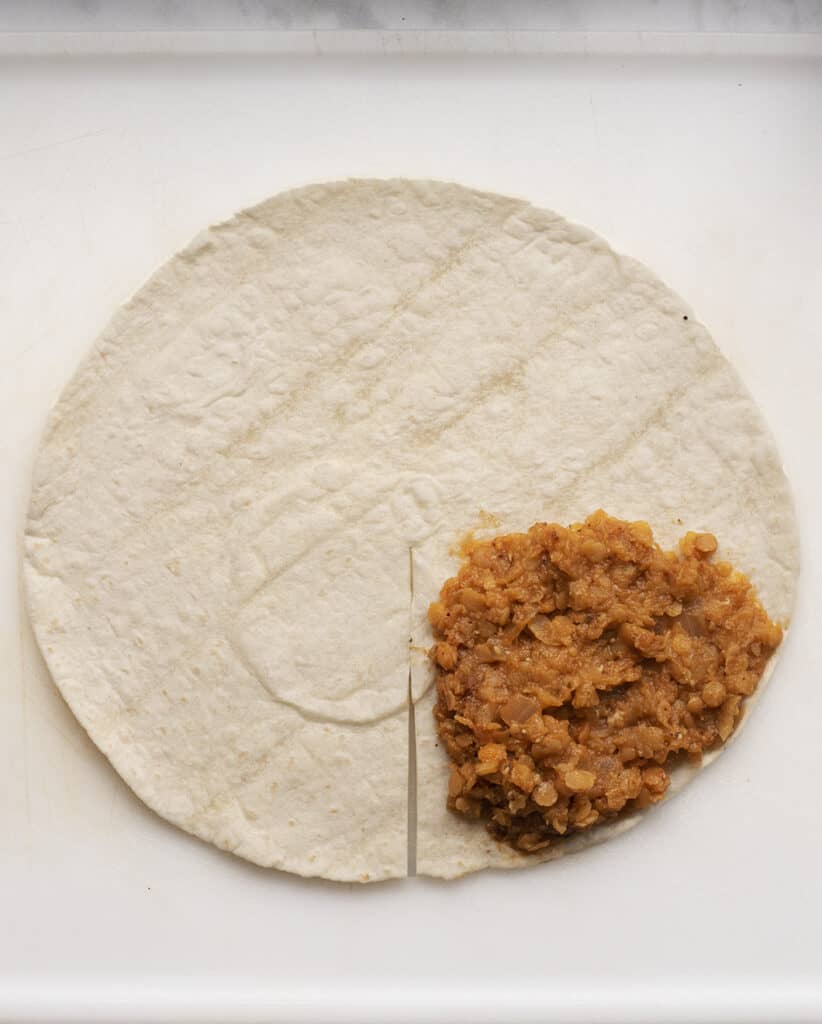 The first crunchwrap quadrant is just to the right of the slit. Add your first crunchwrap ingredient there.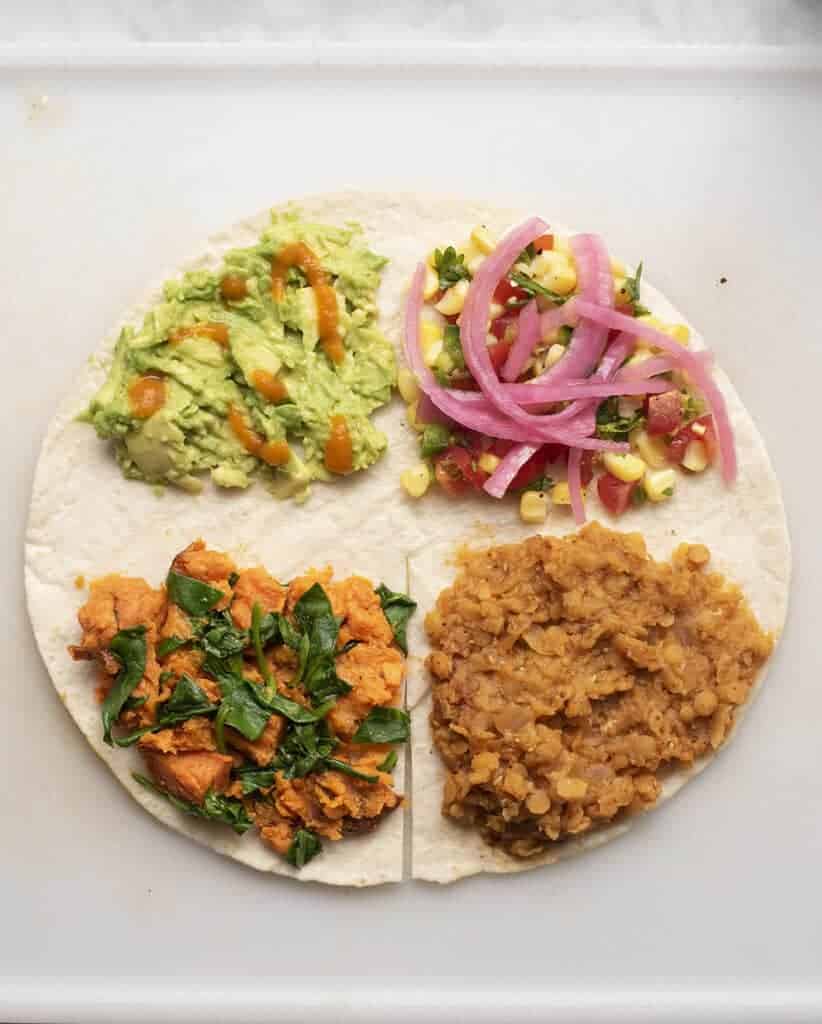 Working counter-clockwise, fill each of the four quadrants with a different crunchwrap ingredient.
Once the four quadrants are filled, start with the first quadrant and fold it up over the second quandrant. Then the second over the third and the third over the fourth.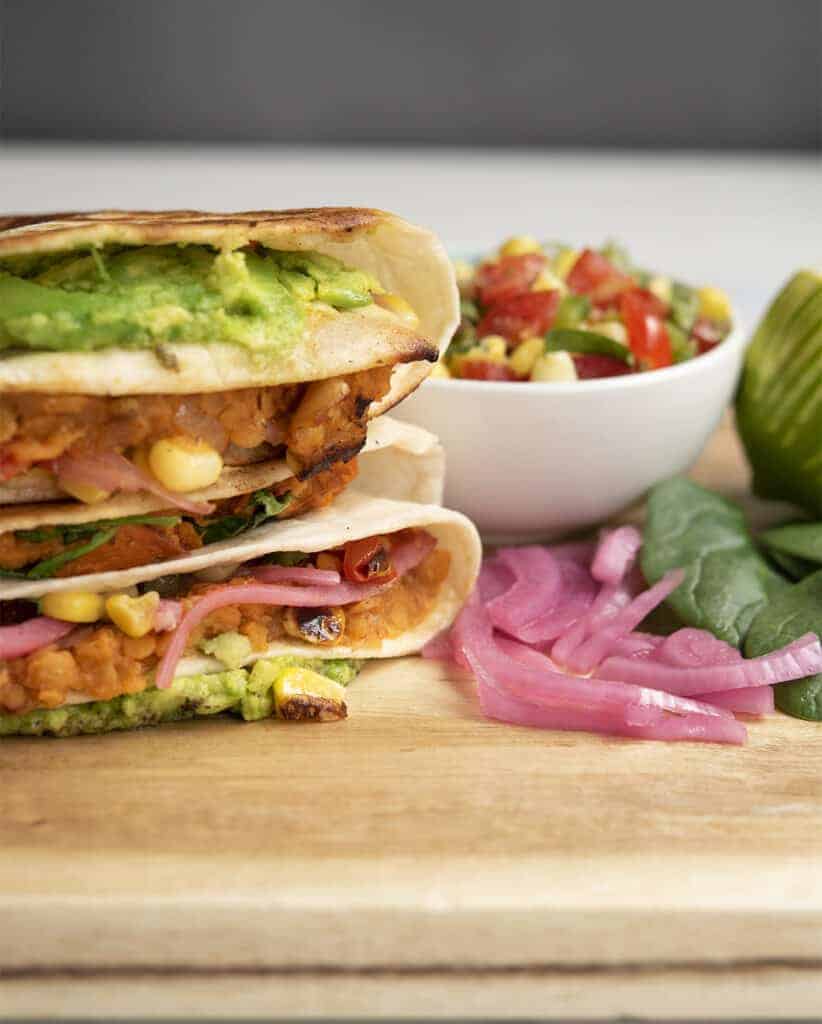 Now put that gorgeous cousin to the quesadilla in a hot frying pan and toast the exterior.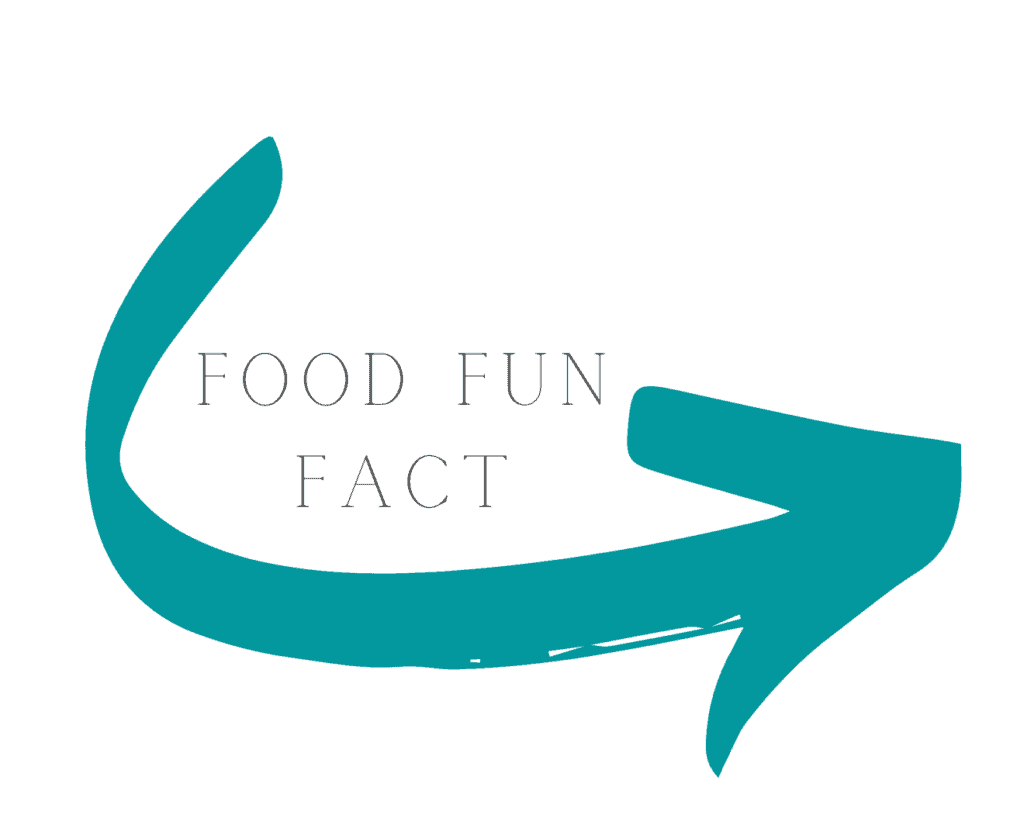 Be smart about filling your quadrants. I like to put the softest crunchwrap ingredients in the first and fourth quadrants. This helps the crunchwrap stay together!
The First Vegan Crunchwrap Supreme Quadrant: Taking One of My Vegan Red Lentil Recipes to New Heights
My Spicy Red Lentils recipe has been with me for a long time. In fact, it's probably the recipe that made me first realize that a plant-based diet was not only doable, but delicious! It's this same simple vegan recipe that replaces the ground beef in Taco Bell's Crunchwrap Supreme.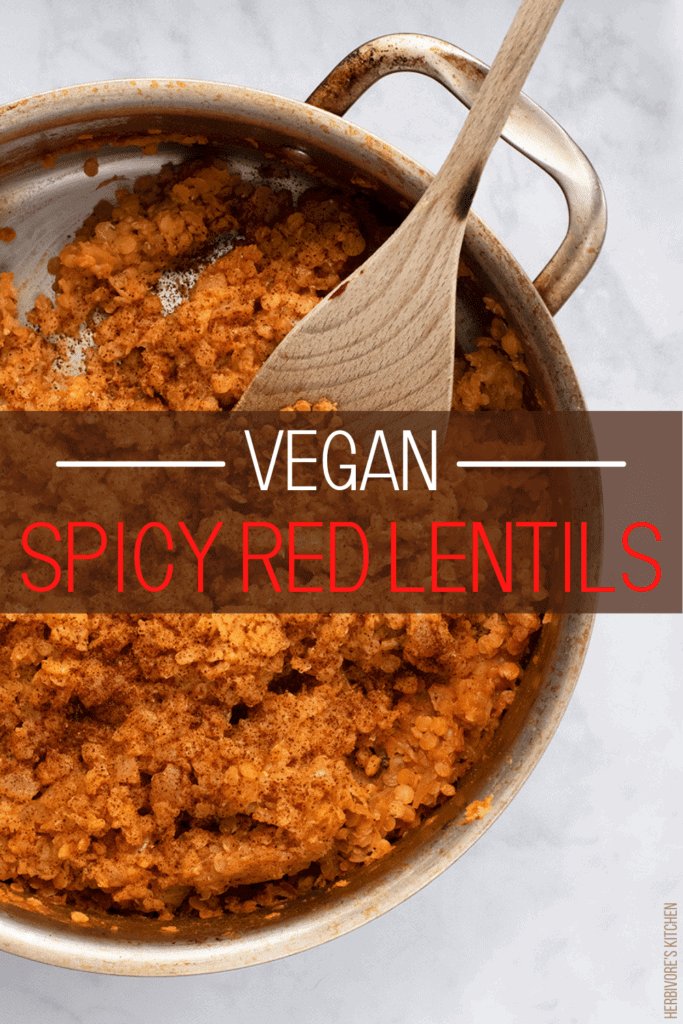 If you're new to lentils, don't worry, I've got you covered. You can read ALL about them in my How to Cook Lentils: Protein for Vegans post. For those of you that just want to get to the Vegan Crunchwrap Supreme recipe already, here's a quick primer:
Red lentils are legumes. When you shop for them, you may also find green and brown lentils.
You want red lentils for this recipe. They cook faster and absorb the liquid that they're cooked in.
Lentils are a cheap and healthy source of vegan protein.
You can usually find them in the dried foods section (near the rice and pasta) or the bulk food section of the grocery store.
The Second Vegan Crunchwrap Supreme Quadrant: Sweet, Spicy, Citrusy Corn Salsa
For the second quadrant of this Vegan Crunchwrap Supreme recipe, I like to tantalize the taste buds with a really simple, but really delicious corn salsa. This quick salsa recipe includes frozen sweet corn, diced tomatoes, lime zest, lime juice, jalapenos and a little salt and pepper.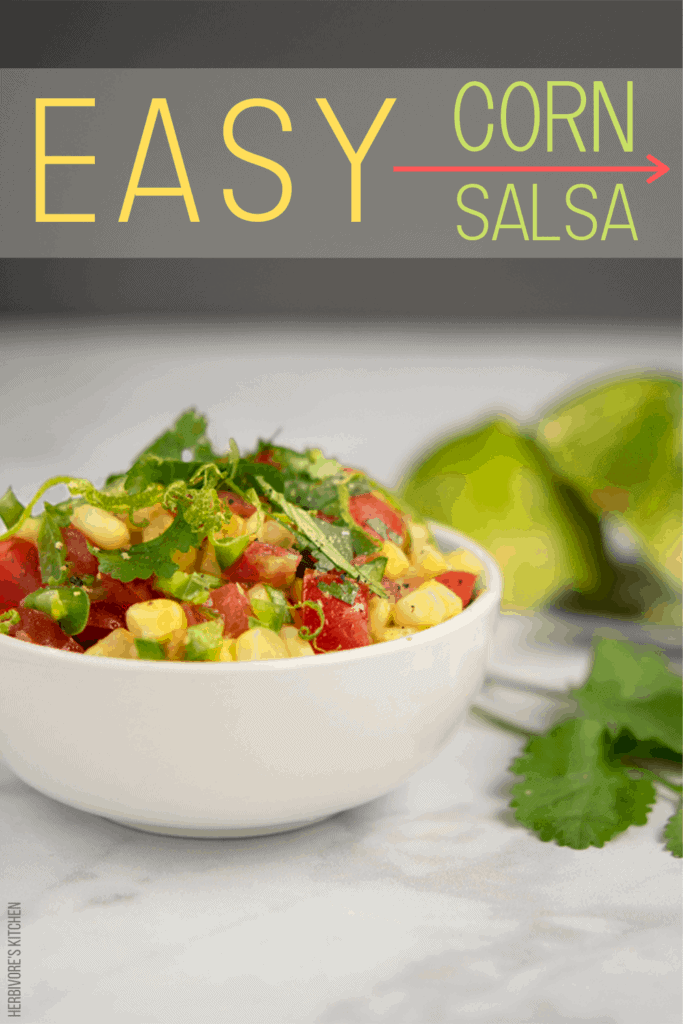 What's an Herbivore's Kitchen Recipe Without Pickled Red Onions?
Of course, I'd never miss an opportunity to add homemade pickled red onions to a recipe if I felt that they were ever remotely appropriate. There was barely any consideration needed here though: pickled red onions are wildly appropriate for this vegan crunchwrap supreme!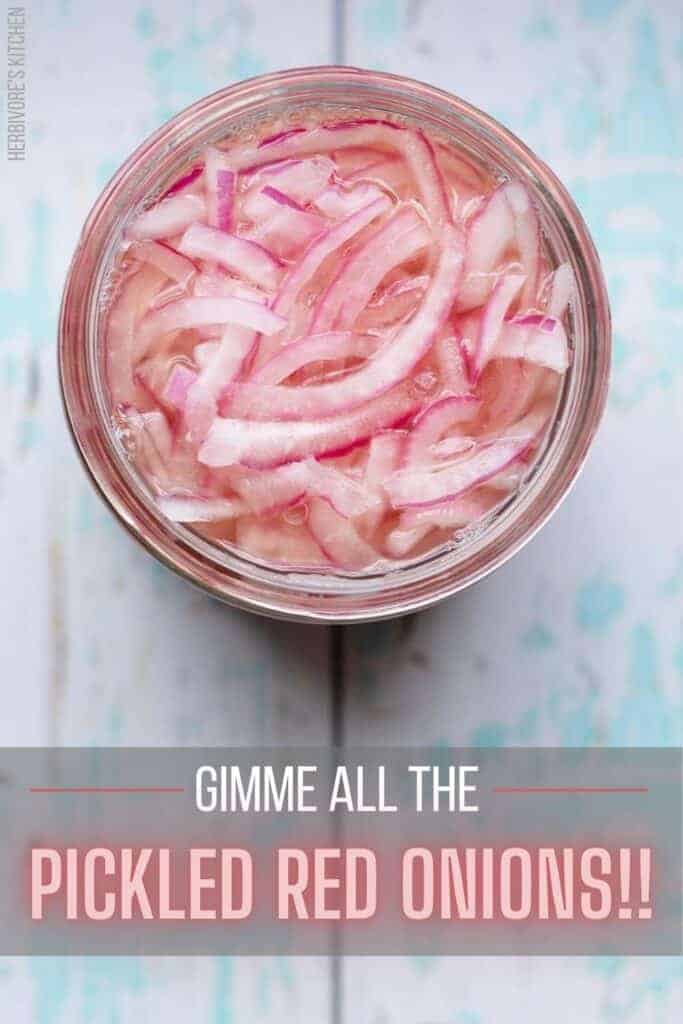 The Third Vegan Crunchwrap Supreme Quadrant: Avocado Mash
And in this quadrant of the trifold tortilla, we have… avocado mash!
If you thought that the second quadrant was involved, you can rest easy. This third quadrant of this vegan crunchwrap is simple. It's just a mashed-up avocado with a dash of hot sauce. I'm sure that you have your hot sauce preferences, but if you happen to be in the market, I recommend Yellowbird's Original Habanero hot sauce.
The Fourth Vegan Crunchwrap Supreme Quadrant: Sweet Potato & Spinach Hash
This may seem to fly in the face of a tortilla hack (after all, aren't hacks supposed to make things easier?), but having roasted sweet potatoes on hand at all times makes it fast and easy.
I know, I know… you're thinking Really? But roasted sweet potatoes are a staple in my house. I throw them in soups and add them to enchiladas; they're amazing in both green and red curry dishes. So, don't be afraid to keep a container of them at-the-ready. Once you get used to having them around, you'll eat them all the time!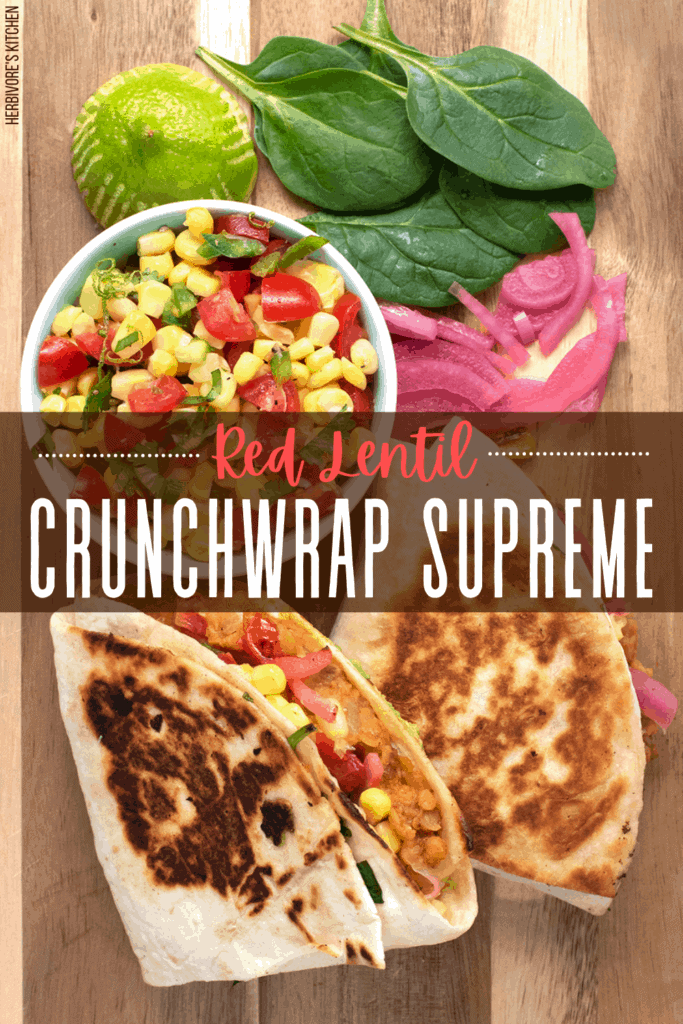 This addition is a simple hash of roasted sweet potatoes and baby spinach. I give the spinach a headstart on wilting my zapping a handful of it in the microwave for 20 seconds. This keeps the nutrients intact but gives it a softer texture. If you like the crunch, by all means add it raw!
Now For the Tortilla Hack: How to Fold a Trifold Tortilla
I gave you the written description above, but everyone loves a good visual. In this short clip, you see how I fill each of the four quadrants of my trifold tortilla and then fold it up to quickly grill it. I do this in a hot frying pan, but my husband prefers to use our waffle iron which, for him, doubles as a panini press.
Do You Love This Vegan Crunchwrap Supreme Recipe?
If you love this Vegan Crunchwrap Supreme recipe, be sure to check out some of my other yummy eat-with-your-hands vegan recipes. These plant-based treats are great for game day snacks or vegan lunches!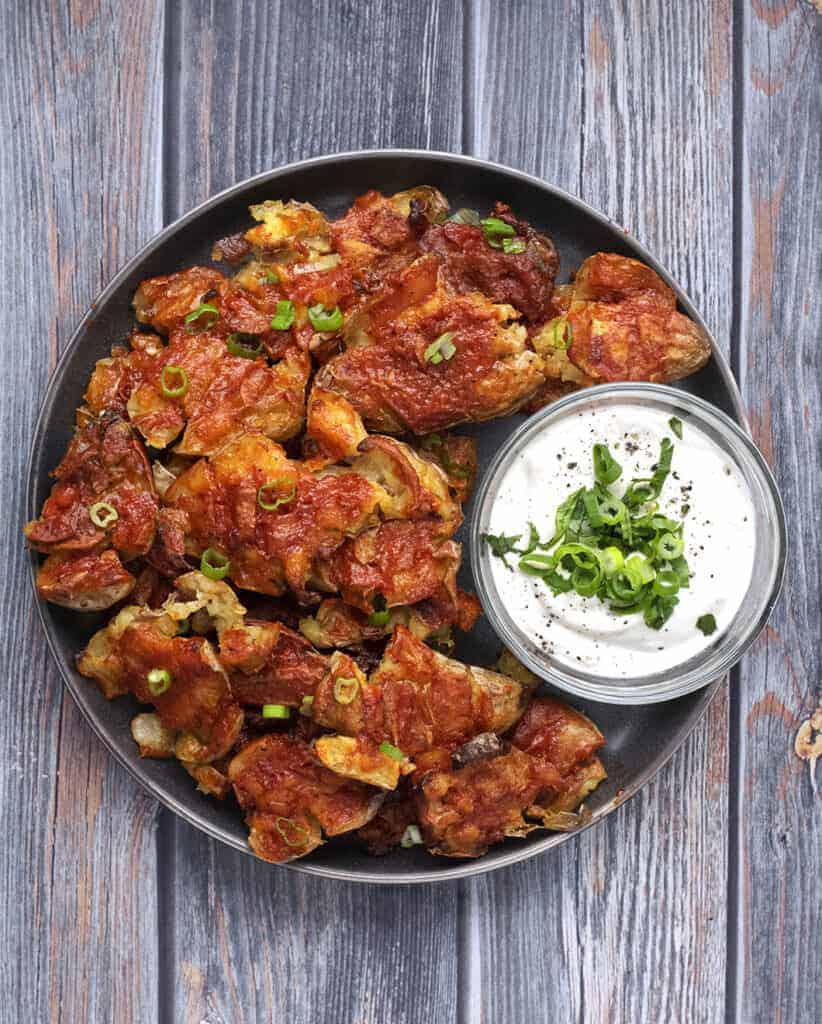 Looking for the ultimate vegan comfort food? These Baked Cauliflower Buffalo Wings are sure to hit the spot, whether you're prepping pre-game food or just having Friday-night wing night.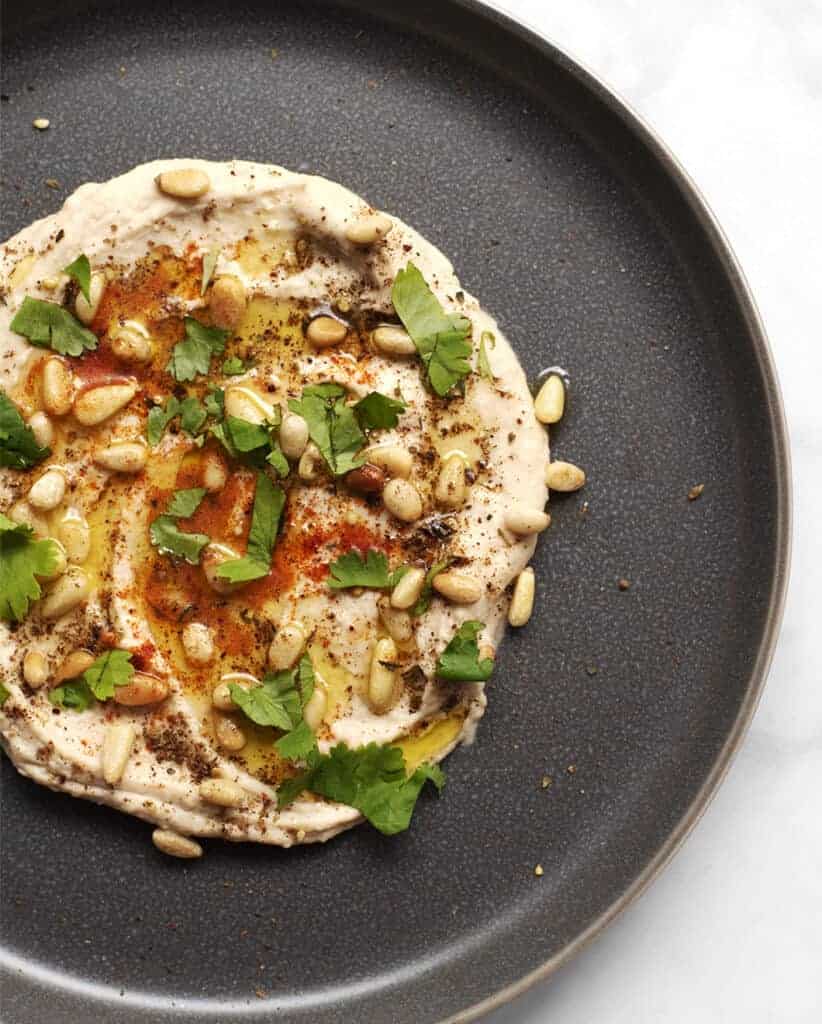 Are you a hummus fan? You know, that creamy Mediterranean dip that tastes as good being eaten off a spoon as it does smeared on falafel with a side of Greek olives and tabouli? Next time try something a little different with this Navy Bean Hummus! It's every bit as good and maybe, just maybe, a bit creamier!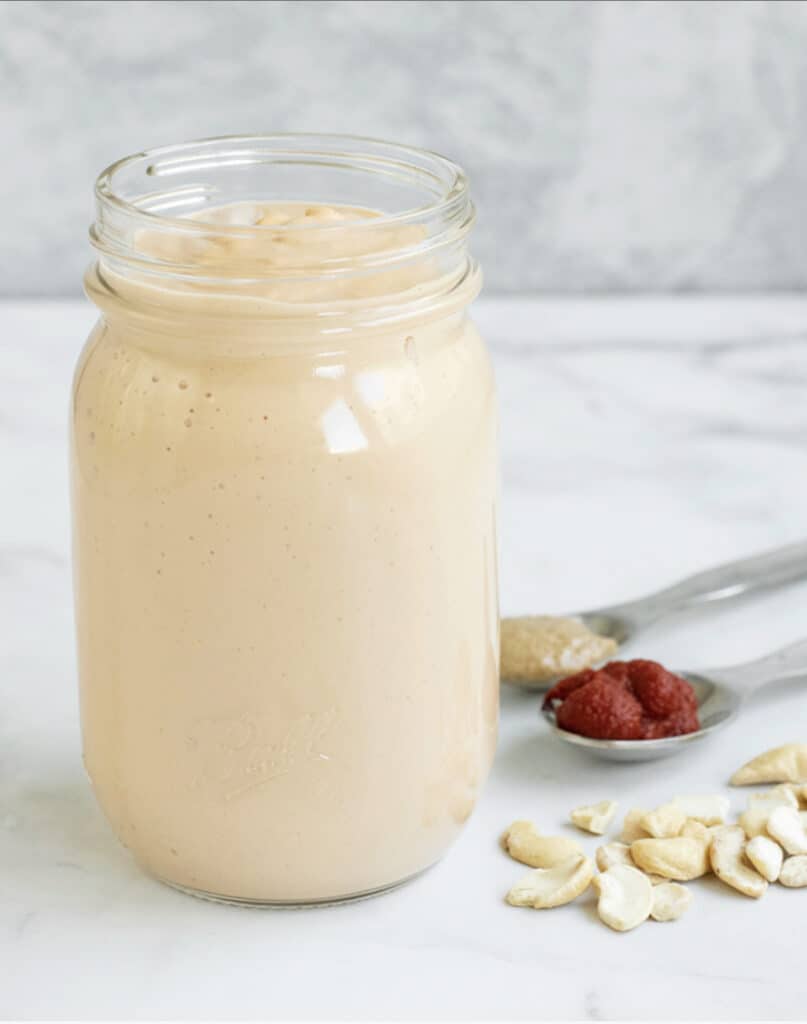 Looking for the best vegan nacho cheese recipe? This cashew-based vegan nacho cheese sauce is truly epic! It's easy to make, full of flavor and packed with healthy, familiar ingredients. It's the perfect topping for vegan nachos, vegan enchiladas or as a dip for homemade soft pretzels or French fries!
What's in My Kitchen to Make This Vegan Crunchwrap Supreme Recipe Easier?
Want to know what tools and resources I keep on hand to make my vegan cooking even easier? Here's a short list of what helped me create this blog post and recipe. For the complete list, visit my Shop where you can find the kitchen gadgets I like as well as a list of books that I recommend.
A waffle iron is a kitchen gadget splurge for sure! As far as I am aware though, you can't really make waffles without a waffle iron.
This waffle iron justifies itself, also coming with pancake plates. This easy set up makes the perfect pancakes (and waffles) every time.
Did someone say burrito? That's right! My family will often drag out this waffle maker and use it to grill their burritos panini-style. I've also used to it make mess-free latkes. How's that for a kitchen gadget that keeps on giving?
Down a broiler pan? These aluminum baking sheets come highly recommended by the cooks who know best – Epicurious, Cooks Illustrated and Food & Wine. I bought mine because I needed a good, sturdy baking sheet to use under the broiler. One that wouldn't warp – and this one lives up to the task.
Aluminum is a good conductor of heat, so these baking sheets cook evenly. They're also light in color, so they discourage over-browning.
No, that's not the brand. It's just the idea! But, I own this set of Global™ knives and They're some of my most prized possessions in the kitchen. This set is universally well-rated for the at-home chef and will get you a good, solid set of knives without totally breaking the bank.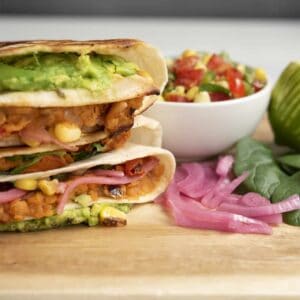 Vegan Crunchwrap Supreme with Spicy Red Lentils
Is it a vegan crunchwrap supreme, a trifold tortilla or a tortilla hack? Whatever you call it, this easy vegan cousin to the quesadilla is one of my favorite vegan red lentil recipes! This healthy vegan snack is packed with tasty goodness, including spicy red lentils, zesty corn salsa, punchy pickled red onions, fresh avocado and a sweet potato spinach hash! It's truly a supreme vegan crunchwrap recipe!
Ingredients
2

sweet potatoes (garnet yams)

washed and diced

1

tbsp

safflower oil

or other high heat tolerant oil

1/4

tsp

salt

1/8

tsp

pepper

4

large

flour tortillas

see Recipes Notes

1

cup

Spicy Red Lentils

find the recipe here

1

cup

Easy Corn Salsa

recipe below

Quick Pickled Red Onions

if desired; find the recipe here

1

avocado

mashed

hot sauce

optional; for additional spice

1

cup

baby spinach

washed, dried and loosely packed

Lime wedges

as optional garnishment

Roasted pepitas

as optional garnishment; find the recipe here

1

bunch

fresh cilantro

washed and torn
Easy Corn Salsa
1

cup

frozen sweet corn

defrosted

1/2

cup

diced grape tomatoes

1/4

cup

diced red onion

1/2

jalapeno

washed, deseeded and diced; optional for spice

1

lime

juice and zest

1/4

cup

cilantro

washed and juilenned

salt & pepper

to taste
Instructions
Easy Corn Salsa
Combine the corn, tomatoes, red onion, jalapeno, lime juice, salt & pepper. Toss and top with lime zest and fresh cilantro. Set aside.
Vegan Crunchwrap Supreme
Preheat the oven to 425º.

Toss the diced sweet potatoes in the safflower oil and sprinkle with salt and pepper.

Evenly spread the sweet potatoes out on a baking sheet. Bake on the middle rack until the potatoes are easily pierced with a fork. About 20-30 minutes, depending on their size.

Cut a slit from the center of one tortilla to the edge of the tortilla (see my blog post for visual instructions)

Add ¼ of the Spicy Red Lentils to the first quadrant.

Add ¼ of the Easy Corn Salsa to the second quadrant. Top with Quick Pickled Red Onions, if desired.

Add ¼ of the avocado and a dash of hot sauce, if desired, to the third quadrant.

Put the spinach in a dampened paper towel and microwave for 30 seconds. Be careful removing the spinach from the microwave as it will be hot. Add the roasted sweet potatoes and wilted spinach to the fourth quadrant.

Fold the first quadrant over the second, the second over the third and the third over the fourth. See my blog post for visual instructions. Repeat with the other three tortillas.

Heat a small skillet, a panini maker or a waffle iron on medium heat. When hot, toast the crunchwraps until browned and crispy. About 2 minutes per side.

Serve immediately with lime wedges, roasted pepitas, additional hot sauce and fresh cilantro, if desired.
Notes
It helps to microwave the flour tortillas for 20 seconds before starting to fill them. They're more pliable when they are warm and less likely to tear.
About Herbivore's Kitchen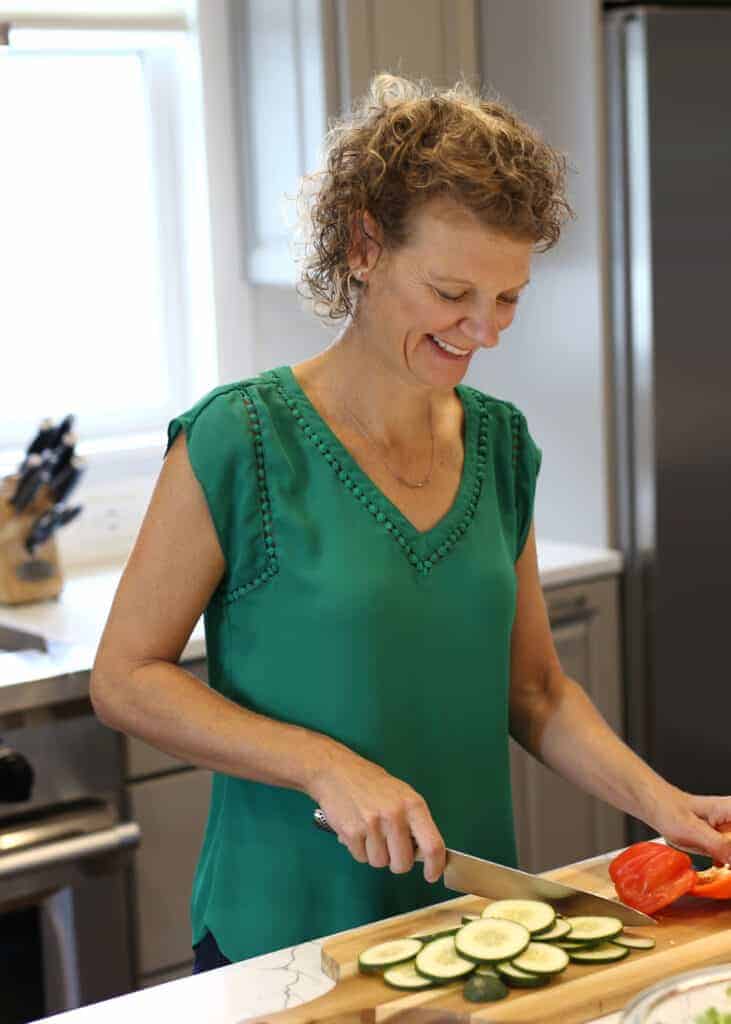 Herbivore's Kitchen is a blog run by me, a plant-based home chef and aspiring food photographer. I switched my diet to a plant-based diet after learning about the health benefits of going vegan. Making this change has prompted a variety of food and holistic-lifestyle related questions that I explore through this blog. I talk about how to pick and prepare the most nutritious foods, to how to reduce waste at home, to how to live a more sustainable lifestyle while on the road.