Jump to Recipe
This Vegan White Bean Stew: This Vegan White Bean Soup is So Seriously Creamy You'll Be Shocked It's Dairy-Free! recipe includes affiliate links. When I find a great product or service, I like to share it with my readers. Sometimes I use affiliate links so I can earn a commission for my recommendations. Thank you for your support!
Vegan White Bean Stew: This Vegan White Bean Soup is So Seriously Creamy You'll Be Shocked It's Dairy-Free!
White beans are my new thing! I've been learning about, cooking with and dreaming up vegan white bean recipes for days now. This Vegan White Bean Stew is just one of the amazingly tasty recipes I'll be sharing with you over the next several weeks, so stay tuned. In the meantime, let's get down to details on this creamy, vegan white bean soup recipe!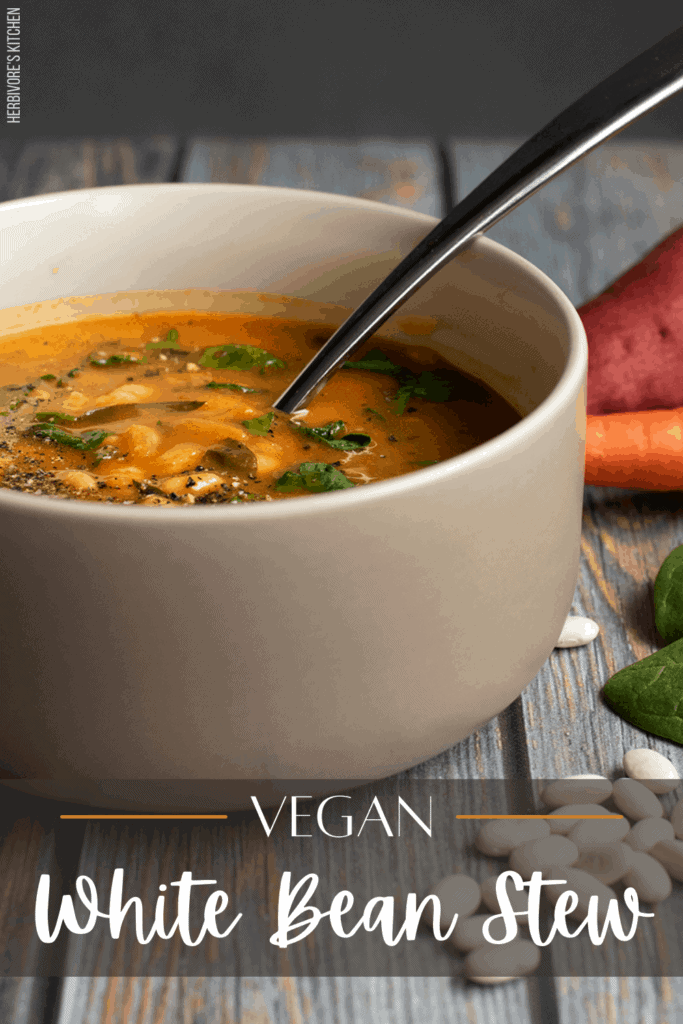 What Are White Beans?
If you've been cooking for a while, you might be well aware of the confusion around white beans. Recipes often call for white beans, but don't specify what type of white beans to use. Does "white beans" mean Navy Beans, Cannellini Beans, Great Northern Beans or Lima Beans? And does it make a difference if you substitute one type of white bean for another?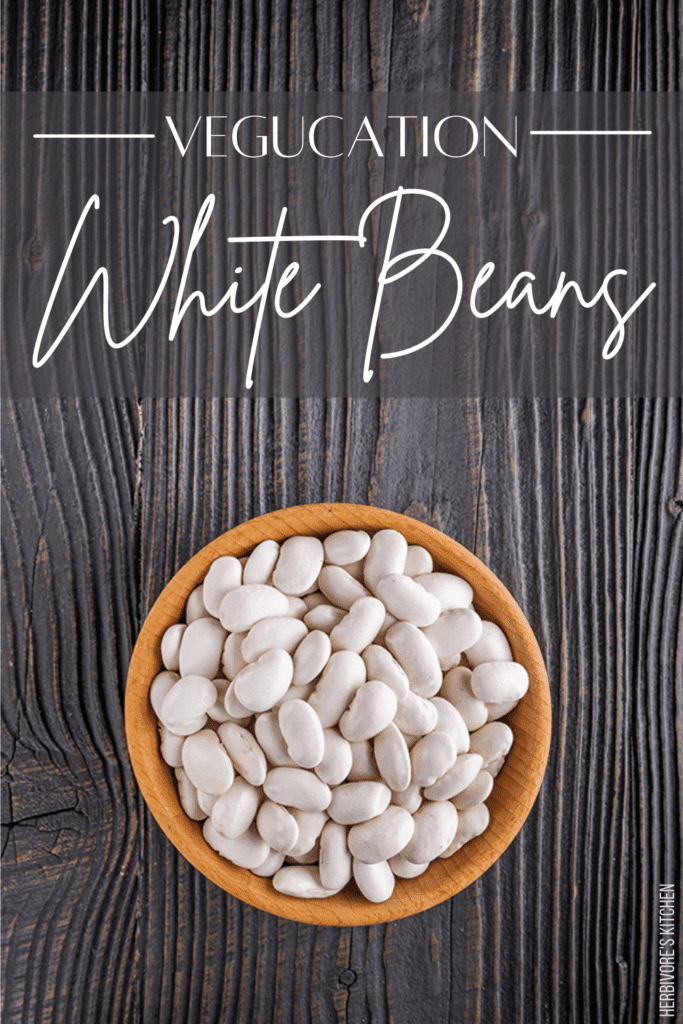 This issue drove me bonkers, so I decided to dig in and get to the bottom of white beans. What I learned really opened the door for me to use white beans in more of my cooking. These healthy legumes vary in taste and texture and can add so much to your vegan cooking. If you too want to better understand white beans, be sure to check out my Ultimate Guide to White Beans!
Vegan White Bean Stew: What Kind of White Beans Should I Use?
For this vegan white bean soup recipe, I used Great Northern Beans. As you'll learn in my Ultimate Guide to White Beans, Great Northern Beans are one of the larger, meatier white beans. They're mild, but also great at soaking up the liquids that they're cooked in. This makes them perfect for a hearty vegan white bean stew like this one.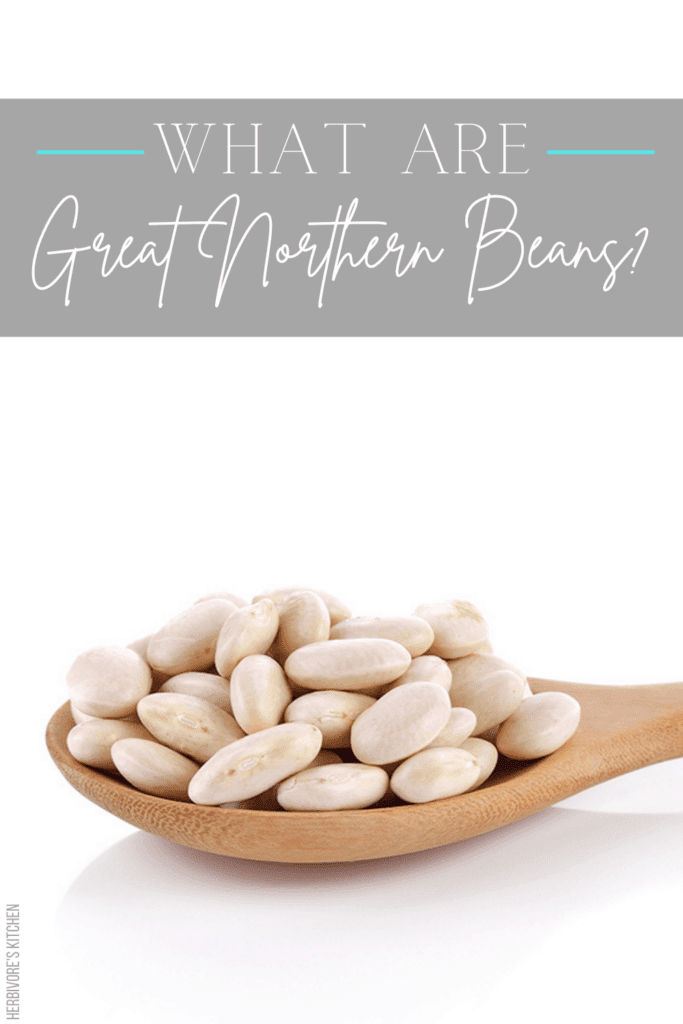 Great Northern Beans maintain their structure when they're cooked, but still do wonders to thicken this vegan white bean soup as they slow cook. They are pretty easy to find as dried beans and canned beans at most grocery stores.
I Want to Make This Vegan White Bean Soup… But I Need a Good Great Northern Bean Substitute
Oh, this vegan white bean soup recipe sounds so good. But, first question… what's a good Great Northern Bean substitute?
Yes, while I am choosy about the beans I select for my recipes, I know that sometimes you can't find the right beans. Or, you'd rather use what you have in the pantry. I totally get it.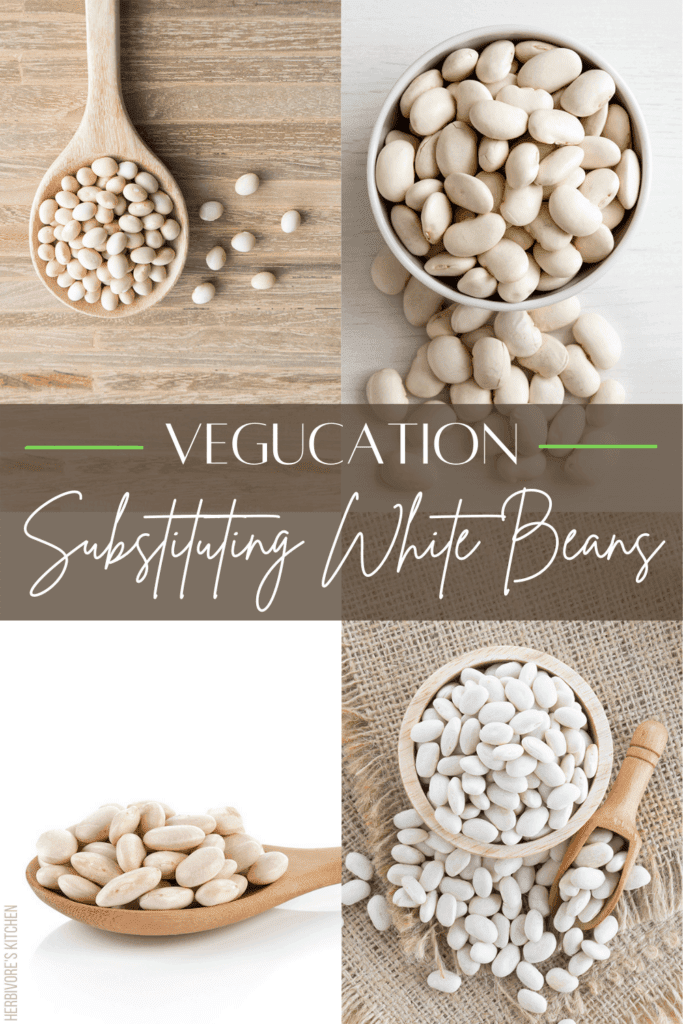 Since this question is bound to be asked, here's the answer: if you're looking for a good Great Northern Bean substitute, I recommend using Cannellini Beans in their stead. Like Great Northern Beans, Cannellini Beans are a larger, meatier bean. They maintain their structure when cooked, making them a good Great Northern Bean substitute.
Tell Me More About This Vegan White Bean Stew!
Now that we've covered some white bean basics, let's talk about this vegan white bean stew!
This vegan white bean soup's standout quality is its thick, rich consistency. It's practically a white bean chowder. By looking at it, you might guess that it uses a cream substitute, but you'd be wrong! That hearty broth is purely the product of the beans being cooked down over time. And…maybe the sweet potatoes too. We'll get to that in the next section.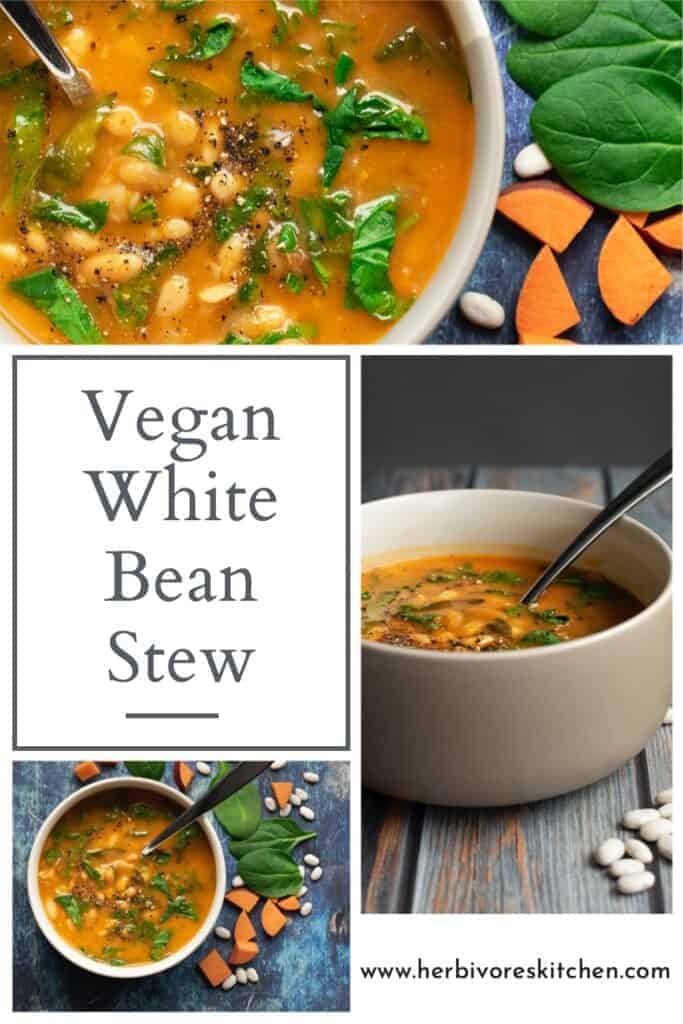 To achieve this, I make this vegan white bean soup recipe in my slow cooker. Actually, I have a multi-cooker, but a slow cooker will work too. I'm certain you could achieve these results on the stove top as well. Whichever method you choose, keep some extra water on hand to supplement the broth as the beans absorb the liquids.
What Other Vegetables Are in This Vegan White Bean Stew?
In addition to white beans, this vegan white bean soup features carrots, celery and sweet potatoes. Carrots and celery are common vegetables that I use when making soups from scratch. Carrots are a no-brainer, but I feel like celery is often overlooked. Don't be a celery over-looker. Using celery adds depth of flavor. It's got an herbal aroma and lends a salty touch to vegetable broth.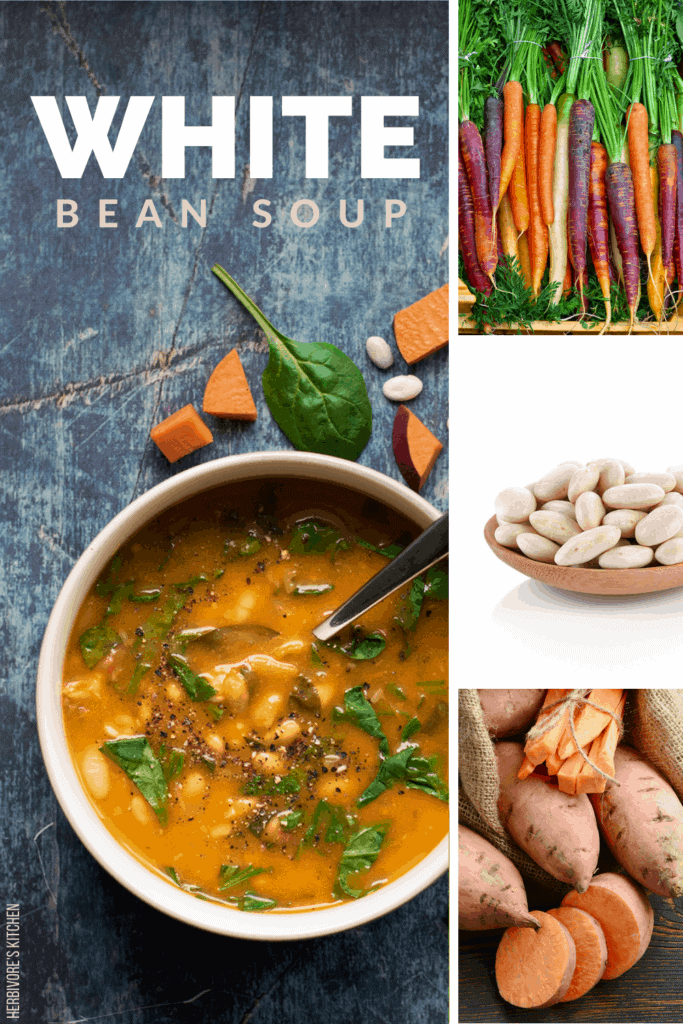 I added sweet potatoes to this vegan white bean soup for a few reasons. First, sweet potatoes are wonderful for you. They're a good source of fiber, Vitamin C, Manganese, Vitamin B6 and Potassium. They're also packed with Vitamin A (only 769% of the DRV!!) and I've been obsessed with the effects of Vitamin A on skin health lately!
I added diced sweet potatoes to this vegan white bean soup without removing the skin. As the sweet potatoes cook in the soup, the skin will begin to peel from the potato. What I discovered by doing this, is that the sweet potato skin gives the appearance of ham in the stock. Not that you're here for ham substitution, but for the vegan-curious, this may make this vegan version of white bean soup more familiar as white bean soup is often made with ham as an ingredient.
Putting This Vegan White Bean Soup Together
This white bean soup is so easy to make! If you follow my recipe exactly, it does require that you start prepping the night before by soaking the Great Northern Beans. The soaked beans are then drained and rinsed and added to the slow cooker. If you're not a plan-ahead-person, you can substitute dried Great Northern Beans for canned Great Northern Beans. You'll find the directions in the Recipe Notes below.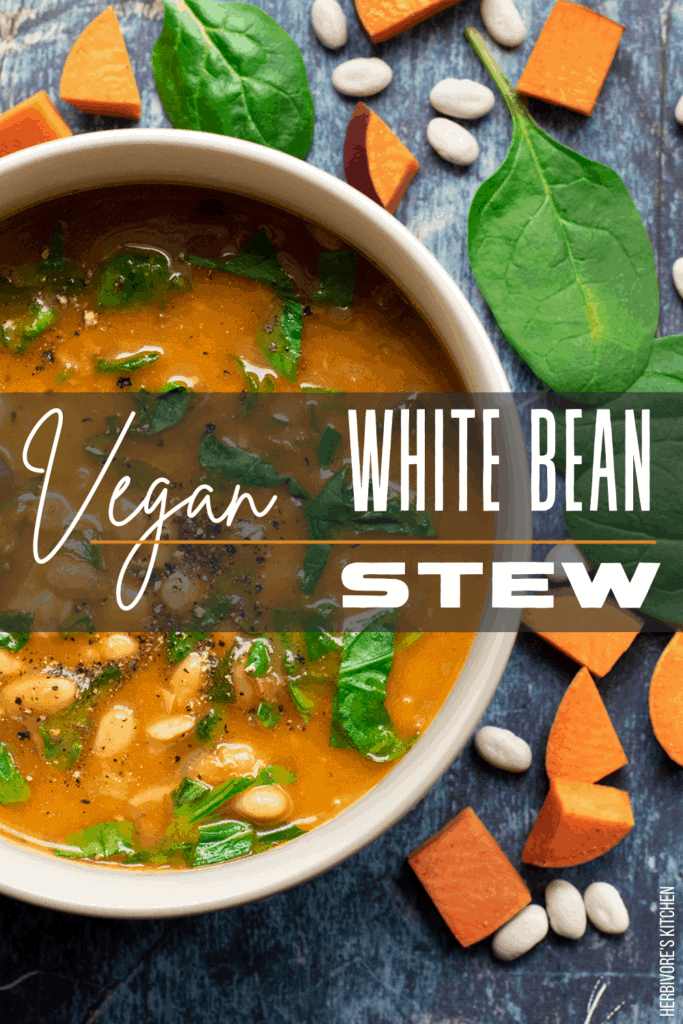 This vegan white bean stew is a "set it and forget it" kind of meal, with the exception of occasionally checking in during the cooking process to make sure that the liquids haven't completely cooked off. Once it's finished, I like to add a tbsp of sherry cooking vinegar (the acid brightens the whole pot) and then season each bowl with salt and fresh ground pepper!
Like This Vegan White Bean Stew? Be Sure to Check Out My Other White Bean Recipes!
If you like this vegan white bean stew recipe, you'll love the other ways white beans enhance vegan recipes. In particular, may I direct you toward my Vegan Cassoulet? This dish is so delish, it's capable of converting even those most diehard carnivores. Okay, maybe not… but I bet you can get them to try a Meatless Monday!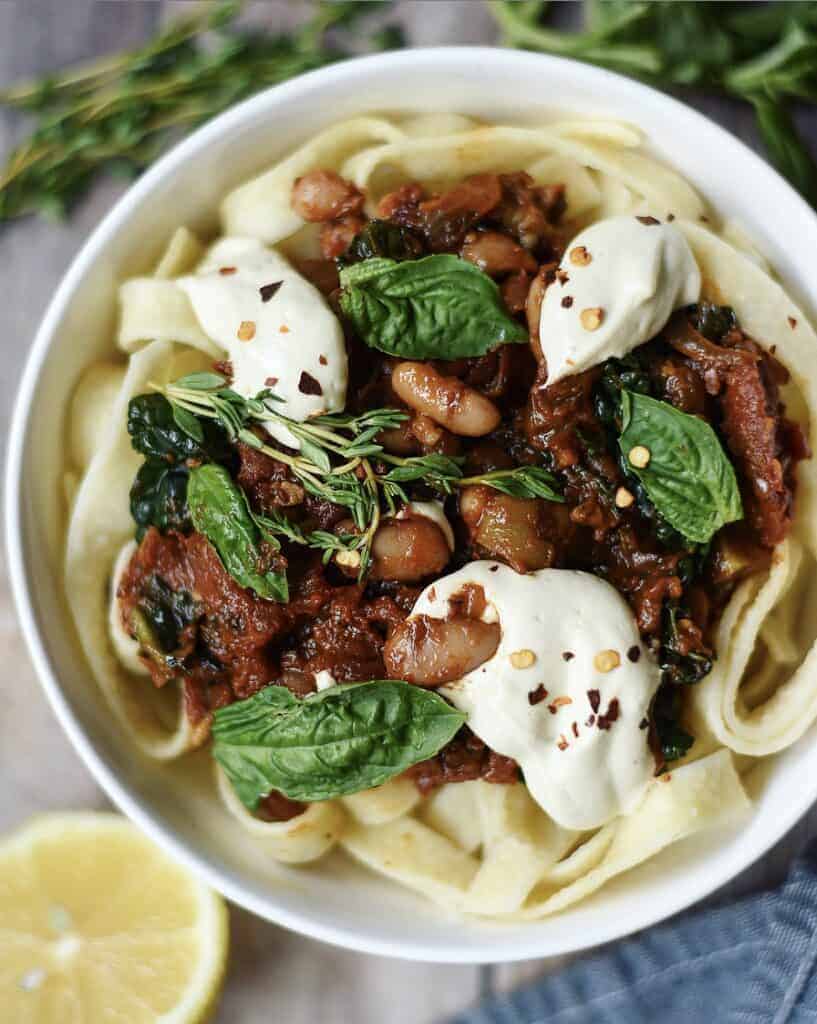 This Pappardelle Pasta with Kale & White Bean Ragu is the perfect meal for a chilly winter evening. The slow-cooked white bean stew is richly favorful with plenty of nutrients. Pasta is, of course, the key to comfort food, but the cashew cream sauce isn't too shabby either!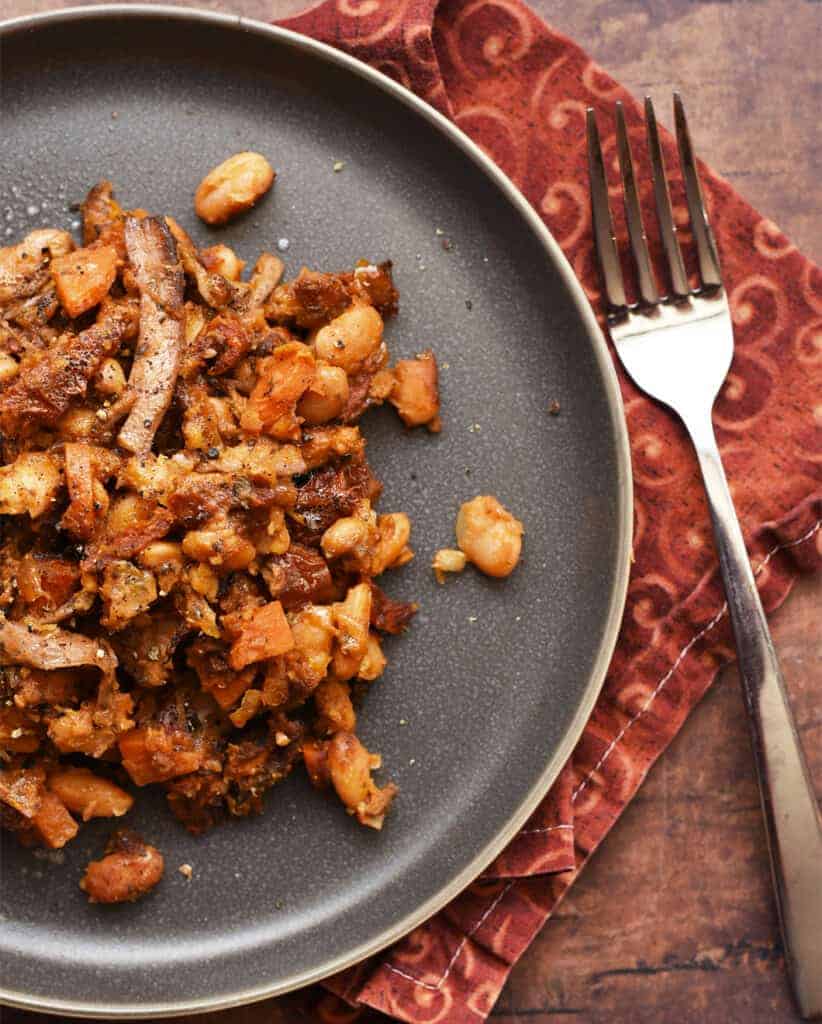 Going vegan doesn't mean giving up rich, savory dishes. If you need proof, all you have to do is try this Vegan Cassoulet. This cassoulet recipe has more than one trick up its sleeve for delivering a vegan dish that has all of the qualities of its traditional preparation.
What's in My Kitchen to Make This Vegan White Bean Soup Easier?
Want to know what tools and resources I keep on hand to make my vegan cooking even easier? Here's a short list of what helped me create this blog post and recipe. For the complete list, visit my Shop where you can find the kitchen gadgets I like as well as a list of books that I recommend.
A couple of years ago, I replaced my traditional crockpot with this multi cooker. I love this thing. It has settings for sautéing, simmering, braising, boiling and warming (among others). It's one-pot, slow cooking at its finest. I sauté my onions and garlic, then bring my broth to a boil, reduce it to a simmer and low, slow cook it all afternoon. All in one device.
No, that's not the brand. It's just the idea! But, I own this set of Global™ knives and They're some of my most prized possessions in the kitchen. This set is universally well-rated for the at-home chef and will get you a good, solid set of knives without totally breaking the bank.
This garlic peeler is a simple silicon tube. Despite its simple design, it skillfully removes even the toughest of garlic skins. I'm so much happier not peeling garlic cloves with my fingernails. I'm pretty sure I'll collectively get at least a day of my life back because of this device.
I've read a dozen posts about why you shouldn't use a garlic press. One of them actually suggested that they take up valuable kitchen space. I mean, I guess if you have a tiny kitchen you might have to make those choices. They're smaller than a can opener. I love mine. I hate, hate, hate mincing garlic.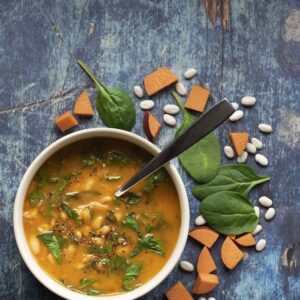 Vegan White Bean Stew
This Vegan White Bean Stew is so easy to make…and so tasty! This slow-cooker vegan white bean soup comes out so thick and creamy, you'll be hard-pressed to convince someone that it's dairy-free.
Ingredients
1 1/2

cup

dried Great Northern Beans

soaked overnight, for canned bean use or Great Northern Bean substitutes, please see the Recipe Notes

1

tbsp

extra virgin olive oil

1/2

yellow onion

finely diced

2

garlic cloves

minced

1

tsp

dried thyme

1/2

tsp

dried rosemary

1

tbsp

tomato paste

1

carrot

washed and diced

1

celery stalk

washed and diced

1

sweet potato (or garnet yam)

washed and small diced

1

quart

low-sodium vegetable broth

4

cups

water

divided

2

bay leaves

1

tbsp

sherry vinegar

salt & pepper

to taste
Instructions
Prepare the Great Northern Beans by soaking them overnight in a brine solution. To do this, add 1 ½ tbsp of salt to 2 quarts of water in a large bowl. Add the beans and cover the bowl. Let the beans soak on the counter overnight. In the morning, drain and rinse the beans.

Add the olive oil to a large stock pot and turn the heat to medium-low. Then the oil is shimmering, add the diced onions and salt. Slow cook the onions until they just begin to brown. About 12-15 minutes.

Increase the heat to medium, then add the garlic. Sauté the garlic and onions for 1-2 minutes being careful not to burn the garlic.

Add the dried thyme and rosemary and stir to combine. Sauté until fragrant. About 1 minute.

Add the tomato paste and continue sautéing until the tomato paste becomes a dark red. About 2-3 minutes.

Add the carrots, celery and diced sweet potatoes. Stir to coat the vegetables.

Add the vegetable broth, 2 cups of water, the soaked Great and the bay leaves.

At this point, you can add the soup to your slow cooker and slow cook it on low for 6-8 hours. Check the slow cooker periodically and add more water as necessary. Or you can continue cooking the soup on the stove top by bringing it to a boil and then reducing it to a simmer. Simmer the soup until the beans are soft. About 2 hours. Be sure to check the soup periodically and add more water as necessary.

As the liquid cooks down, the soup should become very thick and flavorful. Add additional water to achieve the desired consistency. Remove the bay leaves and add the sherry vinegar. Serve immediately season with salt & fresh ground pepper, to taste.
Notes
As this soup simmered in my Multi-Cooker, I needed to add water from time-to-time. In all, I added about 2 additional cups of water.
What's a Multi-Cooker anyway? This kitchen appliance is very similar to a slow cooker in appearance. In addition to having slow cook setting, a multi-cooker can also braise, sauté, boil and warm, as well as make rice and yogurt. Having these features allows me to make the entire dish in my multi-cooker as opposed to having to transfer the soup to a slow cooker halfway through the recipe.
Need a Great Northern Bean substitute? Use Cannellini Beans. Like Great Northern Beans, they are a hearty white bean that maintains its structure when cooked.
Looking for a faster option? Use 3 14 oz cans of Great Northern Beans (or Cannellini Beans) instead of dried beans. Be sure to drain and rinse the beans before adding them to the soup. Simmer the soup for 45 minutes before serving. The soup may not achieve the same thick consistency, but it will still taste amazing!
About Herbivore's Kitchen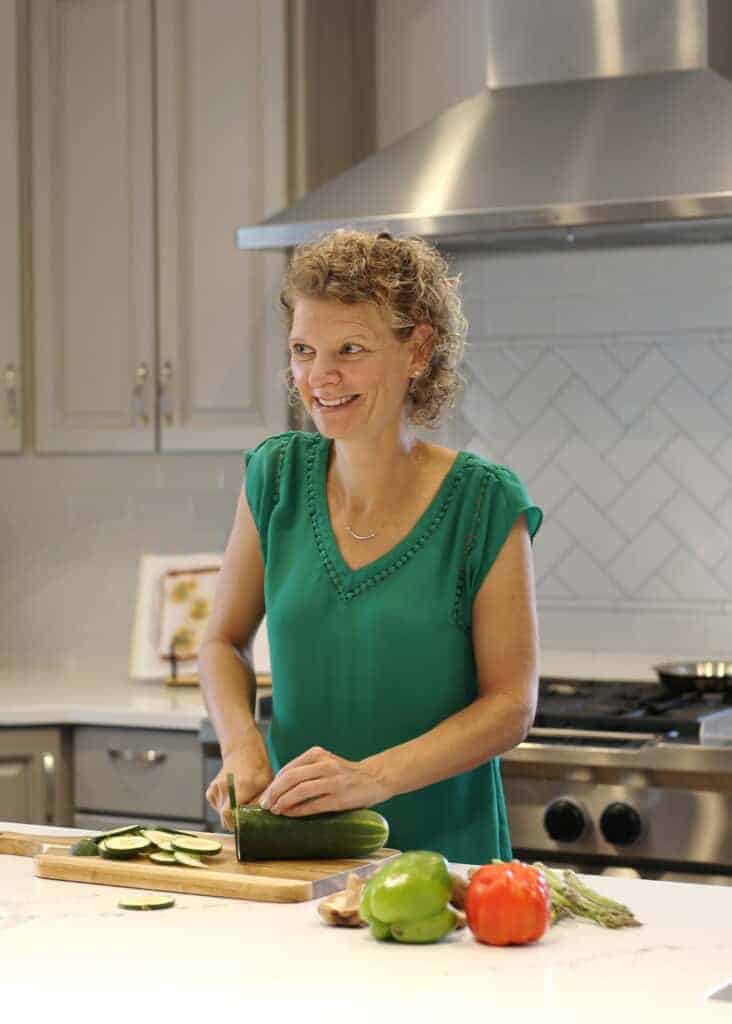 Herbivore's Kitchen is a blog run by me, a plant-based home chef and aspiring food photographer. I switched my diet to a plant-based diet after learning about the health benefits of going vegan. Making this change has prompted a variety of food and holistic-lifestyle related questions that I explore through this blog. I talk about how to pick and prepare the most nutritious foods, to how to reduce waste at home, to how to live a more sustainable lifestyle while on the road.