Jump to Recipe
This Buffalo Smashed Potatoes: The Ultimate Vegan Appetizer Served with a Side of Cashew Ranch Dip recipe includes affiliate links. When I find a great product or service, I like to share it with my readers. Sometimes I use affiliate links so I can earn a commission for my recommendations. Thank you for your support!
Buffalo Smashed Potatoes: The Ultimate Vegan Appetizer Served with a Side of Cashew Ranch Dip
When I was growing up, my family used to occasionally go out for buffalo wings and fries as a special junk-food treat. This was usually on a cold winter night after a day of skiing. It was just a little ritual that we had.
Truth be told, I was never much into the wings. Even then, long before I imagined taking meat out of my diet entirely, chicken wings kind of grossed me out. I was there for the French fries. French fries double dipped in buffalo sauce and ranch dressing. Oh yes! That was my deep-fried heaven.
I don't eat wings anymore and my French fry intake is a lot lower than it used to be, but I would still get nostalgic when I thought about combining fried potatoes, buffalo sauce and ranch dressing. Then it occurred to me: why not give this combination a healthier, easy-to-make-at-home twist? So I combined my latest smashed potato recipe (Garlic Smashed Potatoes with Chimichurri Sauce) with buffalo sauce and got this — Buffalo Smashed Potatoes with Creamy Cashew Ranch Dip!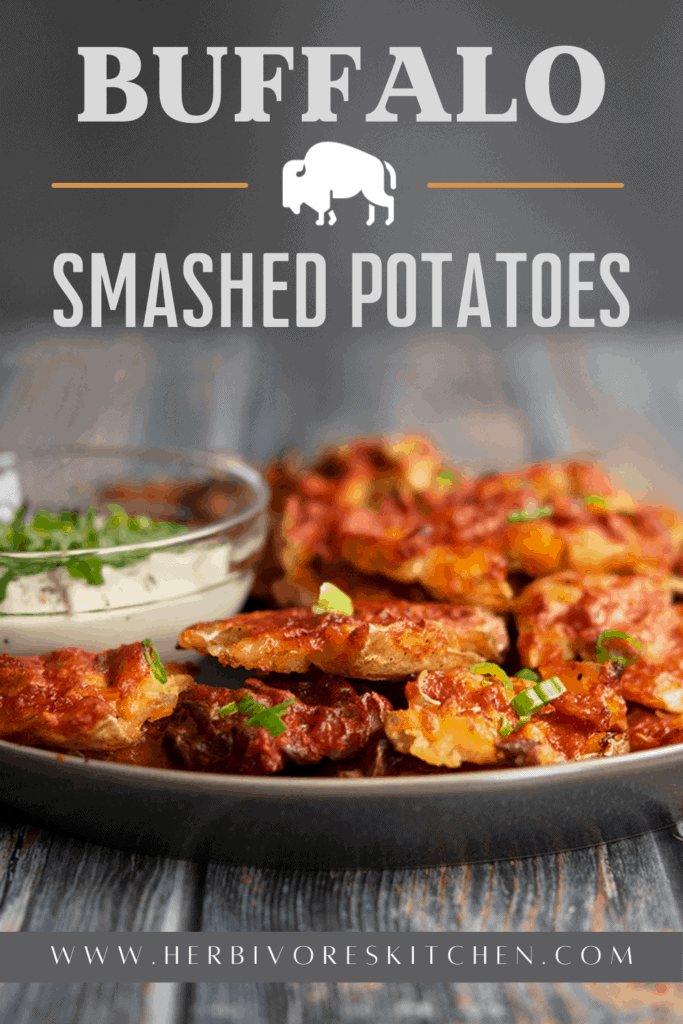 What Are Buffalo Smashed Potatoes?
Smashed potatoes are sort of like a baked potato and sort of like French fries. They're made using fingerling potatoes – a small potato varietal with a delicate skin that lends well to the smashing portion of this recipe. These potatoes are first steamed, then smashed and then baked until crispy. Like really crispy. It's brilliant really — a smashed potato lends more surface area for the crispy exterior, which is achieved by baking instead of frying. See? Baked Potato French Fries = Smashed Potatoes.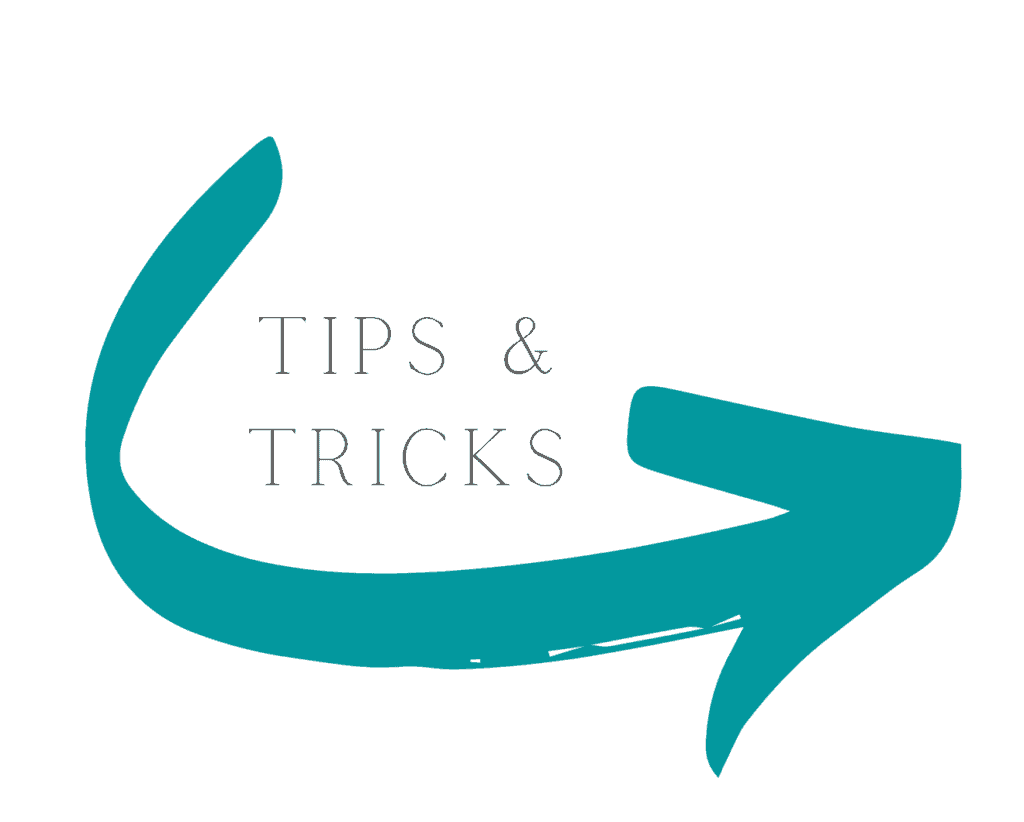 Want to learn more about fingerling potatoes? I get down and dirty with these small spuds in my What Are Fingerling Potatoes post.
What is Buffalo Sauce?
Ah… this question is quite near and dear to my heart. Remember those post-skiing family outings I talked about? Those happened in upstate New York near Buffalo – home of the Anchor Bar (and the origin of the buffalo wing). Hence, buffalo sauce has nothing to do with the range-roaming animal. It's named after the City of Buffalo. You'll thank me when this comes up on trivia night.
How to Make Buffalo Smashed Potatoes
This vegan appetizer (or side dish) is so easy! Buffalo smashed potatoes come together in these three easy steps: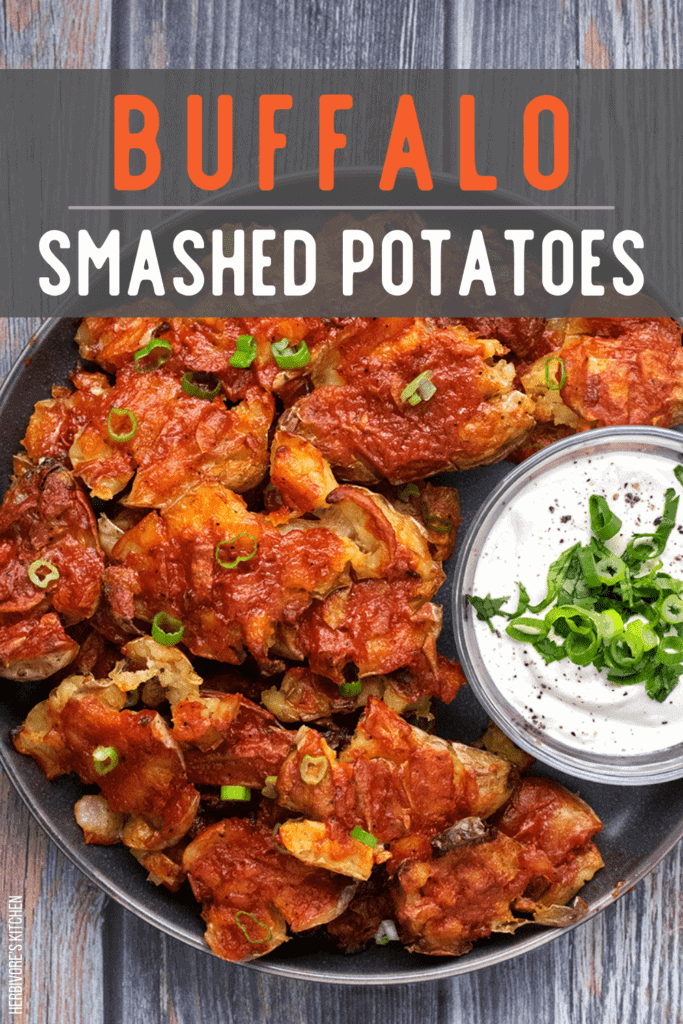 Steam. You'll first need to steam the potatoes. Pre-cooking them makes them smashable and also ensures that their time in the oven is wholly dedicated to that crispy exterior.
Smash. The steamed potatoes are then spread out on a lightly oiled baking sheet and then smashed. I use a potato masher, but the bottom of a measuring cup works just as well.
Bake. The smashed potatoes are then lightly brushed or sprayed with additional oil and then baked for 30-35 minutes. After a heavy dousing in buffalo sauce, these crispy spuds are returned to the oven for a final toast and then served with a side of cashew ranch dip.
Cashew Ranch Dip: The Perfect Vegan Match for Buffalo Smashed Potatoes!
No doubt, ranch dressing is buffalo sauce's soulmate. The cooling sensation of creamy, herby ranch dressing against the fiery spice of the cayenne pepper is truly a match made in heaven. Luckily, making a vegan ranch dressing is pretty easy and every bit as good!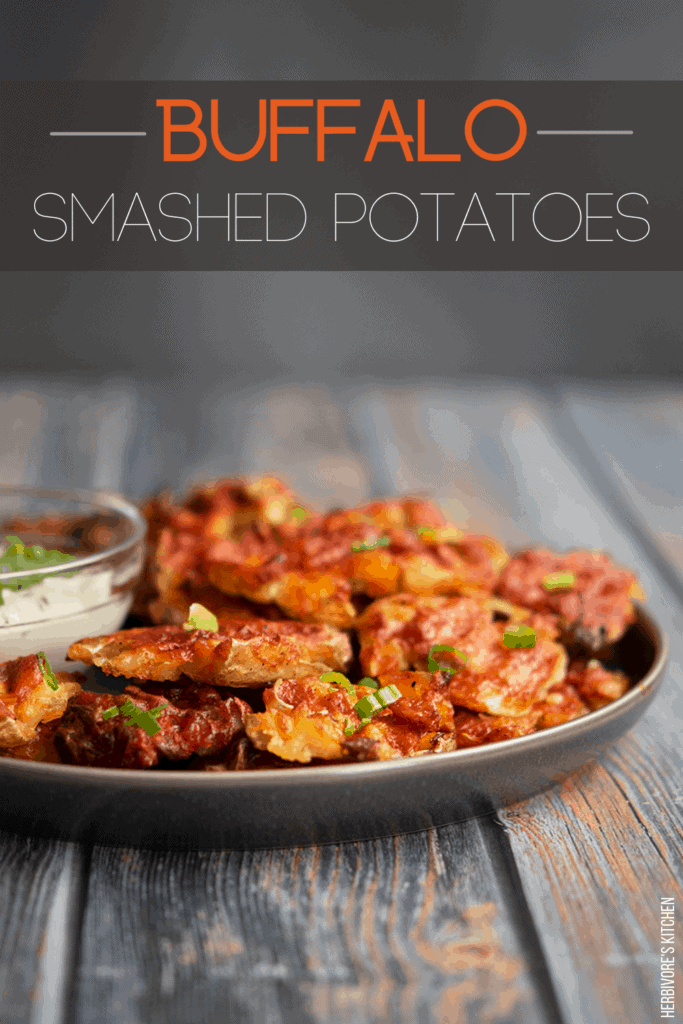 Cashew ranch dip is made by soaking cashews in hot water to soften them, then blending them with water and the appropriate seasonings. In this case, fresh garlic, lemon juice, salt, dill, parsley and some fresh ground pepper.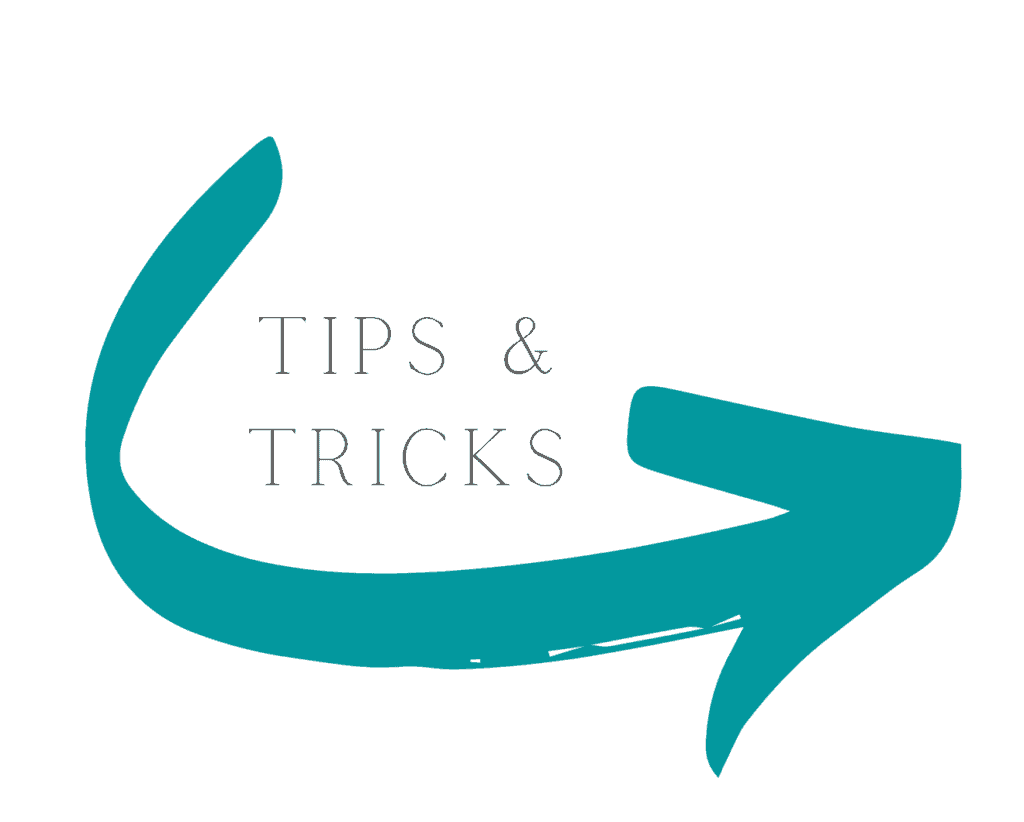 Cashews are a vegan darling! Want to learn more about using this savory, soft nut as a dairy substitute? Be sure to check out my Why Cashews Are King blog post!
Love These Buffalo Smashed Potatoes? Be Sure to Check Out Some of My Other Buffalo Sauce Recipes!
Are you always on the lookout for spice? Be sure to check out these other buffalo sauce recipes on my blog. If you're a former buffalo wings fan, you've got to taste my Baked Buffalo Cauliflower Wings Recipe. From the South? My Nashville Hot Cauliflower Sandwich will remind you of home!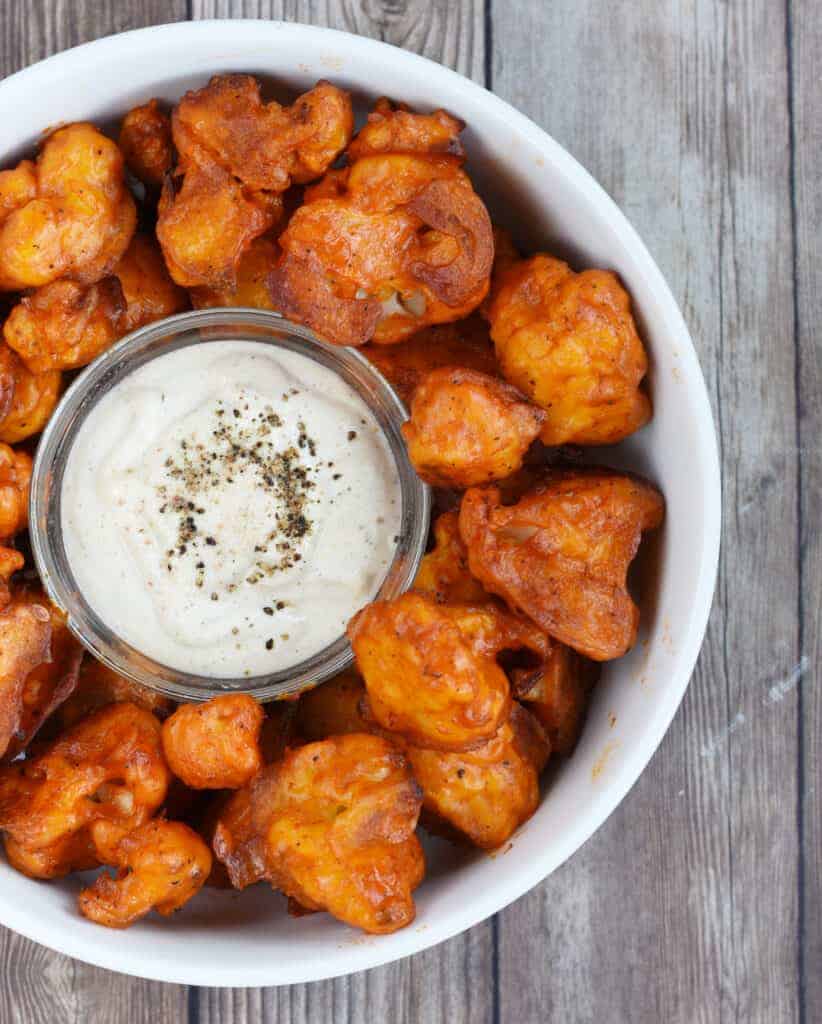 Looking for the ultimate vegan comfort food? These Baked Cauliflower Buffalo Wings are sure to hit the spot, whether you're prepping pre-game food or just having Friday-night wing night.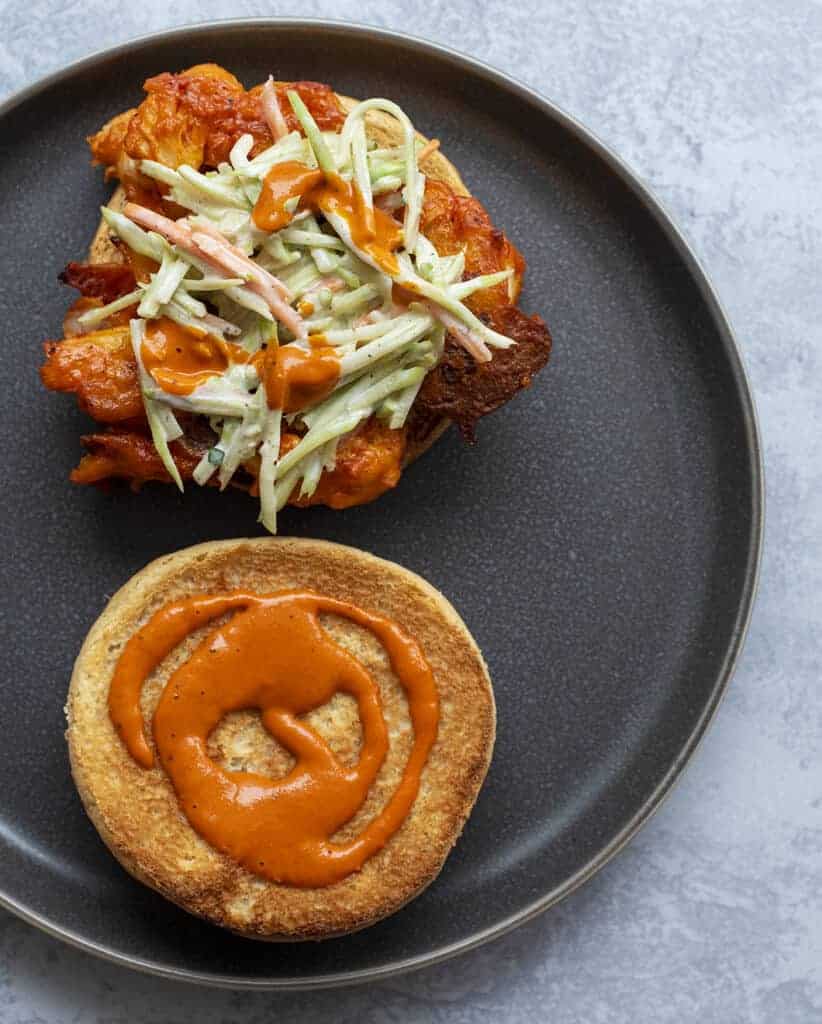 Just because I'm into plant-based cooking doesn't mean that I don't enjoy classic comfort food. I know the joys of deep-fried food. Believe me, I knew what I was up against when I embarked on the journey to recreate the Nashville Hot Chicken Sandwich as vegan-friendly fare. This sandwich, IMHO, absolutely nails it though!
What's in My Kitchen to Make These Buffalo Smashed Potatoes Easier?
Want to know what tools and resources I keep on hand to make my vegan cooking even easier? Here's a short list of what helped me create this blog post and recipe. For the complete list, visit my Shop where you can find the kitchen gadgets I like as well as a list of books that I recommend.
Steaming vegetables is an excellent way to retain their nutrients. It's also a great pre-roasting trick for vegetables like cauliflower. Steaming cauliflower before roasting it gives it a wonderful soft-on-the-inside, crispy-on-the-outside texture which is great for recipes like my Cauliflower Buffalo Wings and Roasted Cauliflower in a Sticky Lemon Sauce.
I love this steamer basket because it's simple, resizable and cleans up easily. It's also inexpensive and compacts well for easy storage in the kitchen.
I've tried a lot of non-aerosol oil dispensers over the years. Most of them were disappointments, either because they delivered a direct stream of oil instead of a mist before becoming clogged or because my hand would cramp so badly trying to hand pump out a few measly drops.
These dispensers are game changers though. I have the set of two, one that keeps olive oil and a second that I filled with safflower oil. They help me to use a fine amount of oil when I only need a small amount.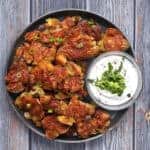 Buffalo Smashed Potatoes
If you're looking for the ultimate in vegan appetizers, look no further than buffalo smashed potatoes. This easy vegan recipe features steamed (then smashed) fingerling potatoes that are baked to crispy perfection with buffalo sauce. Serve with a side of cashew ranch dip and you'll be the life of the vegan party!
Total Time
1
hour
15
minutes
Ingredients
1.5

lbs

fingerling potatoes

washed

1

cup

cashews

1

tbsp

safflower oil + additional safflower oil for spraying or basting

or substitute safflower oil with another heat tolerant oil like vegetable oil

2

tsp

salt

divided

1

cup

buffalo sauce

I like Frank's Red Hot Buffalo Sauce

3/4

cup

water

1

clove

garlic

1

tbsp

fresh lemon juice

1/2

tsp

dried dill

1/2

tsp

dried parsley

scallion greens

sliced, as optional garnishment
Instructions
Preheat the oven to 425º.

Add ~2 inches of water to the bottom of a large stock pot. Insert a steamer basket and add the fingerling potatoes to the basket. Cover the pot and bring the water to a simmer. Allow the potatoes to steam for about 25 minutes. The potatoes should be easily pierced with a fork.

While the potatoes are steaming, put the cashews in a 2-cup glass measuring cup (or bigger) and fill with hot water. Allow the cashews to rest for at least 30 minutes.

Prepare a baking sheet by basting it with 1 tbsp of safflower oil.

When the potatoes have finished steaming, drain the pot and allow the potatoes to cool slightly. When the potatoes are cool enough to handle, spread them out on the baking sheet leaving~1-2 inches in between.

Smash the potatoes with a potato masher or the bottom of a measuring cup. They should be about 1/2" thick after being smashed.

Spray the potatoes with additional safflower oil using a non-aerosol dispenser or brush the potatoes with a basting brush.

Roast the potatoes on the middle rack for 30-35 minutes until they are crispy.

While the potatoes are roasting, drain and rinse the cashews. Combine the cashews, water, garlic, lemon juice, salt, dried parsley and dried dill in a high-speed blender. Blend until creamy. Season with fresh ground pepper and top with scallion greens as desired.

Remove the baking sheet from the oven and brush the potatoes with buffalo sauce. Return the potatoes to the oven for ~10 minutes to bake the sauce into the potatoes.

Serve immediately with cashew ranch dip and scallion greens, as desired.
About Herbivore's Kitchen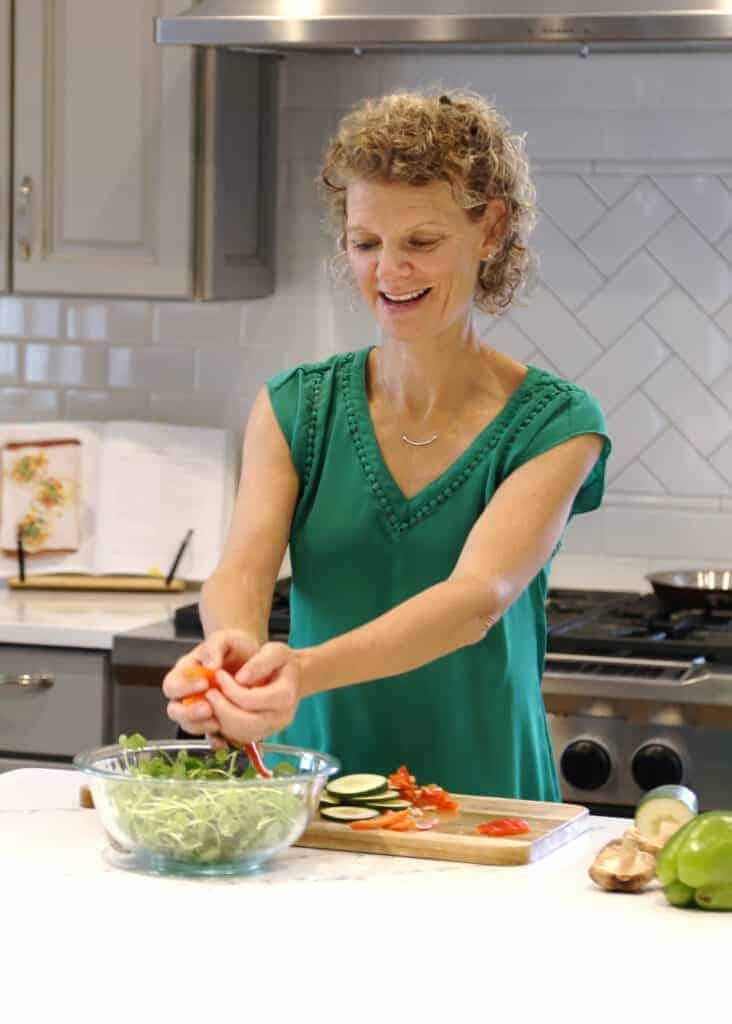 Herbivore's Kitchen is a blog run by me, a plant-based home chef and aspiring food photographer. I switched my diet to a plant-based diet after learning about the health benefits of going vegan. Making this change has prompted a variety of food and holistic-lifestyle related questions that I explore through this blog. I talk about how to pick and prepare the most nutritious foods, to how to reduce waste at home, to how to live a more sustainable lifestyle while on the road.