Jump to Recipe
This Raspberry Galette Raspberry: Celebrate Valentine's Day with this Heart-Shaped Vegan Fruit Galette post includes affiliate links. When I find a great product or service, I like to share it with my readers. Sometimes I use affiliate links so I can earn a commission for my recommendations. Thank you for your support!
Raspberry Galette Raspberry: Celebrate Valentine's Day with this Heart-Shaped Vegan Fruit Galette
Celebrate your vegan Valentine with this heart-shaped Raspberry Galette Recipe. The vegan fruit galette is easy to make, using frozen raspberries and a simple vegan pie crust recipe.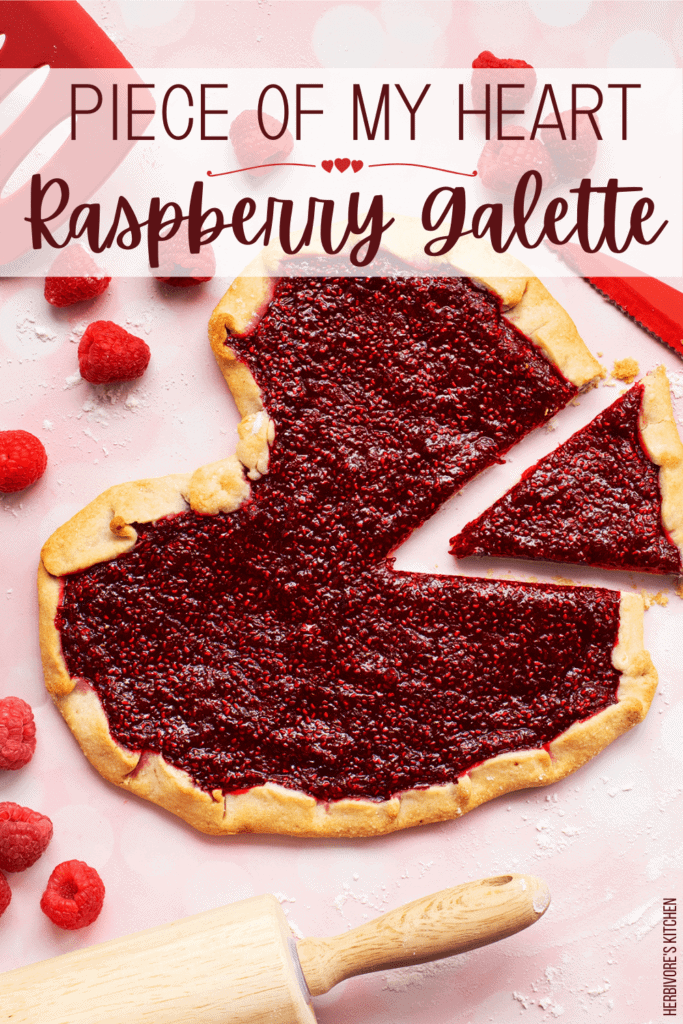 What is a Galette?
If you've never made a galette, you're in for a treat (in more ways than one)! Here are all the reasons to love making homemade galette: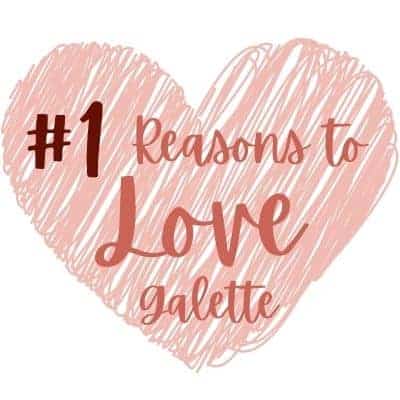 A galette is a free form pie, making it a far simpler dessert for beginners than a traditional pie. There's no pie dish, crimping or lattices to manage. It's just a humble pie crust and its filling.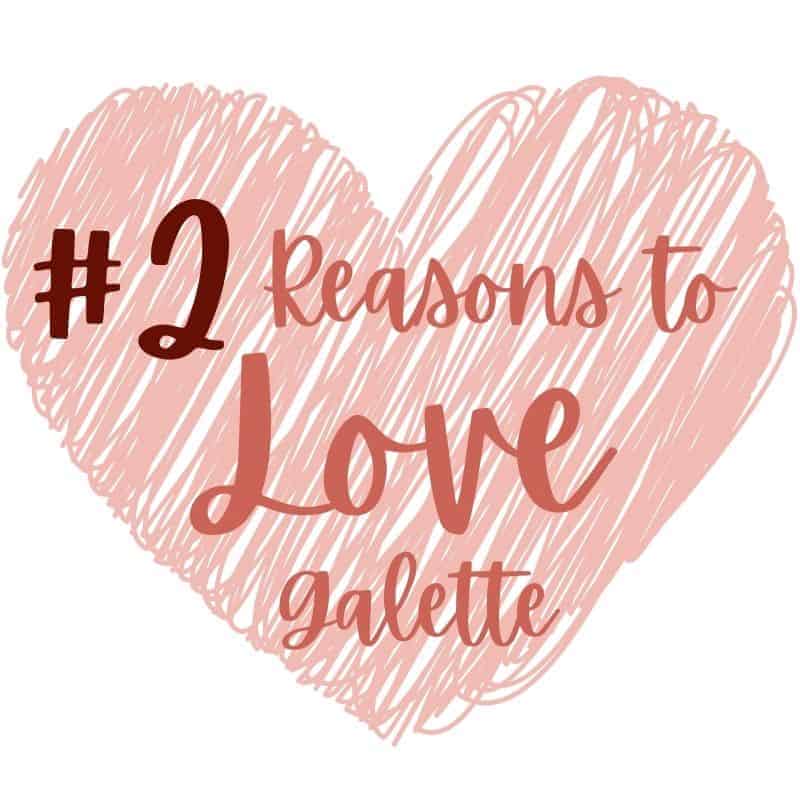 A galette embraces that rustic appearance that naturally happens when I try and bake anything. It's like my baking wing woman – it takes my weaknesses and makes them strengths.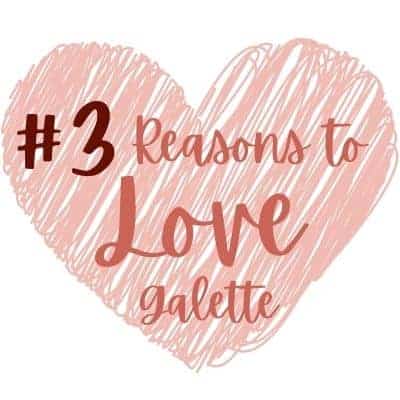 It's a natural form of portion control. A slice of galette is as satisfying as a piece of pie for half the caloric price.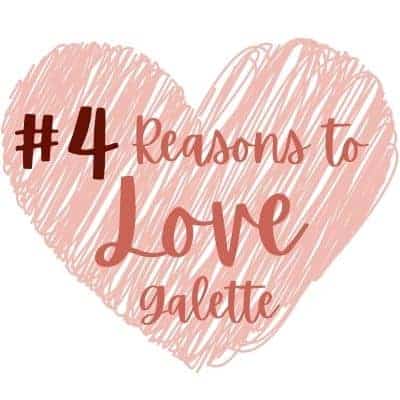 A galette, made right (which I will describe below), needs no fork. Unlike pie, you can pick up a piece and go – making it a great dessert option for family BBQs and picnics.
How to Make a Vegan Fruit Galette
There are a few key elements to making this raspberry galette recipe. The first element is the eggless pie crust recipe. Believe it or not, it's very possible to get a light, flaky vegan pie crust.
The second element is the galette filling. I like mine to be as close to just plain fruit as possible.
And as for the third element, that's in the baking. Baking sheet placement, temperature and timing all contribute to the perfectly imperfect vegan fruit galette.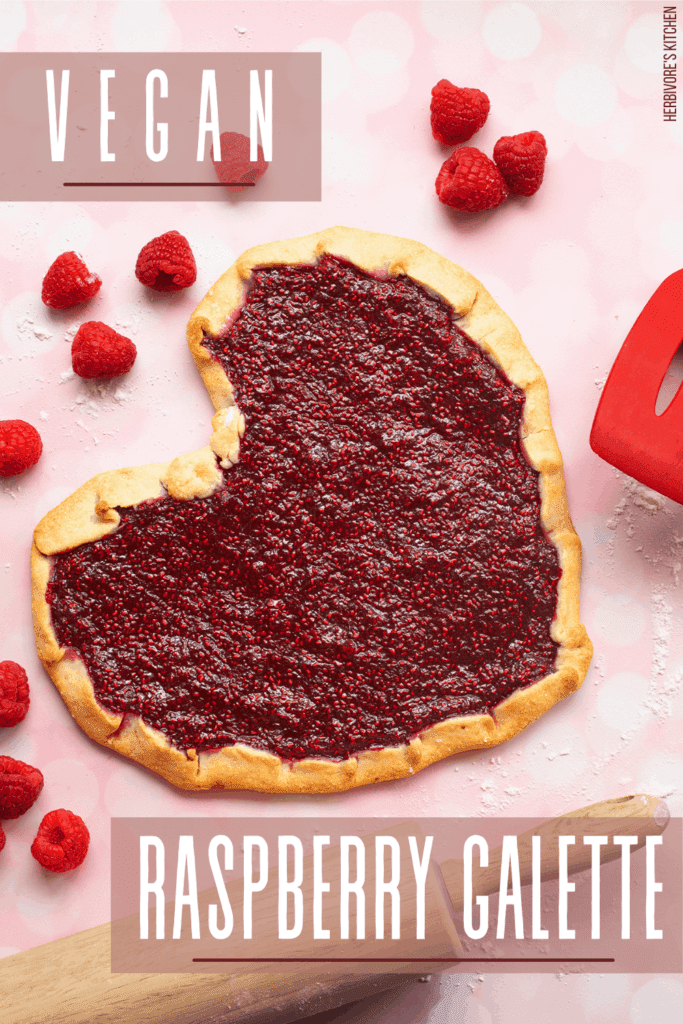 Making a Vegan Pie Crust for this Raspberry Galette Recipe
To make this raspberry galette vegan, I needed a dairy-free alternative to butter – a common ingredient in pie crust recipes. For this recipe, I chose to use a high-quality vegan butter. I like Miyoko's European Style Cultured Vegan Butter. Like dairy butter, it stays solid at room temperature, an essential characteristic for pie crust recipes. It's also unsalted, allowing you to control the amount of salt you add.
The key, of course, is to keep that butter cold! As butter melts, the butter will create steam and the steam will create air pockets, leading to a flaky vegan pie crust. My trick is to grate the butter and then put it in the freezer until I'm ready for it. Then I pulse it into the flour and salt with some ice water. The small, cold pieces require less friction to combine, helping to keep the butter cold.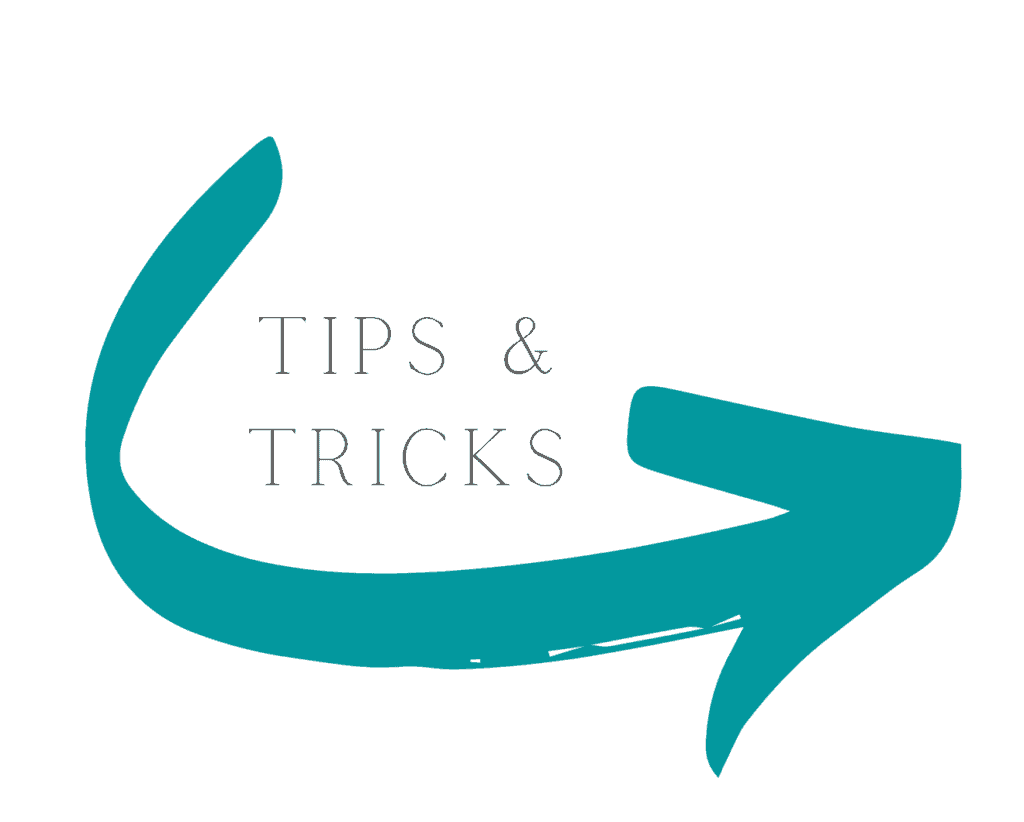 The trick to a good, flaky pie crust is keeping the butter cold. As you combine it with the flour and salt you want it to remain in its solid state. So, when the dough is fully mixed you still want to be able to identify flakes of butter in it.
A Note on That Heart-Shaped Pie Crust
It's February 9th so yes… I am playing up the lead in to Valentine's Day by making this crust heart shaped. It's far easier than you might think, but of course, it's not necessary. I just simply cut the crust into the shape of a heart before adding the filling and baking. It's freehand too, keeping in tradition with the beloved imperfections of a galette.
Tell Me About the Raspberry Galette Filling…
The raspberry filling is where this vegan fruit galette really shines! For shake of ease, expense and seasonality, I used frozen raspberries for this recipe. To make the filling, I simply simmered the raspberries with ½ cup of pure maple syrup until they began to break down. Then I removed them from the heat and added 3 tablespoons of chia seeds.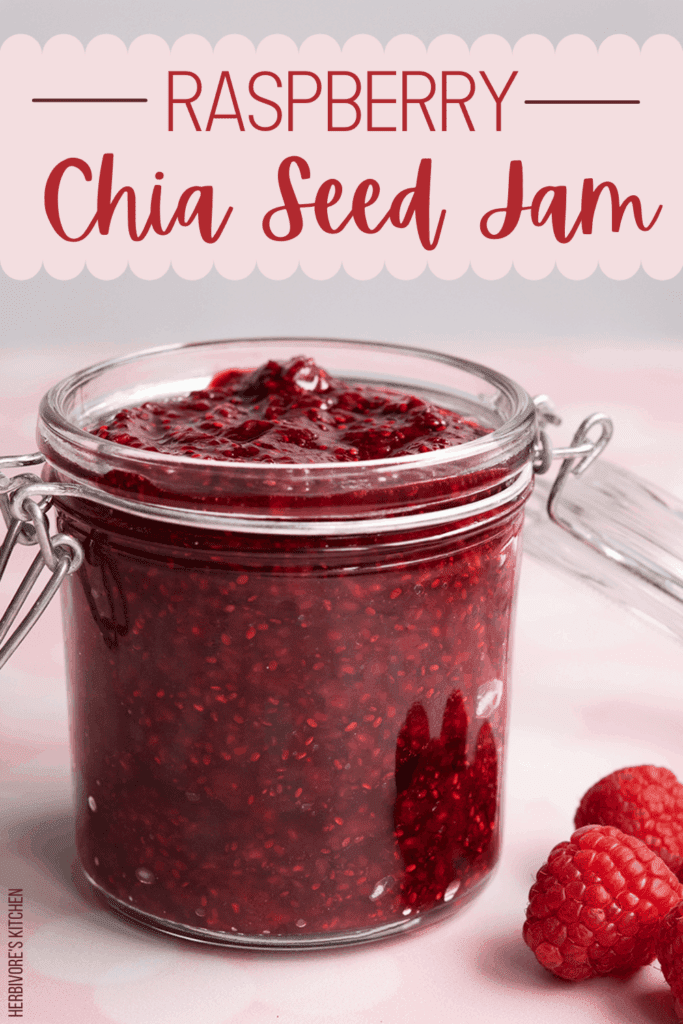 What Are Chia Seeds?
If you're new to vegan cooking, you may not yet be familiar with chia seeds. If that's the case, don't worry! I've got you covered. You can learn all about chia seeds in my Vegan Cooking 101: How to Cook with Chia Seeds post. In the meantime, here are just a few fun facts:
Chia seeds are a popular egg and gelatin substitute in vegan cooking.
They're packed with anti-oxidants, protein and calcium, making them a vegan superfood.
Chia seeds absorb 10-12 times their weight in water, taking on a gelatinous consistency when they do.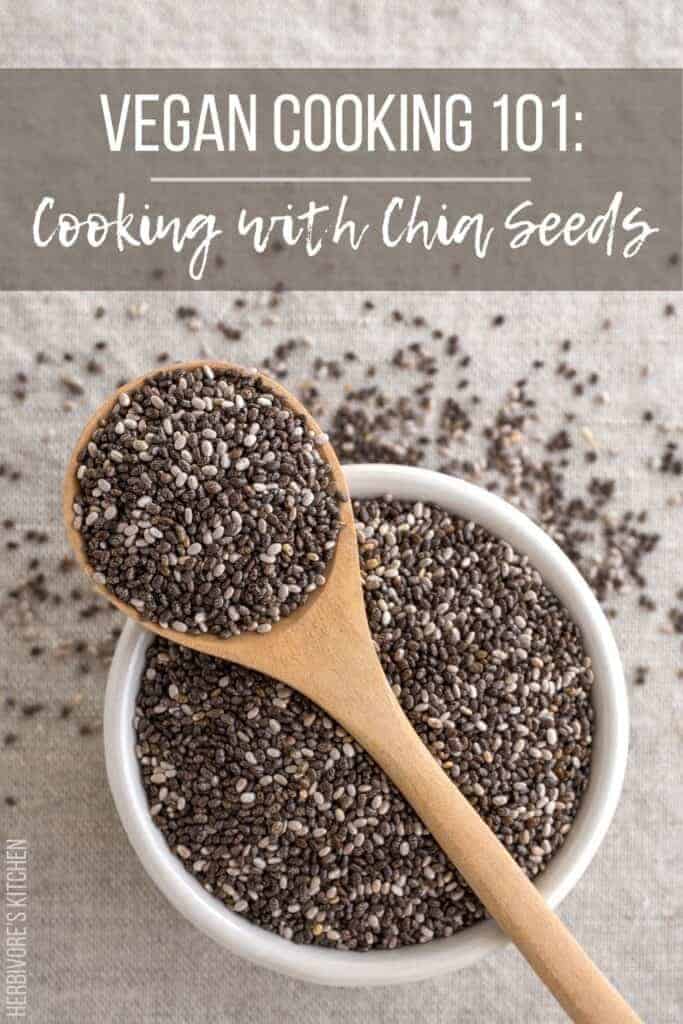 Why Chia Seeds Are the Key to This Raspberry Galette Recipe
It's that last point above that makes chia seeds the key to this vegan fruit galette. Normally, pie crusts are brushed with beaten eggs to create a barrier between the crust the filling. This keeps the crust from getting soggy. Eggs, of course, are a no-go in vegan baking, but they're not necessary anyway. The chia seeds absorb the liquid from the raspberries, creating a perfectly firm, 100% natural fruit galette filling.
Do You Love This Raspberry Galette Recipe?
If you love this Raspberry Galette Recipe, then be sure to check out my other vegan galette recipes. Do you have a sweet tooth? Then my Strawberry Rhubarb Galette needs to be in your rotation. Is savory more your speed? My Savory Mushroom Galette is a must try!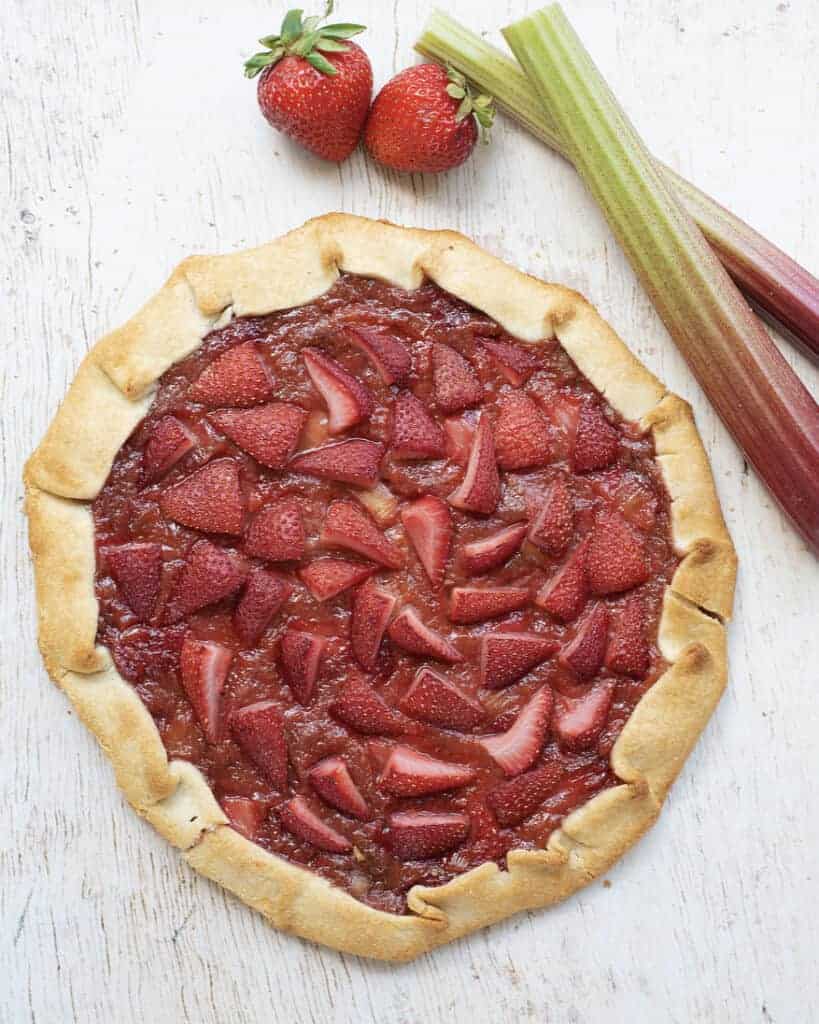 Once you start making galettes, you're going to be hooked! So, here's another vegan fruit galette recipe for your rotation. This one is a take on a summertime favorite: Strawberry Rhubarb Pie! This sweet treat has a hint of sour (complements of the rhubarb) that is a true taste bud pleaser!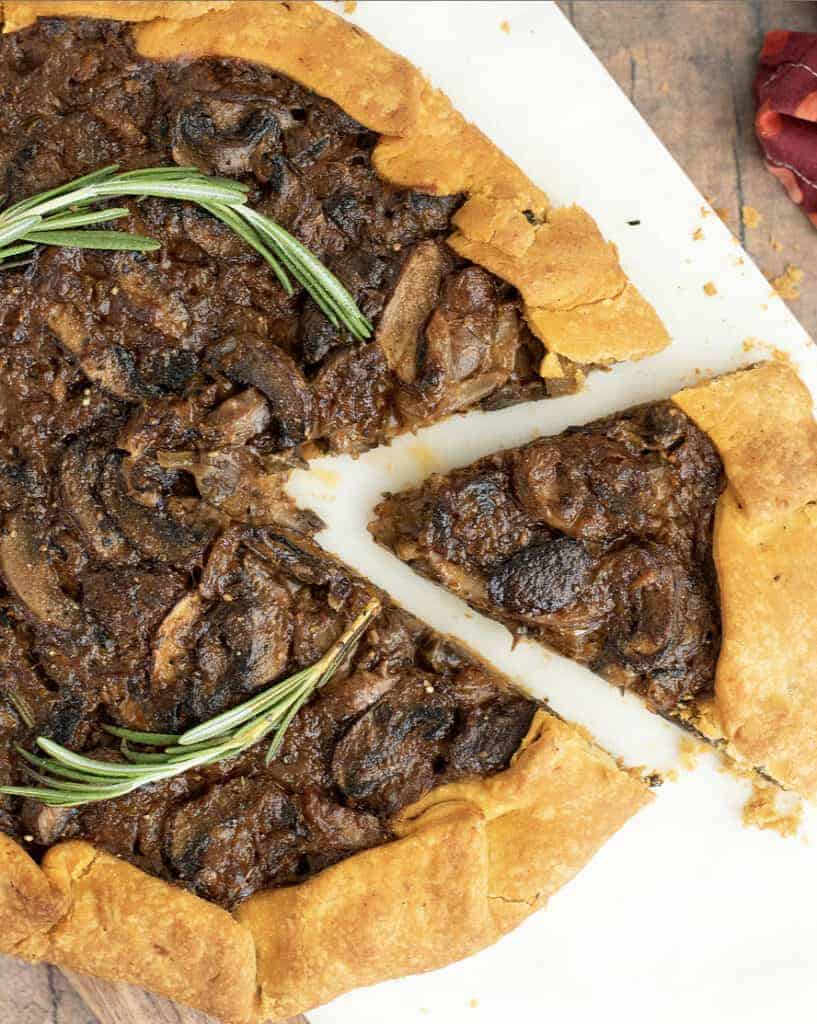 Galettes don't have to be sweet! They can be savory too! This Savory Mushroom Galette is so rich and flavorful, it might just blow your mind. It's packed with umami-rich vegan ingredients like mushrooms (duh), onions, garlic and sautéed tomato paste, along with plenty of herbs and spices.
What's in My Kitchen to Make Raspberry Galette Recipe Easier?
Want to know what tools and resources I keep on hand to make my vegan cooking even easier? Here's a short list of what helped me create this blog post and recipe. For the complete list, visit my Shop where you can find the kitchen gadgets I like as well as a list of books that I recommend.
I picked the Hamilton Beach 8-Cup Food Processor. I use my food processor all. the. time. But, for this recipe, I used it to make the pizza dough. I like making pizza dough in my food processor because it's a lot easier than trying to make it with a bowl and spoon and, damn, my KitchenAid mixer is really heavy. I only get that out of the cabinet when there are cookies involved.
Down a broiler pan? These aluminum baking sheets come highly recommended by the cooks who know best – Epicurious, Cooks Illustrated and Food & Wine. I bought mine because I needed a good, sturdy baking sheet to use under the broiler. One that wouldn't warp – and this one lives up to the task.
Aluminum is a good conductor of heat, so these baking sheets cook evenly. They're also light in color, so they discourage over-browning.
These things are amazing! When I discovered parchment paper, I thought I had things figured out. No more greasing pans or ruining them with charred food. Then I discovered these silicon baking pads. They're oven-safe up to 450 degrees, dishwasher safe (top rack only) and easy to clean and REUSE!
Love to cook with cast iron? Ever forget how hot those handles get? Yeah, me too. The Ove Glove will help to protect your hands when cooking (and forgetting).
These pot holders are heat safe to 540 degrees and two come in a package – one for holding the handle and one for supporting the bottom of your cast iron skillet (because we all know it's too heavy to pick up with one hand).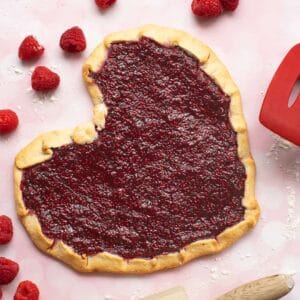 Raspberry Galette Recipe
Celebrate your vegan Valentine with this heart-shaped Raspberry Galette Recipe. The vegan fruit galette is easy to make, using frozen raspberries and a simple eggless pie crust recipe.
Ingredients
For the Vegan Pie Crust
1 1/4

cups

all-purpose flour

1

tsp

salt

1/2

cup

vegan butter

+ 1 tbsp for basting the crust

4

tbsp

ice water
For the Raspberry Galette Filling
1

16 oz pkg

frozen raspberries

1/2

cup

maple syrup

1

tbsp

organic can sugar

for sprinkling on the crust

1

tbsp

fresh lemon juice

3

tbsp

chia seeds
Instructions
Using a cheese grater, roughly grate the vegan butter into thick slivers. I do this on a cutting board so that I can spread out the slivers. Refrigerator for later use.

Combine the flour and salt into a food processor. Pulse to combine. Add the chilled butter and pulse until the butter is combined. The mixture should be crumbly with obvious small flakes of butter.

Add the ice water 1 tbsp at a time. Pulse until a dough forms. I usually find that I need ~4 tbsp of ice water.

Form the dough into a ball and wrap it in plastic. I like to use a clean, recycled bread bag. Allow the dough to chill in the refrigerator for at least 1 hour.

While the dough is chilling, add the frozen raspberries to to a medium-sized sauce pan. Add the maple syrup and stir until the fruit is thoroughly coated. Bring the fruit to a low simmer, stirring occasionally. As the fruit releases its moisture, it will become syrupy. After 10 minutes, remove the fruit from the heat and stir in the lemon juice and chia seeds. Rest in the refrigerator until ready for use.

Preheat your oven to 400º.

Prepare a baking sheet with parchment paper or a silicon baking sheet. After an hour, remove the dough from the refrigerator and allow it to warm up slightly. When it is pliable, roll the dough out into an oval/circle shape that will fit on your baking sheet (or, if you're feeling romantic, cut the crust into a free-form heart shape). Don't worry about it being perfect! That's the beauty of a galette. Transfer the pie crust to the baking sheet.

Spread the raspberry jam on the pie crust leaving only 1-1 ½" inches of the edges free from the jam. Then fold the edges of the crust over the outer edge of the jam. Roughly pleat the crust as you go.

Melt 1 tbsp of vegan butter in the microwave. Using a basting brush, generously spread the vegan butter on the outside edges of the galette. This will give the crust a nice browned appearance. Then sprinkle 1 tbsp of sugar over the crust and top of the galette.

Bake the galette on the middle rack for about 25-30 minutes. It is done when the crust is golden brown. Remove the galette from the oven and transfer the baking mat or parchment paper to a cooling rack. Allow the galette to cool for at least 30 minutes. Then slice and enjoy!
About Herbivore's Kitchen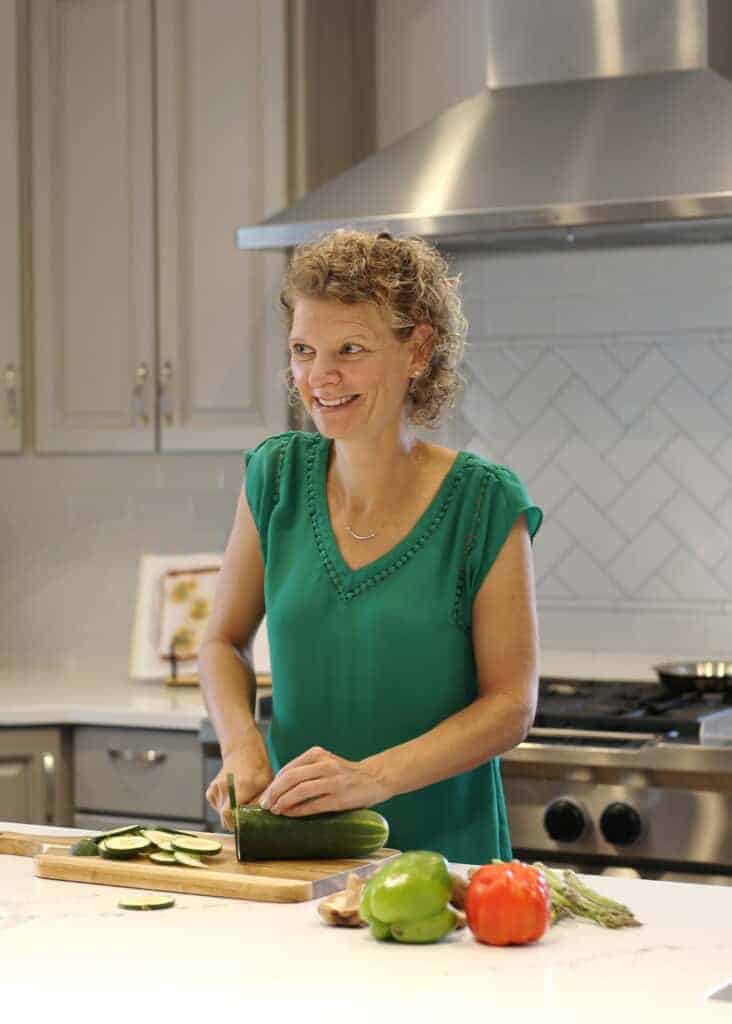 Herbivore's Kitchen is a blog run by me, a plant-based home chef and aspiring food photographer. I switched my diet to a plant-based diet after learning about the health benefits of going vegan. Making this change has prompted a variety of food and holistic-lifestyle related questions that I explore through this blog. I talk about how to pick and prepare the most nutritious foods, to how to reduce waste at home, to how to live a more sustainable lifestyle while on the road.