Jump to Recipe
This Silken Tofu Chocolate Mousse Recipe: Get the Best of Plant-Based Desserts with This Vegan Chocolate Mousse Parfait! post includes affiliate links. When I find a great product or service, I like to share it with my readers. Sometimes I use affiliate links so I can earn a commission for my recommendations. Thank you for your support!
Silken Tofu Chocolate Mousse Recipe: Get the Best of Plant-Based Desserts with This Vegan Chocolate Mousse Parfait!
Wait! Stop! I know what you're thinking: tofu for dessert? I totally get it. This one took me a little while to work up the courage to try, but it's so worth bringing into your vegan dessert rotation. It's easy, 5 ingredients and light as air – just as chocolate mousse should be!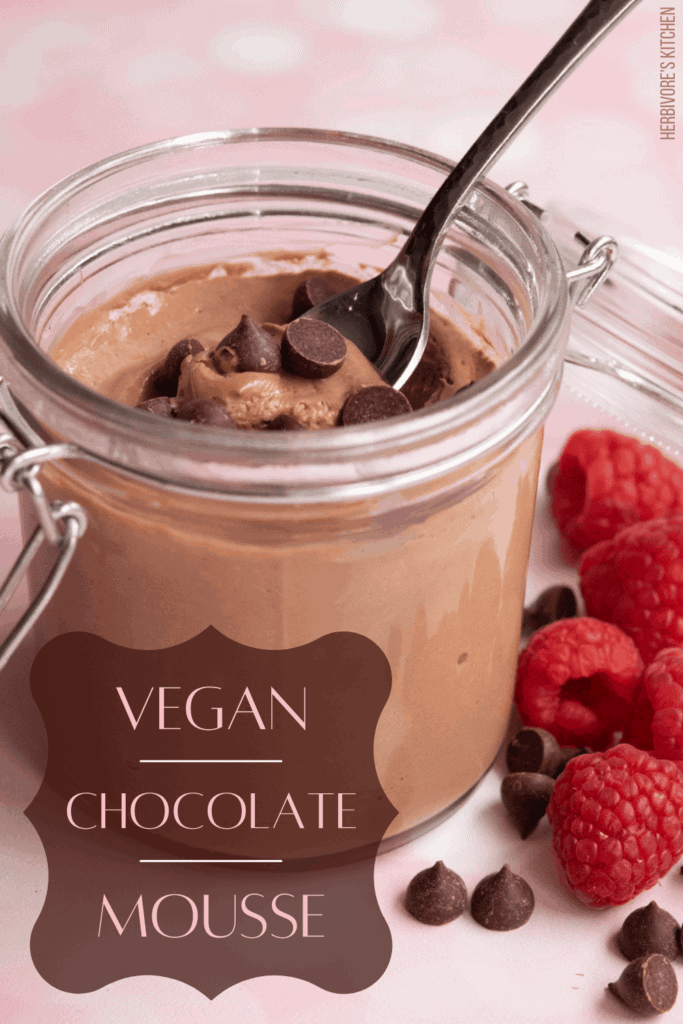 Maybe you're not convinced yet? Would it help if I told you that my 8 and 10-year-olds love this vegan dessert? And, yes, they know all about the tofu. It's just really that good!
Okay… Tell Me More About This Silken Tofu Chocolate Mousse Recipe
Great! I knew you'd be intrigued!
I will agree that this vegan dessert idea is a leap into the plant-based unknown for a lot of folks. Here's the thing though – you won't taste tofu. I promise. I have served this recipe to unsuspecting guests who didn't identify it as anything other than chocolate mousse. It's light and smooth and tastes like the creamy chocolately goodness that you, if you're like me, ordered as a kid on your birthday.
What is Silken Tofu?
If you're not familiar with silken tofu, or tofu for that matter, I've got you covered. I have an entire primer on tofu right here. If you just want the highlights, here they are:
Tofu is pressed soy curds, the product of soaked, crushed and boiled soybeans.
Tofu comes in different degrees of firmness from extra firm, to firm, to soft, to silken.
Silken tofu has a custard-like consistency. Because of its consistency, it's frequently used in vegan desserts and smoothies.
The difference between extra firm tofu and silken tofu is water content.
Silken tofu is divided into further subsets of firm and soft. I prefer firm, but either one will work in this chocolate mousse recipe.
Silken tofu is not sold in the refrigerated section of the grocery store. Look for it among baking ingredients.
How to Make This Silken Tofu Chocolate Mousse Recipe
This vegan chocolate mousse parfait recipe is no bake, making it a super easy vegan dessert! All you need is a blender and some time to let your vegan chocolate mousse chill in the refrigerator. Simply melt the dark vegan chocolate down with the coconut oil and add it to your blender along with the silken tofu, salt and pure vanilla extract and blend it until it's smooth.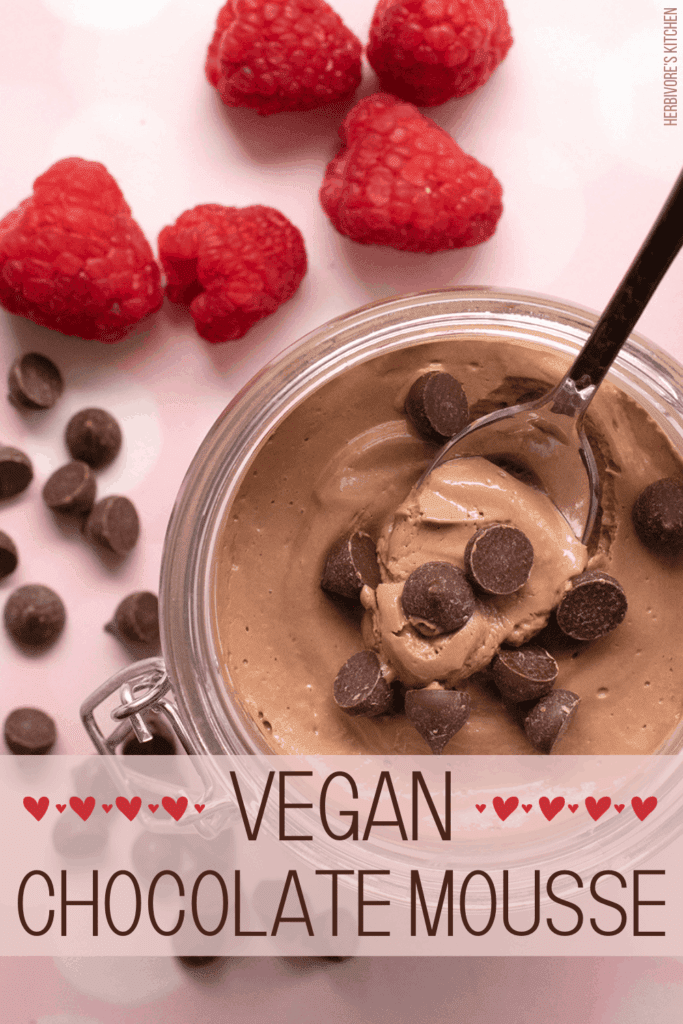 When the tofu mousse is smooth, dip your pinky finger in (be sure to turn off the blender first!) and do a taste test. Depending on the dark chocolate you purchased (and your sweet tooth), your vegan chocolate mousse may need some additional sweetening. I recommend adding pure maple syrup – about ½ tbsp to start – until you get the desired sweetness.
After that, all that's left to do is turn the mixture into chocolate mousse parfaits! I use decorative mason jars, but pretty much anything will work. Then, chill the parfaits for 4+ hours to get that light, airy texture.
Is This Gluten Free Chocolate Mousse?
Silken tofu is a gluten free food. Tofu, regardless of the firmness, should only contain soybeans, water and a coagulating agent. If you have celiac disease or are particularly sensitive to gluten, it is important to make sure that the tofu brand that you buy isn't processed alongside other gluten-containing ingredients.
Similar to silken tofu, dark chocolate is gluten free. It should include only cacao beans, cocoa butter and sugar. There may also be an emulsifier listed among the ingredients – most often soy lecithin. Soy lecithin is also gluten free. Like silken tofu though, if you're sensitive to gluten, you should check the packaging to ensure that the chocolate you are purchasing was not processed in the same facility as products containing gluten.
Coconut oil, pure vanilla extract and pure maple syrup are also gluten free. So, go ahead and enjoy this gluten free chocolate mousse!
Is This Also A Dairy Free Chocolate Mousse?
To qualify as vegan this must also be a dairy free chocolate mousse recipe. I often get questions about dairy-free chocolate though, so let's take a minute to understand what you're looking for when shopping for dairy free, vegan chocolate.
It should go without saying, but milk chocolate by definition contains dairy products. Dark chocolate, by contrast, should be dairy free. As I mention above, it should only contain cacao, cocoa butter & sugar and it may contain the food preservative and emulsifying agent – soy lecithin. So, when you're looking at labels, look for those ingredients and be sure to question any others.
And, if cocoa butter has you confused, don't be! Cocoa butter is derived from the oils of the cacao bean and does not contain dairy, despite the word butter as part of its name. It's actually a key ingredient is a lot of vegan desserts, given is low melting point and thick, rich consistency. If you want to learn more about Cocoa Butter, check out my Is Cocoa Butter Vegan article.
Do You Love This Silken Tofu Chocolate Mousse Recipe?
If you love this vegan chocolate mousse parfait recipe, be sure to check out some of my other vegan desserts. Is chocolate is your thing? Then may I suggest my Double Chocolate Vegan Brownies? If French and fruit is more your speed, then take a peek at my Strawberry Rhubarb Galette!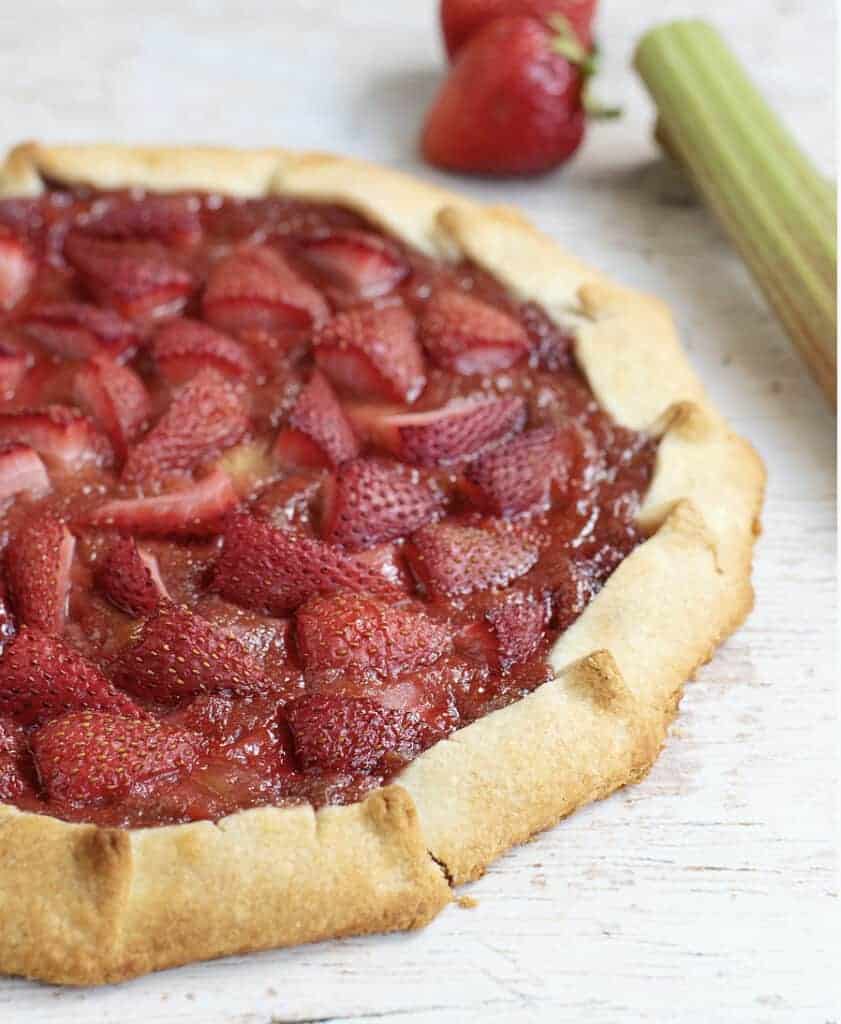 I am galette obsessed. Peach, plum, mushroom…this strawberry rhubarb galette. It's a silly easy way to put a fruit forward, vegan dessert on the table. I made this crust, but you can also find store bought vegan pie crusts. The strawberry rhubarb pie filling is a simple combination of fresh strawberries and rhubarb, sugar, lemon juice and chia seeds.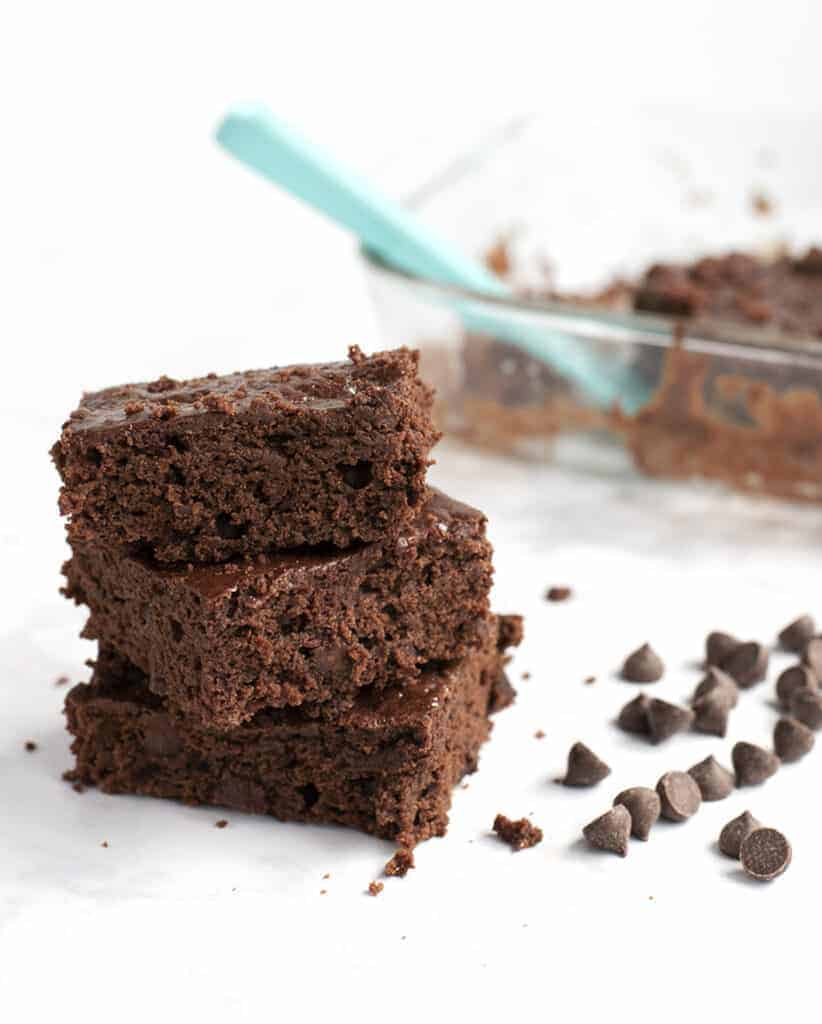 What I love most about these Double Chocolate Brownies is how easy they are to make! Brownies, in general, are kind of a spur-of-the-moment, I'd really like to have some chocolate right now kind of dessert. They generally require ingredients that you already have on hand, can be whipped up quickly and don't take very long to back. These plant-based brownies are no exception!
What's in My Kitchen to Make This Silken Tofu Chocolate Mousse Recipe Easier?
Want to know what tools and resources I keep on hand to make my vegan cooking even easier? Here's a short list of what helped me create this blog post and recipe. For the complete list, visit my Shop where you can find the kitchen gadgets I like as well as a list of books that I recommend.
It's true – a Vitamix is an expensive blender. But, oh! The things it can do and do well. If you're interested in getting more into vegan cooking, or you just want to eat healthier, then I think that this is a must-have kitchen tool. I use my Vitamix daily for breakfast smoothies and it really gets the job done when making vegan cheeses.
There are many versions of the Vitamix on the market. This is the version that I have.
These iconic Pyrex liquid measuring cups are a staple in any kitchen. I love them because they're multi-sized, durable and can easily go into the microwave for making things like homemade chocolate syrup for my Chocolate Banana Vegan Pancake recipe or for getting coconut milk to its fully liquid state before combining in it a recipe like my Savory Mushroom Bisque.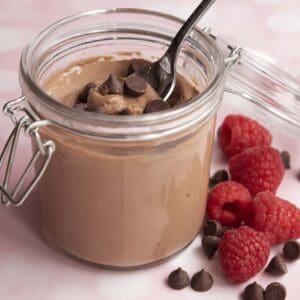 Silken Tofu Chocolate Mousse Recipe
Get the best of plant-based desserts with this Silken Tofu Chocolate Mousse Recipe! This vegan chocolate mousse recipe will dazzle even the most diehard dairy fans. It's easy, healthy, and no bake. It's truly a culinary marvel — a vegan dessert that is light as air and richly satisfying!
Ingredients
1

cup

vegan chocolate chips

1

tbsp

coconut oil

2

12 oz pkgs

silken tofu

preferably firm silken tofu

1

tsp

pure vanilla extract

1/2

tsp

salt

1/2

tbsp

pure maple syrup

as an optional sweetener; see Recipe Notes
Instructions
Combine the vegan chocolate chips and the coconut oil in a glass measuring cup. Microwave for 30-second sessions, stirring in between, until the chocolate is melted.

Combine the melted chocolate, silken tofu, vanilla extract & salt in a high-speed blender and blend until smooth.

Do a quick taste test to make sure that the sweetness is to your liking. If you want the chocolate mousse to be sweeter, add a small amount of maple syrup.

Pour the mousse mixture into individual serving cups (I like to use decorative mason jars) and refrigerate for 4 hours.

Serve topped with extra chocolate chips, fresh raspberries or coconut whipped cream. See Recipe Notes.
Notes
Depending on the dark chocolate, you may or may not need to add any additional sweetener. I use semi-sweet dark chocolate chips and they are plenty sweet on their own.
Be sure to pick a pure maple syrup if you're concerned about gluten. Some brands combine maple syrup with other ingredients.
Coconut whipped cream is a great topping for this Silken Tofu Chocolate Mousse Recipe. Please note though, that coconut whipped cream is sold frozen and must be defrosted before serving. Be sure to plan accordingly!
About Herbivore's Kitchen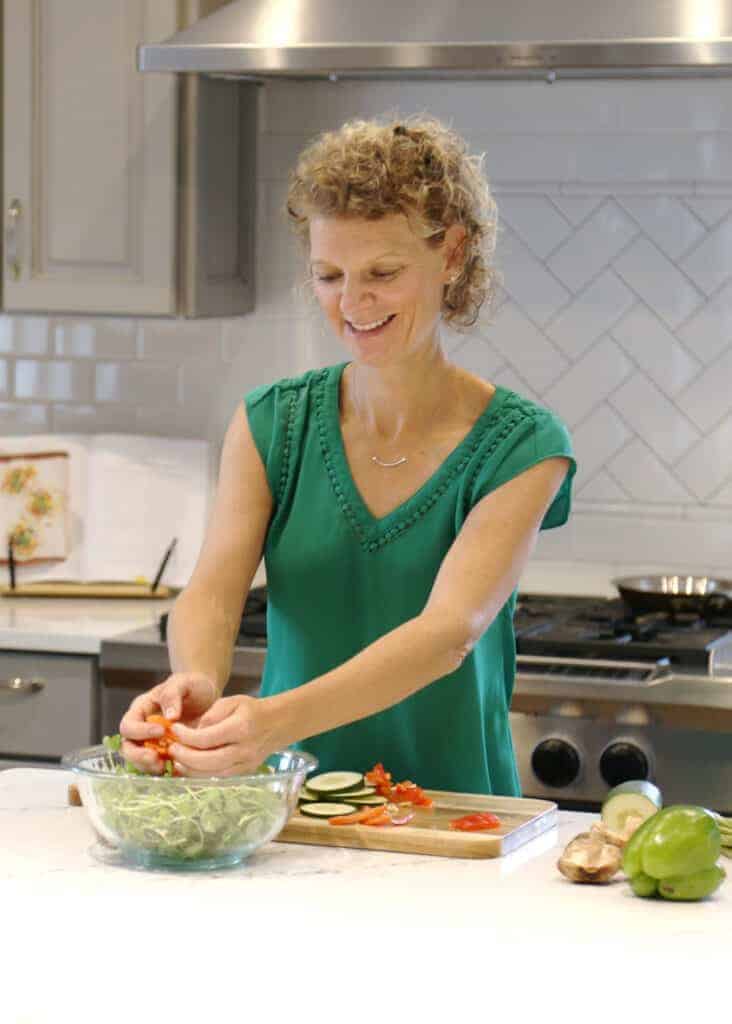 Herbivore's Kitchen is a blog run by me, a plant-based home chef and aspiring food photographer. I switched my diet to a plant-based diet after learning about the health benefits of going vegan. Making this change has prompted a variety of food and holistic-lifestyle related questions that I explore through this blog. I talk about how to pick and prepare the most nutritious foods, to how to reduce waste at home, to how to live a more sustainable lifestyle while on the road.