Jump to Recipe
This Vegan Croutons: Up the Ante on Your Vegan Soups & Salads with this Vegan Crouton recipe includes affiliate links. When I find a great product or service, I like to share it with my readers. Sometimes I use affiliate links so I can earn a commission for my recommendations. Thank you for your support!
Vegan Croutons: Up the Ante on Your Vegan Soups & Salads with this Vegan Crouton Recipe
These vegan croutons are easy to make and while they may be dairy free, they aren't flavor free! Season them with garlic and other herbs and spices – when they're homemade, you can change them any way you want!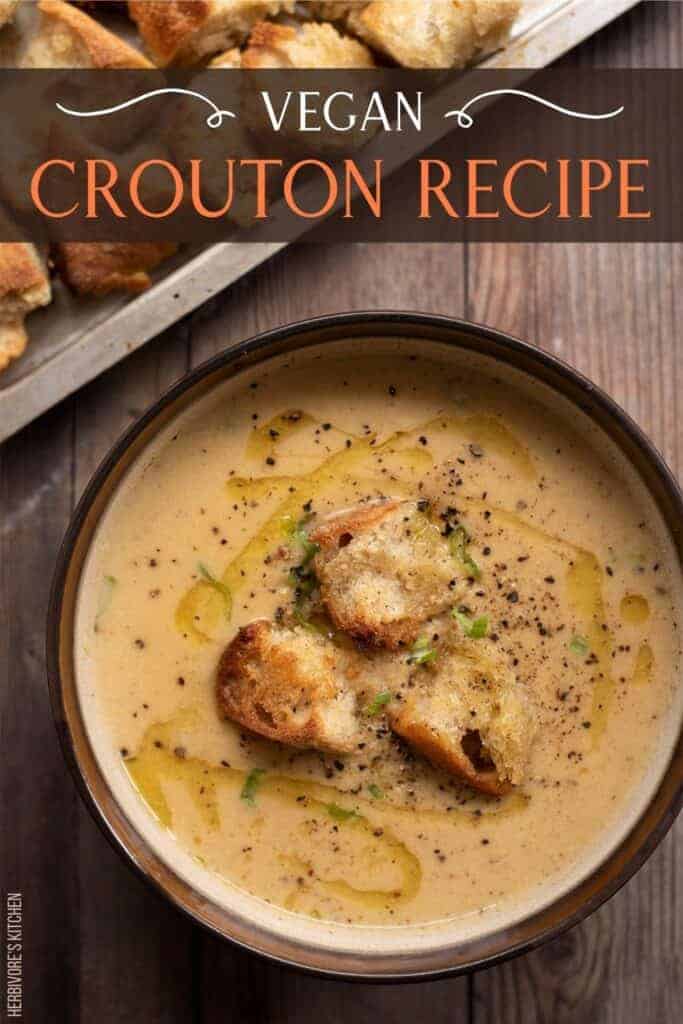 The History of the Crouton
As with most of my favorite foods, the crouton hails from France. The word crouton is a derivative of the French word croûte which means crust in English. Croûte, however, is actually slice of bread that is brushed with butter and then baked. It's often topped with something savory, like my Roasted Tomato Compote perhaps?
If you hear the term en croûte, that's a derivative too. It refers to the technique of wrapping ingredients in pastry dough and then baking them. Beef Wellington, or in my world Mushroom Wellington, is an example of this cooking technique.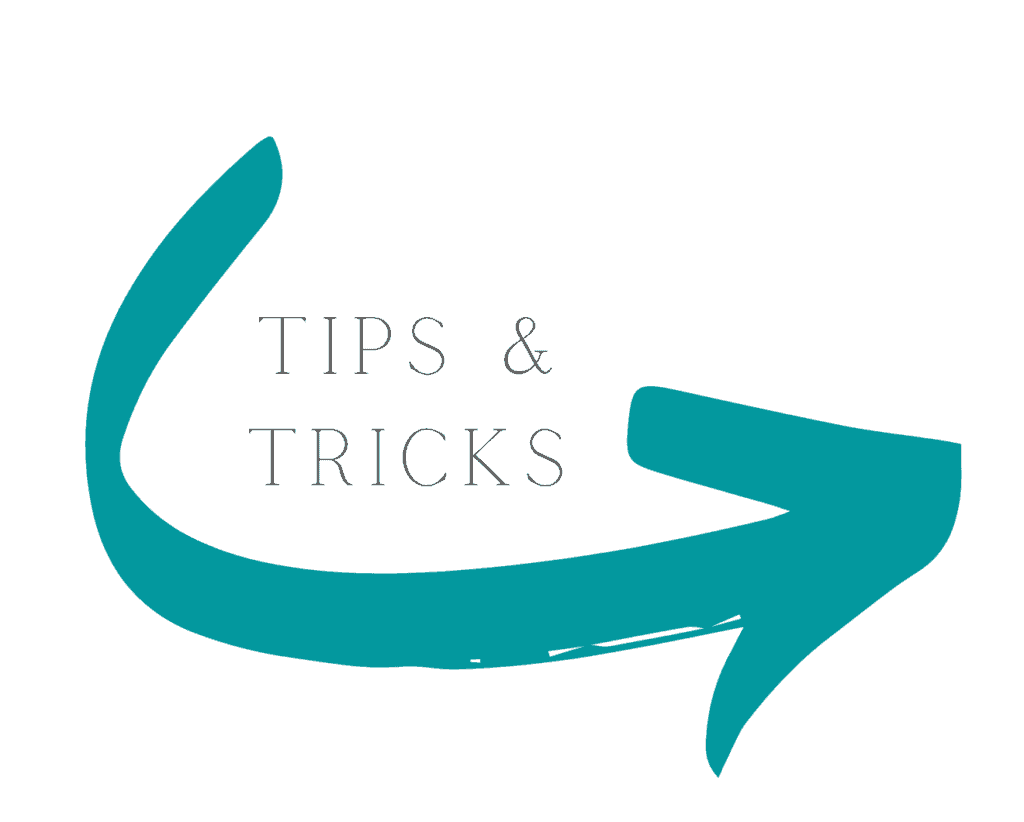 Here's a bonus! If you want to make an accent ciconflexe (the hat over the u in croûte), you just need to hold down the Option key on your Mac and and press i. Then type the letter u. I just saved you 10 minutes! Now go make some croûtons!
How Do You Make Homemade Vegan Croutons?
In the French way, homemade croutons are usually tossed in melted butter (le beurre fondu). Since we're after dairy free croutons, I swapped out butter with extra virgin olive oil. I chose this cooking oil because of its rich and defining flavor. And then… then… I combine it with a fresh garlic rub. It's simply the best way to get a quick garlic infusion. Then the croutons are toasted in the oven until they're golden brown and crunchy.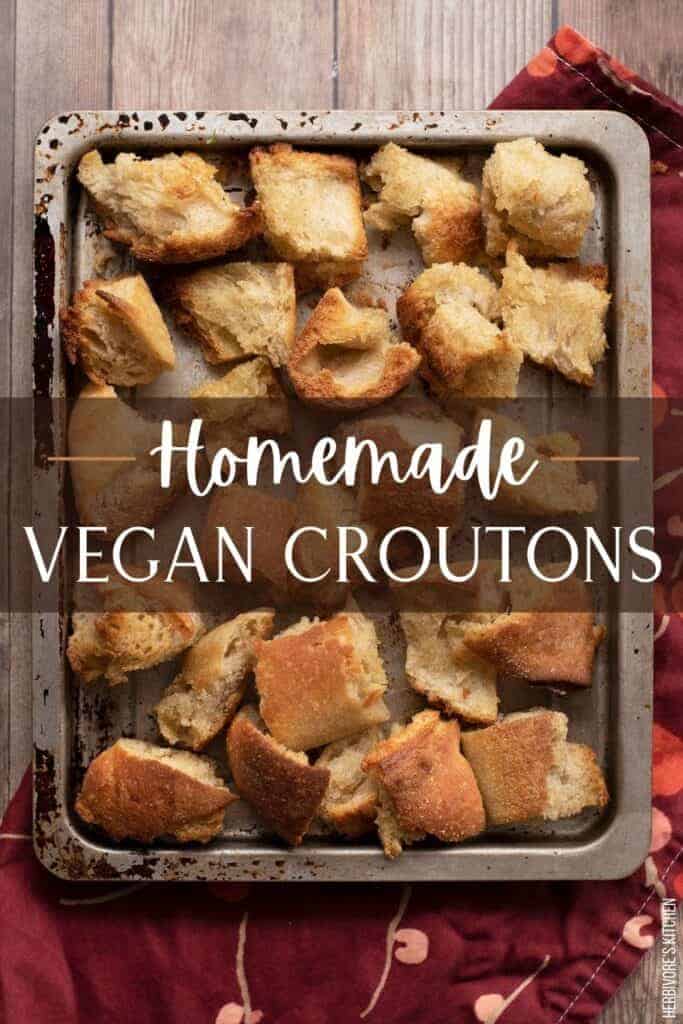 What Kind of Bread Should I Use for Homemade Croutons?
Any kind of bread will do really, but I prefer to use a crusty loaf of French bread. If I have time, I'll leave it out on the counter for at least hours. Slightly stale bread works best. The important thing is to make sure that, whatever size you choose for your vegan croutons, you make them as uniform as possible. That way you won't have a combination of burned or undercooked croutons.
Can I Season Homemade Vegan Croutons?
You bet! This recipe uses a simple garlic rub, but you can get really creative with your seasonings! Think about the dish you want to make and the flavors that will complement it. Then, incorporate those flavors into your croutons! Making a spicy Southwestern Caesar Salad? Toss them in cumin and chili powder. Looking for more of an Italian crouton feel? Use dried oregano and basil.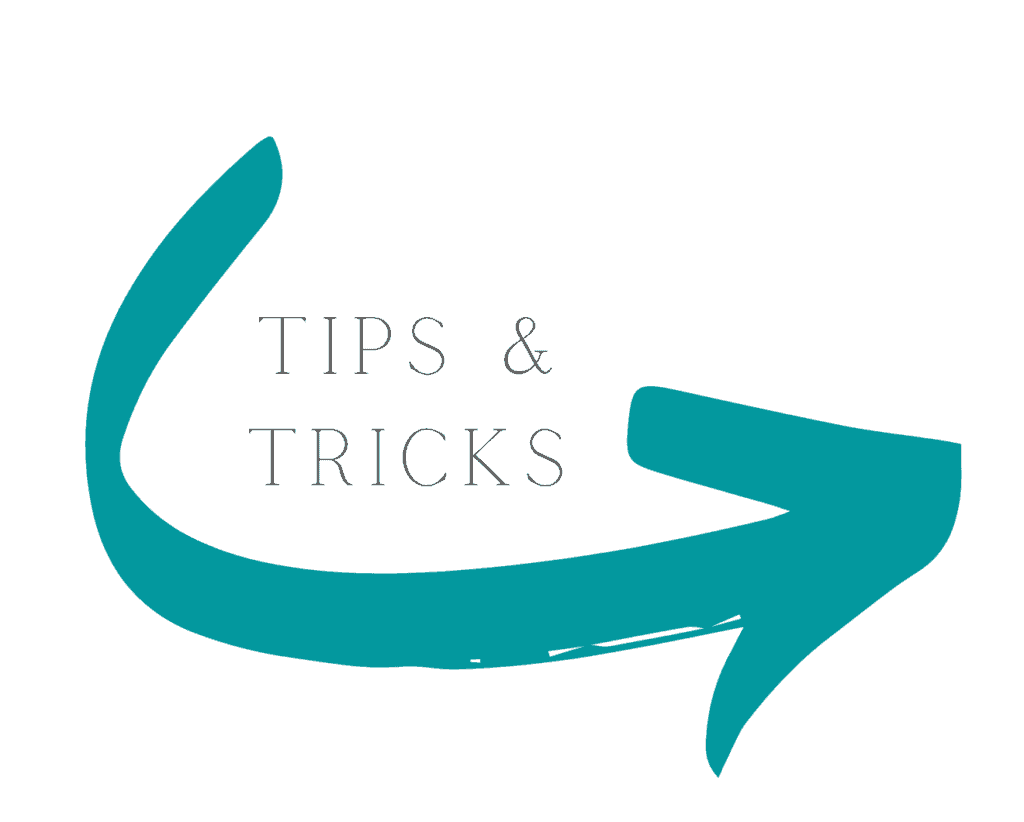 Need more vegan croutons inspiration? In my Roasted Cauliflower and White Bean Soup Recipe, I seasoned them with fresh basil pesto. They were a lovely combination to this rich and creamy vegan soup.
Homemade Vegan Crouton Recipe: To Bake or To Fry?
When I am home, I like to bake my croutons. I find that it's easier to get a nice, even crunch that way. But as you may already know, I spend a good part of the summer camping in my campervan — too long to pass on the idea of homemade croutons. My camping croutons are made over the stove in a frying pan. I just keep tossing them to avoid having them burn on one side.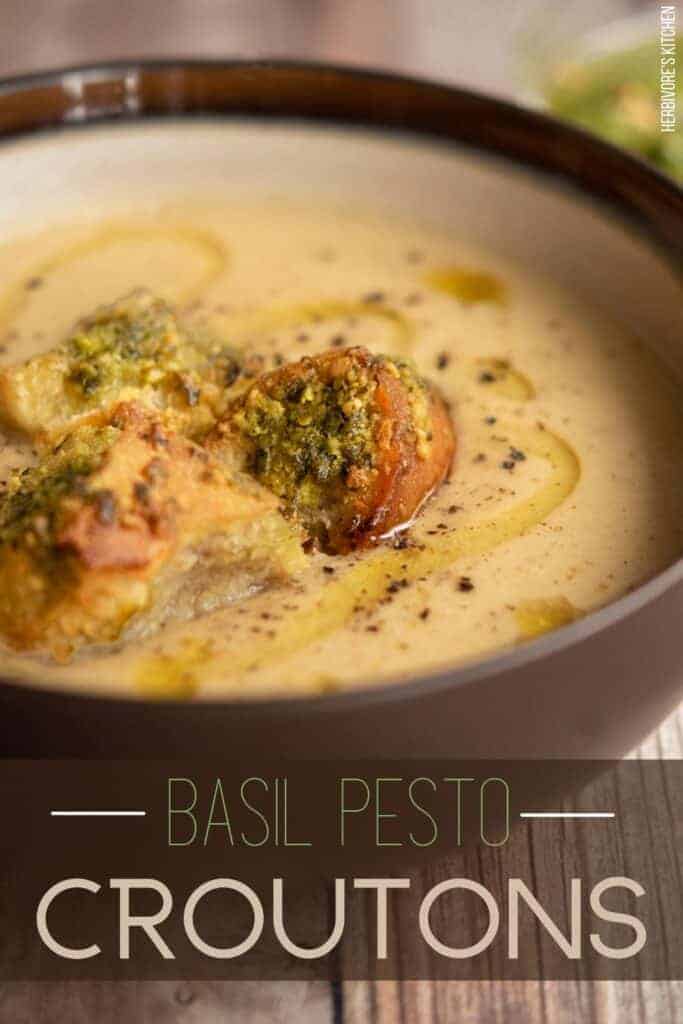 How Long Do Homemade Croutons Last?
I kind of have to laugh at this question because it's not often (ever) that I have to contend with it myself. I come from a family of crusty bread fiends. But, if you ever encounter leftover croutons, be sure to let them cool completely before storing them in an airtight container. Any remaining heat will create moisture, which might lead to mold. From there, put them in a cool, dry place (like your pantry) and the use them within 3-5 days.
What's in My Kitchen to Make This Vegan Crouton Recipe Easier?
Want to know what tools and resources I keep on hand to make my vegan cooking even easier? Here's a short list of what helped me create this blog post and recipe. For the complete list, visit my Shop where you can find the kitchen gadgets I like as well as a list of books that I recommend.
Down a broiler pan? These aluminum baking sheets come highly recommended by the cooks who know best – Epicurious, Cooks Illustrated and Food & Wine. I bought mine because I needed a good, sturdy baking sheet to use under the broiler. One that wouldn't warp – and this one lives up to the task.
Aluminum is a good conductor of heat, so these baking sheets cook evenly. They're also light in color, so they discourage over-browning.
These things are amazing! When I discovered parchment paper, I thought I had things figured out. No more greasing pans or ruining them with charred food. Then I discovered these silicon baking pads. They're oven-safe up to 450 degrees, dishwasher safe (top rack only) and easy to clean and REUSE!
Love to cook with cast iron? Ever forget how hot those handles get? Yeah, me too. The Ove Glove will help to protect your hands when cooking (and forgetting).
These pot holders are heat safe to 540 degrees and two come in a package – one for holding the handle and one for supporting the bottom of your cast iron skillet (because we all know it's too heavy to pick up with one hand).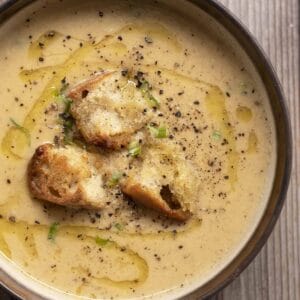 Vegan Croutons
Up the ante on your vegan soups and salads with this vegan crouton recipe. These vegan croutons are easy to make and while they may be dairy free, they aren't flavor free!
Ingredients
1

loaf

crusty French bread

2

tbsp

extra virgin olive oil

see Recipe Notes

1

clove

garlic

peeled and smashed
Instructions
If you have time, leave the bread out on the counter for at least a few hours before making the croutons.

Preheat the oven to 375º.

Cube the bread into equal-sized pieces.

Vigorously rub the crushed garlic clove along the sides and bottom of a large glass bowl.

Add the olive oil to the bowl. Then toss the cubed bread in the olive oil.

Spread the cubed bread out on a baking sheet.

Bake on the middle rack for 10 minutes. Stop and toss the croutons and bake for another 10 minutes.

Keep an eye on the croutons for the last several minutes to avoid burning.

Allow the croutons to cool completely. Store any leftover croutons in an air-tight container and use them with 3-5 days.
Notes
I find that 2 tbsp of olive oil works really well for the size of the bread I usually buy. If you use a larger loaf, then feel free to increase the amount. I like them very lightly oiled and not soaked.
About Herbivore's Kitchen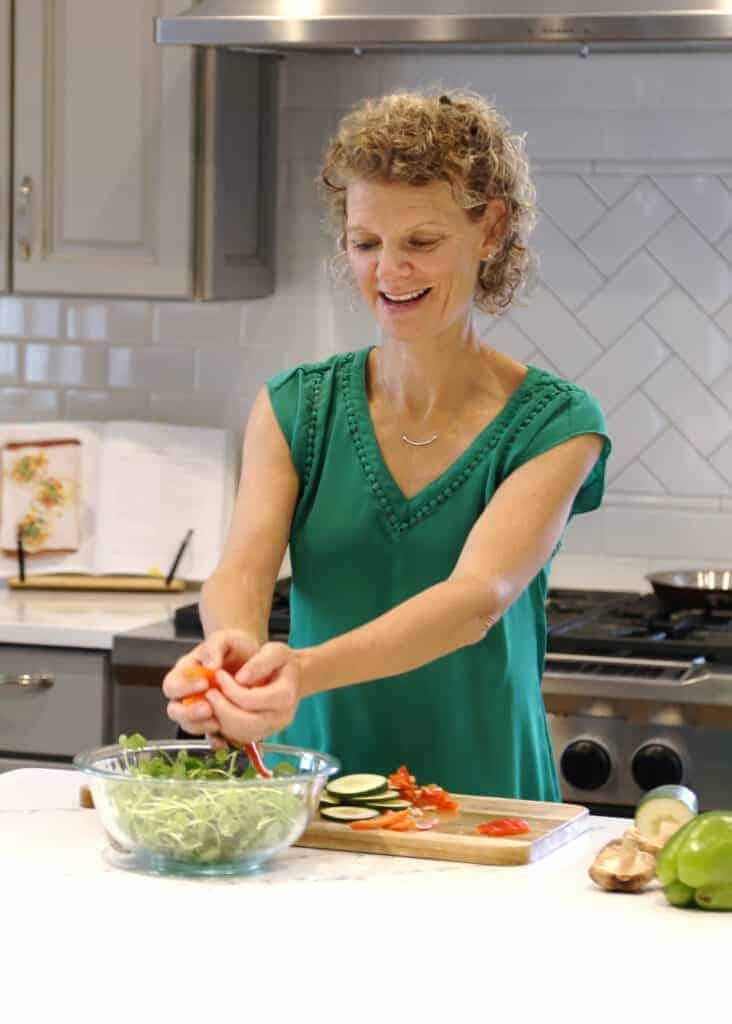 Herbivore's Kitchen is a blog run by me, a plant-based home chef and aspiring food photographer. I switched my and my family's diet to a plant-based diet after learning about the health benefits of going vegan. Making this change has prompted a variety of food and holistic-lifestyle related questions that I explore through this blog. I talk about how to pick and prepare the most nutritious foods, to how to reduce waste at home, to how to live a more sustainable lifestyle while on the road.