---
This Vegan Camping Recipes post includes affiliate links. When I find a great product or service, I like to share it with my readers. Sometimes I use affiliate links so I can earn commission for my recommendations. Thank you for your support!
---
The Ultimate Guide to Vegan Camping Recipes
If you've been following me for a while, you may know that in addition to being in my kitchen, camping is my happy place. I love being: (a) outside, (b) with my family, (c) near a trailhead, (d) for weeks at a time. All of the above. I've considered what makes these trips so special and I think I love them because they're simple. We're often out of cell service so the choices for entertainment are hiking, biking, paddleboarding, reading a book or taking a nap. Being able to disconnect, even if it's just for a little while, is rejuvenating.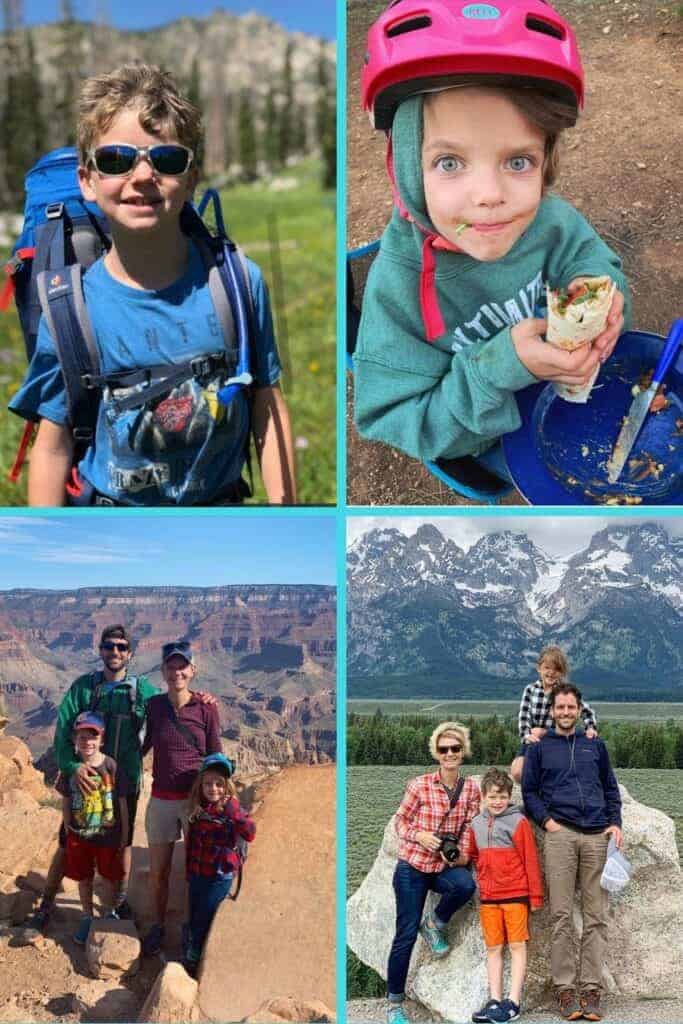 #VanLife: Adventures in a Campervan
Camping has been a bit of an evolution for me. Before we had children, my husband and I backpacked a lot. Then came the kids, and with them a tent and a minivan. But a fateful weekend of camping amid violent thunderstorms ended that era and brought us to our current camping setup: our campervan, Tootsie.
When people ask me if I like having a campervan, I always say the same thing: it's my most favorite thing I've ever bought. The ability to travel long distances in a mini home-on-wheels has brought us all closer together, literally and figuratively. Tootsie has about 80 square feet of living space. Not much for four people and a dog. But, when we pull into a campsite or off the road in the forest, our backyard becomes second to none. Tootsie has taken us all over Colorado (my home state) and into Idaho, Utah, Wyoming, Montana, Arizona and New Mexico. Last year, it took us all the way to Jasper National Park in Alberta, Canada.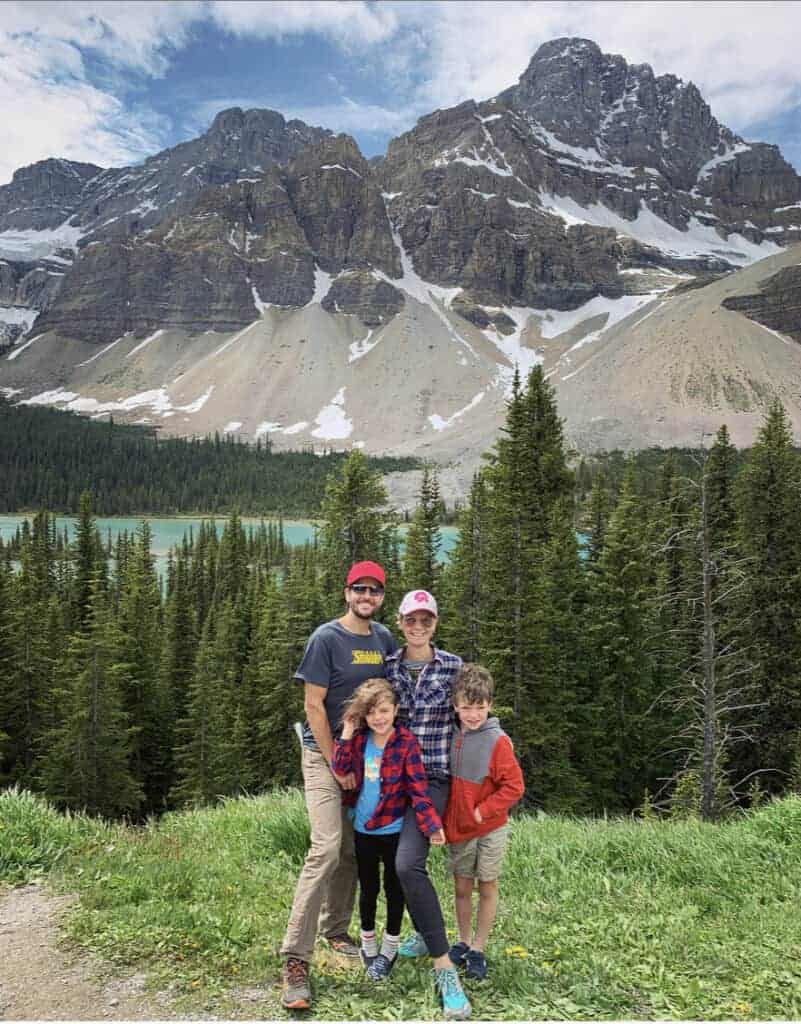 Of course, one of the other things I love about having a campervan is the kitchen. It's not much: a two-burner stove, a miniscule sink and a small refrigerator. There are a couple cabinets for dishes, two drawers for cooking utensils and a pull-out pantry (maybe Tootsie's best feature). When the weather permits though, my kitchen is like that backyard I was bragging about. The view from over the stove can't be beat.
Indoors or out, I like my camping food to be creative, colorful and healthy. Perhaps because I think that the landscape deserves such a treat? Notice though, that I didn't say complicated. Yes, these vegan camping recipes require more than throwing frozen burger patties on a charcoal grill. But they're not hard to follow and they don't require lots of equipment. I've even designed them to limit dish usage – all the better for camping clean up. The real tricks are: (1) preparing a few key ingredients at home, (2) using what's available to you (take advantage of local ingredients as you travel!), and (3) smartly stocking your camper pantry.
Planning Out Your Camping Recipes
As I mentioned earlier, my campervan has a decent sized pantry for keeping dried goods. On the other hand, the refrigerator is only 3 cubic feet so planning ahead is essential. To accommodate this, I frontload the week with my fresh vegetables to make sure that any salad ingredients are planned for use early on. I save dishes like rice & beans, chilis and pastas for later in the week. That way, we can go 4-5 days in between grocery store runs. Here's an example of what my first 5 days of camping recipes plan might look like.
As you can see, I focus on breakfast and dinner. These are the two meals where we're usually stationary. Since these are all vegan camping recipes, the emphasis is on vegetables, beans, grains and legumes with plenty of optional additions. These are typically the ingredients that I'll prepare at home and bring along. For example, Pickled Red Onions and Toasted Pumpkin Seeds not only add so much flavor to Vegan Tacos, they're excellent toppings for Avocado Toast, Breakfast Burrito Bowls or something as simple as hummus and crackers for a snack. Recycling ingredients is also a popular theme – notice how I use Spicy Red Lentils for breakfast one day and dinner a day later. Or how recipes toward the end of the week – like Teriyaki Vegetable Stir Fry – are designed to use up extra vegetables before a grocery store run or heading home.
Breakfast Camping Recipes
Camping breakfast sets the tone for the day. We often have mountain bike rides, hikes or a paddle planned for the day, so it's important to have plenty of energy from the get-go. That criteria, along with being a vegan-friendly meal, doesn't have to be limiting though! As you'll see from the camping recipes below, there are lots of different ways to make a healthy, vegan breakfast while you're on the road!
Vegan Overnight Oats
Oatmeal, of course, is a staple. Instant oatmeal is always an option and I'll sometimes eat it if I am trying to beat the heat with an early mountain bike ride. Steel cut oats are good as well, but they take a long time to cook and use up precious gas. Instead, I'll make Overnight Oats. This simple camping recipe for a single serving of oatmeal is perfect. In the morning, they can be topped any which way you want for an easy, healthy breakfast. It's also a great way to cut down on breakfast dishes!
Spicy Red Lentil Breakfast Burrito Bowls
Breakfast burritos are an amazing way to fuel up for the day. I try not to stress too much about the ingredients. I almost always have red lentils at the ready, but if I am looking for something easy, I'll swap those out for black beans (simmered in cumin and chili powder). Avocados make a great replacement for cheese and toasted pumpkin seeds are always something I keep in the campervan pantry. If you've got them, go ahead and throw some Pickled Red Onions in there as well!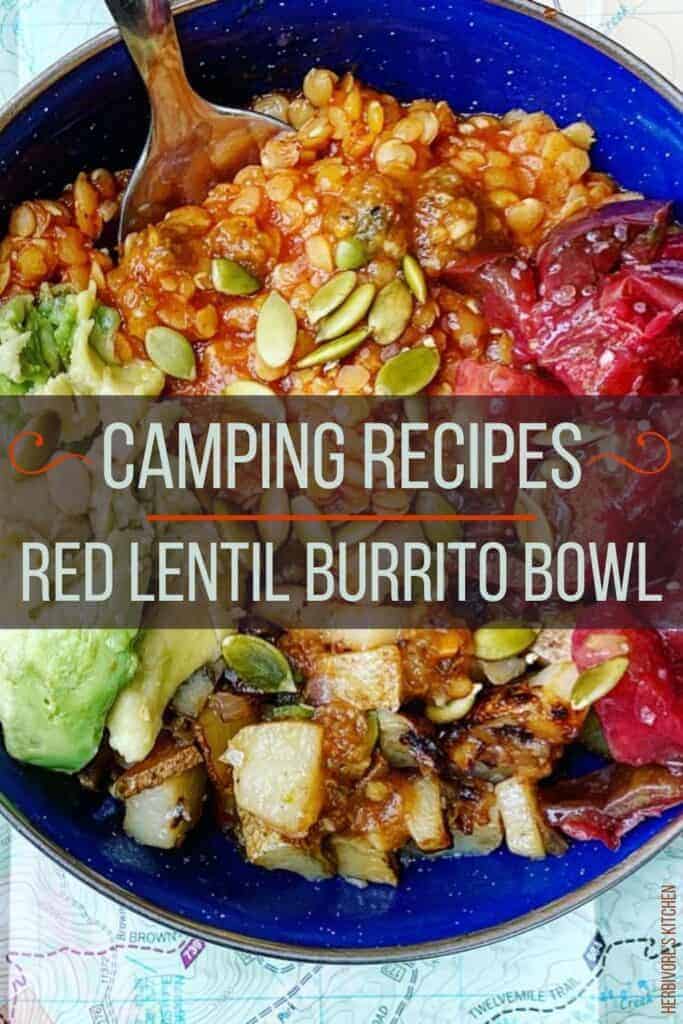 Camping Homefries
There are few things that make a camping trip like homefries. One of the ultimate camping meals, these crispy cubes of carbs are enormously satisfying. Nothing will get you to put on your hiking boots faster.
Unfortunately, I find making homefries on a camping trip to be a major PITA. Inevitably, the outside of the potatoes burn long before they're soft on the inside. And that's despite the fact that you've been adding copious amounts of oil to nurse them along. Then I learned that the trick to good homefries is to parboil the potatoes first. If you're not familiar with it, parboiling is a combination of the words "partial" and "boiling." Parboiling essentially precooks the potatoes so that when they hit the skillet all that's left to do is achieve that crispy exterior.
Homemade Granola
I know – insert eye roll, right? Making your own granola. It's so easy though! And it's a great addition to your camping recipes repertoire! Because this recipe requires an oven, I make it ahead of time and store it in the campervan pantry.
Eating on the Trail or on the Road
Lunch is sort of an afterthought when we're traveling. That being said, it's still easy to keep it balanced and healthy. For example, that Homemade Granola that you rolled your eyes at? It's great by the handful when you're out wandering the trails. Pair it with some fresh fruit when you're on the road and it's a real treat! Of course, peanut butter & jelly sandwiches are a staple. My son also loves a hummus and pickle wrap. I don't ask. I just wrap.
Campfire Vegan Dinners – Where the Magic is Really At!
As far as camping recipes go, dinner is where it's really at. For me anyway. I love putting together a really colorful, healthy dinner. It's just the cherry on top of a really spectacular day! I always like to experience different flavors in my food. This doesn't change much when I am on the trail. I find that stocking your campervan pantry with some simple ingredients can take you to Thailand, Jamaica, China, Mexico, India and Italy even when you're in the wilds of Colorado.
For example, I keep a can of full fat, unsweetened coconut milk, a jar of red curry paste and Lotus Foods' Millet & Brown Rice Ramen Noodles in my campervan pantry. Then when the mood strikes, I can make a red curry ramen noodle bowl. Rice ramen noodles also make a great Teriyaki Noodle Stir Fry. By keeping a small collection of seasonings on hand, I can spice things up with Jamaican Jerk Jackfruit Sliders — my son's favorite!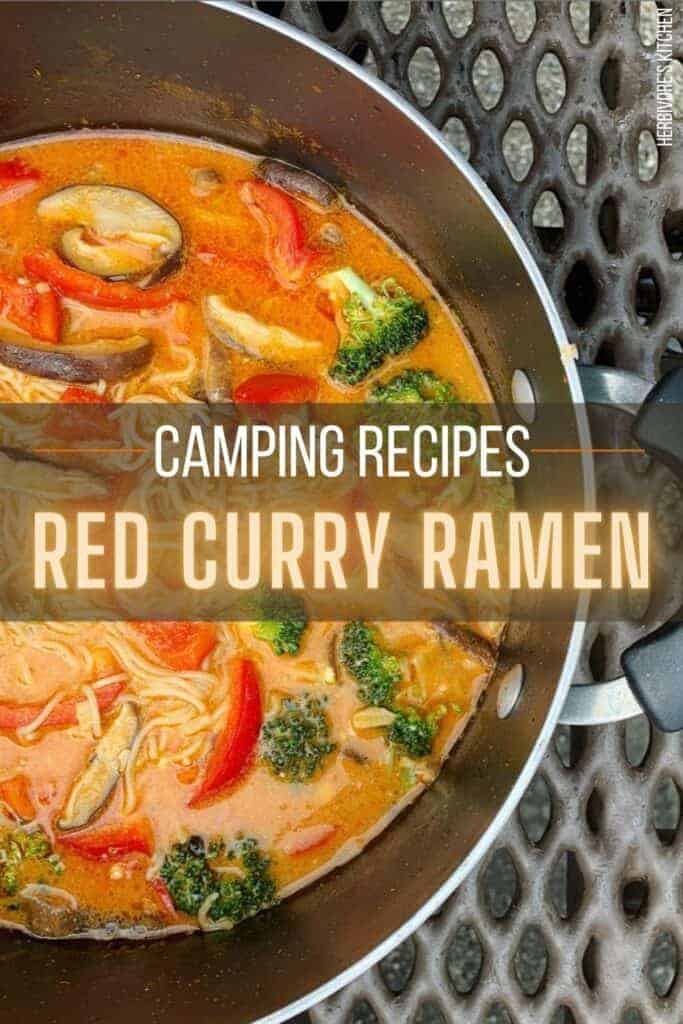 Red Curry Ramen Noodle Bowls
This recipe is one of my favorites to bring out when the weather is cooler in the early and late summer. It looks like it's a lot of work, but it's a very easy one-pot-wonder! I've simplified it from the original version on my blog so that the rice ramen noodles cook directly in the soup. This limits the number of dishes you'll need to do. However, note that the rice ramen noodles can overcook if left in the hot broth too long. Be sure to serve this dish immediately when the noodles are still densely chewy!
Jamaican Jerk Jackfruit Sliders
If you're not familiar with jackfruit, it's a great vegan alternative to pulled chicken or pulled pork. A watermelon-sized fruit hailing from Southeast Asia, jackfruit is mild in flavor. When prepared properly, it will absorb sauces and become crispy and satisfying. For this recipe, I add a spicy Jamaican Jerk spice mix and make simple sliders spiked with dill pickles and…if you dare…additional hot sauce!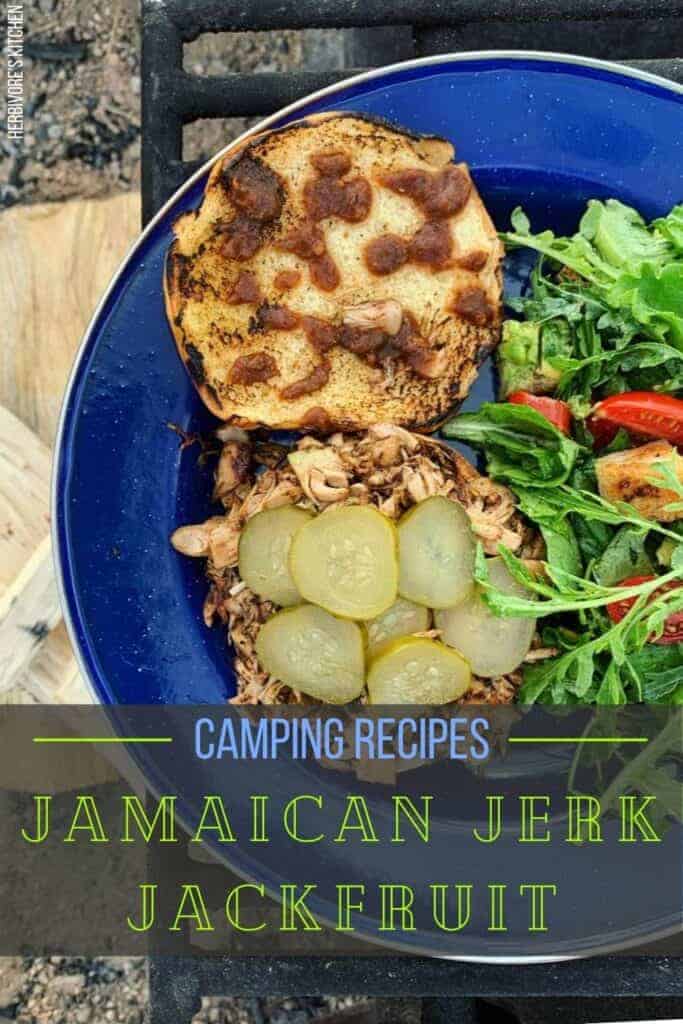 Red Lentil and Kidney Bean Dal
This vegan camping dish is so fulfilling! It's also a great option for end of the week cooking because it relies mostly on pantry items to make. The combined ingredients of ginger, curry powder, tomato paste and coconut milk are richly satisfying, while red lentils and kidney beans offer up plenty of protein. I like to serve this dal over a grain. In this case, I had cooked quinoa in the refrigerator. It would also be good over rice or even leftover pasta.
Teriyaki Vegetable and Rice Noodle Stir Fry
This vegan camping recipe is not only tasty, it's a great way to use up any leftover vegetables that you have on hand. I like to add peppers, broccolini and shiitake mushrooms. Of course, what really makes this dish amazing are the decadently chewy Lotus Foods' Millet & Brown Rice Ramen Noodles! If you follow me regularly, you know that I'm a huge fan of this brand. I use their products regularly in many of my vegan recipes.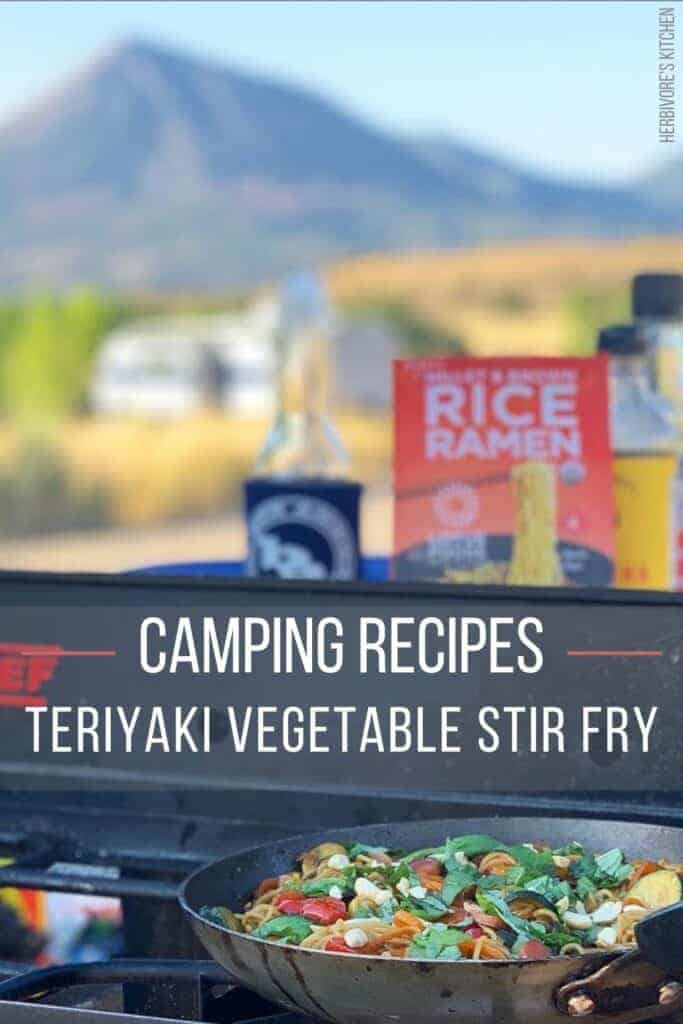 Vegan Street Tacos
Tacos are ALWAYS on the menu when we're out camping! It's one of the few vegan camping recipes that my kids will take over and do without assistance. They have a very basic list of ingredients: black beans, lettuce, tomatoes, avocados and black olives.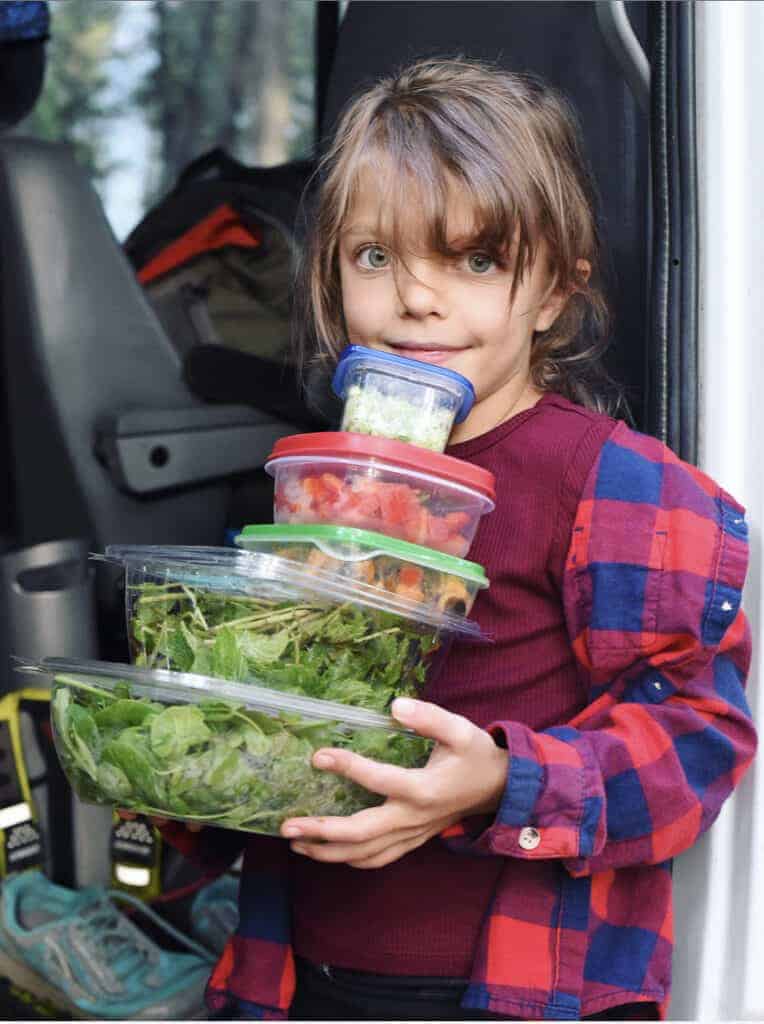 My husband and I like to take our vegan tacos a step further. As you can see, they're pretty epic. On this particular evening, we were camping outside of Creed, Colorado and I had scored some purple cauliflower at a local market. I used that along with some of my Spicy Red Lentils as the taco filling, then topped the tacos with diced tomatoes, sliced avocado, fresh cilantro, Pickled Red Onions and Toasted Pumpkin Seeds.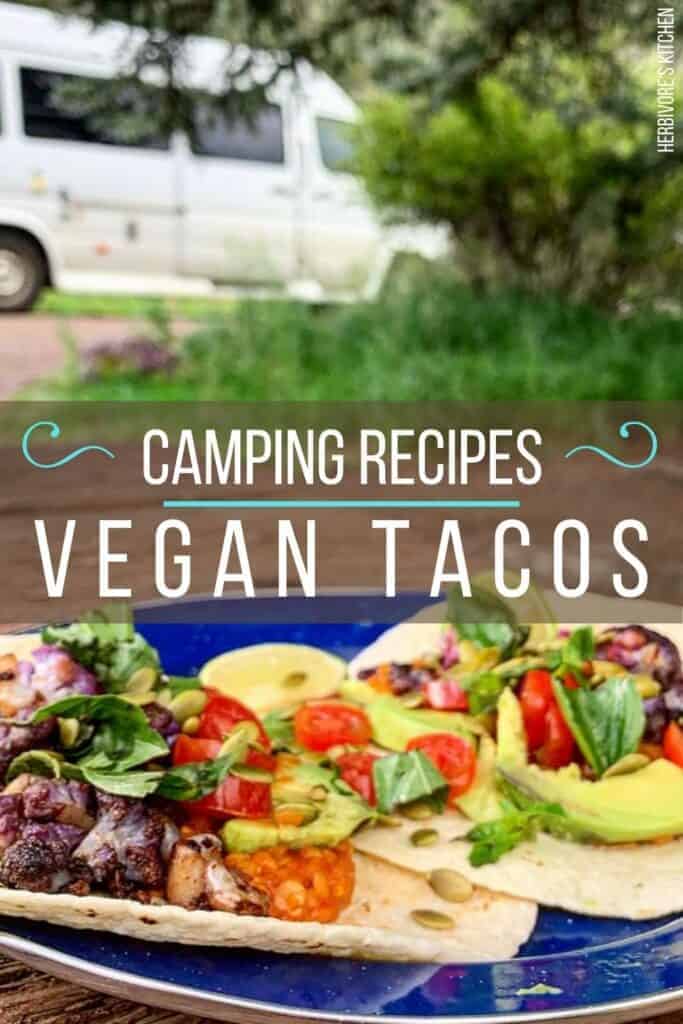 Simple Vegan Camping Recipes for Indoor Cooking
For cold and rainy evenings where I know I'm going to be stuck cooking inside the campervan, I plan on simpler dishes. Pantry-heavy camping recipes Vegan Mac & Cheese keep things really simple. If I've got broccoli or snap peas on hand, I'll quickly steam those over the cooking noodles to get some greens into the dish. If I am really fried though, I absolutely love Maya Kaimal's Everyday Dal. These are a fantastic way to get a healthy meal together quickly. I'll add them to leftover quinoa or rice and toss in leftover beans or vegetables to help clean out the refrigerator. I even take these handy little packages on short backpacking trips. They're far better than any freeze-dried meal!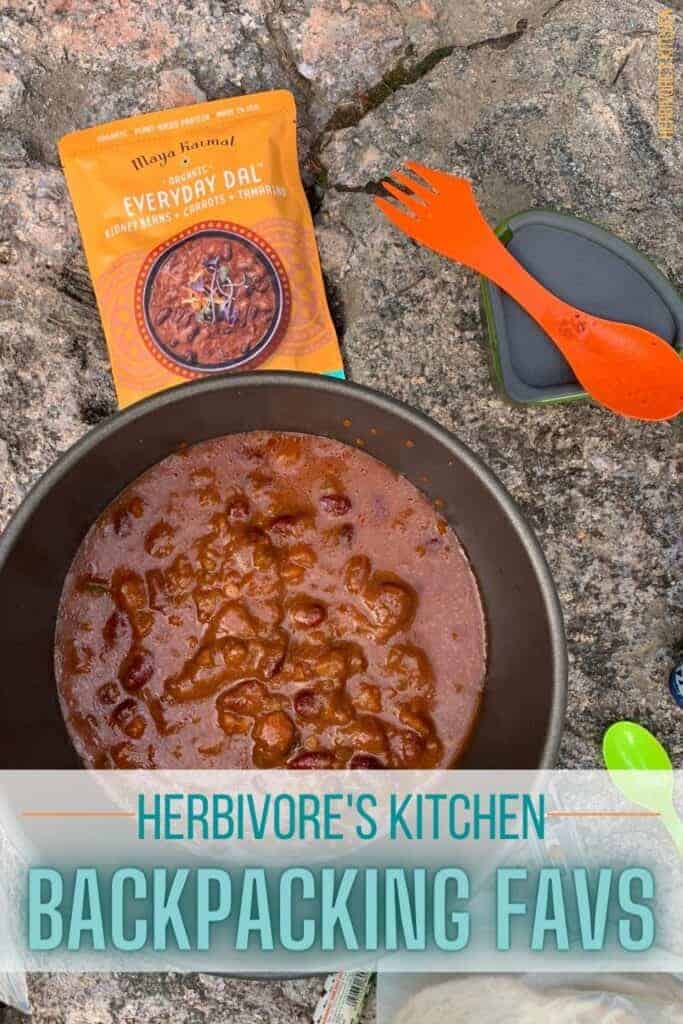 Vegan Mac & Cheese
Mac & cheese is a crowd pleaser. It's truly camping comfort food. That's why it makes our rotation when it's cold and rainy or we're just too fried to put too much effort into anything. To make this recipe vegan, I replace the cheese with a cashew cream sauce with either a carrot or baked sweet potato to give it that orange glow that kids have come to love about their Mac & Cheese. This recipe does require a blender, so I make it in advance our trip. When it's time to go, I store it in a mason jar. The perfect size for a tiny fridge.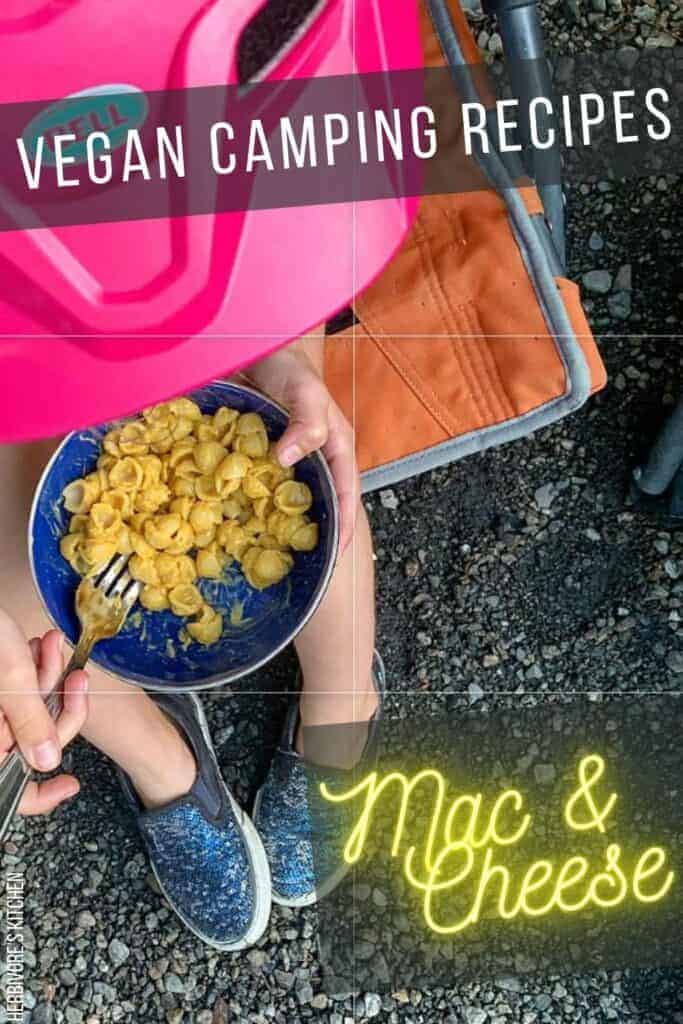 Got leftover cashew cream sauce? It also goes great in between two slices of bread cooked to crusty, golden brown perfection! Also known as the Vegan Grilled Cheese! For this one, we had some leftover fresh basil. Feel free to add tomatoes as well.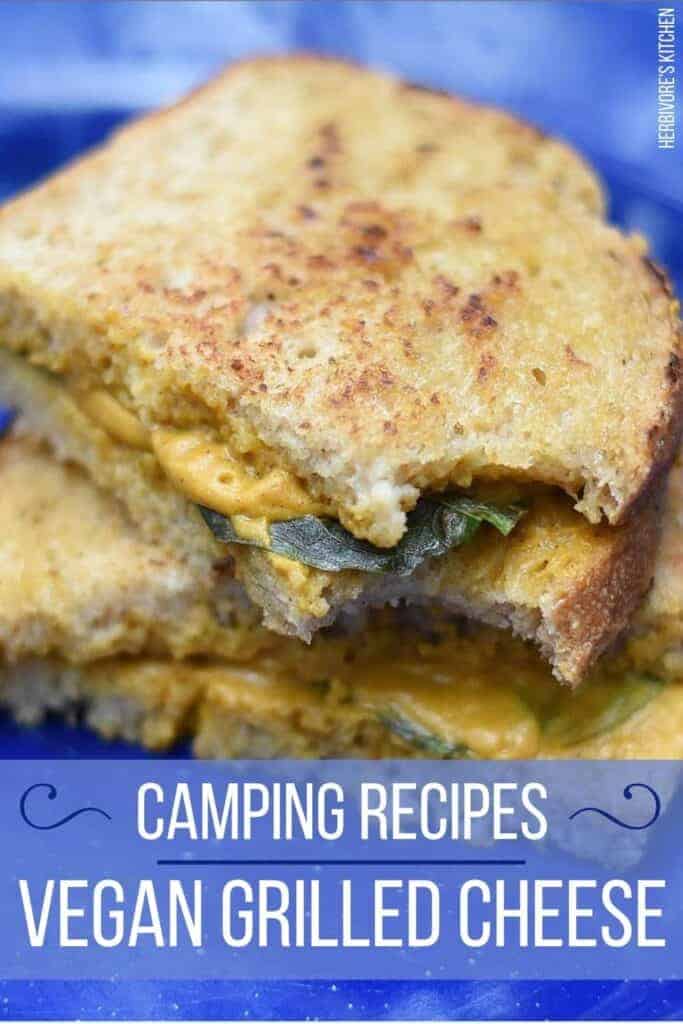 Tips for Prepping Your Camping Recipes
For camping recipes like my Chickpea & Cauliflower Korma and Vegan Fajitas, I like to prep the veggies at home. First, it's just easier to rinse and chop large amounts of vegetables when you have access to a large sink and counter space. I chop the vegetables and bag them with several paper towel sheets to absorb any extra moisture.
These are two of my camping recipes that are made possible by some carefully curated sauces and spices. As I mentioned previously, Maya Kaimal's products are among my favorites. Her Everyday Dals make dinner super easy on a rainy night or when I'm backpacking. Likewise, I always pack a couple of her shelf-stable sauces. Goan Coconut and Coconut Korma are two of my favorites.
Spicejungle.com is an online spice shop where I get a lot of my blends. I'm a huge fan of their fajita seasoning for recipes like my Vegan Fajitas below. It's their Jamaican Jerk that I use above in my Jamaican Jerk Jackfruit sliders. Their Zahtar and Meditteranean Blend are two other spices that I like to have on hand as well.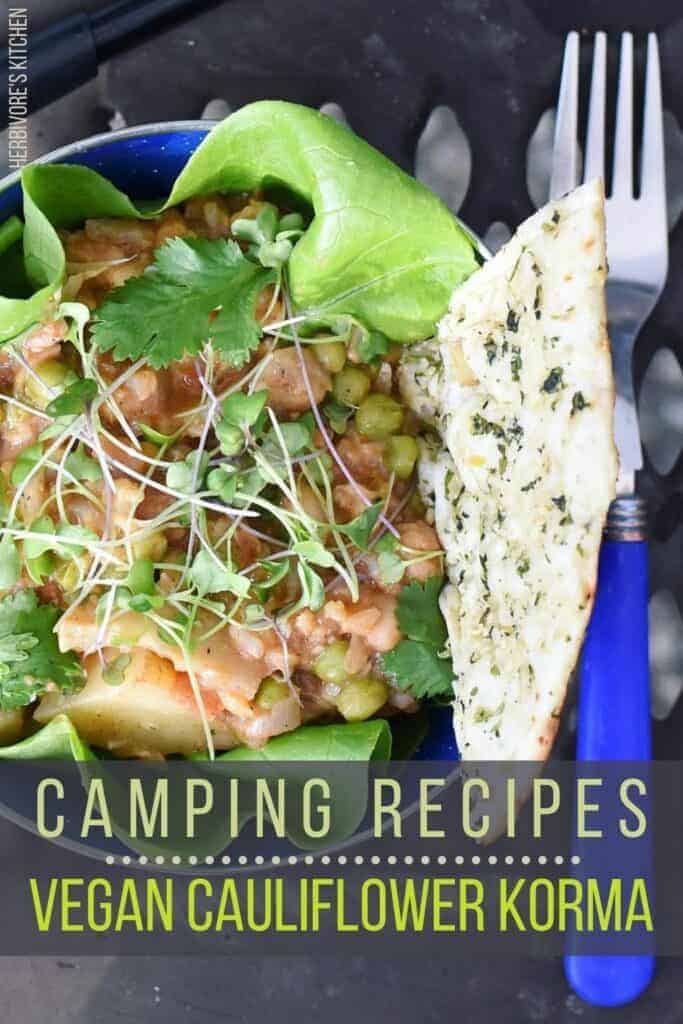 Vegan Fajitas
Vegan fajitas are a go-to camping favorite of mine. They are so easy to make! I substitute Portobello mushrooms for the traditional steak or chicken. Then couple that with some richly charred peppers and onions. Fajita seasoning is one of my favorites! A combination of garlic, cumin, cilantro, cayenne pepper, salt and sugar this slightly sweet, but still plenty spicy seasoning is a wonderful complement to the peppers and onions.
Camping Recipes Are Better with Fresh Ingredients!
Keep your eyes peeled for local farmer's markets and small farm stands! As we travel around, I like to pick up as much as I can from local farmers. Fresh lettuce blends, a few heirloom tomatoes and a homegrown cucumber make for a nice simple salad. I always keep extra virgin olive oil and apple cider vinegar in my campervan pantry. A dash of maple syrup and a quick squeeze of Dijon mustard add the perfect amount of tangy sweetness for a quick salad dressing. Often times, you'll find an artisan bread stand too! Perfect for making camping croutons!
Fresh Mango Guacamole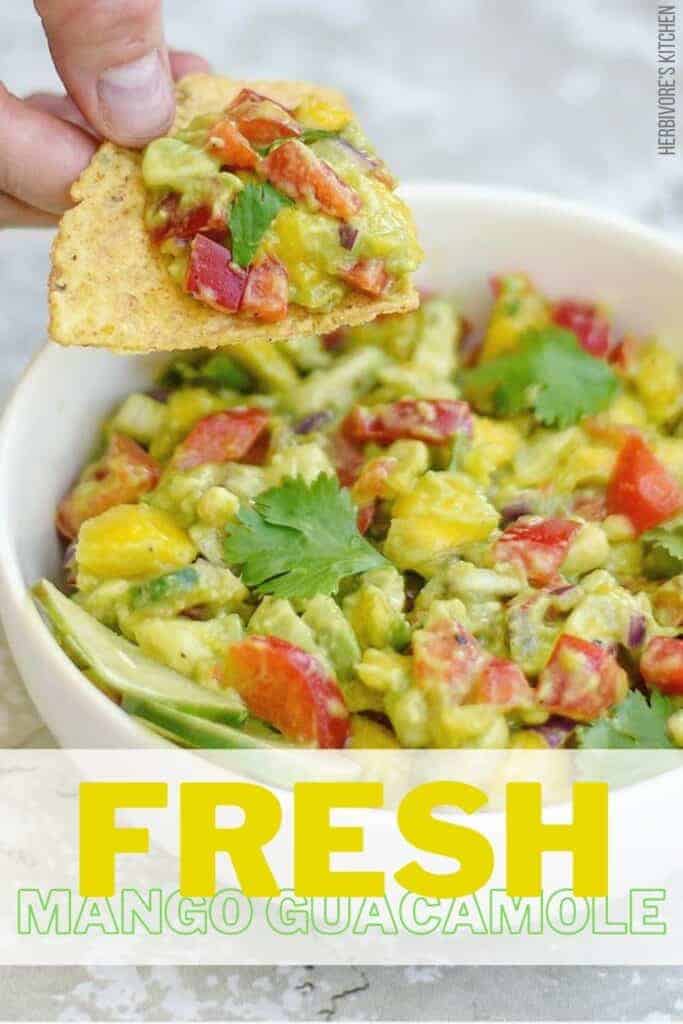 Camping Croutons
If you're strolling through a local farmer's market look for an artisan bread stand while you're snapping up lettuce blends and heirloom tomatoes. Camping croutons are easy to make and really satisfying!
Camping Salad Dressing
Salad dressing doesn't have to be in a bottle or limited to oil and vinegar. Just by adding a little maple syrup and a touch of Dijon mustard, you can add a lot of flavor! I keep maple syrup in my campervan as my go-to sweetener and Dijon mustard comes along because I like to dip pretzels in it as a snack.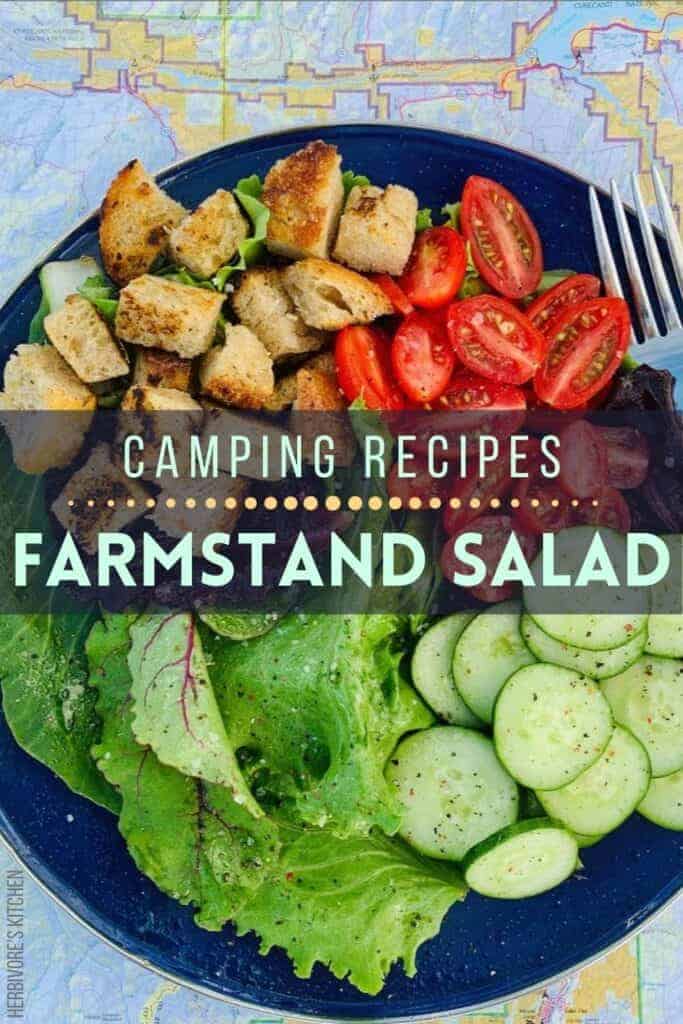 A Few Final Words on Vegan Camping Recipes
I hope that you feel inspired to get outside now! Just remember all of the good food you'll have when you're climbing toward the summit of that peak or paddling across that lake (into the wind, of course; because it's always into the wind). Before we part, I'd like to offer just a few additional tips on making these vegan camping recipes.
Getting the Right Equipment to Make Your Vegan Camping Meals
First, equipment. Personally, I don't find camping to be the place for highly sophisticated pots and pans. Cast iron and stainless steel can be very hard to clean up, so I recommend purchasing a few non-stick pots and pans and treating them well. Non-stick gets a bad rap, but they can be safe to use. Here are some of my non-stick tips:
Don't use non-stick cookware over an open fire where temperature is impossible to gauge.
Don't use metal spatulas, utensils or cleaning tools in your non-stick pans. This will lead to accelerated wear and tear.
Don't buy pots and pans with plastic handles. Temperature is tricky to control and wind creates another variable. There's a risk that the handles will melt, giving off toxic fumes.
Do wash your pots and pans in hot, soapy water after use. Take care of them as well as you would your pots & pans at home.
Do cook with oils, but not with oil sprays. Oil sprays will gunk up the surface of your pots and pans.
Take Care of the Beautiful Scenery!
You're out there enjoying the great outdoors, so be sure to take care of it for the next set of visitors. This means picking up and disposing of your trash properly. We always do a sweep of our campsite and pick up any and all trash that we find — whether or not it's ours. Most campgrounds have dumpsters, but not all of them have recycling. When that happens, we pack our recyclables out. Then, when we reach a community large enough to have one, we drop them off at a recycling center.
Please don't do your dishes in a natural water source. That's true even if you're using a biodegradable soup (which you should be anyway). Instead, pack two wash bins and a drying rack. Fill the first bin with hot soapy water and the second with cooler rinsing water. Scrape your food scraps into the trash before washing your dishes. This will keep the soapy water "cleaner" for the whole lot of dishes. [Note: it's better not to have food scraps though – try to cook accordingly to your crowd]. When you're done, dump the cleaning water at least 200 feet from a water source.
What's in My Campervan to Make My Vegan Camping Recipes Even Easier?
Want to know what tools and resources I keep on hand to make my vegan cooking even easier? Here's a short list of what helped me create this blog post and recipe. For the complete list, visit my Shop where you can find the kitchen gadgets I like as well as a list of books that I recommend.
About Herbivore's Kitchen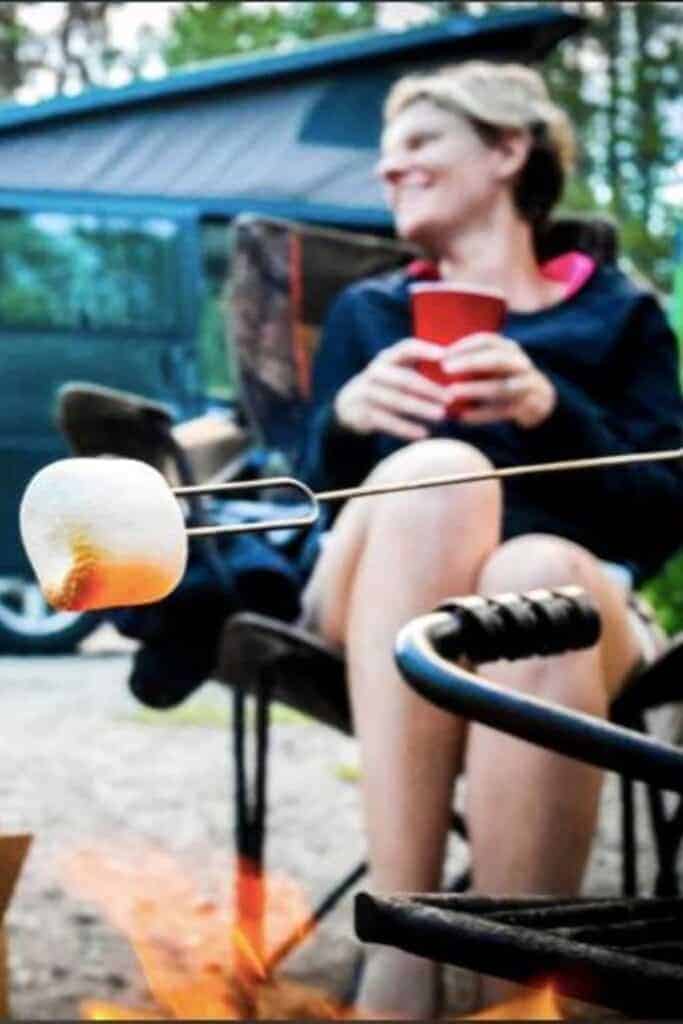 Herbivore's Kitchen is a blog run by me, a plant-based home chef and aspiring food photographer. I switched my and my family's diet to a plant-based diet after learning about the health benefits of going vegan. Making this change has prompted a variety of food and holistic-lifestyle related questions that I explore through this blog. I talk about how to pick and prepare the most nutritious foods, to how to reduce waste at home, to how to live a more sustainable lifestyle while on the road.