Jump to Recipe
This Air Fryer General Tso Cauliflower: Satisfy Your Takeout Craving with this Chinese Cauliflower Recipe! post includes affiliate links. When I find a great product or service, I like to share it with my readers. Sometimes I use affiliate links so I can earn a commission for my recommendations. Thank you for your support!
Satisfy Your Chinese Takeout Craving with this Chinese Cauliflower Recipe!
I've been a lover of the Chinese dish General Tso's for as long as I can remember. As a kid, I picked General Tso's as my birthday dinner more than once. When I got older, I learned how to make General Tso's Chicken at home. It only makes sense that I would want a vegan General Tso's dish in my repertoire now.
This Air Fryer General Tso Cauliflower dish highlights how Chinese cauliflower recipes can be a great way to adapt your favorite dishes to a plant-based diet. I like to substitute cauliflower for chicken in many of my old-favorite Chinese food recipes. The texture is so satisfying and cauliflower is a healthy option, especially when air fried.
What is General Tso's?
General Tso's is usually a Chinese food recipe featuring deep-fried chicken tossed in a thick, spicy-sweet sauce. It's typically served with white rice and red chilis. My research indicates that General Tso's isn't a traditional Chinese dish, but rather a North American invention. Chef Peng Chang-kuei, of Peng's Restaurant in New York City is credited with its invention.
Is There a Real General Tso?
There is, but it's doesn't appear that he had anything to do with the General Tso's dish. According to Wikipedia, General Tso was a Qing dynasty statesman and military leader, but whether he ever ate his namesake recipe or even knew about it is unknown.
I (Heart) Chinese Cauliflower Recipes
I like tofu, I do. But I think that cauliflower makes a better vegan substitution for chicken. I just prefer the texture. For this recipe, I decided to air fry the cauliflower. I'm sort of hot on air frying right now. I love that I can get a crispy, fried exterior to my food without having to deep fry.
If you don't have an air fryer though, don't worry. I included oven instruction in the Recipe Notes below. Before I had my air fryer, I developed several Chinese cauliflower recipes that call for roasting battered cauliflower in the oven. Check out my Crispy Orange Cauliflower with Steamed Asparagus or my Roasted Cauliflower in a Sticky Lemon Sauce. They taste wonderful too.
Is General Tso's Spicy?
It depends. If you're making it yourself, you can make it any way you'd like. In this Air Fryer General Tso Cauliflower Recipe, I add sriracha for spice. The recipe calls for ½ tsp, which I think adds just enough spice to balance out the salty-sweet flavors, but I love spice so it's hard for me to gauge what's too spicy.
If you're sensitive to spice, I recommend leaving the sriracha out of the recipe and adding it as a garnishment at the end.
What is General Tso's Sauce Made Of?
My Vegan General Tso's Sauce is made with scallions, garlic, ginger, tamari, rice vinegar, maple syrup and sriracha sauce. I add a cornstarch slurry (a simple 1:1 combination of water and cornstarch) to thicken the sauce as it cooks.
These are all really simple, easy to find ingredients, making this Air Fryer General Tso Cauliflower Recipe a great way to put a healthy, tasty vegan dinner on the table.
Do You Love This Air Fryer General Tso Cauliflower Recipe?
Do you love this Chinese Cauliflower Recipe? Be sure to check out my other vegan Chinese food recipes! If you're into sweet & spicy with a hint of citrus, then my Crispy Orange Cauliflower is for you! Want to skip battering your cauliflower? Then check out my Roasted Cauliflower in a Sticky Lemon Sauce.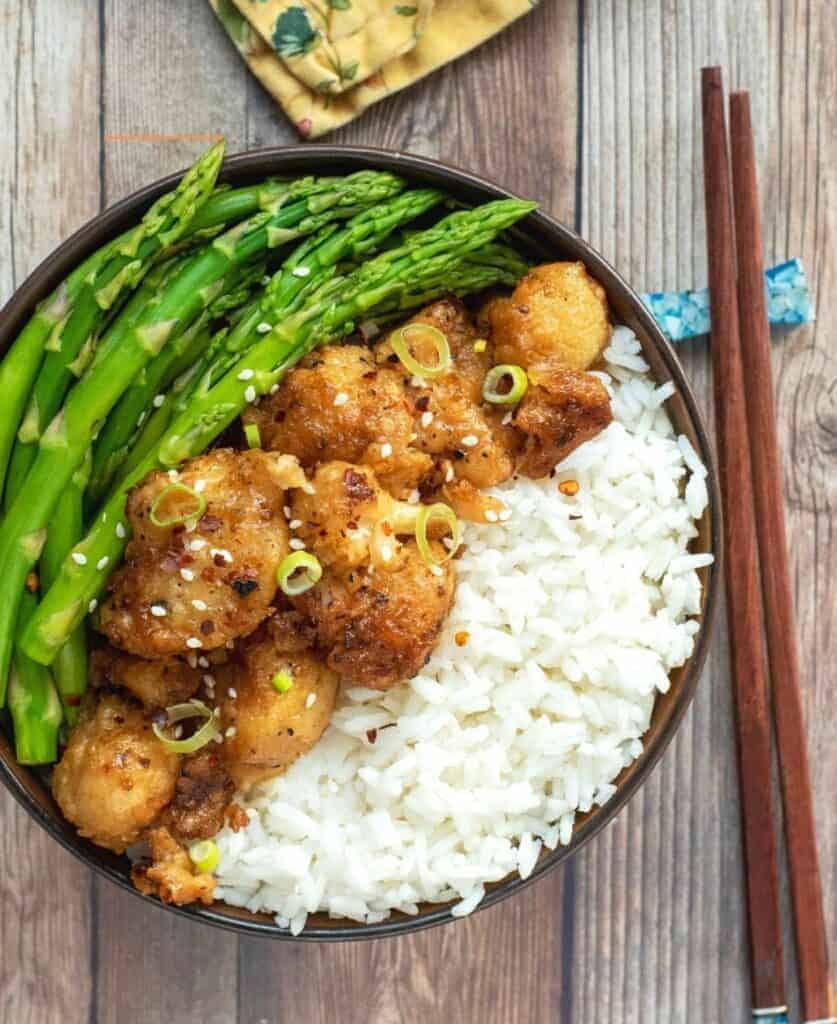 Looking for an easy, vegan Chinese food recipe? Look no further than this Crispy Orange Cauliflower. Lightly battered and baked cauliflower is the perfect vehicle for a tangy, sticky orange sauce. Homemade Chinese food has never been tastier!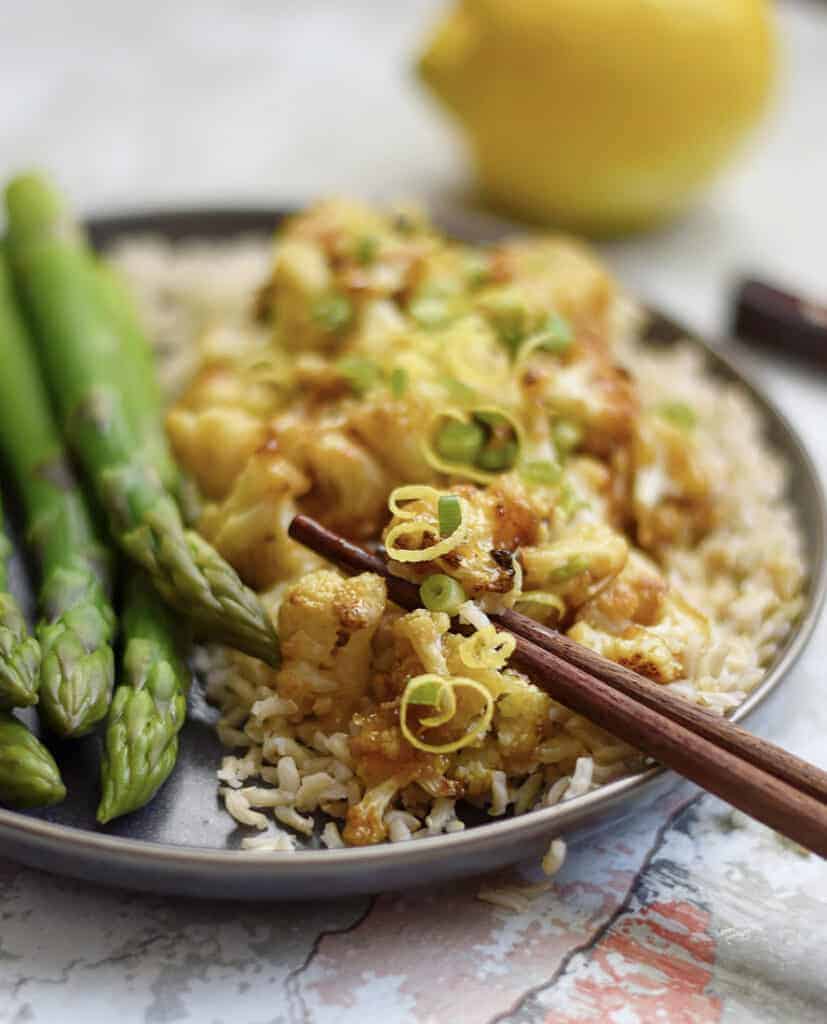 Skip the takeout tonight and make this Roasted Cauliflower in a Sticky Lemon Sauce instead! This easy vegan recipe is simple and ranks among my favorite vegan Chinese food options. To keep this vegan dinner healthy, I roasted the cauliflower instead of frying it and tossed it in an easy lemon sauce sweetened with maple syrup instead of honey. Then I paired this delightful vegan meal with simple steamed asparagus and brown rice.
Air Fryer General Tso Cauliflower Recipe
Satisfy those takeout cravings vegan-style with this Chinese cauliflower recipe. This Air Fryer General Tso Cauliflower is sweet, spicy and tasty!
Ingredients
1 1/2

cups

dry Jasmine rice

1

cup

all-purpose flour

1

tsp

salt

1/8

tsp

ground black pepper

1

cup

water

1

head

cauliflower

washed and cut into florets

1

red bell pepper

washed, deseeded and sliced into bite-sized pieces

1

green bell pepper

washed, deseeded and sliced into bite-sized pieces

1

scallion

washed and thinly sliced with the white parts separated from the green parts

1

tbsp

fresh ginger

minced

1

tbsp

fresh garlic

minced

1/2

cup

tamari

2

tbsp

unseasoned rice vinegar

2

tbsp

pure maple syrup

1/2

tsp

sriracha sauce

plus additional sriracha as optional garnishment

1

tbsp

water

1

tbsp

cornstarch

2

tbsp

safflower oil

or another high-temperature cooking oil

1

tsp

toasted sesame oil

optional, for additional flavor

sesame seeds

as optional garnishment
Instructions
Prepare the Jasmine rice in accordance with the package directions.

Combine the flour, salt, pepper and water in a small mixing bowl. Add the cauliflower florets and toss in the batter. Using tongs, place the battered cauliflower in an air fryer. Air fry for 12-15 minutes. If you don't have an air fryer, see Recipe Notes.

While the rice and cauliflower are cooking, prepare the sauce by combining the scallion whites, ginger, garlic, tamari, rice vinegar, maple syrup and sriracha sauce in a small bowl. In a separate bowl, combine the cornstarch and water and mix until it becomes a slurry. Add the cornstarch slurry to the tamari sauce. Stir to combine.

When the cauliflower is done, preheat a wok or large frying pan until hot. Add the safflower and toasted sesame oil. When the oil is shimmering, add the red and green bell peppers. Sauté for 1-2 minutes until the peppers are vibrant, but still crisp.

Add the air fried cauliflower and toss to combine.

Add the tamari mixture. Toss to combine the vegetables in the sauce. The sauce should begin to thicken as it cooks. Continue to cook for 2-3 minutes until the desired sauce consistency is reached. Remove the vegetables from the heat.

Prepare each serving bowl with 2-3 large scoops of rice. Top the rice with the vegetables and garnish with scallion greens, sesame seeds and additional sriracha as desired.
Notes
No air fryer? No worries! Preheat the oven to 425º and add the battered cauliflower to a lightly oiled baking sheet. Or, better yet, use a silicon baking mat. Roast the battered cauliflower for 15 minutes, then pause to flip each piece. Roast for an additional 5-10 minutes until crispy.
Curious to know if there was a real General Tso? Check out my blog post to learn more!
About Herbivore's Kitchen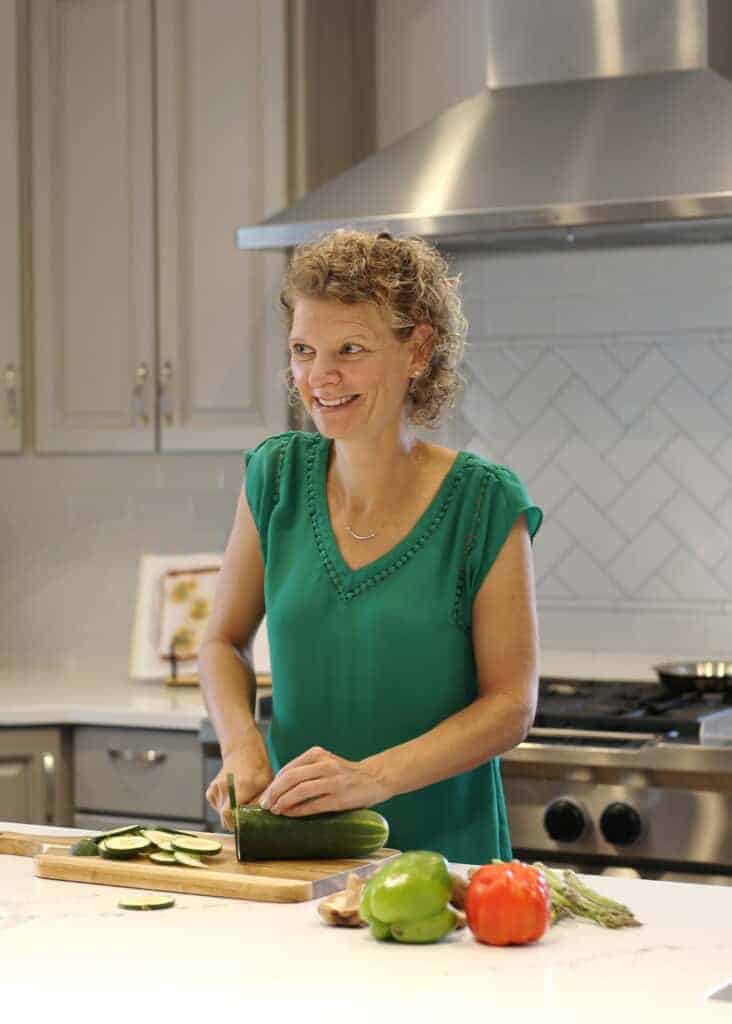 Herbivore's Kitchen is a plant-based food blog started by me, a vegan home chef, cookbook author, aspiring food photographer and how-to-be-a-better-food-blogger junkie. You'll mostly find creative and tasty vegan recipes and detailed deep dives into vegan ingredients (check out my Vegucation section) on my blog. I love knowing as much as I can about the food that I make. I'm also really into running a food blog as a business, so I've also got a section of my blog titled: Confessions of a Food Blogger where I get into the nitty gritty on how to build, manage, market and monetize a food blog.