Jump to Recipe
This Vegan Banana Chocolate Chip Muffins: When It Comes to Vegan Muffins, These Plant-Based Banana Muffins Are the Best! post includes affiliate links. When I find a great product or service, I like to share it with my readers. Sometimes I use affiliate links so I can earn a commission for my recommendations. Thank you for your support!
When It Comes to Vegan Muffins, These Plant-Based Banana Muffins Are the Best!
This Vegan Banana Chocolate Chip Muffins recipe is my latest share from my forth-coming cookbook 5-Ingredient Vegan Cooking: 60 Approachable Plant-Based Recipes with Few Ingredients and Lots of Flavor! It's available for pre-order and will be on the shelves June 22, 2021.
These plant-banana muffins are actually muffin tops — my all-time favorite part of the muffin. Rest assured though, if you (unlike me) don't feel the need to own every kitchen item ever invented, this recipe applies equally well to making the full muffin.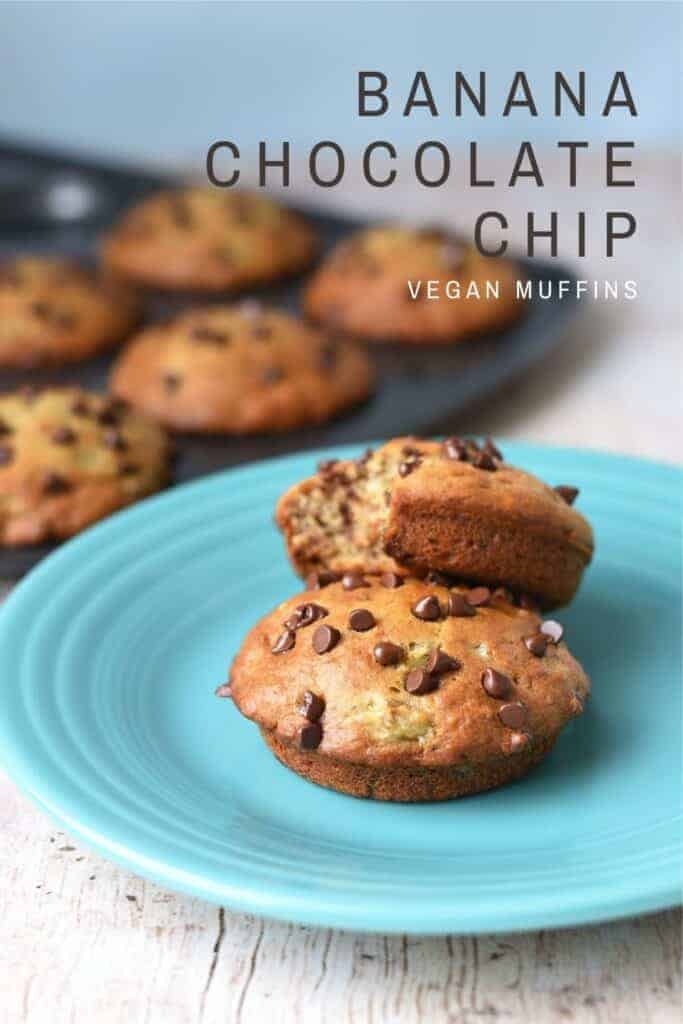 One of My Favorite Vegan Banana Recipes
If you're a seasoned vegan baker, you might already know that bananas are one of the great egg substitutes in vegan baking. I use them often, but this Vegan Banana Chocolate Chip Muffins Recipe is definitely one of my favorite vegan banana recipes.
These plant-based banana muffins are sweet, but not too sweet. I use pure maple syrup as the sweetener. This gives them a rich sweetness without being overly saccharine. The sweetness is likewise offset by the slight bitterness of the dark chocolate chunks.
The Grab-And-Go Nature of This Vegan Banana Chocolate Chips Muffins Recipe
In my cookbook, these plant-based banana muffins are titled: Grab & Go Banana Bread Muffin Tops. This recipe is neatly tucked into my The Morning Rush Made Easy Chapter. And for good reason.
Having easy, healthy plant-based breakfast options at-the-ready is a great way to start your day. If I don't have something good for me at my fingertips, I end up eating my kid's leftover toast scraps.
Not only do these plant-based banana muffins make a great vegan breakfast food, they're also handy to have around as an after-school snack. I find myself making them weekly and they never go to waste!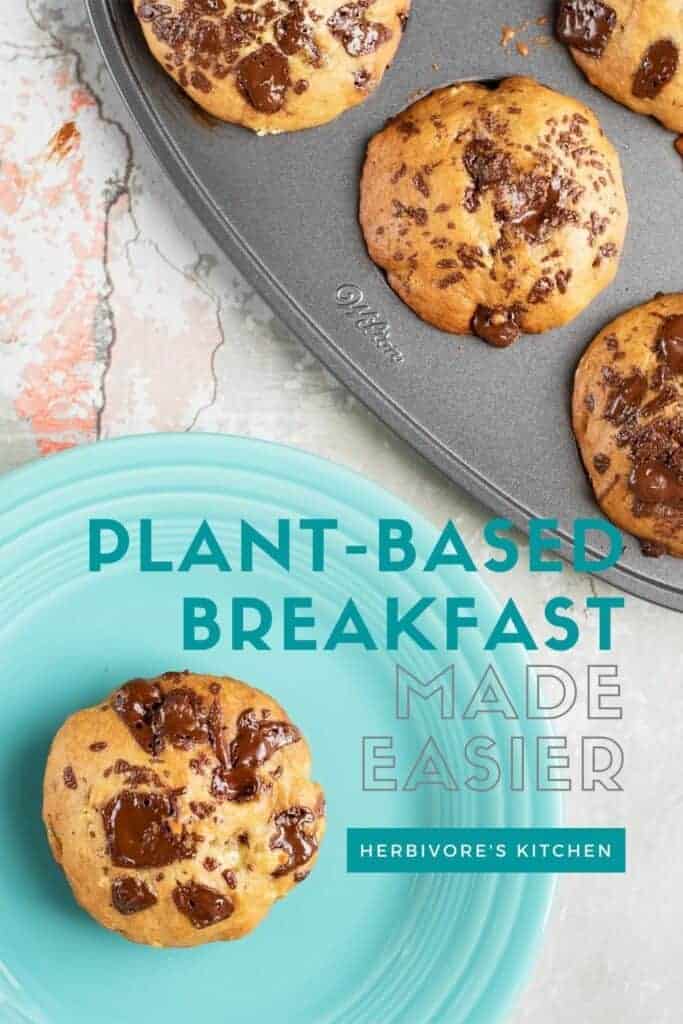 How Do You Make Eggless Banana Muffins?
In addition to bananas, I also use flaxseed meal as a binding agent for these Vegan Banana Chocolate Chip Muffins.
If you haven't tried using flaxseed meal as an egg substitution in your baking, I highly recommend it. Flaxseed meal is made by grinding highly-nutritious flaxseeds into an almost-powder-like consistency. When this plant-based ingredient is combined with a little water and left to rest for 5 minutes, it becomes gelatinous. Much like an egg.
If you like this plant-based banana muffin recipe enough to buy my new vegan cookbook, you'll find that I use flaxseed eggs often. They're in my 5-Ingredient French Toast and my 15-Minute Orange Scented Waffles. And – for some savory representation – you'll also find them in my Butternut Squash Gnocchi with Browned Butter and Crispy Sage!
Do You Love This Vegan Banana Chocolate Chip Muffins Recipe?
Do you love this plant-based banana muffin recipe? Be sure to check the other test-drive recipes from my 5-Ingredient Vegan Cooking Cookbook! If you're into pasta, then my Vegan Penne Alla Vodka is for you! If you're a soup fan, then you'll love my One-Pot Asparagus & White Bean Soup!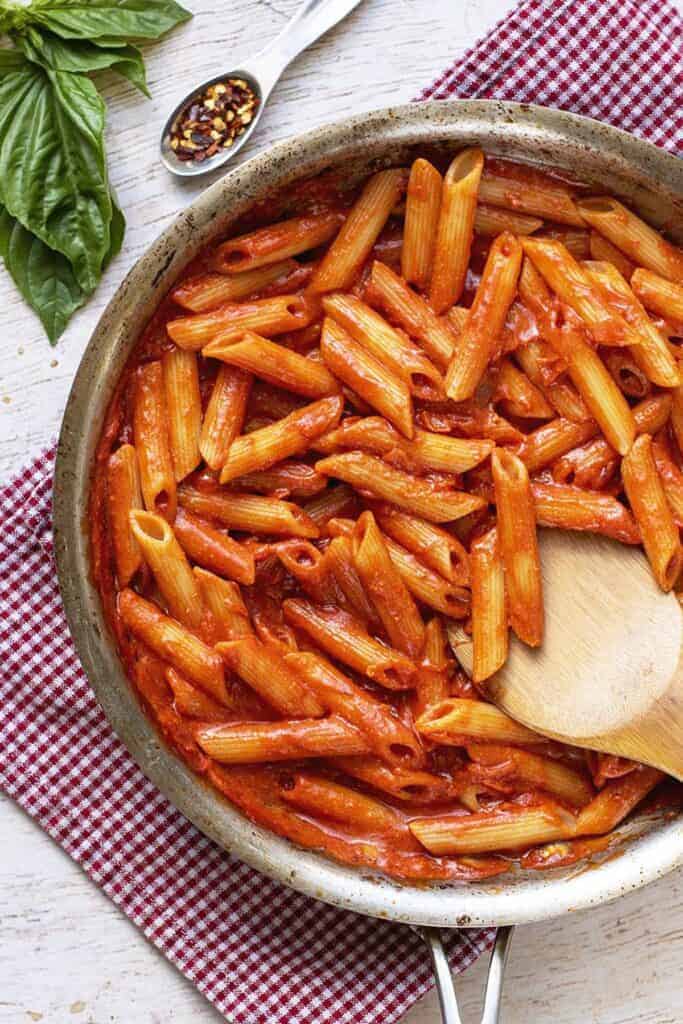 Nothing says comfort food like a big bowl of pasta with a rich, homemade vodka sauce. And now, with this vegan vodka sauce recipe, plant-based eaters can get the same satisfaction.
This dairy-free vodka sauce is creamy, bright and so easy to make! It comes to you straight out of my new cookbook 5-Ingredient Vegan Cooking: 60 Plant-Based Recipes with Few Ingredients and Lots of Flavor. I thought you might like to a do a little test drive of this collection, so here it is! On my blog with all of the details!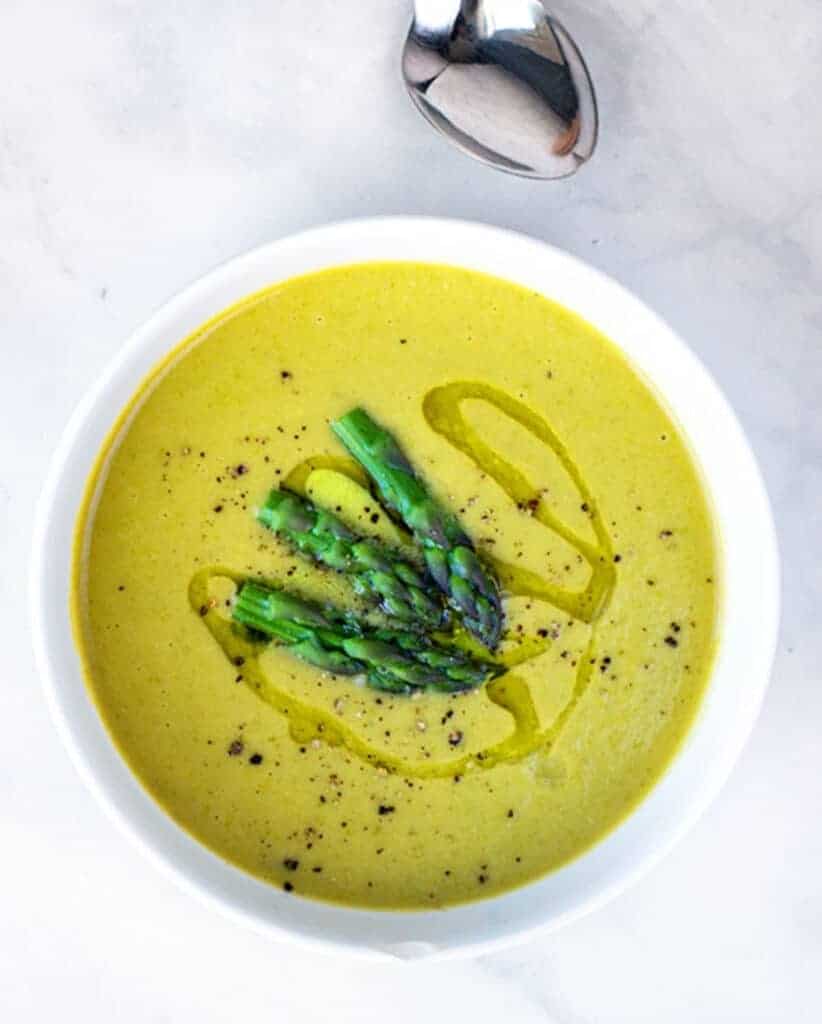 In keeping with the theme of using just a few simple ingredients, this one pot vegan asparagus soup recipe gets it done using only fresh asparagus, white beans, vegetable broth, nutritional yeast and coconut milk (plus some items from my 10-ingredient staple list, including olive oil, onion, garlic, lemon juice, salt & pepper). It's a simple way to put a healthy plant-based dinner on the table.
Vegan Banana Chocolate Chip Muffins
This Vegan Banana Chocolate Chip Muffins recipe showcases the best of vegan muffins! Made with just a few ingredients, these plant-based banana muffins are an easy vegan breakfast option.
Ingredients
3

ripe

bananas

1 1/2

cups

all-purpose flour

1/2

cup

pure maple syrup

1/4

cup

coconut oil

plus additional coconut oil for greasing the muffin tin

1 1/2

tsp

baking powder

1/4

tsp

salt

1

3-oz

vegan dark chocolate bar

cut into small chunks or 1/2 cup vegan dark chocolate chips
Instructions
Preheat the oven to 350º.

Peel the bananas and thoroughly mash them with a potato masher.

Combine the flour, maple syrup, ¼ cup of coconut oil, baking powder and salt with the mashed banana. Mix well.

Stir the chocolate chunks into the batter.

Lightly brush the muffin top baking pan with coconut oil. Fill each compartment with the batter. You want the batter to be just below the top edge of the muffin compartment.

Bake on the middle rack for about 20 minutes, until the tops are golden brown. Check the muffin tops by pricking them with a toothpick. If the toothpick comes out clean, they are done. Allow the muffin tops to cool completely before storing in an airtight container.
Notes
Please note that salt and coconut oil, two of the ingredients called for in this recipe, are part of a very small 10-ingredient staples list that I include in the book's introduction. These 10 ingredients are not counted toward the 5-ingredient recipe concept.
When looking for vegan chocolate, don't be deterred by the inclusion of "cocoa butter" on the ingredient list. Cocoa butter is the oil-based fat found in the cocoa bean and is a dairy-free ingredient.
About Herbivore's Kitchen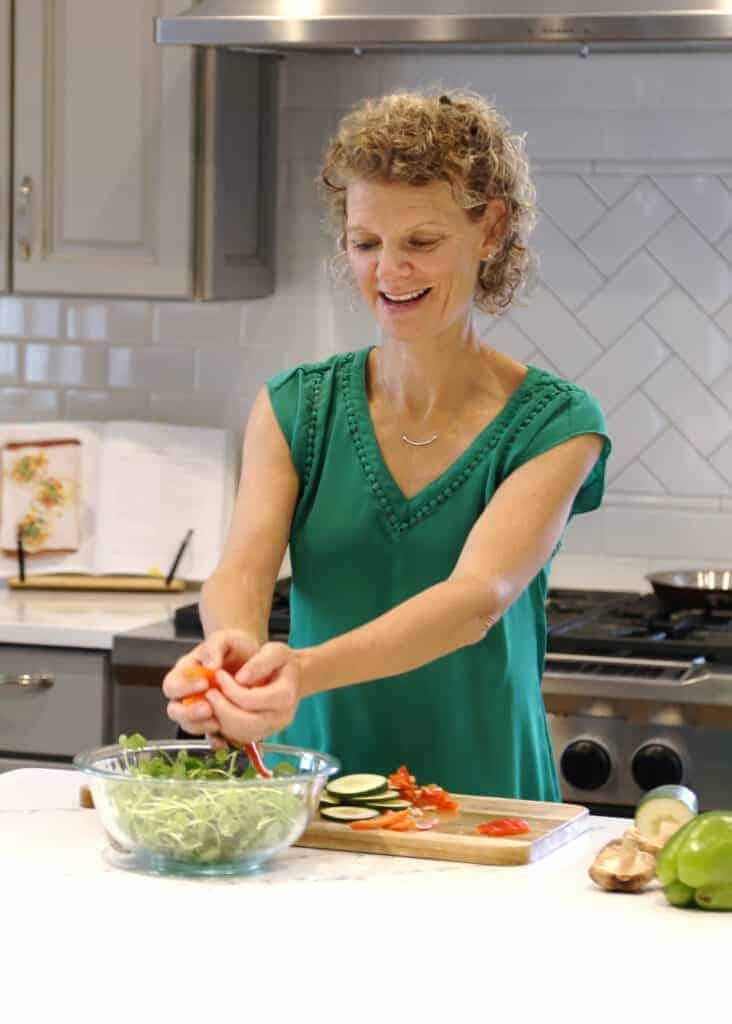 Herbivore's Kitchen is a plant-based food blog started by me, a vegan home chef, cookbook author, aspiring food photographer and how-to-be-a-better-food-blogger junkie. You'll mostly find creative and tasty vegan recipes and detailed deep dives into vegan ingredients (check out my Vegucation section) on my blog. I love knowing as much as I can about the food that I make. I'm also really into running a food blog as a business, so I've also got a section of my blog titled: Confessions of a Food Blogger where I get into the nitty gritty on how to build, manage, market and monetize a food blog.