Jump to Recipe
This Dairy Free Chocolate Chip Cookies Recipe: This Chewy Vegan Chocolate Chip Cookie Recipe is a Must Try! post includes affiliate links. When I find a great product or service, I like to share it with my readers. Sometimes I use affiliate links so I can earn a commission for my recommendations. Thank you for your support!
This Chewy Vegan Chocolate Chip Cookie Recipe is a Must Try!
Is it weird to think about cookies all the time?
Because I've been thinking about cookies a lot. Specifically, this chewy vegan chocolate chip cookie recipe.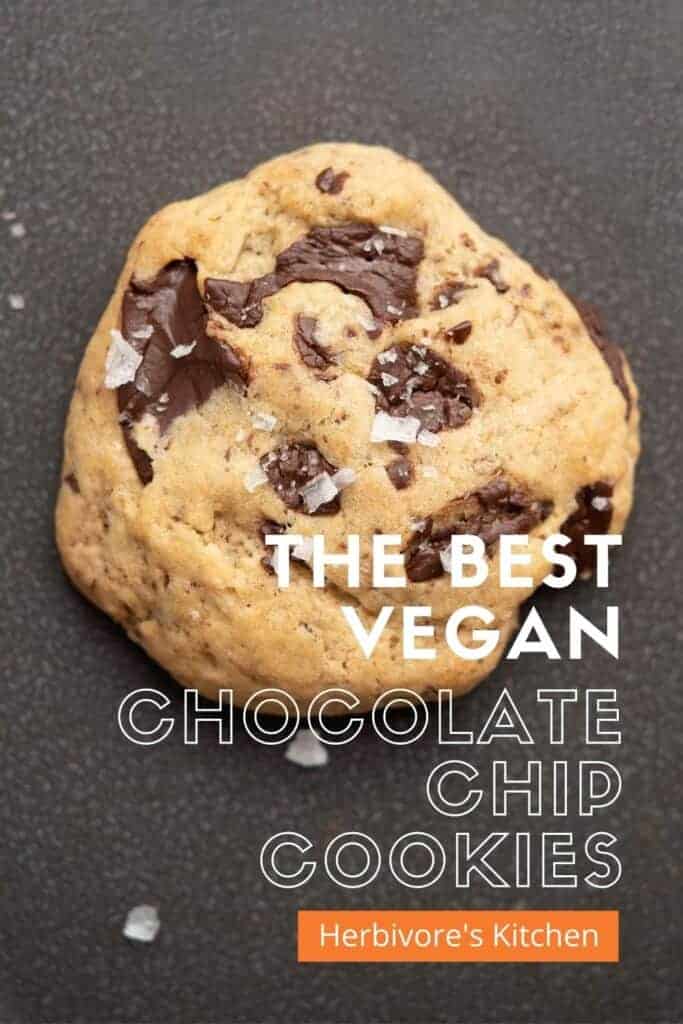 Vegan baking is a fairly new category for me. As I've said before, I'm not really into sweets. But these chewy vegan chocolate chip cookies aren't overly sweet. Sure, they have sugar (and maple syrup) but just enough to qualify as dessert. They're also buttery (even though they are dairy free chocolate chip cookies), slightly bitter (the effect of the dark chocolate) and salty.
Yes, salty. As I'm sure caught your eye, these Dairy Free Chocolate Chip Cookies are topped with a sprinkle of flaky sea salt. And, let me tell you, these plant-based chocolate chip cookies are the answer for every vegan who likes their dessert to be wonderfully complex.
How to Make Vegan Chocolate Chip Cookies
I used to find vegan baking daunting. In truth, I used to find all baking a little bit daunting. It's the precision that deters me. I like the creative license in cooking – a dash of this and a pinch of that. My friend Sara refers to olive oil portions as glops. I love it. I don't know how you'd translate it to tablespoons, but I know what she means.
The more time I put into baking though, the more I realize that the science isn't that complicated. There are some basic proportions to know and understand. Vegan substitutions for butter, eggs, milk and cream aren't all that hard to find and use either. And they taste every bit as good.
So, let's talk about how to make vegan chocolate chip cookies.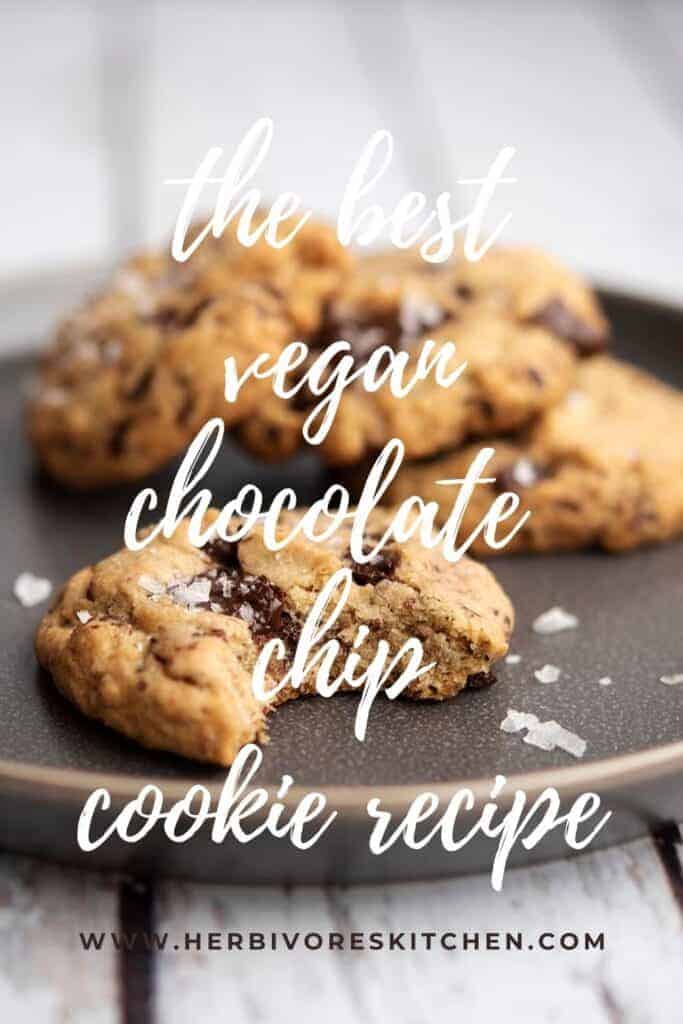 Finding a Vegan Butter Substitute for Vegan Cookie Recipes
I've already said that these Chewy Vegan Chocolate Chewy Cookies are wonderfully buttery. And yet, these are dairy free chocolate chip cookies. So how do you get that buttery taste, texture and (my favorite) mouthfeel without butter?
I've actually tried several different butter substitutes in my vegan cookie recipes. I've experimented with vegan butter, coconut oil, cashew butter and cacao butter and none of them are bad options. I mean, I ate every cookie from every batch.
The Best Butter Substitute for Vegan Cookies: Cacao Butter
When it comes to the best vegan butter substitute though, my vote goes to cacao butter. It's fabulous. Like melt-in-your-mouth fabulous. And that makes sense because cacao butter is an essential ingredient in chocolate making. In fact, in the U.S., for a product to be called chocolate it has to include cacao butter.
If you aren't familiar with it, cacao butter is derived from the cacao bean. Other parts of the bean are used to created cocoa powder. What makes cacao butter such a great substitute for dairy butter is its melting point. Like cream-based butter, cacao butter is a solid at room temperature, but melts perfectly in your mouth at 101º.
The downside of cacao butter is twofold: it's expensive and it's hard to find. I couldn't find it in any of my small town's grocery stores. I ordered it on Amazon at $14.99 for a 1 lb bag. By comparison, 1 lb of unsalted, organic butter runs about $4.00. If you're going to try cacao butter, you need to also make sure that you buy culinary grade cacao butter. It's also a popular ingredient in homemade cosmetics, so there are a variety of options.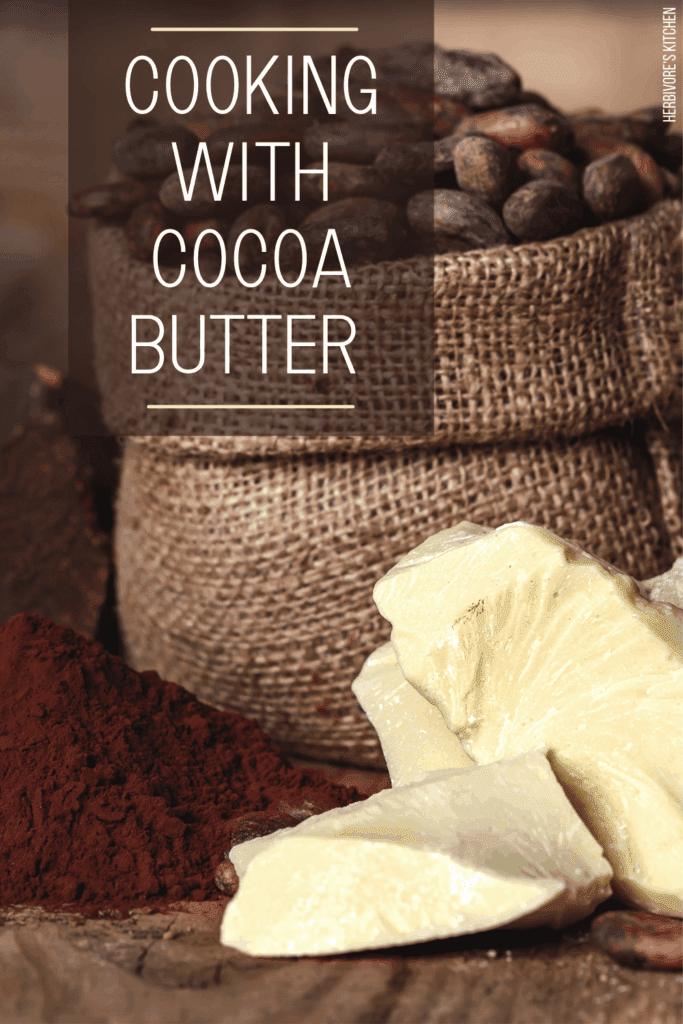 Vegan Butter Substitute Runner Up? Refined Coconut Oil
If cacao butter sounds too exotic for you, then my second favorite butter substitute for vegan baking is coconut oil. I like to buy refined coconut oil because it has less of a coconut flavor. Nothing against coconuts, but I want that flavor in my pina coladas, not in my salted chocolate chip cookies.
What I love about this vegan salted chocolate chip recipe is how easy it is. It's completely amenable to being dragged out at 8 o'clock at night to serve an undeterred desire for dessert. Or so I'm told. I don't really know.
Don't Skip the Flaky Sea Salt!
Truth be told, I don't think I've ever seen a picture of a salted chocolate chip cookie that didn't make me fall in love immediately. No ingredient is quite as photogenic as flaky sea salt. You can almost taste the sweet, salty goodness by just looking at it.
For this recipe, I ordered the crème de la crème of flaky sea salt – Maldon Sea Salt Flakes. I couldn't find it locally, but it's easy to order on Amazon. If anything was going to make me a salt snob, it was this flaky sea salt. It's hard to describe, but it's perfectly salty. There's no bitter, mineralized taste, making it the perfect topping for these chewy vegan chocolate chip cookies.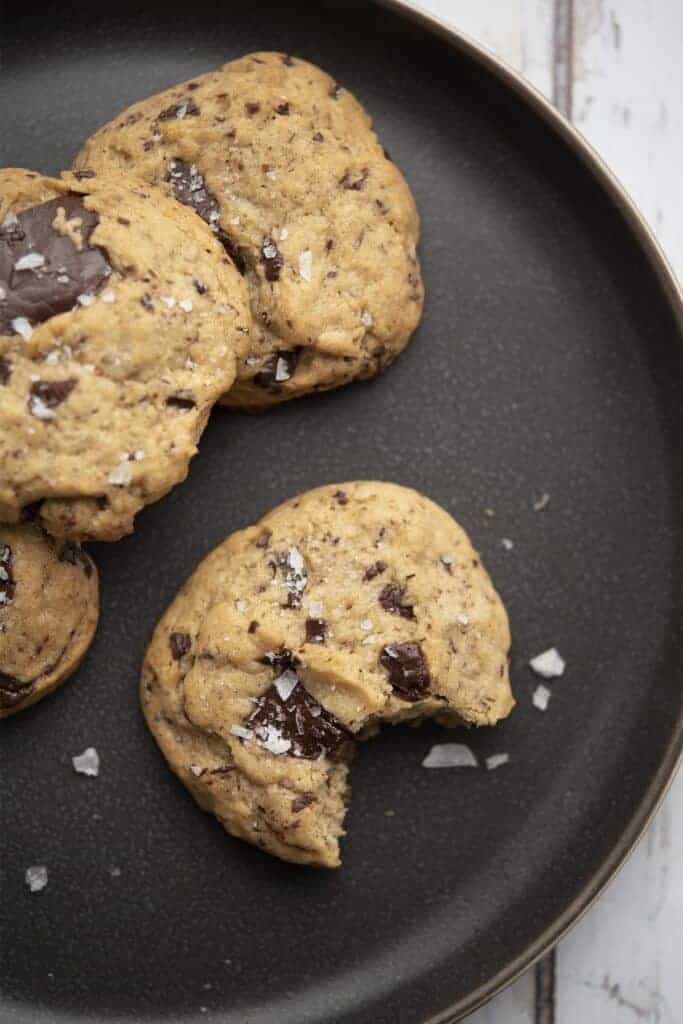 Do You Love This Dairy Free Chocolate Chip Cookie Recipe?
Do you love this Chewy Vegan Chocolate Cookies Recipe? Be sure to check out my other vegan desserts. If you're into fruit pie, then my Strawberry Rhubarb Galette is a must try! Forever-searching for the perfect vegan brownie? Then check out my Double Chocolate Vegan Brownie Recipe.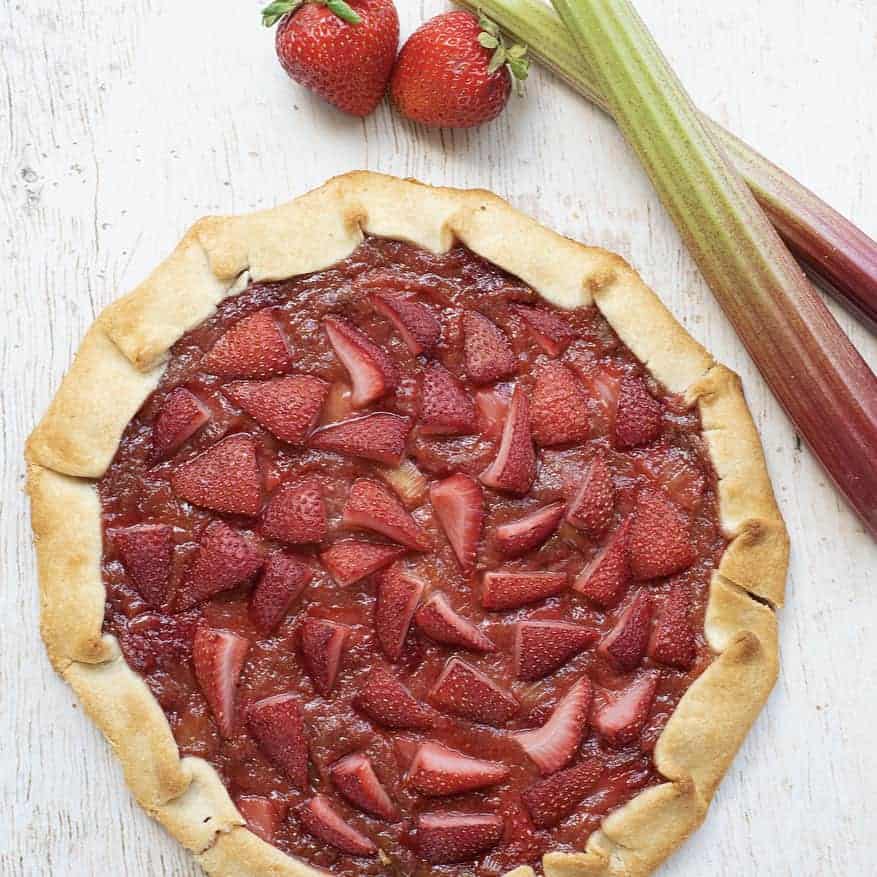 I am galette obsessed. Peach, plum, mushroom…this strawberry rhubarb galette. Not familiar with galettes? All you really need to know is how easy they are to make. This galette recipe features a homemade vegan pie crust, but you can make things even easier by using a store-bought crust for "practice" (as I like to call it). The filling for this strawberry rhubarb galette is silly easy. I made it with fresh strawberries and rhubarb, sugar and chia seeds.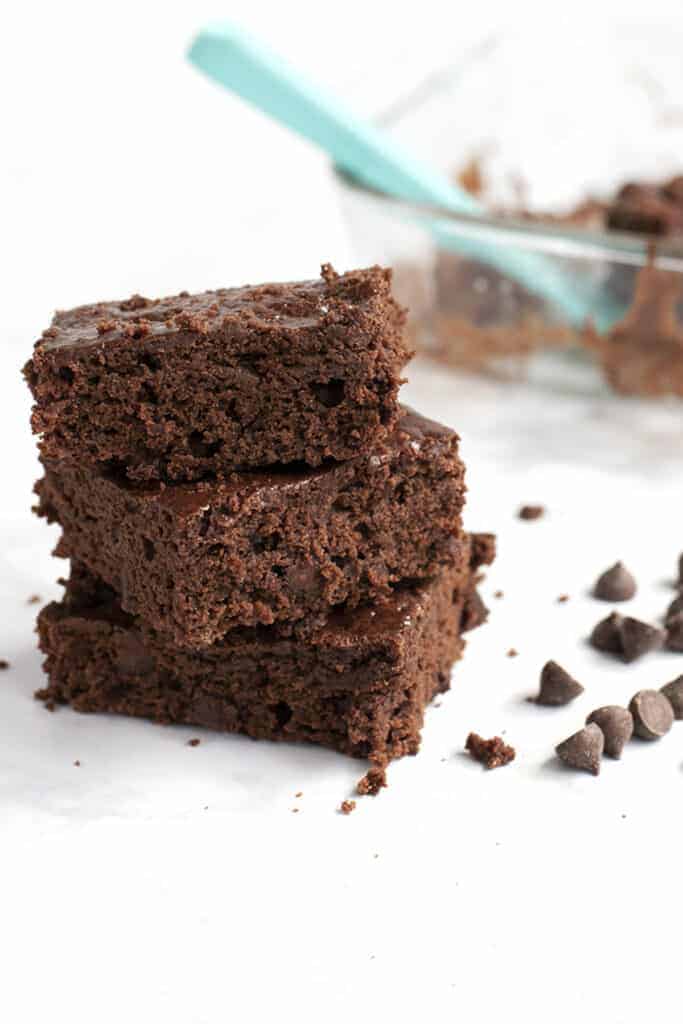 Check out these Double Chocolate Vegan Brownies! These plant-based brownies are sure to win over even the biggest diehard dessert fans.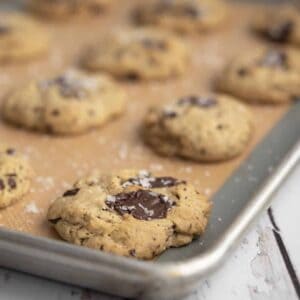 Dairy Free Chocolate Chip Cookie Recipe
Going vegan doesn't mean that you have to give up dessert! Vegan desserts like these dairy free chocolate chip cookies are every bit as satisfying and delicious as traditional chocolate chip cookies. They're soft, chewy and buttery and 100% vegan!
Ingredients
2

tbsp

flaxseed meal

5

tbsp

water

1/2

cup

maple syrup

1/2

cup

organic cane sugar

1/3

cup

cacao butter

or substitute refined coconut oil

1

tsp

vanilla

2

cups

all-purpose flour

1

tsp

baking soda

1

tsp

salt

1/2

cup

dairy free dark chocolate chips

or I like to chop up one Love Chocolate Dark Chocolate Bar

2-3

pinches

Maldon Sea Salt Flakes

to taste
Instructions
Preheat the oven to 350º.

Combine the flaxseed meal with the water. Mix thoroughly and set aside for 5 minutes. The flaxseed meal will become gelatinous. This is called a flaxseed egg.

Combine the maple syrup, cane sugar, cacao butter, vanilla and flaxseed egg in a large mixing bowl. Mix on low until thoroughly combined.

Add the all-purpose flour, baking soda and salt. Mix on a low speed until thoroughly combined.

Stir in the chocolate chips.

Lightly grease a baking sheet (or use a silicon baking sheet – there are a great item to have in your kitchen). Roll a spoonful of the cookie dough into a ball and place it on the baking sheet. Gently press it into a disc. Space the cookies out with 2" in between each cookie.

Bake at 350º for 14 minutes. The cookies should be lightly browned on the edges. Remove the cookies from the oven and sprinkle with the Maldon Sea Salt, to taste. I like to have a few discernable flakes on each cookie. Allow the cookies to cool.
About Herbivore's Kitchen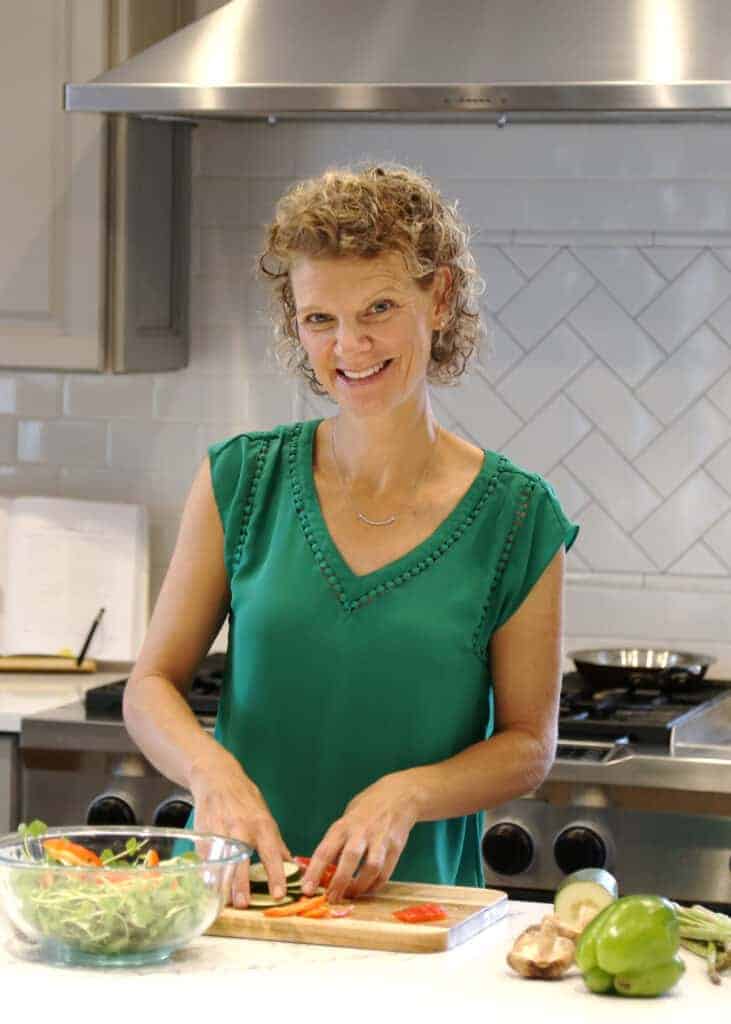 Herbivore's Kitchen is a plant-based food blog started by me, a vegan home chef, cookbook author, aspiring food photographer and how-to-be-a-better-food-blogger junkie. You'll mostly find creative and tasty vegan recipes and detailed deep dives into vegan ingredients (check out my Vegucation section) on my blog. I love knowing as much as I can about the food that I make. I'm also really into running a food blog as a business, so I've also got a section of my blog titled: Confessions of a Food Blogger where I get into the nitty gritty on how to build, manage, market and monetize a food blog.