Jump to Recipe
This Chickpea, Spinach & Sundried Tomato Pasta: Vegan Pasta with Easy Sundried Tomato Sauce for Busy Weeknights post includes affiliate links. When I find a great product or service, I like to share it with my readers. Sometimes I use affiliate links so I can earn a commission for my recommendations. Thank you for your support!
Vegan Pasta with an Easy Sundried Tomato Sauce for Busy Weeknights
This Vegan Sundried Tomato Pasta with Chickpeas and Spinach is my favorite answer when the question: what's for dinner? sneaks up on me.
You know those days – the ones that get away from you and suddenly you've got a crowd of hungry people looking at you imploringly? Just tuck this sundried tomato sauce recipe in an easy-to-find spot and you'll be all good.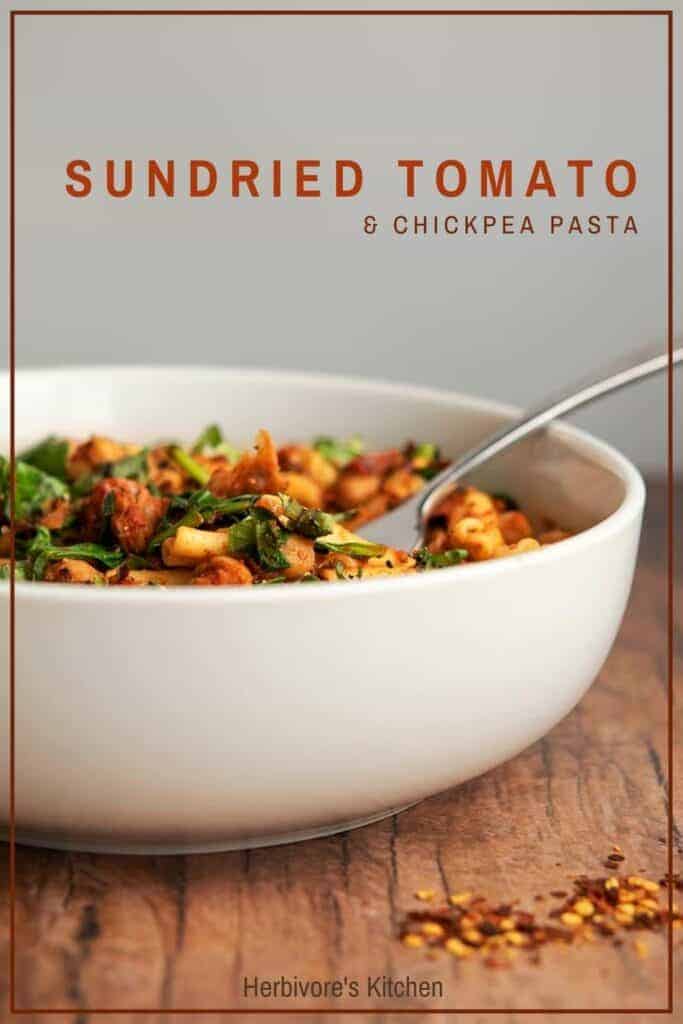 Why This Vegan Sundried Tomato Pasta with Chickpeas & Spinach is My Go-To Meal
Aside from the way it tastes (seriously! it's one of my favorite vegan pasta dinners), the thing I love most about this plant-based pasta recipe is that it is almost entirely pantry friendly. And those few items that actually come from the refrigerator? They're optional.
Of course, you might be thinking to yourself: pasta and sauce has always been a pantry friendly meal. And that's true. Anyone can grab a box of pasta and a jar of sauce. This special sundried tomato sauce recipe is far more well-rounded though.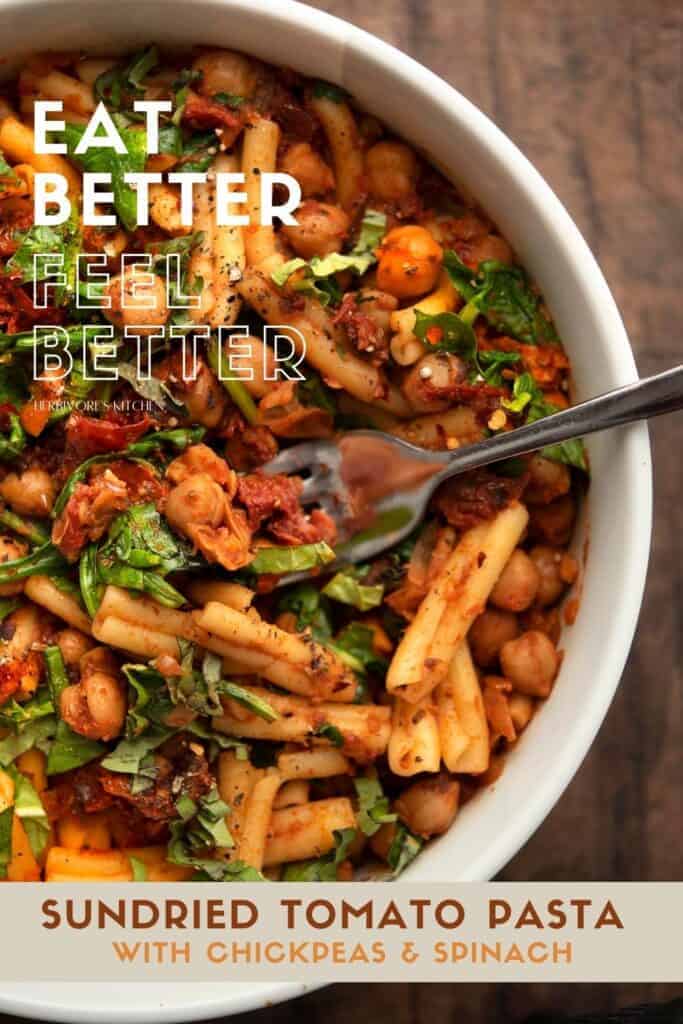 Sundried Tomato Sauce with a Serving of Vegan Protein
First, it's packed with protein-rich chickpeas. In fact, when I make it, I go heavy on the chickpeas and light on the pasta. No need to fill up on that when you've got a nutritionally dense ingredient that makes this dish so tasty. Chickpeas are high in fiber, manganese and folate but low in calories, making them a nutritious and filling option.
If you haven't cooked with them before, chickpeas (also known as garbanzo beans) are legumes most frequently found in Mediterranean dishes. If you've had hummus or falafel, you've had garbanzo beans. You can also find them in my Mediterranean-Inspired Vegan Buddha Bowl.
Using them in an Italian vegan dish isn't a reach though. For this vegan pasta dish, they're slow simmered in a rich, savory sundried tomato sauce. As they cook, they become soft and absorb all that savory goodness. I like to think of them a tiny, little vegan meatballs. Their texture is the perfect complement to a thick, chewy al dente pasta preparation.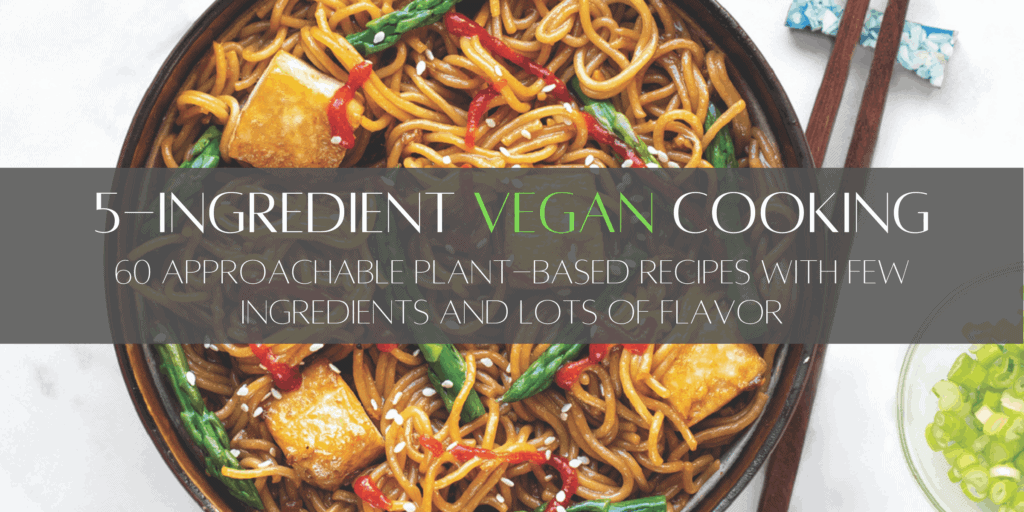 About That Sundried Tomato Sauce
This homemade sundried tomato sauce is the perfect companion to the hearty garbanzo bean. It's richly flavorful, the result of sautéing tomato paste with garlic, onions and an Italian herb blend in sundried tomato oil. Before the sundried tomatoes even hit the pan, this vegan pasta sauce will have your kitchen smelling absolutely wonderful.
Adding Some Greens to Vegan Sundried Tomato Sauce
To keep this vegan pasta dish as uncomplicated as possible, I just throw a few handfuls of chopped spinach into the pan before serving it. After a few minutes, the spinach will be hot and slightly wilted And, all of the spinach's nutrients will remain in the dish ready for consumption.
If I'm short on spinach, I'll serve this dish with a side of roasted broccolini or throw some frozen peas into the mix. It's also good with a handful of fresh arugula thrown on top when it's served.
How to Serve Vegan Sundried Tomato Pasta with Chickpeas & Spinach
This sundried tomato sauce pairs really well with a thick pasta, so I usually like to serve it with orecchiette, cavatelli or (as shown here) with a fun & different pasta shape like casarecce. If you've got kids, don't be afraid to toss it with some macaroni. The point is to have the pasta to chickpea to sundried tomato ratio pretty well matched for each spoonful.
It's also wonderful served with my Creamy Vegan Polenta (check out my new vegan cookbook: 5-Ingredient Vegan Cooking for that recipe) or over a bowl of hot couscous. And, if none of those options appeal to you, sometimes I just eat it plain. With all that fiber, it's plenty filling on its own!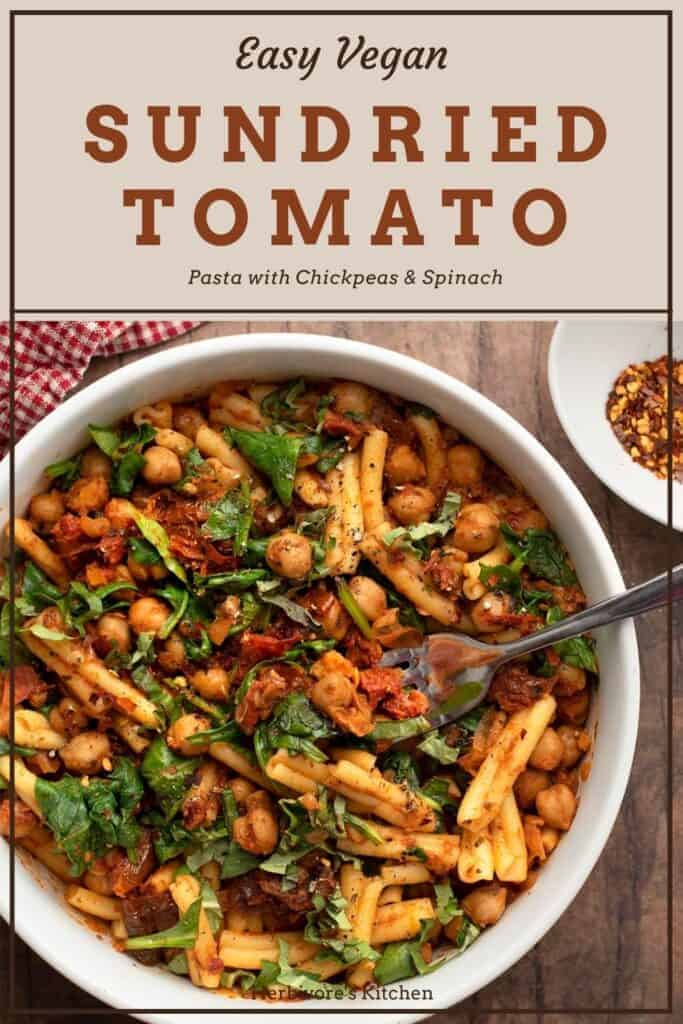 How to Top this Vegan Sundried Tomato Pasta with Chickpeas & Spinach
Just like the dish itself, I keep the toppings simple. If I have it on hand, I like some fresh basil along with a few cranks of fresh ground pepper and a sprinkling of crushed red pepper. The sundried tomato sauce is pretty flavorful on its own, so it doesn't need much else.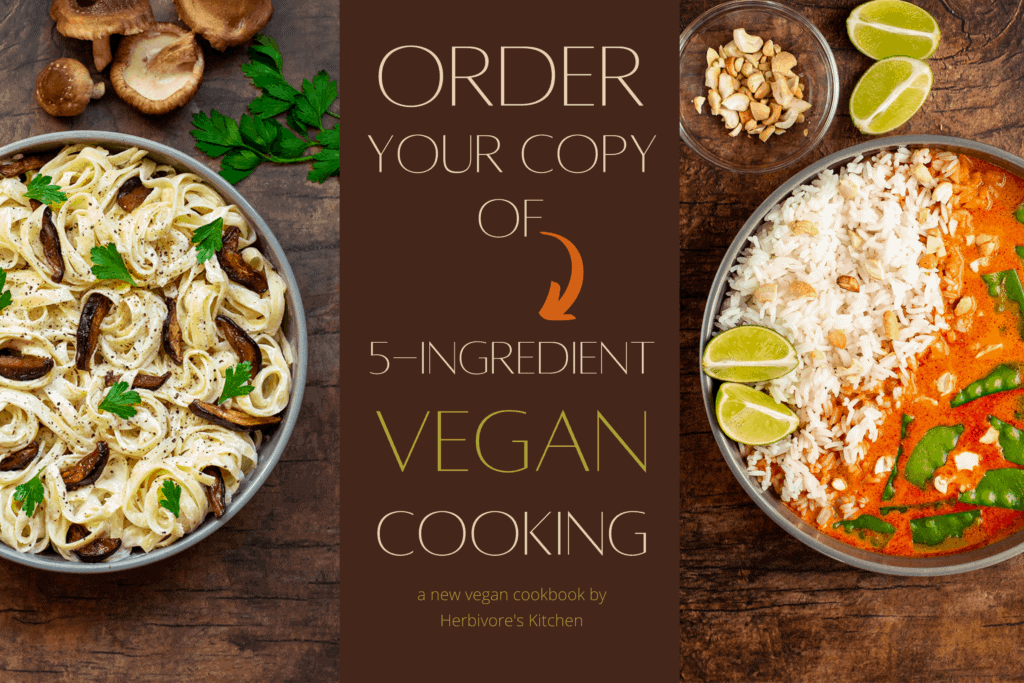 Do You Love This Vegan Sundried Tomato Sauce with Chickpeas & Spinach Recipe?
Do you love this Sundried Tomato Sauce with Chickpeas & Spinach recipe? Be sure to check out other chickpea dishes then! If you're into Mediterranean fare, then my Baked Falafel Sandwiches are for you! Forever-searching for a tuna fish sandwich substitute? Then you'll love my Chickpea Tuna Salad!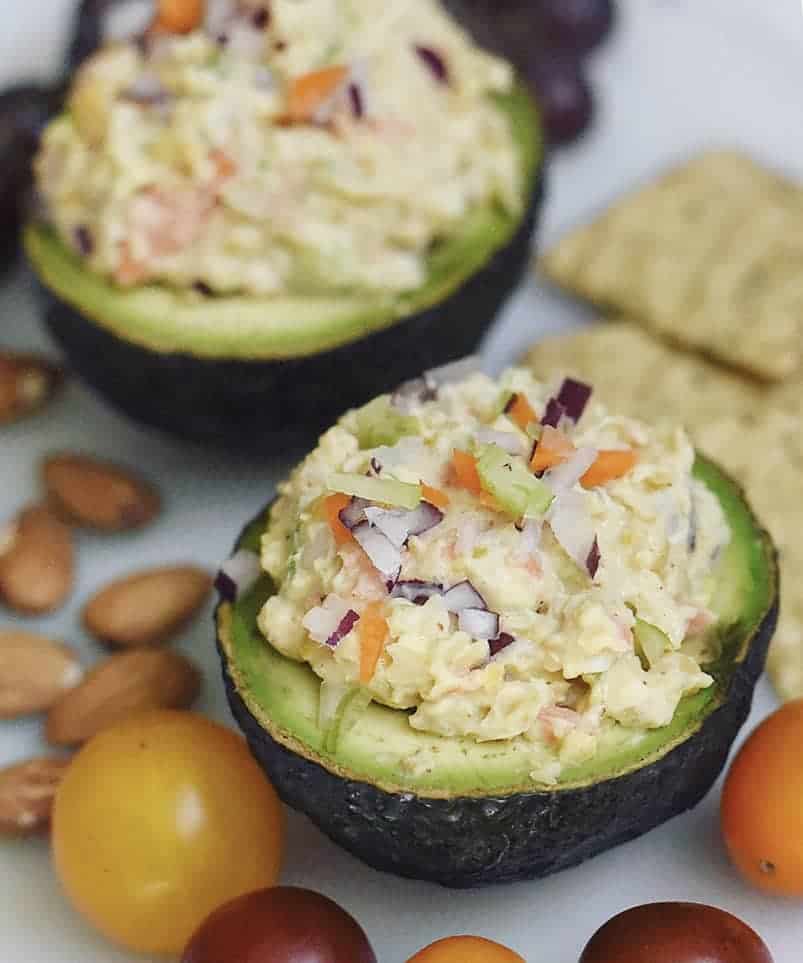 Leave the tuna alone! This chickpea tuna salad is the perfect option for an easy vegan lunch. Vegan tuna salad is the sustainable answer to the original comfort food. I like mine loaded with carrots, celery and almonds and spiced up with lemon juice, Dijon mustard and crushed red pepper. Make it into a sandwich, stuff an avocado or wrap it up in lettuce leaves – it's great however you choose to serve it!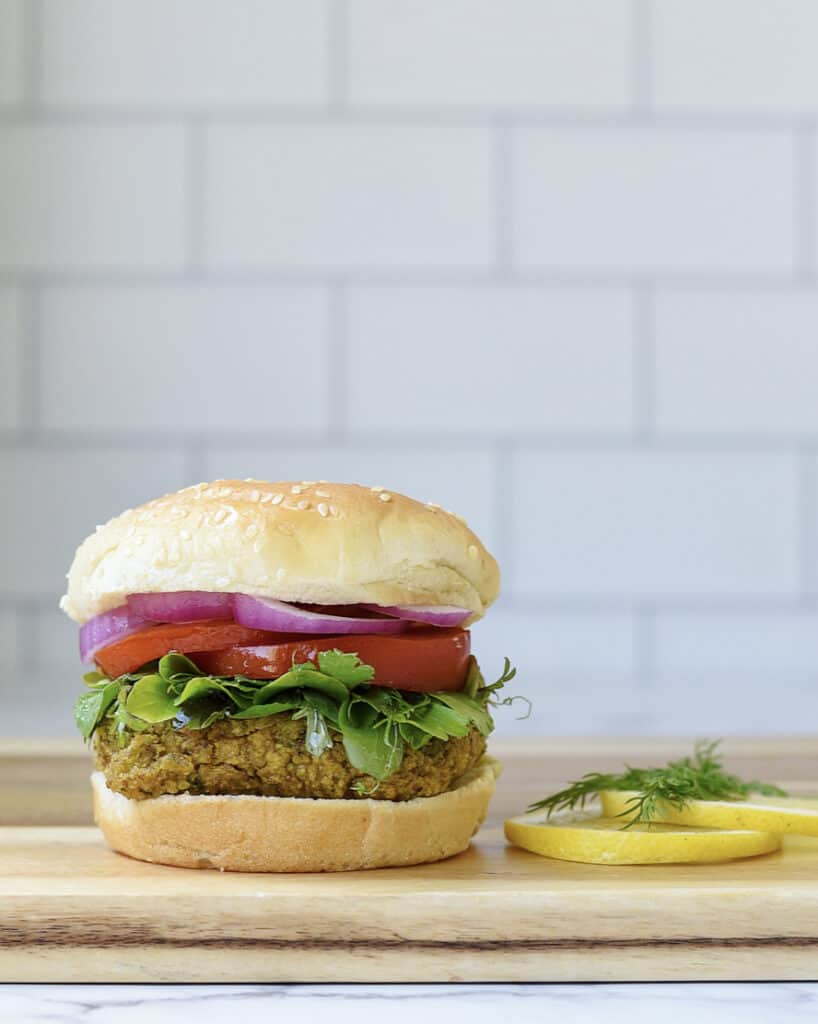 Looking for a healthy vegan lunch? These baked falafel sandwiches are full of healthy ingredients – like fresh herbs, chickpeas and flaxseed meal. I wrapped my falafel sandwich is a warm pita and topped it with chopped tomatoes, fresh garden greens, homemade hummus and a cashew cream dill sauce.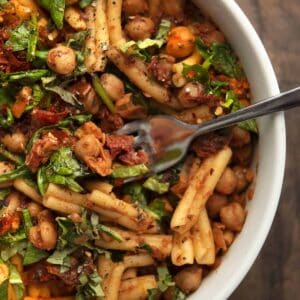 Chickpea, Spinach & Sundried Tomato Pasta Vegan Style
Looking for an easy vegan meal? This Sundried Tomato Sauce with Chickpeas and Spinach is almost 100% pantry friendly and comes together with very little work!
Ingredients
1

8 oz jar

sundried tomatoes packed in oil

1

yellow onion

diced

1

tsp

salt

2

cloves

garlic

minced

1

tbsp

Italian seasoning

1/4

cup

tomato paste

1

8 oz can

low-sodium tomato sauce

1

28 oz can

chickpeas

2

cups

water

1

lb

pasta

I like a small, dense pasta like orecchiette, cavatelli or casarecce

3

cups

baby spinach

washed, dried and loosely packed

Fresh basil

washed, dried & julienned

Fresh ground pepper

to taste

Crushed red pepper

to taste
Instructions
Drain the sundried tomatoes, reserving the oil. Roughly chop the tomatoes. Set aside.

Heat 3 tbsp of the sundried tomato oil in a large stockpot. When shimmering, add the diced onion and reduce the heat to medium low. Add the salt and slow cook the onions until they are golden brown. About 12-15 minutes.

Add the garlic & Italian seasoning and continue to cook for 1-2 minutes.

Increase the heat to medium and add the tomato paste. Sauté the tomato paste until it is a dark red. About 2-3 minutes.

Drain and rinse the chickpeas and add them to the tomato paste. Add chopped sundried tomatoes and the water. Bring the sauce to a low simmer and cover. Allow the sauce to cook until the chickpeas are soft. About 30 minutes. Check the sauce periodically and add more water if necessary.

While the sauce is simmering, cook the pasta in accordance with the package directions.

Roughly chop the baby spinach and add it to the sauce.

Serve in a bowl. Add the pasta to the bottom of the bowl and cover with the sundried tomato sauce. Season with fresh basil, fresh ground pepper and crushed red pepper.
About Herbivore's Kitchen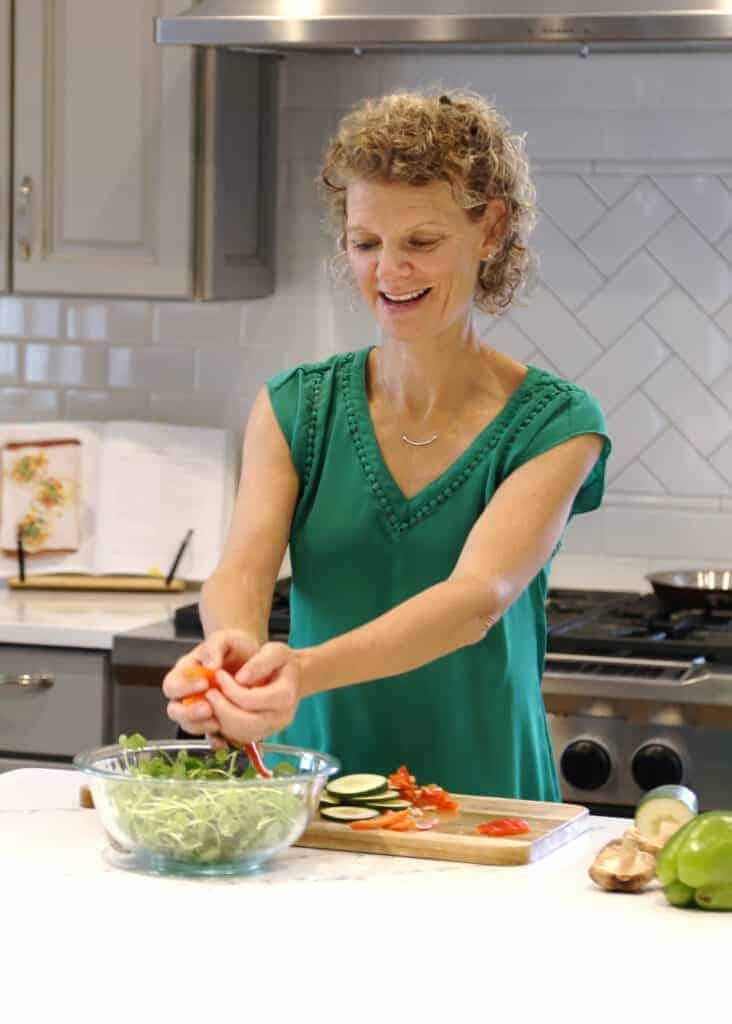 Herbivore's Kitchen is a plant-based food blog started by me, a vegan home chef, cookbook author, aspiring food photographer and how-to-be-a-better-food-blogger junkie. You'll mostly find creative and tasty vegan recipes and detailed deep dives into vegan ingredients (check out my Vegucation section) on my blog. I love knowing as much as I can about the food that I make. I'm also really into running a food blog as a business, so I've also got a section of my blog titled: Confessions of a Food Blogger where I get into the nitty gritty on how to build, manage, market and monetize a food blog.