Jump to Recipe
This Vegan Penne Alla Vodka: Comfort Food Goes Plant-Based with this Vegan Vodka Sauce recipe includes affiliate links. When I find a great product or service, I like to share it with my readers. Sometimes I use affiliate links so I can earn a commission for my recommendations. Thank you for your support!
Comfort Food Goes Plant-Based with this Vegan Vodka Sauce Recipe
Nothing says comfort food like a big bowl of pasta with a rich, homemade vodka sauce. And now, with this vegan vodka sauce recipe, plant-based eaters can get the same satisfaction.
This dairy-free vodka sauce is creamy, bright and so easy to make! It comes to you straight out of my new cookbook 5-Ingredient Vegan Cooking: 60 Plant-Based Recipes with Few Ingredients and Lots of Flavor. I thought you might like to a do a little test drive of this collection, so here it is! On my blog with all of the details!
Is Vodka Sauce Vegan?
Traditionally, no. Vodka sauce is usually made using butter, heavy cream and parmesan cheese. And quite a lot of them. Never fear though, this dairy free vodka sauce manages to capture the same rich, luscious flavor in a 100% plant-based way.
What Can I Substitute for Heavy Cream in Vodka Sauce?
Substituting butter in a vegan vodka sauce is fairly easy to do. In this recipe, I swap out butter with extra virgin olive oil. Heavy cream and parmesan cheese might seem more challenging, but my substitutions are easy to find and impart just as much flavor as their omnivorous counterparts.
Home chefs are often looking for a vegan vodka sauce without cashews (a popular cream substitute in vegan cooking). As such, I chose to substitute the heavy cream in vodka sauce with coconut milk. And I mean the full-fat, unsweetened kind that you find in a can. If you're concerned that this will give your vegan vodka sauce an overly heavy coconut flavor, don't be! Once added to the sharply acidic tomato sauce, the coconut milk mellows out into a nice, cream-forward flavor with just a hint of sweetness!
As for the parmesan cheese, I swap that out with a couple of tablespoons of nutritional yeast. If you're not familiar with it, nutritional yeast in an inactive variety of yeast. It provides a nutty, cheesy flavor to vegan dishes, so you'll often see it in plant-based sauces such as vegan pesto sauce and vegan Alfredo sauce.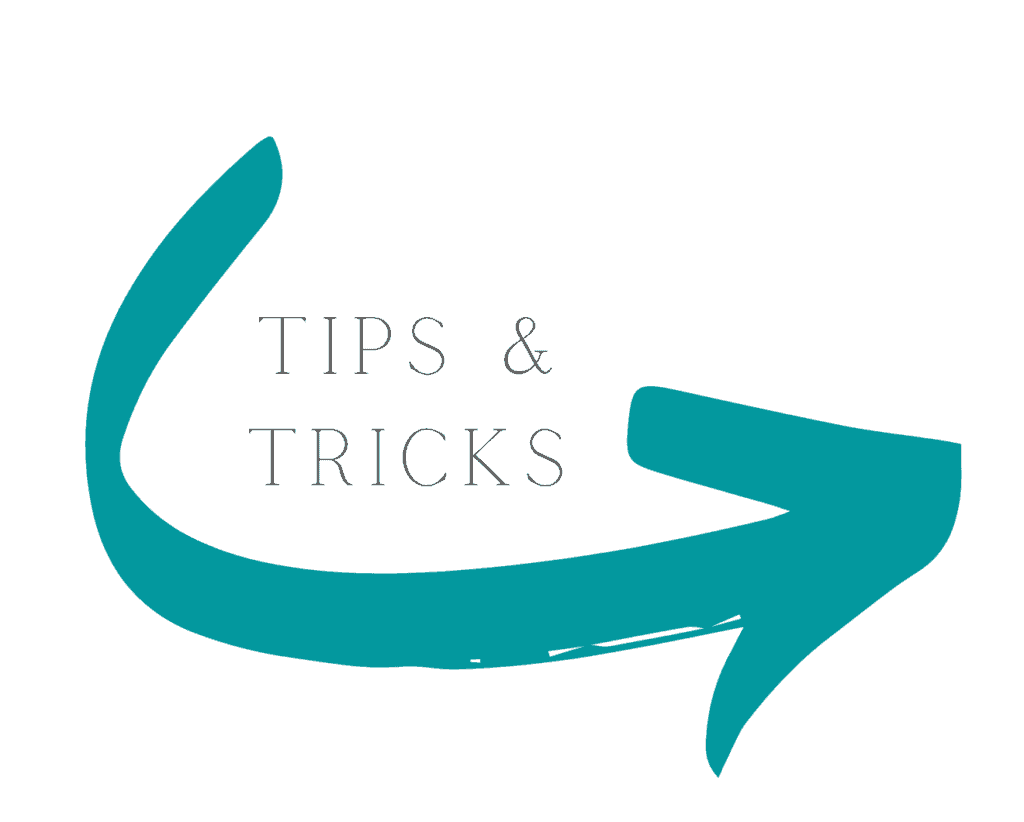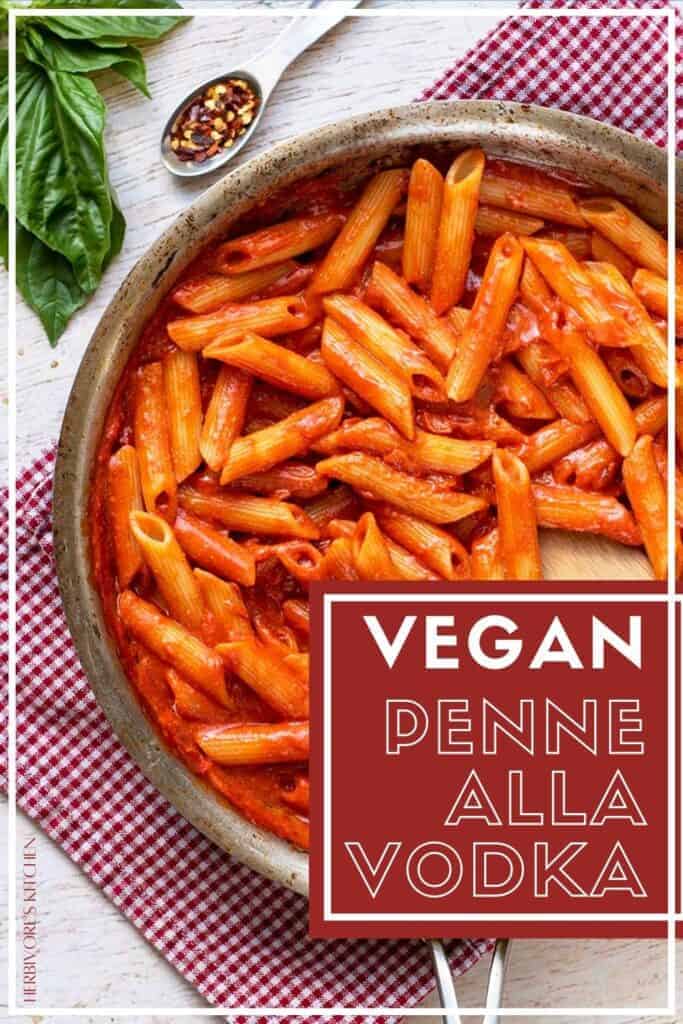 The Trick to Making the Best Vegan Vodka Sauce
The trick to making the best vodka sauce, vegan or otherwise, is tomato paste. In fact, all of the tomato flavor in vodka sauce comes from highly concentrated tomato paste. There aren't any diced, crushed or stewed tomatoes to be found.
If you've cooked with tomato paste before, you might wonder how it leads to such a robust sauce. Straight out of the can, tomato paste can taste a little thin. The trick to getting tomato paste to shout from the rooftops is to sauté it before adding any liquids to the pan. This only takes 2-3 minutes, but it makes a world of difference!
Does Vodka Sauce Need Vodka?
People often wonder: will I taste the vodka in vodka sauce? Why add vodka to tomato sauce? Or, will I get drunk from eating pasta with vodka sauce?
I will admit, I was really skeptical about the need to add vodka to my pasta sauce. It does seem like a strange pairing.
Does All of the Alcohol in the Vegan Vodka Sauce Evaporate?
No, vodka sauce isn't really designed to be alcohol-free. So, it's important to be conscious of this when serving this dish. Be aware of children, pregnant women or adults that avoid alcohol for a variety of reasons.
That being said, this Vegan Penne Alla Vodka shouldn't have a strong alcohol flavor. As the vodka sauce simmers, the alcohol will slowly evaporate. The longer the sauce simmers, the less potent it will be. It actually takes about 2 ½ hours for 95% of the alcohol to cook off, but I've made this recipe many, many times and I've found that 40 minutes is the sweet spot in terms of getting the flavor just right.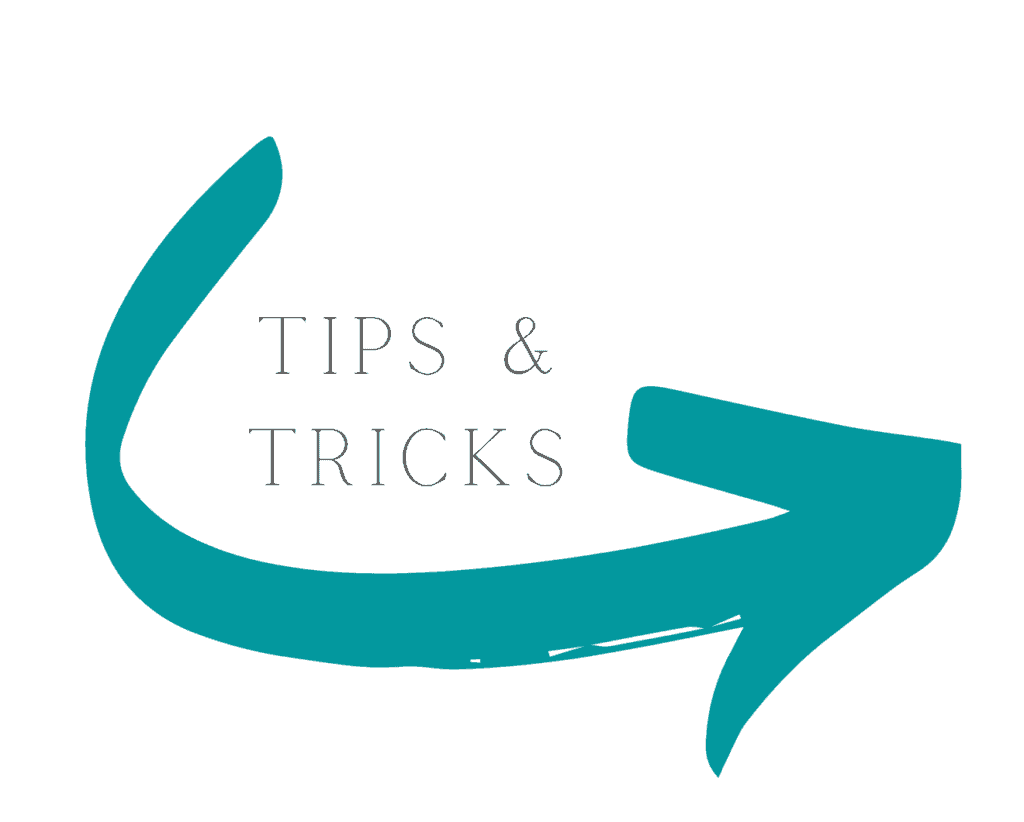 If you're cooking on a gas burner, remove the pan from the flame before adding the vodka to the sauce. If the alcohol comes in direct contact with the flame, it can surge and burn you or the food.
What Flavor Does Vodka Give This Vegan Penne Alla Vodka?
It actually imparts a unique spiciness to the sauce – a "hot" sensation with just a bit of sweetness. It also enhances the aromas of the other flavors in the vodka sauce, making the creaminess of the coconut milk and the umami in the sautéed tomato paste really stand out. I get hungry just thinking about it!
If you're cooking on a gas burner, remove the pan from the flame before adding the vodka to the sauce. If the alcohol comes in direct contact with the flame, it can surge and burn you or the food.
The Perfect Pasta for this Vegan Penne Alla Vodka
There's a reason they're called Penne Alla Vodka and Fettucini Alfredo. It's because certain pasta shapes are better suited for specific sauces. For this Vegan Penne Alla Vodka recipe, penne is the chosen pasta because it's great at transferring this delicious vodka sauce from the plate to your taste buds. Those little tubes can hold a lot.
Don't worry if you don't have penne on hand though, you can easily swap it out for another pasta shape that's known for its transportation properties. Try rigatoni or conchiglie (shell-shaped pasta).
Do You Love This Vegan Penne Alla Vodka Recipe?
Do you love this Vegan Vodka Sauce recipe? Then be sure to check out my other vegan Italian dishes. If you're into pasta, then my Vegan Baked Pasta is for you! Soup more your speed? Then you'll love my Vegan White Bean Stew!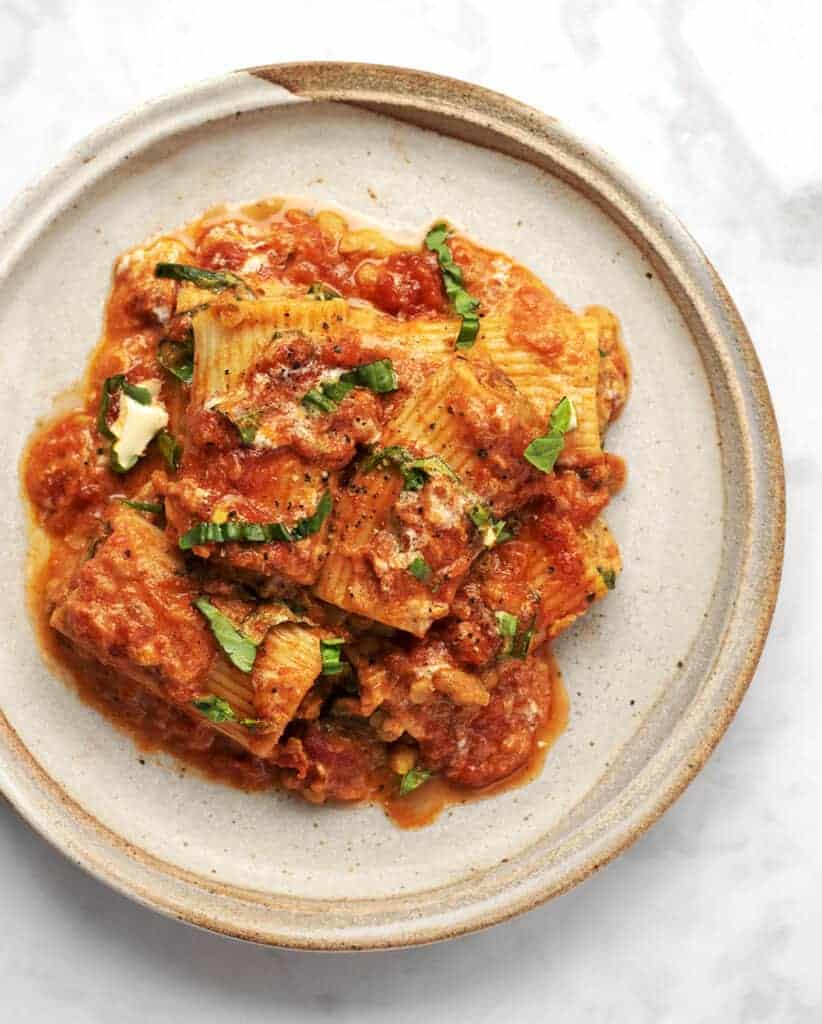 Is pasta healthy? It can be! Especially when you pack it full of lentils and veggies. This vegan baked pasta dish is a twist on one of my go-to vegan dinner options: my Lentil Bolognese Sauce. I've dressed this sauce up a few different ways, including my popular Vegan Stuffed Shells recipe. For this vegan dish though, I added a rich tomato sauce base and baked the final dish for a few minutes at the end.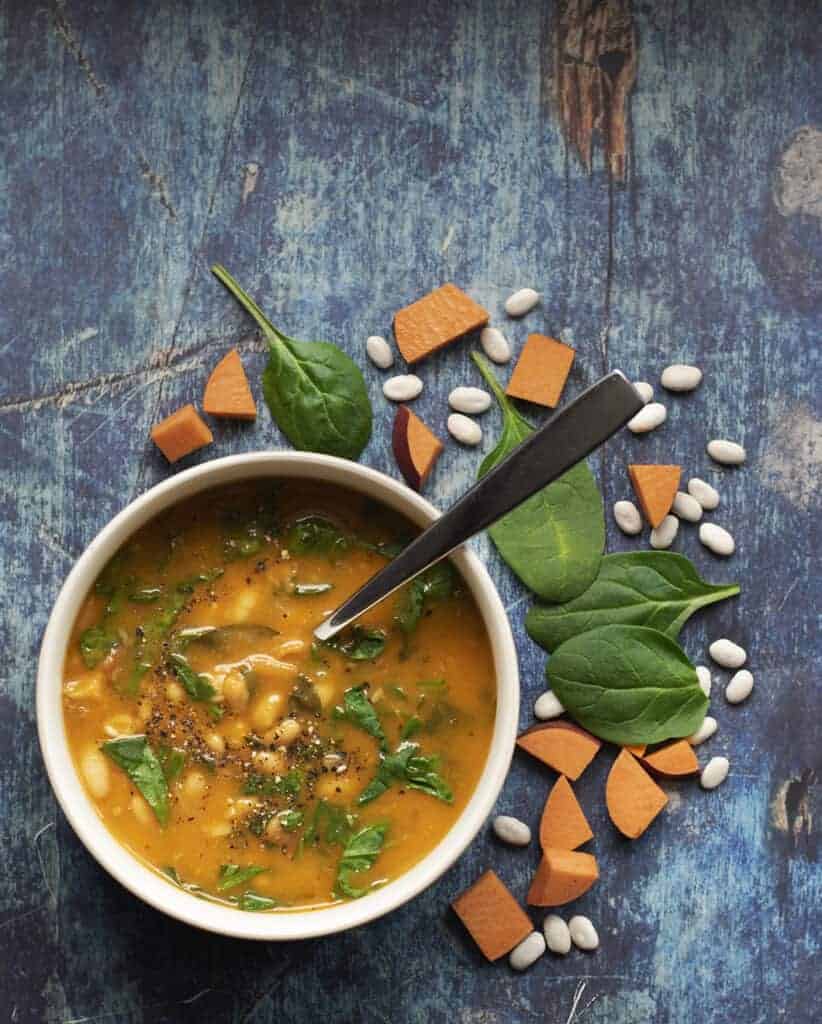 This Vegan White Bean Stew is so easy to make…and so tasty! This slow-cooker vegan white bean soup comes out so thick and creamy, you'll be hard-pressed to convince someone that it's dairy-free.
What's in My Kitchen to Make This Vegan Penne Alla Vodka Recipe Easier?
Want to know what tools and resources I keep on hand to make my vegan cooking even easier? Here's a short list of what helped me create this blog post and recipe. For the complete list, visit my Shop where you can find the kitchen gadgets I like as well as a list of books that I recommend.
I love having a skillet with some depth to it. I use it regularly when making a dish like this where there is some liquid that I need to cook off. A cast iron skillet would work as well, but mine is a little too small for this recipe. This is a non-stick pan, but to ease my mind about using it (and recommending it), I did a little research. In general, you don't want to overheat a non-stick pan. Be really thoughtful when you're preheating it on the stove before adding oil. If your oil is smoking, that's a sign that your pan is getting too hot. And, you should use soft utensils so as not to scratch the surface. Like that handy-dandy wooden scraper I suggested above?
No, that's not the brand. It's just the idea! But, I own this set of Global™ knives and They're some of my most prized possessions in the kitchen. This set is universally well-rated for the at-home chef and will get you a good, solid set of knives without totally breaking the bank.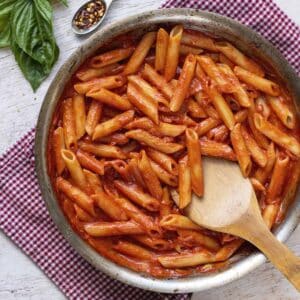 Vegan Penne Alla Vodka
Nothing says comfort likethis bowl of Vegan Penne Alla Vodka. This dairy-free vegan vodka sauce recipeis creamy, bright and so easy to make!
Ingredients
3

tbsp

extra virgin olive oil

1

cup

yellow onion

finely chopped

1

tsp

salt

1

tbsp

garlic

minced

5

oz

tomato paste

1/4

cup

vodka

5

oz

full-fat, unsweetened coconut milk

2

tbsp

nutritional yeast

1

lb

penne pasta

fresh torn basil

optional
Instructions
Heat a large, deep-sided skillet. When hot, add the olive oil and heat until shimmering.

Add the onion and salt and reduce the heat to medium-low. Sauté the onion until it

becomes golden brown, 12 to 15 minutes. Add the garlic and continue to sauté for 1 to

2 minutes.

Add the tomato paste and increase the heat to medium. Sauté the tomato paste until it

becomes dark red, 2 to 3 minutes.

Remove the sauce from the heat and add the vodka, coconut milk and nutritional yeast.

Stir until combined and return the pan to the burner. Bring to a simmer and allow the

vodka to cook off, about 30 minutes.

Cook the pasta in accordance with the package directions. Reserve 1 cup (240 ml) of

pasta water. If the sauce becomes too thick, add the pasta water ¼ cup (60 ml) at a time.

Add the cooked pasta directly into the finished sauce and stir to coat. Season with fresh

basil, if desired.
About Herbivore's Kitchen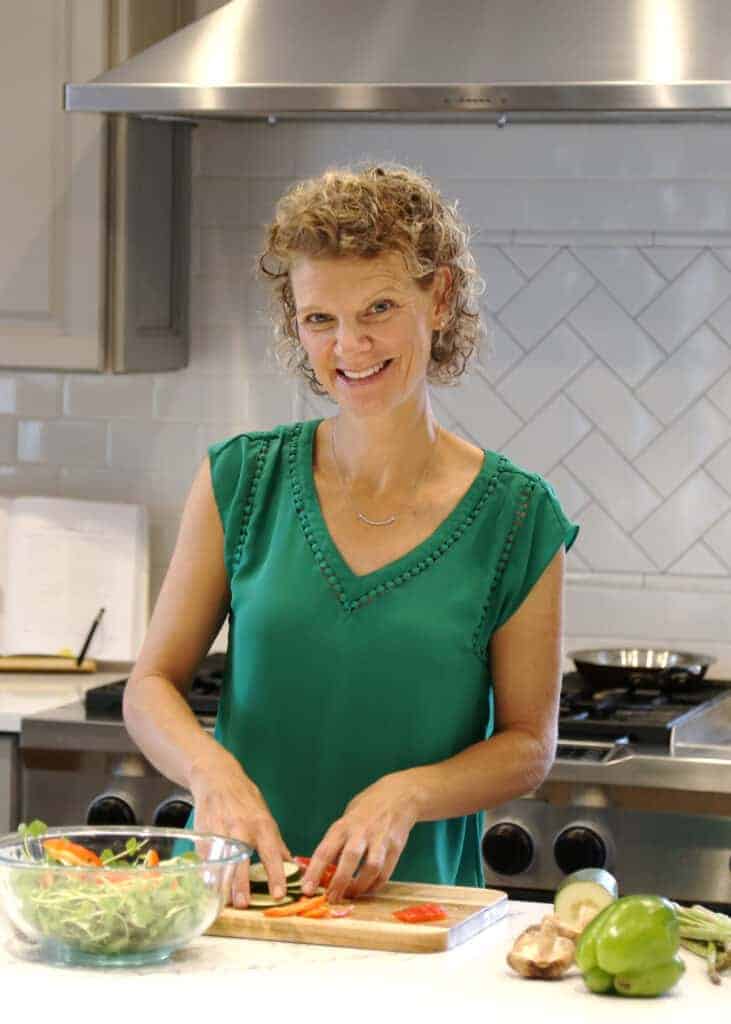 Herbivore's Kitchen is a plant-based food blog started by me, a vegan home chef, cookbook author, aspiring food photographer and how-to-be-a-better-food-blogger junkie. You'll mostly find creative and tasty vegan recipes and detailed deep dives into vegan ingredients (check out my Vegucation section) on my blog. I love knowing as much as I can about the food that I make. I'm also really into running a food blog as a business, so I've also got a section of my blog titled: Confessions of a Food Blogger where I get into the nitty gritty on how to build, manage, market and monetize a food blog.