This Vegan Thai Noodle Salad with Sweet Chili Vinaigrette recipe includes affiliate links. When I find a great product or service, I like to share it with my readers. Sometimes I use affiliate links so I can earn a commission for my recommendations. Thank you for your support!
Keep Cool this Summer with this Cold Thai Noodle Salad Featuring a Homemade Spicy Thai Salad Dressing
If you're looking for really easy, fresh recipes this summer, consider the cold noodle salad. This Vegan Thai Noodle Salad with Sweet Chili Vinaigrette recipe comes together in less than 30 minutes and its colorful presentation makes for a great way to showcase your farmer's market haul.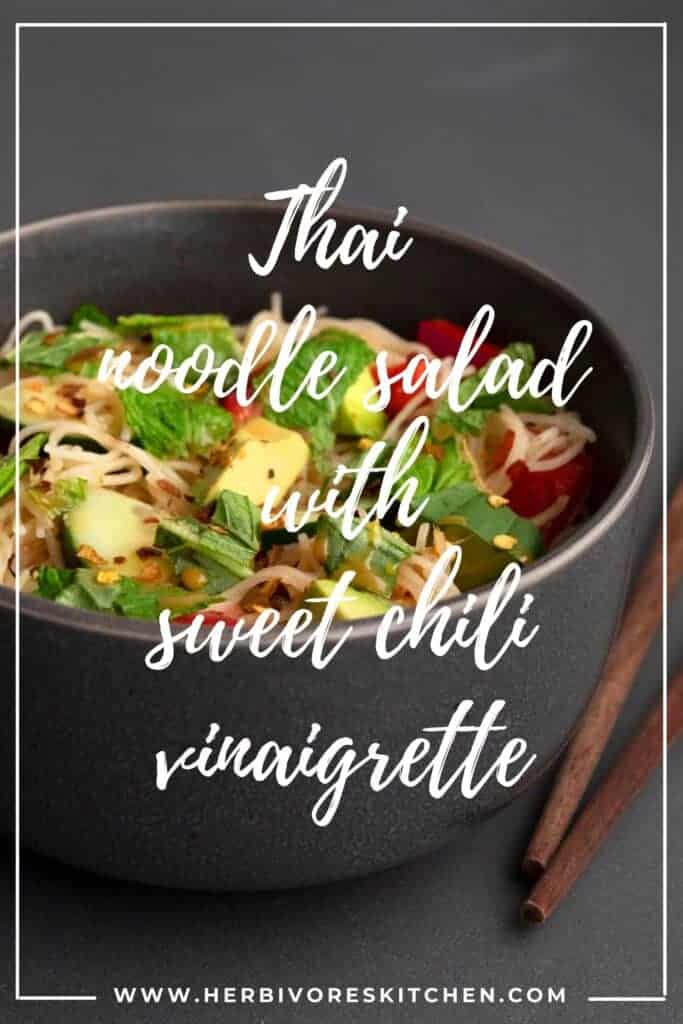 For this dish, I used an English cucumber, red bell pepper and avocado, but don't be afraid to get creative with more vegetables. Steamed and chilled broccolini and/or asparagus make great additions, as well as a orange, yellow and green bell peppers.
If you're looking to make this vegan side dish more of meal, baked tofu and steamed (then chilled) edamame are a great way to add some protein.
The star of this Vegan Thai Noodle Salad though is the Sweet Chili Vinaigrette. The playful combination of tangy, spicy and sweet really makes this dish!
How to Make Sweet Chili Vinaigrette
Making Sweet Chili Vinaigrette is much easier than you might expect! The ingredients are all easy-to-find in traditional grocery stores. Be sure to use fresh lime juice (you'll need about 5 limes) – you can't beat the flavor of fresh.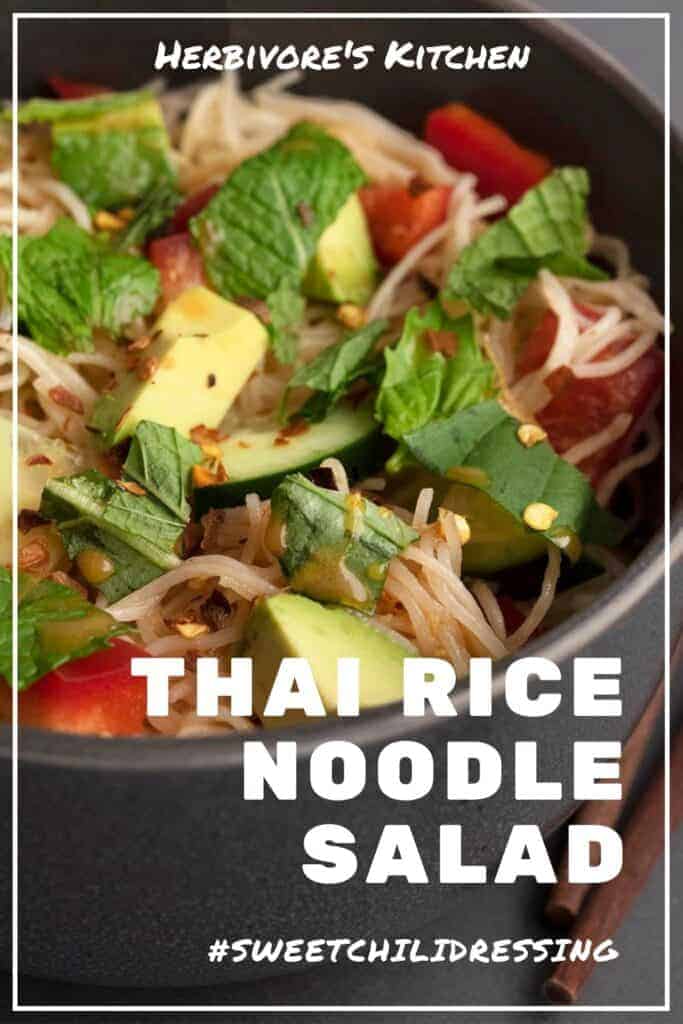 Speaking of fresh, adding fresh herbs to this Vegan Thai Noodle Salad is a must! I like fresh basil and mint, but cilantro is also a nice addition. If you're really lucky, you'll be able to harvest these directly from your garden or pick them up at the farmer's market. If not, they're usually readily available at the grocery store in the produce section.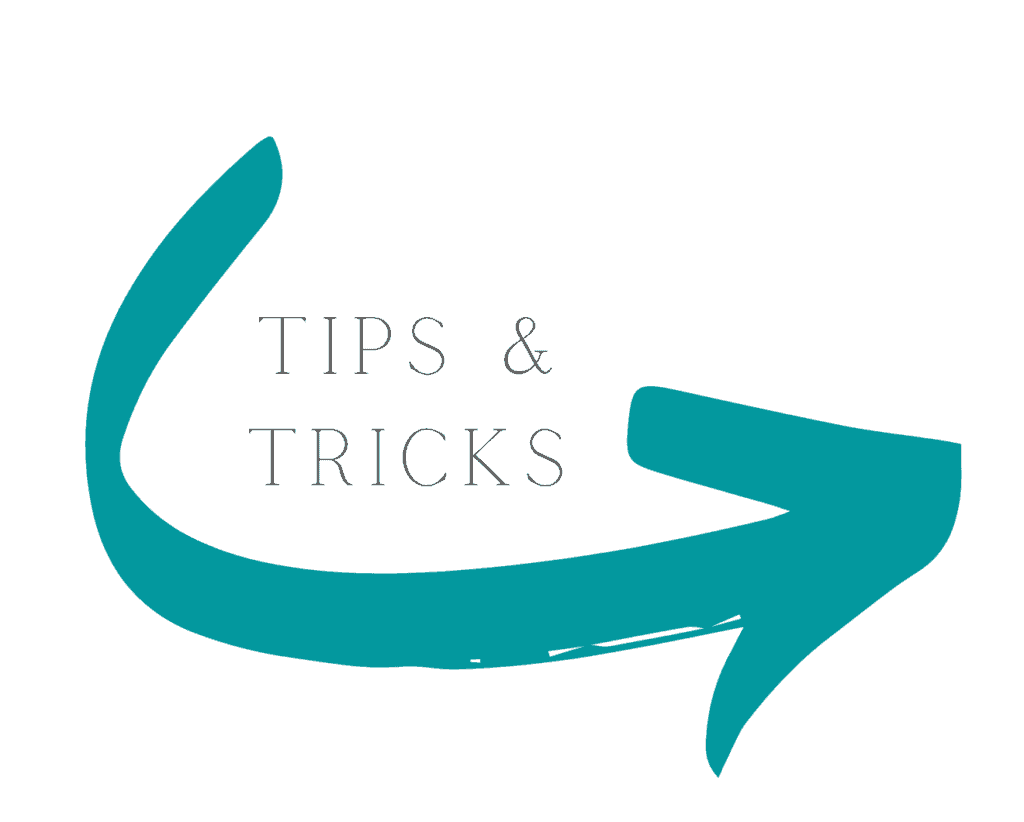 Zest the limes before squeezing the juice. You can add a little bit of the zest to the vermicelli noodle bowl if you'd like. Then freeze the rest for a stockpile of fresh lime zest to enhance your future dishes!
Do You Love This Vegan Thai Noodle Salad with Sweet Chili Vinaigrette Recipe?
Do you love this Vegan Thai Noodle Salad with Sweet Chili Vinaigrette recipe? Be sure to check out my other Southeast Asian recipes If you're into veggie-loaded soups, then my Pho Chay is definitely for you! Forever-searching for a good curry noodle bowl? Then you'll love my Vegan Thai Green Curry Noodle Bowl.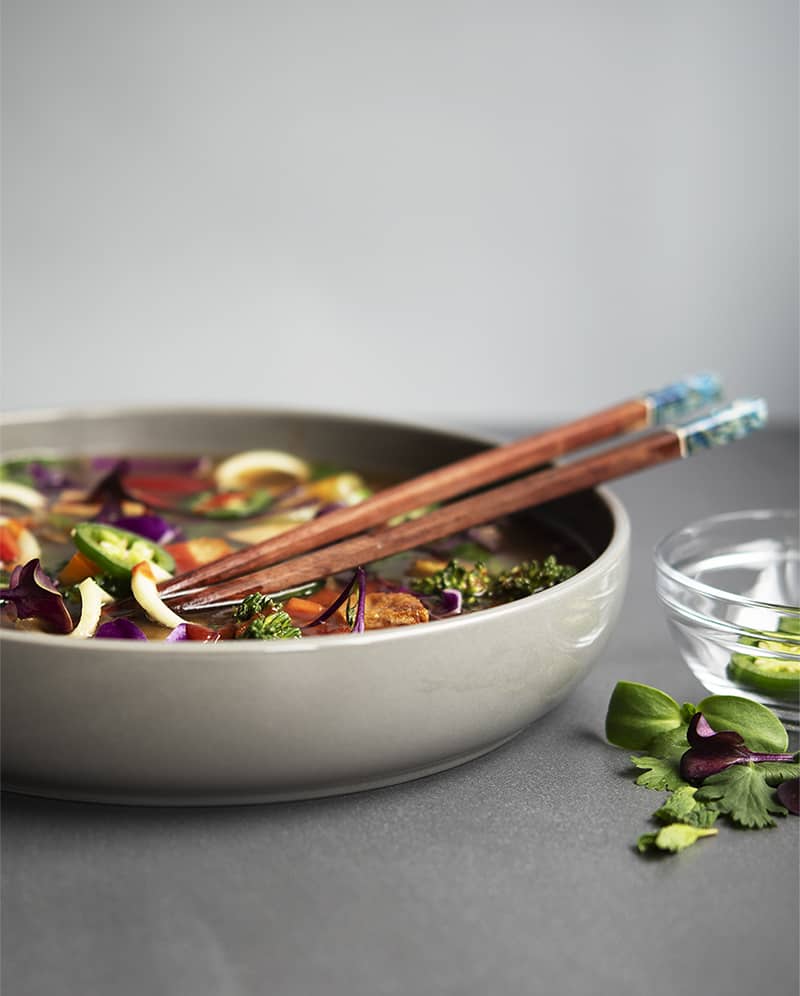 Searching for a tasty pho chay recipe that will bring this flavorful cultural dish to your table in a cruelty-free manner? This vegan Vietnamese recipe is a savory and simple dish, chock full of vegetables and with a pho chay broth that is both deep and rich with flavor.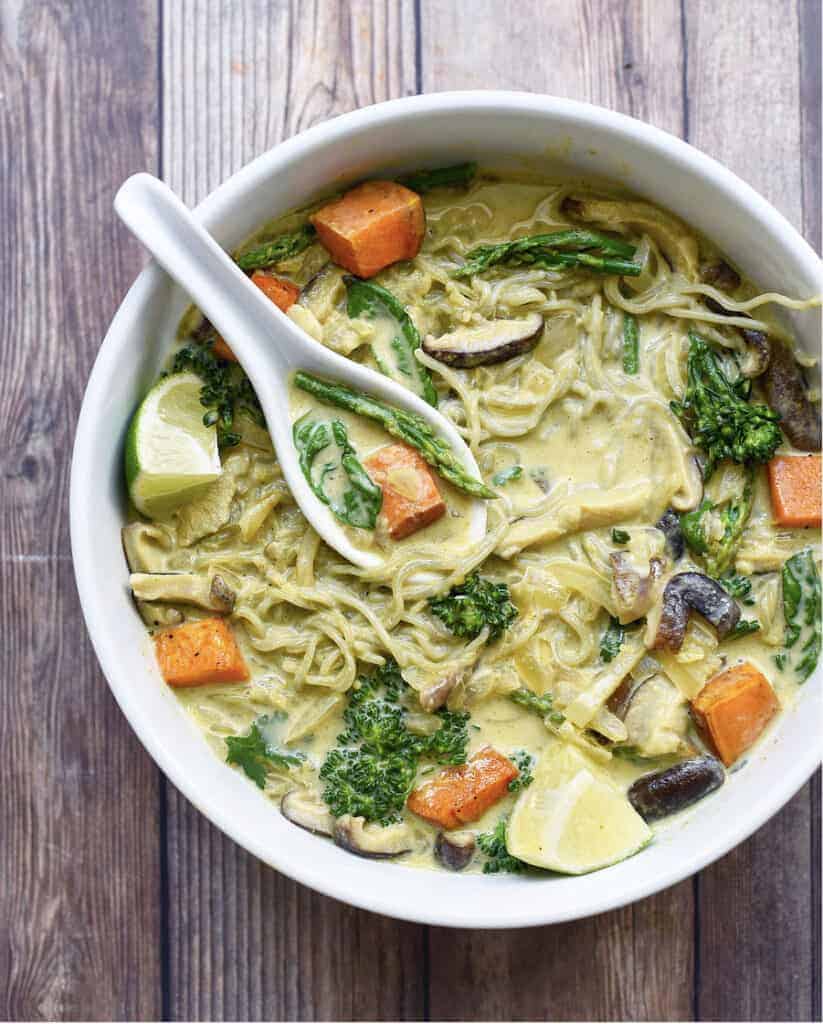 No vegan recipe collection is complete without a Thai green curry recipe! Green curry is spicy, rich and flavorful and makes for an easy vegan dinner option. I like to pack my green curry bowls with healthy vegetables and flavorful rice varieties to add in extra color and nutrition. For this green curry bowl, I added sautéed shiitake mushrooms, asparagus, broccolini and cumin-spiced sweet potatoes. I also swapped out the rice for ramen rice noodles to mix up my vegan dinner options.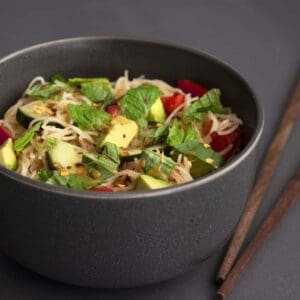 Vegan Thai Noodle Salad with Sweet Chili Vinaigrette
This Vegan Thai Noodle Salad is the perfect way to keep cool in the summer! Vermicelli noodles and crisp vegetables are tossed in a Sweet Chili Vinaigrette for the best of summer salads.
Ingredients
Sweet Chili Dressing
1

inch

fresh ginger

peeled and roughly chopped

2

clove

garlic

peeled and roughly chopped

1/2

cup

fresh lime juice

about 5 limes

1/4

cup

tamari

3/4

cup

safflower oil

or other neutral-tasting oil

1

tsp

toasted sesame oil

1/2

cup

organic cane sugar

3

tbsp

sriracha

1

tsp

crushed red pepper flakes
Vegan Thai Noodle Salad
1

8 oz pkg.

vermicelli rice noodles

soaked in hot water in accordance with the package directions

1

English cucumber

washed and diced

1

red bell pepper

washed, deseeded and diced

1

avocado

cubed

1

5 oz pkg

fresh basil

washed and roughly chopped

1

5 oz pkg

fresh mint

washed and roughly chopped

crushed red pepper flakes

to taste

salt

to taste
Instructions
Combine the ginger, garlic, lime juice, tamari, oil, sugar, sriracha sauce and red pepper flakes in a blender or mini food processor. Blend until smooth. Set aside.

Add the vermicelli noodles, cucumber, red pepper and avocado to a large bowl. Dress with the Sweet Chili Lime Dressing to your liking. Toss until the rice noodles are thoroughly coated with the dressing and chill until serving.

Serve topped with fresh mint & basil and season with crushed red pepper and salt, to taste
Notes
If you're looking to boost this dish to make more of a meal, consider adding baked tofu cubes or chilled edamame. It's a great way to put some protein into this dish!
After soaking the vermicelli noodles in hot water, be sure to rinse the noodles in cold water to stop the cooking process.
The Sweet Chili Lime Dressing makes a great dipping sauce as well (think Vietnamese Spring Rolls)! To thicken the dressing, combine 1 tbsp of cornstarch with 1 tbsp of water. Bring the dressing to a low simmer in a small saucepan and add the cornstarch slurry. Stir to combine and continue to stir as the dressing simmers. The cornstarch with cause it to thicken. Cook until you reach the desired consistency. Allow to cool and then store the dipping sauce in the refrigerator.
About Herbivore's Kitchen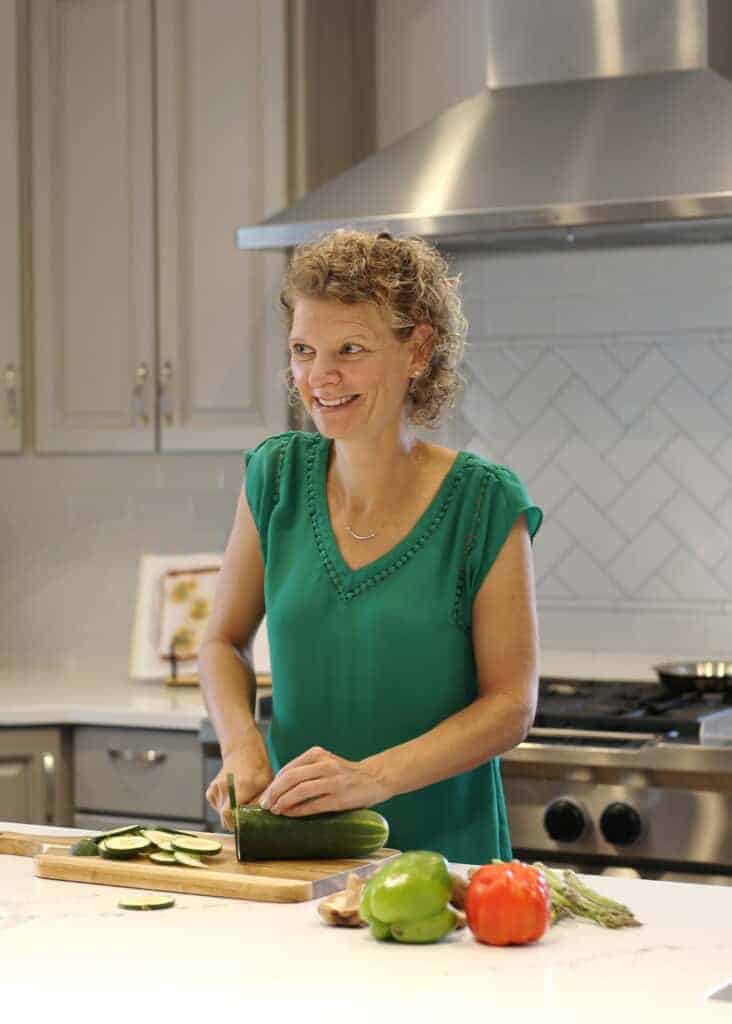 Herbivore's Kitchen is a plant-based food blog started by me, a vegan home chef, cookbook author, aspiring food photographer and how-to-be-a-better-food-blogger junkie. You'll mostly find creative and tasty vegan recipes and detailed deep dives into vegan ingredients (check out my Vegucation section) on my blog. I love knowing as much as I can about the food that I make. I'm also really into running a food blog as a business, so I've also got a section of my blog titled: Confessions of a Food Blogger where I get into the nitty gritty on how to build, manage, market and monetize a food blog.