This Orange Almond Vegan Sweet Bread Recipe includes affiliate links. When I find a great product or service, I like to share it with my readers. Sometimes I use affiliate links so I can earn a commission for my recommendations. Thank you for your support!
This Orange Almond Vegan Sweet Bread is an Easy Make Ahead for Vegan Brunch
Mornings (and afternoon tea, if you're into that sort of thing) just got a lot better!
Meet my Orange Almond Vegan Sweet Bread Recipe! This citrus spiked breakfast bread has a lustrous density made possible by baking with extra virgin olive oil. That's right – olive oil.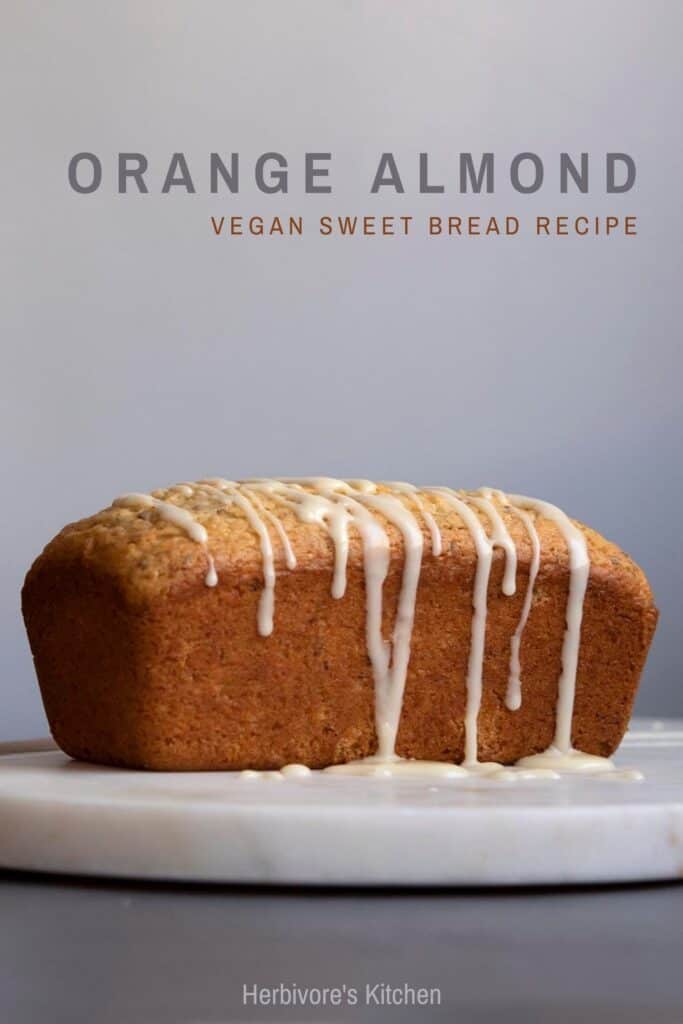 Vegan Baking with Olive Oil
Somewhat surprisingly (at least to me) extra virgin olive oil has expanded my vegan baking horizons in the most delicious ways. As I am sure you are familiar with, olive oil has a unique flavor – wonderful for light cooking and salad dressings, but baked goods?
Before trying baking with olive oil, I assumed that the heavy flavor would be overpowering, giving my breads and muffins an overly bitter taste.
Was I wrong! Using extra virgin olive oil in baked goods gives them a wonderful texture – moist and rich – completely avoiding the stereotypical dry and crumbly texture one might expect in vegan baking. Olive oil, a mono-saturated fat also has a leg up on traditional baking ingredients. (I'm looking at you butter). It's not exactly a health food, mind you. But as far as cooking with fats goes, olive oil is one of the better options.
What's In This Orange Almond Vegan Sweet Bread
Now that I've established that vegan baking and olive oil is a winning combination, I'm on a bit of a tear. My first recipe was Lemon & Olive Oil Muffins for Good Old Vegan's Good Old Mediterranean-Inspired Recipes. If you're looking for light, flavorful, perfect for summer vegan recipes, this ebook is a must have. Everything in it, from Falafel & Beet Hummus Wraps to Chickpea & Spinach Muhammara Stew to Soutzoukakia (otherwise known as Greek Meatballs) looks and sounds amazing.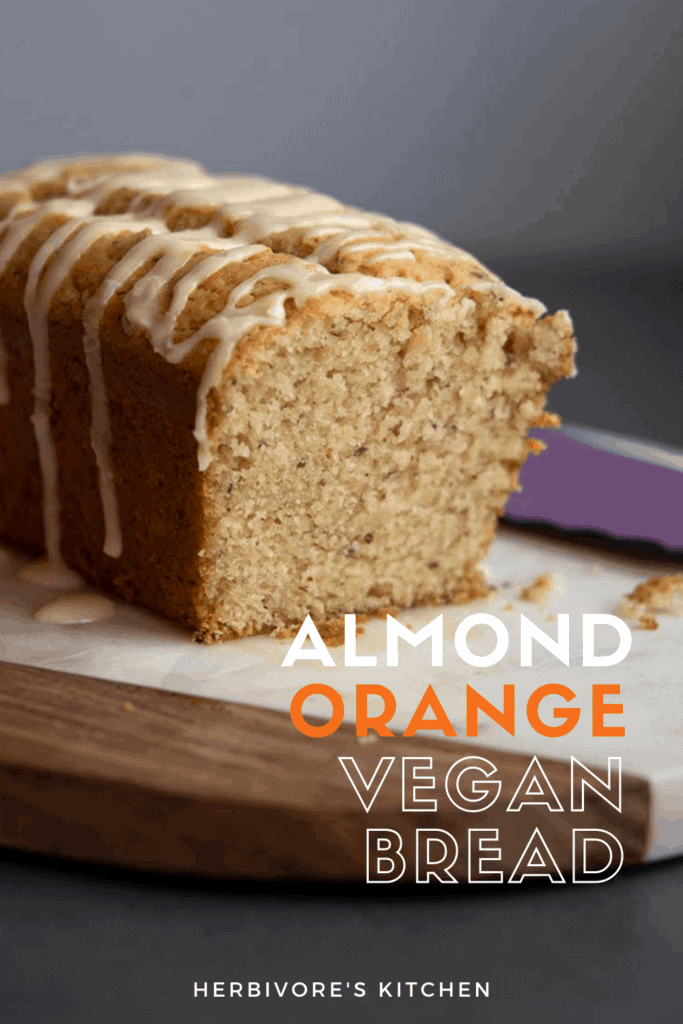 From there, I adapted that recipe to my Vegan Lemon Pound Cake with blueberries and a lemon icing. It's absolutely divine. It's more of a dessert than a breakfast, but no judgment if you want to eat it all day long.
This Orange Almond Vegan Sweet Bread is just a modification of the original two recipes, swapping out fresh lemon juice with an all-natural, pulp-free orange juice and using almond extract in place of vanilla. The almond extract adds a nutty sweetness that plays really nicely with the citrusy bursts of orange.
Baking Vegan Sweet Bread Without Eggs
Rather than using eggs in this Orange Almond Vegan Sweet Bread I use flaxseed meal as a binding agent. If you're not familiar with flaxseed meal, it's just ground up flaxseeds. When added to water and allowed to rest, flaxseed meal takes on a thick, gelatinous consistency – much like an egg white.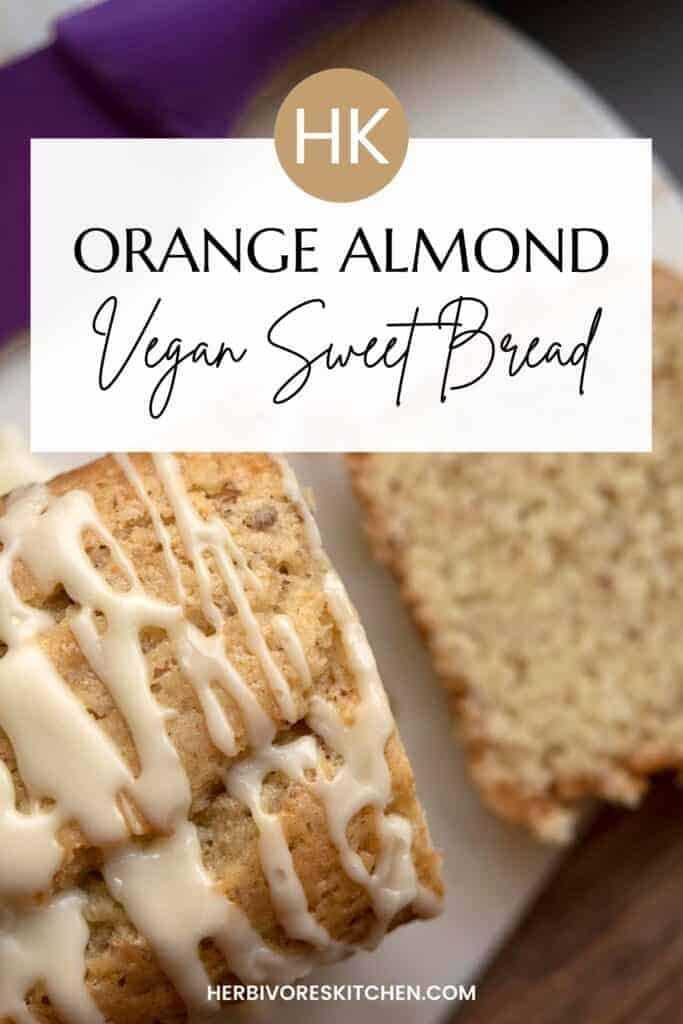 As an added bonus, flaxseeds are incredibly good for you. So don't underestimate these tiny powerhouses. Flaxseeds are packed with fiber Omega-3s and a variety of vitamins and minerals. Flaxseed meal makes it possible to absorb these benefits as the body has trouble digesting the seed as a whole.
Do You Love This Orange Almond Vegan Sweet Bread Recipe?
Do you love this Orange Almond Vegan Sweet Bread recipe? Be sure to check out other delicious vegan breakfast foods! If you're into baked goods, then my Chocolate Chip Banana Muffins are the way to go! Forever-searching for a good homemade cereal recipe? Then you'll love my Small Batch Vegan Granola.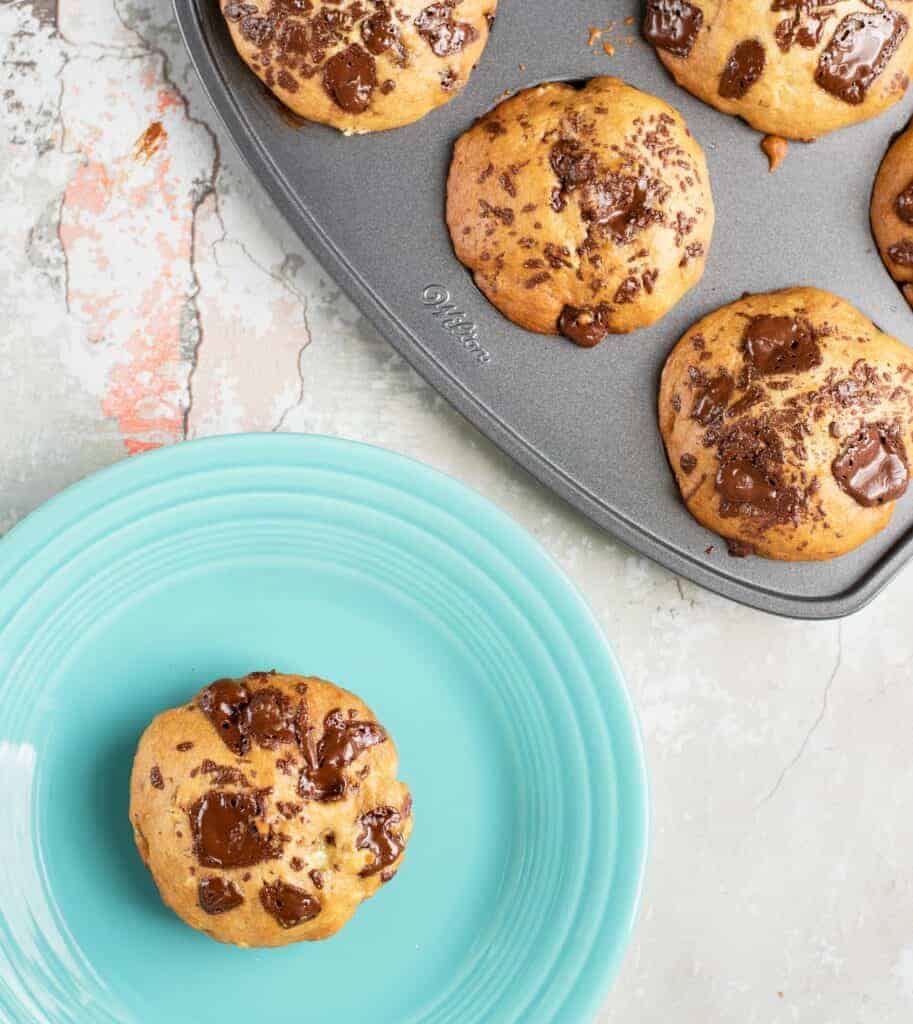 This Vegan Banana Chocolate Chip Muffins recipe is my latest share from my forth-coming cookbook 5-Ingredient Vegan Cooking: 60 Approachable Plant-Based Recipes with Few Ingredients and Lots of Flavor! It's available for pre-order and will be on the shelves June 22, 2021.
These plant-banana muffins are actually muffin tops — my all-time favorite part of the muffin. Rest assured though, if you (unlike me) don't feel the need to own every kitchen item ever invented, this recipe applies equally well to making the full muffin.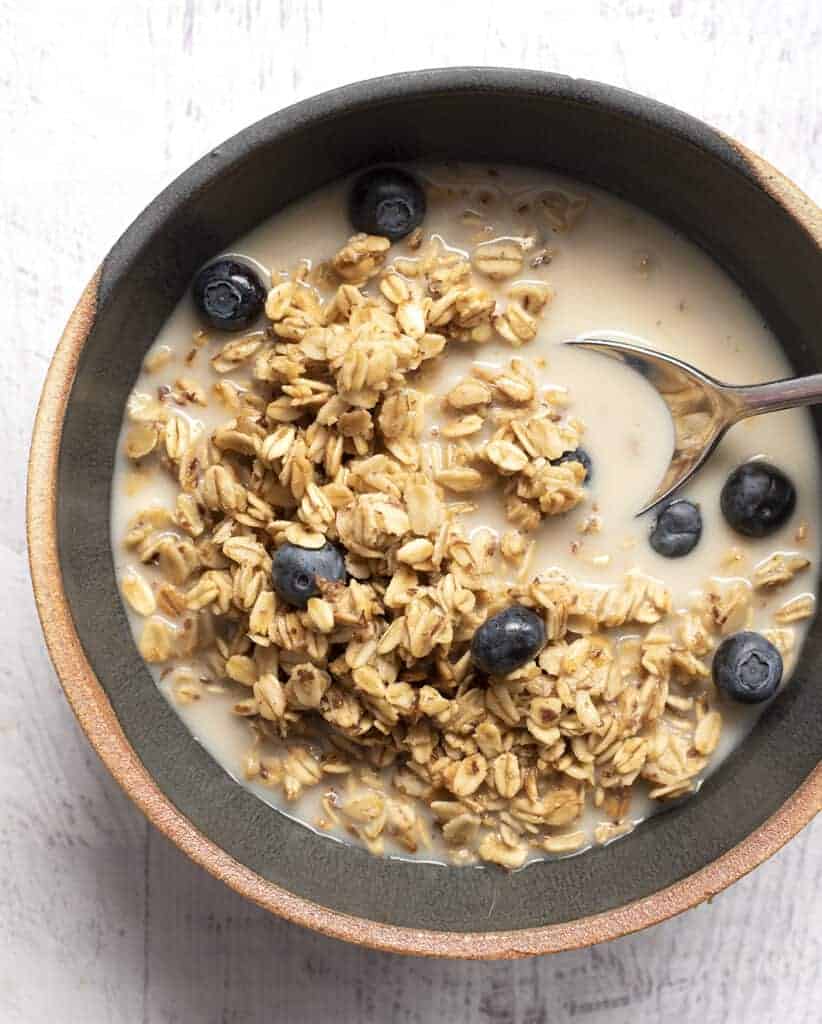 The best part about this basic small batch granola recipe is that there are infinite ways to customize it. Add heart healthy walnuts, almonds or flax seeds. Sweeten it up with coconut flakes or rich, dark chocolate. Or, add some color with fresh berries!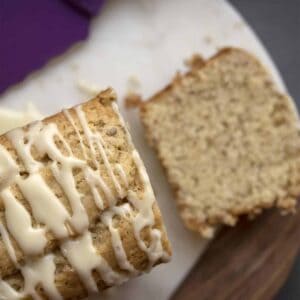 Orange Almond Vegan Sweet Bread Recipe
Looking to elevate your vegan brunch menu? This Almond Orange Bread is an easy, delicious way to dress up your breakfast buffet and impress your friends with your plant-based prowess.
Ingredients
2

tbsp

flaxseed meal

5

tbsp

water

~3

oz

unsweetened, pulp-free orange juice

1/2

cup

oat milk

2

cups

all-purpose flour

2

tsp

baking powder

1/2

tsp

salt

1

cup

organic cane sugar

1/2

cup

extra virgin olive oil

1

tsp

almond extract

1

tbsp

vegan butter

for greasing the loaf pan

1/2

cup

confectioner's sugar

optional: for making the glaze
Instructions
Combine the flaxseed meal and water. Stir to combine and set aside for 5 minutes.

Add 1 tsp orange juice to the oat milk. Set aside.

In a large mixing bowl, combine the flour, baking powder and salt.

In a separate, smaller mixing bowl combine the oat milk, sugar, olive oil, flaxseed eggs, 2 oz of fresh orange juice and sugar. Stir until well-combined.

Add the wet ingredients to the dry ingredients and mix thoroughly.

Thoroughly grease the loaf pan. See Recipe Notes.

Spoon the batter into the loaf pan.

Bake for 30-35 minutes. Check for doneness by inserting a toothpick into the loaf. If the toothpick comes out clean, the loaf is done.

Allow the loaf to cool for 15 minutes. While it is cooling, combine confectioner's sugar with 1 tbsp of orange juice. Mix thoroughly to create the icing.

When the loaf has cooled, drizzle the icing over the top of the cake.
Notes
A well-greased loaf pan cannot be overstated. Make sure the loaf pan is thoroughly covered to ease removing the loaf from the tin. Lately, I have been greasing my baking tins with slightly softened vegan butter.
This cake can be stored in an air-tight container in the refrigerator. It should remain fresh for 3-5 days. It can also be frozen for up to 3 months.
About Herbivore's Kitchen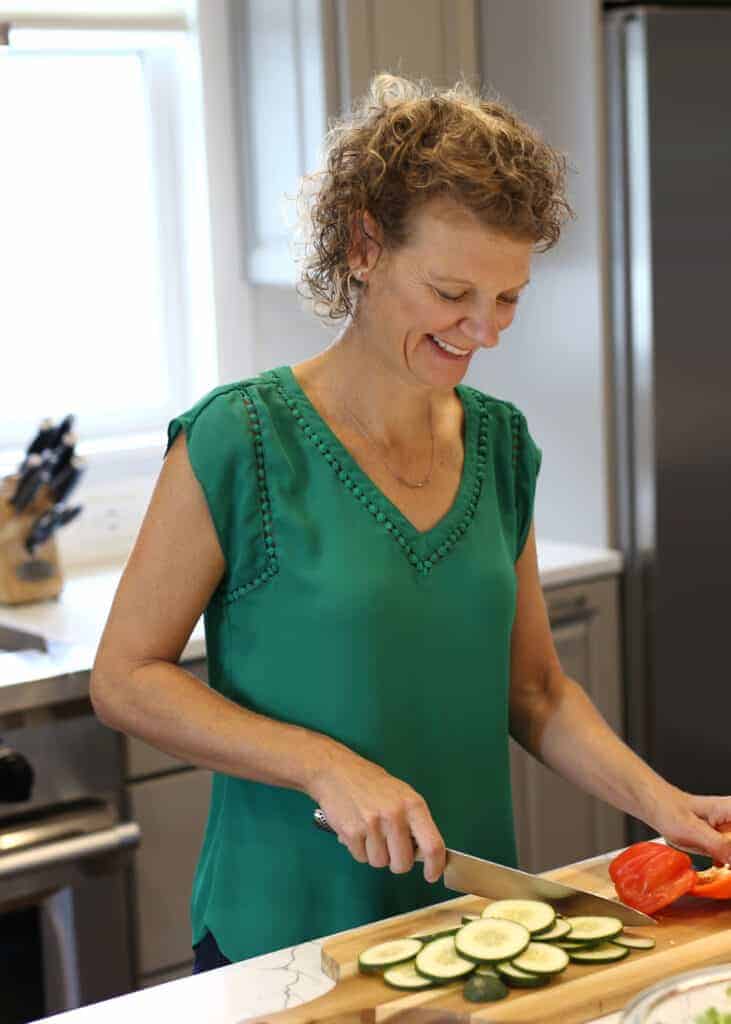 Herbivore's Kitchen is a plant-based food blog started by me, a vegan home chef, cookbook author, aspiring food photographer and how-to-be-a-better-food-blogger junkie. You'll mostly find creative and tasty vegan recipes and detailed deep dives into vegan ingredients (check out my Vegucation section) on my blog. I love knowing as much as I can about the food that I make. I'm also really into running a food blog as a business, so I've also got a section of my blog titled: Confessions of a Food Blogger where I get into the nitty gritty on how to build, manage, market and monetize a food blog.