Jump to Recipe
This Lemon Granola Recipe: Make Breakfast Sweeter with this Homemade Vegan Granola Recipe includes affiliate links. When I find a great product or service, I like to share it with my readers. Sometimes I use affiliate links so I can earn a commission for my recommendations. Thank you for your support!
Make Breakfast Sweeter with this Homemade Vegan Granola Recipe
If you're looking to make your mornings sweeter, look no further than this homemade Lemon Granola Recipe. It's a little bit sweet, a little bit tart and a lot crunchy!
This recipe is part of my small batch granola recipes – a collection of gourmet granola recipes that will keep your mornings, easy & healthy.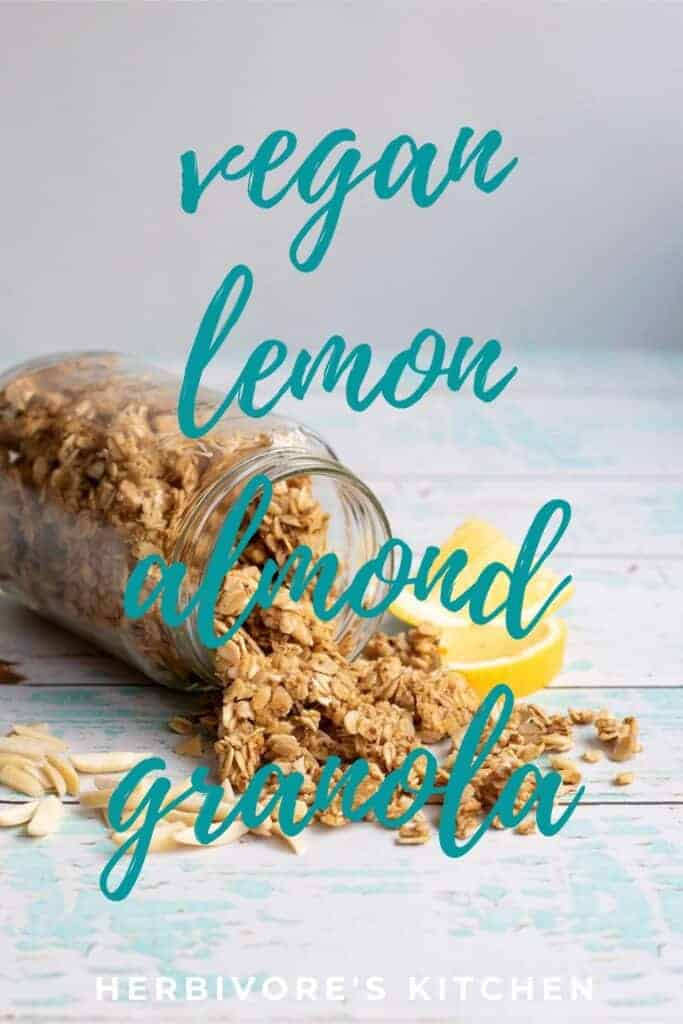 How to Make Lemon Granola
Making this Lemon Granola recipe is really quick and easy! It only requires a few ingredients: rolled oats and almonds make up each granola cluster. Salt, vanilla and fresh lemon add flavor, while coconut oil and maple syrup make each bite sweetly crunchy!
This list of ingredients is combined in one bowl, then spread out on a large baking sheet and toasted in the oven for about 20 minutes. That's it! That's all there is to making your own Lemon Granola at home!
How to Make Vegan Granola
Making a delicious vegan granola is actually just a matter of swapping sweeteners. Many homemade gourmet granola recipes call for honey to sweeten each cluster, but by simply using pure maple syrup in place of honey, you can make most granola recipes vegan-friendly!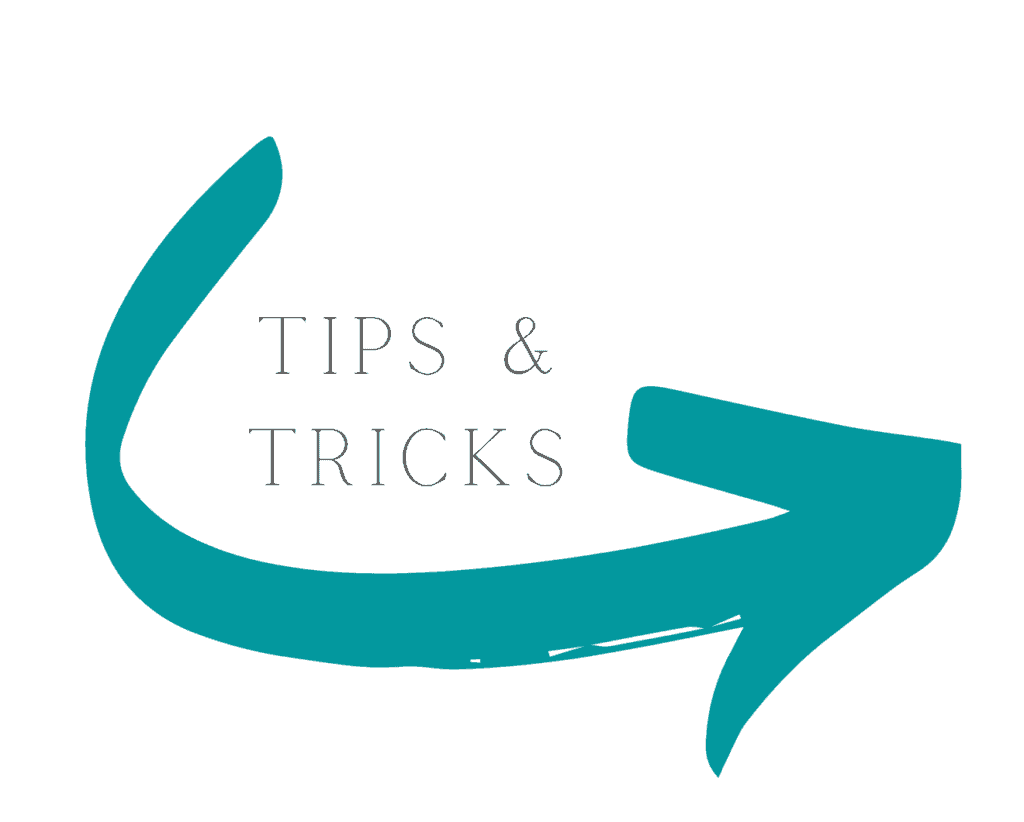 When using maple syrup as a substitute for honey or as an unrefined sweetening option, be sure to use pure maple syrup. Products labeled as maple-syrup flavored are often made using high fructose corn syrup.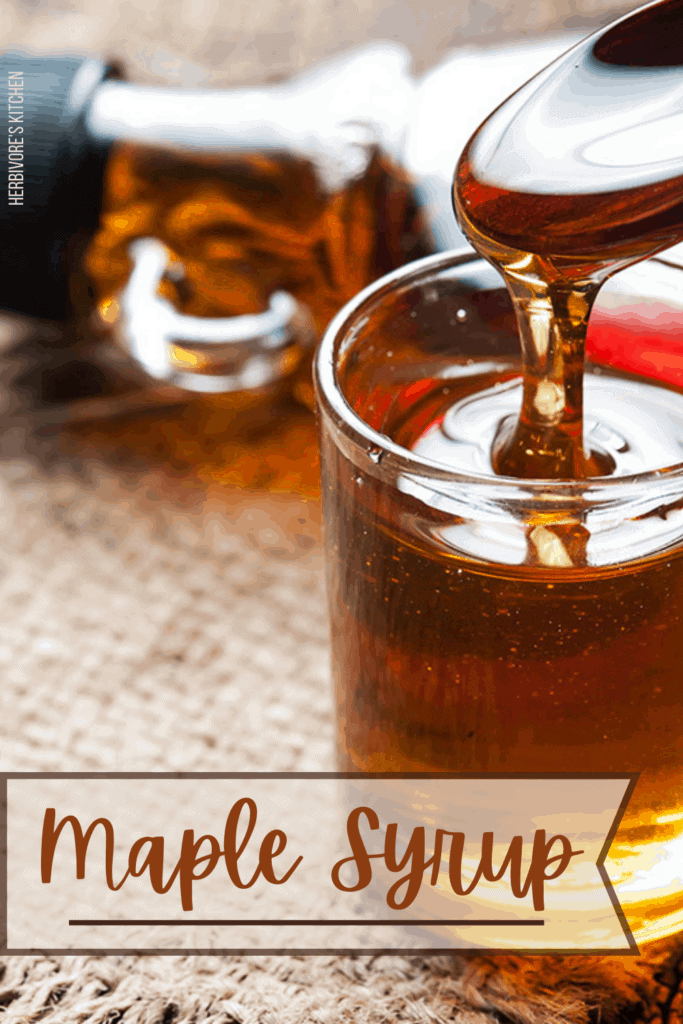 Gourmet Granola – Is It Healthy?
Granola gets a bad rap for being unhealthy, but that's largely a criticism aimed at commercially produced brands. To keep costs down, they're often made with high-fructose corn syrup in lieu of a natural, unrefined sweetener.
Oats by themselves are a nutritionally sound ingredient. They're full of fiber, protein, vitamins and minerals. Adding nuts and seeds – in this case, almonds – increases the healthy benefits of this Lemon Granola recipe.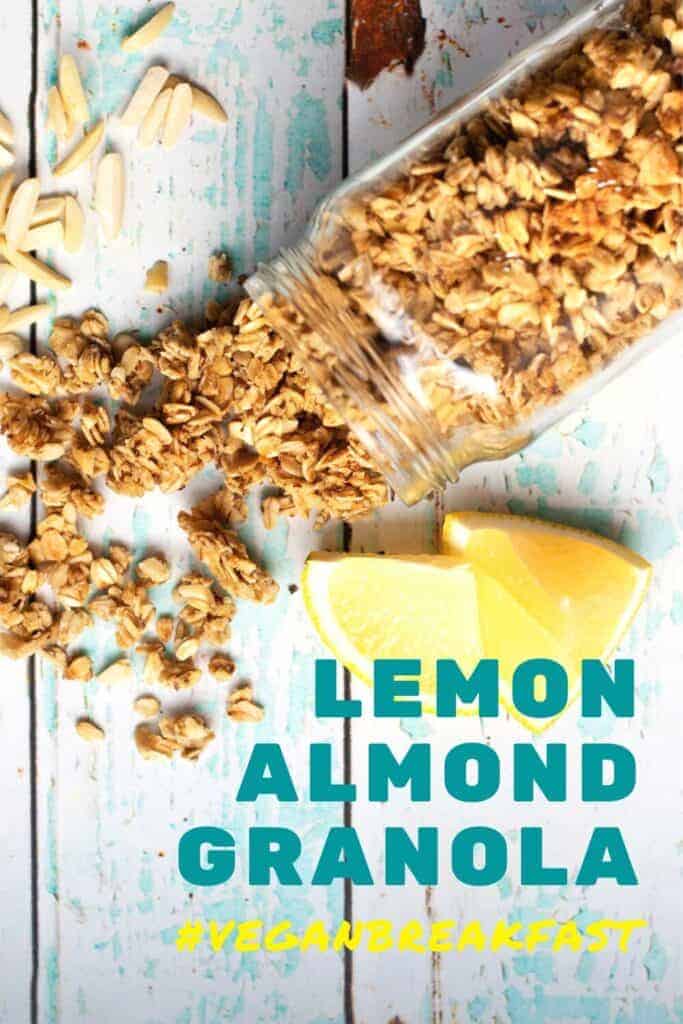 And finally, topping your bowl of gourmet granola with plenty of fresh fruit (bring on the blueberries for this one) and using a low-sugar plant-based milk goes a long way toward getting your day started on the right foot.
Do You Love This Lemon Granola Recipe?
Do you love this vegan granola recipe? Then be sure to check out other vegan breakfast ideas! If you're into sweet treats in the morning, then my Orange Almond Sweet Bread is for you! Savory more your style? Then you'll love my Sweet Potato & Kidney Bean Breakfast Burritos!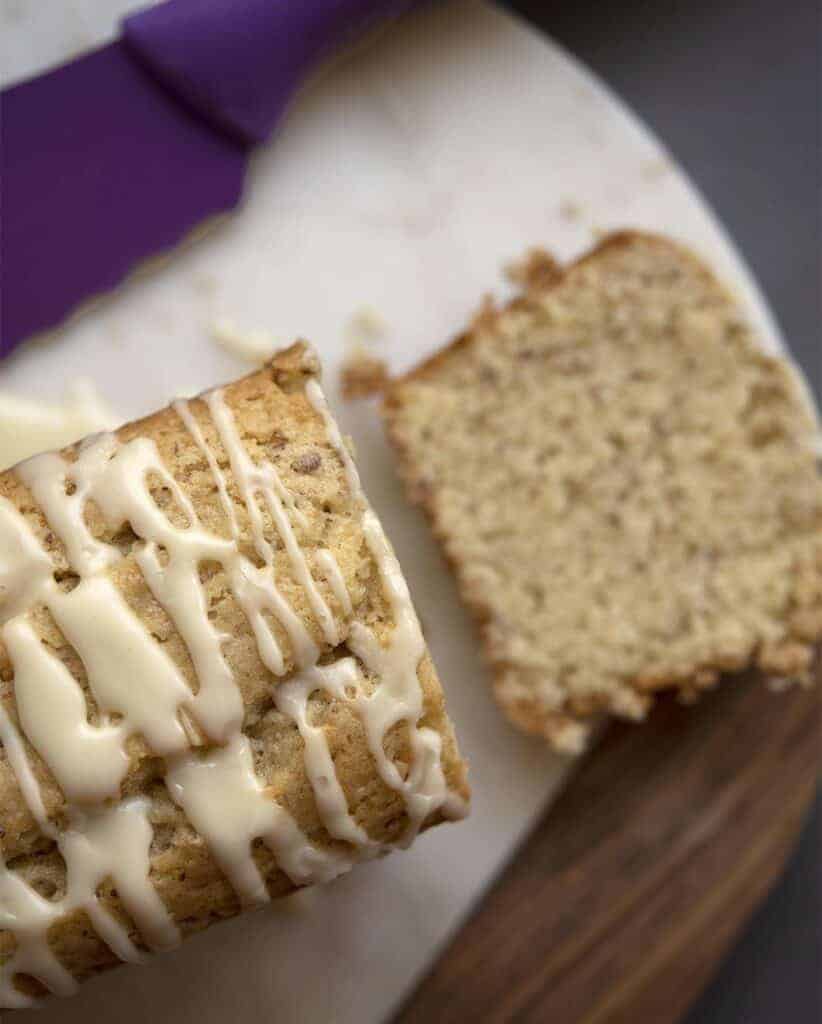 Mornings (and afternoon tea, if you're into that sort of thing) just got a lot better! Meet my Orange Almond Vegan Sweet Bread Recipe! This citrus spiked breakfast bread has a lustrous density made possible by baking with extra virgin olive oil. That's right – olive oil.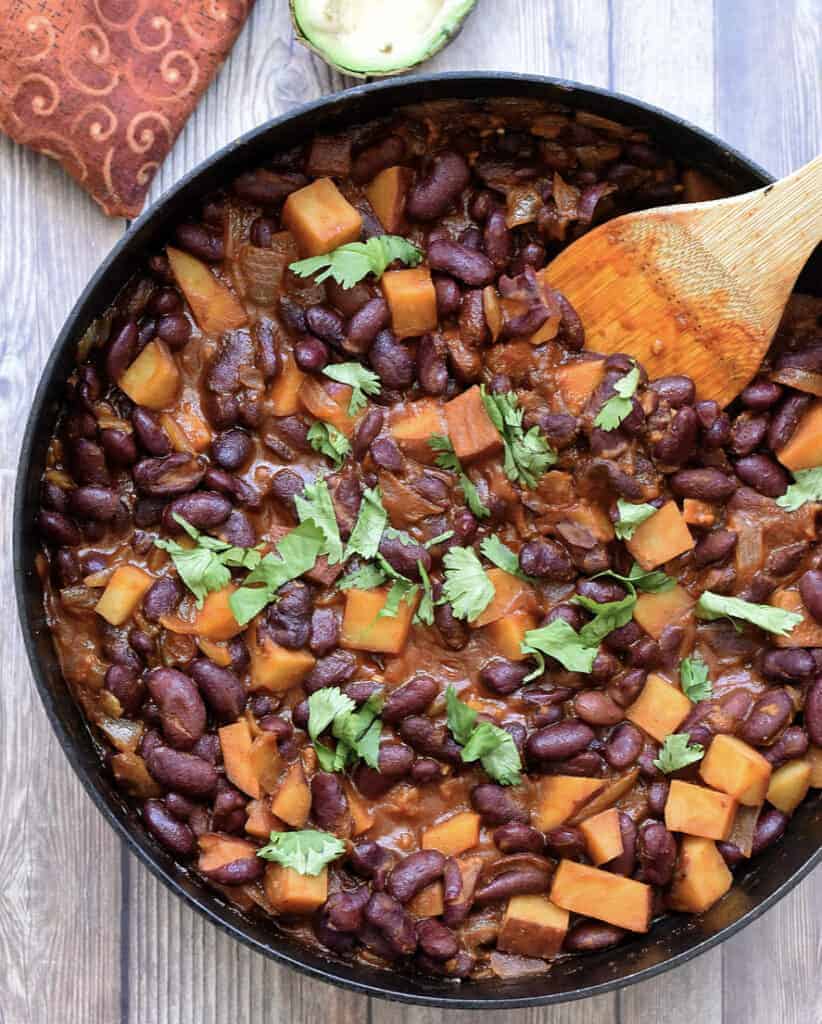 Easy, healthy vegan breakfast burritos make Sunday brunch look a little different around my house. This Mexican-inspired vegan breakfast burrito features sweet potatoes and kidney beans simmered in tomatoes, cumin and chipotle chili powder tucked in a tortilla wrap with fresh spinach, avocado, chopped tomatoes and toasted pumpkin seeds. What more could you want for a healthy, easy vegan breakfast recipe?
What's in My Kitchen to Make Lemon Granola Recipe Easier?
Want to know what tools and resources I keep on hand to make my vegan cooking even easier? Here's a short list of what helped me create this blog post and recipe. For the complete list, visit my Shop where you can find the kitchen gadgets I like as well as a list of books that I recommend.
Down a broiler pan? These aluminum baking sheets come highly recommended by the cooks who know best – Epicurious, Cooks Illustrated and Food & Wine. I bought mine because I needed a good, sturdy baking sheet to use under the broiler. One that wouldn't warp – and this one lives up to the task.
Aluminum is a good conductor of heat, so these baking sheets cook evenly. They're also light in color, so they discourage over-browning.
These things are amazing! When I discovered parchment paper, I thought I had things figured out. No more greasing pans or ruining them with charred food. Then I discovered these silicon baking pads. They're oven-safe up to 450 degrees, dishwasher safe (top rack only) and easy to clean and REUSE!
I maintain that this is an essential kitchen tool. Yes, I know that you can squeeze a lemon (or lime, or orange) with your hands, but do that and then try this and see just how much more juice you get from each fruit. It also has the added benefit of separating (most) of the seeds from the juice.
This handy dandy little tool is about to bring a ton of flavor to your dishes!
If you don't zest, it's something you should start doing. Everything from lemon, to lime, to oranges are zestable ingredients. I add lime zest to my corn salsa used in my Spicy Lentil Street Tacos Recipe and lemon zest is a great add for dishes like homemade tomato sauce.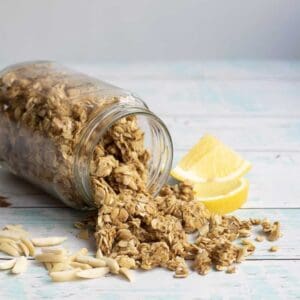 Lemon Granola Recipe
Looking for a good vegan granola recipe? Making your mornings so much sweeter with this gourmet Lemon Granola Recipe!
Ingredients
4

cups

rolled oats

1

tsp

salt

3

tbsp

flaxseed meal

1/3

cup

almond slivers

chopped (or substitute chopped unsalted almonds)

1/3

cup

coconut oil

melted

2/3

cup

pure maple syrup

1

tsp

vanilla

1

tbsp

fresh lemon juice

zest of one lemon
Instructions
Preheat the oven to 350º.

Lightly grease a large baking sheet with coconut oil or line the baking sheet with parchment paper or a silicon baking mat.

Combine the ingredients in a large bowl and mix until thoroughly combined. The mixture will be quite wet.

Spread the mixture evenly on to a baking sheet. Bake for 10 minutes on the middle rack, then gently stir the granola. Bake for an additional 10 minutes. The granola should be golden brown. Remove the granola from the oven and allow it to cool completely before stirring it. The granola will continue to crisp as it cools.

Store the granola in an airtight container.
About Herbivore's Kitchen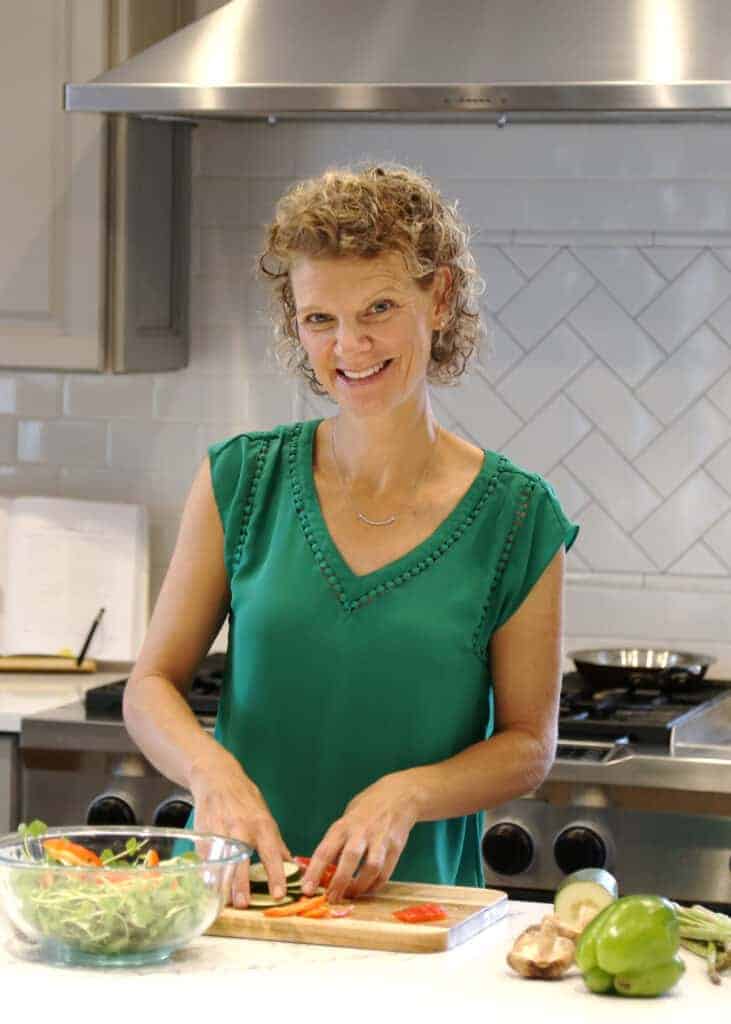 Herbivore's Kitchen is a blog run by me, a plant-based home chef and aspiring food photographer. I switched my and my family's diet to a plant-based diet after learning about the health benefits of going vegan. Making this change has prompted a variety of food and holistic-lifestyle related questions that I explore through this blog. I talk about how to pick and prepare the most nutritious foods, to how to reduce waste at home, to how to live a more sustainable lifestyle while on the road.