Jump to Recipe
This Tajin Cucumber Salad: Once of the Best Ways to Eat Cucumber post includes affiliate links. When I find a great product or service, I like to share it with my readers. Sometimes I use affiliate links so I can earn a commission for my recommendations. Thank you for your support!
This Summer Friendly Salad is One of the Best Ways to Eat Cucumber
In the heat of summer, there are some great ways to stay cool. Cool as a cucumber, so to speak.
This Tajin Cucumber Salad is one of my new favorite cucumber snack ideas. It's silly easy to prepare & perfect for those hot summer afternoons when you're ready for happy hour to commence.
Much of the credit for this goes to my friend Amy (@bohovegmom) who turned me to this wonderful way to eat cucumbers with a Reel she recently shared.
I was halfway through a 30-day epic camping trip when I saw her video. So, I made it a point to pick up an English cucumber and a lime on my next grocery store run. I already had the Tajin seasoning, of course. I paired it my favorite sipping tequila, Casamigos, for a post-ride happy hour. Mother nature provided a cool evening and a beautiful sunset. I couldn't have scripted it better myself.
Chili Lime Seasoning: The Key to Tajin Cucumber Salad
No doubt that English cucumber, fresh lime and creamy avocado are tasty ingredients, but what makes this vegan appetizer is the Tajin seasoning. If you haven't tried Tajin seasoning before, it's a simple blend of mild chilis, lime and salt.
I first came across it in a Mexican grocery store, where I picked up several bottles, thinking I could bring a little bit of vacation home with me. When I got home, I realized that it's a highly available ingredient in the States. Which is great news, because I like to have a bottle of it on hand at all times.
I have several Tajin recipes that I love, including my Simple Guacamole Recipe and my Homemade Tortilla Chips.
Do You Love This Tajin Cucumber Recipe?
Do you love this Tajin Cucumber Recipe? Be sure to check out other summer salad ideas! If you're into fresh herbs, then my Vegan Caprese Salad is for you! Forever-searching for a summer salsa? Then you'll love my Sweet Corn Salsa.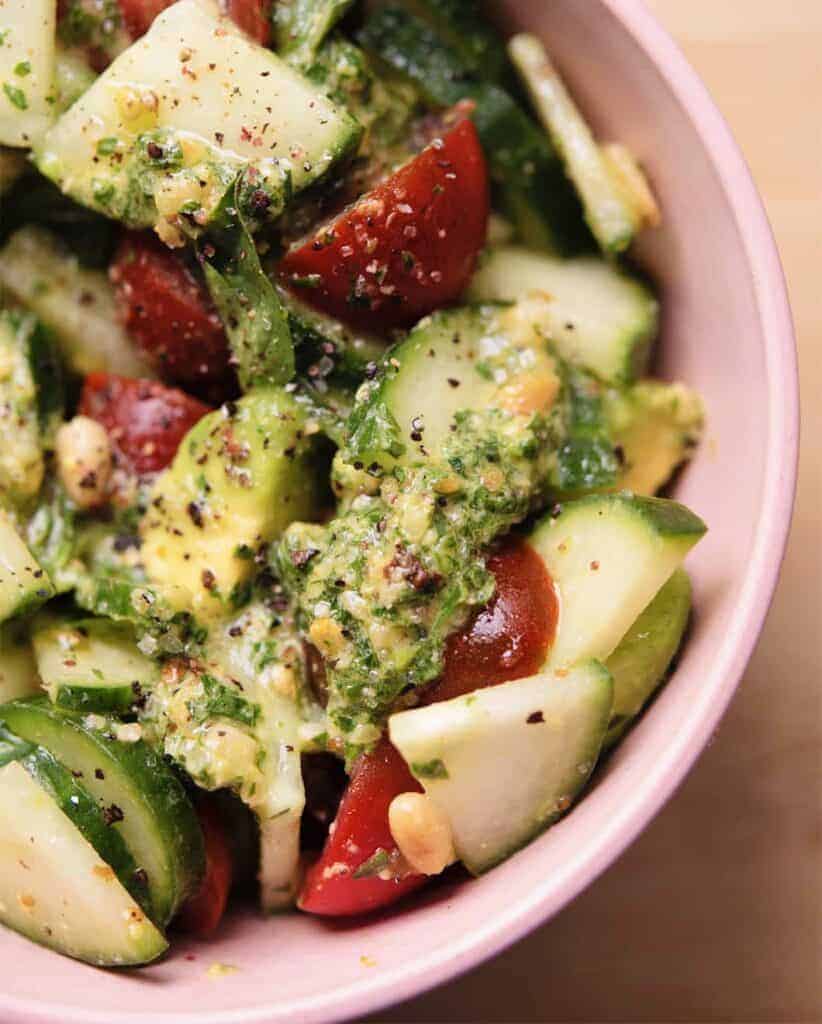 Keep your summer cool with this vegan caprese salad recipe! With a twist on the traditional, this easy caprese salad features avocado, grape tomatoes, English cucumbers and a vegan pesto. Serve it as an appetizer or a vegan side dish.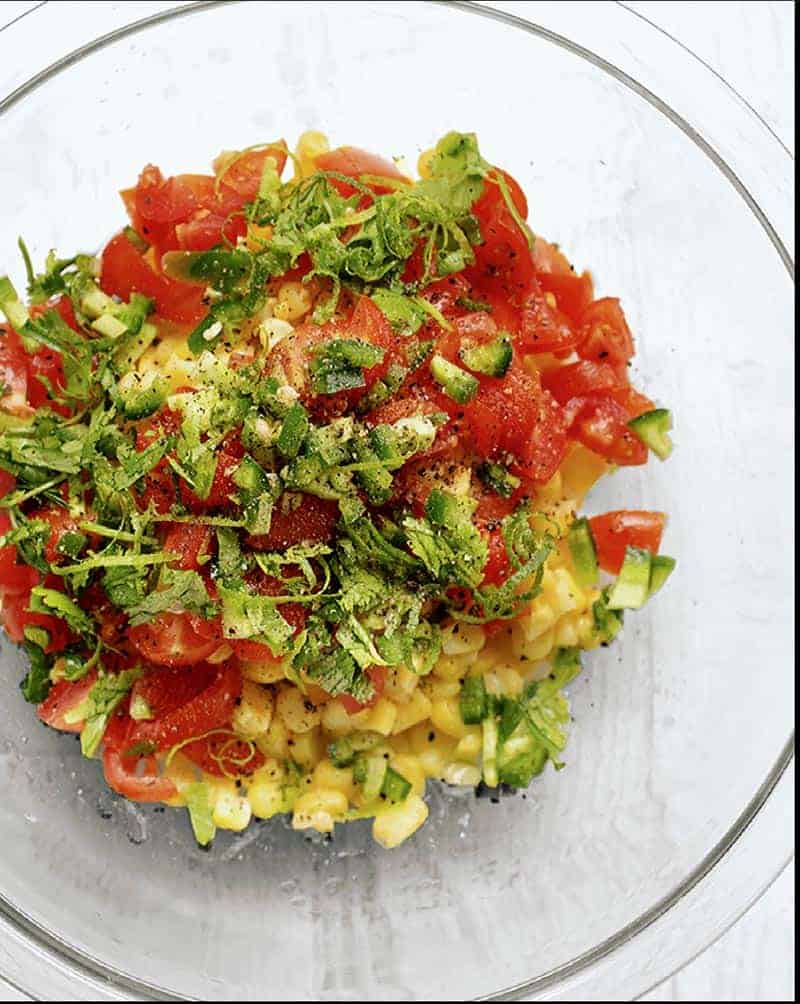 Looking for a healthy, easy way to top your vegan tacos? This plant-based Sweet Corn Salsa Recipe is full of flavor (and lots of brilliant colors)! Made with sweet corn, grape tomatoes, red onion and jalapenos, this homemade corn salsa recipe is sure to make your taste buds sing!
What's in My Kitchen to Make this Tajin Cucumber Recipe Easier?
Want to know what tools and resources I keep on hand to make my vegan cooking even easier? Here's a short list of what helped me create this blog post and recipe. For the complete list, visit my Shop where you can find the kitchen gadgets I like as well as a list of books that I recommend.
No, that's not the brand. It's just the idea! But, I own this set of Global™ knives and They're some of my most prized possessions in the kitchen. This set is universally well-rated for the at-home chef and will get you a good, solid set of knives without totally breaking the bank.
I maintain that this is an essential kitchen tool. Yes, I know that you can squeeze a lemon (or lime, or orange) with your hands, but do that and then try this and see just how much more juice you get from each fruit. It also has the added benefit of separating (most) of the seeds from the juice.
This is one of my favorite shortcuts to that bright, spicy, citrusy flavor that makes my guacamole sing and my homemade tortilla chips dance!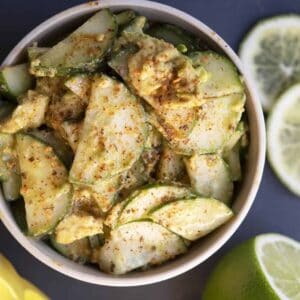 Tajin Cucumber Salad
Tajin Cucumber Salad may be the best ways to eat cucumber. It's cool, creamy, refreshingly citrusy and a little bit spicy.
Ingredients
1

English cucumber

sliced & diced

1

avocado

diced

1

lime

freshly squeezed

1

tbsp

extra virgin olive oil

Tajin seasoning

to taste
Instructions
Slice the cucumber into ¼" discs and then dice them into quarters.

Dice the avocado and combine it with the cucumber.

Juice the lime and add the juice and the olive oil to the cucumber and avocado.

Add the tajin seasoning until the desired flavor is achieved.
About Herbivore's Kitchen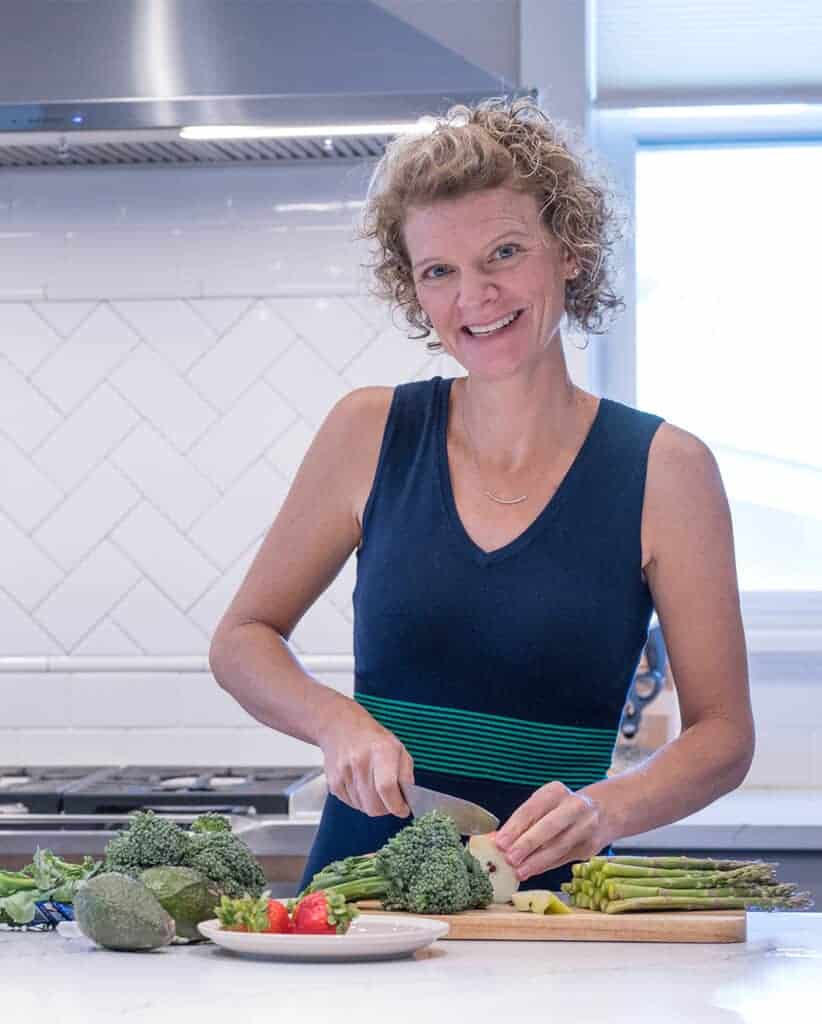 Herbivore's Kitchen is a plant-based food blog started by me, a vegan home chef, cookbook author, aspiring food photographer and how-to-be-a-better-food-blogger junkie. You'll mostly find creative and tasty vegan recipes and detailed deep dives into vegan ingredients (check out my Vegucation section) on my blog. I love knowing as much as I can about the food that I make. I'm also really into running a food blog as a business, so I've also got a section of my blog titled: Confessions of a Food Blogger where I get into the nitty gritty on how to build, manage, market and monetize a food blog.