Jump to Recipe
This Vegan Tex Mex Egg Rolls: Taste the Ultimate in Mexican-Asian Fusion with these Air Fryer Southwest Egg Rolls post includes affiliate links. When I find a great product or service, I like to share it with my readers. Sometimes I use affiliate links so I can earn a commission for my recommendations. Thank you for your support!
Taste the Ultimate in Mexican-Asian Fusion with these Air Fryer Southwest Egg Rolls
I've been a little air fryer obsessed lately.
If you follow me on Instagram, you might know that I picked up a Cuisinart compact toaster / air fryer for my campervan. And, on our latest trip, I used it. A lot.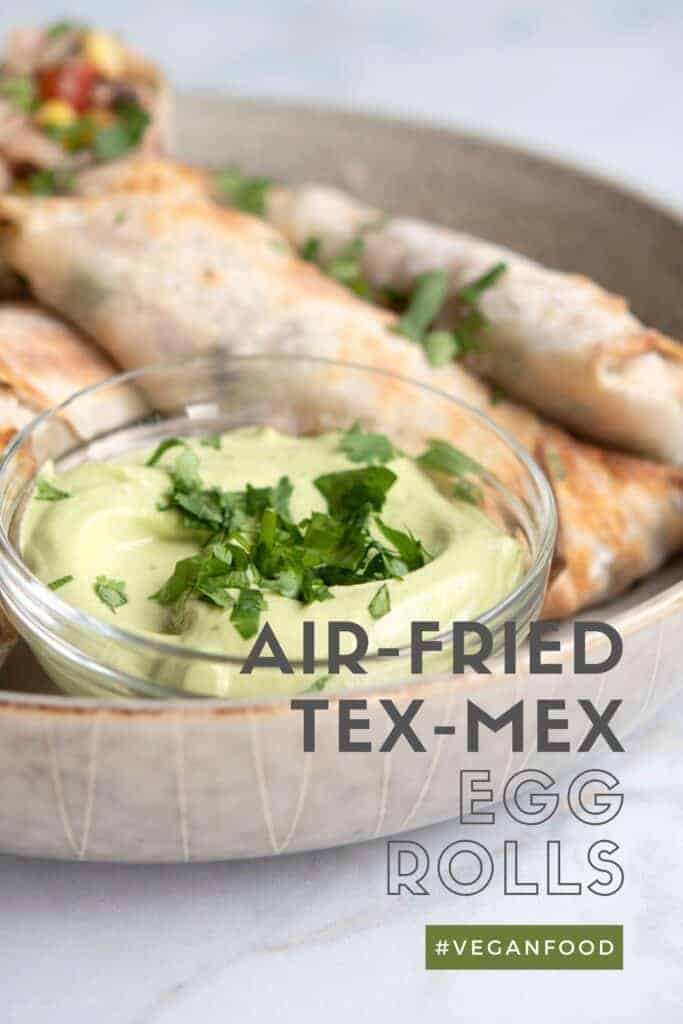 In fact, I drained our systems battery which caused the carbon monoxide detector to chirp – all night. Thankfully, the van was in a parking lot that night and I wasn't in it, but still… I either need to solve for the battery or save my air-frying for at-home cooking only.
What is an Air-Fryer?
If you're late to the game on this one, you're not alone. I didn't buy an air fryer for the longest time. It may not seem like it, but I really, really do try to limit the number of kitchen gadgets in my house. An air-fryer though… well, it's practically a necessity, right?
I'm joking of course, but it is a great tool to have in the kitchen if you're adopting a whole-foods, plant-based diet or just trying to eat healthier.
An air fryer, in contrast to oil frying, circulates very hot air with a fan – similar to a convection oven. The result is a crisp, fried texture without the added fat or messy clean-up.
Using an Air Fryer to Make These Vegan Tex Mex Egg Rolls
The filling for these Air Fryer Tex Mex Egg Rolls is a simple combination of beans, tomatoes, peppers, corn, onions and fresh cilantro. As an oil-free recipe, it's gets its flavor from fresh lime juice, salt and pepper. For this recipe, I used black-eyed peas, but black or pinto beans would work as well.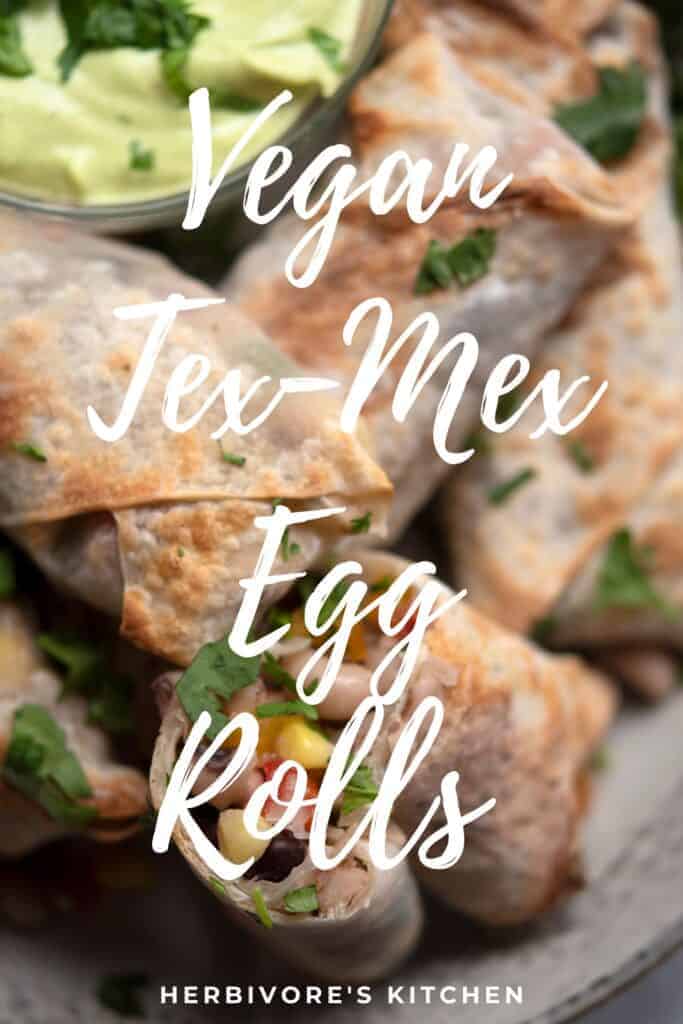 I used Nasoya's vegan egg roll wrappers for the egg roll wrapper. Despite the word "egg" being in the title, you are actually vegan. They're pretty easy to find in the refrigerator section of most large grocery stores. Instead of a traditional egg wash, I brushed the edges with water to seal them and then it only took 4-6 minutes in the air fryer to get the perfect crispy exterior.
How to Make A Dipping Sauce for These Southwest Egg Rolls
In the Southwest theme, I made an avocado crema as a dipping sauce for these Tex-Mex Egg Rolls. To achieve the creamy consistency, I made a cashew cream and blended it with ripe avocados. This dip gets its flavor from fresh lime juice, garlic, salt and cilantro.
Do You Love This Tex-Mex Egg Roll Recipe?
Do you love this Air Fryer Southwest Egg Rolls recipe? Be sure to check out some of my other vegan Mexican fare. If you're into guacamole, then my Mango Guacamole is for you! Forever-searching for ways to top your vegan tacos? Then you'll love my post showcasing the best vegan taco toppings.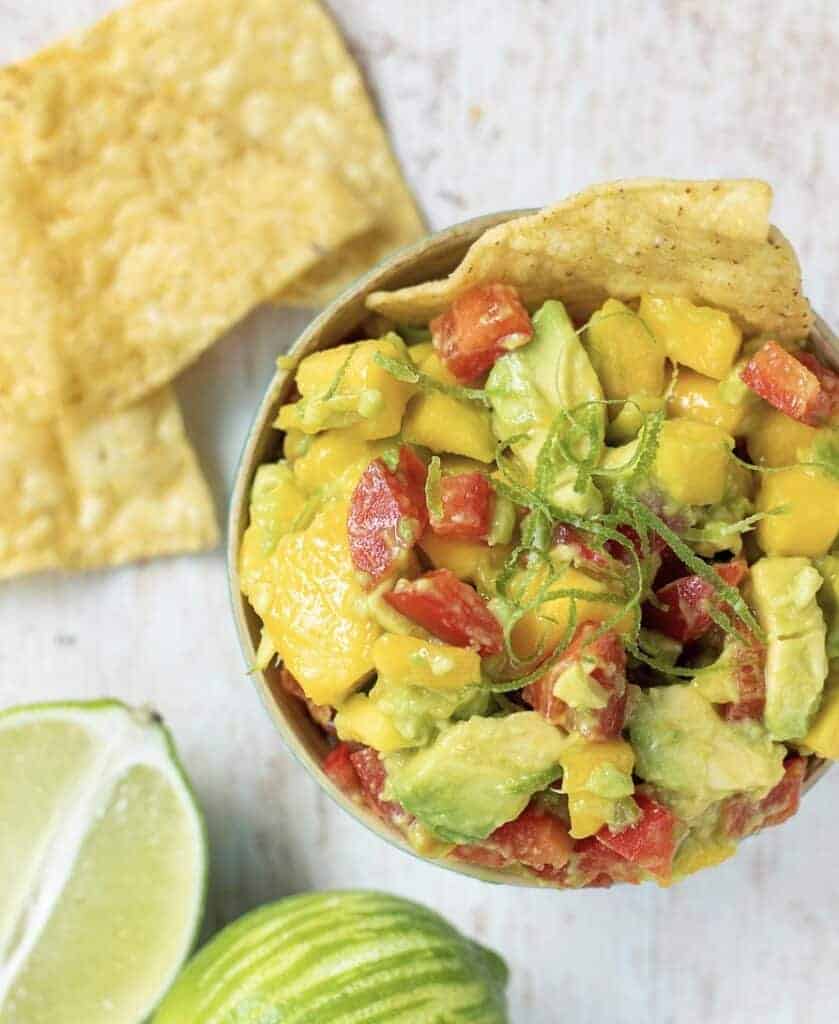 Looking for the best guacamole recipe to brighten up your summer recipe box? This homemade mango guacamole recipe is sweet, creamy and spicy! It features fresh avocado, mango, red pepper, spicy jalapeno, zesty lime and cilantro. This easy recipe is a simple way to dazzle your summer (vegan) BBQ guests!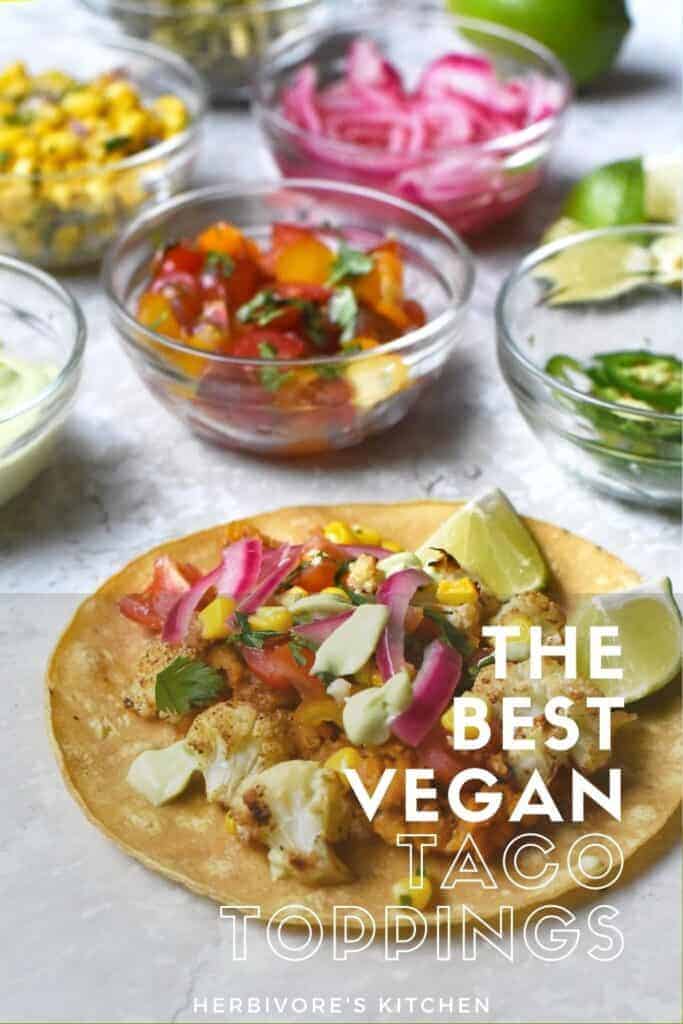 Vegan tacos don't have to be boring! There are so many plant-based ways to dress up this popular family dinner. Find yummy additions like Spicy Red Lentils, Cumin-Spiced Roasted Cauliflower, Sweet Corn Salsa and Pickled Red Onions in this blog post.
What's in My Kitchen to Make this Air Fryer Tex Mex Egg Rolls Recipe Easier?
Want to know what tools and resources I keep on hand to make my vegan cooking even easier? Here's a short list of what helped me create this blog post and recipe. For the complete list, visit my Shop where you can find the kitchen gadgets I like as well as a list of books that I recommend.
I'm in love with this little guy! I originally bought it for my campervan, but now I find myself taking it into my house after every trip so that I can continue the air-frying magic at home.
It's super compact and, in addition to air-frying to crispy perfection, it also has baking and toasting capabilities! It's perfect if you just want to heat something up or are cooking for one!
I maintain that this is an essential kitchen tool. Yes, I know that you can squeeze a lemon (or lime, or orange) with your hands, but do that and then try this and see just how much more juice you get from each fruit. It also has the added benefit of separating (most) of the seeds from the juice.
It's true – a Vitamix is an expensive blender. But, oh! The things it can do and do well. If you're interested in getting more into vegan cooking, or you just want to eat healthier, then I think that this is a must-have kitchen tool. I use my Vitamix daily for breakfast smoothies and it really gets the job done when making vegan cheeses.
There are many versions of the Vitamix on the market. This is the version that I have.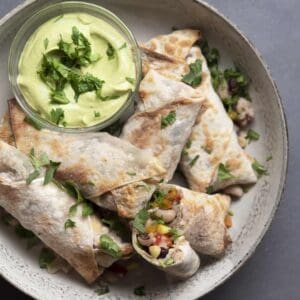 Air Fryer Tex Mex Egg Rolls
These Tex-Mex Egg Rolls are the perfect vegan appetizer! Taste the Ultimate in Mexican-Asian Fusion with these Air Fryer Southwest Egg Rolls.
Ingredients
2

cups

dried black-eyed peas

soaked overnight, or subsitute 2 cans of black-eyed peas; see Recipe Notes

1

pint

tomatoes

washed and diced

1/2

cup

frozen sweet corn

1

jalapeno

washed, deseeded and diced

2

limes

juiced

1

tsp

salt

1/4

tsp

pepper

1/4

cup

cilantro

washed and minced

1

pkg

egg roll wrappers

I like the Nasoya brand

1/4

cup

water
Avocado Crema Dipping Sauce
1

cup

cashew pieces

soaked in hot water for at least 30 minutes

3/4

cup

water

2

ripe avocados

1

tsp

salt

1

lime

juiced

1/4

cup

cilantro

washed

2

cloves

garlic

peeled
Instructions
Tex Mex Egg Rolls
Bring the egg roll wrappers to room temperature.

Combine the black-eyed peas, grape tomatoes, sweet corn, jalapeno, lime juice, salt, pepper and fresh cilantro. Toss until thoroughly combined.

Preheat the air fryer and very lightly oil the air fryer basket. See Recipe Notes.

Brush the edges of the egg roll wrapper with water.

Using a slotted spoon, add 3-4 spoonfuls of the filling to the center of the egg roll wrapper.

Begin by folding the bottom of the egg roll wrapper up over the filling. Then fold each side up over the bottom fold to create an envelope around the filling.

Gently roll the egg rolls from the bottom up to fully wrap the filling. Add the folded egg roll to the air fryer basket.

Air fry the egg rolls for 4-6 minutes, until crispy.

Serve immediately with avocado crema and fresh cilantro.
Avocado Crema Dipping Sauce
Combine the soaked cashews and water in a high-speed blender. Blend until creamy.

Add the avocado, salt, lime juice, cilantro and garlic. Blend until creamy.

Store the avocado crema dipping sauce in the refrigerator until ready for use.
Notes
I used black-eyed peas for this recipe because the egg roll filling is essentially my recipe for cowboy caviar — a southwest-inspired bean/salsa dip that I keep around to snack on. I think many different kinds of beans, like black beans or pinto beans, would also work well in this recipe.
This recipe is designed to be oil-free and, as such, there is no oil listed among the ingredients. That being said, I do find that just the lightest brush of oil on the air frying basket will help to keep the egg rolls from sticking. If the egg rolls stick, then they are likely to tear when being removed from the basket.
About Herbivore's Kitchen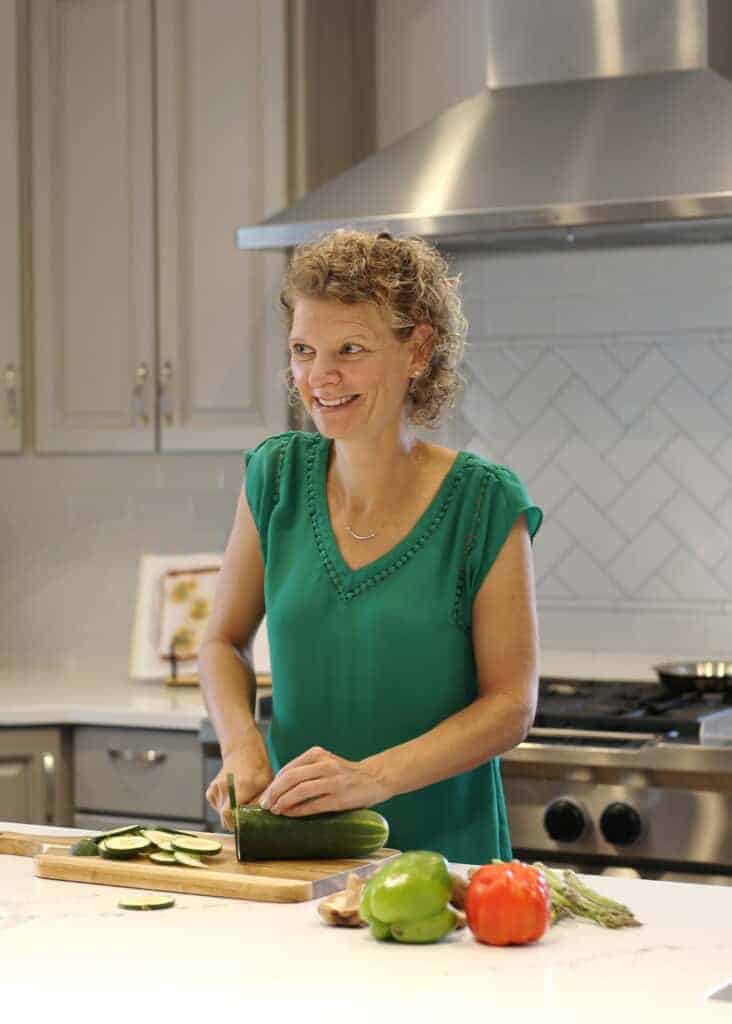 Herbivore's Kitchen is a plant-based food blog started by me, a vegan home chef, cookbook author, aspiring food photographer and how-to-be-a-better-food-blogger junkie. You'll mostly find creative and tasty vegan recipes and detailed deep dives into vegan ingredients (check out my Vegucation section) on my blog. I love knowing as much as I can about the food that I make. I'm also really into running a food blog as a business, so I've also got a section of my blog titled: Confessions of a Food Blogger where I get into the nitty gritty on how to build, manage, market and monetize a food blog.