Jump to Recipe
This Sweet Corn Salsa Recipe: This Refreshing Pico De Gallo with Corn Is Perfect for Tacos or as a Simple Dip post includes affiliate links. When I find a great product or service, I like to share it with my readers. Sometimes I use affiliate links so I can earn a commission for my recommendations. Thank you for your support!
This Refreshing Pico De Gallo with Corn Is Perfect for Tacos or as a Simple Dip
Looking for a healthy, easy way to top your vegan tacos? This plant-based Sweet Corn Salsa Recipe is full of flavor (and lots of brilliant colors)! Made with sweet corn, grape tomatoes, red onion and jalapenos, this homemade corn salsa recipe is sure to make your taste buds sing!
While this version of pico de gallo with corn tastes amazing as a simple corn salsa dip, it's also perfect for any number of vegan Mexican dishes. Sometimes I'll add it to my Sweet Potato and Black Bean Enchiladas or my Vegan Crunchwrap Supreme. And, of course, it's always a feature on my Spicy Red Lentil & Roasted Cauliflower Vegan Tacos.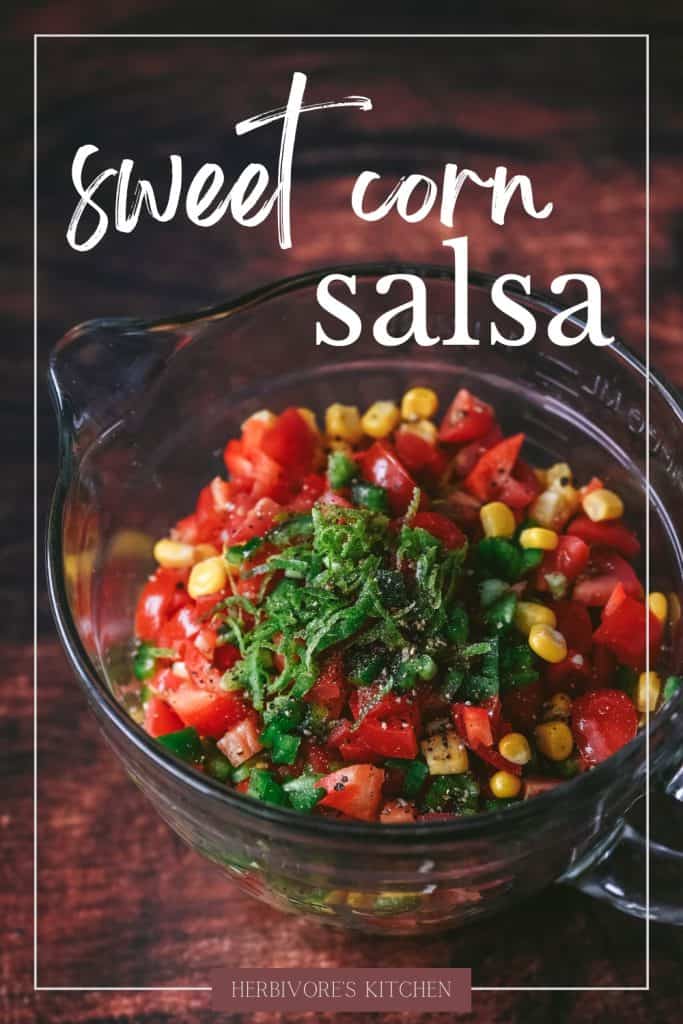 What Does Pico De Gallo Mean?
This homemade corn salsa recipe is essentially a pico de gallo with corn. Pico de gallo? Sure, you might know what it looks like, but what does it mean? It's probably not what you'd expect.
The Spanish phrase pico de gallo translates into English as beak of rooster. [I know – I didn't get it in my first 3 guesses either.] It's believed that this name came from the way that this fresh salsa was originally eaten – by pinching it between the thumb and the forefinger.
What you really need to know though, is that pico de gallo is a type of salsa that is popular in Mexican cuisine. It's made by chopping tomatoes, onions and peppers and seasoning them with fresh lime juice, a dash of salt and chopped cilantro. Pico de gallo tends to have less liquid than other types of salsa, so it makes a great topping for vegan tacos.
How Do You Make This Sweet Corn Salsa Recipe?
Sweet corn salsa is one of the easiest recipes out there! It takes about 15 minutes to pull together, but it tastes best if you make it a few hours before serving it.
Unless I've got access to fresh summer sweet corn, I use frozen sweet corn. It's readily available and really tasty. I just let it defrost in some warm water while I'm prepping my other ingredients. Then I'll add some chopped grape tomatoes (multi-colored if I can find them), diced red onion and a minced jalapeno peppers.
For seasoning, salt is a must. And a few twists of ground pepper. Fresh cilantro adds a spicy, citrusy taste. The key ingredient though: fresh lime. I add both lime juice and the lime zest to my sweet corn salsa and the effect is amazing! The lime juice brightens up the entire recipe, making the rest of the ingredients that much more flavorful.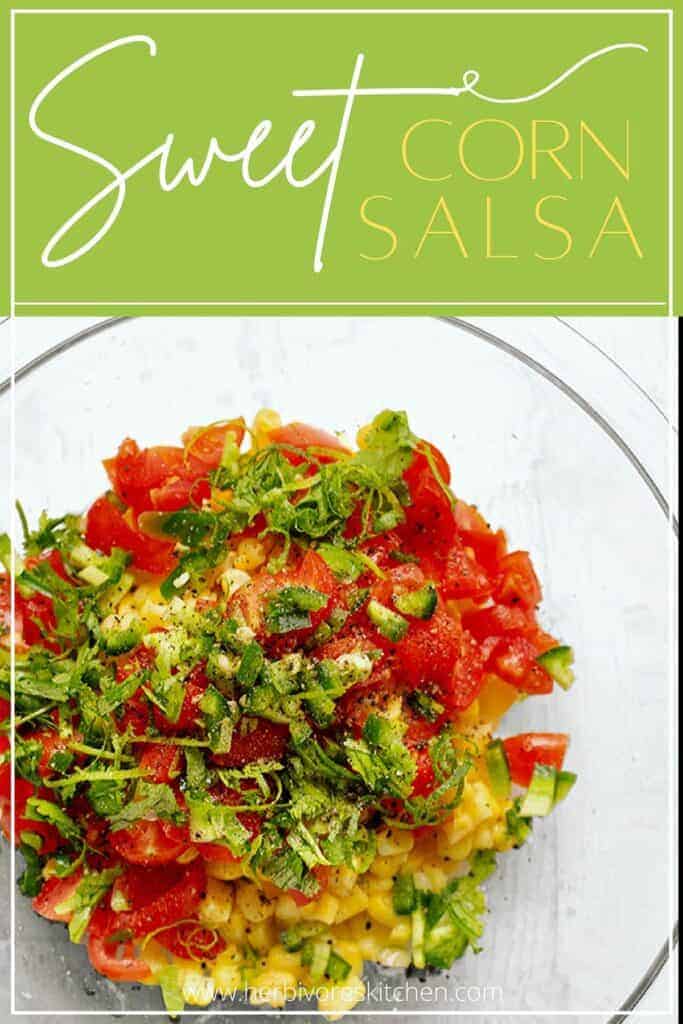 Do You Love This Sweet Corn Salsa Recipe?
Do you love this Pico de Gallo with Corn recipe? Then be sure to check out my other vegan Mexican recipes! If you're into spicy, then my Spicy Red Lentil & Roasted Cauliflower Tacos are for you. Soup more your speed, then you'll love my Southwest Black Bean Soup Recipe!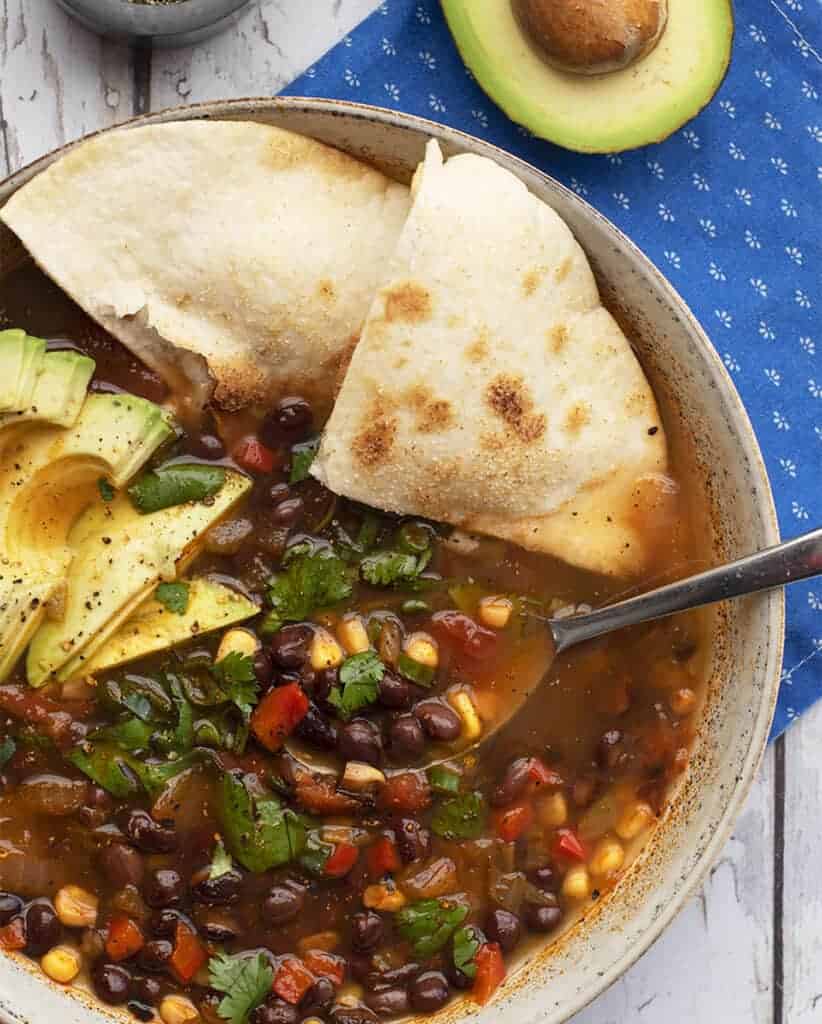 If you're in need of an easy and healthy vegan dinner, you need to add this Southwest Black Bean Soup to your repertoire!
This soup takes just 20 minutes to put together and then 30 minutes to sit undisturbed to simmer on the stove. It's simple, using mostly pantry-friendly ingredients, but still packs a huge punch in terms of flavor and nutrition.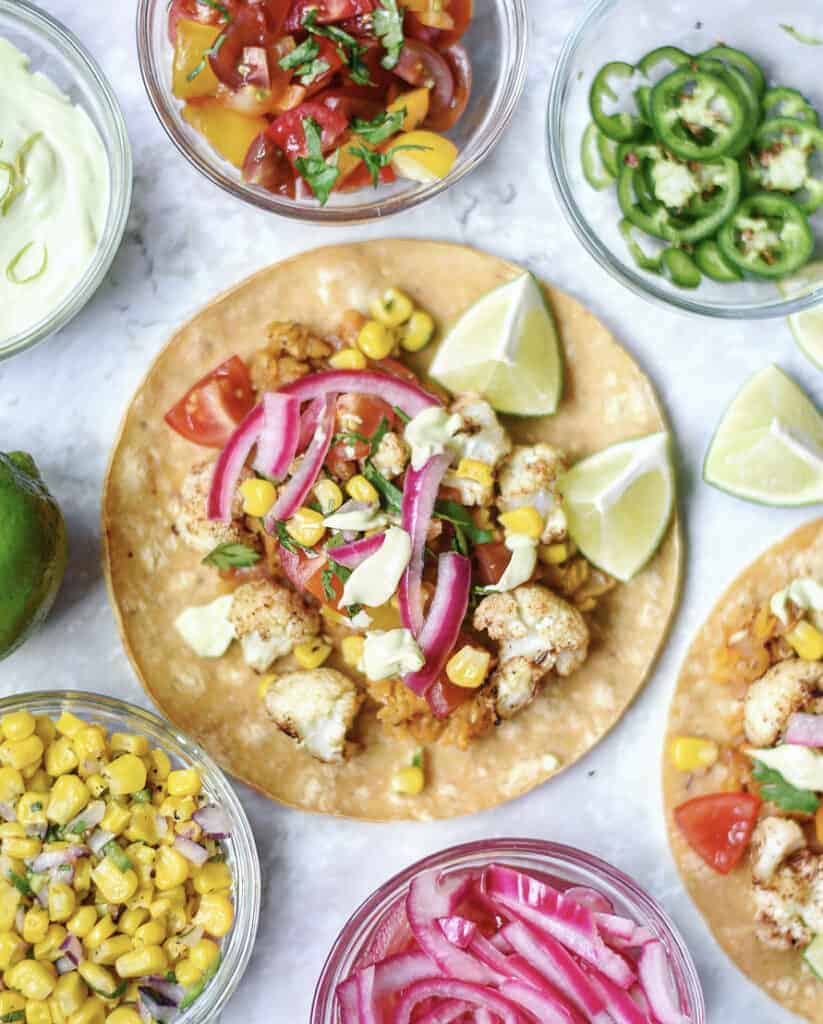 This vegan taco recipe includes a variety of taco toppings that are healthy, easy and designed for a crowd! Spicy red lentils and roasted cauliflower serve as the main ingredients, while homemade fresh tomato salsa, avocado crema, corn salsa, toasted pumpkin seeds and quick pickled red onions make this vegan taco bar the best vegan dinner option ever!
What's in My Kitchen to Make This Sweet Corn Salsa Recipe Easier?
Want to know what tools and resources I keep on hand to make my vegan cooking even easier? Here's a short list of what helped me create this blog post and recipe. For the complete list, visit my Shop where you can find the kitchen gadgets I like as well as a list of books that I recommend.
This handy dandy little tool is about to bring a ton of flavor to your dishes!
If you don't zest, it's something you should start doing. Everything from lemon, to lime, to oranges are zestable ingredients. I add lime zest to my corn salsa used in my Spicy Lentil Street Tacos Recipe and lemon zest is a great add for dishes like homemade tomato sauce.
No, that's not the brand. It's just the idea! But, I own this set of Global™ knives and They're some of my most prized possessions in the kitchen. This set is universally well-rated for the at-home chef and will get you a good, solid set of knives without totally breaking the bank.
I maintain that this is an essential kitchen tool. Yes, I know that you can squeeze a lemon (or lime, or orange) with your hands, but do that and then try this and see just how much more juice you get from each fruit. It also has the added benefit of separating (most) of the seeds from the juice.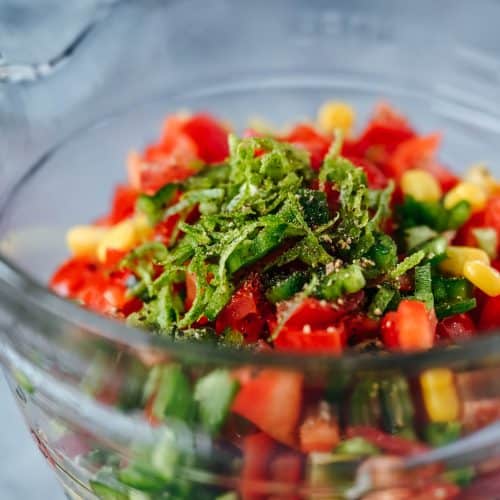 Sweet Corn Salsa Recipe
Looking for a healthy, easy way to top your vegan tacos? This plant-based Sweet Corn Salsa Recipe is full of flavor (and lots of brilliant colors)!
Ingredients
1

cup

frozen sweet corn

defrosted

1/2

cup

grape tomatoes

diced

1/4

cup

red onion

diced

1/2

jalapeno

washed, deseeded and diced; optional for spice

1

lime

juice and zest

1/4

cup

fresh cilantro

washed and chopped

salt & pepper

to taste
Instructions
Combine the corn, tomatoes, red onion, jalapeno, lime juice, salt & pepper. Toss and top with lime zest and fresh cilantro.
About Herbivore's Kitchen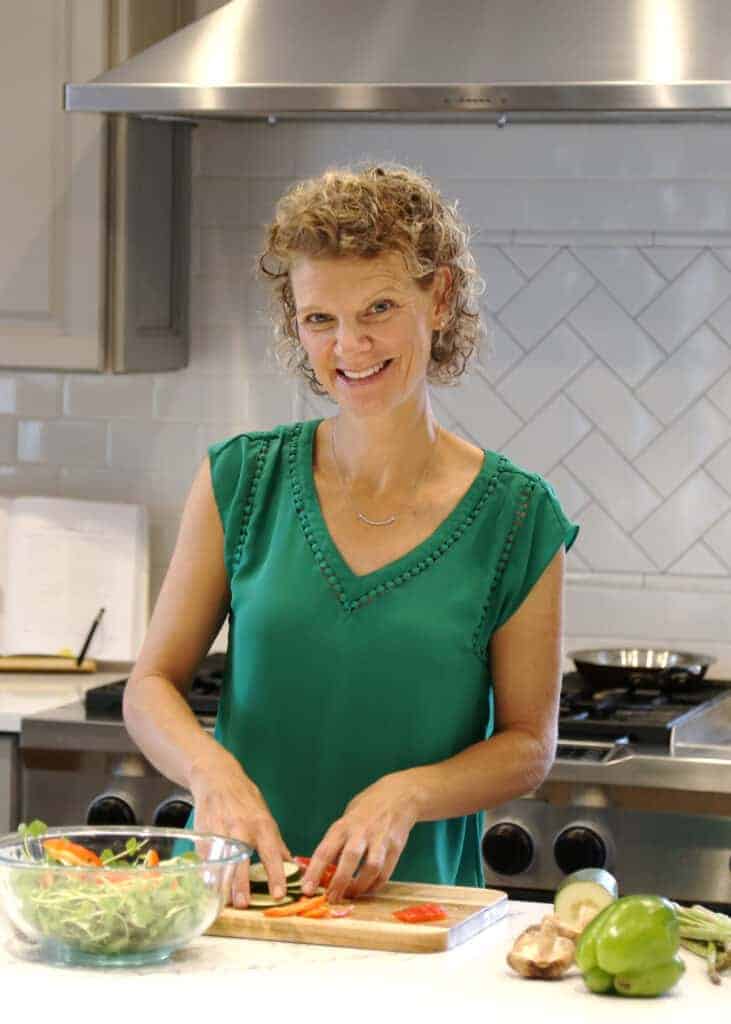 Herbivore's Kitchen is a plant-based food blog started by me, a vegan home chef, cookbook author, aspiring food photographer and how-to-be-a-better-food-blogger junkie. You'll mostly find creative and tasty vegan recipes and detailed deep dives into vegan ingredients (check out my Vegucation section) on my blog. I love knowing as much as I can about the food that I make. I'm also really into running a food blog as a business, so I've also got a section of my blog titled: Confessions of a Food Blogger where I get into the nitty gritty on how to build, manage, market and monetize a food blog.