Jump to Recipe
This Vegan Cucumber Salad: Get Refreshed with this Spicy Asian Cucumber Salad post includes affiliate links. When I find a great product or service, I like to share it with my readers. Sometimes I use affiliate links so I can earn a commission for my recommendations. Thank you for your support!
Get Refreshed with this Spicy Asian Cucumber Salad
You can't blame a girl for loving a good salad or for getting a little nuts at the farmer's market and picking up one (or ten) too many vegetables. So, if you're like me and occasionally find yourself asking: what can I do with a lot of fresh cucumbers? I've got you.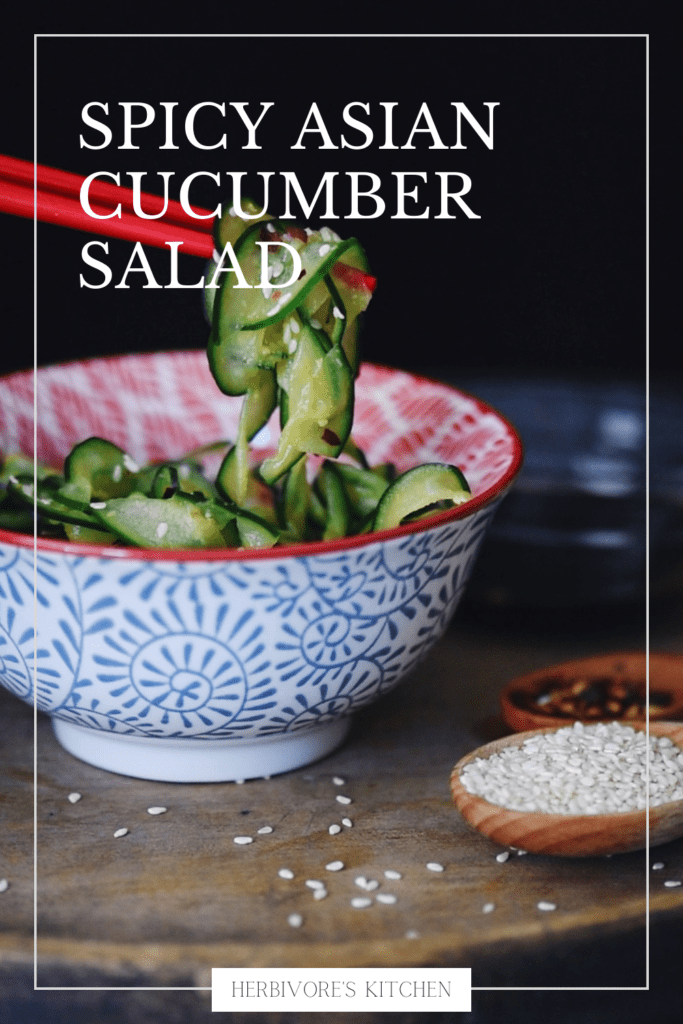 And then you might ask yourself: what is a good combination with cucumbers. Because, let's be honest, outside of a side salad, cucumbers can be a bit of a mystery.
Enter the Spicy Asian Cucumber Salad… reminiscent of Asian seaweed salad, this vegan cucumber salad combines cucumber crunch with a tangy, salty and slightly sweet Asian dressing.
What is Asian Salad Dressing Made Of?
The dressing for this Spicy Asian Cucumber Salad is as tasty as it is easy. And, chances are, you have all of the ingredients in your kitchen already.
The dressing for this vegan cucumber salad includes rice vinegar (hint: look for unseasoned rice vinegar), tamari, maple syrup, toasted sesame oil, garlic, ginger and crushed red pepper.
The Trick to Asian Cucumber Salad
A quick read over the ingredients list will tell you that this is an easy recipe. There is, however, one extra step that takes a little time. It's totally worth it though, especially if you want your cucumbers to maintain their crunch.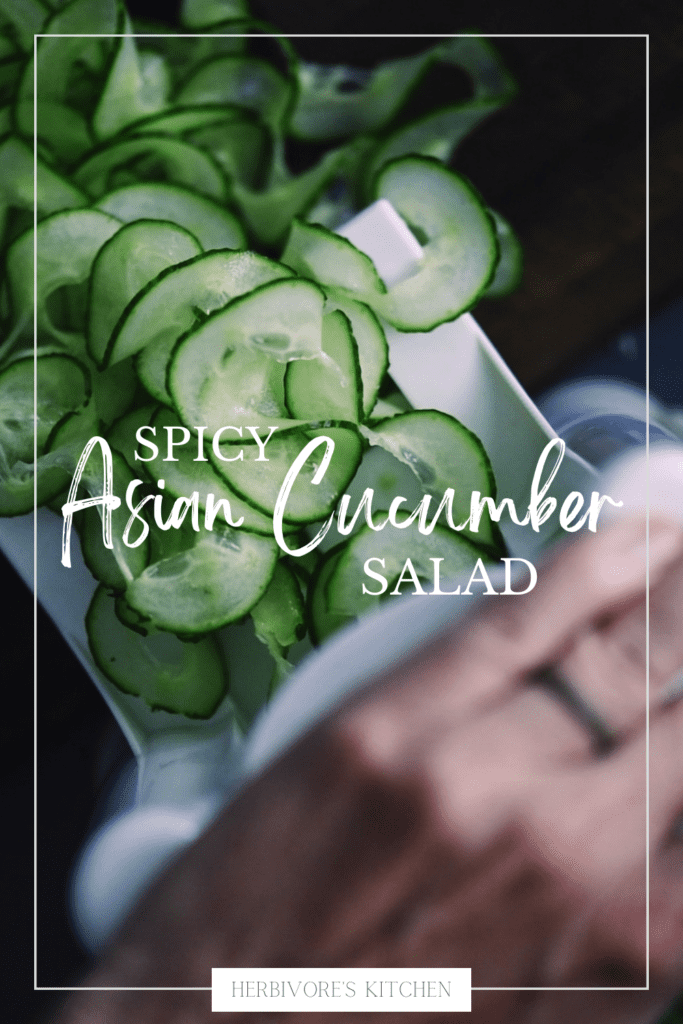 The trick is to salt the cut cucumbers and let them rest for ~30 minutes. The salt will draw water out of the cucumbers, setting them up for success when tossed with the dressing.
Is Cucumber Salad Healthy?
Well, it depends. Cucumber salad recipes are often laden with mayonnaise and oil. Now don't get me wrong, I'm not anti-mayonnaise. And I love extra virgin olive oil on pretty much everything, but when it comes to making a salad unhealthy, these ingredients are usually the culprits.
This Spicy Asian Cucumber Salad uses only a dash of sesame oil. Rice vinegar, tamari, maple syrup, ginger and garlic make up the rest of the dressing, giving it lots of flavor without a lot of fat.
Do You Love This Vegan Cucumber Salad Recipe?
Do you love this Vegan Cucumber Salad recipe? Be sure to check out some of my other summer salads! If you're into kale, then my Vegan Kale Salad with Chickpea Croutons is for you! Love crunch? Then you'll love my Asian Slaw Salad with Ginger Miso Dressing.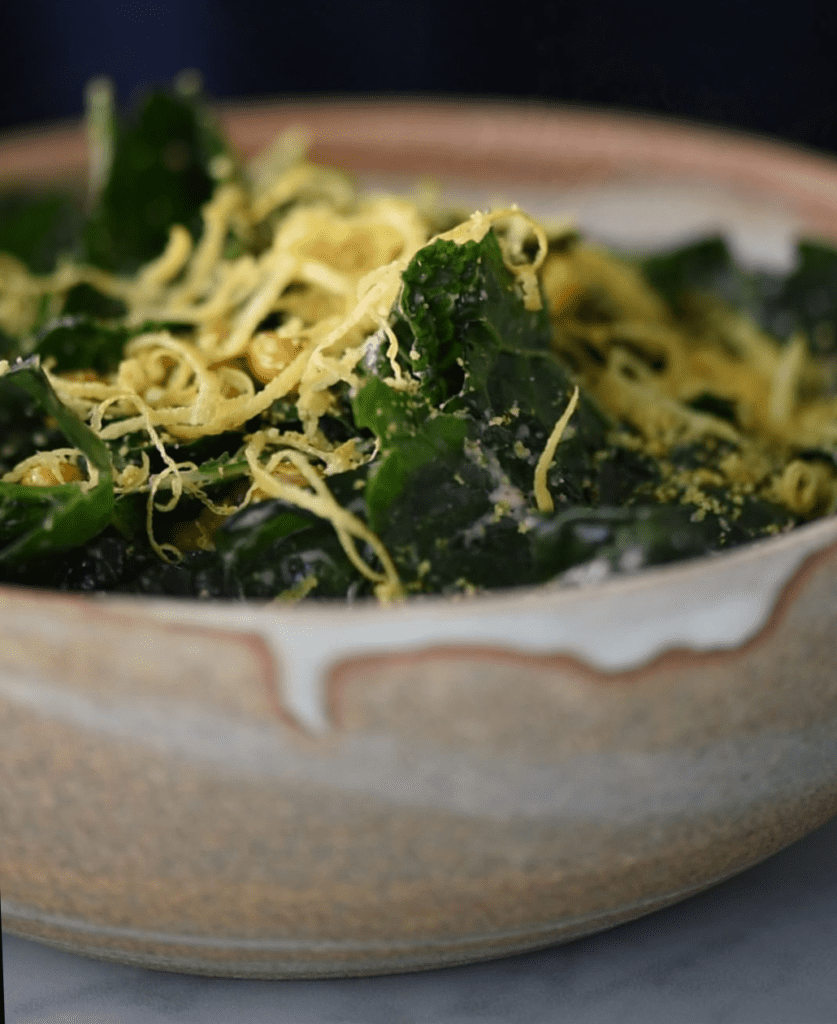 This Kale Caesar Salad with Chickpea Croutons puts a healthy spin on a classic dish. The trick to a good kale salad? Massaging the kale in a little bit of olive oil and then letting it rest while you make the rest.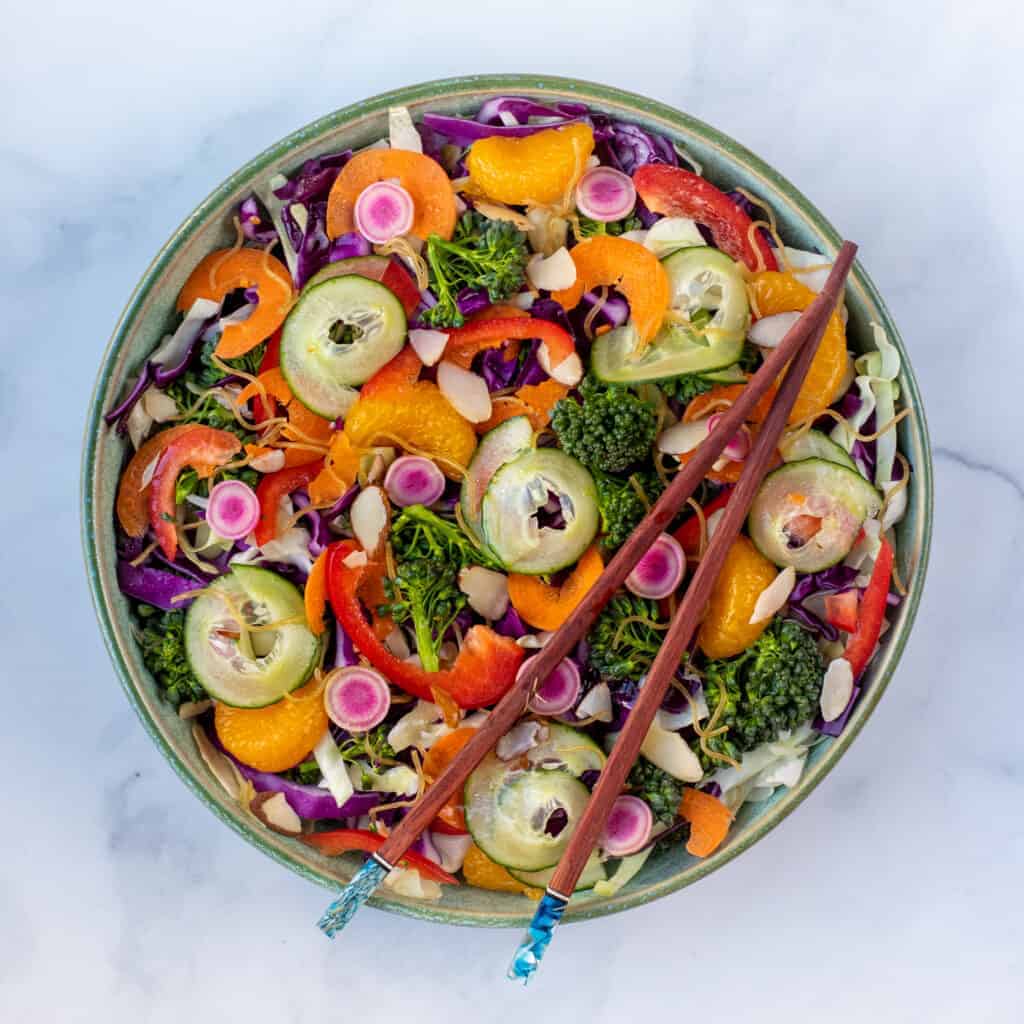 Looking for lighter vegan recipes for the summer? Look no further than this Asian Slaw Salad with Miso Ginger Dressing! This Asian slaw recipe features carrots, cucumbers, watermelon radishes and mandarin oranges for a tasty treat! Topped with ramen noodles and a tangy ginger miso dressing, this Asian slaw salad is the perfect vegan dinner!
What's in My Kitchen to Make This Vegan Cucumber Salad Easier?
Want to know what tools and resources I keep on hand to make my vegan cooking even easier? Here's a short list of what helped me create this blog post and recipe. For the complete list, visit my Shop where you can find the kitchen gadgets I like as well as a list of books that I recommend.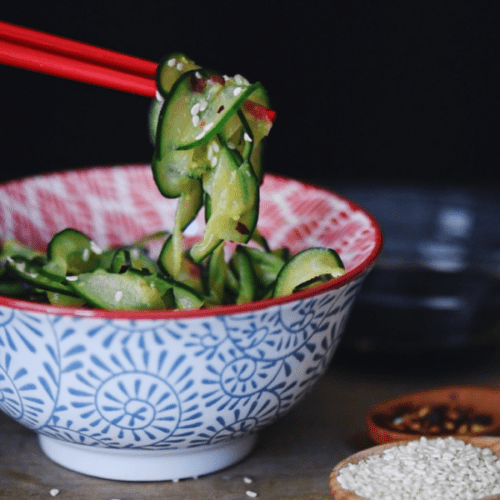 Vegan Cucumber Salad
Check out this Vegan Cucumber Salad. It's the perfect time to get refreshed with this Spicy Asian Cucumber Salad.
Ingredients
2

English cucumbers

washed & spiralized (or thinnly sliced)

1/2

tsp

salt

1/2

inch

fresh ginger

peeled

1

clove

garlic

peeled

1/4

cup

unseasoned rice vinegar

1

tbsp

tamari

1

tbsp

toasted sesame oil

1

tbsp

maple syrup

1/2

tsp

crushed red pepper

sesame seeds

as garnishment
Instructions
Wash and spiralize the cucumbers. If you don't have a spiralizer, then you can simply thinly slice the cucumbers.

Add the cucumbers to a colander and sprinkle with salt. Leave the colander in the sink and allow to sit for 30 minutes. The salt will help the cucumbers shed water.

Rinse the cucumbers and pat dry with a clean towel.

Add the ginger, garlic, rice vinegar, tamari, sesame oil, maple syrup and crushed red pepper to a mini food processor and blend until smooth.

Combinethe cucumbers and dressing. Serve immediately, sprinkling with sesame seeds.
About Herbivore's Kitchen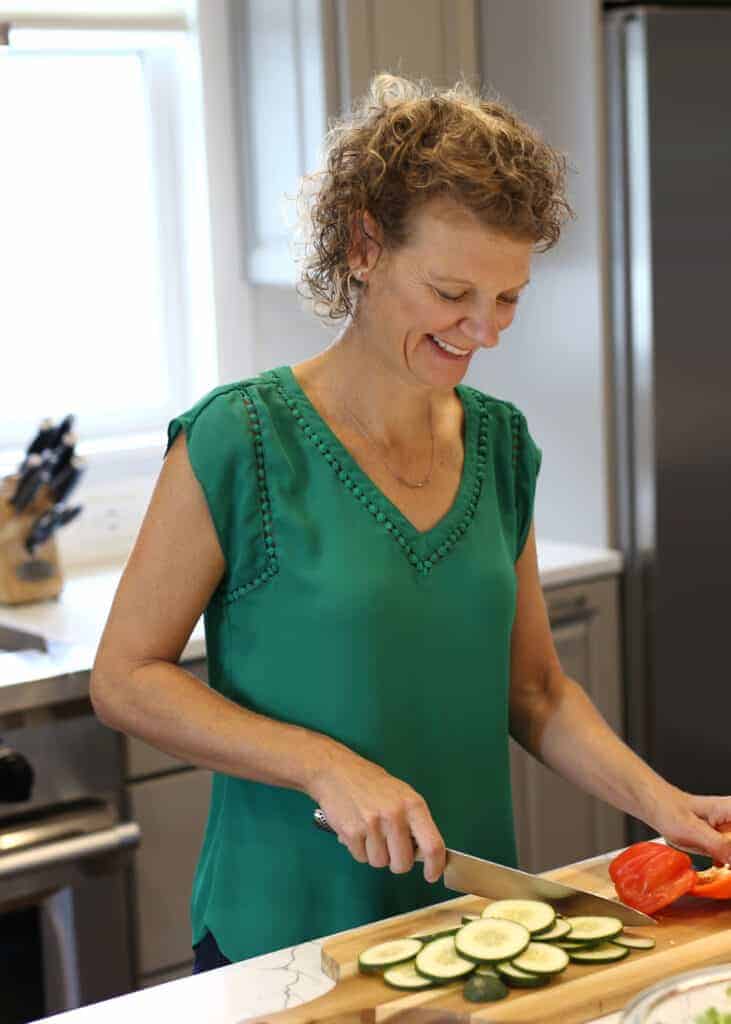 Herbivore's Kitchen is a plant-based food blog started by me, a vegan home chef, cookbook author, aspiring food photographer and how-to-be-a-better-food-blogger junkie. You'll mostly find creative and tasty vegan recipes and detailed deep dives into vegan ingredients (check out my Vegucation section) on my blog. I love knowing as much as I can about the food that I make. I'm also really into running a food blog as a business, so I've also got a section of my blog titled: Confessions of a Food Blogger where I get into the nitty gritty on how to build, manage, market and monetize a food blog.