Jump to Recipe
This Vegan Kale Salad with Caesar Dressing & Chickpea Croutons post includes affiliate links. When I find a great product or service, I like to share it with my readers. Sometimes I use affiliate links so I can earn a commission for my recommendations. Thank you for your support!
A Healthy Kale Salad with Dairy Free Caesar Dressing
All hail the Kale Caesar!
Seriously though… I never thought in a million years that I would make a kale salad and have my kids still talking about how much they liked it a day later.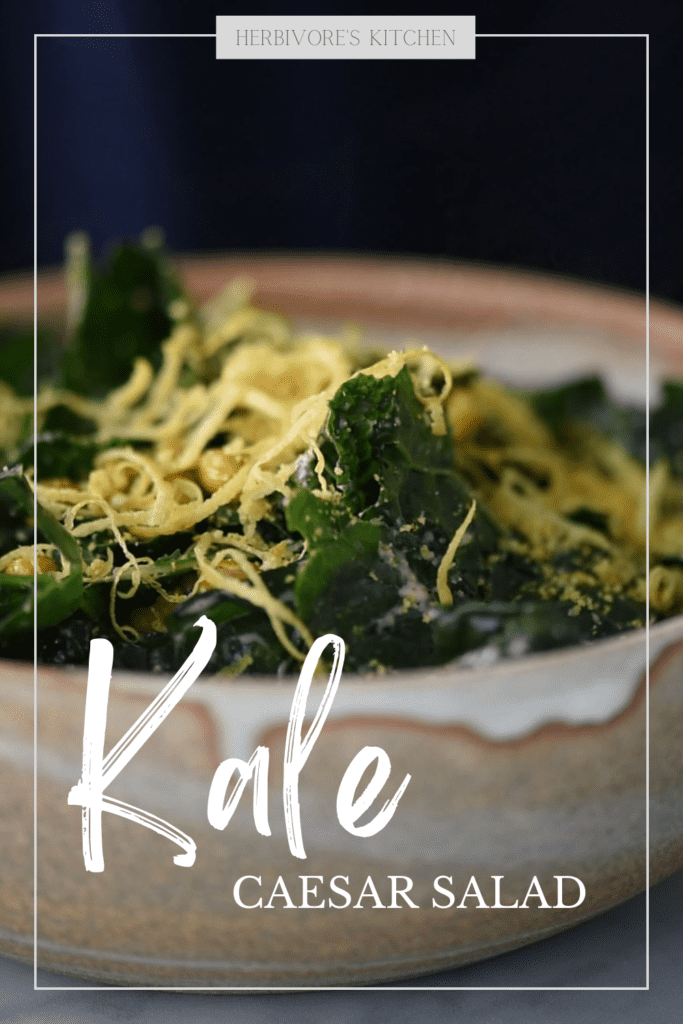 Kids liking a kale salad? How is that even possible?
Well, perhaps it has a little something to do with the vegan Caesar dressing – the perfect blend of fresh garlic, creamy vegan mayonnaise, spicy Dijon mustard and citrusy lemon juice.
The Trick to a Vegan Kale Salad
If you hear the word kale and you think ruffage, you're not alone. Kale is hearty. But with a few preparation techniques, this dark leafy green will have you asking for more.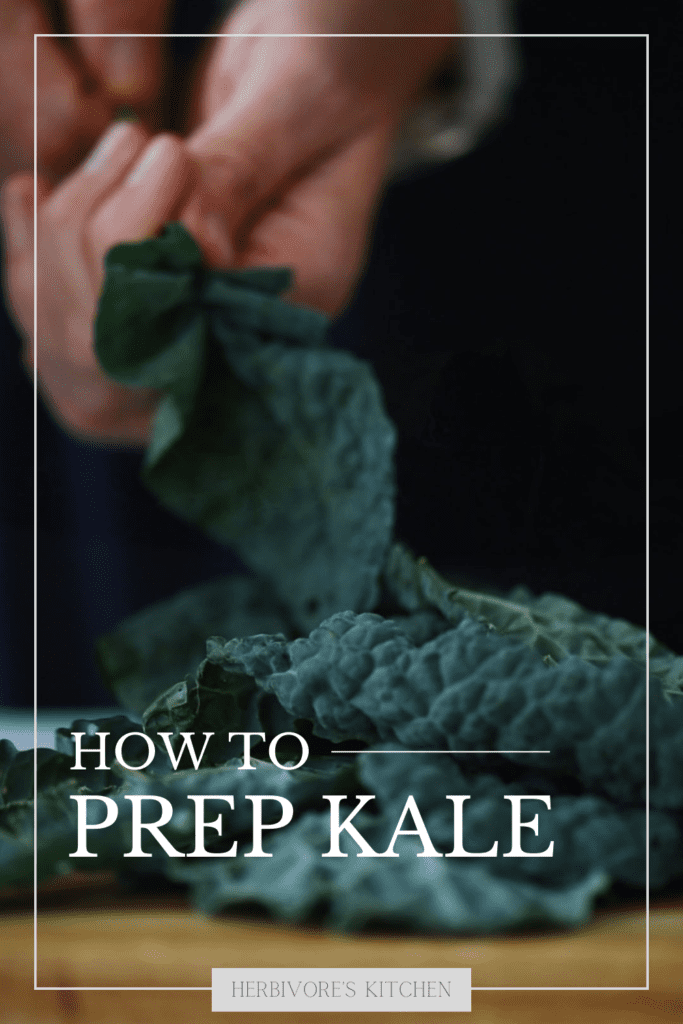 The trick to this Vegan Kale Salad is to massage the kale in a little bit of olive oil and then let it rest while you prep the other ingredients. I can't take credit for this trick – it's something I picked up from Serious Eats.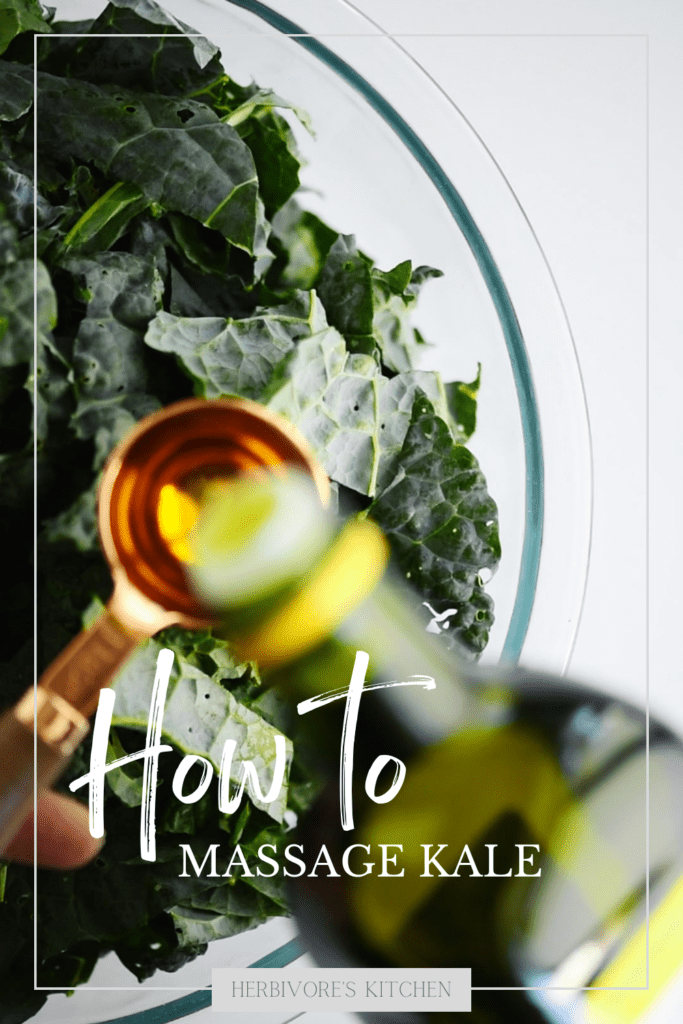 According to Serious Eats, massaging kale in olive oil helps to break down the protective coating on the leaf. Then, as the kale rests in the olive oil, the structure of the leaves begins to break down.
Is Kale Good for You?
Yes, massaging the kale is an extra step. But when you think about the health benefits that this leafy green has to offer, you'll see that a few extra minutes of prep time is worth it.
Kale is a nutrient-dense cruciferous vegetable packed with Vitamin A, K and C. It's also a great source of antioxidants – you know, those wonderful substances that lead the charge against free radicals in your body?
Does Caesar Dressing Have Dairy in It?
Typically, no… although many people think of it as a dairy product. However, traditional Caesar salad dressing isn't vegan friendly despite being dairy free. Authentic Caesar salad dressing recipes usually contain both eggs and anchovies.
If you're worried about missing out on this most delicious of salads though, don't be. This vegan Caesar dressing recipe comes with all of the bite of a traditional Caesar dressing even though both of these ingredients have been eliminated.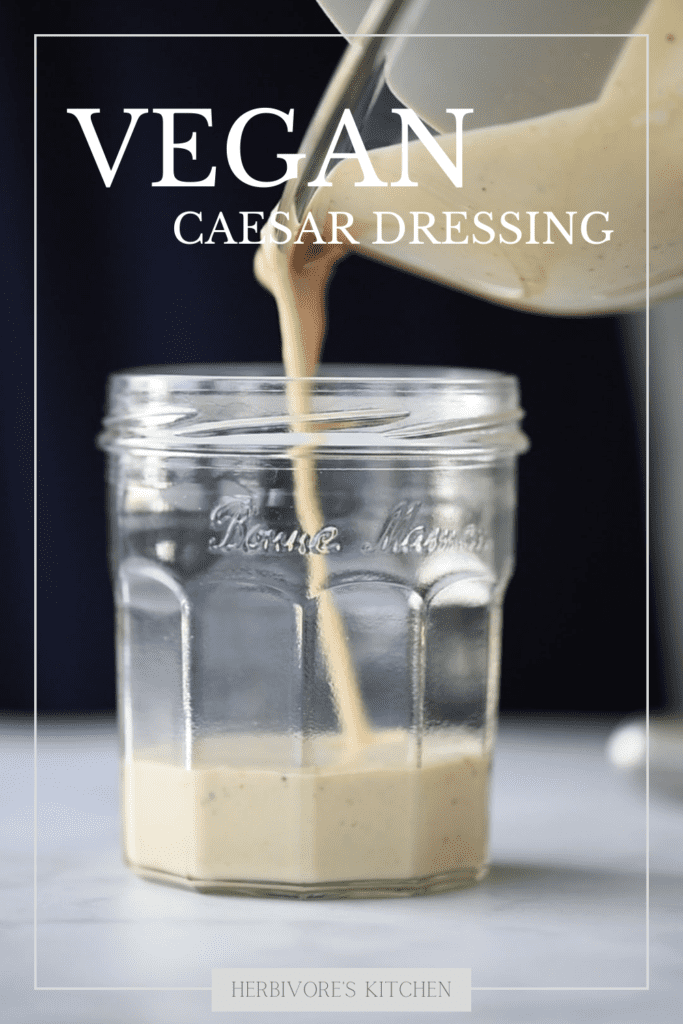 Vegan mayonnaise serves as the foundation of this vegan Caesar dressing recipe. Unlike traditional mayonnaise — which is made emulsifying egg whites, oil and an acid – vegan mayonnaise contains a plant-based milk (like soy milk), oil and salt. You can absolutely make your own – it's actually pretty easy to do – but to keep this Vegan Kale Salad simple, I used Follow Your Heart's Original Vegenaise.
Then I added some spicy Dijon mustard, fresh lemon juice, fresh garlic, vegan Worcestershire sauce and some salt and pepper.
Chickpea Croutons: A Healthier Way to Add Some Crunch
Perhaps my favorite part of this recipe though, is the additional of air-fried chickpea croutons. They're the perfect way to add extra nutrition to this already healthy kale salad.
If you've never roasted chickpeas before, you need to get on the bus. Not only do these legumes make wonderful croutons, they're also great to have around as a snack.
The recipe for these chickpea croutons is super simple – they're tossed in a little olive oil, sprinkled with salt & pepper and then crisped to perfection in my air fryer.
Why the air fryer? It's simply the best way to get these chickpea croutons to crispy perfection. If you don't have an air fryer though, don't worry. You can also roast them in the oven. They just take a little longer to become fully crispy.
Do You Love This Vegan Kale Salad with Caesar Dressing & Chickpea Croutons Recipe
Do you love this Vegan Kale Salad with Caesar Dressing & Chickpea Croutons recipe? Be sure to check out plant-based salad ideas! If you're into Thai flavors, then my Vegan Thai Noodle Salad with Sweet Chili Vinaigrette is for you! Forever-searching for a good Asian-inspired salad? Then you'll love my Asian Slaw Salad with Ginger Miso Dressing!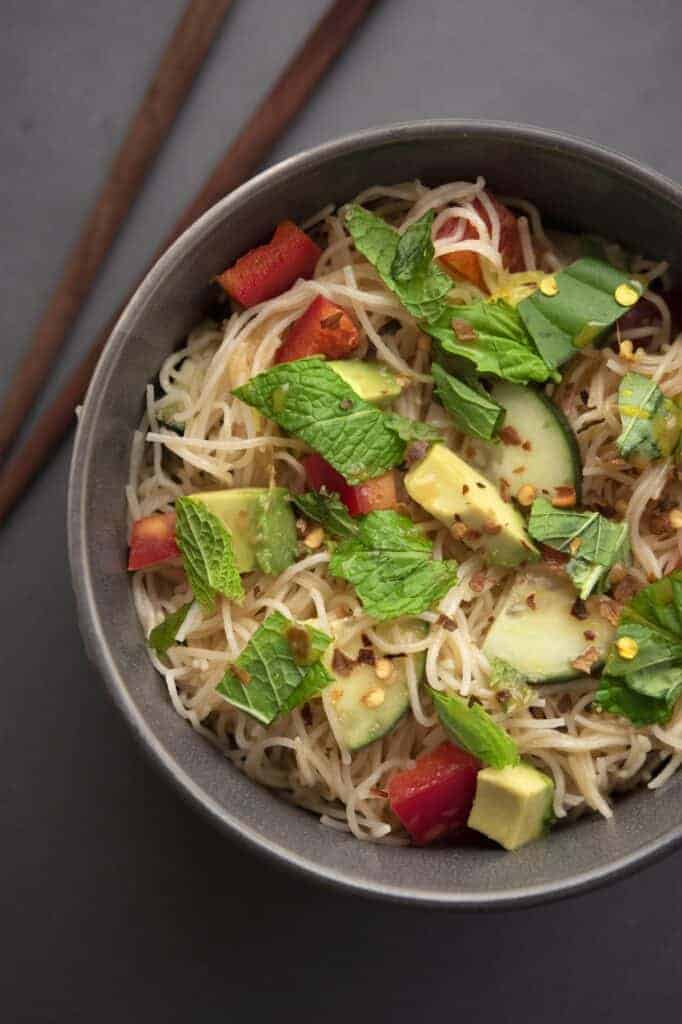 If you're looking for really easy, fresh recipes this summer, consider the cold noodle salad. This Vegan Thai Noodle Salad with Sweet Chili Vinaigrette recipe comes together in less than 30 minutes and its colorful presentation makes for a great way to showcase your farmer's market haul.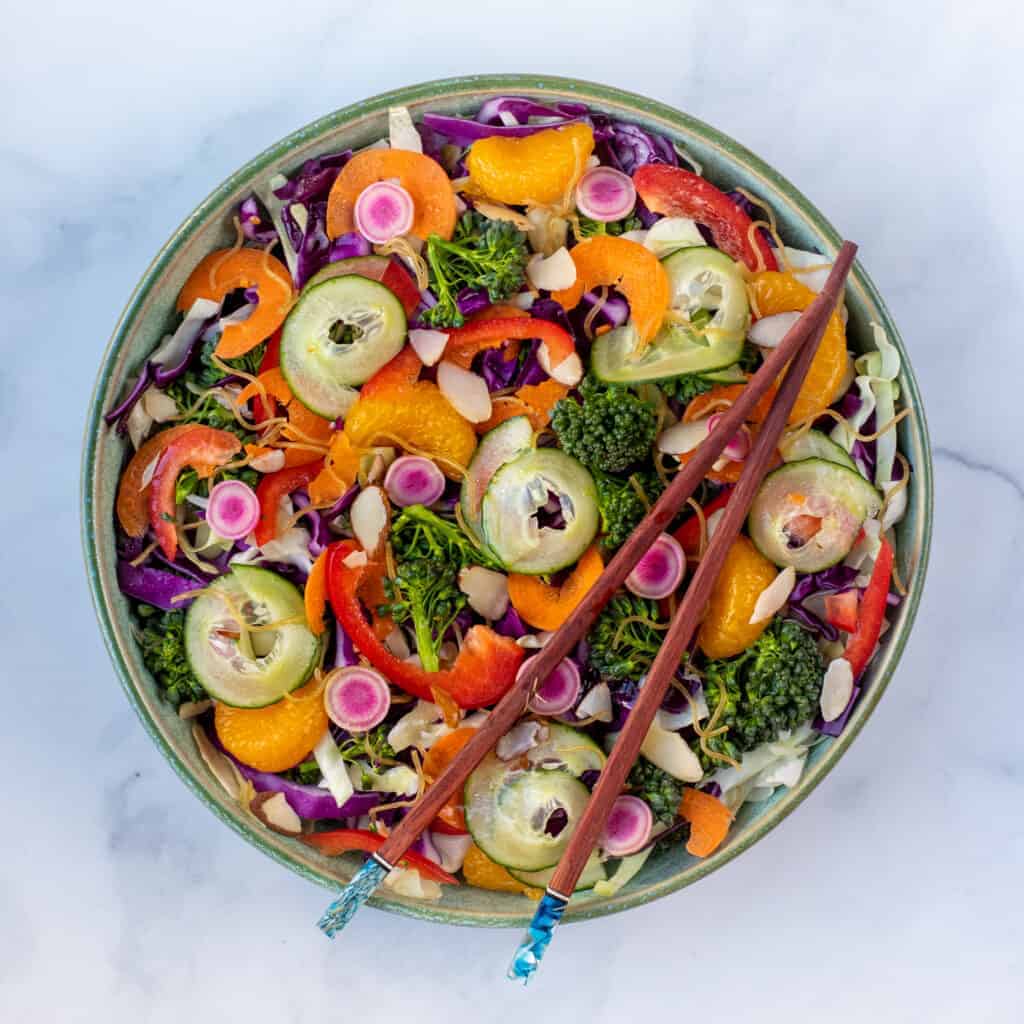 Looking for lighter vegan recipes for the summer? Look no further than this Asian Slaw Salad with Miso Ginger Dressing! This Asian slaw recipe features carrots, cucumbers, watermelon radishes and mandarin oranges for a tasty treat! Topped with ramen noodles and a tangy ginger miso dressing, this Asian slaw salad is the perfect vegan dinner!
What's in My Kitchen to Vegan Kale Salad with Caesar Dressing & Chickpea Croutons Easier?
Want to know what tools and resources I keep on hand to make my vegan cooking even easier? Here's a short list of what helped me create this blog post and recipe. For the complete list, visit my Shop where you can find the kitchen gadgets I like as well as a list of books that I recommend.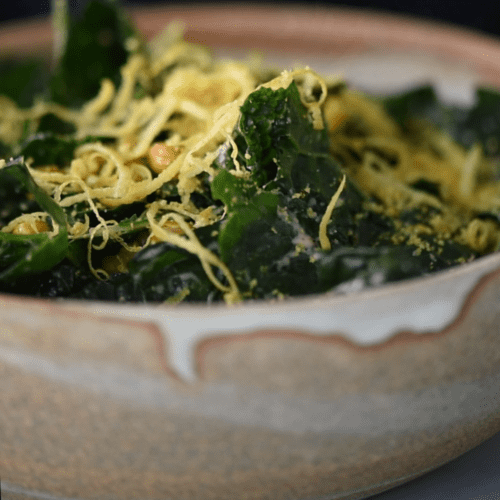 Vegan Kale Salad with Caesar Dressing & Chickpea Croutons
All hail this Vegan Kale Salad with Dairy Free Caesar Dressing & Chickpea Croutons!
Ingredients
1

25 oz can

chickpeas (garbanzo beans)

drained & rinsed; see Recipe Notes

2

tbsp

extra virgin olive oil

divided

salt & pepper

to taste

3

bunches

lacinato kale

washed with stems removed; see Recipe Notes

1/2

cup

vegan mayonnaise

I like Follow YourHeart's Original Vegannaise

3

tbsp

fresh lemon juice + zest

about 1 large lemon

2

cloves

garlic

crushed or minced

2

tsp

vegan Worcestershire sauce

1

tsp

Dijon mustard

vegan parmesan

if desired; see my cookbook 5-Ingredient Vegan Cooking for the recipe
Instructions
Drain and rinse the chickpeas then place them on a clean kitchen towel. Fold the end of the towel over the top of the chickpeas and gently rub the chickpeas between the folds of the towel. This will help to remove the skins and dry the chickpeas before they are roasted.

Toss the chickpeas in 1 tbsp of olive oil, then sprinkle with salt and pepper.

Cook the chickpeas in an air fryer for 5 minutes. Pause and shake the chickpeas, then continue to cook for 5-minute intervals, until the chickpeas are fully crispy then allow to cool. See Recipe Notes.

While the chickpeas are roasting, remove the kale leaves from the stems by holding each stem and the end with one hand, while pulling the leaf down off the stem with your other hand.

Roughly chop the kale and add it to a large bowl. Add 1 tbsp extra virgin olive oil, then thoroughly massage the oil into the leaves with your hands. Set aside.

Combine the vegan mayonnaise, Dijon mustard, fresh lemon juice, garlic & vegan Worcestershire sauce in a small bowl. Stir to thoroughly combine.

Drizzle the vegan Caesar dressing over the massaged kale. Add the chickpea croutons, lemon zest and salt & pepper to taste. You can also add vegan parmesan for some extra flavor and nutrition. You can find a recipe for it in my 5-Ingredient Vegan Cooking cookbook.
Notes
This Vegan Kale Salad recipe calls for canned chickpeas, but I more often start with dried chickpeas. I cook them in my Instant Pot and then proceed with the recipe as directed.
If you do not have an air fryer, you can roast the chickpeas on a baking tray in the oven. Preheat the oven to 425º then roast the chickpeas for 20 minutes. Pause to shake the tray, then continue roasting for 10-minute intervals until the chickpeas are crispy. To maintain crispiness, store the chickpeas in a loosely covered bowl on the counter. Sealing them in an airtight container or refrigerating them will cause them to lose crispiness. Homemade chickpea croutons are usually good for 1-2 days.
About Herbivore's Kitchen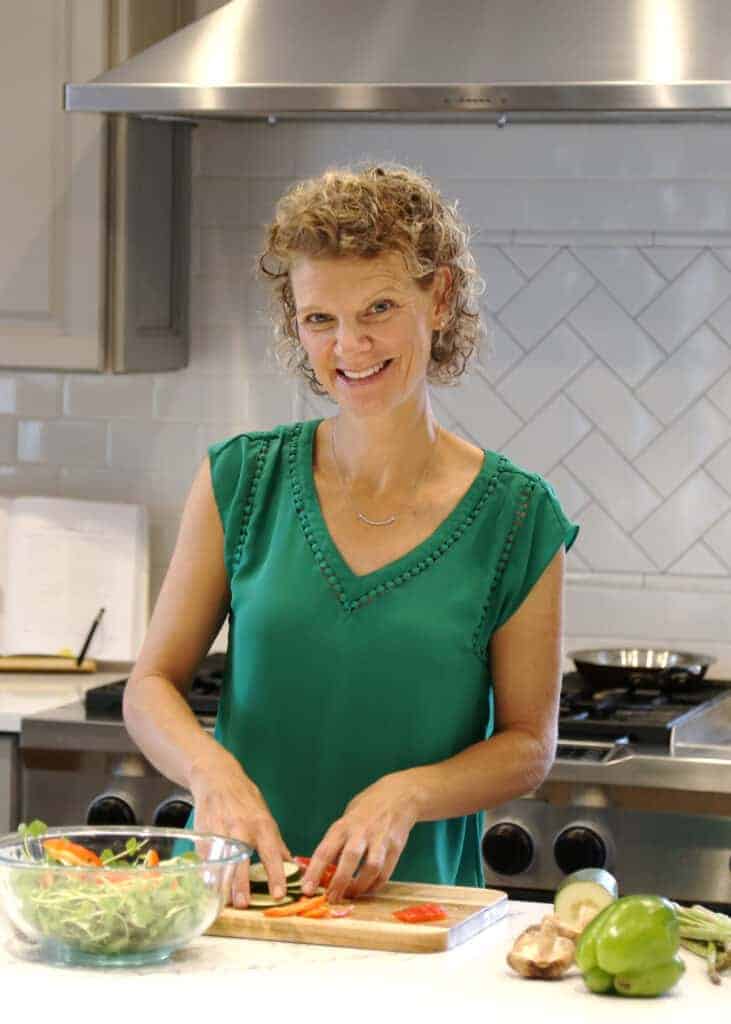 Herbivore's Kitchen is a plant-based food blog started by me, a vegan home chef, cookbook author, aspiring food photographer and how-to-be-a-better-food-blogger junkie. You'll mostly find creative and tasty vegan recipes and detailed deep dives into vegan ingredients (check out my Vegucation section) on my blog.